FRANK CADY'S TENURE
AND
TERMINATION AT LMUD
January 4, 2008, Frank Cady was fired
Will this be the end to a
reign of terror, corruption and controversy.
Too many players still left on the LMUD Board
LMUD will just find another crooked attorney to do their bidding
PURE ARROGANCE:
In June/2008, Cady files a lawsuit against his law partner and exposes his conflict of interest and "THEIR" illegal acts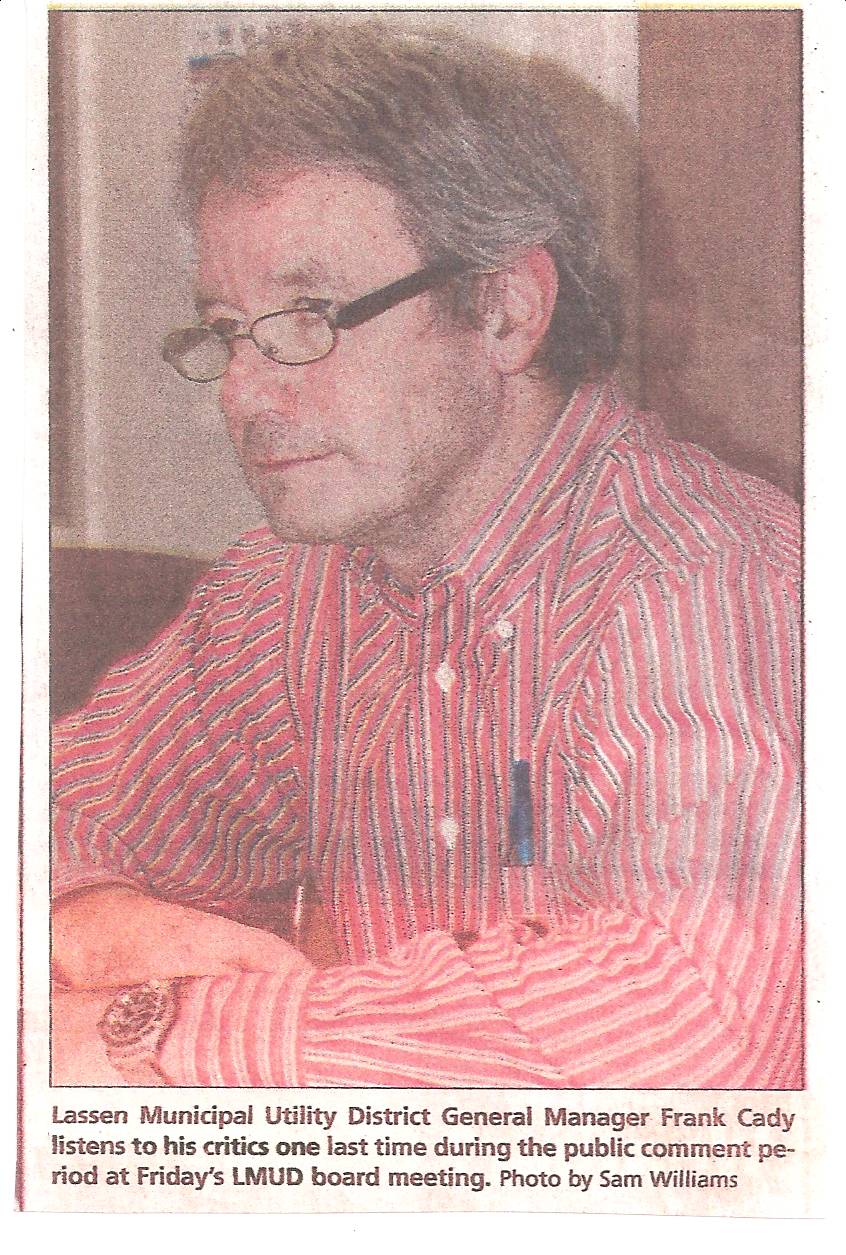 Frank Cady's Legacy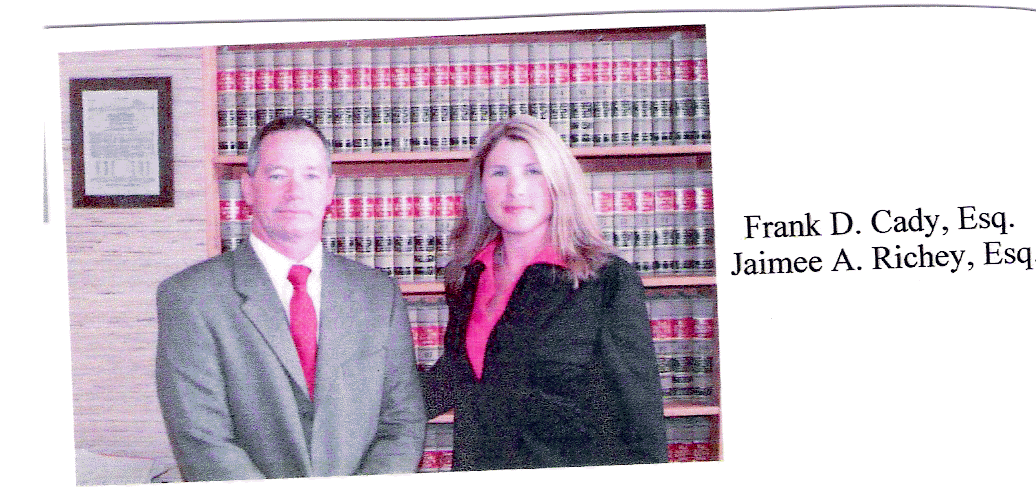 FRANK CADY MAY BE THE MOST DESPICABLE, VILE, OFFENSIVE AND MORALLY CORRUPT PERSON IN LASSEN COUNTY HISTORY
FIRST ORDER OF BUSINESS FOR THE NEW LMUD BOARD,
FIRE CADY AND HIS USELESS PARTNER JAIMEE RICHEY-JONES
There is zero tolerance for a sexual predator in any workplace
2005 2008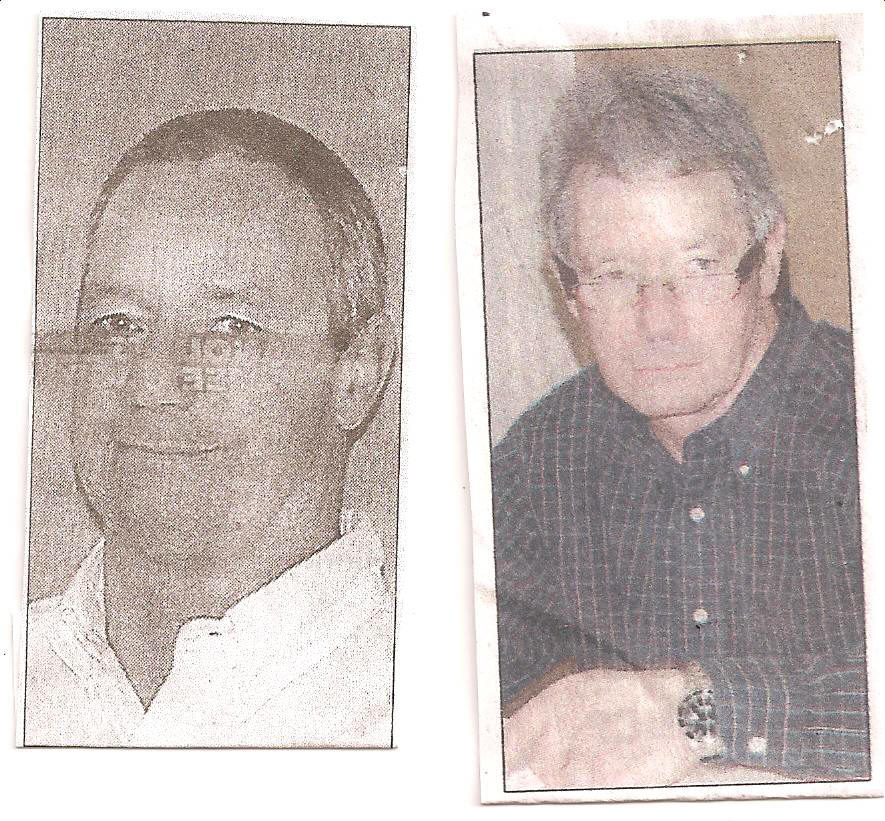 The inept LMUD Board hired their attorney, Frank Cady, as the General Manager in July of 2005(not 2000 as the Lassen County Times continues to report) to avoid hiring an outsider that would expose the corruption created by Frank Cady and supported by Fred Nagel, Nancy Cardenas, Darrell Wood, George Sargent and Wayne Langston.
LMUD has had nine General Managers in 11 years
Baxter, Battles, Lieber, Edwards, Twitchell, Lieber, Cady, Luhring, Stewart
New LMUD President Bud Bowden announced the firing of Frank Cady at their first meeting yesterday.
The new LMUD Board voted 4-1 to terminate Frank Cady's contract "without cause" immediately.
Wayne Langston voted no. Langston is the only seated member of this board that has never been on any LMUD ballot.
Cady and then County Clerk/Election Officer Theresa Nagel placed Langston (a PSREC utility ratepayer at the time of his appointment and the County Clerk/Election Officer's son-in-law) on the LMUD Board when Michael Deal resigned. Langston only moved into a LMUD Ward after the next LMUD election. Langston did not appear on the next LMUD ballot. No LMUD ratepayer has ever cast a vote for Wayne Langston. Langston was illegally placed on the LMUD Board as was his father-in-law Fred Nagel.
Cady threw a temper tantrum at the LMUD office (one employee left in fear) when the new LMUD Board posted their "1/4/08- 1:30" agenda. The new LMUD Board ignored the illegal Cady agenda for a 2:30 meeting.
Cady will be paid $168,624 to leave because this Board fired him under Section 11.2 of his contract. This was unjust enrichment.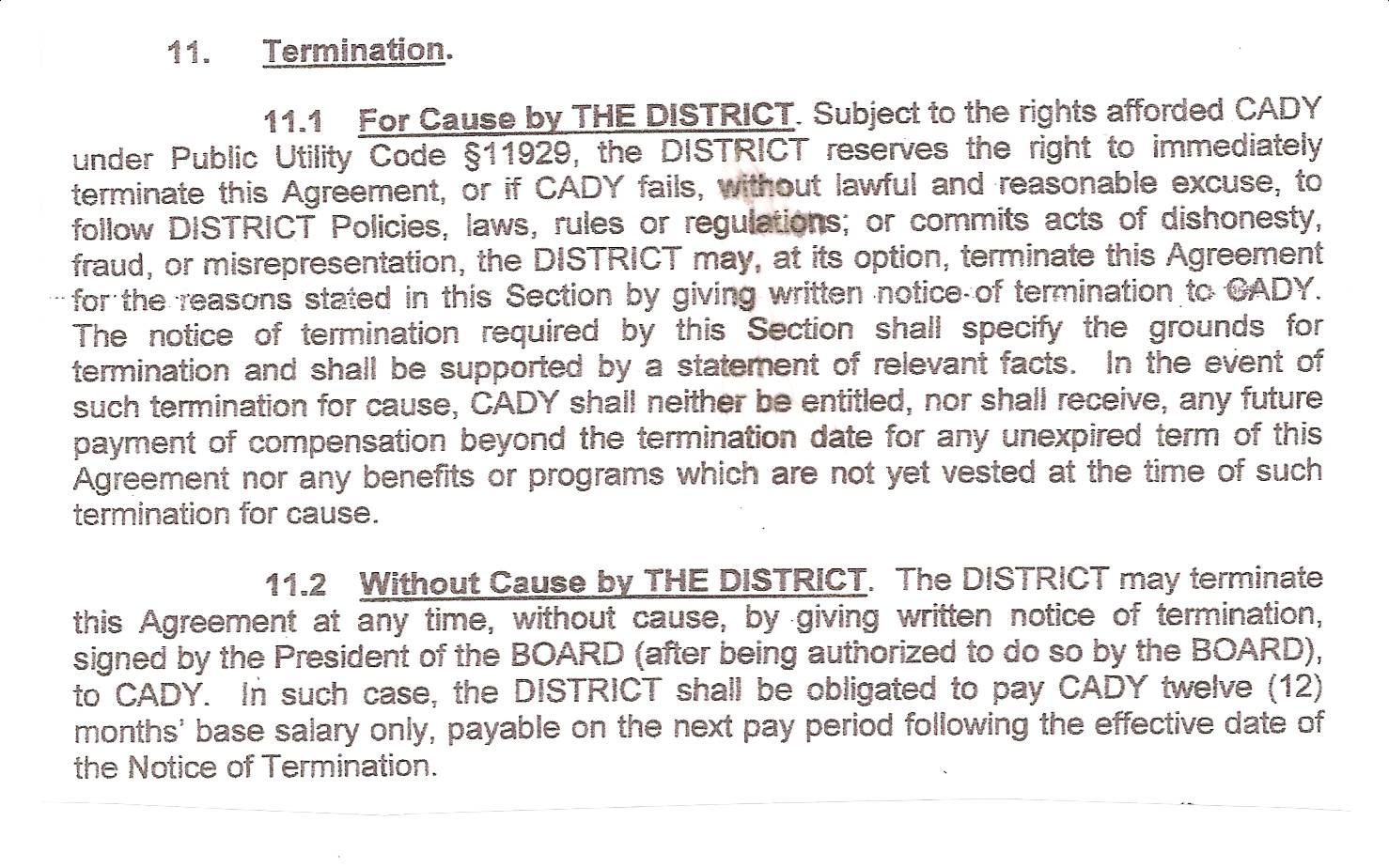 NEW LMUD BOARD POSTS MEETING NOTICE for 1:30 TODAY, Frank Cady takes it down and posts his own agenda for 2:30
The Brown Act states that the first agenda posted is the legal one.
Cady makes a huge statement to the new board members that he's running the show not them.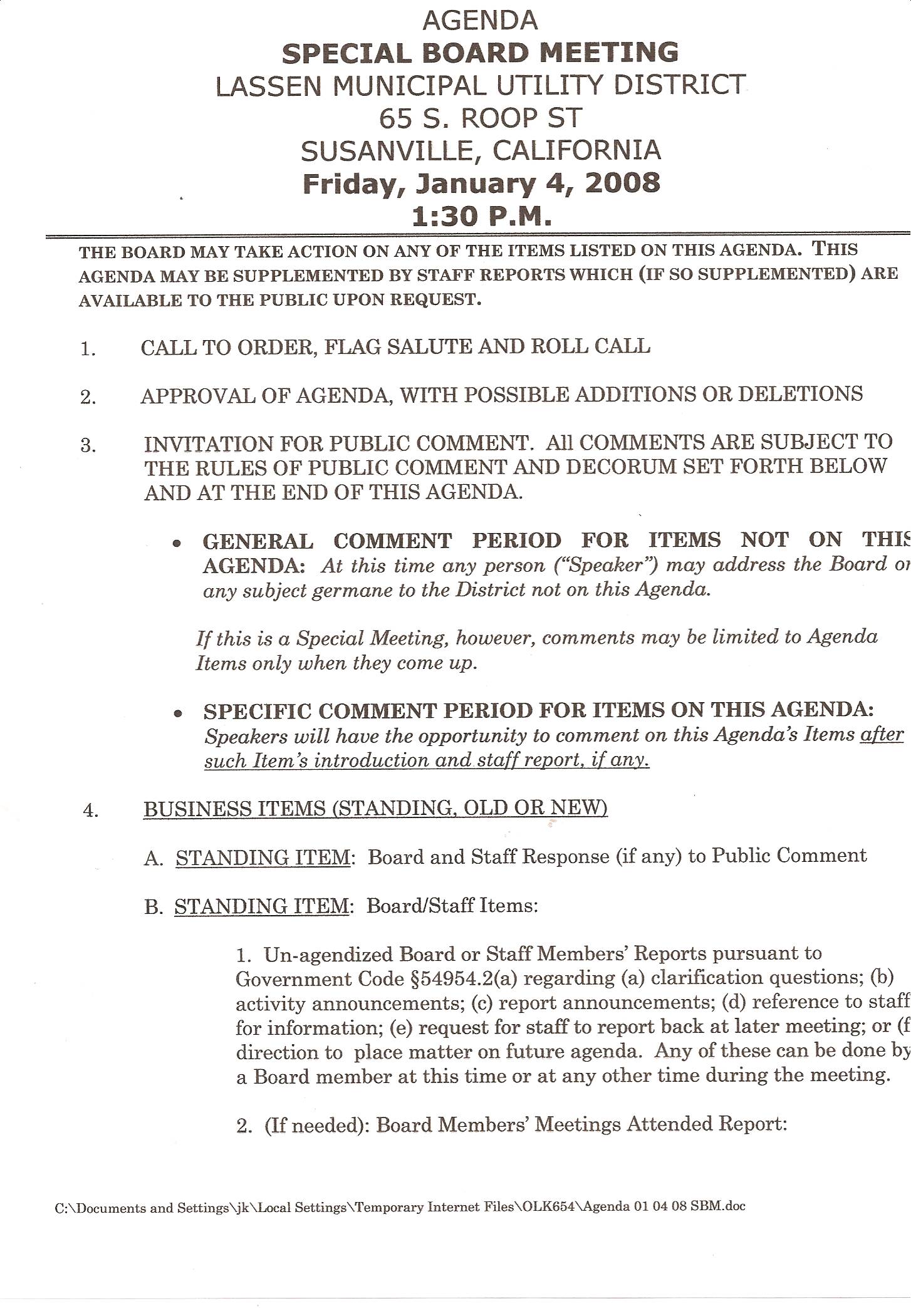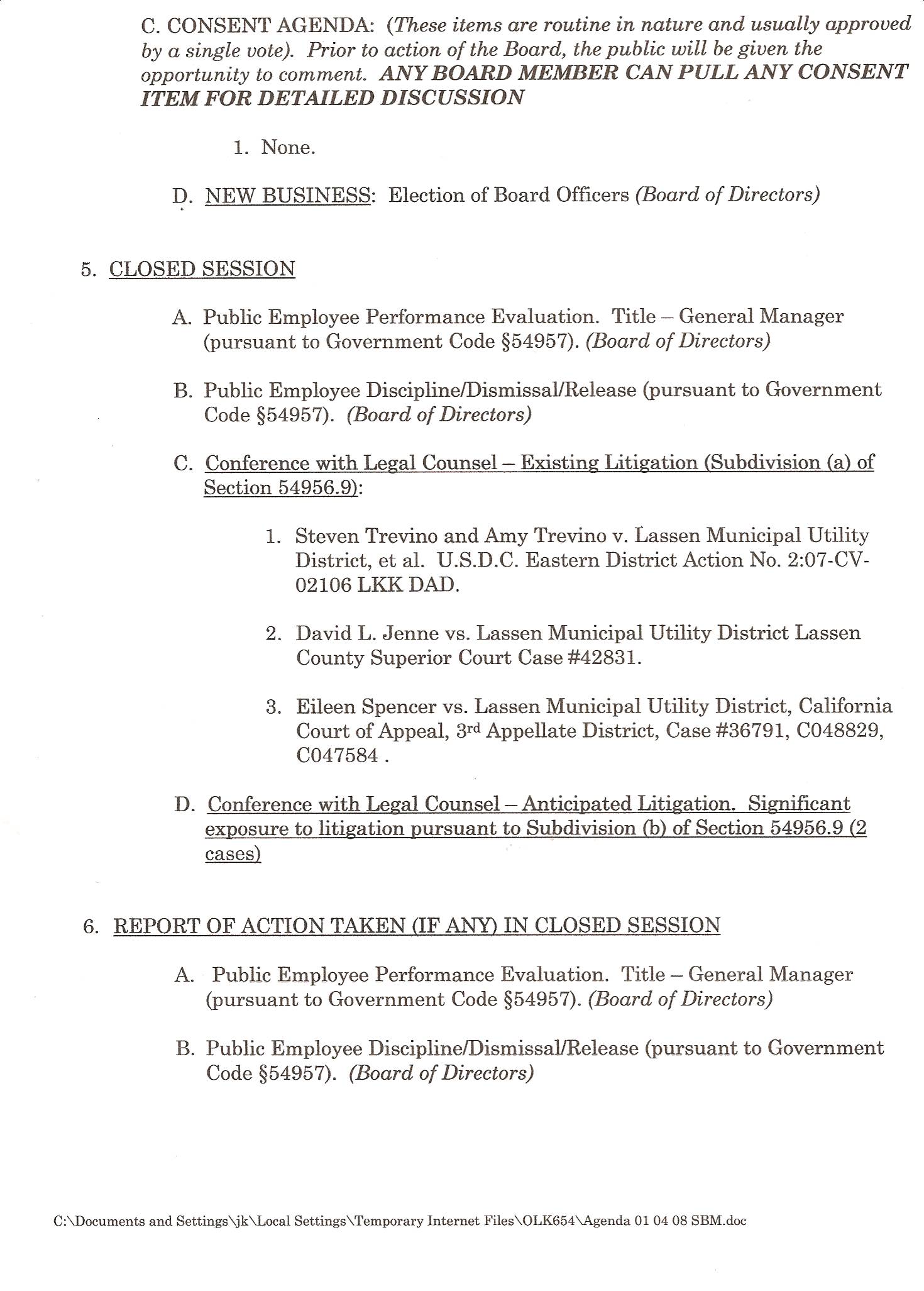 Frank Cady's agenda includes slipping a $300,000 position in for his law partner, Jaimee Richey-Jones, as "in-house" LMUD counsel . LMUD needs an "in-house" counsel as much as it needs more power outages.
Cady must get Jaimee on board in case he is fired today. Cady will then continue his connection with LMUD through his law firm Cady, Pardee and Jones.
"Slick" (the silver tongued con man) may pull this off yet. Cady has been practicing law from his LMUD office since July 2005 anyway according to the California State Bar Associations records.
Cady is also looking for vengeance and wants to fire LMUD linemen.
The new LMUD Board members will first evaluate Cady?
WILL THE AG LMUD BOARD FIRE CADYOR WILL THEY KEEP THIS PUBLIC NUISANCE?
THEIR "ACTIONS" WILL BE A "TELL-ALL" IF DEALS WERE MADE OR NOT MADE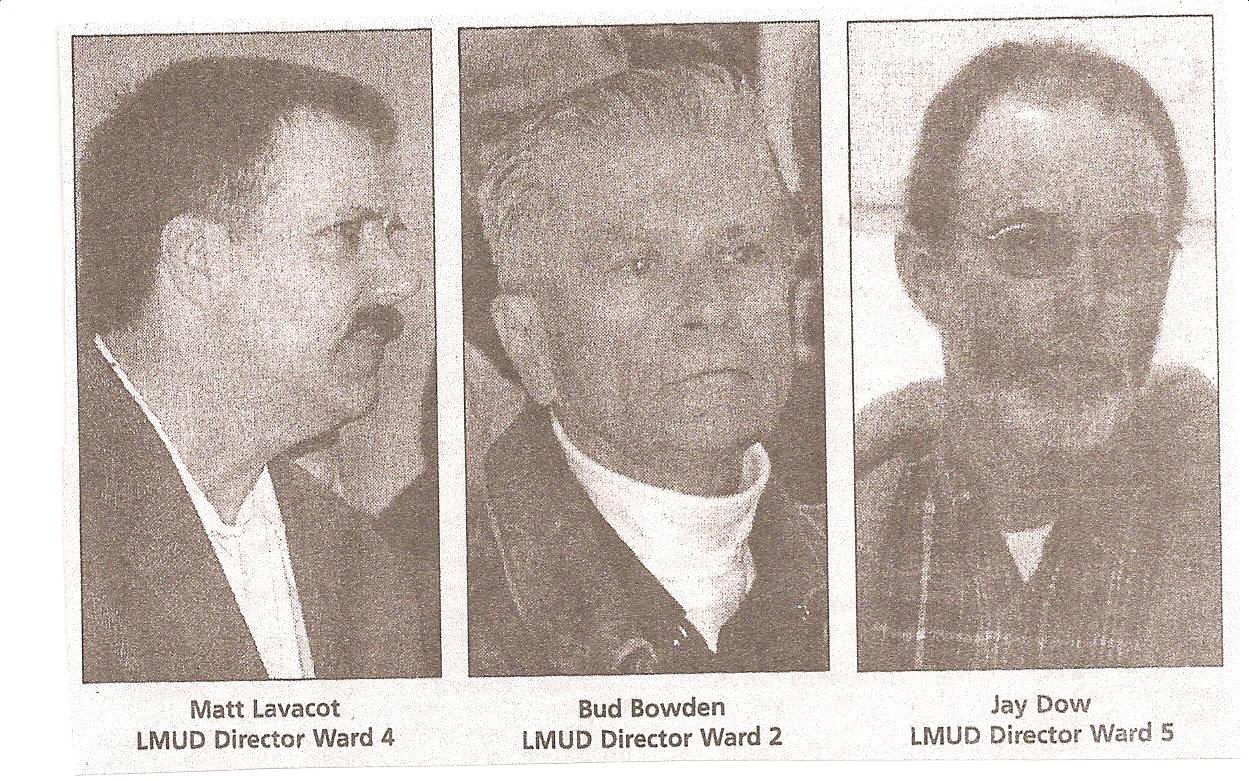 If the new LMUD Board does not call a Special meeting prior to January 29, to fire Cady, a deal has been made
MEMBERS OF THE LMUD BOARD, PSREC ratepayer Fred Nagel, Nancy Cardenas, George Sargent, Darrell Wood and Nagel's son-in-law, Wayne Langston looked the other way on Cady's years of indiscretions and abuses.
CADY'S TIME SHOULD END AND END NOW
The new Board should not vacillate or "take time to understand the termination of Frank Cady. Cady's termination is simple, JUST DO IT. The problems, with Cady, have been transparent for years.
Frank Cady has reduced himself to a PUBLIC NUISANCE
LMUD controversies have centered around Frank Cady and his influence on all the LMUD Boards.
FIRING CADY is a no brainer, unless the NEW MEMBERS CAME WITH AGENDAS OF THEIR OWN.
New "Ag" LMUD Board Members take oath immediately following Supervisors Special Meeting on 12/27/07
Public utilities Code Section 11881: The oath of office of directors shall be taken, subscribed and filed with the secretary of the district at any time after the director has notice of his election or appointment but not later than 15 days after the commencement of his term of office. No other filing is required.
The LMUD Directors, in the past, have either called a special meeting or took the oath at the next regular LMUD meeting. The point being, it has always been done in a public forum.
There will not be a LMUD meeting until the January 29, 2008. A new Board President will be chosen.
HAD ENOUGH OF LANGSTON AND NAGEL, THEN ATTEND THE MEETING!!!!!!!
WILL SUPERVISORS HANSON, DAHLE AND PYLE now GET THE AG ELECTRICAL RATES REDUCED? Three of the Supervisors, Dahle, Pyle and Hanson, own ranches in Lassen County.
All three voted to appoint two ranchers to the LMUD Board of Directors.
Lassen County Time, 12/18/07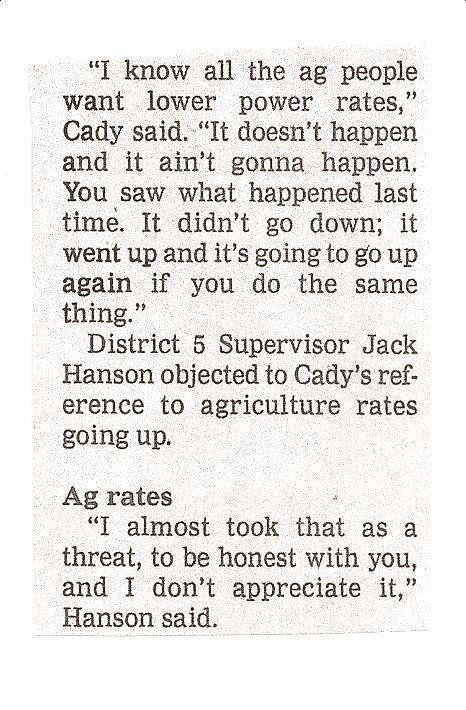 At the December 6, 2006 LMUD meeting, the Board approved, w/o a required Resolution, to adopt a new policy that allowed Frank Cady to adjust LMUD rates at will. This action resulted in three unjustified rate increases in a two year period. Cady enacted the last five cent increase on the LMUD ratepayers in December/2007. This increase will be reflected in the January LMUD bills.
Residential Rates went from $.115 to $ .135 per KWH in two years. LMUD is the eighth highest rate in California.
Agricultural rates: $ .14 per KWH
LMUD's Mission Statement to the public is a joke. Lassen Municipal Utility District, a public utility, has become a private kingdom for the Cady's, Langston's and Nagels (LMUD Board member Fred Nagels PSREC utility bill is lower than what LMUD ratepayers bills are) .
Surprise Valley................$ .069 per KWH
Redding..............$ .099 per KWH
SMUD...............$ .125 per KWH
WERE THE LMUD RESIGNATONS AND APPOINTMENTS DIRECTLY CONNECTED TO WIND GENERATION?
Public funds used for private concerns
LMUD trucks have been seen going to Darrell Woods property for months. Darrell Wood stands to make a great deal of money on the wind turbines placed on his property. When this conflict of interest was exposed, Wood needed to resign in order for the deals to go through.
LMUD employees are still at risk because they know what is going on
The Board of Supervisors never asked any questions? Why? Because they already knew the answers. The Lavacot and Dow appointments were not a surprise when Pezzullo, Turner and Parker pulled out of the race.
Politics and Profiteering, not strange bedfellows in Lassen County
Lavacot=Tule Land & Cattle, Mapes Ranch, Hansen Cattle, Wood Cattle Ranch, Five Dot Land & Cattle, wind generation interests in Lassen County and King Cady's continued reign
Make no mistake, ranchers Hanson, Pyle and Dahle knew what they were doing. These were purely self-interest appointments. Welcome to Lassen County.
According to public records, Jay Dow and Matthew Lavacot were not even on the Supervisors "short list" before Parker, Pezzullo and Turner (Turner coincidentally endorsed Jay Dow? What was he telling the Supervisors?)left the race?
four Supervisors decide today to keep cady in lmud's lair
Lavacott
bowden
dow
Supervisor Chapman does not agree
Frank Cady only needed one Director to keep his job. Dahle, Keefer, Hansen and Pyle are solely responsible for Cady's continued reign of terror and public abuse.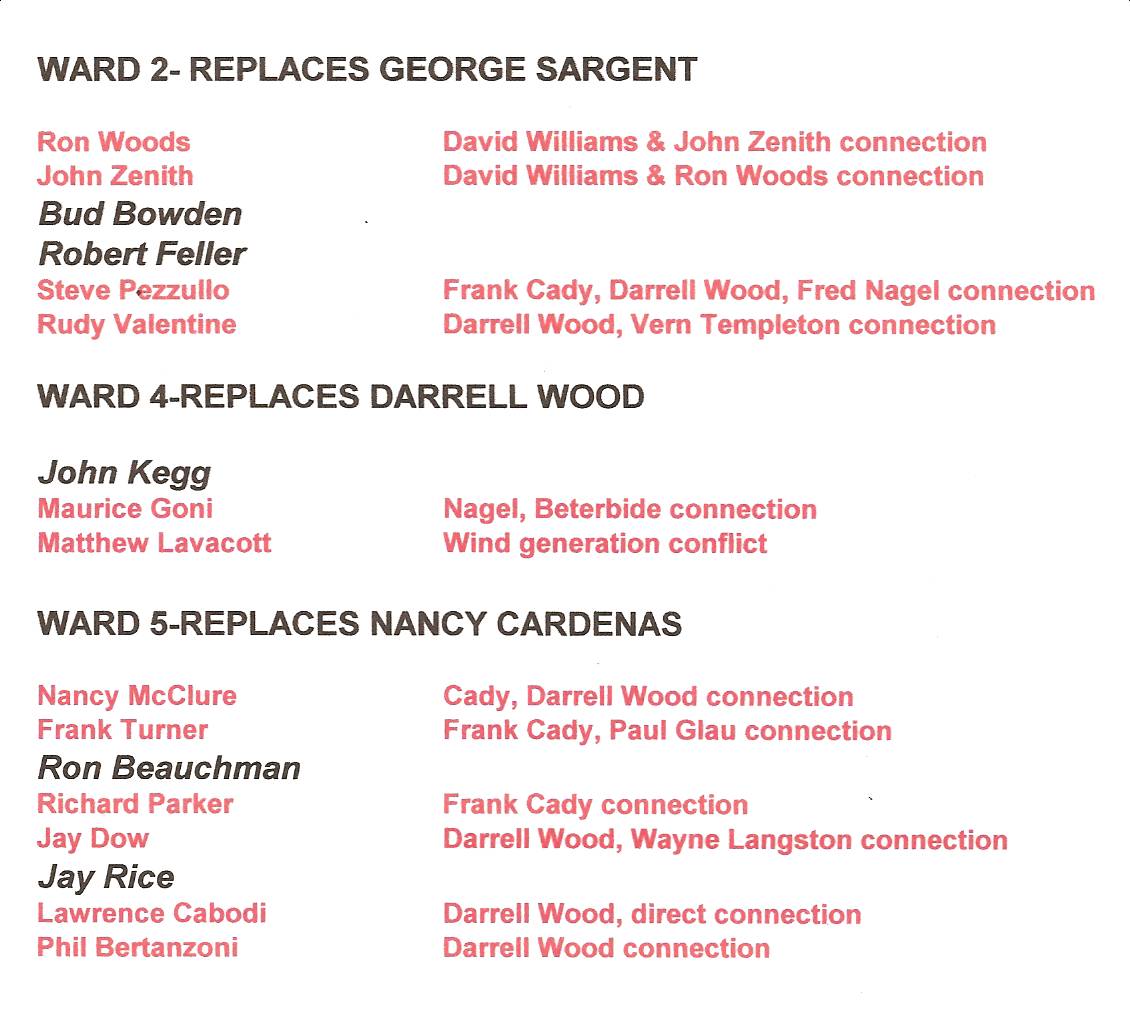 Lassen County Times not happy with Cady's treatment of their public records request
The Lassen County Times is absolutely correct. Anyone can walk into the office of a public agency and ask to see a public document without having to fill out a form.....just not at LMUD. LMUD is Cady's Secret Society. The Lassen County Times should not have to be reminded of this fact.
LMUD had a very simple form for Public Records Requests but it was seldom required. Cady created a new form and made it "mandatory" after KWH began investigating this public utility. The purpose; to delay, discourage and deny the public
access. Which, by the way is illegal.
Before Cady created his mandatory PRA form, Kan We Help simply submitted a written Public Record Request for the Arrowrock Feasibility Study that the LMUD ratepayers "helped fund".
Cady denied this request so KWH filed a Writ of Mandate to get this document that was paid for by LMUD ratepayers. At the trial, Cady lied to the court and said that it was an incomplete document that LMUD did not own. FACT: The "cover" of this completed Arrowrock Feasibility study was submitted to FERC to obtain an extension. It was dated October 2001.
Judge Lazard denied KWH's request for the public documents, claiming that the requests were frivolous and the case was appealed
Cady's Judge.......Ridgely Lazard...........is no longer a Judge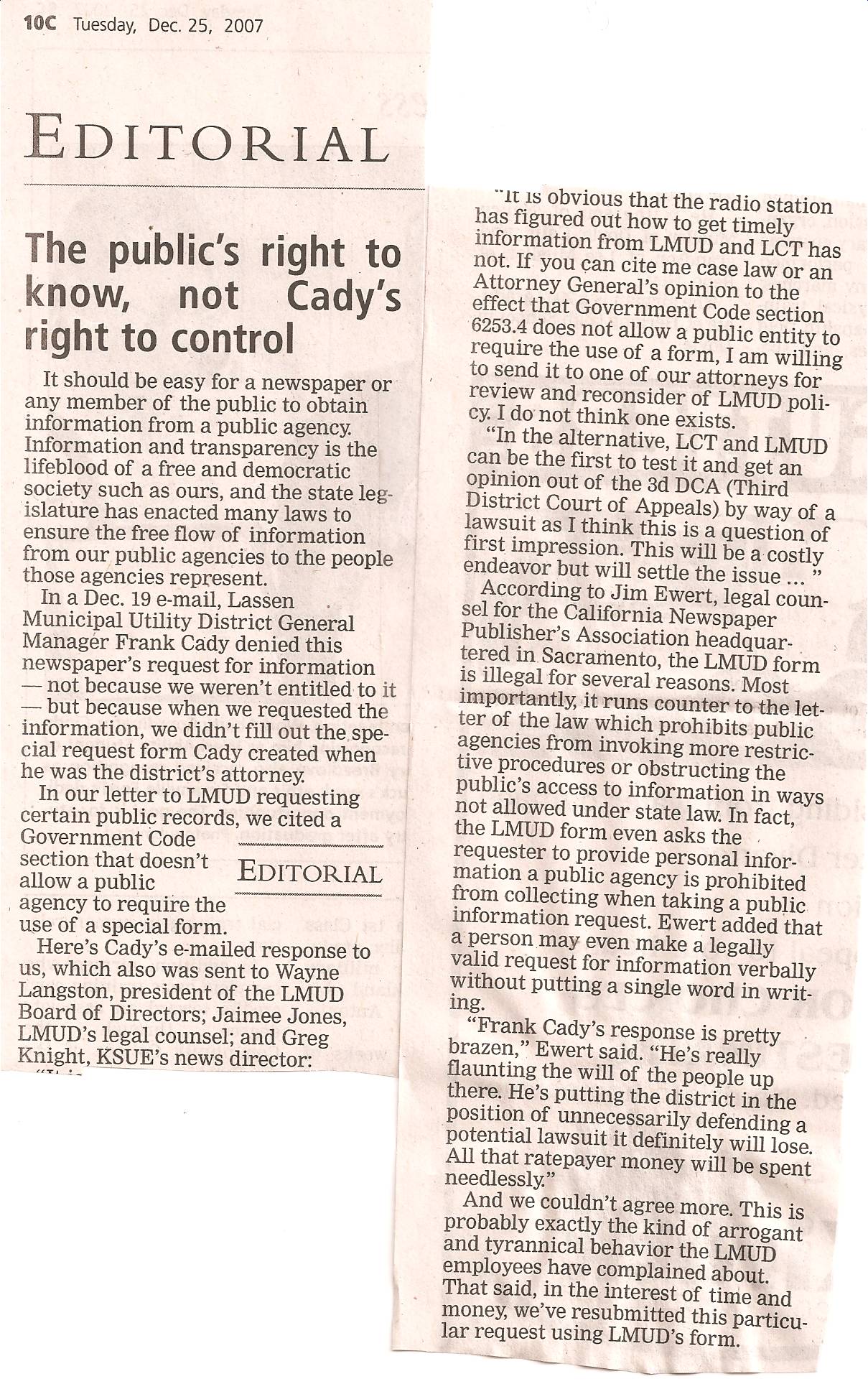 Lassen County Board of Supervisors must choose wisely on December 27, 2007
"One" wrong appointment and Cady stays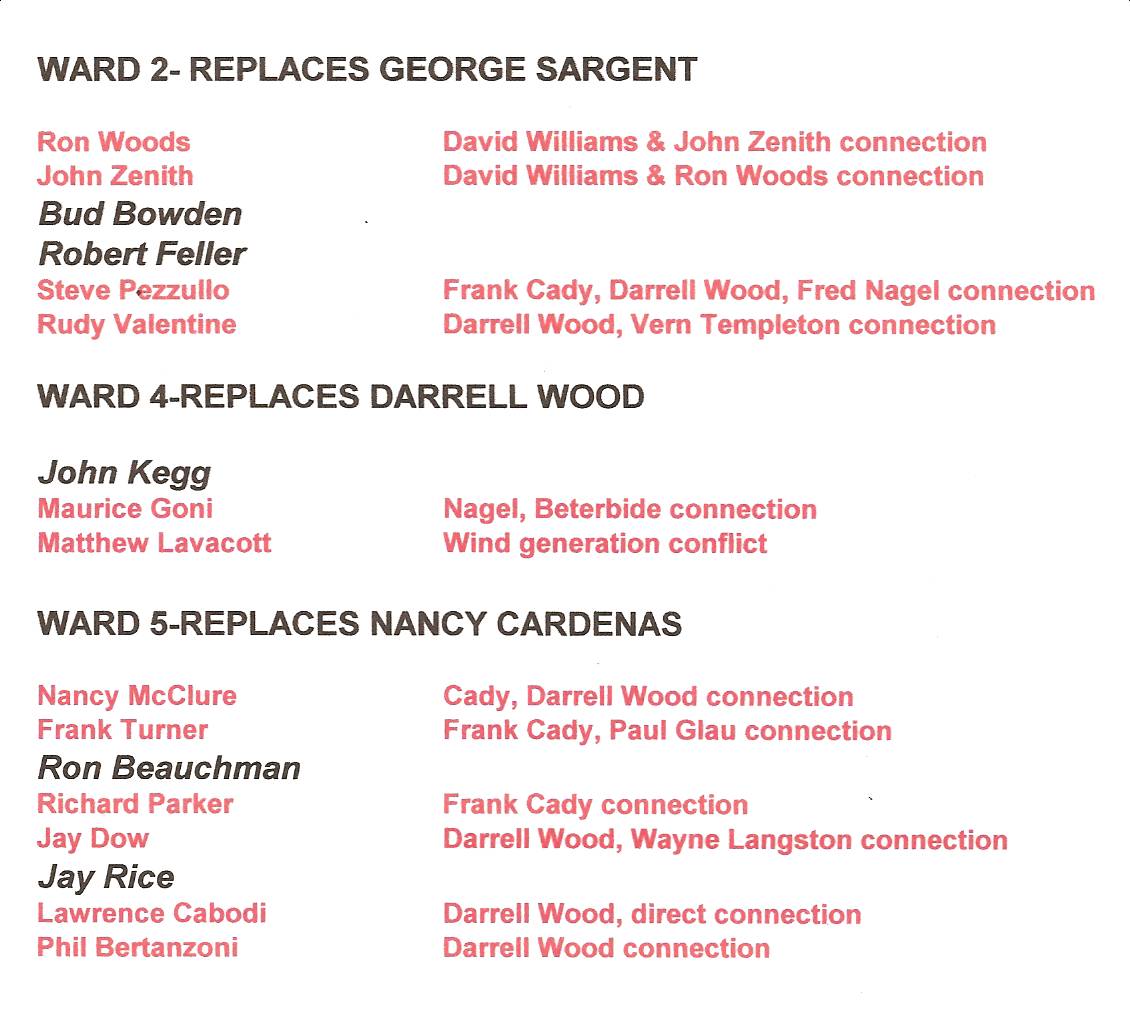 most lmud APPLICATIONS JUST CADY'S DRINKING BUDDIES and sundry other relationships
Ward 5 Frank turner
ward 5 richard parker
ward 2 steve pezzullo
Frank Cady's empire will continue and nothing will change
All Cady, Nagel and Langston need is ON E VOTE to maintain business as usual at this public utility
Will the Board of Supervisors do their homework?
Frank Cady just a pathological liar
Frank Cady made two public statements about Arrowrock Dam that he knew to be a lie.
1. The Hydroelectric plant at Arrowrock is almost complete (12/12/07 @ BOS meeting)
To verify that this is not true, you can call Coleman Smith, Arrowrock Dam Manager w/Bureau of Reclamation at 208-383-2248
2. That an Oregon city has contracted to construct the Hydroelectric plant (12/18/07, LCT).
FACT: In public documents, the irrigation districts claim that they are in negotiations with an Idaho power company. No contracts have ever been signed to construct this bogus project. ever. FERC has not even approved the renewal of this license..
KAN WE HELP HAS FILED A MOTION TO INTERVENE WITH FERC AGAIN TO STOP THIS SCAM SO OTHER SMALL UTILITIES WILL NOT FALL VICTIM
the flimflam ARROWROCK PROJECT
On October 19, 2007, Kan We Help filed a "Motion to Intervene"(TO SEE DOCUMENT, CLICK ON PAGES BELOW) on the exhumed Arrowrock Hydroelectric Project in Boise, Idaho.
It is not known, at this time, if Cady and the LMUD Board are secretly making deals with the Boise irrigators attorney (Al Barker) again. They have done it before.
Kan We Help files intervention to stop scam


LMUD will be in good shape with Cady gone
Frank Cady has built a small empire, at this public utility, that must be dismantled. Cady rules by threats and intimidation.
Frank Cady instantly puts fear in any new board member...it's his way or the highway. He has used "Cady Law" (fake law that Cady invents) to impress and control a new board member.
This small public utility will have a chance, once Frank Cady is gone, to be free of controversy, harassment and turmoil. There is nothing wrong with putting three "virgin" board members, at LMUD, if Cady isn't there.
When LMUD was represented by the law firm of Kellison and Cady (Craig Kellison is now a U.S. Magistrate) and LMUD was paying them a $1000 a month retainer, for handling an occasional legal question or issue,....life was simple and honest at this public utility. LMUD went sour when Kellison left the firm. Cady instantly escalated the legal fees until they exceeded $30,000 a month. Cady created legal problems for this tiny utility for profit.
The new LMUD board members do not need to be seasoned public officials.
Lassen Municipal Utility District is one of the smallest utilities in California and doesn't need to spend money like it was a 250,000 meter utility. Frank Cady has spent money like a drunken sailor to feed his own ego and provide vacations and benefits ($$$$$$) for his friends. That's just simply wrong.
Cady has dozens of law firms on retainer (?), he's put friends on the payola, hidden board expenses in his legal invoices, created bogus projects and used his law firm to continue the scams, moved money around to buy land from a friend of a board member, manipulated the alleged wind generation project for the benefit of a board member, works at other private enterprises while on LMUD's payroll and draws a salary of $168,000 a year (twice that for his law partner).
This is just the tip of the iceberg and it all goes away when Cady leaves.
Under close scrutiny, Ray Luhring can manage while the Board looks for a REAL MANAGER.
Franks laughing at us all the way to the bank.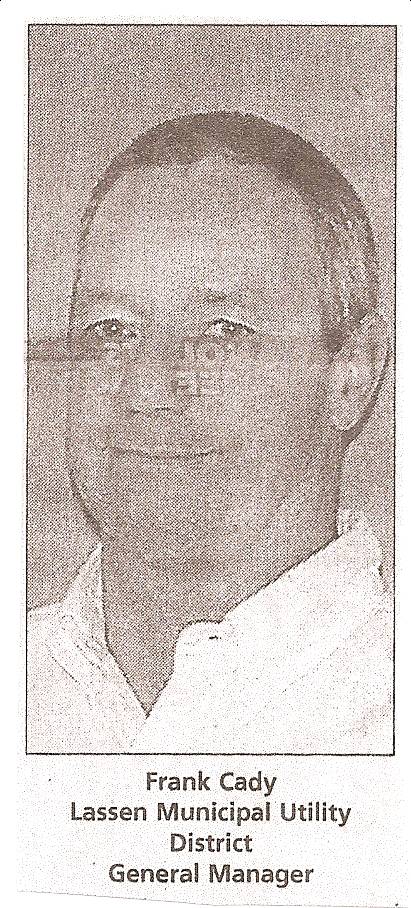 When the public thought the LMUD Board, Nagel, Langston, Cardenas, Sargent and Wood were disciplining Cady for his bad behavior, they were only rewarding him and gave him two huge raises which amounted to $38,624 in a one year period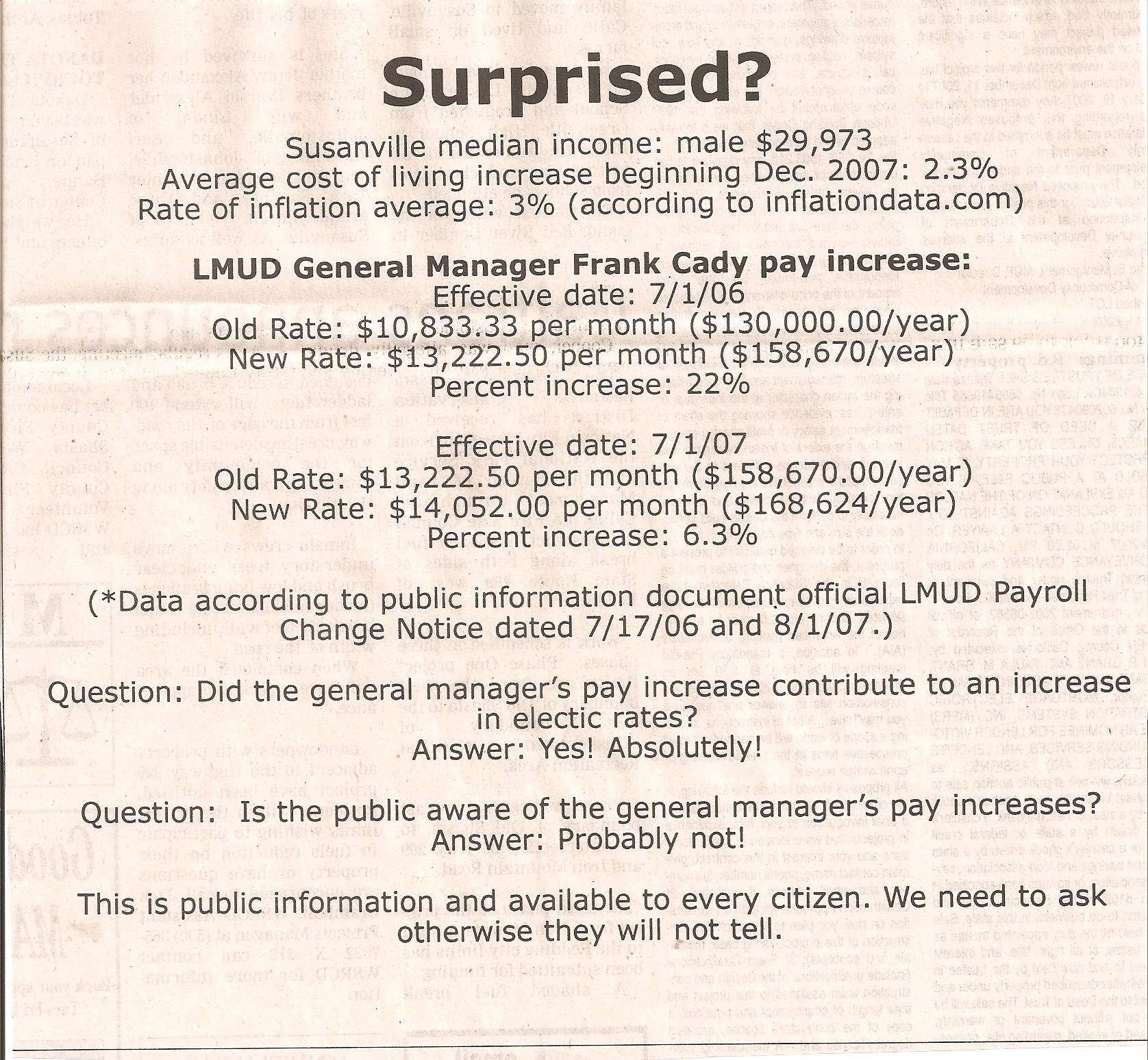 SO MUCH IS WRONG WITH LMUD AND THE RATEPAYERS ARE PAYING THE BILL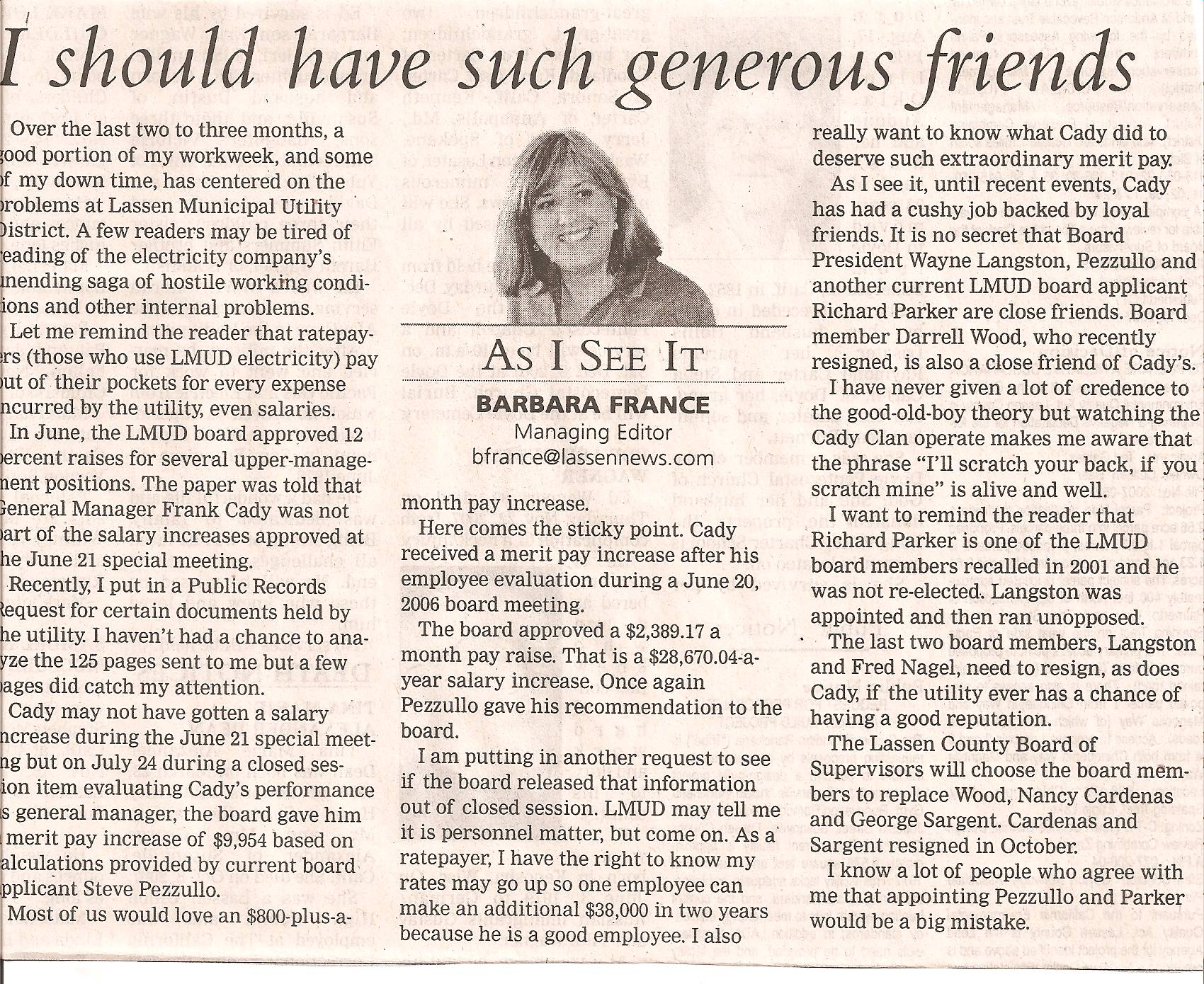 Lassen County Board of Supervisors vote unanimously to appoint three LMUD Directors
The Lassen County Board of Supervisors voted 5-0 to appoint three LMUD Directors to replace Nancy Cardenas, George Sargent and Darrell Wood who recently resigned their positions due to pressure from LMUD employees and the public.
The Supervisors will accept letters from LMUD ratepayers that are registered to vote and live within the three Wards vacated by Cardenas, Sargent and Wood. The Supervisors will accept, in letter form, applications from anyone that wants to be considered to sit on the LMUD board until the 2008 November election is held. All letters of interest must be submitted by 5:00 PM (County Clerk's office ) on or before December 21, 2007. The Supervisors will then interview, in public session, all applicants on December 27, 2007 (6:00 PM) at the County fairgrounds (Jensen Hall is the first building as you enter the fairgrounds).
Public given one day notice on LMUD issue on BOS Agenda today
Fred Nagel or Wayne Langston did not show up for this meeting?
Regardless, the board room was filled to capacity with overflow in the halls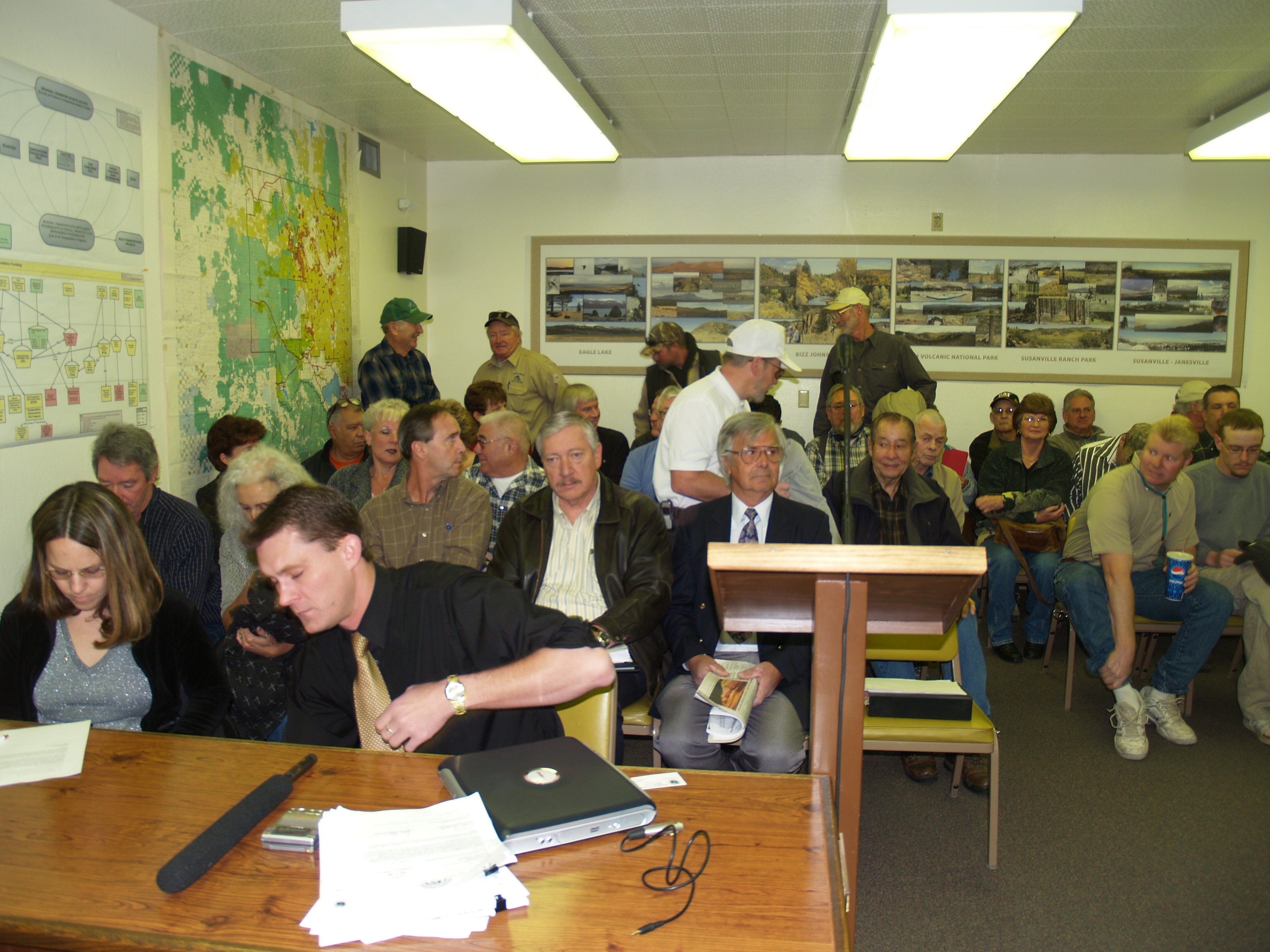 FRANK CADY GIVES BOS THE HISTORY OF MUD'S?
Cady was slightly off point of the agenda item. President Dahle quickly end Cady's diatribe.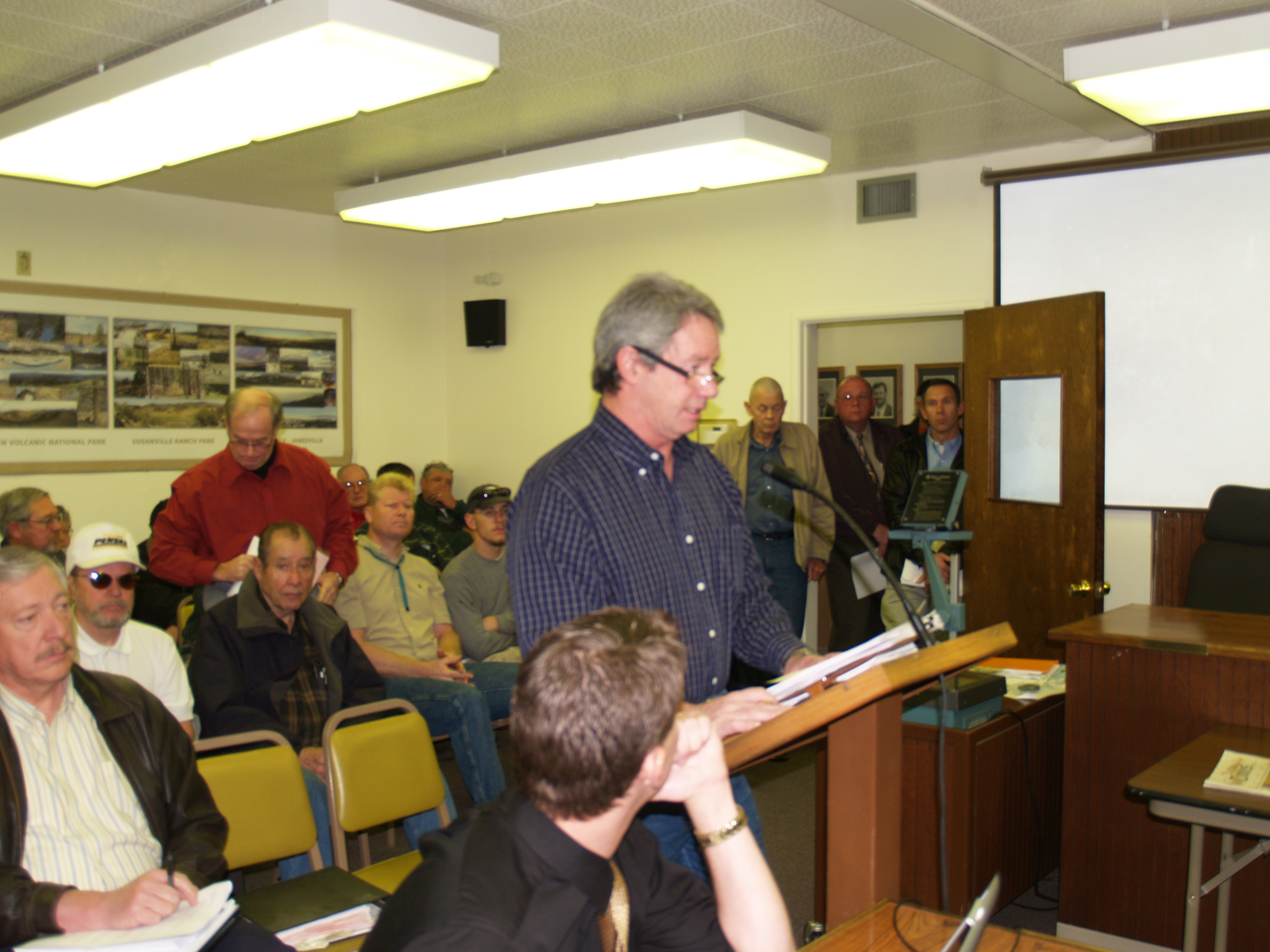 Frank Cady actually told the Board of Supervisors that he was glad to report that Arrowrock is finally being built. THAT WAS IN FACT A BOLD FACE LIE. Why does Cady do this to himself? Is he just out of touch with reality or he just thinks that anything he makes up or comes out of his mouth people believe.
Cady also told the Board of Supervisors that he missed a "deal" to buy transformers for LMUD and he had to let it go because there was no LMUD Board. Oh contrar, Mr. Cady. You wrote Resolution 2005-13 that allows you to purchase and enter into contracts and agreements without Board approval. You also wrote a Resolution that allowed you and you alone to raise electric rates. Cady was busy writing Resolutions in his first year that would put him in the position of King of LMUD. All of this abdication of authority approved by Langston, Nagel, Cardenas, Sargent and Woods.
Frank Cady has reduced himself to just a pathetic jerk that was given to much authority. LMUD GAVE HIM THE PLATFORM TO BE THE BULLY THAT HE ALWAYS WANTED TO BE. Hey.....he's very good at it, give him that. Also add that he continues to profit financially in his unchecked position as LMUD General Manager.
"
Cady asks the Supervisors to just appoint one LMUD directorCady states that they will appoint the other two.
9:30 AM, Board of Supervisors meeting at 707 Nevada Street, Susanville, CA
There is no mention at all about Frank Cady's resignation
Does Frank Cady think the Board of Supervisors are idiots?
Cady thinks that he is in the cat-birds seat. He uses "Cady Law"(law that Cady makes up but doesn't actually exist) to try and bluff his way past County Counsel. Not going to happen
The LMUD ratepayers deserve to choose a whole new board. This LMUD Board has proven to be the worst in history. Nancy Cardenas, George Sargent, Fred Nagel, Wayne Langston and the Bad Boy Wood sat silent for five years and allowed Frank Cady to abuse the employees with constant sexual harassment and verbal abuse, and we won't even go into the misuse of public funds.
LMUD can survive until a Special Election.
Cady submitted resolutions for the past two years, (and the LMUD Board approved them) allowing him to run LMUD without Board interference or approval of his actions.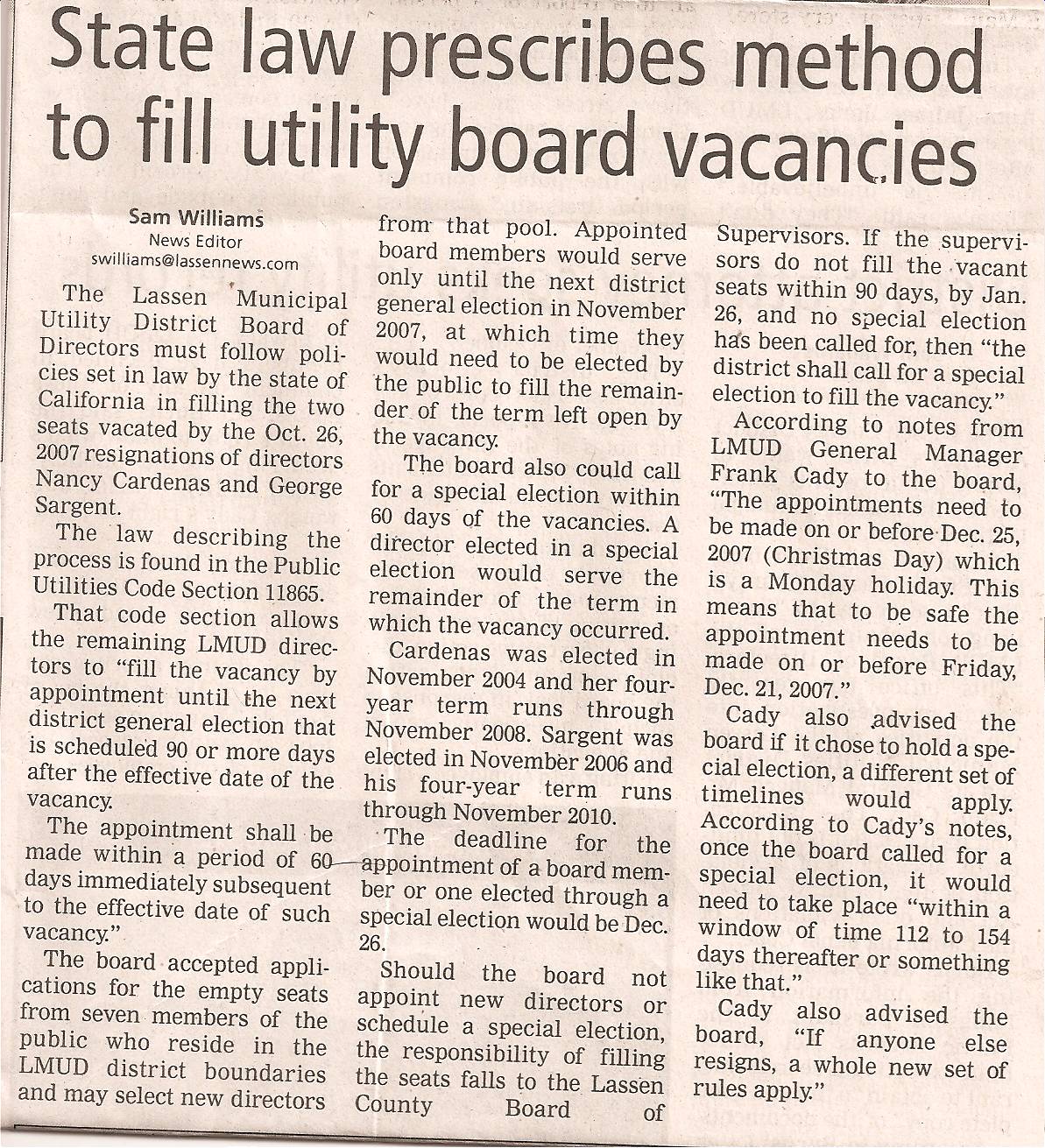 LMUD EMPLOYEES HAVE HAD ENOUGH
Sexual harassment must end at LMUD. It should have ended with Twitchell, but Cady just paid her $100,000 to leave and keep quiet.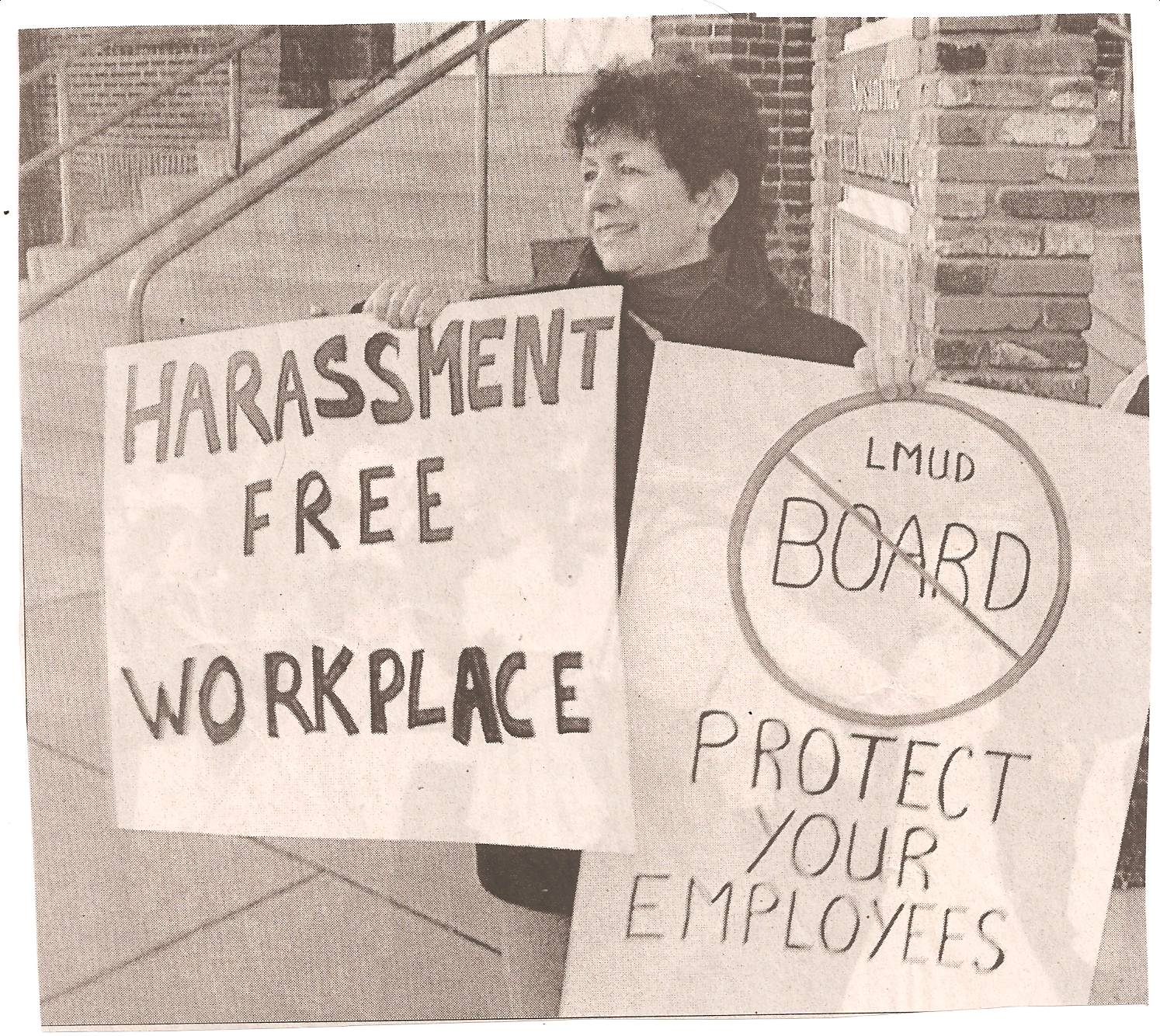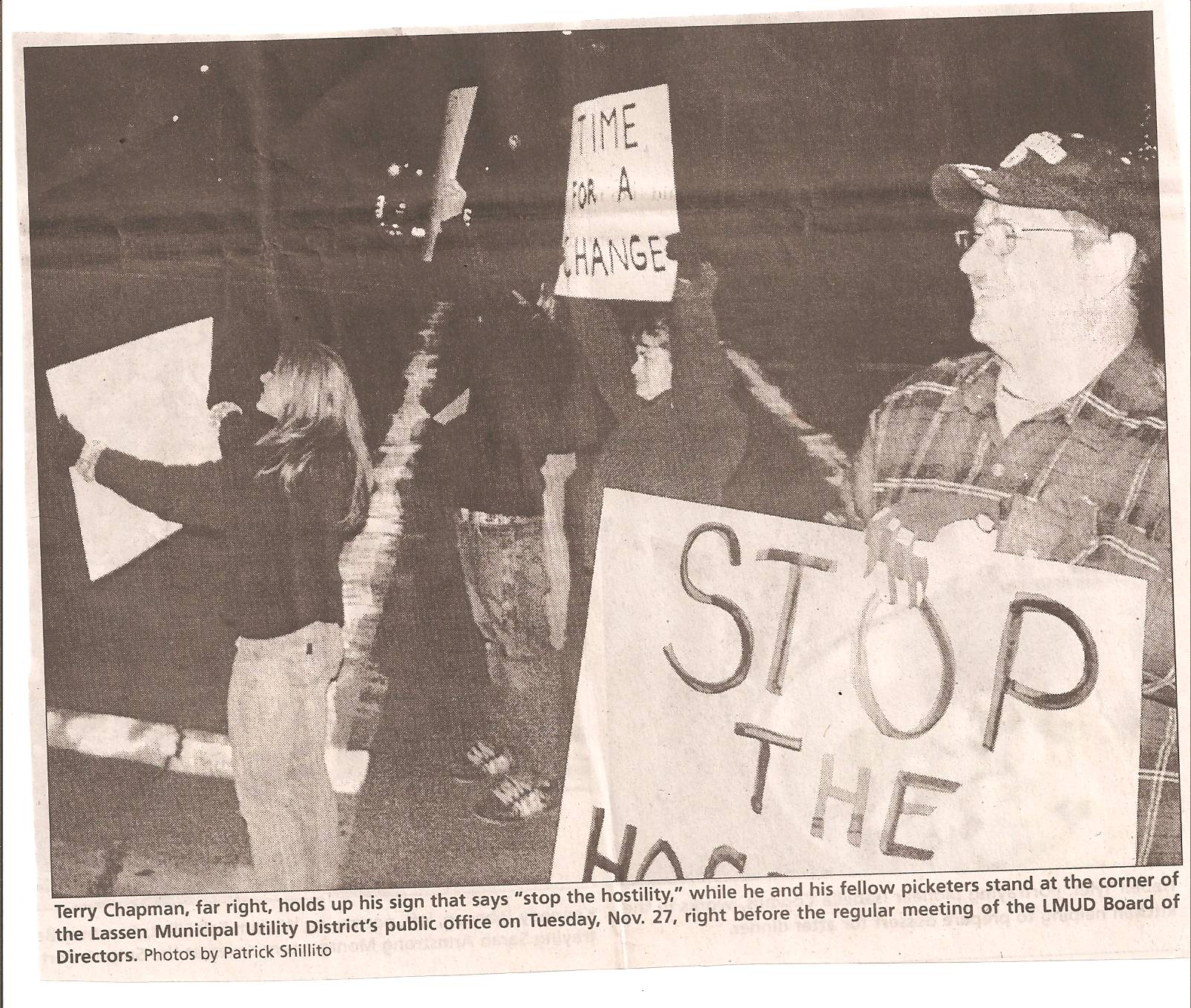 third lmud director,Darrell Wood, resigns
Is this a Cady strategy to have no oversight of his actions?
The LMUD utility district has finally hit rock bottom
With only two board members left the issue now goes to the Lassen County Board of Supervisors
The District Attorney is now looking into LMUD's business. Something he should have done seven years ago. It won't be pretty and there could be indictments for all five LMUD board members and management.
Frank Cady removes LMUD Directors photo's from the LMUD website
NEAR RIOT AT LMUD MEETING
Los Tres Diablos (LMUD Board members)were overwhelmed with public outrage at their meeting Tuesday night.
The public demanded another meeting
LMUD must post a 24 hour notice to hold the next meeting
Cady brings his incompetent law partner

into LMUD as
"IN-HOUSE" counsel

The previous LMUD Boards could never even justify Cady being "In House Counsel", but Cady has personally eliminated this public board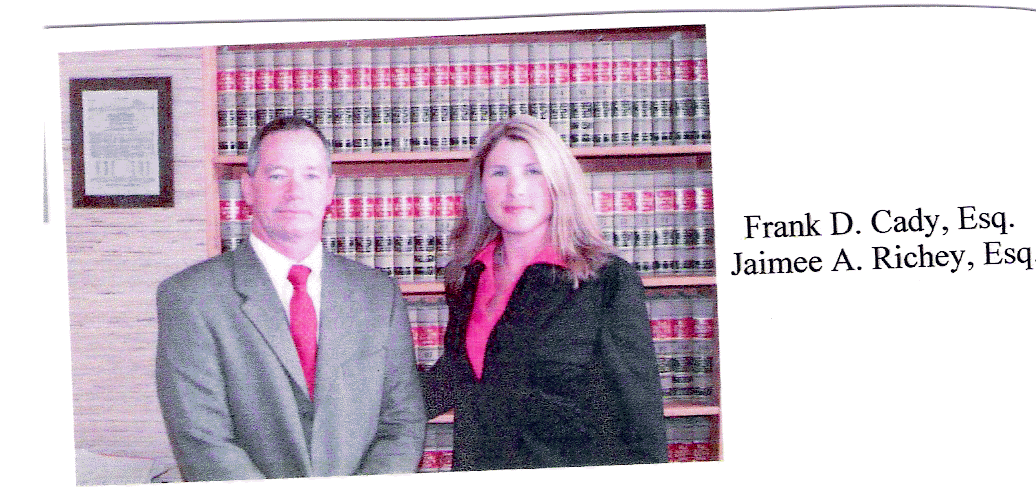 Pigs at the Trough
The last thing that this tiny public utility needs is an "In-house" counsel. Jaimee Richey Jones has no talent for practicing law and has shown time after time her inadequate skills. She has no private practice so why not bring another incompetent lawyer on board at $120,000 a year plus $40,000 in benefits.
Cady recently had LMUD pay for his private law books to be rebound.
This utility had better find a way to get the sexual predator out and away from its employees and lower rates before they add to the already bloated redundant management staff.
Of course, what is stopping
Of course, what is stopping Cady? Nothing.
Bullies, drunks and sexual predators run LMUD so let the parties begin..........LMUD has unlimited resources to fund their activities.
You will see LMUD at it's historical worst now that there is nothing in Cady's way.
You thought LMUD was corrupt before, you ain't seen nothin like you're going to see with a totally "unaccountable" Cady.
The man should have been in jail years ago..............
FEEDBACK TO KWH: The public, outside of Lassen County, think that the citizens here are just as corrupt as Cady
next lmud meeting
Tuesday, November 27, 2007
5:30 @ 65 S. Roop Street
Susanville
Anyone wishing to be a part of this corruption should submit their applications for an appointment to a LMUD Board position. Application deadline: 11/26/07
Bully's, drunks and sexual predators encouraged to apply
Benefits:
Your Sexual Harrassment overlooked and ignored
Free electricity for your business, family and friends
Excessive Board expenses hidden from the public
Free golfing, booze and ____________________.
Free travel and condo arrangements by Cady Airlines
Unlimited business trips/vacations
Profitable business opportunities for you, family and friends
is frank cady just morally bankrupt?
IBEW asks for protection from Cady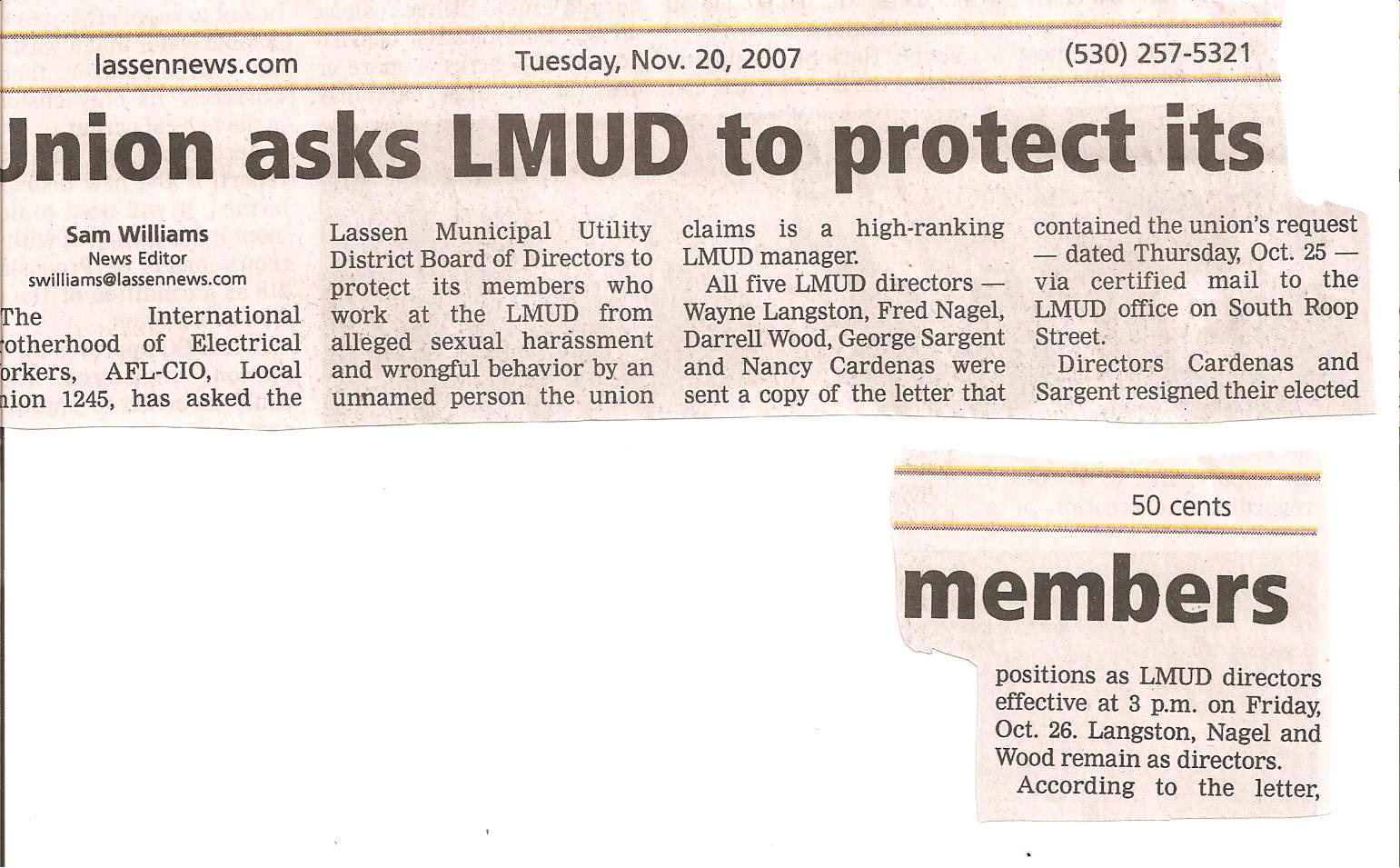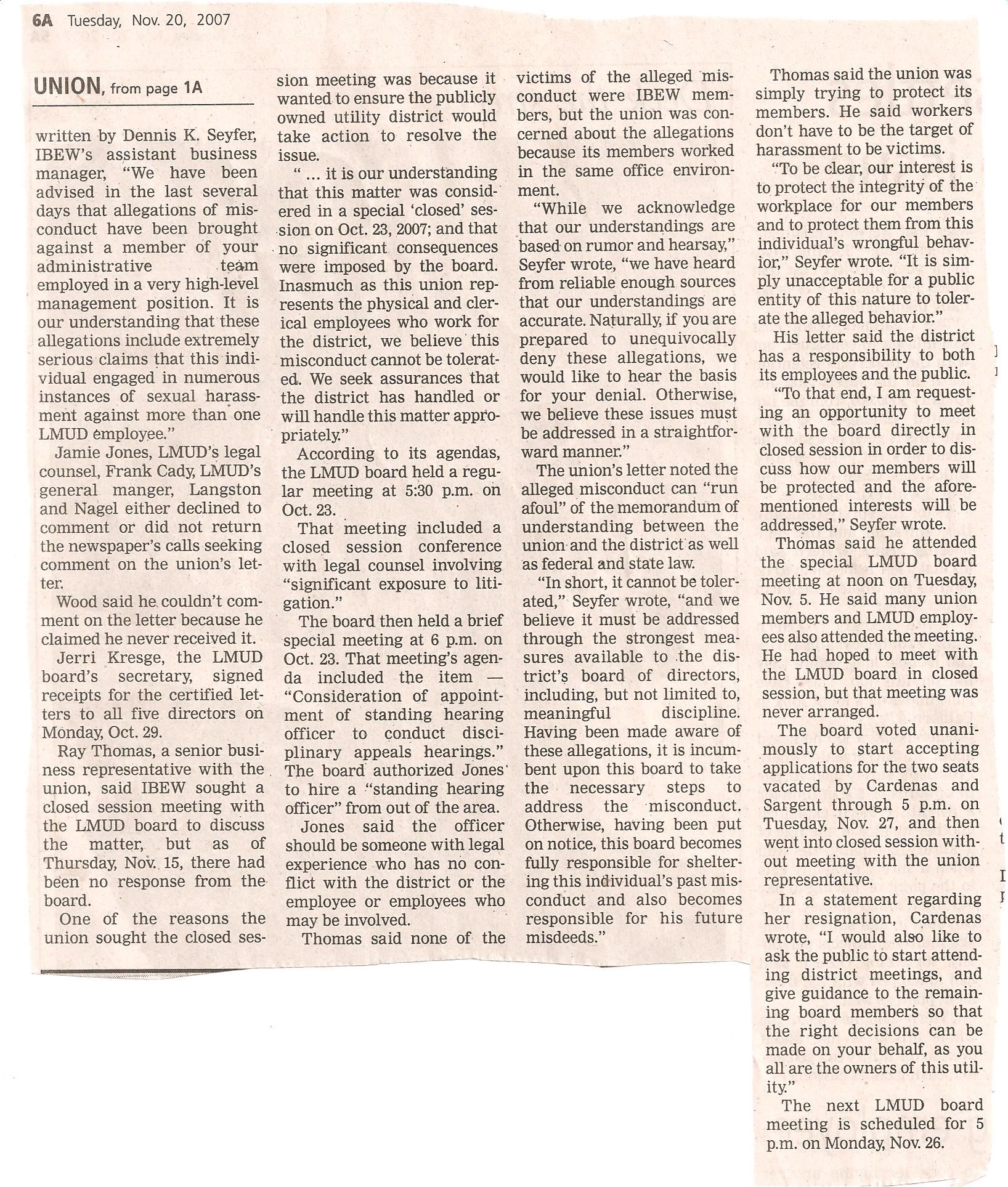 Fred Nagel, Wayne Langston and Darrell Wood have encouraged and supported this LMUD cesspool Cady has created.
These are all married men?
What do their wives say.............Theresa Nagel, Tess Nagel- Langston, Sue Cady and Mrs. Wood???????
What do the husbands, boyfriends, of the women employees of LMUD say?
Fred Nagel, Wayne Langston and Darrell Wood
ignore the disgusting and humiliating working conditions created by Frank Cady @ LMUD
How responsible are the LMUD Directors for the sexual harassment complaints?
Are they somehow involved?
Is this why the three can't fire Frank Cady?
CADY SIGHTING?
Frank Cady was sighted AT THE LMUD OFFICE. He doesn't park his truck there anymore (LMUD gives him $400 a month car allowance) because then the public would know where he is. Cady's "calendar" has become TOP SECRET.
It has to be an awful life when you have been reduced to a life of paranoia. Cady is dealing with his "under life" and it's taking its toll.
Cady actually thinks that he is in danger of being ASSASSINATED. NOW WHY IN THE WORLD SHOULD HE THINK THAT?
He looked like he was 80 years old. He was slinking and slithering, bent over and unshaven.
Cady, LMUD's General Manager, claims that he would reject a request for a copy of his "calendar".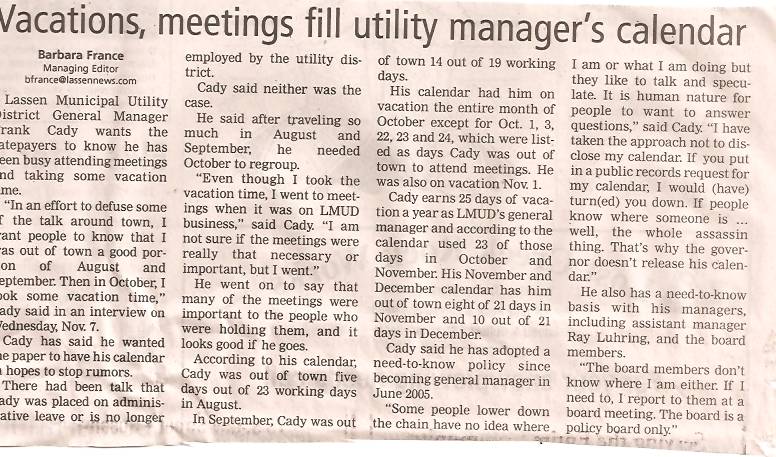 Cady's "Expense Report" is a public record. Will Cady falsify this public record?

"The board members don't know where I am either. If I need to , I report to them at a board meeting. THE BOARD IS A POLICY BOARD ONLY." Frank Cady
THIS "BOARD" CAN FIRE HIS ASS, Section 11.1
frank cady does not have to honor his LMUD contract
frank cady does not have to answer to any one
frank cady says SCREW THE PUBLIC
fred nagel, wayne langston, darrell wood say SCREW THE PUBLIC
THERE IS NO PLACE IN LASSEN COUNTY FOR YOU TO HIDE...SIR
"LOS TRES DIABLOS"
aka The remaining LMUD BOARD
WILL HOLD A SPECIAL SPECIAL SPECIAL MEETING
AT 12:00 PM, MONDAY, 11/5/07
65 S. Roop Street
Susanville, CA
257-4174
lmud board decides to appoint two new members
Nancy Cardenas strongly suggests that the public attend to keep these ______ accountable.
You, Nancy Cardenas did nothing to stop Cady's immoral conduct nor did you make it public after you resigned. YOU WERE PART OF THE
PROBLEM.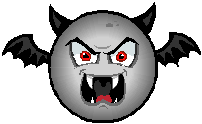 TRICK OR TREAT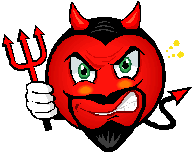 Frank Cady on "indefinite" LEAVE?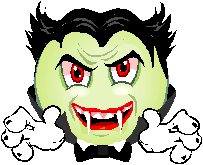 What will be the LMUD Board's next move?
Two of the five Board members have quit. This leaves the worst of the worst running LMUD.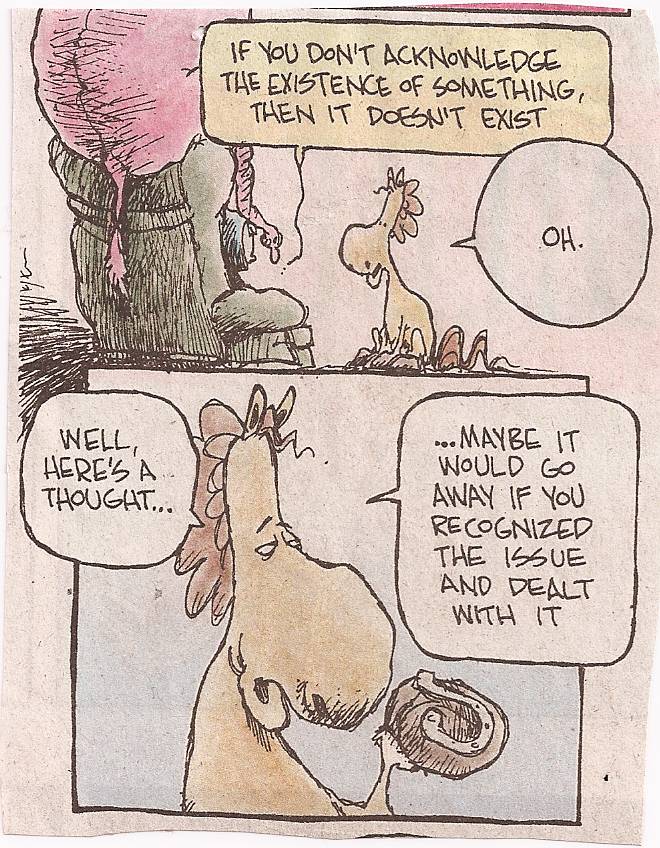 The remaining LMUD Board members: Fred Nagel, who doesn't live in the LMUD District, Wayne Langston who has never been on a LMUD ballot and didn't live in the LMUD District when he was "placed" on the LMUD Board and Darrell Wood who doesn't even live in Lassen County......................
These are all MARRIED MEN
It is worth watching to see if they support Cady's unacceptable conduct.
No employee anywhere, man or women, should have to work under these conditions.
Evelene Twitchell was paid off for what happened to her. Cady bought her silence. That doesn't make it okay because the Board members were cowards and still are. The Board has covered up Cady's conduct for years. They are more than cowards, they are morally corrupt.
ACTION REQUIRED: Section 11.1 of Cady's contract should be invoked and Cady should be removed and have absolutely no connection to LMUD or its' employees.....FOREVER. Cady's LMUD contract
Yippy-ky-yay........LMUD President Wayne Langston voted not to fire LMUD General Manager Frank Cady
A time to celebrate ?
"Tweety Bird" could run against Wayne Langston, Fred Nagel and Darrell Wood and WIN in the next LMUD election.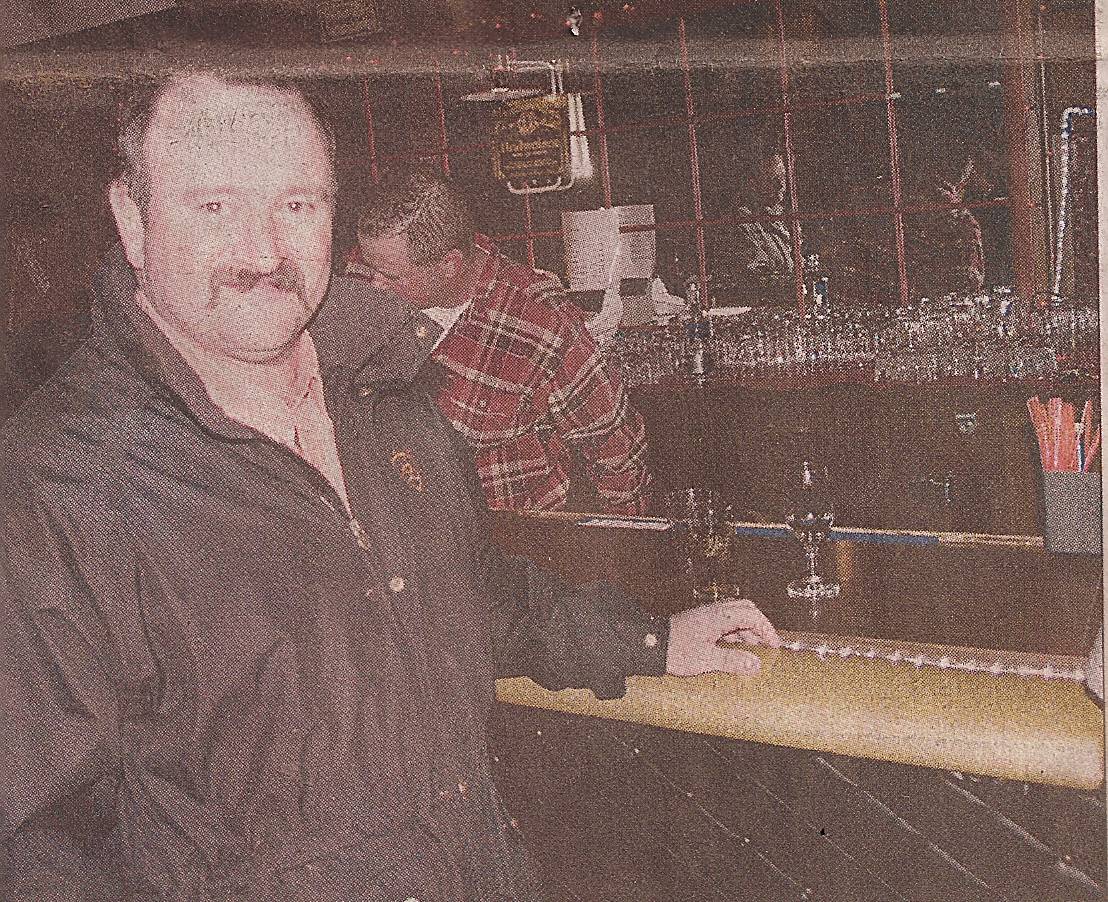 LMUD President Wayne Langston, a married man, voted not to fire Frank Cady. Langston is the only LMUD Board member that has never appeared on any LMUD ballot. He has never received a single vote to sit on this public board.
His mother-in-law, Theresa Nagel was the Lassen County Election Officer and claimed her son-in-law didn't need to live within the boundaries of LMUD and he didn't need to be on the LMUD ballot.
The other two remaining LMUD Directors Fred Nagel and Darrell Wood also voted not to fire LMUD's General Manager, Frank Cady. Both are married men.
Two LMUD Board Members, Cardenas and Sargent, Resign
Was the stench too
much.......?
The remaining LMUD "cesspool" members will hold a special meeting on what to do with Cady
LMUD HAS A PREDATOR
AND WHAT ACTION DOES THE LMUD BOARD TAKE........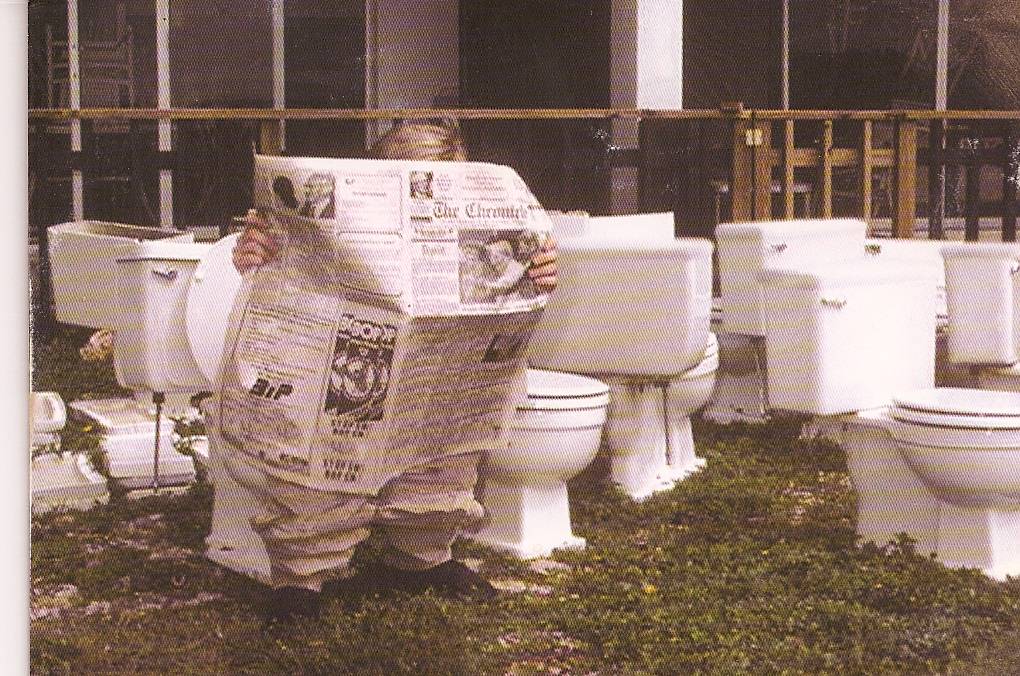 No action and they gave themselves $300 each for the 3 meetings this week
Call the Board Members at 257-4174 or fax your concerns to 257-2558
or PRINT AND SEND TO LMUD BOARD

LMUD, 65 S. Roop Street, Susanville, CA 96130
LMUD BOARD HOLDS THREE MEETINGS IN ONE DAY
UNPRECEDENTED
The LMUD Board, Nancy Cardenas, Fred Nagel, George Sargent, Wayne Langston, Darrell Wood, met at 9:00 AM on 10/23/07 to discuss their problems with Frank Cady. They met again at 5:30 PM and again at 6:00 PM.
The LMUD Board is now facing a crisis. There have been over 50 incidents of sexual misconduct reported to the Board.
The LMUD General Managers contract (Section 11) does not afford him a hearing, but immediate termination without benefits or
compensation. Cady's 2005 LMUD contract
The "immoral" LMUD Board condones Cady's behavior. Cady was only put on administrative leave but the corrupt Board buried the complaints and is bringing him back to work on October 29.
The "immoral" LMUD Board condones Cady's behavior. Cady was only put on administrative leave but the corrupt Board buried the complaints and is bringing him back to work on October 29.
Shame on you Nancy Cardenas, shame on you!
LADIES, GET YOURSELVES AN ATTORNEY outside of Lassen County, NOW!
Check Cady's history, this is not the first time he's done this.
This Board can get rid of Cady or let Cady take them down
FRANK CADY BEING SUED FOR CIVIL RIGHTS VIOLATION
How many times will the LMUD Board of Directors allow Cady to violate his LMUD contract?
Frank Cady, General Manager of LMUD and also the former Manager of the Susanville Diamond Mountain Golf Course, is being sued by Steve and Amy Trevino for Federal Civil Rights violations.

On March 10, 2007, Cady, acting as the General Manager of Diamond Mountain Golf Course in Susanville, fired Steve Trevino, an LMUD employee, for insubordination while Trevino was playing golf at the Susanville golf course. The termination had nothing to do with Trevino, the LMUD employee?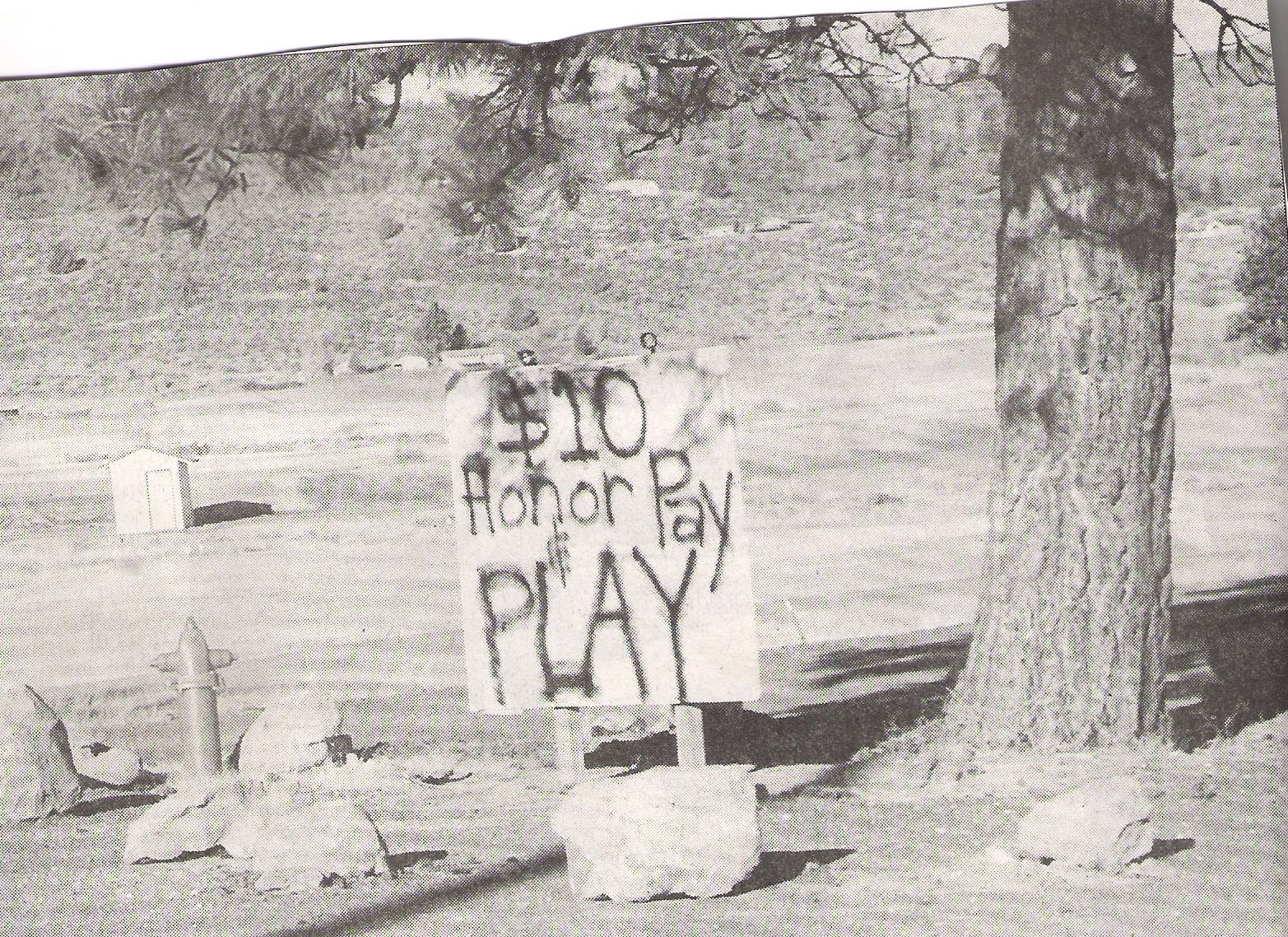 This is only one of many lawsuits against Frank Cady to come.
Just WHEN is the LMUD Board, Fred Nagel, Wayne Langston, Nancy Cardenas, George Sargent and Darrell Wood going to cut this bad apple loose?
Frank Cady's greed and bad judgment has cost the LMUD ratepayers thousands of dollars.
FRANK CADY IN TROUBLE AGAIN
LMUD BOARD ACTS QUICKLY TO COVER UP?
MORE LAWSUITS COMING AGAINST LMUD AND FRANK CADY
There are not enough words in the dictionary to describe this Public Utility Boards level of corruption.
fred nagel, wayne langston, nancy cardenas, george sargent and the worst...darrell wood.