As of: July 1, 2005
FRANK CADY
THE LMUD GENERAL MANAGER/GENERAL COUNSEL
Frank Cady fired on January 4, 2008
Jaimee Richey Jones fired on January 27, 2009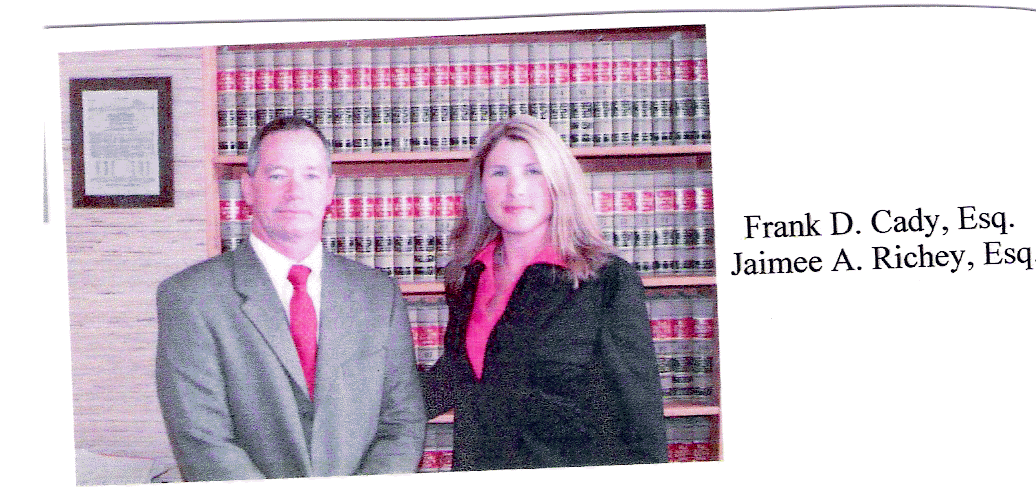 Frank Cady & Jaimee Richey a Limited Liability Partnership
RICHEY AND CADY WEBSITE BEFORE THEY ALTERED IT
Arrowrock power plant-scam I- terminated
psrec/ncpa power plant - scam ii-terminated
CVP/NCPA "RESOURCE 500" PLANT SCAM
LMUD SECRETLY PURCHASES LAND for office
NCPA/LMUD Green Power Agreement ????
Cady Susanville Business License
Cady Ruralite Messages October 2006
Cady Expense Reports 2/21/06
Frank Cady will not divest from his LLP
Richey charges LMUD w/o documentation
LET THE LMUD LOBSTER PARTIES BEGIN..........................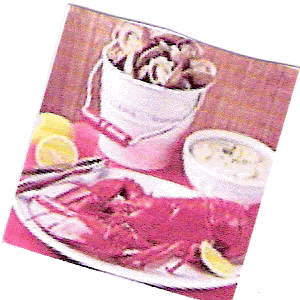 DON BATTLES IS BACK........HISTORY IS REPEATING ITSELF.....
Cady approves cost to take his friend, Battles, to the parties
LMUD did not authorize Don Battles to attend any function. Frank Cady takes Battles to another NCPA party and the ratepayers pay...
CADY CHARGES LMUD $2,100 TO FLY HIS PLANE...BUT WHERE & WHY?
Are Board Members hiding their expenses in Cady's Expense reports again?
NOTE: Jaimee Richey's cost was approved by the Board to attend another "NCPA junket", but there was no vote to pay for Cady's friends.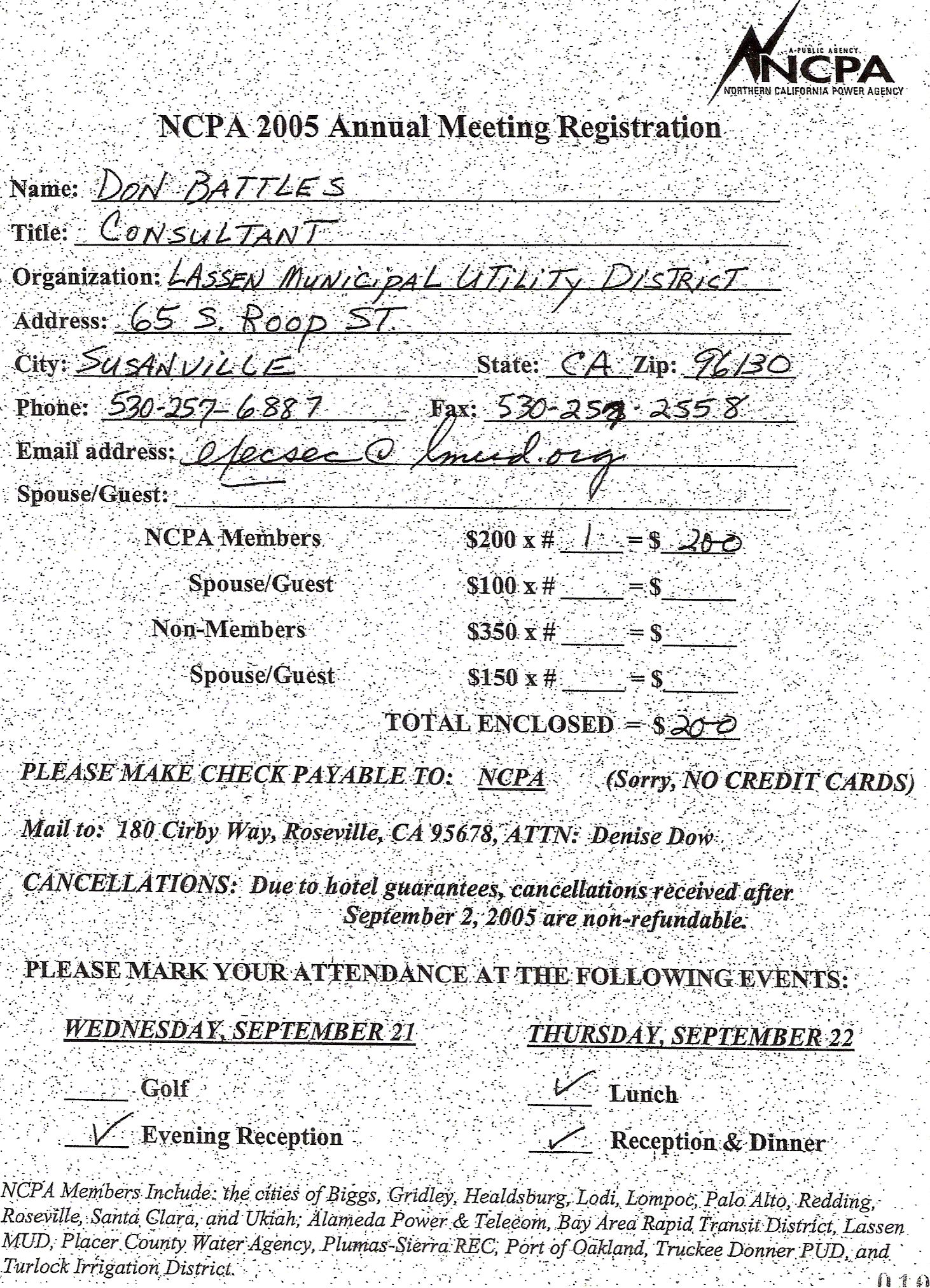 FRANK CADY TAKES CARE OF HIS EXTENDED FAMILY
........and they take care of him
Donald Charles "Bill" Cady-attorney for CPUC
Stephen Cady-Lassen County Judge
Nancy Cady- Abdicated LMUD Director
Craig Cady-U.S. Magistrate
George Cady-Abdicated LMUD Director
Bob Cady-Lassen County District Attorney
Darrell Cady- Abdicated Director & Cady business partner
Fred Cady-PSREC customer
Jennifer Cady- attorney for Attorney General
Wayne Cady-Never-elected Director
RICHEY CHARGES LMUD $15,000 FOR TWO WEEKS WORK IN JULY
Cady, Pardee & Richey never had a contract with LMUD. Frank Cady terminated his legal services with LMUD, on June 30, 2005.
According to court records, LMUD has no legal issues at all, except KWH v LMUD. This case has been sitting, at the Third District Court of Appeals, waiting for a decision and LMUD farmed that out to Jay Allen-Eisen.
There is no possible way that LMUD could have needed $15,000 of legal services in two weeks from an (three years of practice with Frank Cady taught her how to get away with this) attorney that specializes in agriculture. NO WAY.
LMUD paid this $15,000 legal bill without a blink of an eye. The public should be outraged.......and the public should be looking at the LMUD's books very closely and five other bank accounts.
Frank receives $10,800 a month from LMUD as General Manager and another check from Cady, Pardee & Richey LLP for his legal services. Cady charged $110 per hour, for legal services before he became LMUD General Manager, and now he charges $180 per hour for legal services.
SOMETHING STINKS AT LMUD.......NO, IT IS RANCID AT LMUD
CADY & RICHEY CAUGHT LYING TO GET LMUD CONTRACTS
KWH files complaint with LMUD and Judge Bradbury against Richey and Cady 9/1/05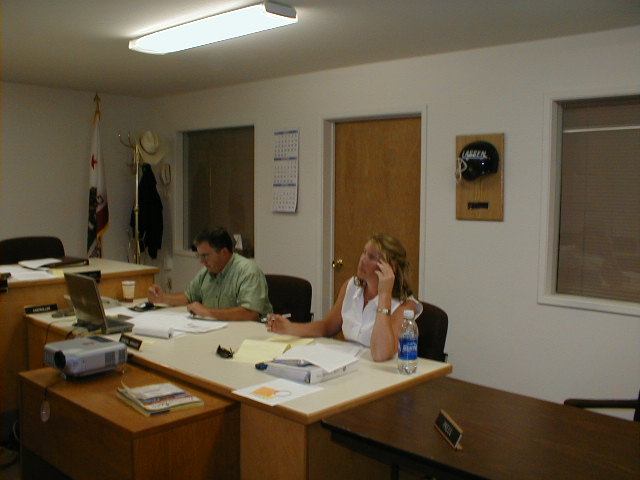 Jaimee Richey (Shown in photo) and Frank Cady not truthful about partnership and ownership of real property and much more.............gross misconduct Link to page 2-9
FRANK CADY HIDING PUBLIC DOCUMENTS
LMUD Board of Directors are hiding their Statements for June, previous Budgets, Les Leiber's Separation Agreement, payments to Cady. KWH requested these and other public documents on July 5, 2005. LMUD DID NOT RESPOND. What are they hiding ???????? More "Gifts of Public Funds" ?
FRANK CADY LIES TO LMUD BOARD LMUD Response
Copy of PRA Request Delivery Confirmed Non-Compliance
August 1, 2005
where's frank cady.....he is never in his LMUD office.....maybe he's still at 60 S. Lassen running his law practice on the ratepayer's dime?
where's the LMUD board?
July 28, 2005
Cady discriminates against KWH sending faxes to LMUD, a public utility
In typical "Cady style", he wants to create a legal problem for LMUD
The LMUD Public Records Act Request Form allows the public to fax their requests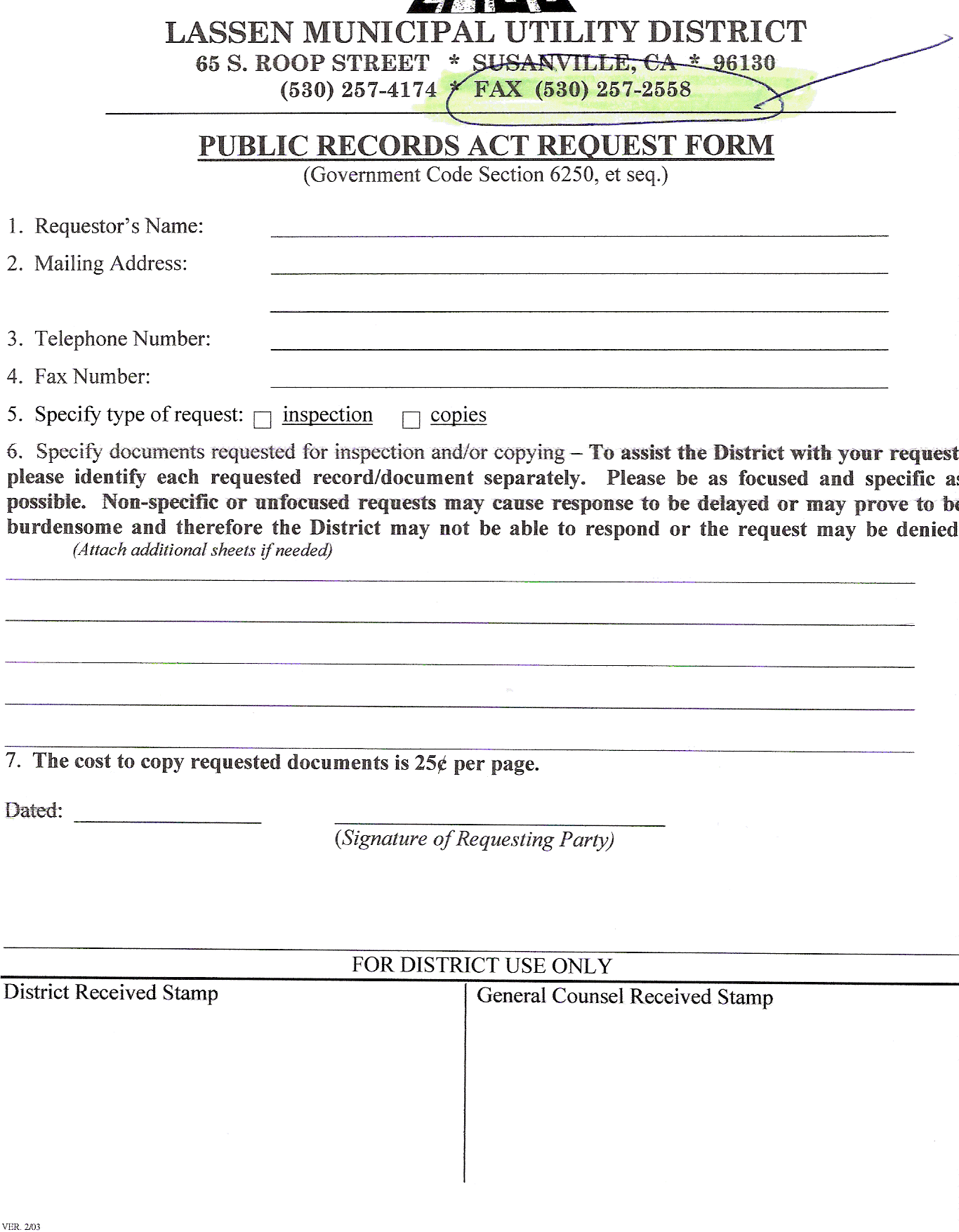 Frank Cady intends to restrict faxes that irritate him. KWH sends faxes only for public records requests and letters to the LMUD Board.
This is LMUD's business.
Frank Cady is paying an additional fee to restrict KWH from faxing letters to the Board.
Cady will no longer notify the ratepayers that a LMUD meeting is scheduled. Cady and the LMUD Board can then hold "Special Meetings" that no one will be notified of. LMUD has faxed KWH the agenda's in the past and Cady says that by "a General Manager Administrative Policy" he will no longer do that and if you want the agenda sent to you, you must pay $50 a year.
The LMUD Agenda is normally one to two pages.
Ratepayers can obtain a copy of the Agenda free, by visiting the LMUD office or by calling everyday to see if there is a special meeting.
WHAT HAPPENED TO THE AUTHORITY OF THE LMUD BOARD. Resolutions must be passed by the Board for such changes. Has Cady thrown out the Board of Directors too?
LMUD BOARD NO LONGER ACCOUNTABLE TO THE RATEPAYERS
July 26, 2005
CADY RUNNING LAW PRACTICE FROM LMUD
Jeri Kresge no longer Board of Directors secretary but now answers the phone as Frank Cady's Executive Secretary.
Front office staff no longer allowed to answer any questions, not even if someone wants to know when the next LMUD meeting is. Cady's private company......that's what it is starting to look like.
CADY USES LMUD PHONE NUMBER FOR HIS LAW PRACTICE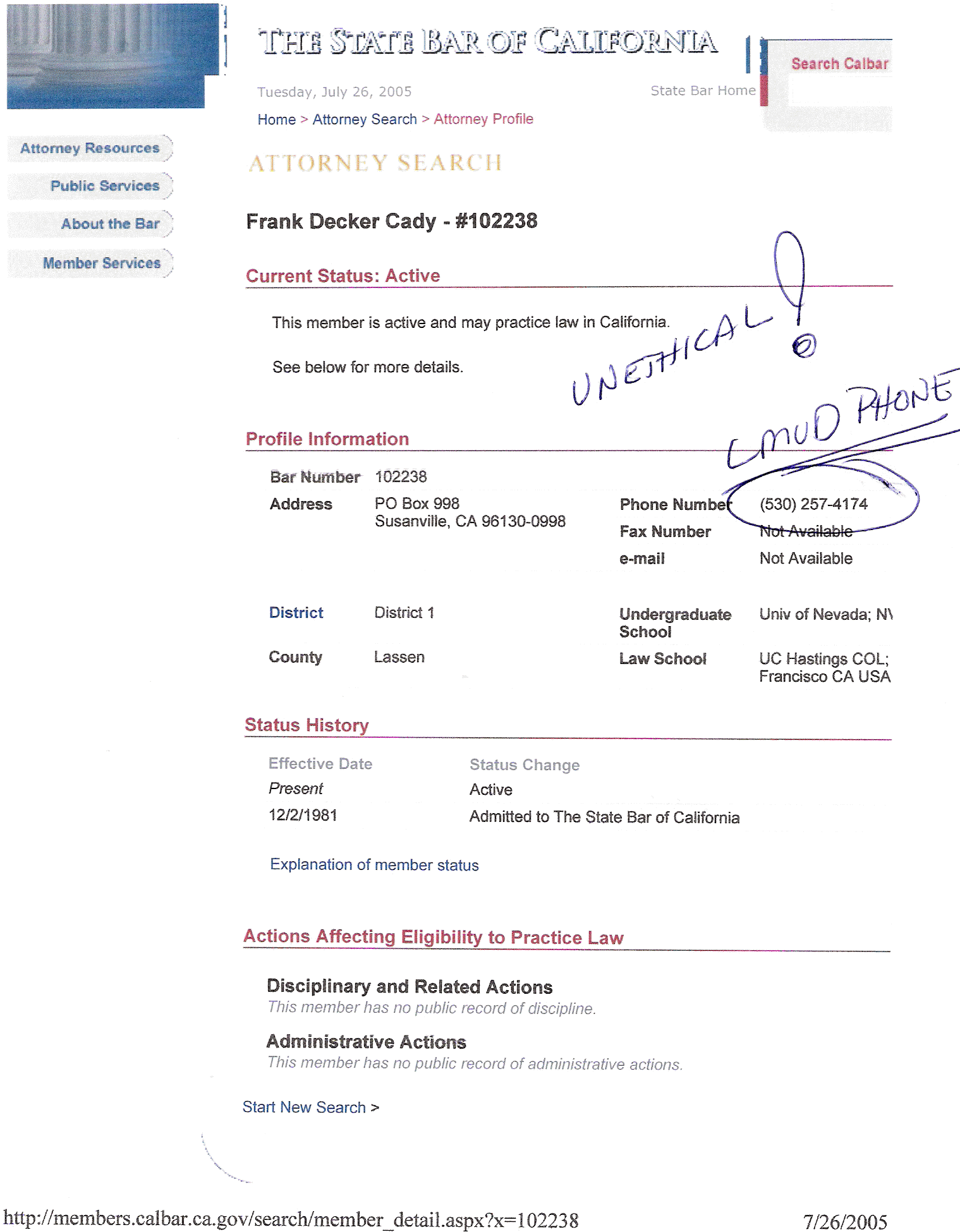 July 25, 2005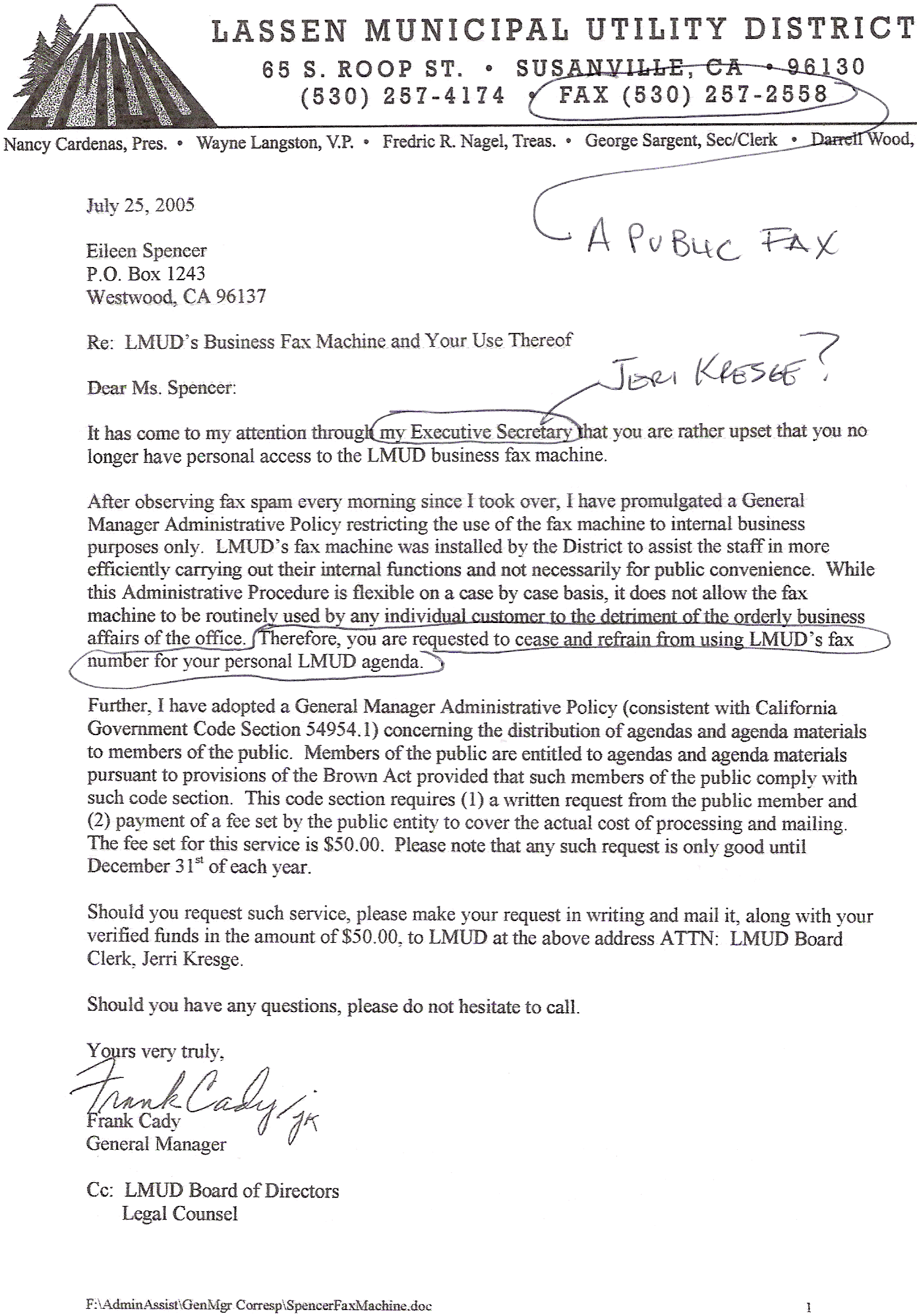 FRANK CADY BLOCKS KWH PHONE NUMBER
Frank Cady is so intimidated by KWH that he decided to block receiving calls from KWH. Frank Cady thinks he can block any ratepayers phone number.
LMUD Recording:
"I'm sorry but the party you have called is not accepting your call"
Childish, immature, unprofessional...yes.
The problem is that this is a public phone not a private corporation's phone. The people pay the phone bill and the people should have access to LMUD. .
LOOK FOR MORE BAD MANAGEMENT DECISIONS
July 22, 2005
FRANK CADY STILL LMUD COUNSEL
Frank Cady has not removed his name from LMUD Litigation. LMUD is still allowing Cady to represent LMUD on their numerous lawsuits. Example
July 13, 2005
FRANK CADY RESIGNS AS LMUD GENERAL COUNSEL
Cady Pardee and Richey's clients are in direct conflict with LMUD. link
LMUD carelessly makes a significant disclosure of Cady's financial interest in Cady and Pardee...they ask him to leave the room while the LMUD Directors discuss hiring his partner. LMUD Meeting, July 13, 2005
On July 13, 2005 Cady lists himself as: Frank Cady PC professional corporation
Frank Cady's LMUD meal ticket has not expired. LMUD hires his partner. Frank Cady is not an "inactive" attorney.
The State Bar says that he has an "active" license.
Richey would be the "next" to the last person qualified to be general counsel for LMUD.
She has no experience in utility law and would farm out all of LMUD's legal messes and get $180 an hour to do it, just as Cady did for years.
LMUD needs a part-time counsel, as-needed. LMUD has budgeted $330,000 for this next fiscal year for Richey.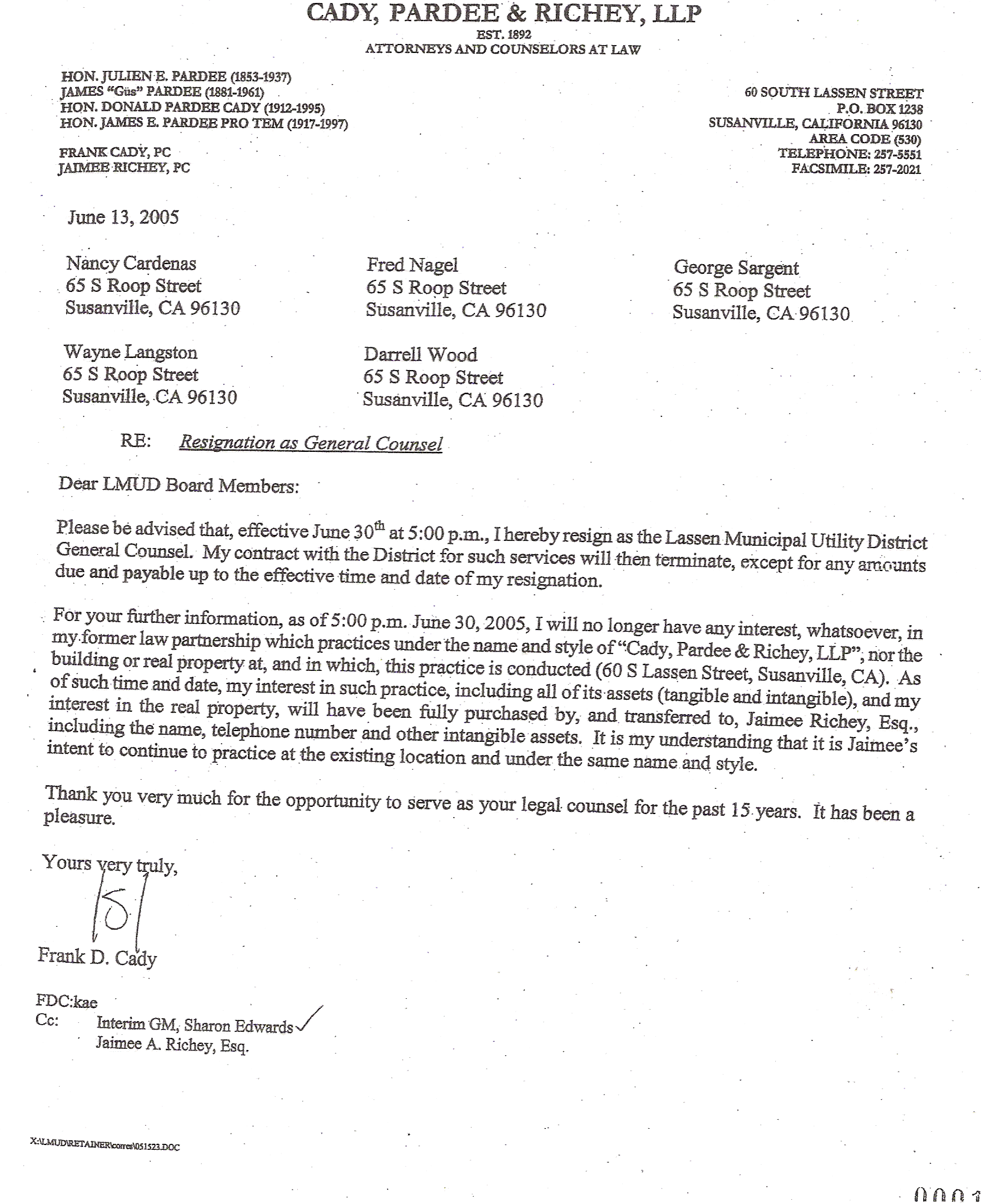 On June 13, 2005 Cady lists himself as:
Frank Cady PC
By July 14, 2005, the LLP and "Frank Cady PC" suddenly disappears?
When did Cady and Richey file for "Professional Corporation"?