Central Valley Project Corporation
"RESOURCE 500"
Calpine power plant
Five year old Gas-fired plant proposal
December 6, 2005
This Scam will be worse than Arrowrock or NCPA's co-generation plant
if LMUD approves Phase I
LMUD is going to pay millions upfront, millions they don't have...............
LMUD MAKES $22,500 PAYMENT TO NCPA'S/CVP SECRET POWER PLANT "STUDY"
This Calpine power plant has been operating for the last 4 1/2 years at a half power and has been a financial burden to Calpine. Calpine presently is in bankruptcy court.
The history of the plant is readily available and a $1.5 million dollar contribution to NCPA will not change the fact that this is not a money maker. This plant would be a huge risk for a small utility to get involved with.
Cady has mis-represented this "pie-in-the-sky" proposal. Unfortunately, this LMUD Board does not care.....about anything except the NCPA party circuit.
A valid question would be how much will Cady's legal partner, Richey, be receiving to handle this SCAM. The Arrowrock Scam made Cady rich. It is estimated that Cady received over $300,000 over a four year period to handle a bogus hydroelectric power plant in Boise, Idaho.
This LMUD Board made the same mistake with NCPA's alleged co-generation plant that was terminated after LMUD spent over $61,000 plus unknown legal fees submitted by Cady,Pardee & Richey.
BOTTOM LINE: Only Cady has profited from these scams.
LMUD "SECRET UNNAMED" POWER PLANT PURCHASE ....JUST ANOTHER ARROWROCK LINK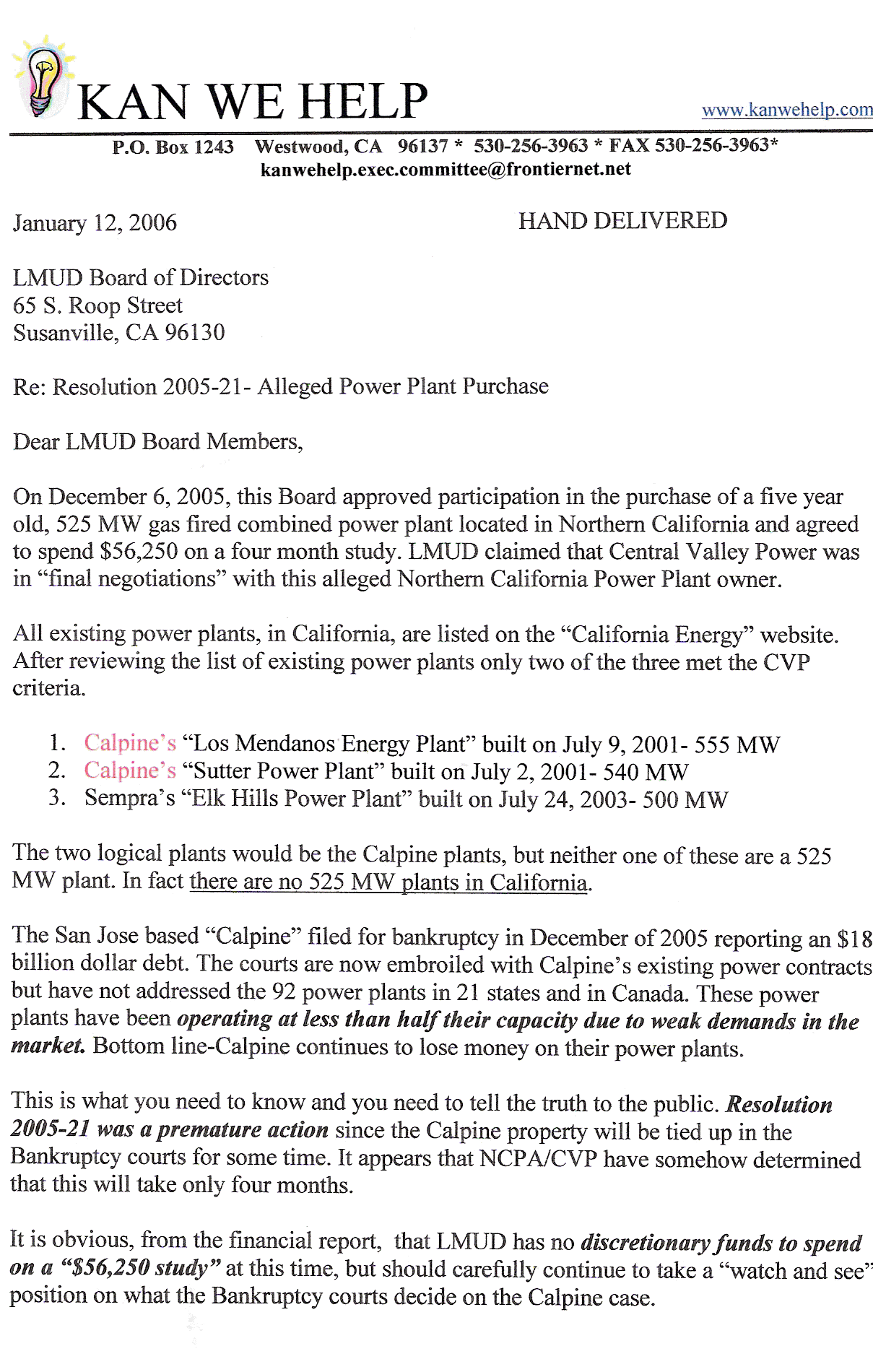 As with LMUD's prior scams, KWH will monitor this EXTREMELY closely
It is not a coincidence nor a surprise that Cady brought this scam to LMUD knowing LMUD has no money now or next year to participate in this folly. However, he has contrived a way to squeeze off a considerable amount of legal fees again, to his law firm "CADY, PARDEE & RICHEY, LLP" and partner, Jaimee Richey.