KWH PUBLIC RECORDS REQUESTS
2002-2013
LMUD 2002 (Not required by the Public Records Act) Public Records Request Form
CITY OF SUSANVILLE PRA FORM NOT REQUIRED BY THE PUBLIC RECORDS ACT
Click Below - update 10/30/13
Frank Cady delayed, delayed and delayed Public Records Requests so that the public would be discouraged from asking for public documents. Documents that would have put him and elected officials in jail.
Frank Cady's letters acknowledged KWH public records requests prior to the KWH Writ of Mandate for the Arrowrock Feasibility Study.
Judge Lazard refused to look at the study that was completed in October of 2001. This was evidence that the Study did exist, was paid for by LMUD and was disclosable. The Arrowrock Study is now available to the public through the Boise Project Board of Control's attorney's website.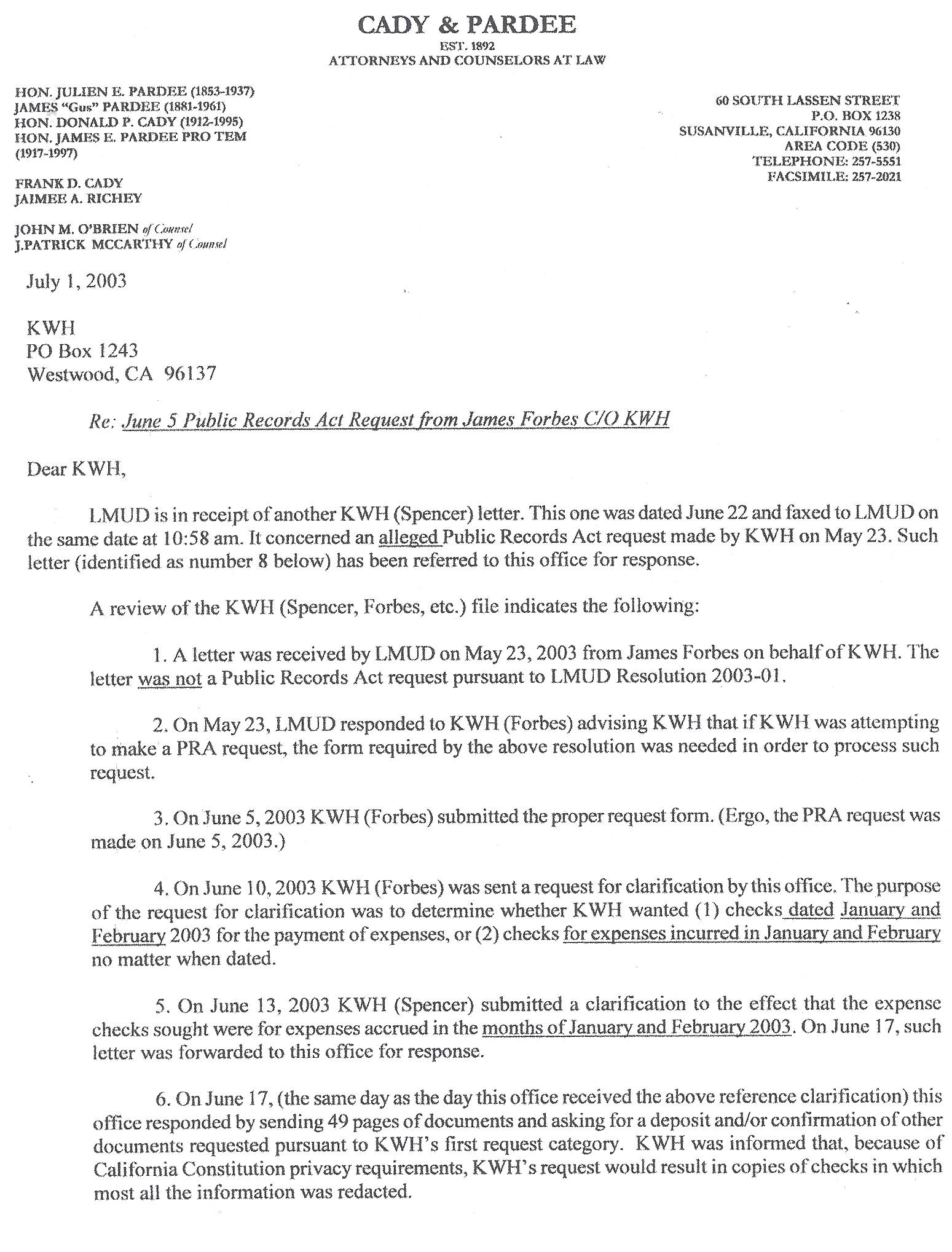 Former LMUD General Manager Twitchell Lied About Public Records
Richey/Jones only knows how to Lie about Public Records link link
PROPOSITION 59 PASSED ON NOVEMBER 2, 2004
The public has a right to assume documents exist when public money is expended. link
80% of Lassen County voted yes
This proposition strengthens the peoples right to access their government. It puts the burden, on the public entity, to prove that public records should not be released. It strengthens the open meeting laws.
Public document requests should be a simple process but becomes expensive when the public agency has something to hide.
Evelene Twitchell has been advised, by Frank Cady, that the public records requests are expensive due to the fact that he believes anyone asking for records is a possible lawsuit........ .........link
LMUD's legal counsel created such an expensive process for the public to request public documents and the LMUD Board went along with it.
****************************************************
8/16/04 KWH files appeal in Third District Court of Appeals
4/28/04
Judge Lazard issued a ruling that Cady's Arrowrock invoices are not to be released, the 2001 Arrowrock Feasibility Study is not to be released, that the LMUD documents slipped in by Frank Cady, after the writ was filed, will be accepted, Board Member Langston's net pay can be redacted. The ruling will be appealed.
2/17/04
Judge Lazard has taken the case under submission. Frank Cady, after the hearing, submitted libelous statements to the Court.
KWH hires Cooper, White, Cooper from San Francisco to take KWH's Public Records lawsuit to trial. This firm specializes in open meeting violations, public record violation, libel, First Amendment violations.
1/26/04
A Case Management hearing is set for November 18, 2003 to set a date for the hearing. A no-nonsense case management hearing set a date of January 26, 2004 hearing date for the Public Records Violation lawsuit filed by KWH. Lazard refuses to hear case.
************************************************************************
PUBLIC RECORDS ACT
EXISTS FOR THE PUBLIC
The General Manager, LMUD Board and their sorry excuse for a legal advisor reported such an exaggerated account of their costs for public records at the September 4, 2003 meeting. KWH has Frank Cady's invoices from 1997 and the actual billed PRA expense is a far cry from what was reported at the September meeting.
Twitchell & LMUD Board have created a very costly paper monster. They have created such an expensive process that they have to take full responsibility for the costs.
1. Fill out a mandatory routing slip. If you are a first time requester and you don't live in Susanville, your request will be delayed because you didn't fill out or did not know about the "routing slip".
2. When or if your request is accepted it will be "routed" to a law firm to be evaluated and a letter will be sent to you. This takes a full ten days.
3. The requester will be asked then to send a deposit in for the documents.
4. The requester may or may not get full disclosure of the documents. The requester may get documents that they did not request. LMUD can delay the process by numerous letters from the law firm.
5. If the documents requested indicate any wrong doing or just simply information that they don't want the public to know...the information will be totally covered-up or the requester will be told that it doesn't exist.
PUBLIC RECORDS
Evelene and Frank teamed up at the LMUD meeting on September 4, 2003. It was like watching a "dog and pony" show. Twitchell claimed that LMUD receives public records request from only people that have filed litigation against LMUD. Twitchell claimed that she uses five (5) staff people to process PRA's and she now wants to turn them over to Frank Cady. Third planet...come in. Evelene has succeeded in organizing the worst system, the most expensive system to process Public Records requests that is humanly possible.
If memory serves correct...Frank Cady and team have always done the PRA's
BiG money maker for Frank Cady. He can't do regular legal work. Cady's invoices show that he does very little work himself.... Incompetent...no we won't say that.
Twitchell stated an unsubstantiated amount that LMUD pays Frank Cady to process PRA's...... KWH has Cady's invoices.... This was a big mistake to lie....
But KWH could not tell you that she is lying if we didn't have the documents.
DOCUMENTS OF ACCOUNTABILITY
KWH filed a lawsuit for the release of public documents.
LANGSTON, TWITCHELL AND CADY WILL SPEND ALL MONEY NECESSARY SO THAT THESE DOCUMENTS ARE NOT RELEASED.
The public can walk into any Court house and ask the clerk for a court document and walk out with it.
The public can walk into the County Clerk's office and walk out with the document requested.
The public can walk into the City or County Planning Department and walk out with the documents needed.
NO FORMS, NO WAITING, NO HASSLE, ........ NOTHING TO HIDE ?
The public can walk into any government office in Lassen County and be helped with courtesy and respect for public information or public documents....with the exception of Lassen Municipal Utility District.
The Federal Government enacted the Freedom of Information Act so that the citizens of this country can have access to their business.
LMUD is so afraid of the public knowing what they are doing with public money that they lie about and hide everything. It takes an Act of Congress to pry public documents from them. "ALL" of LMUD General Managers hide and resist disclosing the publics business.
Other public officials in Lassen County seem to "KNOW" what to do. WHY IS IT THAT LMUD IS SO DIFFERENT.
IS IT THE OVERBEARING PRESENCE OF LEGAL ADVICE THAT OTHER AGENCIES DON'T HAVE?
When LMUD's legal counsel gets frustrated with the accusations, he hires an outside law office to take the heat off of himself. The public then can blame the outside law firm........ that takes direction from him. MORE WASTE OF RATEPAYERS MONEY.
LMUD uses firm for PRA's when they get into trouble. Link
Since this problem with disclosure has passed through many General Managers, the public must look closer to where the problem really lies.
SOLUTION:
1. Make it mandatory that the LMUD General Managers have a high level of knowledge of the Public Records Act.
2. Make it clear to the LMUD Board of Directors that this is a mandatory requirement for the position of General Manager. A salary of $120,000-$150,000 should bring with it some required skills.
3. Require the General Manager to report any conflict of interest that surface to the LMUD Board.
4. Require LMUD to write and enforce a Code of Ethics.
5. OR REQUIRE LMUD TO CLEAN UP ITS ACT......................
LMUD PRA CLERK
Jeri Kresge is LMUD's official "PRA Clerk". She makes the copies.... Now let's look at what the "Board Secretary" does for $60,000..... ...................................................................................................
...........................................................................................................
...................okay, so we couldn't come up with anything more than a two hour day for her.
then you have a General Manager that should know what documents are disclosable, but doesn't. (Even Theresa Nagel knows what is 'DISCLOSABLE" and doesn't need a legal albatross hanging around her neck)
Twitchell claims to have processed a $100,000 worth of requests....? WRONG. Try $3,086.35 (G/L 922.015) since she has been here.
Twitchell claims that it takes five staff people to handle public records request. A BOLD FACE LIE.
Twitchell claims that it takes an equivalent of ONE WEEK out of the month to process public records request. SOUNDS LIKE A MANAGEMENT PROBLEM.
Twitchell claims that only people that are suing LMUD request public documents.... and what is the single only lawsuit before LMUD? KWH/LMUD for public records act violations.
Twitchell, " a vast majority of Public Records Requests come from groups or individuals that have pending litigation or have threatened litigation".
KWH has submitted five PRA's during this "tracking" period. KWH cost:$45.00
Link KWH Public Records Requests
Twitchell stated that LMUD has tracked the costs of complying with the law at $20,000 in the last few months. The actual cost was $3,086.35, if you want to trust how they tracked the cost. Frankly..... there is no reason to trust anything that they tell the public anymore.
Frank Cady was asked how much PRA's cost the District for 2002-2003. He replied $100,000. KWH wishes we could sugar coat his comment , but his statement was a bold face lie.
Link LMUD actual cost to process PRA's
LMUD has been dealing with controversy on the way it has been managed since 1988. KWH is the only one that has EVER sued LMUD for Public Records violations.
TWITCHELL HAS TROUBLE WITH THE TRUTH AND THE PUBLIC IS HAVING A PROBLEM WITH TWITCHELL'S CREDIBILITY.... OR TWITCHELL IS GETTING REALLY BAD LEGAL ADVICE.
The public has a legal right to this information. This website exists because of the PUBLIC RECORDS ACT.
The Court will be most interested in what this direct threat has to do with public records requested by KWH.