Lassen County Superior Court
Judge Bradbury
Politics and Justice always a concern in Lassen County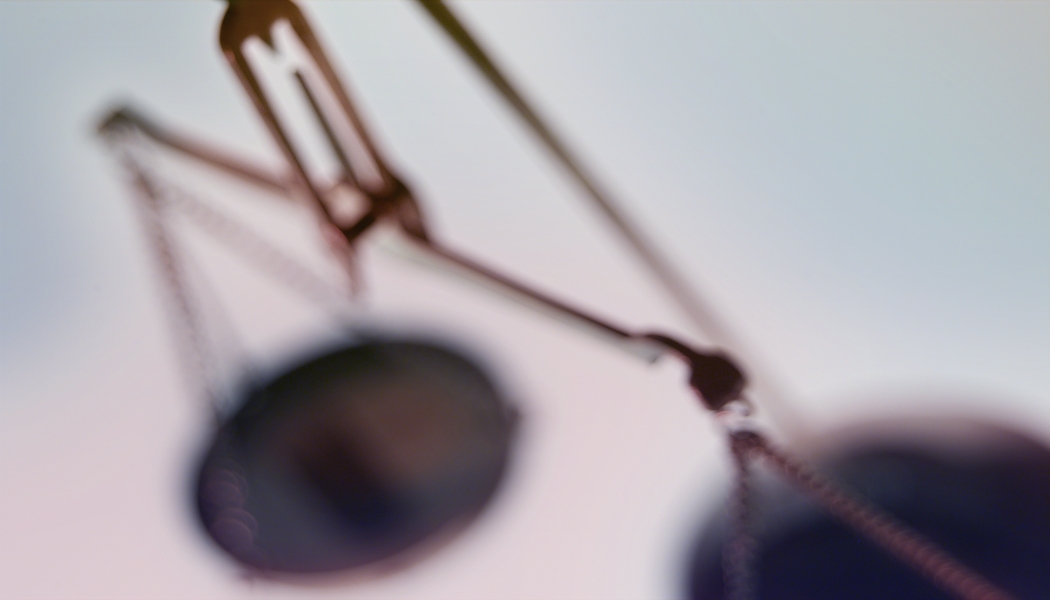 Kan We Help breaks this story on 10/25/09, Bradbury resigns on 11/2/09
Bradbury meddles & interferes with case involving LMUD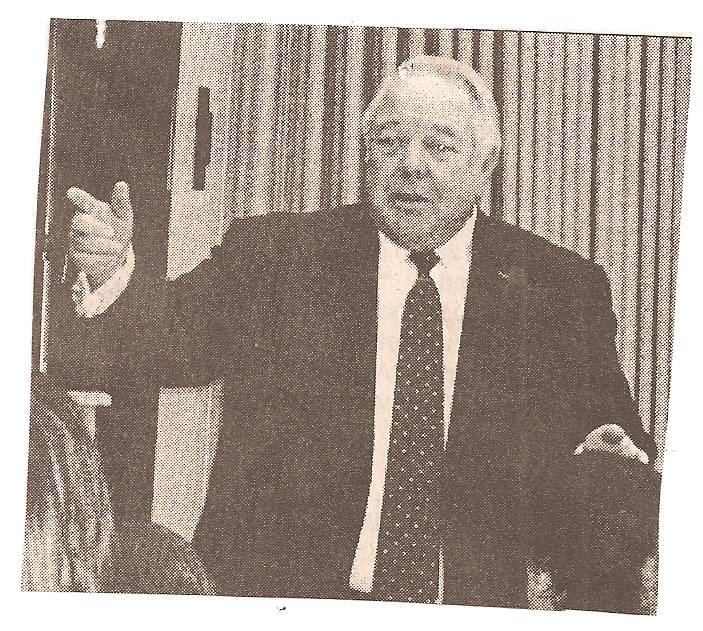 Judge Stephen Bradbury was a partner in "BKC"

, a company disguised as a real estate company. His partners, U.S. Magistrate Craig Kellison, and Susanville attorney Frank Cady helped local citizens find BIG BUYERS for their property.
The "partnership" owned 60 S. Lassen. It appears that Judge Bradbury fronted the purchase money for this property and maintained an interest until January 31, 2006.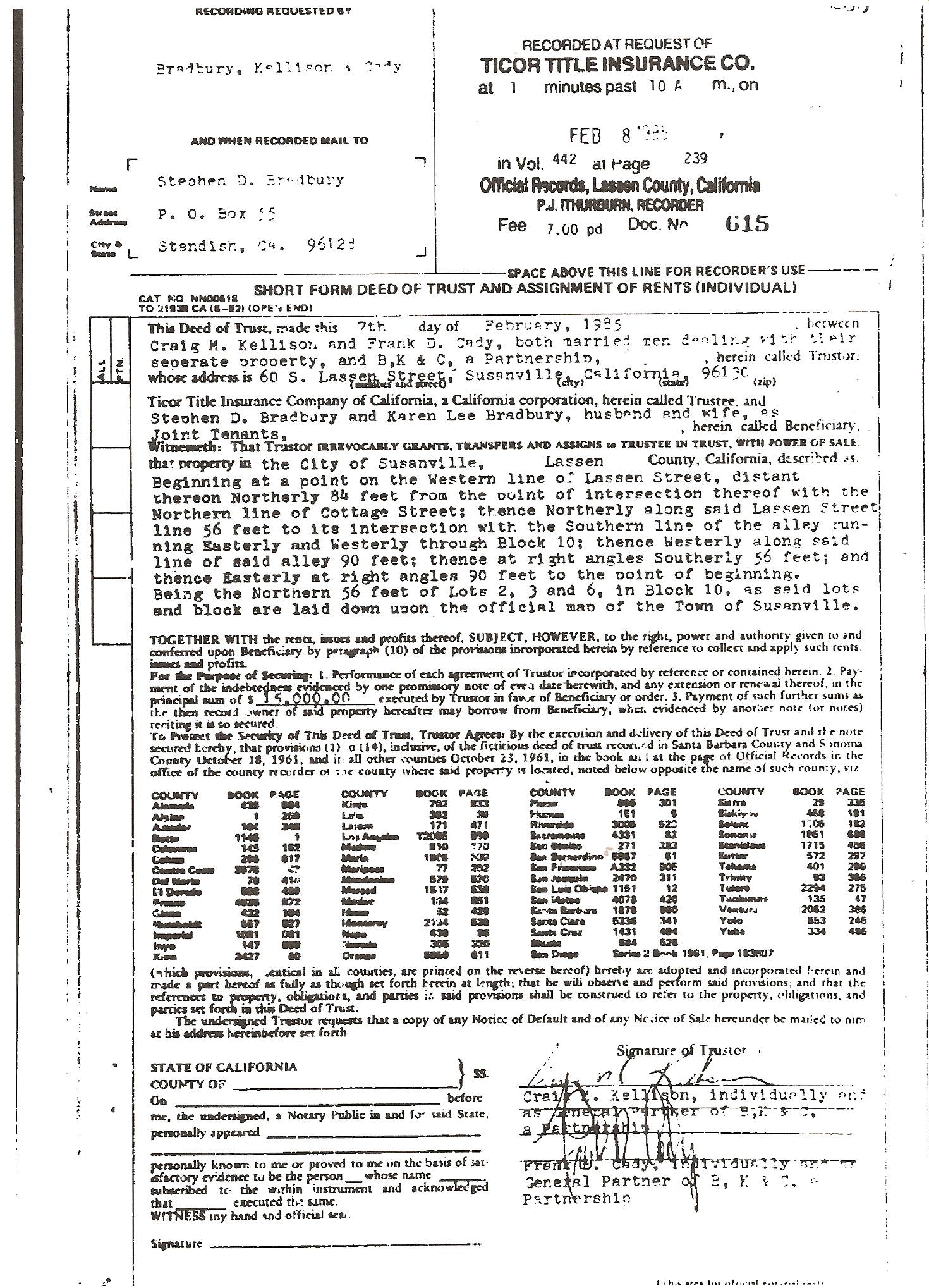 Frank Cady wanted to become the LMUD General Manager but had huge conflict of interest issues.
Judge Bradbury still had an interest in 60 S. Lassen

U.S. Magistrate Craig Kellison still had an interest in 60 S. Lassen

Cady had registered as a partner with Jaimee Richey/Jones in January 2005.

Cady had to appear to divest himself from his law partner, Jaimee Richey/Jones so he could be hired by LMUD
Let the games begin

Frank Cady made it appear that he divested himself from his law partner by selling his interest in 60 S. Lassen

U.S. Magistrate Kellison, five days later records the sale of his interest in 60 S. Lassen, to Frank Cady.
OWNERS OF 60 S. Lassen: Bradbury, Cady and Richey/Jones
Judge Bradbury, Judge Kellison and Frank Cady waited six months to get Judge Bradbury out of the deal.
NOTE: There is nothing illegal in any of these transactions. However, Judge Bradbury and Judge Kellison conspired to hide a direct conflict of interest with Frank Cady becoming LMUD's General Manager and Cady's law partner to remain as LMUD's General Counsel.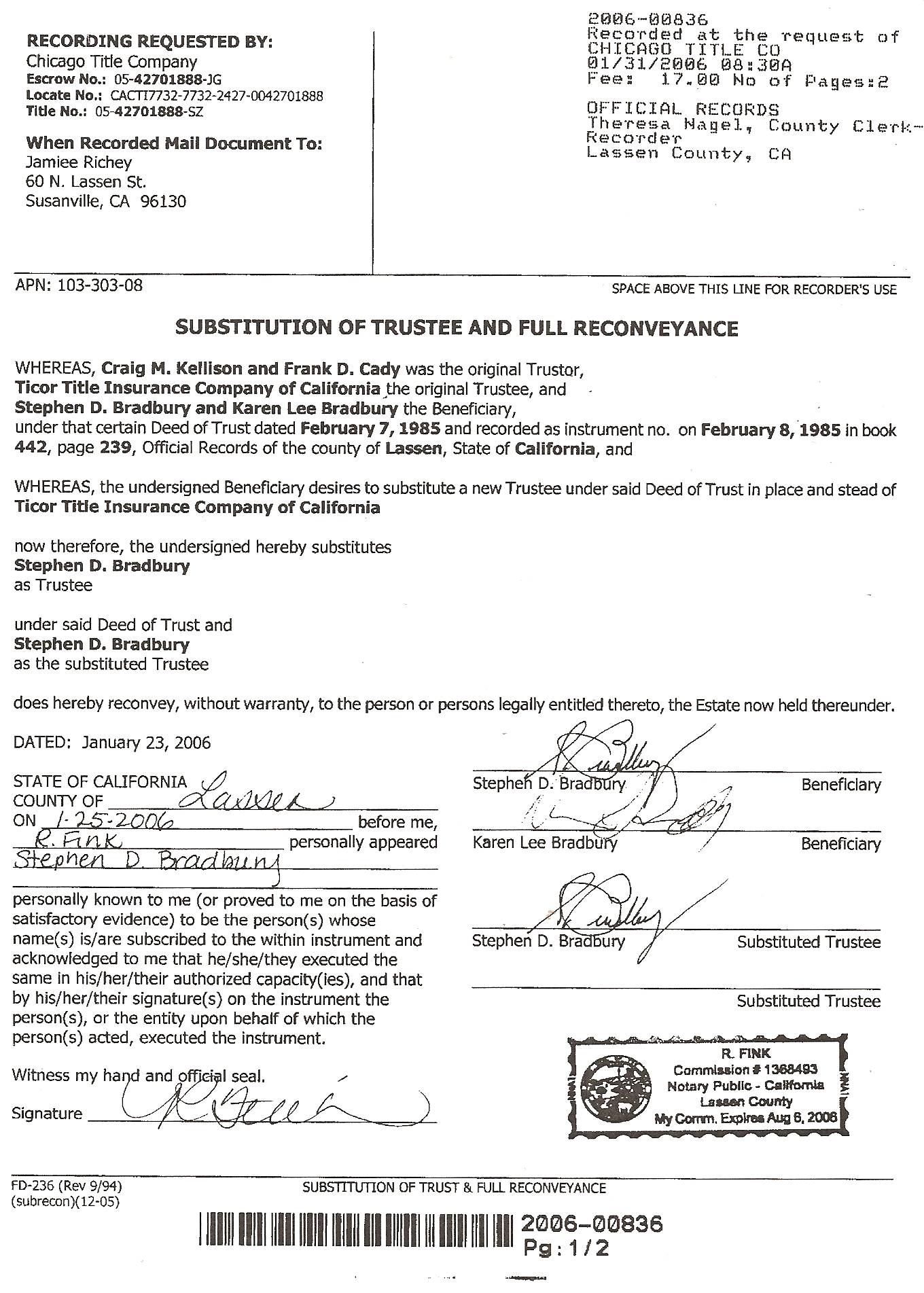 JUDGE STEPHEN BRADBURY GIVES MORE FAVORS.........
A few months after Judge Bradbury "signed" ($$$$$$$) off on the 60 S. Lassen property, he placed LMUD's attorney,Jaimee Richey/ Jones, on the Grand Jury and then on September 29, 2006 Lassen Municipal Utility District filed a "Levy" and "Forced Sale" against 1285 Orlo Street in Susanville in order to collect the judgment against a KWH member. This is the only action LMUD took to collect this Judgment.
LMUD's only attempt at the Enforcement of Judgment, Case 36791, Kan We Help v. LMUD

LMUD accepts $7500 as a secret BRADBURY settlement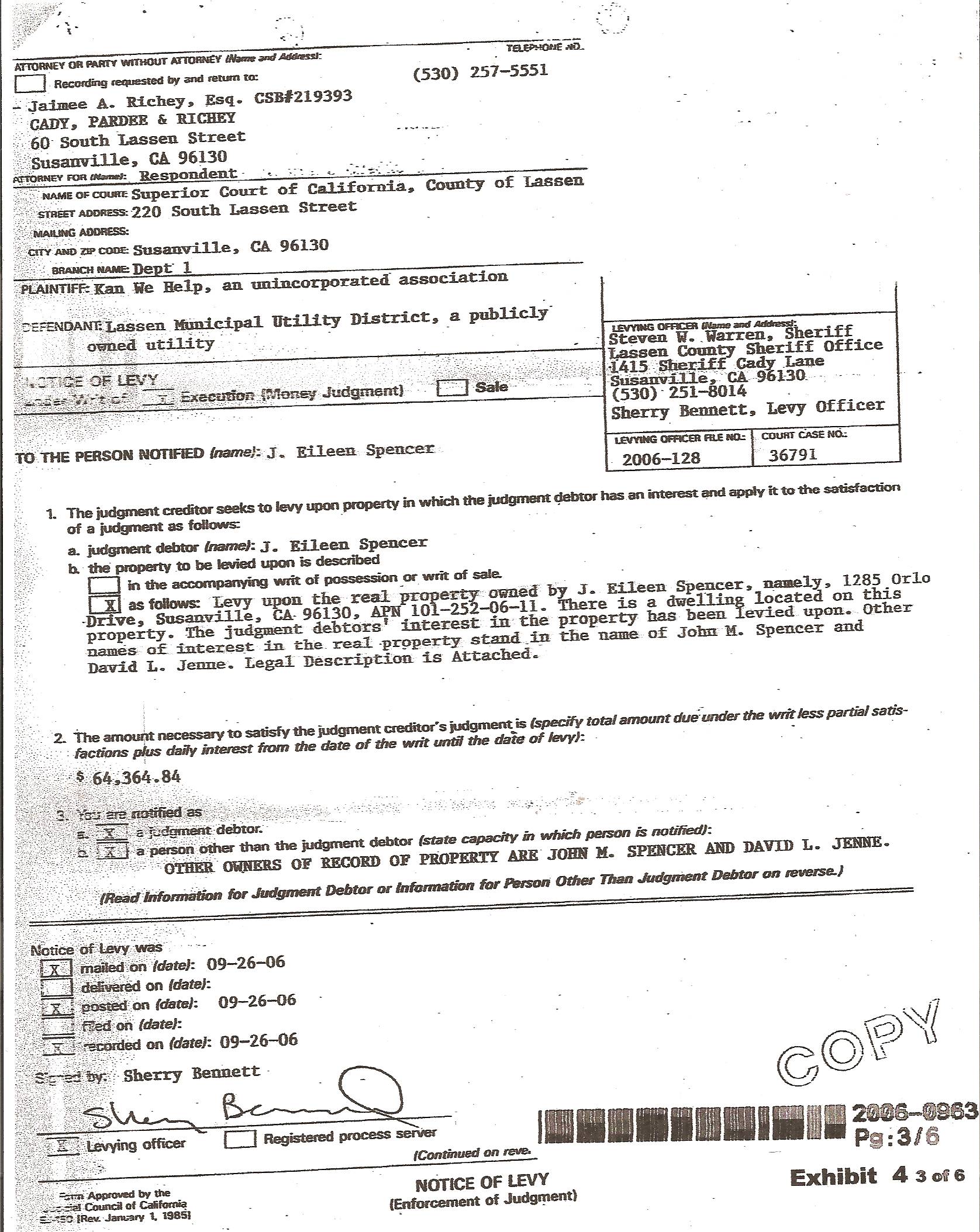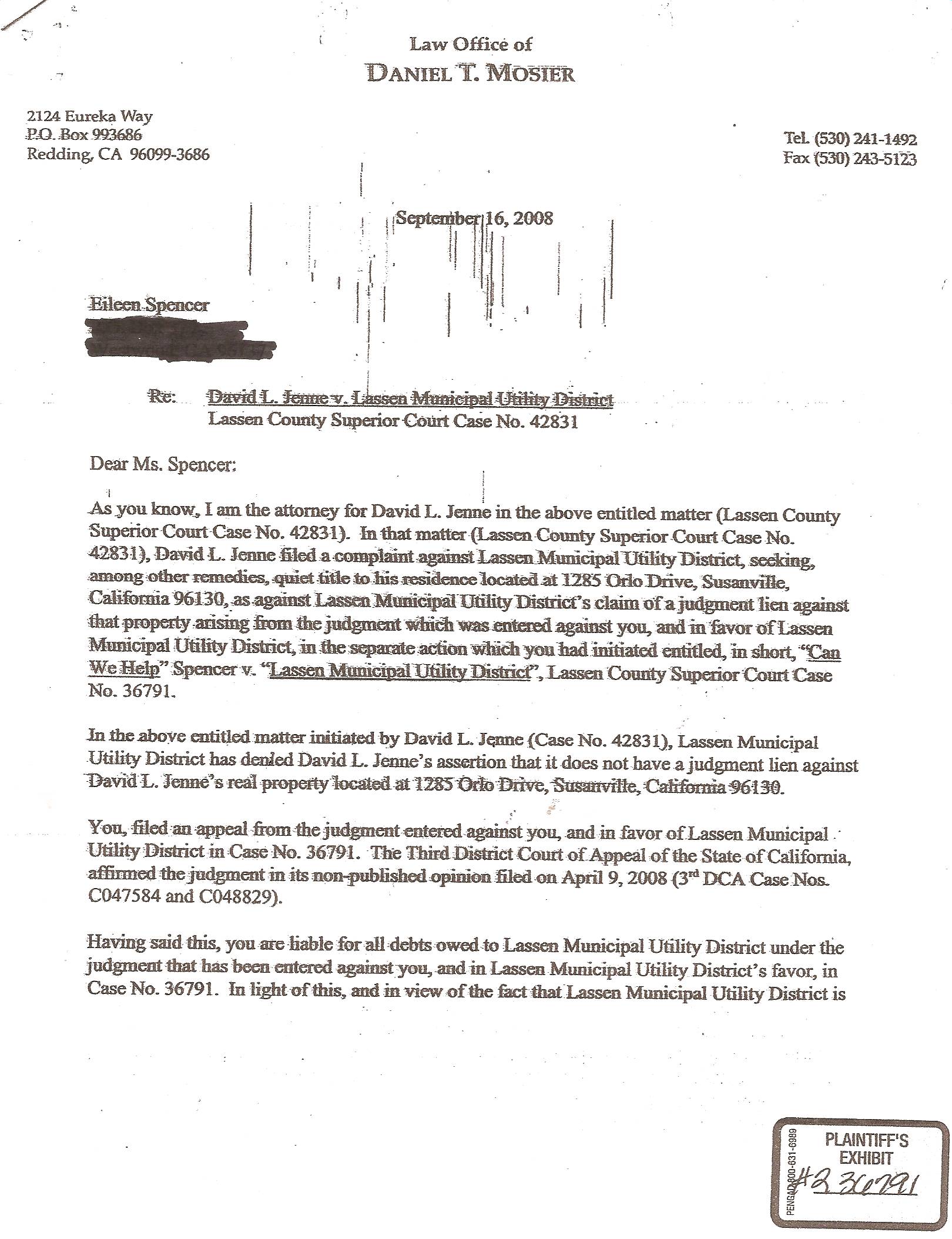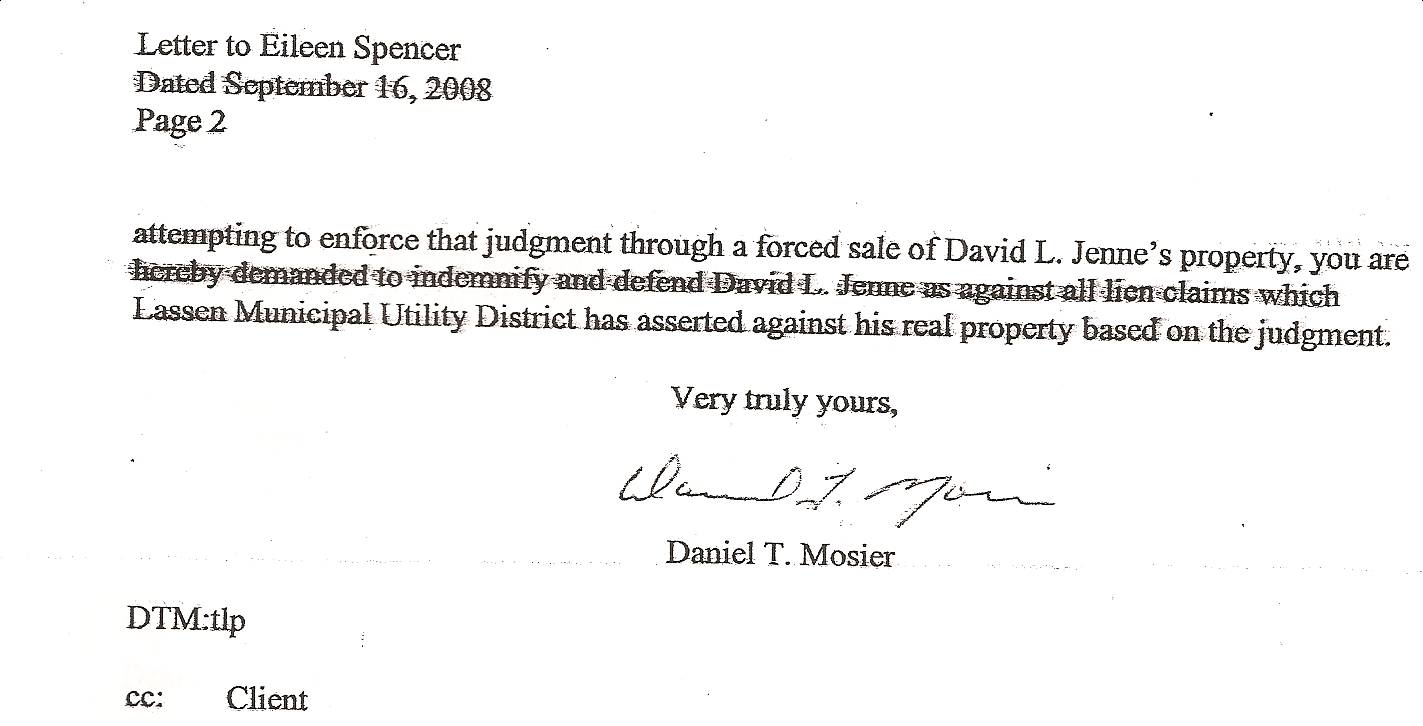 Judge Stephen Bradbury more than Meddles in Case 42831
Judge Darlington was the JUDGE OF RECORD on this case. NO SUBSTITUTION, NO RECUSAL WAS EVER MADE
A lawsuit was filed [ Jenne v LMUD, 42831] to stop LMUD from selling this property
"Obstruction"
LMUD began negotiating with the owner of 1285 Orlo to "extort" attorney fees for the KWH v LMUD case (36791)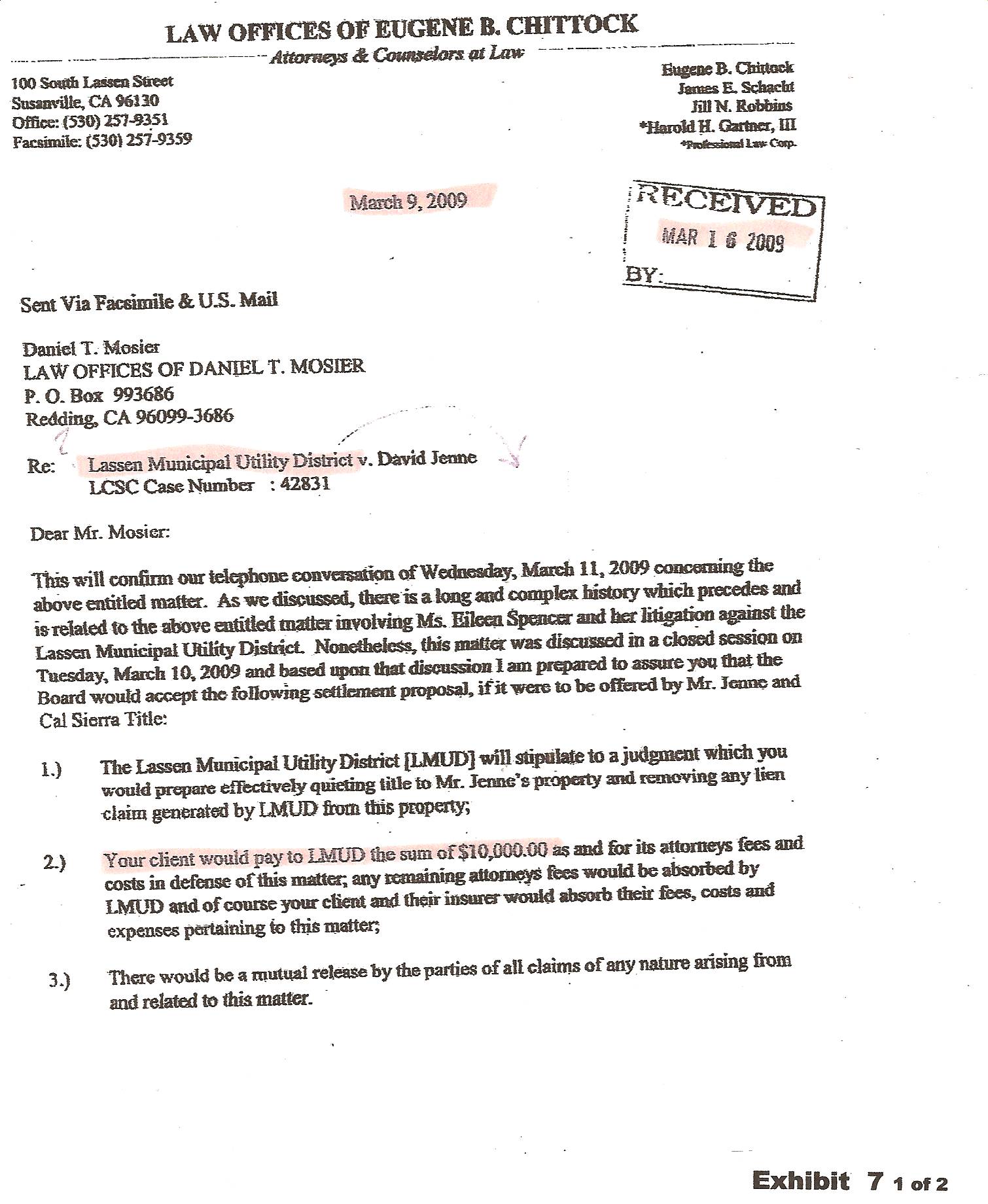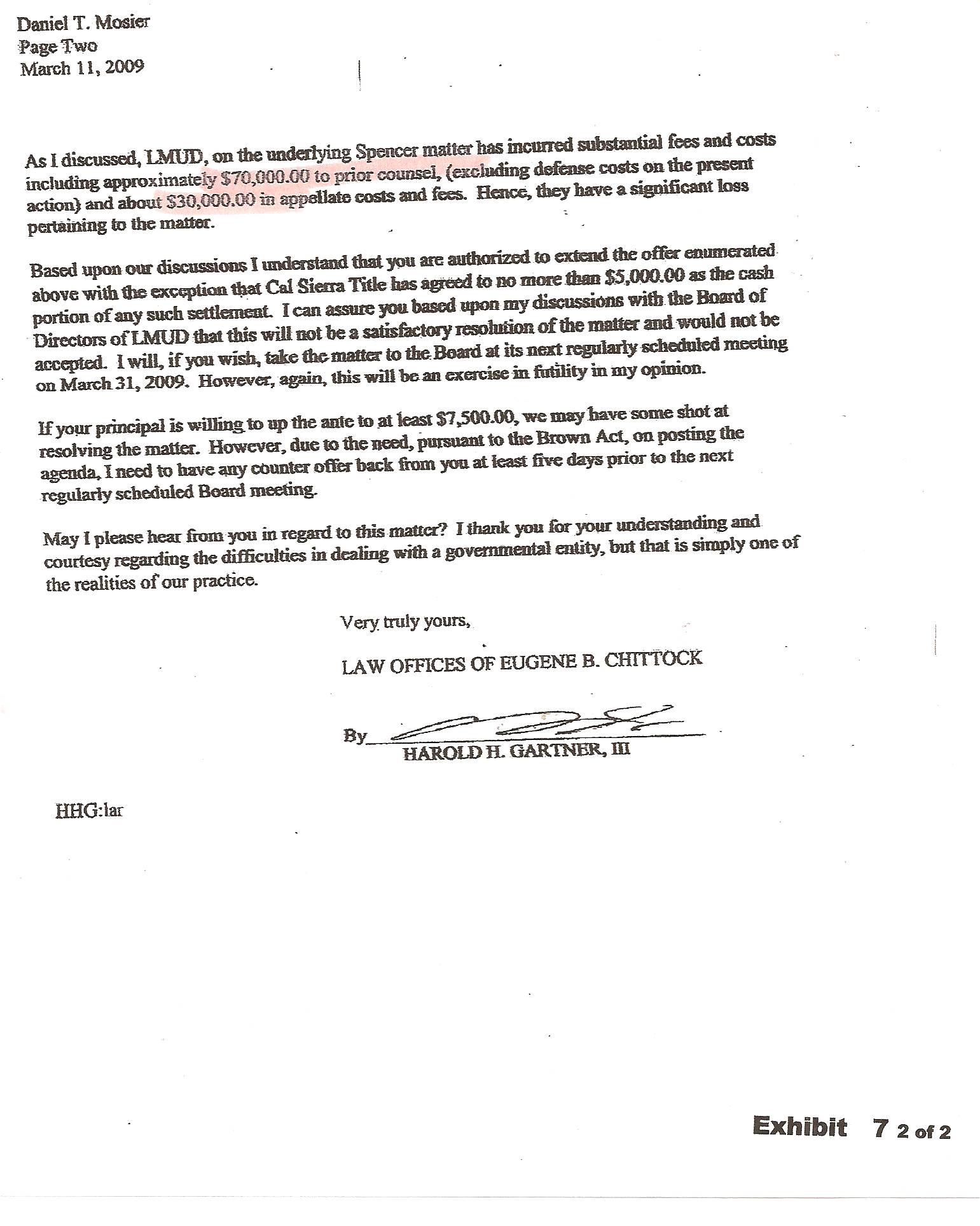 KEEP IN MIND, JUDGE DARLINGTON ISSUED THE ORDER ON MARCH 10, 2009 STATING THAT THE LMUD JUDGMENT WOULD BE RESOLVED BY THE JURY IN CASE 42544.
JUDGE DARLINGTON WAS THE JUDGE OF RECORD IN THE JENNE V LMUD CASE.
JUDGE BRADBURY JUMPS IN AND SIGNS THIS "ENTRY OF JUDGMENT" IN THE JENNE V LMUD CASE
On May 27, 2009, the 42544 jury constructed the award so that LMUD would get zero.
On June 4, 2009, Judge Bradbury signs this Deceptive order which makes it appear that the Plaintiff won, but in fact the Plaintiff, David Jenne paid LMUD $7500 to settle the LMUD judgment.
Where's the shame? There is no shame. This is the Lassen County Judicial system.
A judge used his position to help a former business partner