KWH V LMUD
1/13/10
Judge Darlington decides LMUD gets nothing.
The 3rd District Appellate Court remanded the KWH v LMUD case back to the lower courts in Lassen County to determine how much KWH was able to pay. LMUD attorneys had falsely and grossly inflated their fees ($79,000) in Case 36791 (KWH v LMUD) and subsequently the courts decided to reduce the fees to what KWH could pay.
The lower court (Judge Darlington) decided that "the ability to pay" would be decided on what, if any, KWH member Eileen Spencer would recover from a different lawsuit (?). Judge Darlington stated in his ruling that excluding Spencer's costs and attorney fees, LMUD would be entitled to $49,000, but later stated that LMUD would be entitled to $30,000 which now included costs and attorney fees, but later stated that LMUD would be entitled to $17,500, but later stated that LMUD would get nothing. ?????
LMUD Board has spent over $85,000 since 2005 to recover NOTHING, how smart is that?
LMUD's only attempt to enforce the judgment against KWH was to go after property that they knew KWH member Eileen Spencer did not own. Judge Bradbury meddled in Judge Darlington's LMUD case and Bradbury forced a Title Company (Cal Sierra Title Co., Susanville) to give LMUD $7500 to satisfy LMUD's judgment against KWH.

A few days after Bradbury gave LMUD the $7500, Spencer's case was settled in her favor. LMUD then was allowed to proceed to make a claim against this case to satisfy the KWH judgment AGAIN? DOUBLE DIPPING IS ALLOWED IN LASSEN COUNTY COURTS WHEN YOU "KNOW" THE JUDGE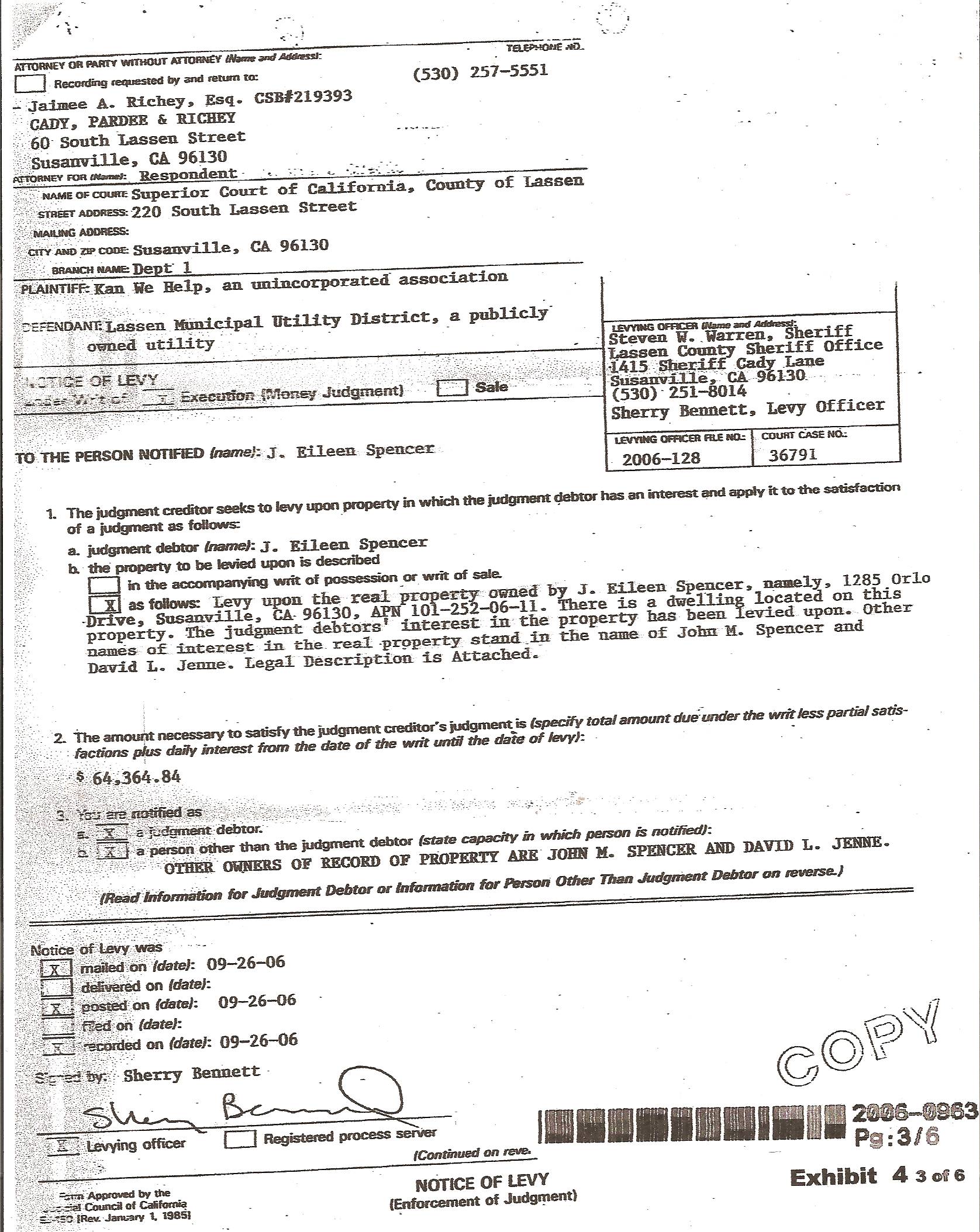 "These attorneys come into town thinking that they can change things. I either run them out of town or they're disbarred". Judge Lazard was thrown out of office on June 6, 2006
Judge Ridgely Lazard page 5 "Decision on Disqualification of Judge Lazard
KWH FILES SECOND BRIEF FOR ATTORNEY FEES 4/20/05
KWH FILES SECOND APPEAL 1/20/05
KWH Attorney, Alan Korn, filed a second appeal in the Third District Court of Appeals on January 20, 2005.
The second appeal will ask the court to exclude any fee award to LMUD. LMUD attorney Eisen asked the court to consolidate the two appeals filed by KWH.
1/11/05
FRANK CADY PLEADS FOR A TWO MONTH EXTENSION..COURT GIVES CADY TWO MONTHS TO FILE BRIEF...(DUE MARCH 14, 2005)
KWH FILES APPELLATE BRIEF IN SACRAMENTO ON 12/13/04
KWH attorney, Allan Korn, filed the Appellate Brief in the Third District Court of Appeals on 12/13/04.
KWH is appealing an April 28, 2004 "Ruling" denying KWH prevailing party attorney fees with respect to KWH's petition for Writ of Mandate pursuant to the California Public Records Act, Government Code Section 6250. KWH also appeals the Ruling and the June 2, 2004 Judgment awarding costs and attorney fees to LMUD based on Government Code 6259 (d) on grounds that KWH's petition was "frivolous". The lower court's decision to award attorneys' fees to LMUD was is in error, the brief stated. The brief also stated that the findings by the lower court were "not supported by substantial or, indeed, any evidence"
Frank Cady hired Jay-Allen Eisen to handle the appeal. Frank Cady, again, hired this attorney before obtaining an approval from the LMUD Board. Cady hired this attorney prior to bringing this "action issue" before the LMUD Board for approval. This is becoming a constant and very poor habit of Frank Cady. SEE MORE ON "EISEN" BELOW
LMUD HIRES FIRM TO HELP WITH THE KWH APPEAL on October 28, 2004 and votes to approve this contract on 12/8/04?
LMUD hires Jay-Allen Eisen( www.eisenlawyer.com ), on October 28, 2004, to handle the KWH v LMUD appeal in the Third District Court of Appeals.
"This agreement provide for payment of the law firm's fees and expenses in representing Lassen Municipal Utility District. Pursuant to the State Bar Act and the State Bar Rules of Professional Conduct, only Lassen Municipal Utility District will be the firm's client. Frank D. Cady may not control the attorney-client relationship between the law firm and Lassen Municipal Utility District. All communications between the law firm and Lassen Municipal Utility District will remain confidential and may not be disclosed to Frank D. Cady without Lassen Municipal Utility District's consent"
Frank Cady does actually no legal work for LMUD. LMUD allows him to outsource all legal work and the ratepayers still pay Cady $300,000 a year. (76% of this represents over-billing.)
Mr. Eisen is not new to Lassen County. Mr. Eisen handled the case of Susanville Resources, Inc. v. Lassen Community College District. Susanville Resources contracted with Lassen Community College to operate a co-generation plant. This project almost bankrupted the College District. The co-generation plant is the huge white elephant by the college.
Mr. Eisen is not new to Lassen County. Mr. Eisen handled the case of Susanville Resources, Inc. v. Lassen Community College District. Susanville Resources contracted with Lassen Community College to operate a co-generation plant. This project almost bankrupted the College District. The co-generation plant is the huge white elephant by the college.
LMUD is now in the process of making the same mistake with the co-generation plant at the prison. This is the PSREC/LMUD deal where NCPA plans to float the loan ($10 MILLION). If the plant is built and fails, ratepayers will be paying for this mistake for years.
LAZARD WACKS OFF, ONE THIRD OF ATTORNEY FEES to LMUD 11/22/04
Judge Lazard reduces the attorney fees Frank Cady submitted. The fee was reduced by 1/3. This was only half of the phony charges submitted by Frank Cady and Jamie Richey. The original $71,000 requested by Cady was filled with meetings that did not exist, illegal meetings with the LMUD Board, double fees, fees paid for work that a subordinate did...etc.
KWH has also filed a complaint, with LMUD, in regards to Frank Cady and Jamie Richy's overbillings to the utility district.
KWH's Agent for the lawsuit, Eileen Spencer, was present when Richey made the announcement. KWH has filed an appeal in the Third District Court of Appeals to waive any fee award to LMUD.
Richey was visibly upset with the award and the LMUD Board immediately took a 30 minute recess. Richey is the person that was approving double payments to law firms. Richey is the person that said that there were "no documents" for the $1,250,000. Richy is the person that said that there is no Powers Engineers Report that Don Battles had done in 2001. Richey is the person that said there were "no documents" submitted to CPUC for the PSREC transfer.
OCTOBER 17, 2004
AFTER SIX MONTHS, NO AWARD BY LAZARD FOR ATTORNEYS FEES ?????
KWH files appeal August 16, 2004
The case will be heard in the Third District Court of Appeals after Lazard issues the amount of the award.
Lazard ruled that the public basically does not have the right to public documents.
"Frivolous"...not so, Judge, not so
KWH files opposition to LMUD legal fees August 13, 2004
It seems that Frank Cady has submitted false statements to the court. Frank Cady billed LMUD for the work on the KWH v LMUD, but now claims that an associate did all of the work. Thousands of dollars over-billed to LMUD.
Frank Cady has overstated his fees for the KWH "lawsuit for public records" and makes no excuses for this over-billing.
Will Judge Lazard look the other way, again?
Frank Cady charged, in his fees, a meeting with the LMUD Board on June 4, 2003. The problem is the board did not disclose this meeting. The LMUD Board's "Board Member Statement of Meetings" report did not disclose this meeting with Frank Cady and Evelene Twitchell. This meeting was held in secret.
The Lassen County Times continues to suppress the facts in this case.
1. The Arrowrock Feasibility Study was completed over five years ago. LMUD's involvement was to analyze this study. The analysis was completed by R.W. Beck in October 2001.
The public had every right to request the RW Beck report and the Feasibility Study that LMUD "claims they paid for" since Frank Cady promised it to the public in December 2001. Public Funds were used.
2. Frank Cady inserted five salary pages of the LMUD Board that KWH did not receive. Lazard intentionally overlooks this fact. Cady could not prove to the court that KWH ever received these pages. KWH did receive five salary pages with the Board names redacted. The public has a right to the elected officials compensation.
On April 28, 2004 Judge Lazard issued his ruling concerning the KWH lawsuit for public documents. Judge Lazard denied the case.
FRANK CADY RESORTS TO LIBEL
Frank Cady gave a poor showing in court so he has resorted to a libelous "post hearing" notice to the court. This notice simply shows Frank Cady at his best. NAME CALLING.
KWH vs LMUD
February 17, 2004
Frank Cady kept the Court waiting. Cady showed up 15 minutes late. Cady seemed enervated during the entire hearing. There was no reason for Cady to even show up. This case had been decided when it was filed by KWH in December of 2002.
KWH made a very concise presentation.
Frank Cady spent his time correcting more ministerial mistakes, in his documents, and then proceeded to call KWH names. Not to effective in a real court, but in Lazard's court, it is appropriate behavior when you already know what Lazard's decision will be.
Cady attempted to present five documents, to the court, that had not been given to KWH previously and got caught. Frank Cady presented ten documents, to the court, as having been "Bate" stamped (documents stamped numerically) by LMUD and given to KWH. LMUD had not yet started numerically stamping the public records released to the public. KWH had received five of the ten documents. The five documents received by KWH were documents that had the boards gross salaries but no names. KWH wanted the gross Board salaries and LMUD refused to disclose these documents. These five documents made it impossible to identify who made what..and when..????
KWH presented the original five documents, to the court, that contained no board member names. None of these documents had been stamped. Judge Lazard ruled that LMUD sent documents with names on them, even tho the evidence showed otherwise.
Cady even admited his misinformation to the court. Cady should be sanctioned by the court for attempting to slip in documents that had never been given to KWH.
After three hours, the judge took the matter under submission. The judge admitted that he had two and half feet of documents to review.
Wayne Langston did not wheel in ten boxes into the court, for Frank Cady, this time.
The Public has a right to know .
The Public Records Act allows ordinary citizens to keep their government accountable on everything.
1. KWH is asking the court to release the Arrowrock Feasibility Study that the public was promised and the LMUD ratepayers paid for two years ago. LMUD has never stated that it was proprietary or exempt....never.
2. KWH is asking the court to release what Frank Cady was paid for Arrowrock work. The public has a right to know the total cost of Arrowrock.
3. KWH is asking the court to release LMUD checks issued to Wayne Langston, a public official, and is not an employee of LMUD
January 26, 2004 Hearing
Judge Lazard tells KWH and LMUD that he does not have time to hear the case and reschedules the hearing to February 17, 2004.
Public Records Act writs require "expedious" treatment. This writ has been before this court for DOCUMENTS for fourteen months ~ The normal time is 21 days.
What will the next surprise be to delay this case and to drive up the costs. That's really what this is all about, now isn't it. This is a tactic well defined in Lassen County.
The posted court docket listed LMUD vs. LMUD at 3:00 PM....The court was very confused.
KWH does not know the significance of this February date and can only speculate on Judge Lazards unusual actions today.
Frank Cady and Shayla Ashemore came in the court together and sat together during the proceedings. Ashemore apparently is part of the LMUD team!!!!!! (Frank Cady still had his arm in a sling...was it possible that surgery was necessary after his accident?). Ms. Ashemore probably had already written her story before arriving with Cady and Langston. Shame on Shayla...................again. Unprofessional? She does still work for the Lassen County Times, doesn't she. Is she moonlighting for Frank Cady and friends?
The court required KWH and LMUD to submit all documents prior to the Monday hearing. Frank Cady showed how immature he was by having Wayne Langston bring in six boxes on a hand truck into court... . How foolish Cady looked.
Frank Cady submitted a sealed envelope, to the Judge, without notifying KWH's attorney. Frank Cady's days to submit documents ended on January 9, 2004. It was a typical unethical move by Cady. Cady claimed that the envelope contained the Arrowrock Feasibility Study. A study that Cady has claimed, in a letter to KWH, did not exist. A study that the Boise irrigation districts claim that LMUD does not have any ownership to and that LMUD only paid for the study...????
KWH could put everything from both sides into one box...? Frank Cady showed that he is just a small town lawyer that wants to look like a big city attorney. He has watched too many Perry Mason shows. He just looked silly...........................
********************************************************
KWH has pursued these violations of the Public Record Act because LMUD has abused this law and denied many members of the public in the past disclosable public documents.
LMUD instructs their legal counsel to send abusive, insulting letters to the public when the public discovers improprieties in LMUD's spending and practices.
Distrust by the public has followed LMUD Boards since its inception in 1988. Expensive trips by Board members, staff and legal counsel, hiding monies spent, lies LMUD has been caught in. This public utility has never been run efficiently, never. The first priority is to provide unstated "benefits" to the LMUD Board, legal counsel and management staff. This small utility has been through four General Managers in three years, yet all of the General Managers are still paid by LMUD. They are given checks, big checks.
KWH believes that the public has the right to know where their money is being spent.
LMUD made a preventable mistake with Arrowrock. Twelve years of Arrowrock history indicated that a hydroelectric power plant was not feasible...at any level. Data that was available to LMUD in January 2001(free), indicated a hydro power plant would cost too much to build for the yield of power.
This information was public information and free.
So why did Frank Cady and Louie Templeton go ahead an enter into an agreement that would cost the ratepayers more than $35 million dollars......when LMUD had just announced an $8.7 million dollar loss. LMUD told the Boise Project Board of Controls that they were in the position to finance this project? That was a total lie. The bond underwriters, at a meeting in Reno, told the LMUD Board of Directors NO WAY.
ARROWROCK WAS NOTHING MORE THAN A SCAM AND NOW KWH WANTS TO KNOW WHERE THE MONEY WENT...ALL OF IT.
LMUD BOARD OF DIRECTORS CONTINUE TO WASTE MONEY ON KWH/LMUD CASE.
Lassen County Times, January 8, 2003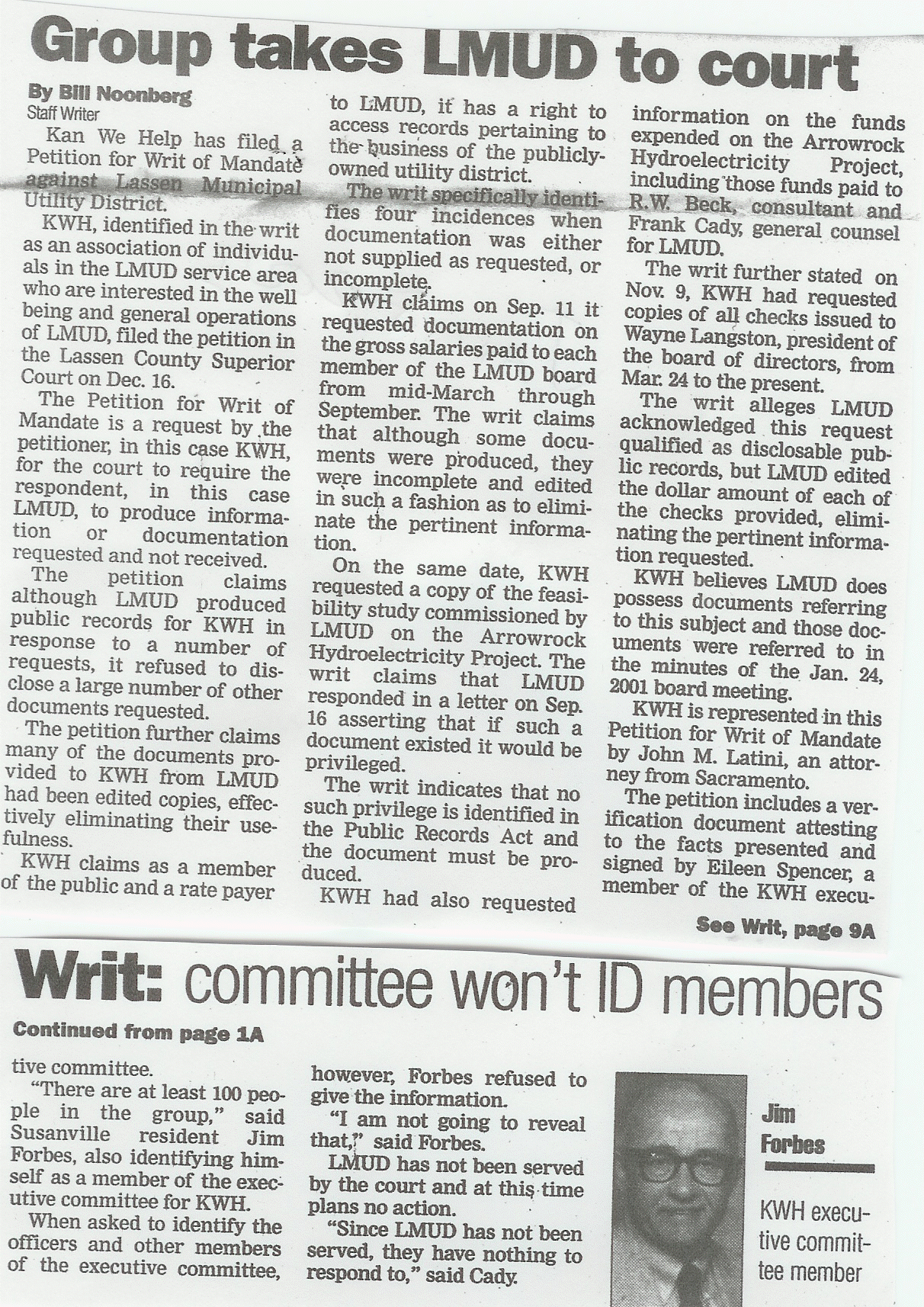 On September 4, 2003, Frank Cady tried the KWH case at the LMUD meeting because he knew that KWH would not be given the same time at the meeting. Frank Cady went on and on about the irrelevant documents that KWH submitted. Cady filed a "Motion to Strike" all the documents that KWH submitted.
On September 19, 2003, Frank Cady withdrew his motion.
Unethical conduct 9/4/03 LMUD meeting
Twitchell included KWH's lawsuit in her "General Managers" report. We found out why. All lawsuits are discussed in closed session.
She turned the agenda item over to Frank Cady to "TRY THE CASE OUT-OF-COURT".
SLEAZE FACTOR: Cady/Twitchell
Frank Cady REFUSES to try this case in court. Frank Cady can not release the documents that KWH wants. WHY.
1. He will most likely go to jail with "others"
2. $$$$$$$$$$$$$$$$$$$$$$$$$$$$$$$$$$$
KWH wants to try this case in court, but evidently Frank Cady's getting alot of pressure from somewhere, or someone.......Gianotti, Parker, Langston, Baxter Templeton, Wood, Barker, Richards, ......the list is long.
Cady presented KWH 's case at the LMUD meeting to try and get public sympathy, and to get the Lassen County Times to write a "poor Frank article." KWH was not allowed time to defend the remarks Cady made.......
This was an act of a desperate man ..... it was pathetic to watch. Highly questionable act, highly unethical
Frank made the mistake of stating how much he has billed to date on the KWH case, $29,000.
KWH has Cady's invoices......KWH offered to give , the Lassen County Times, proof that Cady has not billed $29,000. He could have billed $19,000 in the last 30 days though. He billed LMUD $29,000 in August...he could have very well padded his bill to LMUD.
Let's give Frank the benefit of the doubt.... We won't factor in that nothing has happened with the case.....but who is going to stop Cady's overbilling. Certainly not the LMUD Board of Directors. They might lose their privilege to use his condo and who knows what else. Cady flies Board members around in his plane and bills LMUD.
Frank Cady could have consulted secretly with LAFCO attorney John Kenny again.......? Maybe they split the $19,000.
PUBLIC DOCUMENT DISCLOSURE
Click here to read: KWH PUBLIC RECORD REQUESTS
KWH LAWSUIT UPDATE...................
KWH FILED A WRIT OF MANDATE AGAINST LMUD FOR DENIAL OF PUBLIC DOCUMENTS. THIS ACTION OCCURRED ABOUT SEVEN (7) MONTHS AGO.
A HEARING WAS HELD IN LASSEN COUNTY SUPERIOR COURT ON TUESDAY , JUNE 17, 2003 TO FURTHER ADDRESS THIS ACTION. THERE WAS A DIFFERENCE OF OPINION BETWEEN OUR ATTORNEY AND THE COURT CONCERNING THE APPROPRIATE PROCESS AND INFORMATION THAT WAS TO BE CONTAINED IN THE WRIT.
REGARDLESS, THE COURT GAVE OUR ATTORNEY A THIRTY (30) DAY PERIOD TO PROVIDE ADDITIONAL DOCUMENTATION. THE COURT DID NOT WANT TO "AMBUSH" EITHER PARTY WITH PROCEDURE AND THEREFORE AFFORDED THE 30 DAY PERIOD. OUR ATTORNEY WILL PROVIDE THIS INFORMATION AND WE WILL MOVE FORWARD.
KWH HAS ASKED FOR THE FOLLOWING DOCUMENTS:
LEGAL FEES FOR ARROWROCK;
LMUD DIRECTORS GROSS SALARY PAID;
LANGSTONS PAY CHECKS WITH AMOUNTS,; and
ARROWROCK FEASIBILITY STUDY. (All are disclosable documents).
KWH FILED THE DOCUMENTS THAT THE COURT ASKED FOR ON JULY 16, 2003.
ON AUGUST 7, 2003, LMUD'S ATTORNEY FILED IN SUPERIOR COURT ASKING FOR A HEARING ON THE DOCUMENTATION SUBMITTED BY KWH.
ON AUGUST 12, 2003 KWH ASKED THE LMUD BOARD TO TURN OVER THESE DOCUMENTS. LMUD HAS SPENT ALMOST $5,000 FOR $20 WORTH OF PUBLIC DOCUMENTS.