Amedee v LMUD
San Francisco Superior Court
Case CGC-13-535354
Filed on 11/7/11

Amedee Geothermal v LMUD
Federal Case: 11cv 02483
Filed on 9/19/11

Ruling: 11/27/13 Dismissed,
not federal jurisdiction
See fullSeptember 16, 2011 Amedee Complaint below
In February 2011 LMUD changed Amedee's power illegally from 34.5 kv to 12 kv. LMUD Electrical Superintendant David Folce left in February/2011 and General Manager Ray Luhring left in March 2011
Lassen Municipal Utility Board has Wasted
Millions on Filing Frivolous Lawsuits
The LMUD Board went to War with Amedee Geothermal in Wendel, CA. Amedee Geothermal fought back and won [Lassen County Superior Court Case 59485]. This was one of many battles with this unethical public utility. The case was filed on June 25, 2015 and went to trial on April 11, 2017. The Jury returned a verdict for Amedee and LMUD was ordered to pay attorney fees.
During the Fred Nagel/Frank Cady days, LMUD purchased downed power lines at the Hayden Hill Gold Mine in attempt to scam the ranchers, various other land scam deals, Arrowrock Hydro scam, Viewland/ATT scam . All of this and more

over the last 17 years [LMUD abuses]
LMUD'S LATEST SCAM ON THE RATEPAYERS
Of all names.........Skedaddle Project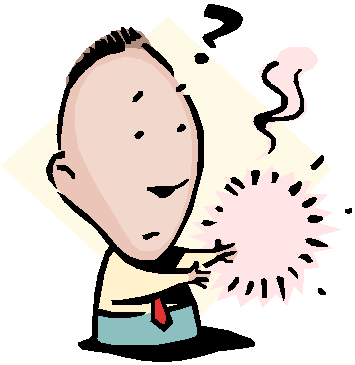 The only thing that will skedaddle is the ratepayers $10,000,000. The last time LMUD amassed this amount of money, it went POOF..........LMUD'S $8.7 Million Dollars
New litigation filed in the San Francisco Superior Court on November 7, 2013 against LMUD, but
LMUD reports to the public on December 17, 2013 that it is a "potential litigation" and gives the Case Number.
Where in the world did these Board members learn to lie with such stupidity?
LMUD 12/17/13 Agenda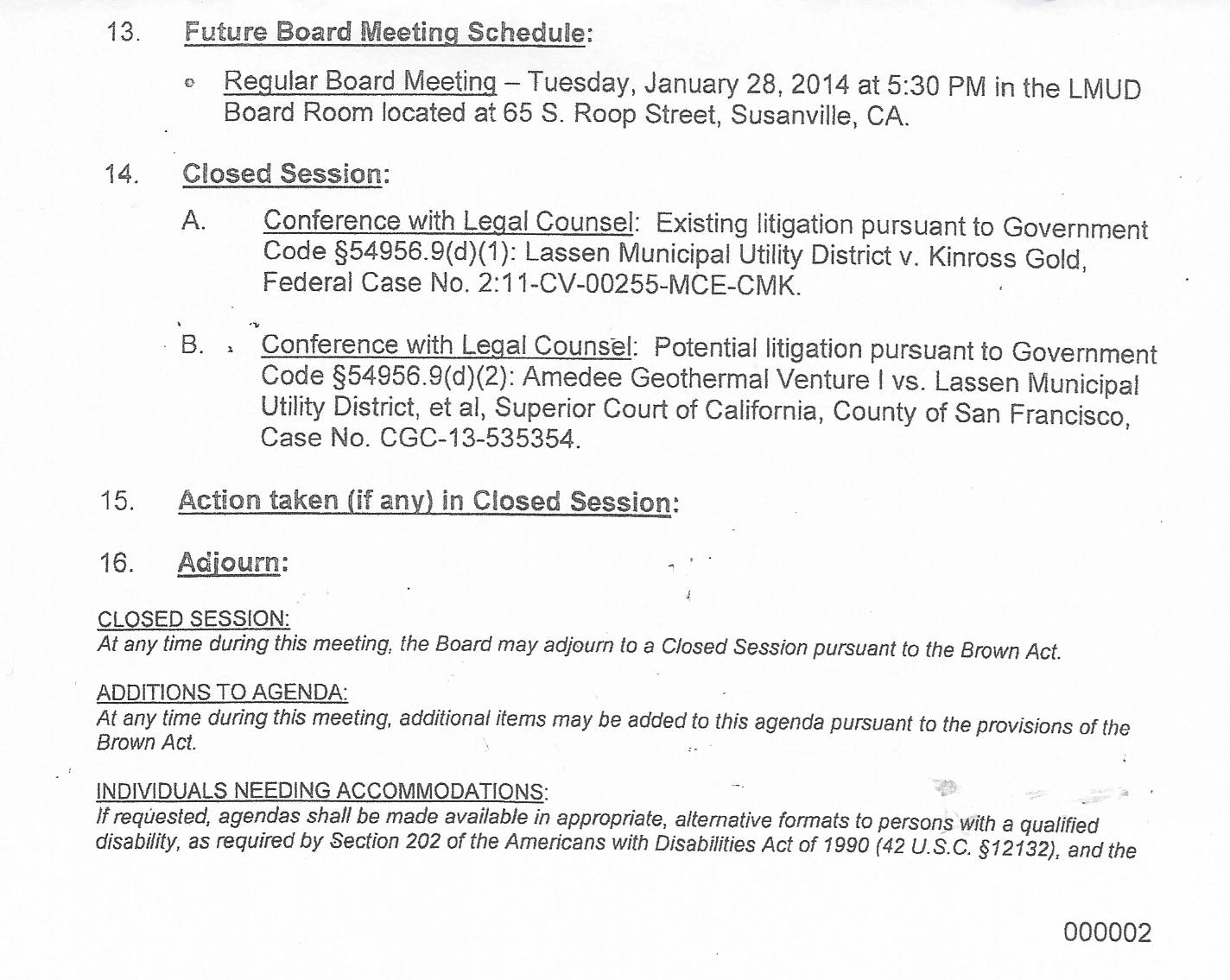 Federal Judge Rules Case Not Federal Jurisdiction:
Case dismissed without prejudice
Amedee files in San Francisco Superior Court; Case CGC-13-535354
No mention of new lawsuit in LMUD's 11/26/13 Agenda?
Amedee files new civil case
against LMUD in San Francisco Superior Court
Case CGC-13-535354
Amedee/LMUD Trial Set
LMUD's efforts to stop action has failed
LMUD Board has spent close to 3/4 of a million dollars on this lawsuit
LMUD bookkeeper Bill Stewart, without any experience in running a public utility, has embroiled this small public utility in multiple lawsuits. See Hayden Hill
Why: Stewart has no idea what he is doing.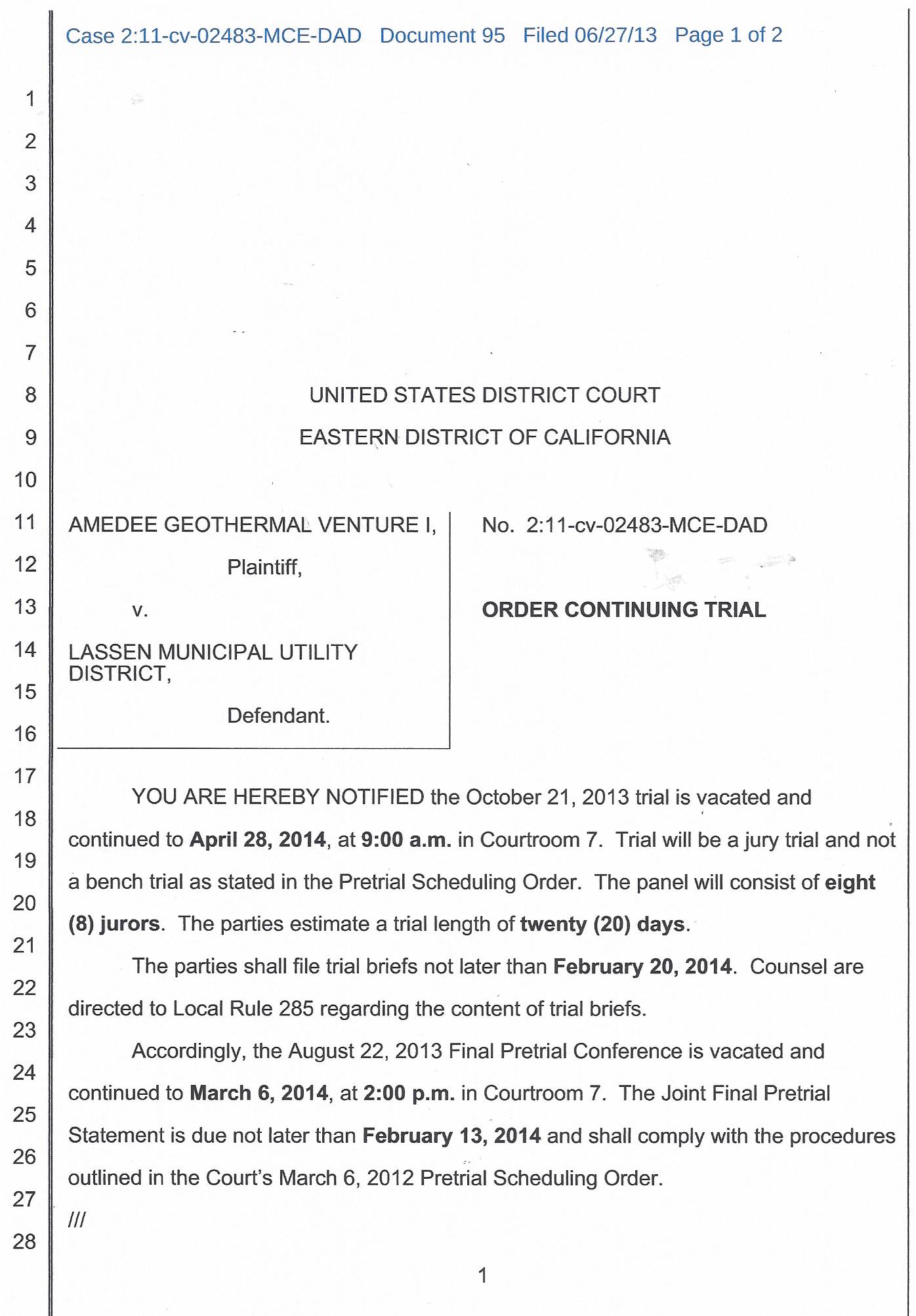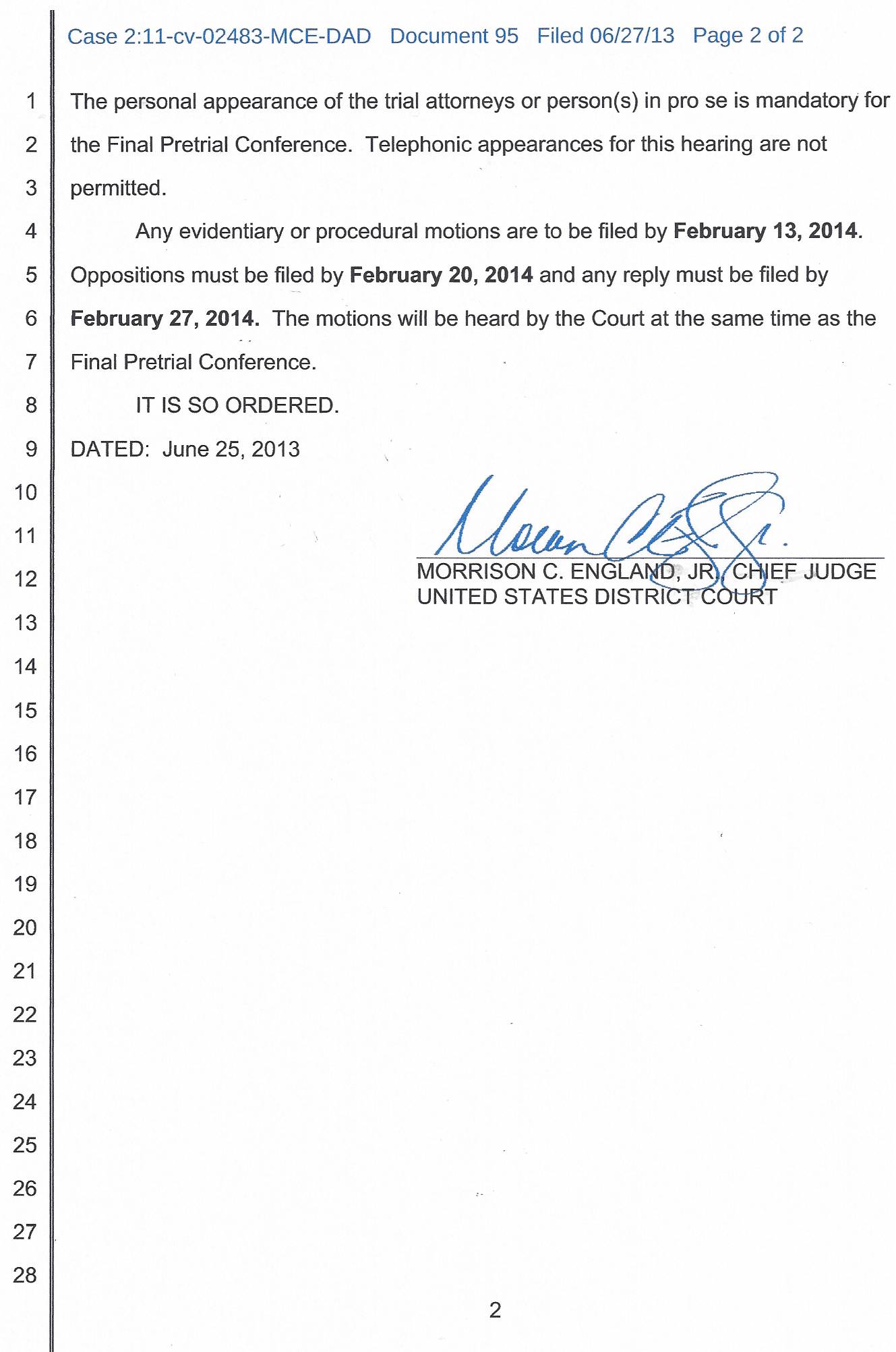 Amedee Files for Summary Judgment Against LMUD Case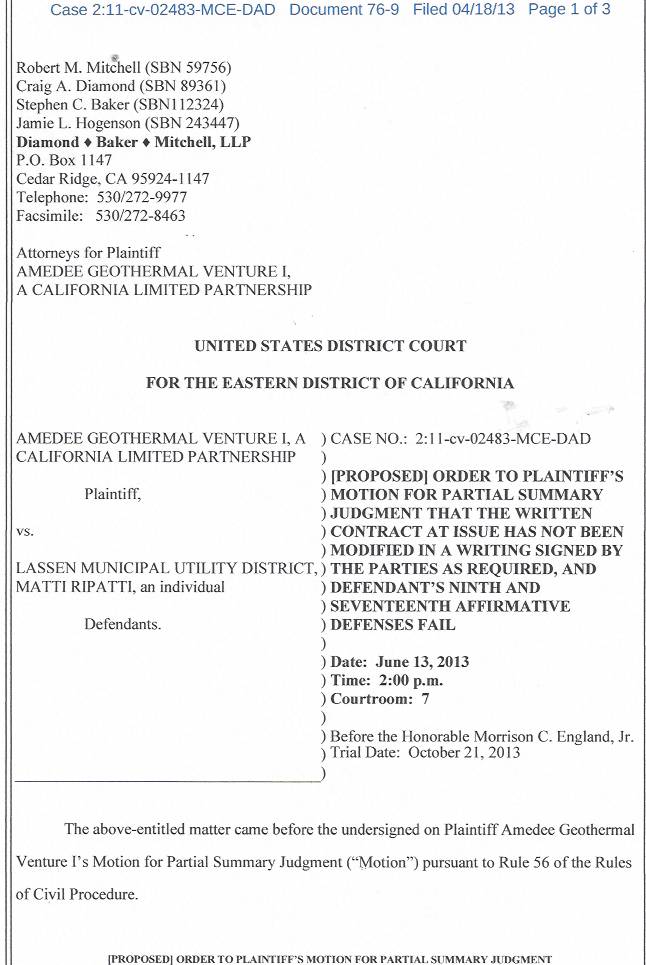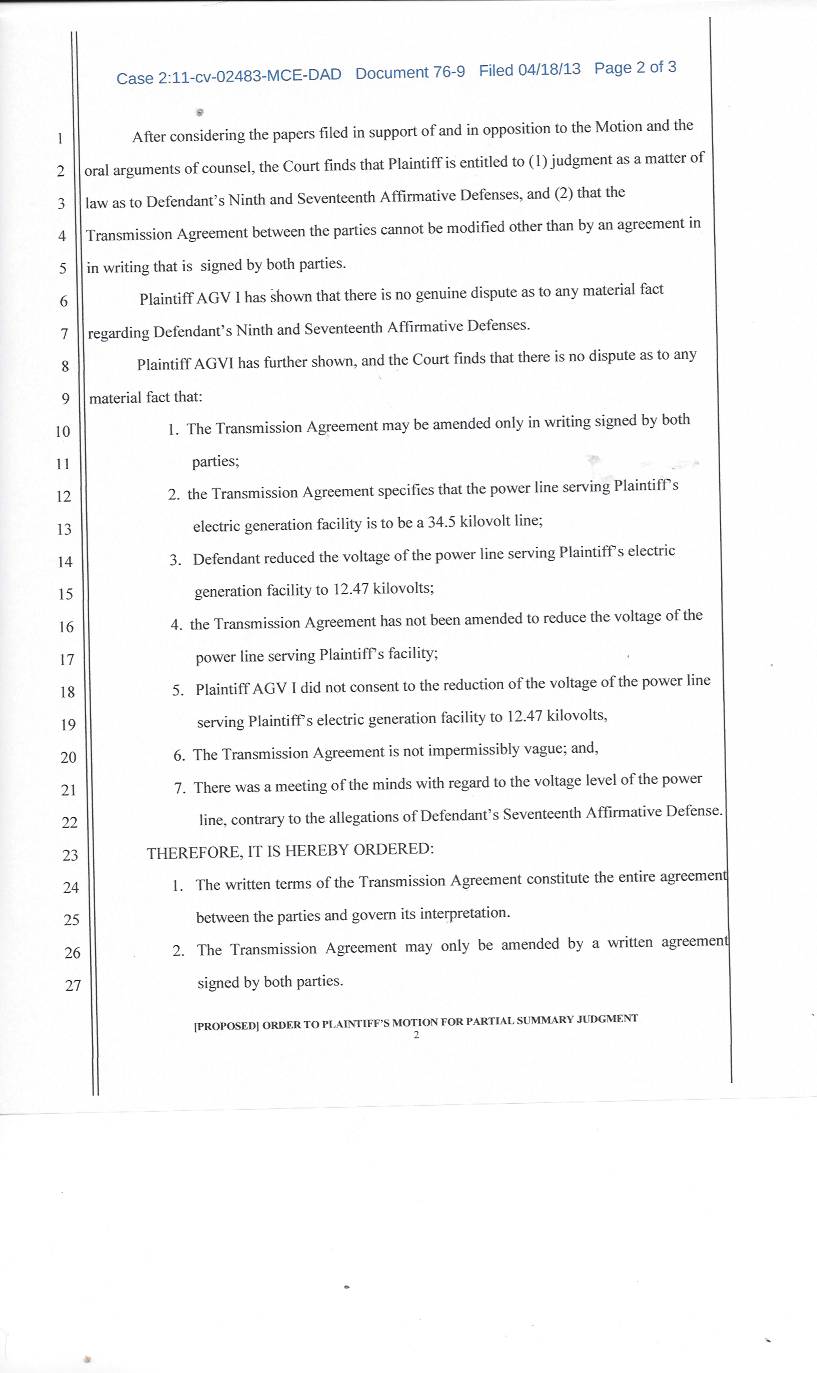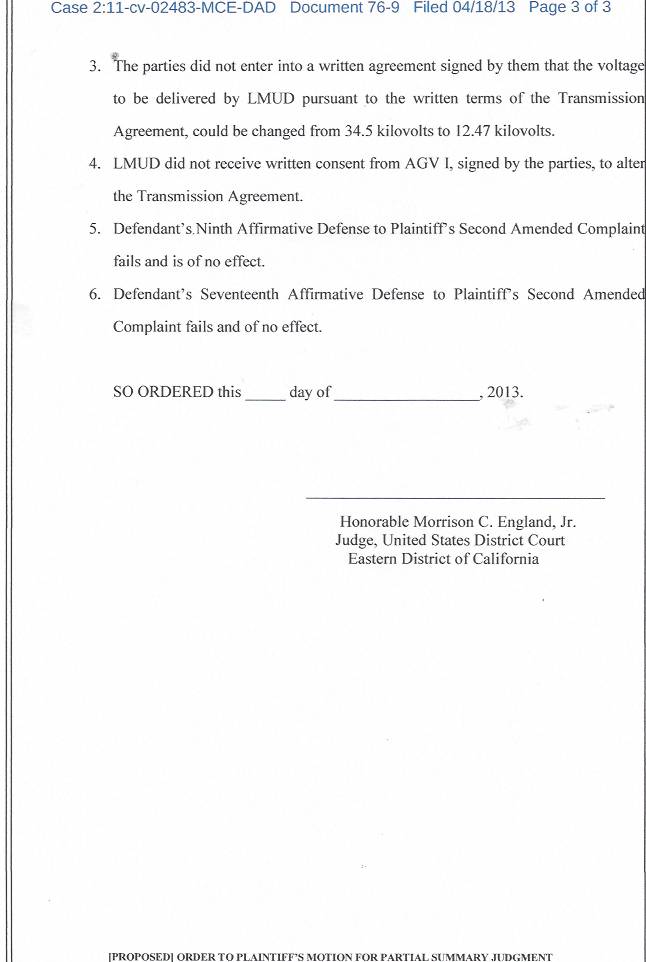 Despite LMUD hiring a second law firm their dim-witted Motion to Compel was denied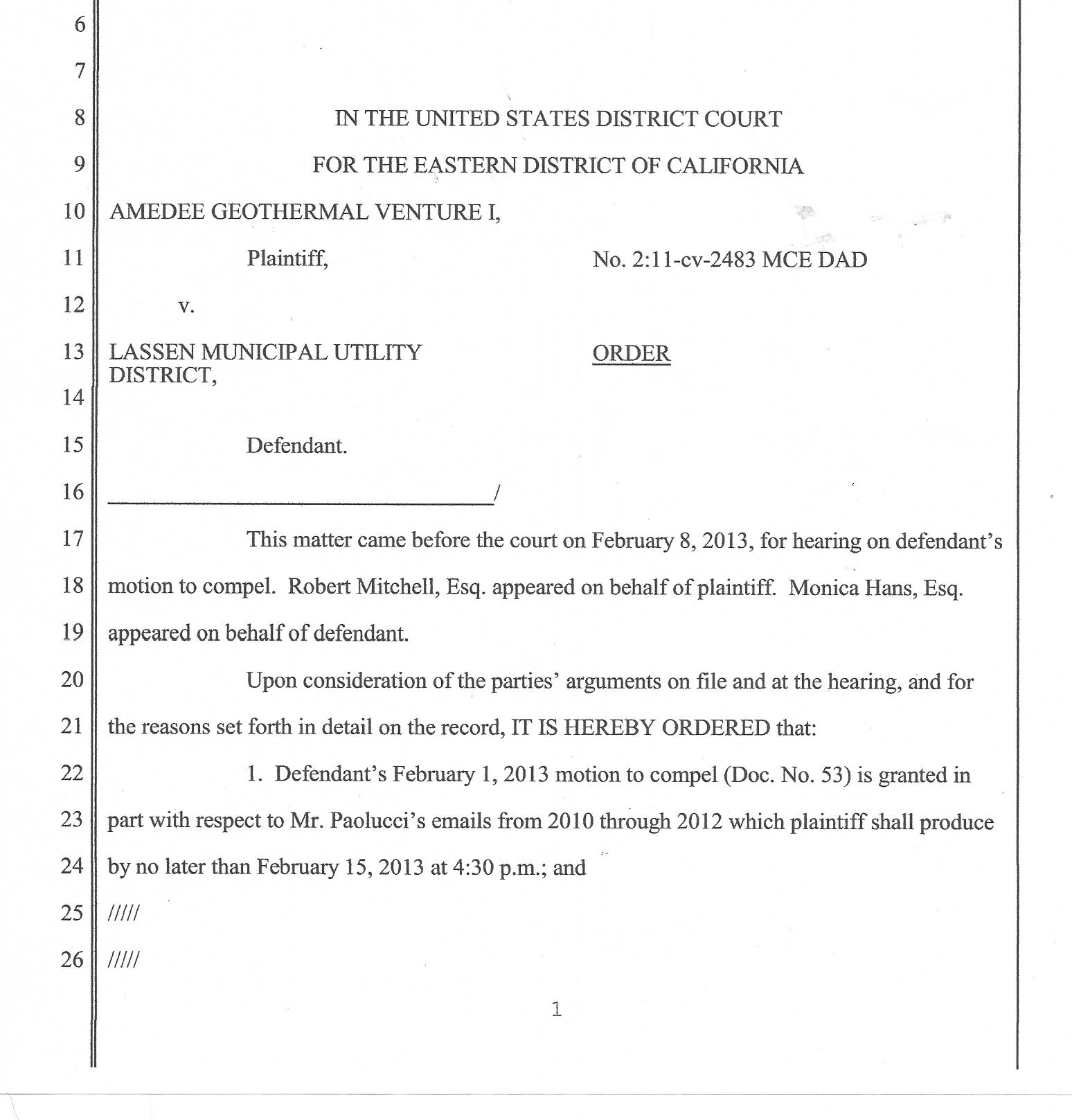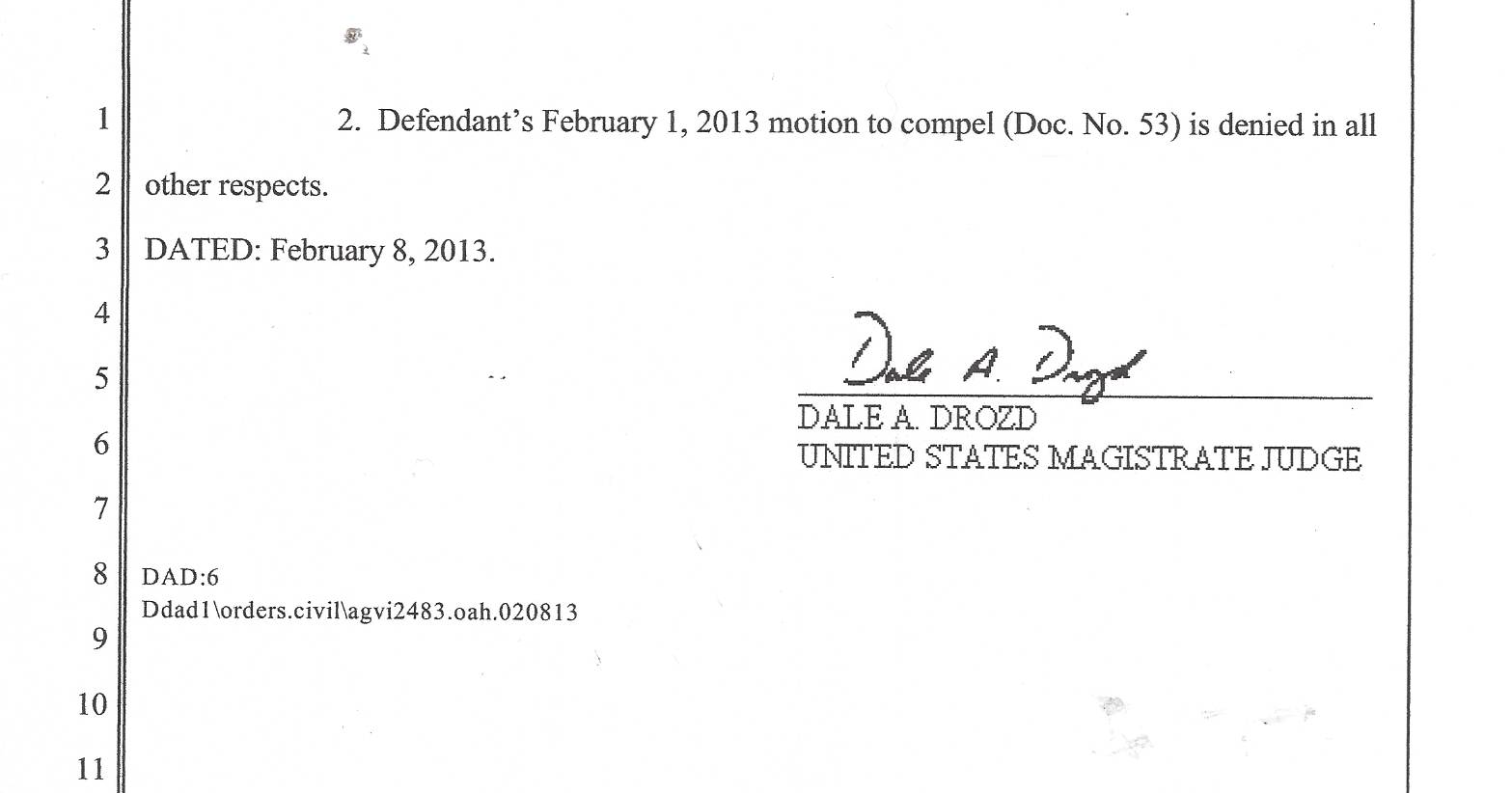 LMUD HIRES SECOND LAW FIRM TO HANDLE AMEDEE LAWSUIT
This will be the most expensive lawsuit for the LMUD ratepayers. All because of bad decisions by Bill Stewart. The LMUD Board must hire, as General Manager, a qualified person. They did not do that and now the ratepayers are paying the price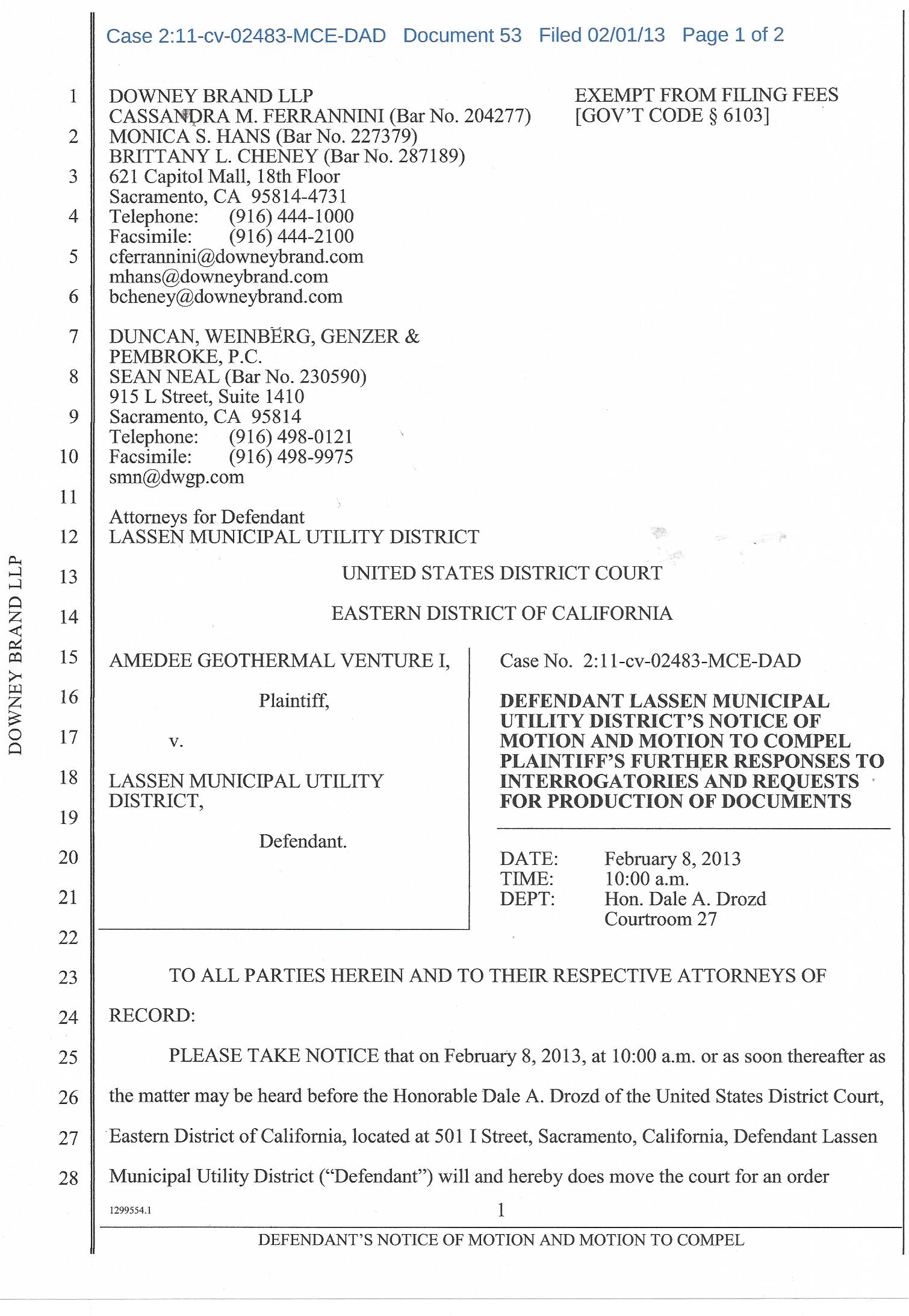 LMUD demands unreasonable request. Amedee Responds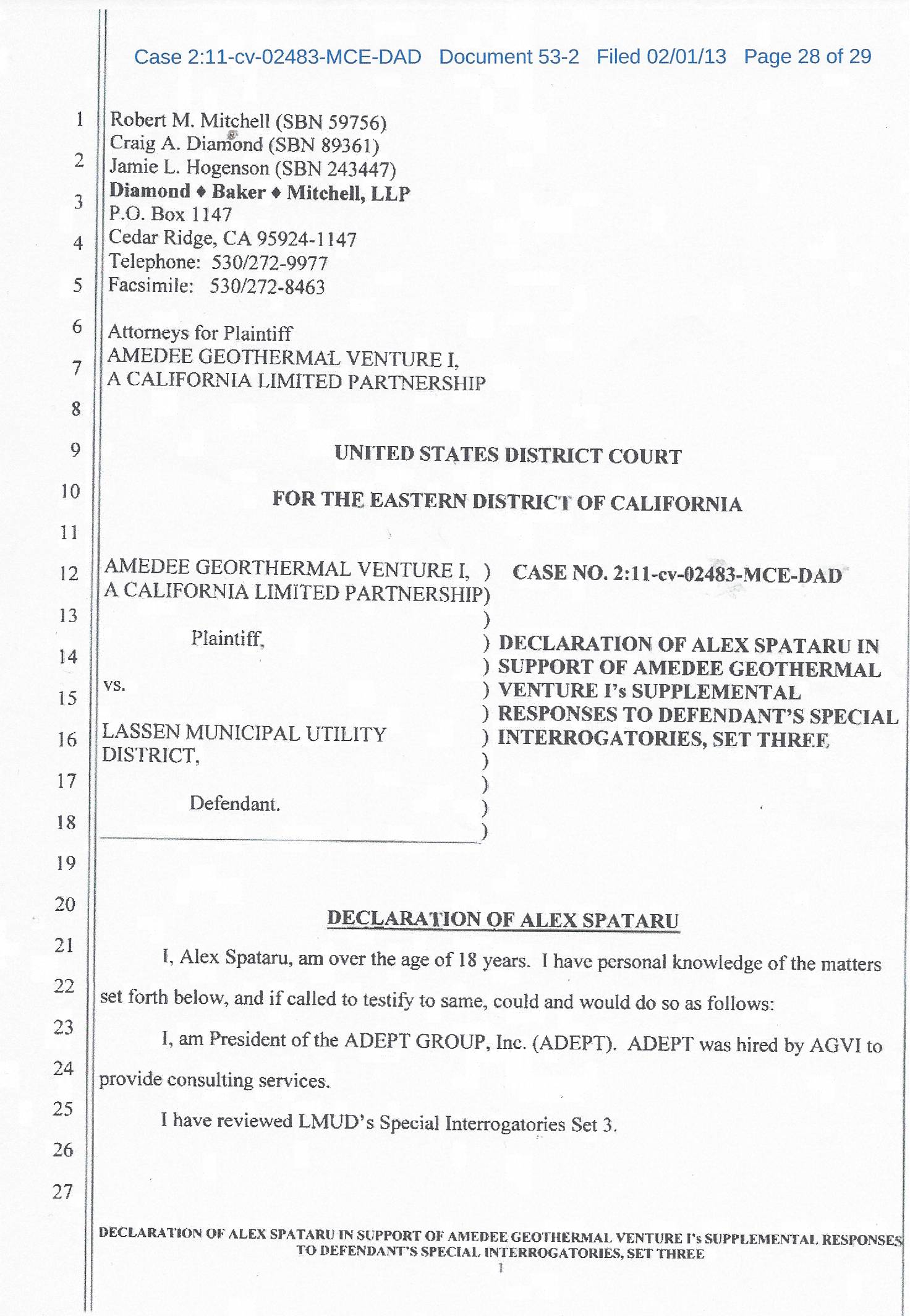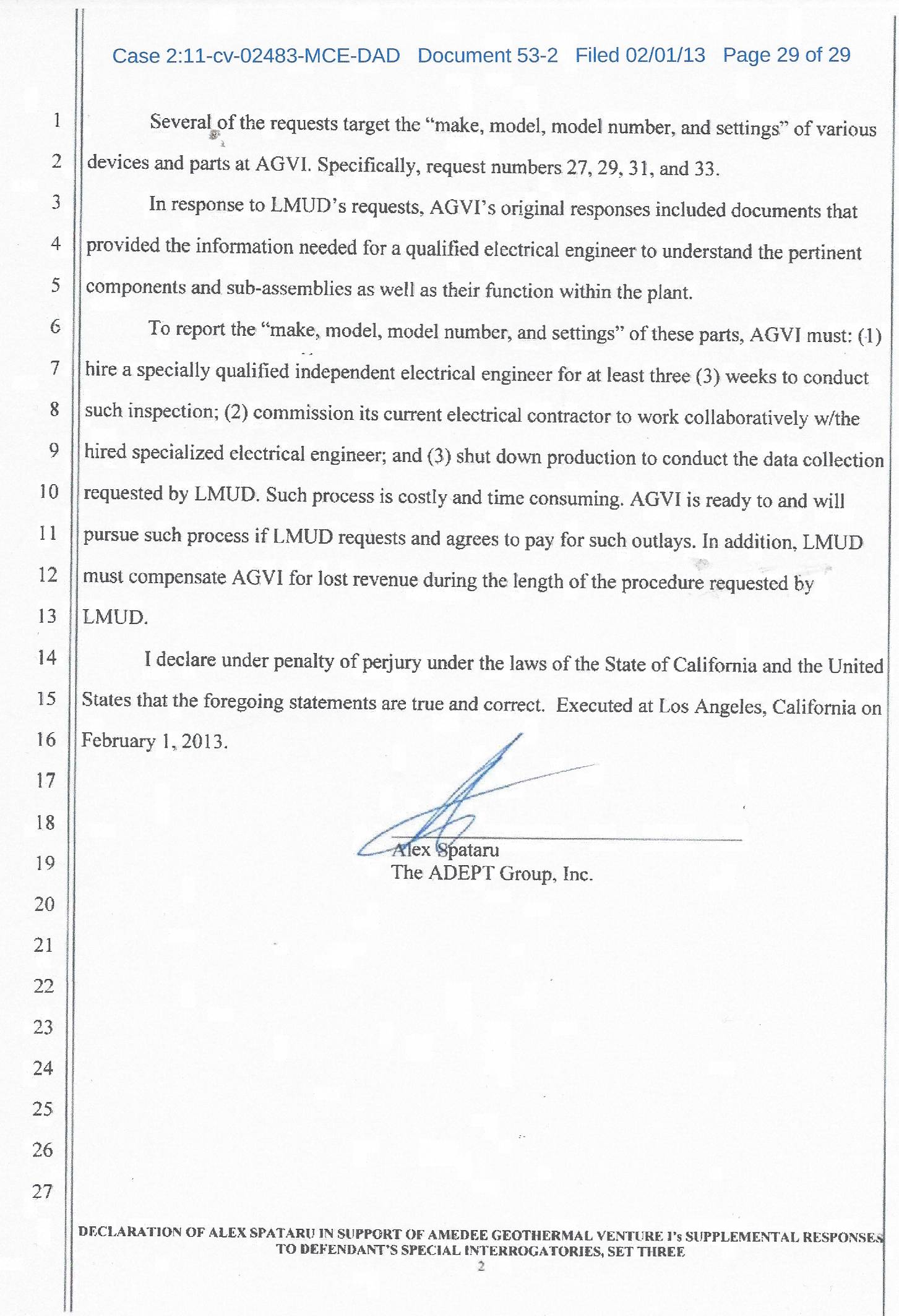 LMUD Bookkeeper/ General Manager Bill Stewart ordered David Folce to lock Amedee out of the Common Metering Facility at AGV I
The Court granted Amedee (AGV I in Wendel) a Temporary Restraining Order against LMUD and ordered LMUD to reinstall the 1750 Power Recorder today. LMUD closed Amedee out of the Common Metering Faciliy (CMF) on March 7, 2012.
The TRO forced LMUD to cancel it's SPECIAL MEETING TODAY.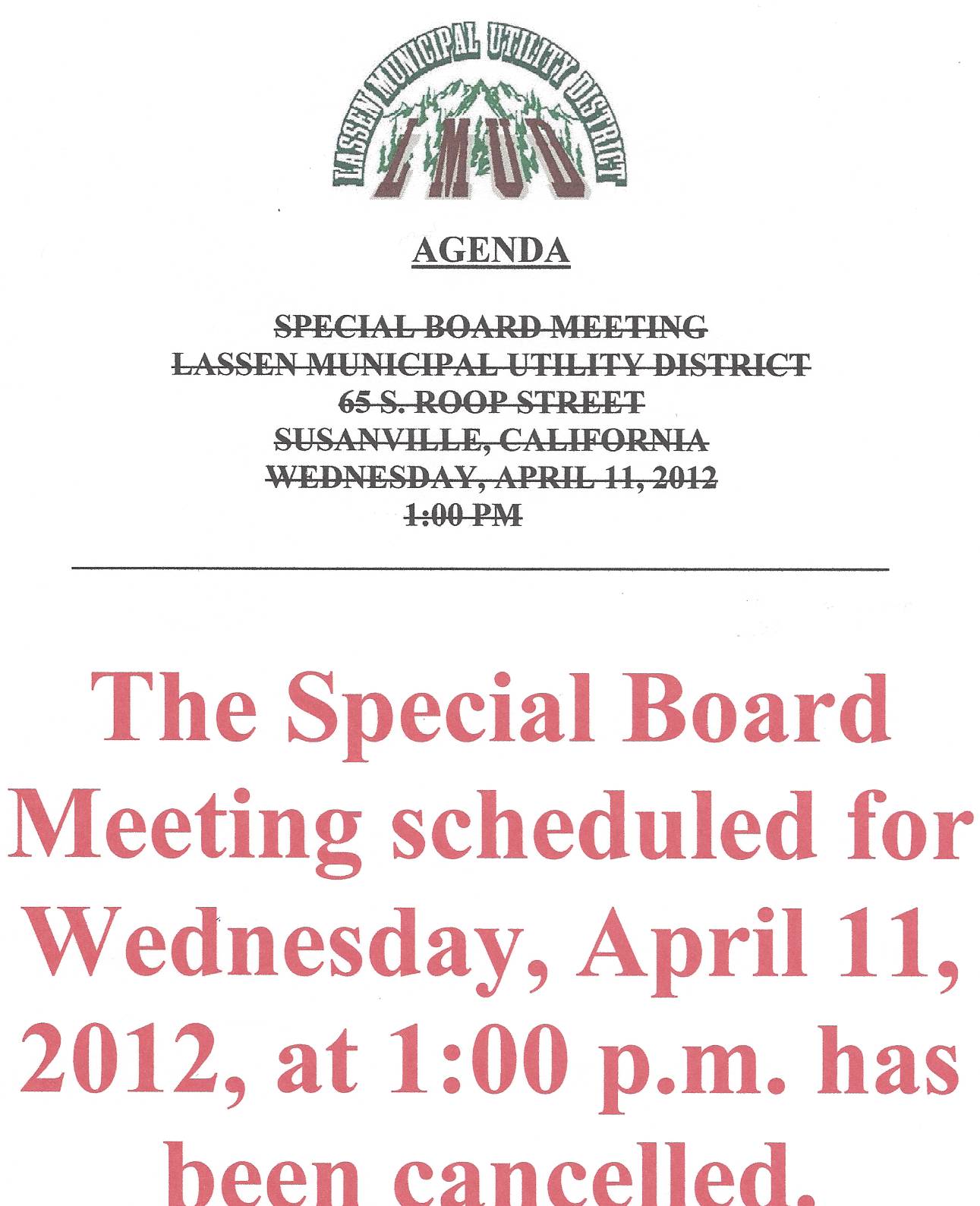 LMUD's Attorney Eugene Chittock was needed, at the site, to deal with yet another total screw-up by Bill Stewart.
Stewart and an incompetent Board are costing ratepayers thousands of dollars.
When is enough?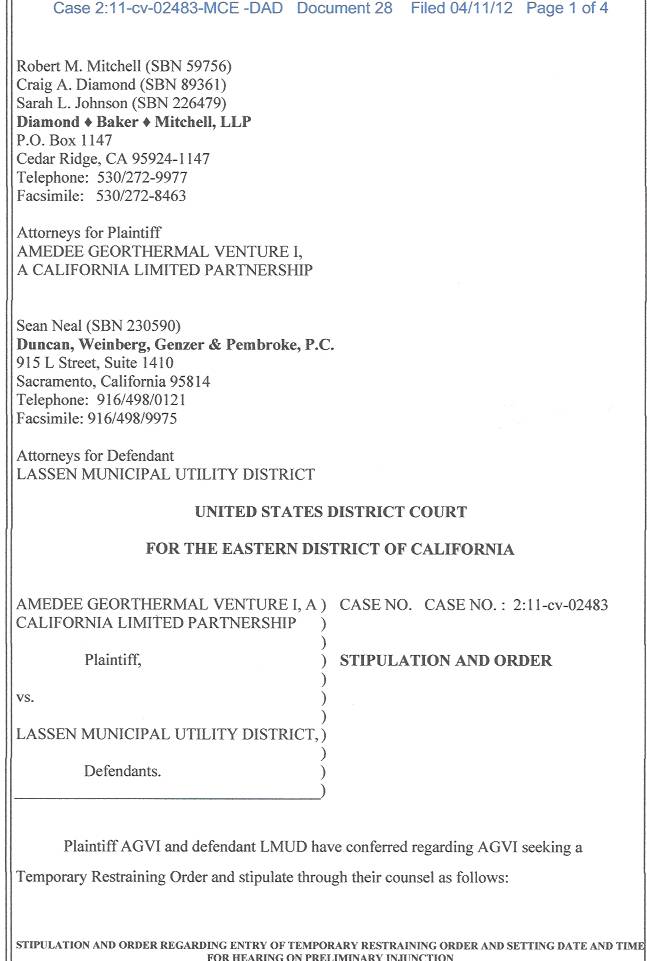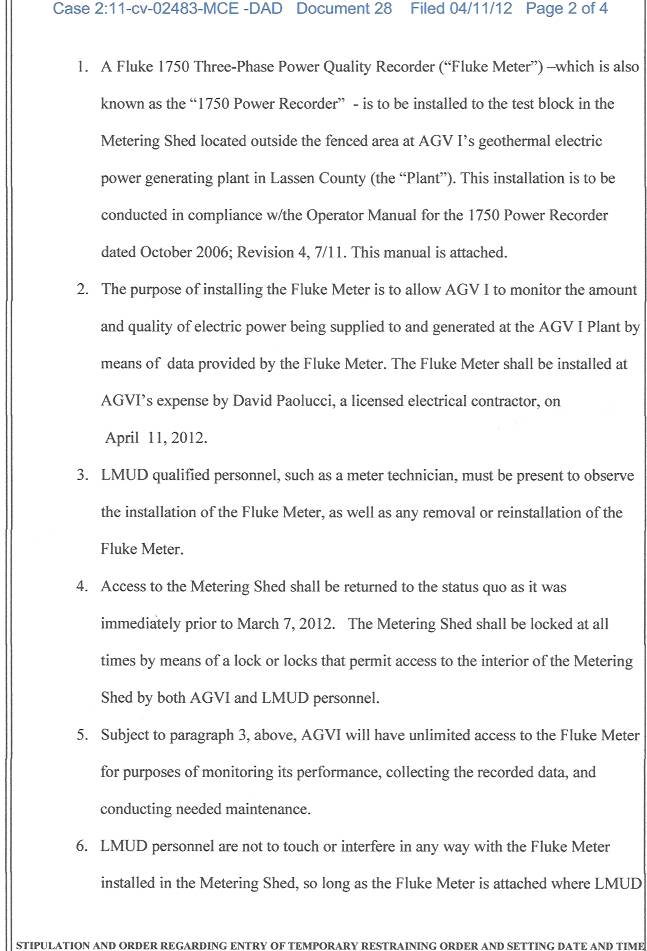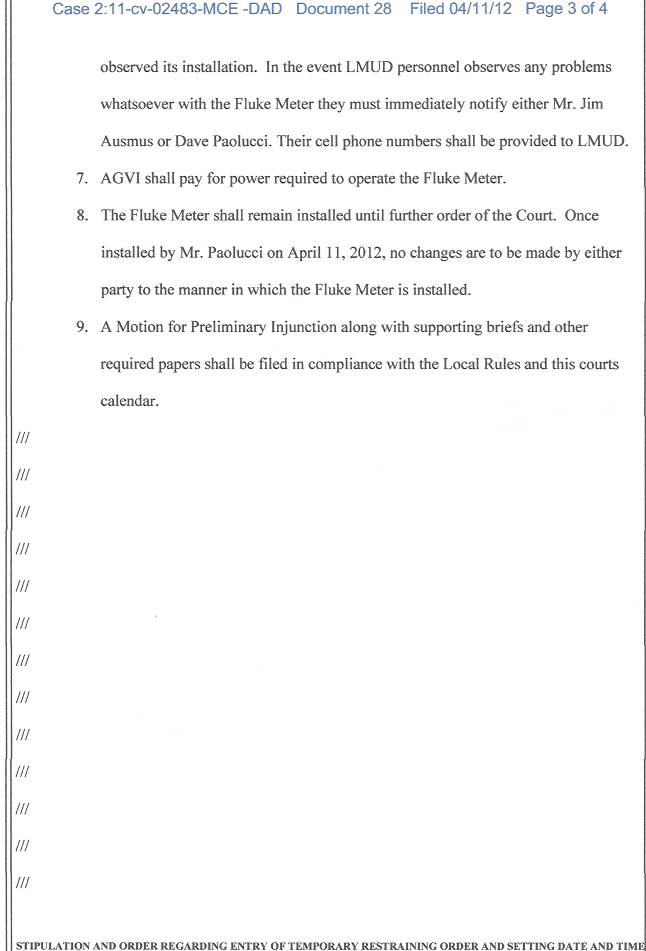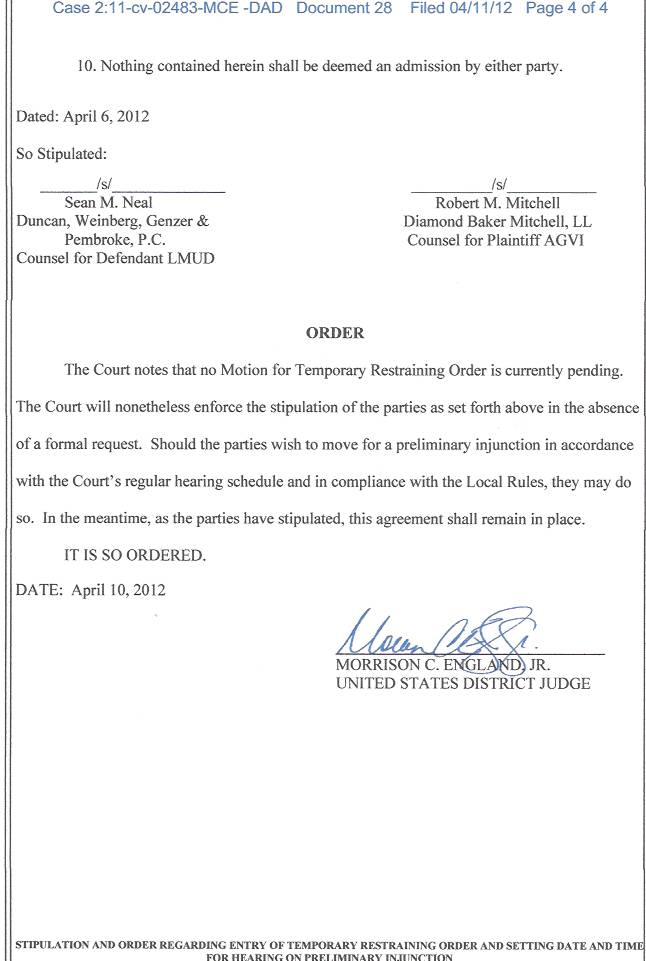 Amedee Geothermal Venture Files Multi-million dollar lawsuit against a very poorly run and corrupt utility
The incompetent LMUD Board has put themselves in a corner. They have no qualified General Manager and a boat load of lawsuits because of it
This incident occurred in February 2011. Ray Luhring left LMUD in March 2011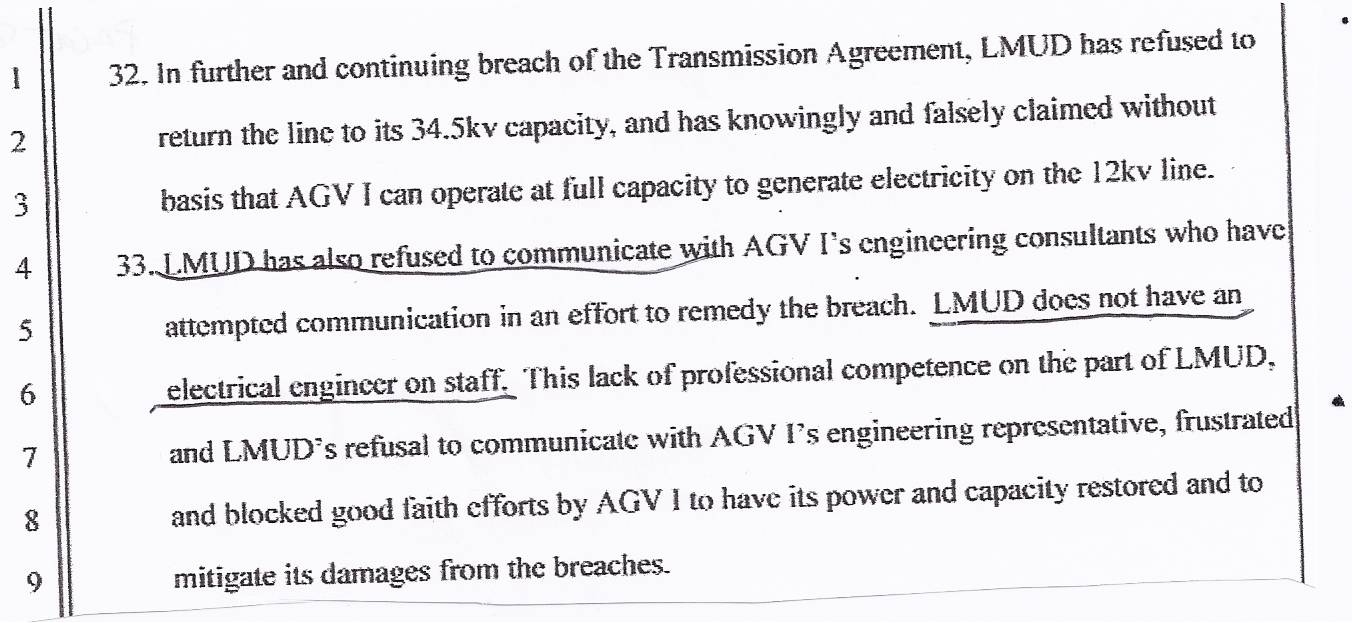 Lassen Municipal Utility District Up to Its Old Tricks
Rope A Dope (the ratepayers)
Dirty Brown Act
The LMUD Board does not even bother to agendize Resolution 2011-06, even though they admit that the Board received this claim on August 15, 2011 and decided not to include it on their August 23, 2011 Agenda.
Resolution 2011-06 just happens to be a $1.5 million dollar liability that needed to be hidden.
Stewart saw LMUD and Frank Cady do a similar stunt when they instituted the PDCA, which gave the General Manager authority to raise rates at will. The LMUD Board did a Rope-A-Dope one meeting with a "proposed" $25 monthly service charge and the next meeting slipped in the PDCA without anyone even realizing what the Board had done. This action initially eliminated public hearings on rate increases.....which they knew to be illegal. .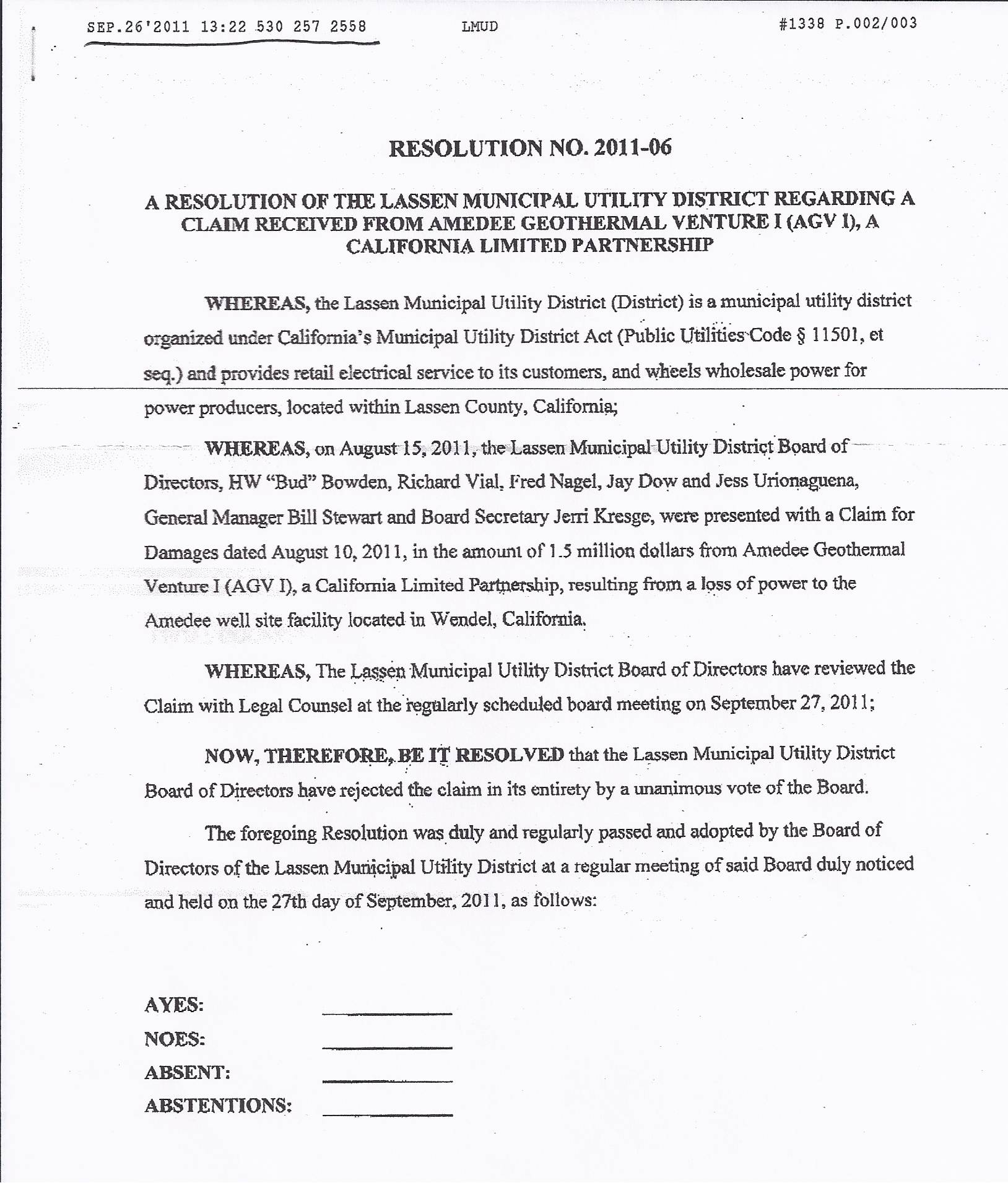 Resolution 2011-06 was not on the Agenda.
No copy of Resolution 2011-06 was included in the public packet
The "topic" was included in the closed session agenda (14 C) but there was no mention of the $1.5 liability and no mention of Resolution 2011-06.
Heads must roll if this $1.5 million dollar mistake was the fault of this public utility
or
Resignations and indictments must happen if this is a scam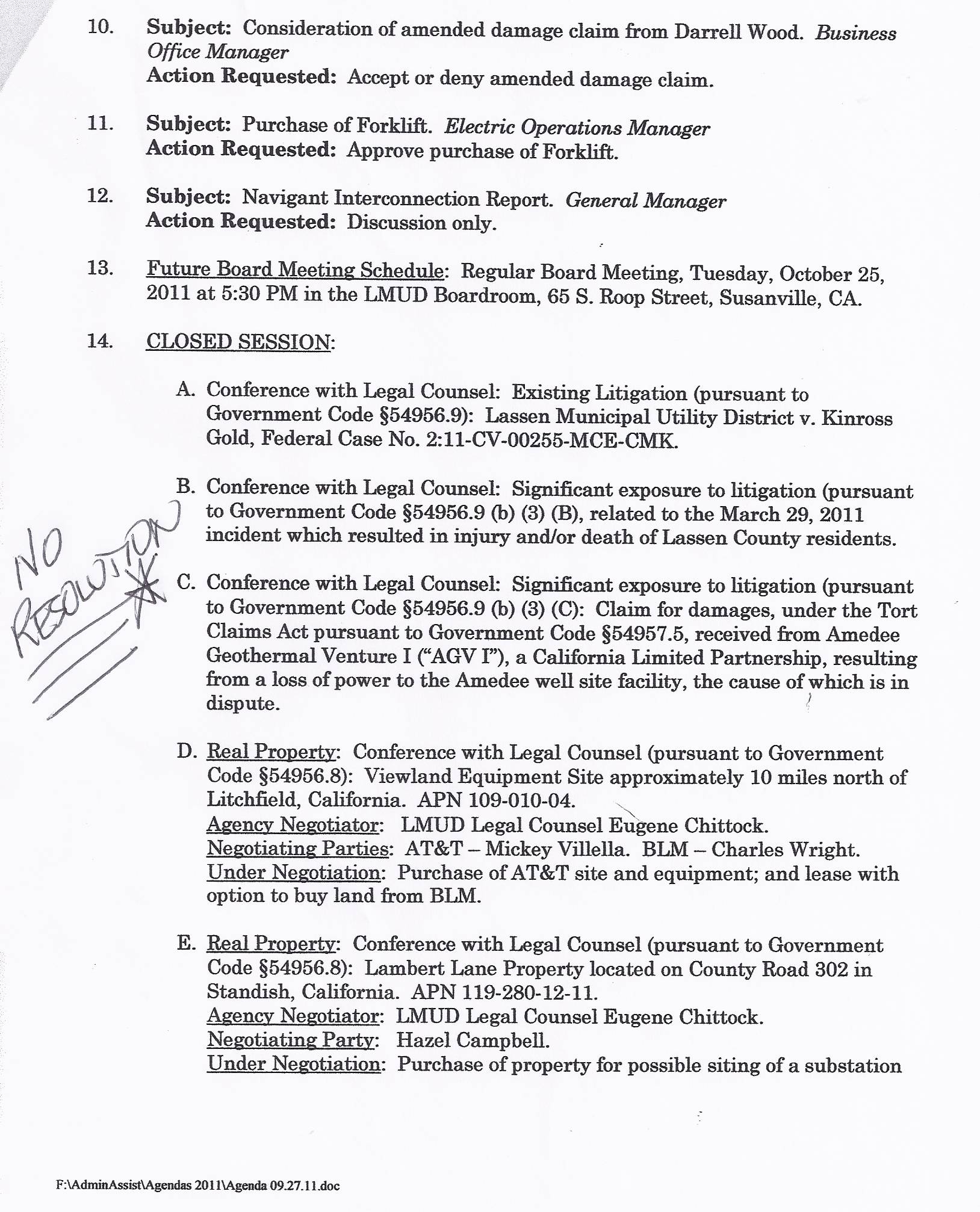 LMUD had to be very very careful with their Minutes for September 27, 2011. They were finessed and artfully written
Amedee Geothermal files lawsuit against LMUD
LMUD failed to disclose this lawsuit to the public