Stacey Montgomery
Lassen County District Attorney
Appointed to fill remainder of Bob Burns term: June, 10, 2014
Term ends: December 2018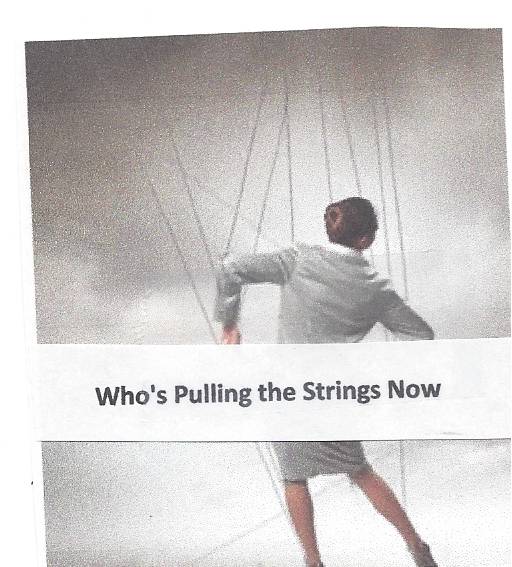 District Attorney Threatens Political Foes.......
....why now?
" to those who have broken the law here in Lassen County, let there be no question. You will be investigated, you will be prosecuted", Stacey Montgomery
WE CALL: BULLSHIT
For the last 4 years, Montgomery looked the other way and failed to even investigate crimes committed against her Critics. Cases sit with the Sheriff that Montgomery refused to prosecute because they were crimes against her critics (vandalism, harassment, theft, attempted bodily harm)
Law enforcement has been crippled under Montgomery, now she vows to go after "corruption"...someone hand this person a very large mirror
THIS DA, MONTGOMERY, WANTED A DESK JOB AND A LARGE PAYCHECK
BUT DID NOT KEEP US SAFE
Stacey Montgomery Never had the skill set
to be a District Attorney
She just wanted a desk job
Montgomery did not protect the public.
She consistently dismissed cases against violent offenders. She made personal and discriminatory decisions on "who" she would prosecute. Her husband Chris Montgomery committed perjury when he filled out his candidate papers to run for County Supervisor. She did nothing.
Chris Montgomery knew he could not run for any public office.

A court in chaos,
judicial failure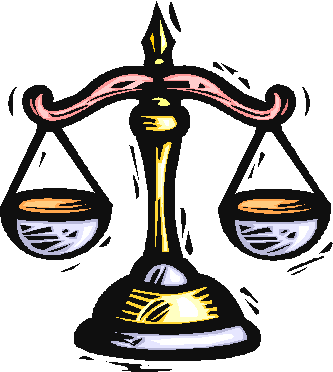 Kan We Help members attended all (except Juvenile cases) Lassen County Court cases from August 28, 2017 to December 8, 2017. The results were astonishing and shocking.
Judge Tony Mallery was sued for Abuse of Power. Judge Tony Mallery lost this case, on February 9, 2017.The taxpayers paid out a $184,830.99 settlement.
The Lassen County Superior Court was crippled when the Presiding Judge Michelle Verderosa resigned on May 8, 2017 and is no longer even a practicing attorney.
3075 cases were heard, in the Lassen County Superior Court, from August 28, 2017 to December 8, 2017.
1811 cases were heard by Assigned Judges.
Judge Mallery is the most recused Judge in the history of this Court.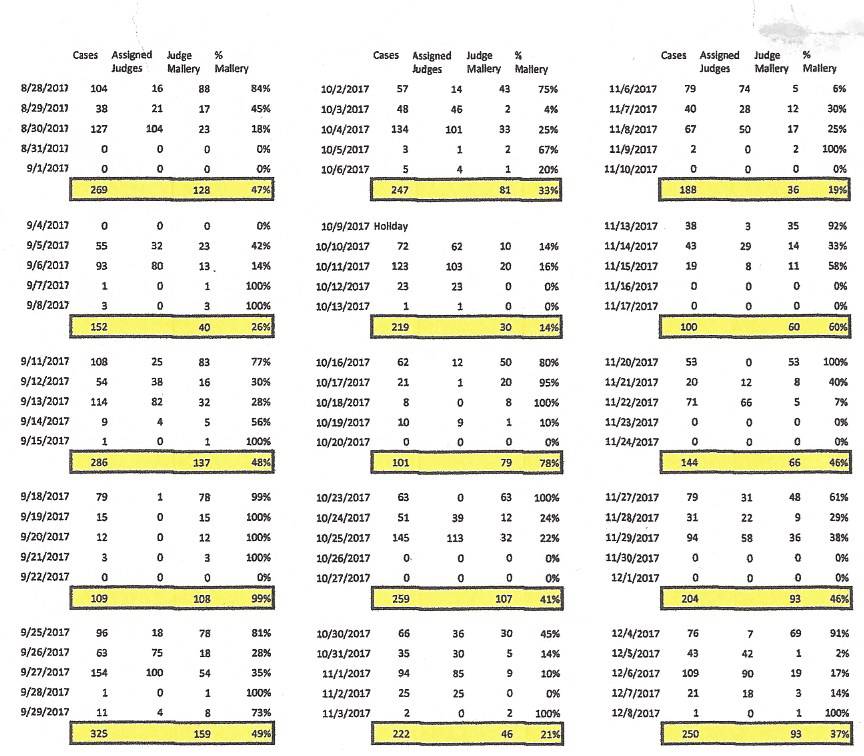 What was stunningly notable was the frustrations by the Visiting Judges. Some commented during open sessions of court of the "shabby" presentations of cases by the Deputy District Attorney's. Some stating that they have never, ever seen a court in such disarray. One Judge commented that it was "unfair" to have to endure such chaos.
1. Cases were dismissed, by Visiting Judges, for the District Attorney failing to file timely motions
2. Cases were dismissed, by Visiting Judges, for the District Attorney failing to present or even subpoena witnesses
3. Cases were dismissed, by Visiting Judges, for the District Attorney failing to provide the Court with any evidence.
4. Cases were dismissed, by Visiting Judges, for the District Attorney failing to provide competent management of
cases
5. Cases were dismissed, by Visiting Judges, for the District Attorney failing to be able to proceed.
One Visiting Judge commented that coming to Lassen County was like riding a merry-go-round and complained that the Officers of the Court played a game of "catch me if you can".
One case, a Deputy District Attorney left the Court in mid-sentence and never returned ?
A few Visiting Judges displayed outrage at the lack of discipline by Officers of the Court (attorneys)
Most Visiting Judges expressed concern for the condition of case files; missing documents, errors in case indexes
One Judge proclaimed that she was glad it was Friday and that she didn't plan on returning
This Court has become a
Defense Attorney and Public Defenders heaven
The Lassen County Sheriffs Department and all other law enforcement agencies put their lives at risk everyday to arrest Lassen County's drug dealers, rapists, thieves, child molesters, wife beaters and murders.....only to have the District Attorney dismiss case after case without a hint of any obligation to the public or law enforcement.
Don't let the excuse be...."but the new laws". This is about incompetency!
An eye opening 15 weeks
District Attorney Stacey Montgomery was needed in Court today
.....as a seat saver?
The D.A.'s office has no competent litigators, NONE.
Even Skeen & Carter have been reduced to law clerks. Montgomery hired an out-of-state attorney that only knows two things to say in court; "I agree with Counsel" & "I have no objections". David Evans and Dan Howe have no interest in being in a courtroom, but only to collect a paycheck. Howe is reprimanded often for his disrespect and cockiness........
It is a good time to be a criminal in Lassen County
The majority of the cases heard in Lassen County are now heard by Visiting Judges that are stunned by the lack of order or consistency. Time after time you can see the frustration of these Judges and hear them say....."that's not the way I have ever done this". The Court Clerks must take on the position of "JUDGE" and who ever has been sent from the Judicial Council depend on these Court Clerks to process each case.
STACEY MONTGOMERY'S TERM ENDS IN 2018 !
LASSEN COUNTY DISTRICT ATTORNEY'S OFFICE CANNOT PRODUCE A RECORD FOR THE SUPERVISORS OF HER SUCCESSFUL PROSECUTIONS?
How many Assault cases go free?
How many Drug cases go free?
Lassen County District Attorney's Criminal Cases this week
Tuesday: 4/25/17 Wednesday: 4/26/17 Monday: 5/1/17
Assault 10 cases 11 cases 10 cases
Criminal ? 8 cases 2 cases 5 cases
DUI 6 cases 2 cases 9 cases
Conspiracy 5 cases 1 case 0 case
Theft 4 cases 0 case 4 cases
Drugs 4 cases 2 cases 10 cases
Trespassing 2 cases 0 case 2 cases
Larceny 2 cases 1 case 0 case
Weapons 1 case 2 cases 2 cases
Rape 0 case 1 case 0 case
Child Abuse 0 case 0 case 2 cases
If you have drug dealers as neighbors, learn to live with it.
The Sheriff won't arrest them & the DA cannot successfully prosecute them.
Neighborhood "watch" groups can
do nothing but WATCH
Americans need a plan about CRIME and it isn't more cops and more prisons
Lassen County Judicial System Broken
Criminal Cases are Dismissed Every day
due to "Failure to Prosecute"
After Lassen County Superior Court Judge Verderosa suddenly resigned,
the majority of Lassen County cases now are being heard by judges assigned by the Judicial Council.
Adding to this problem, the public is recusing Judge Mallery.
William Romero, accused murderer of Angel Siler Goes Free
on a Misdemeanor
Stacey Montgomery is not a Trial Lawyer and will continue to lose Capital Crime cases
In fact, what skills does she have other than she is qualified to "sit" behind a desk?
Lassen County District Attorney
Receives Brown Act Complaint
District Attorney Stacey Montgomery's husband, Chris Montgomery, is running for District 2 Supervisor on the June 7, 2016 ballot. Will she condone Board of Supervisors violations and enable future Board members to break the law or set a precedent for future Boards that they must follow the law.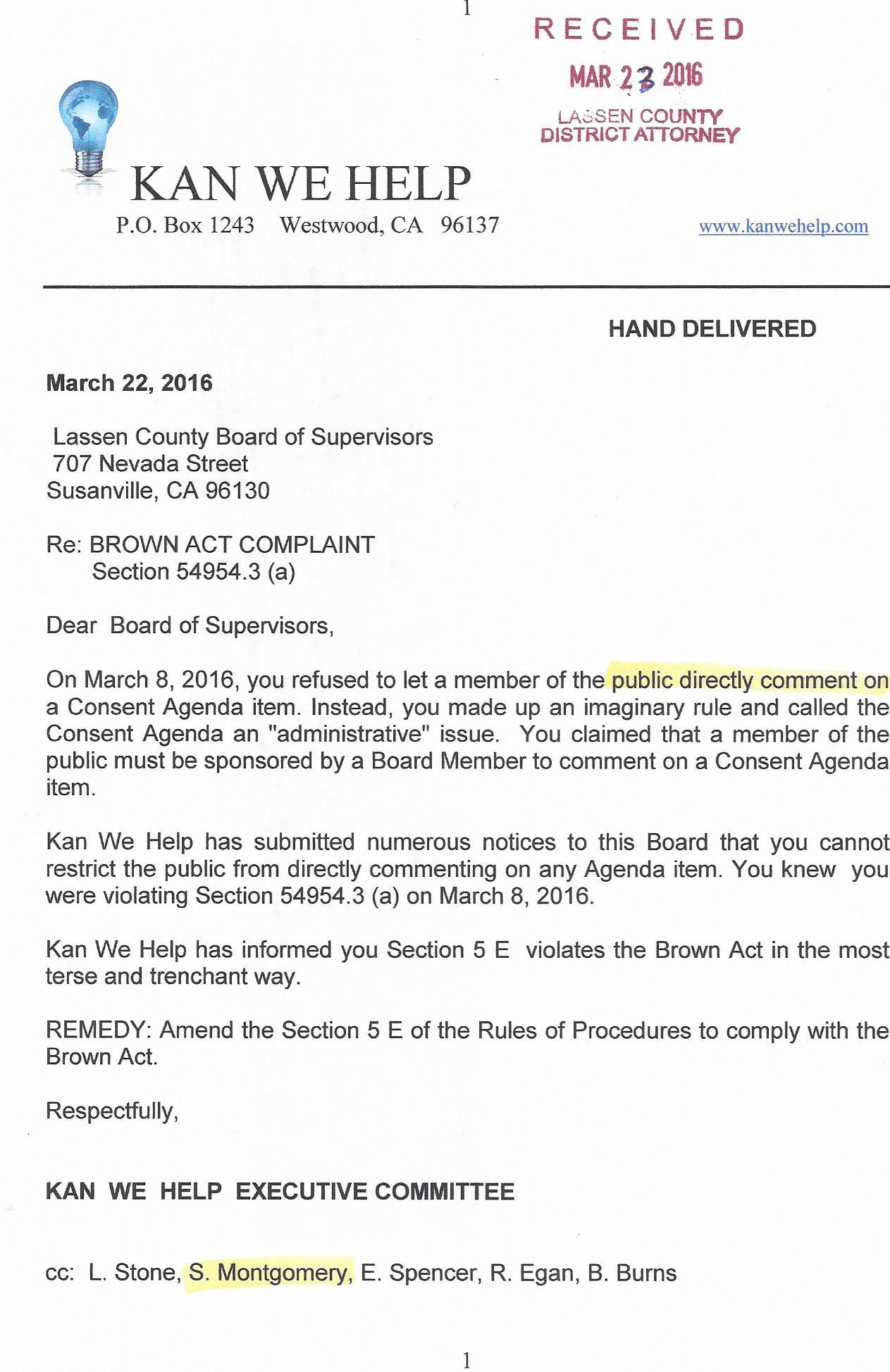 Steve Pezzullo Rents
District Attorney Stacey Montgomery
250 S. Pine Street in Susanville
So Chris Montgomery Could Run in the District 2 Supervisor Race
Chris Montgomery filed his candidacy papers to run for the District 2 Supervisors seat and stated that his address is 250 S. Pine Street, Susanville, CA.
As of 3/21/16 this property was owned by Steve Pezzullo.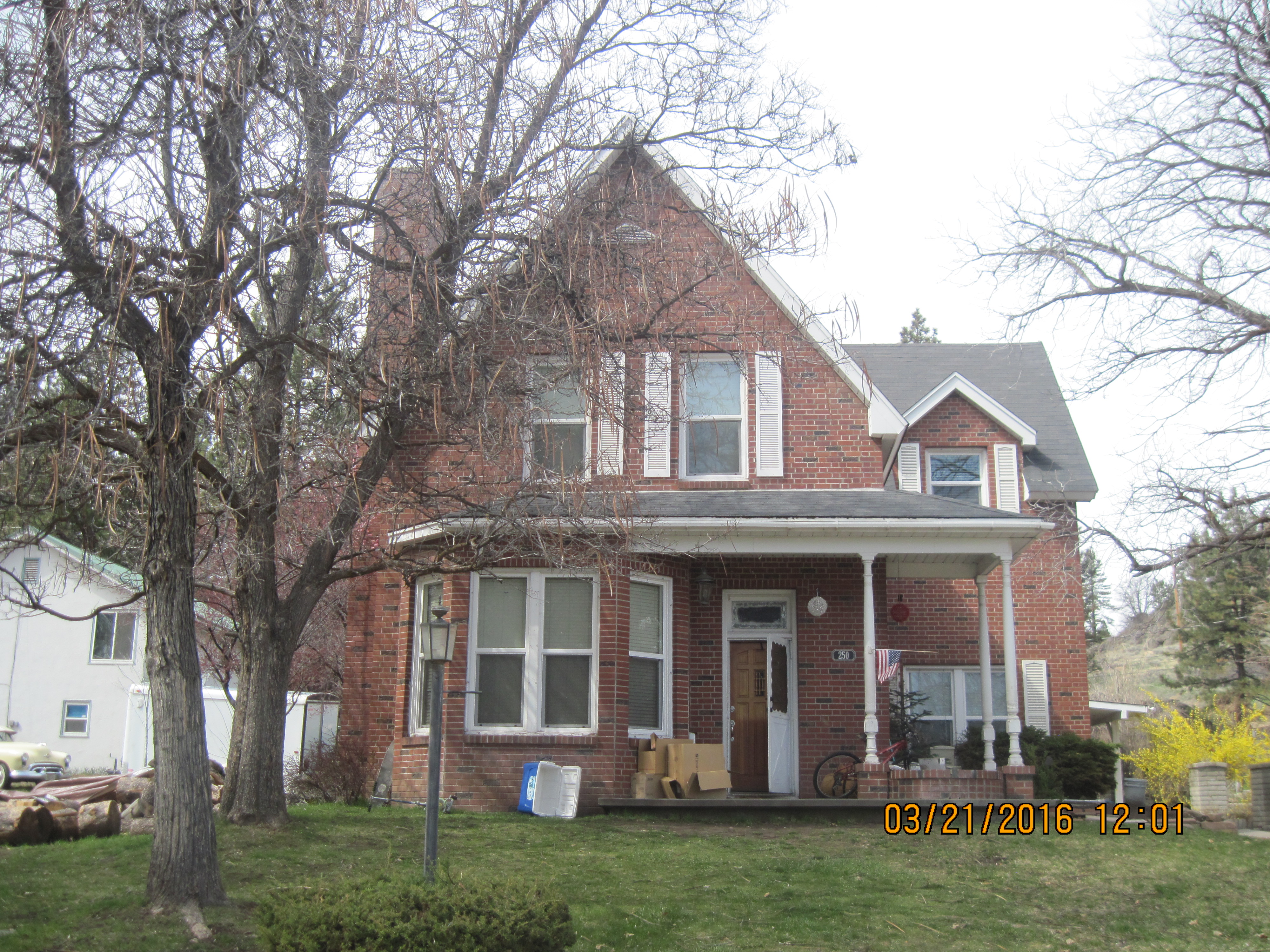 Steve Pezzullo ran an unsuccessful campaign for District 2 Supervisor in 2012
Clear & Willful Intent
to Commit Perjury
....and 3 months later, the
District Attorney has done nothing ?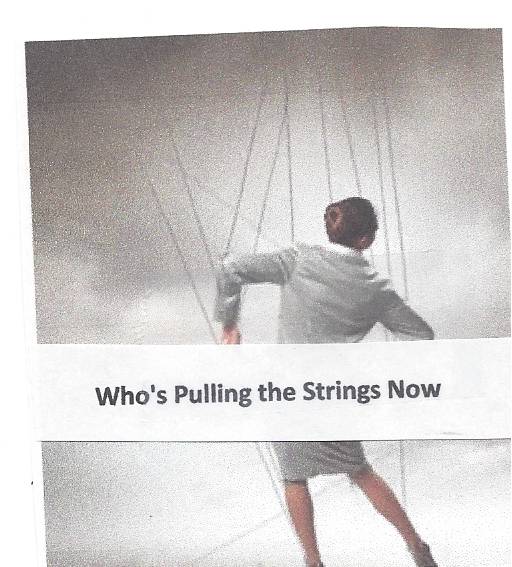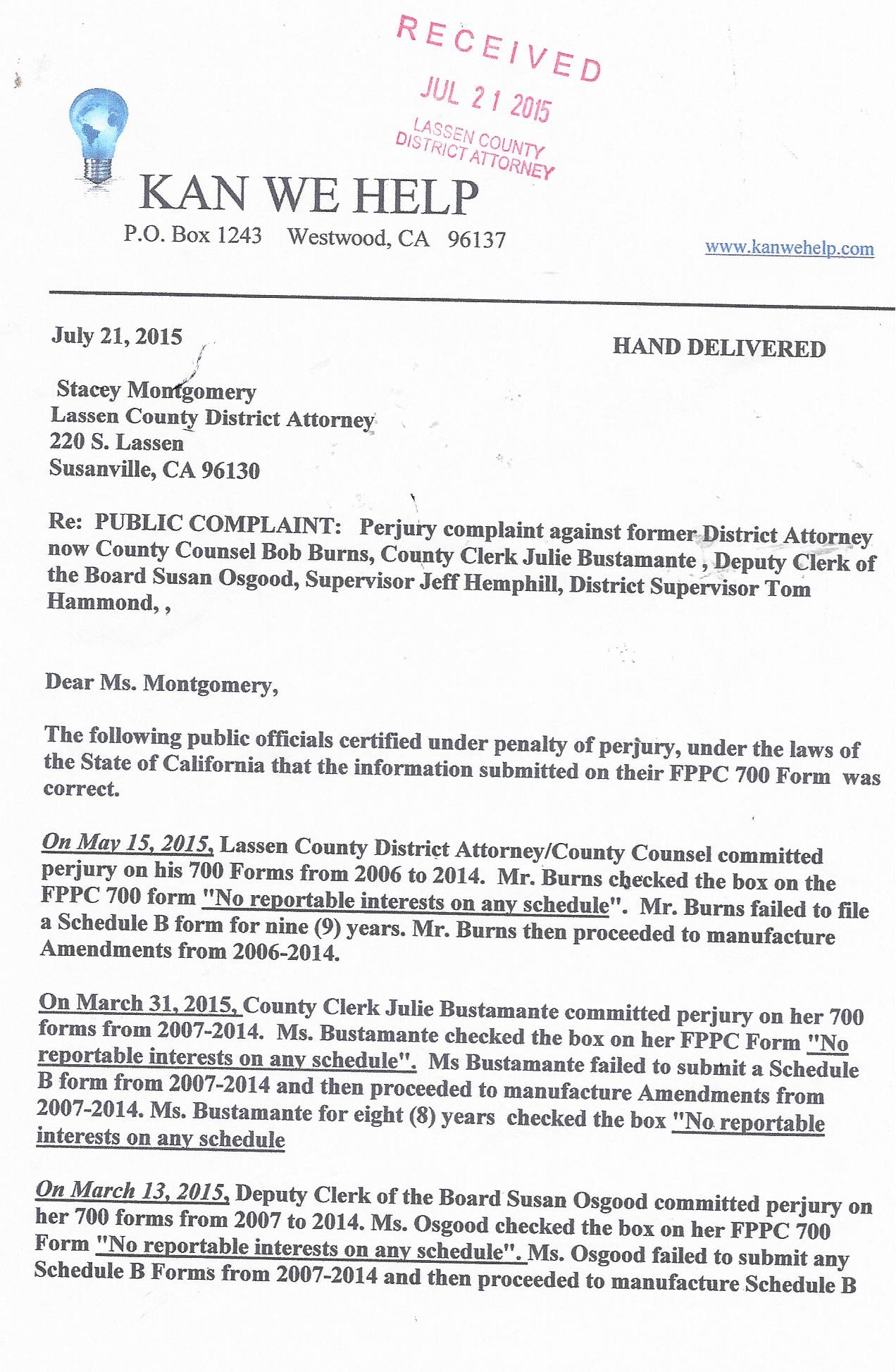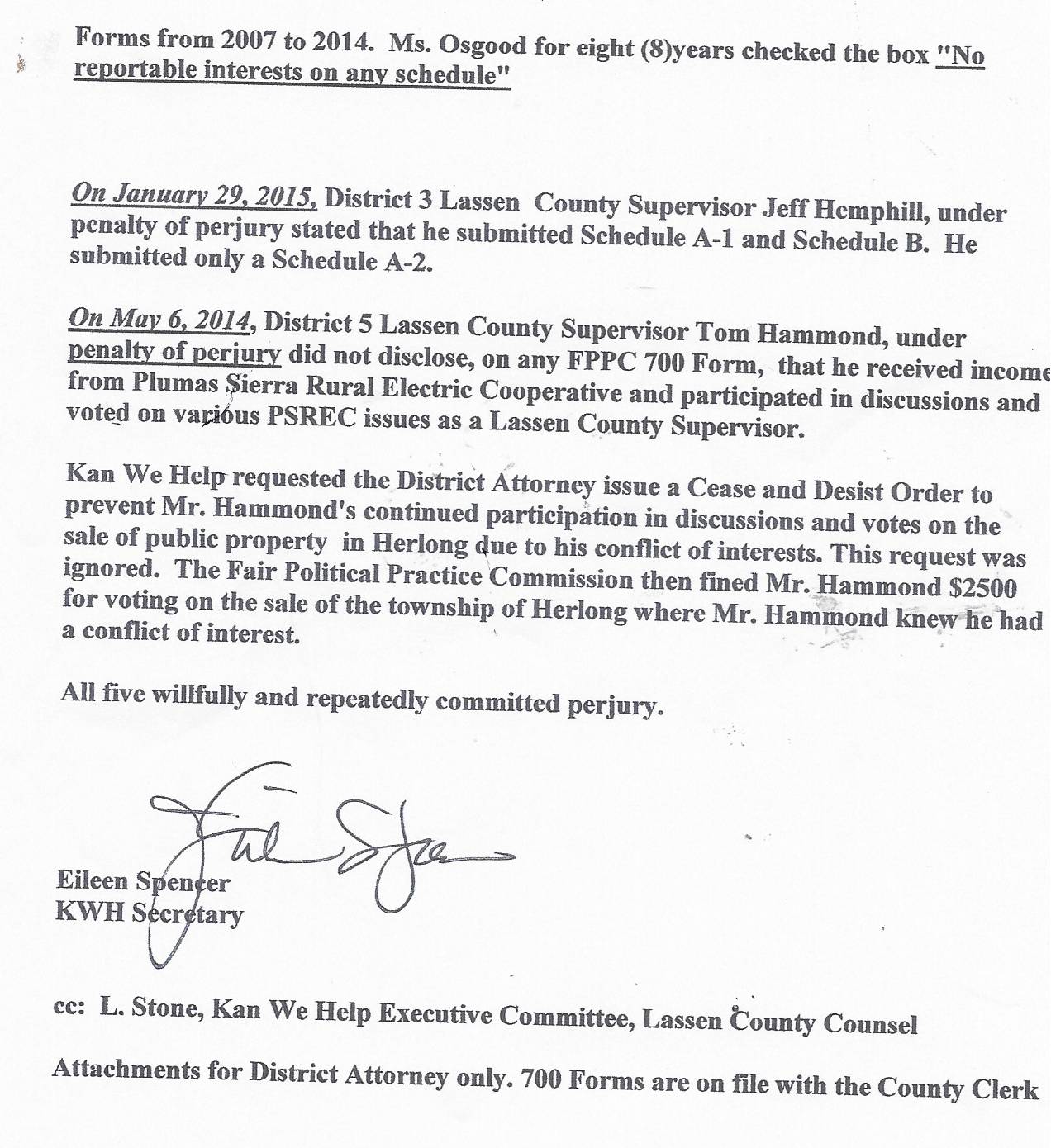 THEN THERE WAS
"NO INTENT TO COMMIT PERJURY"
Deputy DA David Evans may have lost the County Assessor's perjury case intentionally. He ran against Stacey Montgomery for District Attorney and lost and may have wanted to just make her look bad like he did with Bob Burns during the 2014 campaign
David Evans: "Now, is the time to take over this office"......
Evans presented a clumsy and contrived case against the Lassen County Assessor and often times during the hearing froze, forgot his line of questioning and repeated himself to the point where you could watch the public gallery shake their heads in disbelief.
JUDGE MALLERY KNEW THIS CASE SHOULD NEVER HAVE SEEN THE INSIDE OF A COURTROOM
THAT is......Stacey Montgomery's fault !
Lassen County Superior Court Judge Mallery
Throws Out
District Attorney's Perjury Case
Against Assessor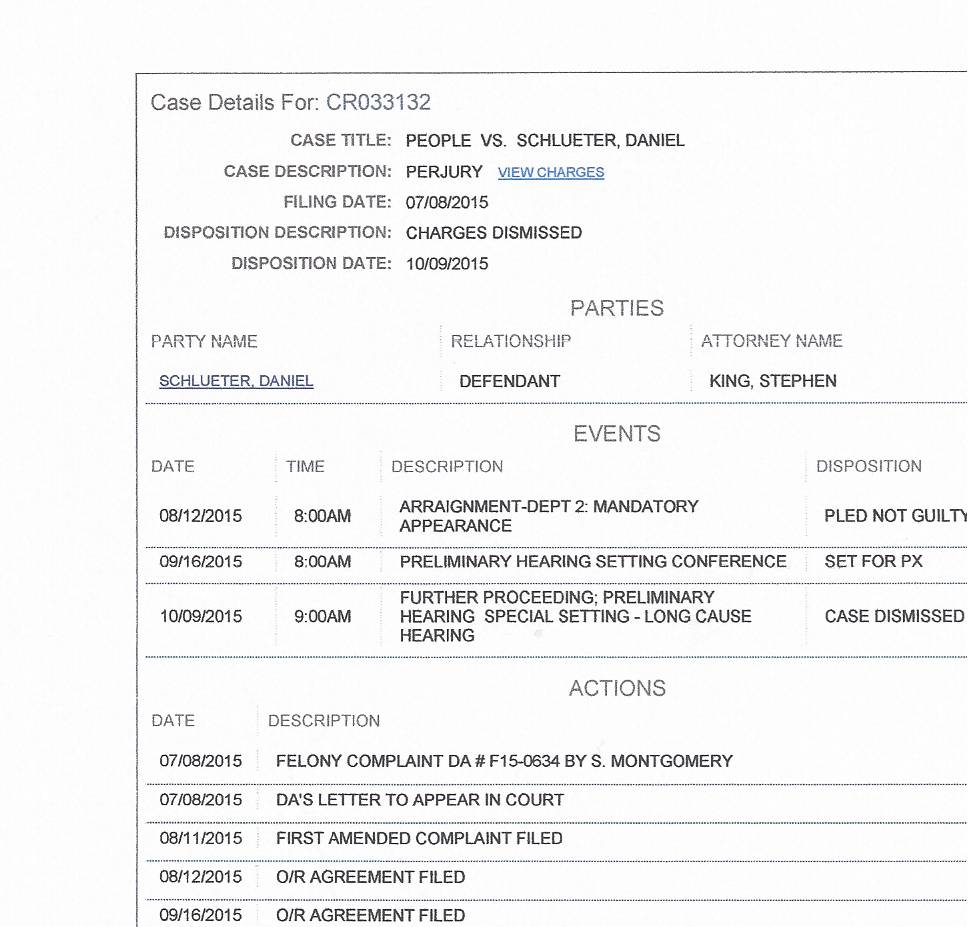 District Attorney's political vendetta against Lassen County Assessor Dan Schlueter ended this afternoon when Schlueter's attorney Stephen King proved that his client did not commit perjury.
Steve Pezzullo lost his appeal to change his Herlong properties tax bill. Pezzullo paid his taxes in full on March 11, 2015 and then shortly after this an "anonymous" complaint was filed with District Attorney Stacey Montgomery.
DA Montgomery's lead investigator, John Mineau, told the DA that Dan Schlueter did not live in Clear Creek (Lassen County) because Schlueter could not have lived in an "uninhabitable" trailer on his property. DA Montgomery did not present a single witness that could verify this assumption. She relied totally on the statements by Officer McGarva and Undersheriff John Mineau (Mineau did not testify and was not present in the courtroom). Deputy McGarva admitted that he never interviewed the County Clerk Julie Bustamante.
King, on the other hand, provided five witnesses that rebuked McGarva's testimony.
Dan Schlueter's attorney Stephen King presented a brilliant defense that proved that the Assessor lived in Lassen County prior to filing his candidate papers to run for the seat being vacated by long term Assessor Ken Bunch.
Montgomery leaves the courtroom vowing to contact the Secretary of State ???????
You go girl.....but first you must look at the Complaint filed that proves 7 years of perjury by Bob Burns and Julie Bustamate on their 700 forms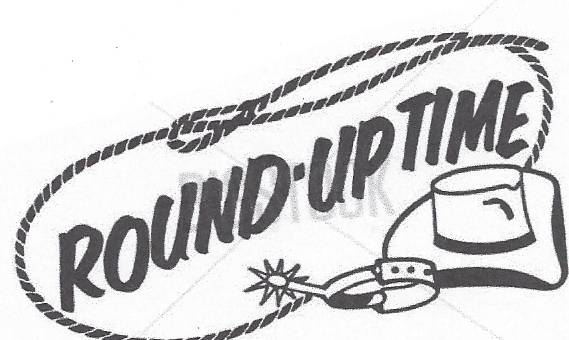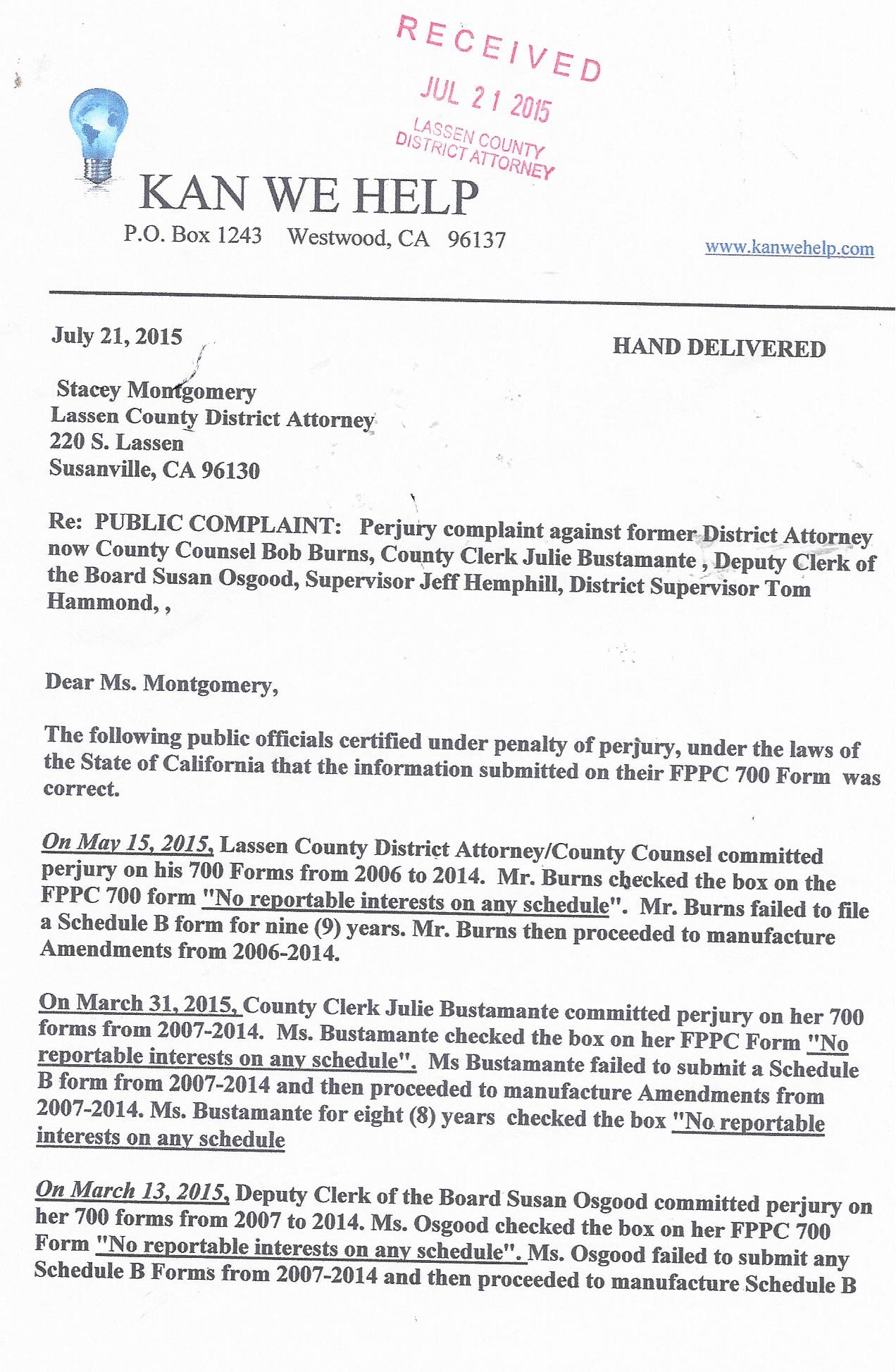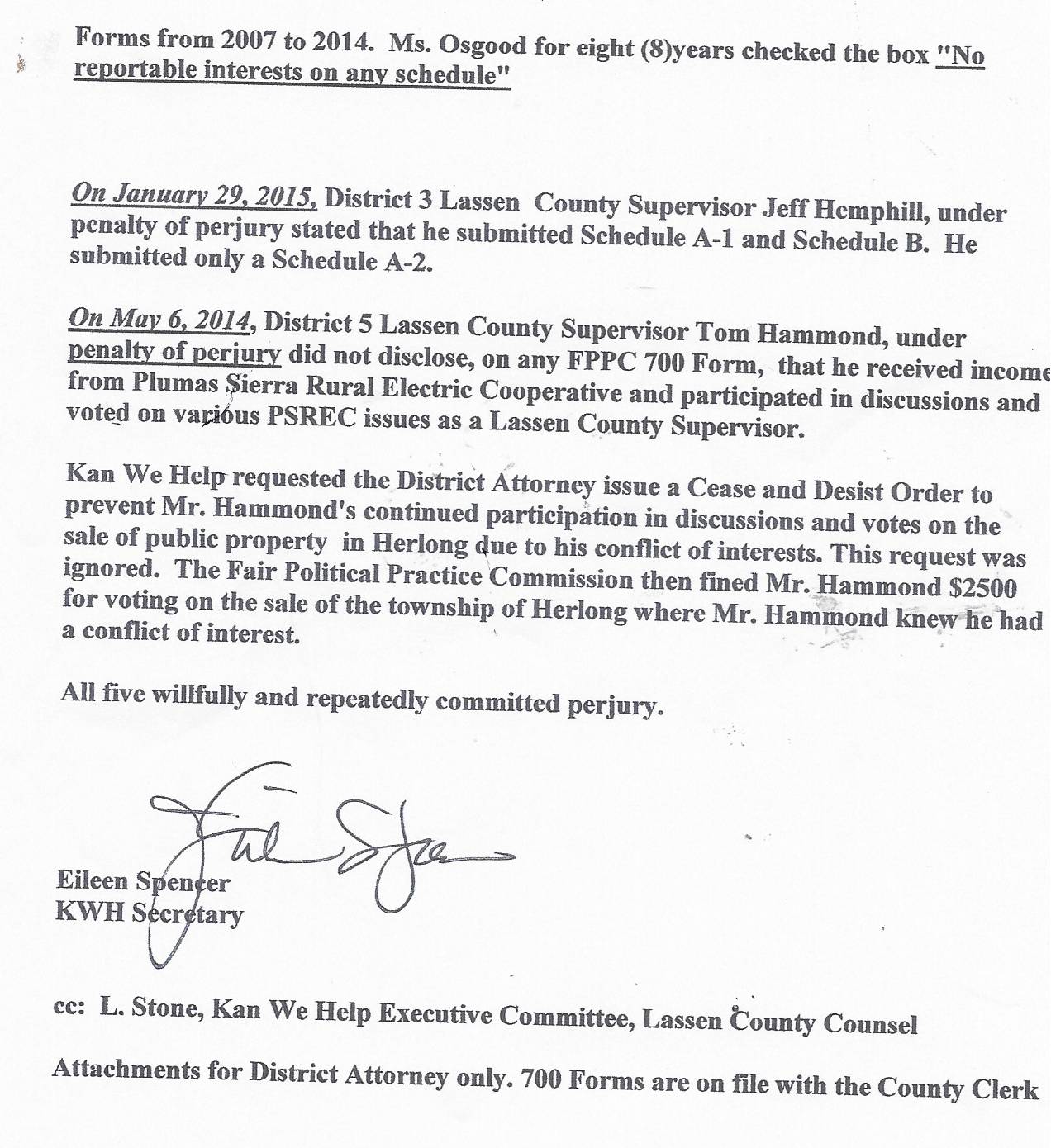 D.A. MONTGOMERY DOES NOT OBJECT
TO HER LEAD PROSECUTOR DAN HOWE
RECEIVING $5,000
FROM BOB BURNS
Asst. DA Dan Howe has been assigned to the William Romero capital murder trial which Burns ignored four years ago.
Bob Burns SUDDENLY insists that Dan Howe would be great
for the Marijuana "HEARING OFFICER"
Will Montgomery stay silent until she gets her new building?
UNDER PRESSURE OF OUTSIDE INVESTIGATORS
ARRIVING IN SUSANVILLE
TO INVESTIGATE ANGEL SILER'S MURDER
DISTRICT ATTORNEY SUDDENLY
ARRESTS WILLIAM ROMERO
Extensive investigation..................no
This action was taken in hopes that the Archangels of Justice would cancel their trip to Susanville
MOTHER OF MURDERED 23 YEAR OLD PLEADS WITH STACEY MONTGOMERY
TO LOOK INTO ANGEL SILER'S MURDER
District Attorney Stacey Montgomery allegedly THEN assigns Special Investigator (Bob Burns investigator Dan Howe) to look into the 2011 murder of the 23 year old Angel Siler.
Former District Attorney Bob Burns did nothing to investigate this murder in 2011 and told the mother of Angel that it was just a medical emergency case.
No Changes in District Attorney's Office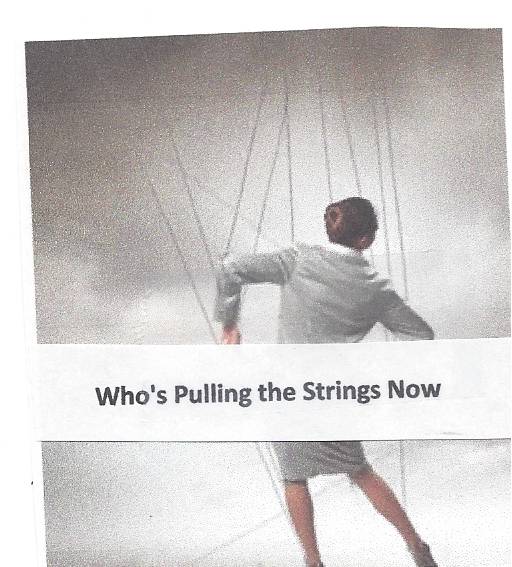 Tom Hammond Gives Public Land to Friends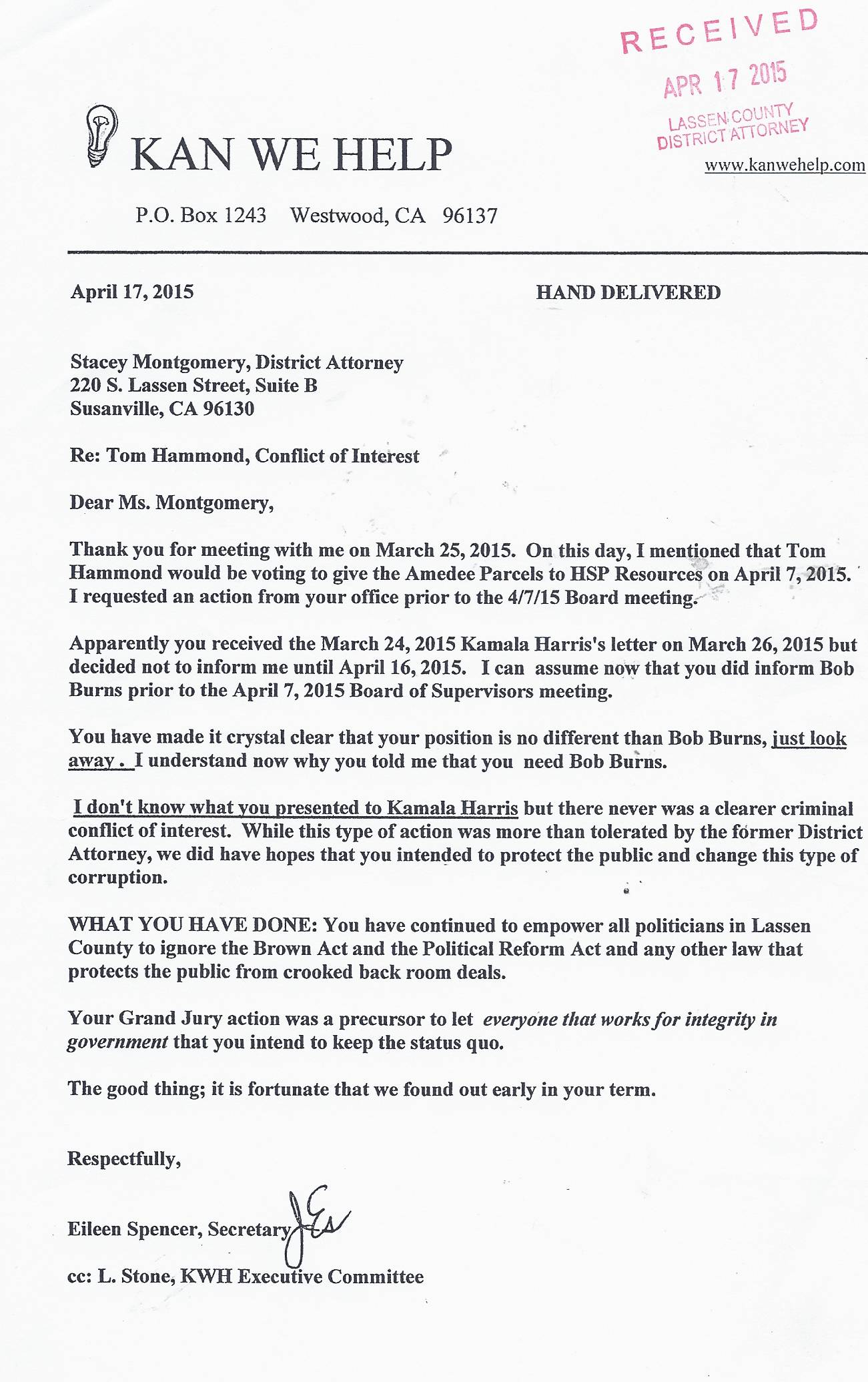 MONTGOMERY COMPLAINS THAT BURNS LEFT A MESS
......AND THEN THIS ?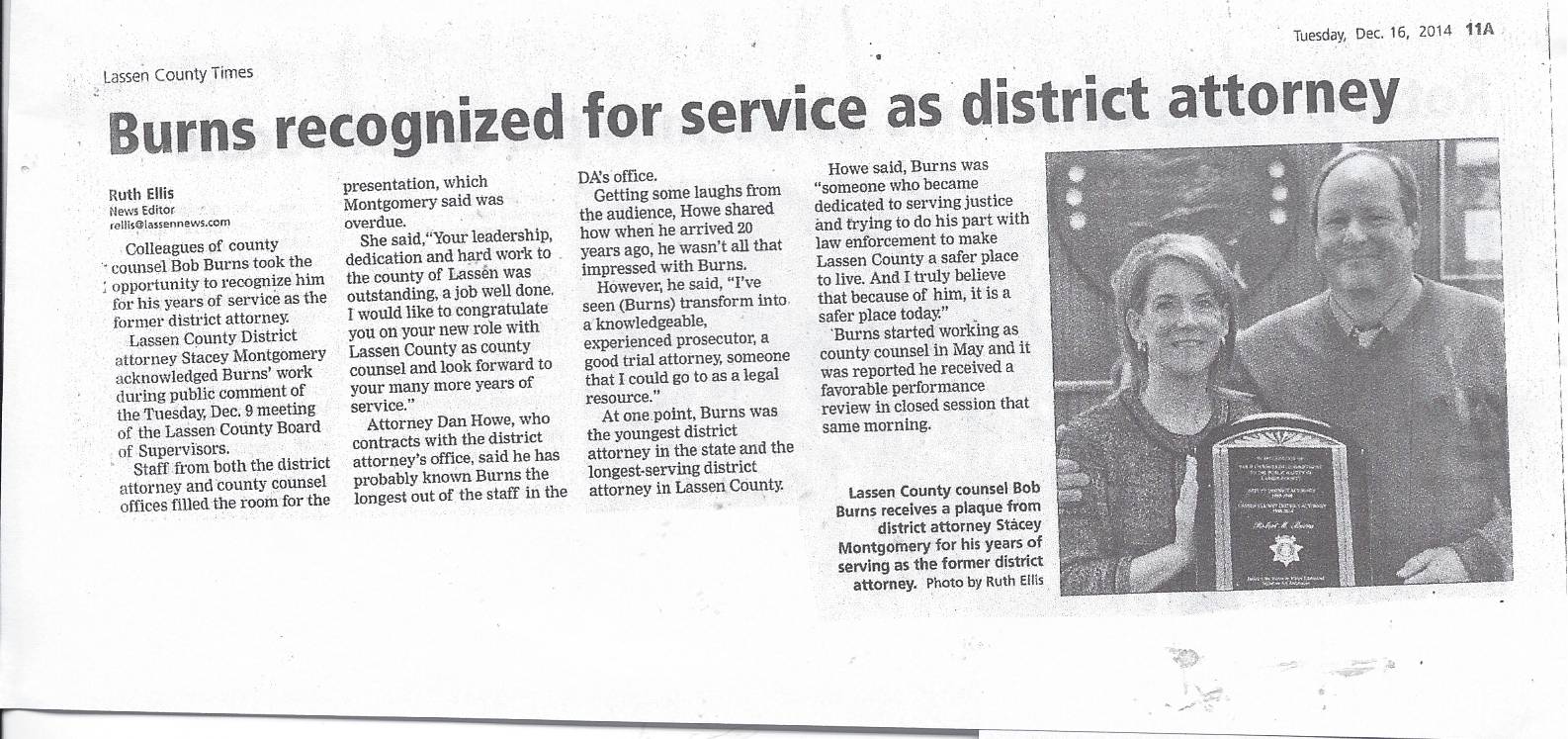 New District Attorney Stacey Montgomery
Protects Her Budget
She failed to even
reprimand
the Board of Supervisors
for their actions at Herlong or the Brown Act violations?
Montgomery wants the voters to take care of this?
Ms. Montgomery, that may well happen when your term ends!
This was the gutziest Grand Jury in the history of Lassen County Grand Jury's.
The new District Attorney didn't have an ounce of back bone to at least say "cease and desist"
If you think her actions are shameful, Bob Burns has done the same thing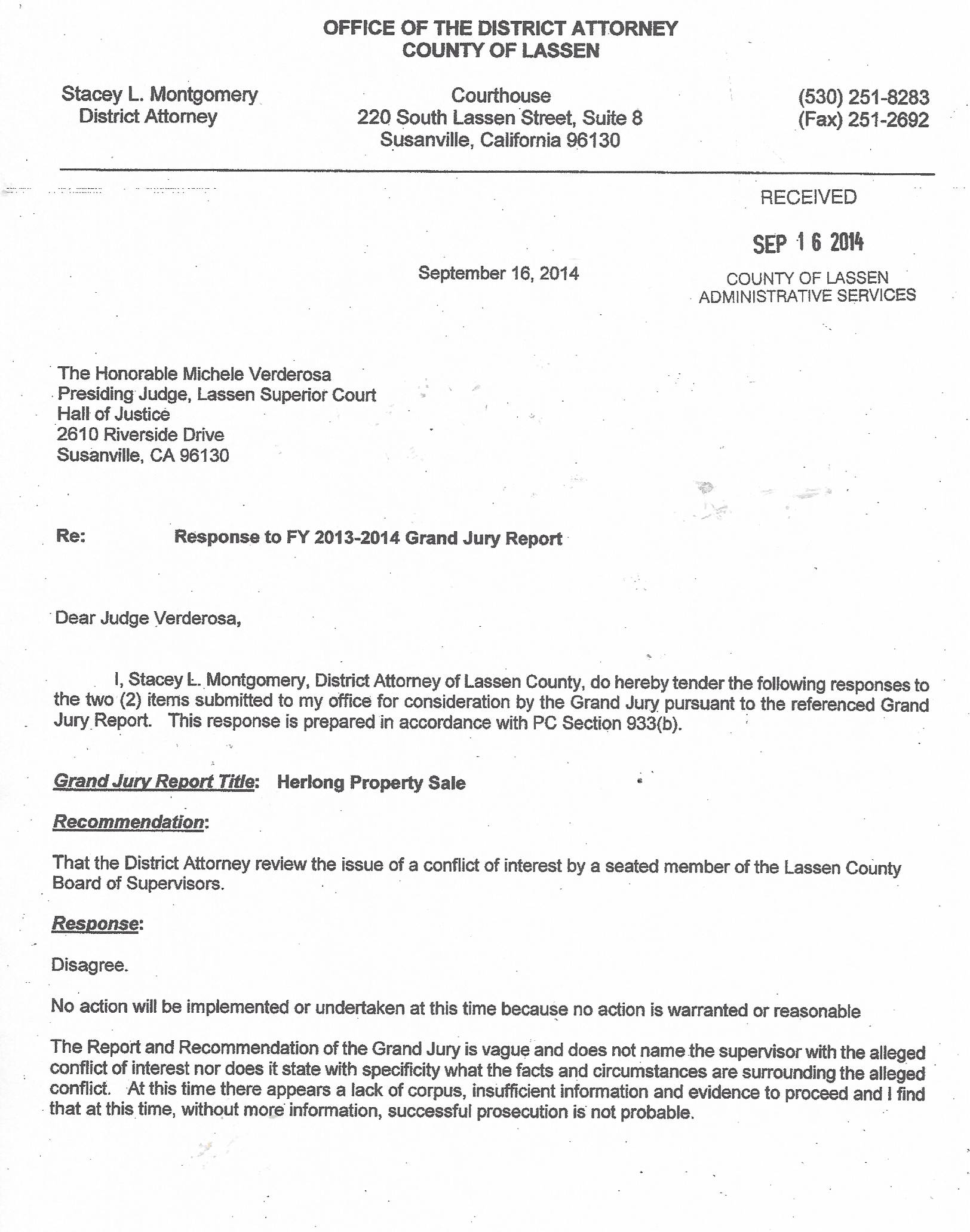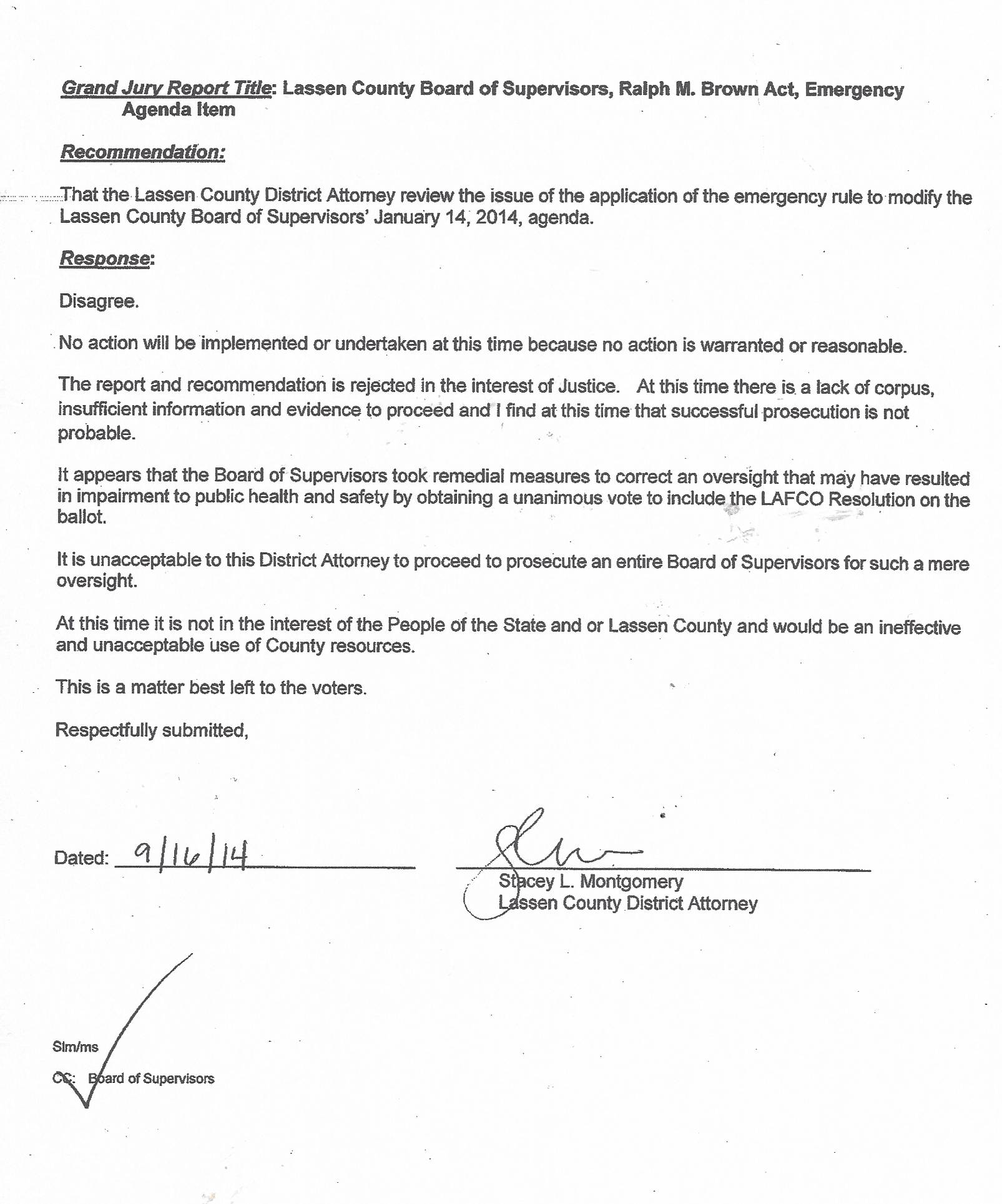 STACEY MONTGOMERY APPOINTED TO FILL THE REMAINDER OF BOB BURNS TERM
Bob Burns resigns as District Attorney on June 9, 2014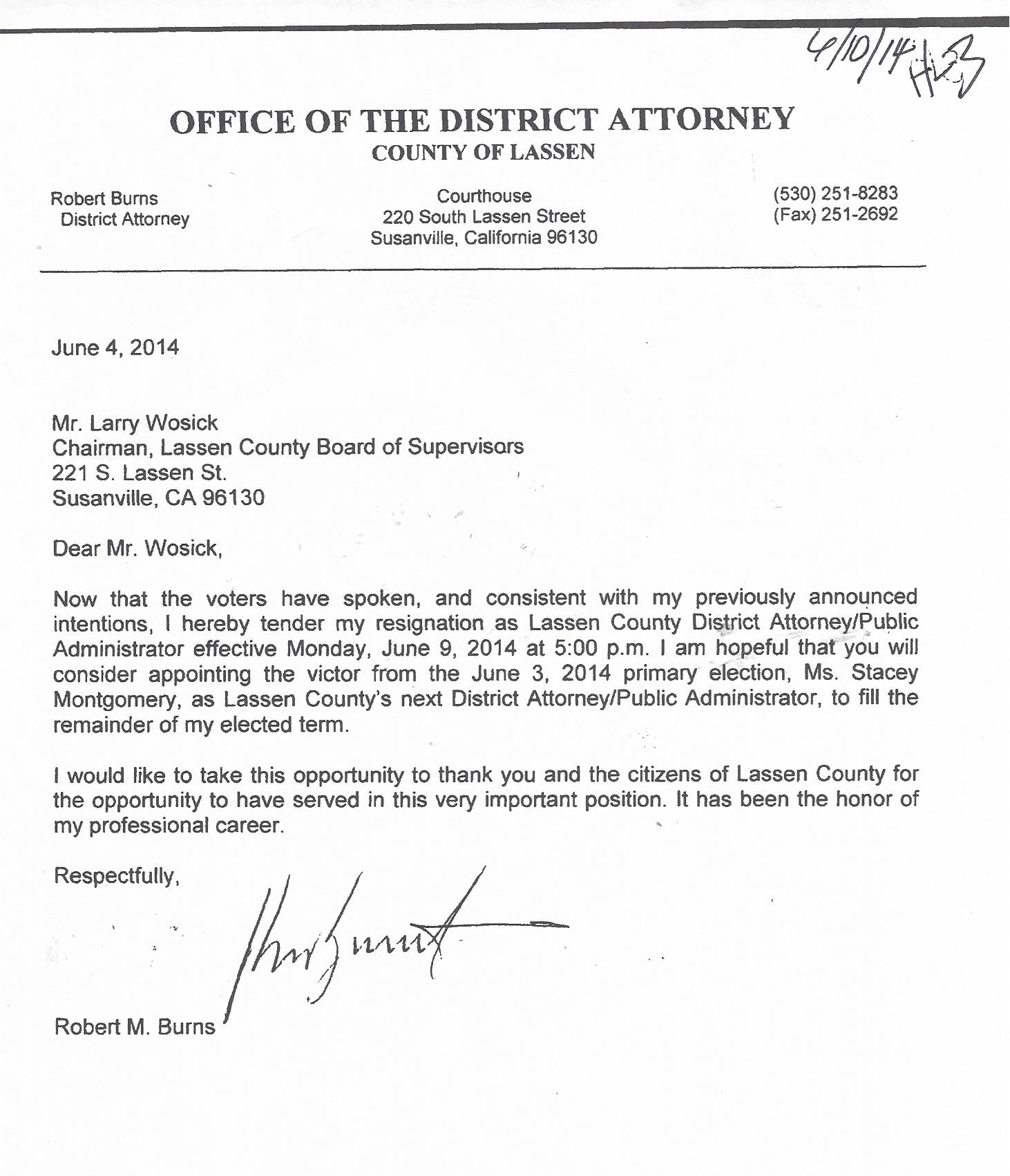 New County Counsel places appointment of Stacey Montgomery on June 10, 2014 Agenda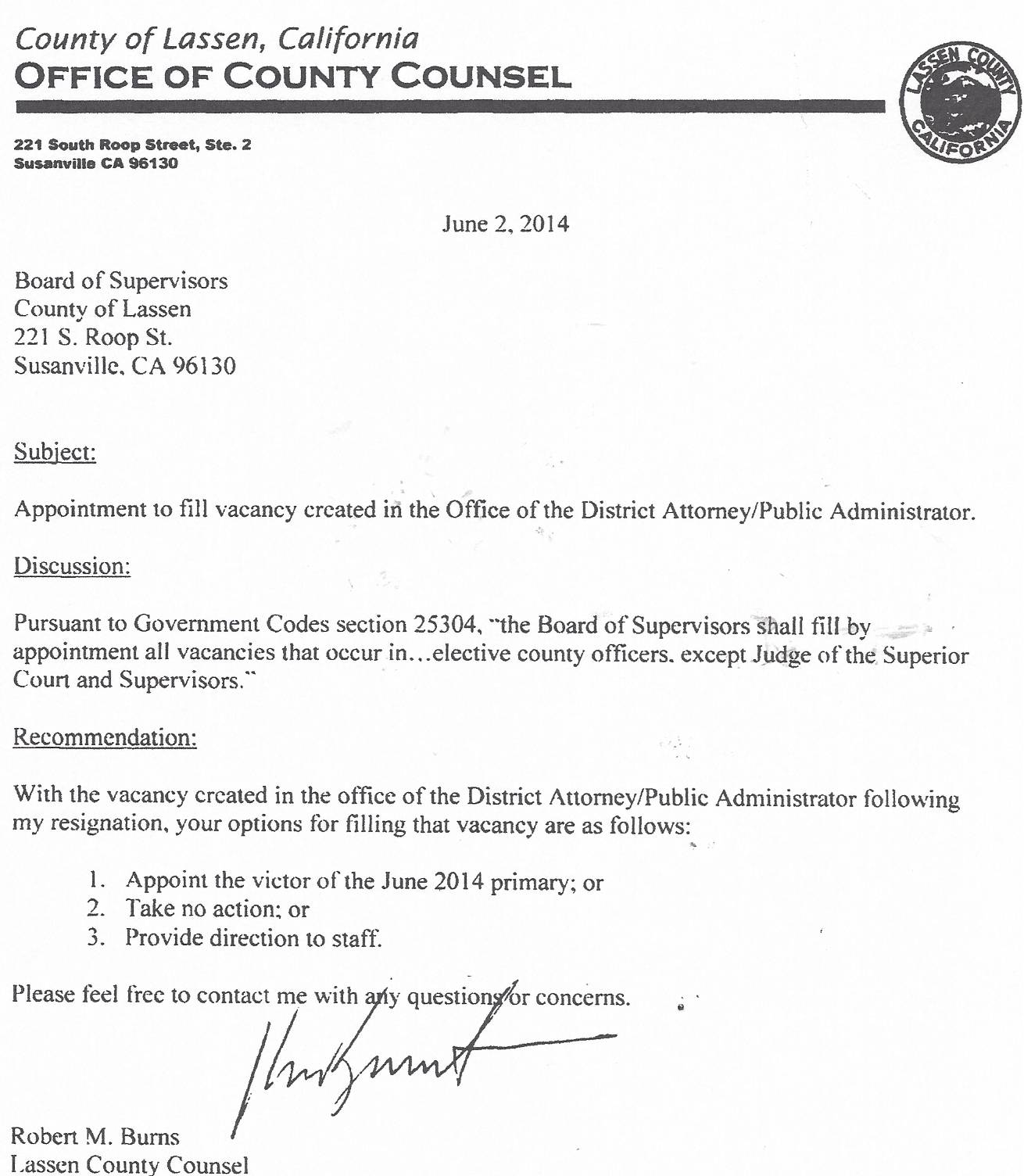 AGENDA MINUTES FROM JUNE 10, 2014 BOARD OF SUPERVISORS MEETING: