Lassen Municipal Utility District Solar Rebate Program
AB 920

Rebate ends in 2017
On October 11, 2009, then Governor Schwarzenegger signed into law AB 920, a solar bill designed to give consumers an incentive to install solar panels on their roofs. AB 920 was authored by Democrat Jared Huffman from Marin. This Bill required utility companies to return money to their customers for any surplus electricity produced by their solar panels. Prior to this legislation, utility companies received this surplus FREE.
The refund rate has been set by LMUD to be 4 1/2 cents per kwh starting 1/1/12.
A LMUD customer may ask for this refund for their surplus or they can ask that it be rolled over. These credits can be rolled over to their next annual billing cycle.
On July 26, 2011, the General Manager submitted a Report as required by PUC Code 11401. This PUC code requires LMUD to hold a Public Hearing within 40 days of the filing the General Manager's Report. LMUD is also required to publish this Public Hearing Notice two consecutive weeks 14 days before the date of the Public Hearing (Gov't Code 6066).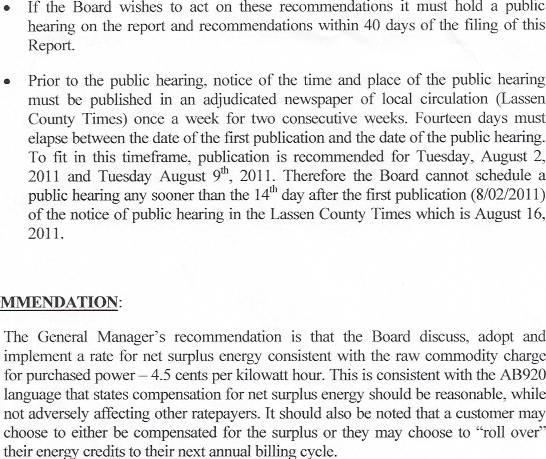 PUBLIC HEARING NOTICE PUBLISHED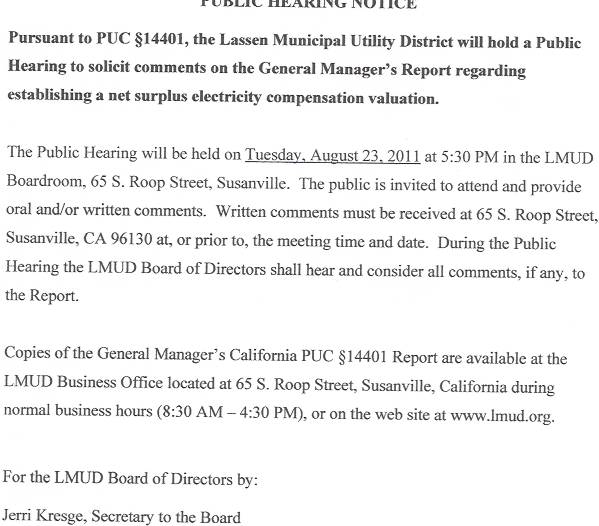 PUBLIC HEARING AGENDIZED AND HELD AT THE AUGUST 23, 2011 REGULAR LMUD MEETING
RESOLUTION 2011-05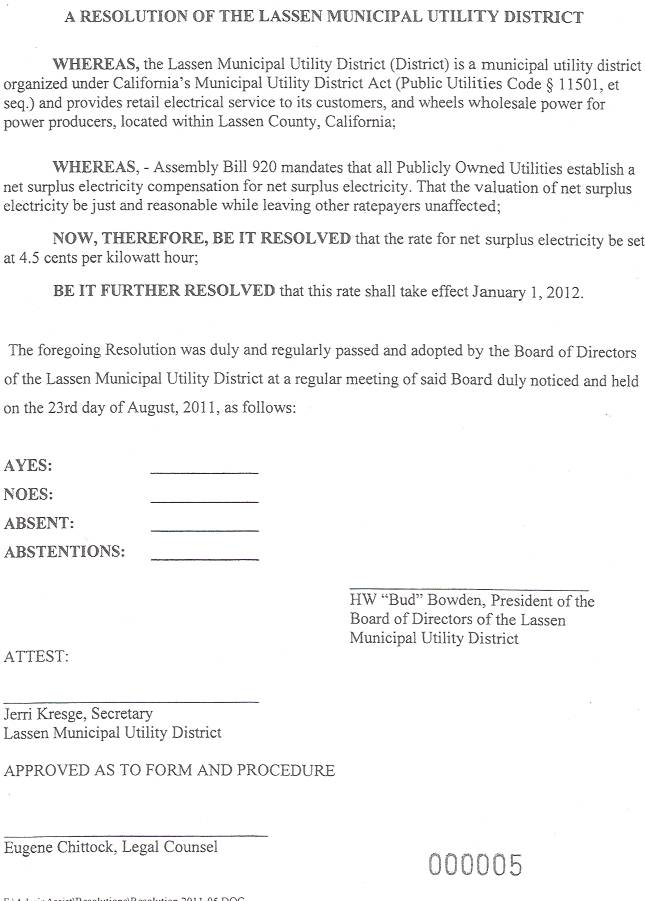 LMUD INTENDS TO REDUCE REBATES AND ADD A $300 FILING FEE: BAD TIMING, BAD POLICY
On January 18, 2012, the General Manager submitted a "Report" to the LMUD Board to change LMUD's policy on solar rebates. The intent of the General Manager is to lower the rebate for installing solar panels again. Now the General Manager is requesting that LMUD charge a $300 application fee to apply for the State mandated rebate.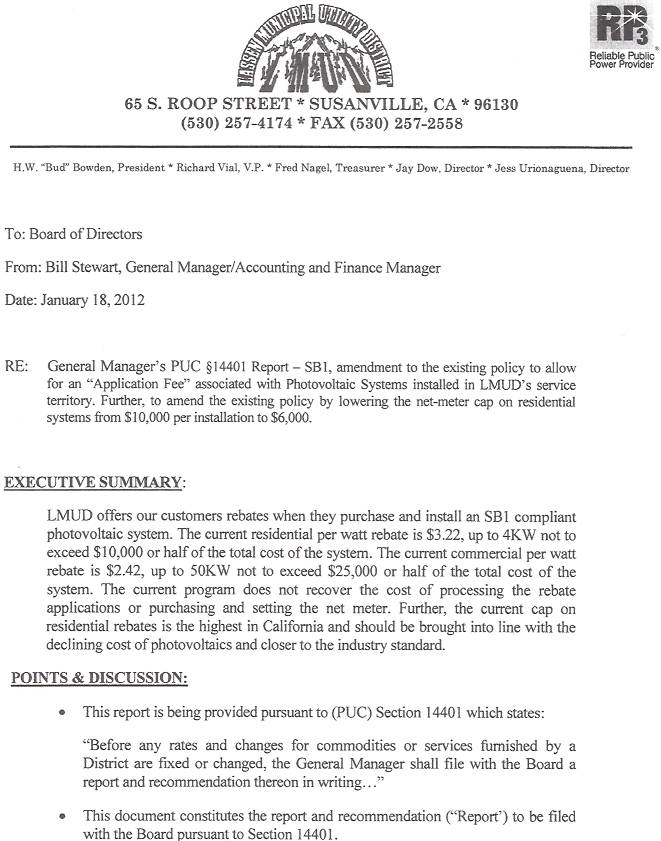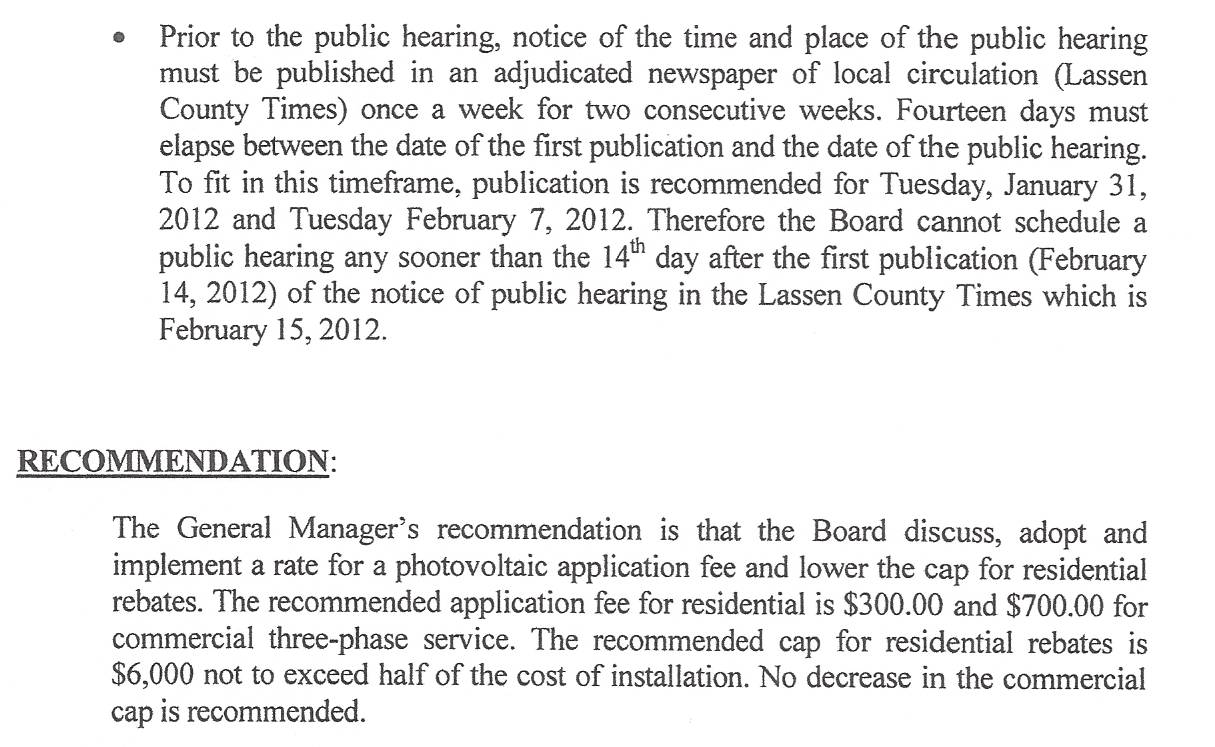 However, LMUD's "Public Notice" was filed to comply with Gov't Code 6063, which requires LMUD to publish the meeting notice for three weeks.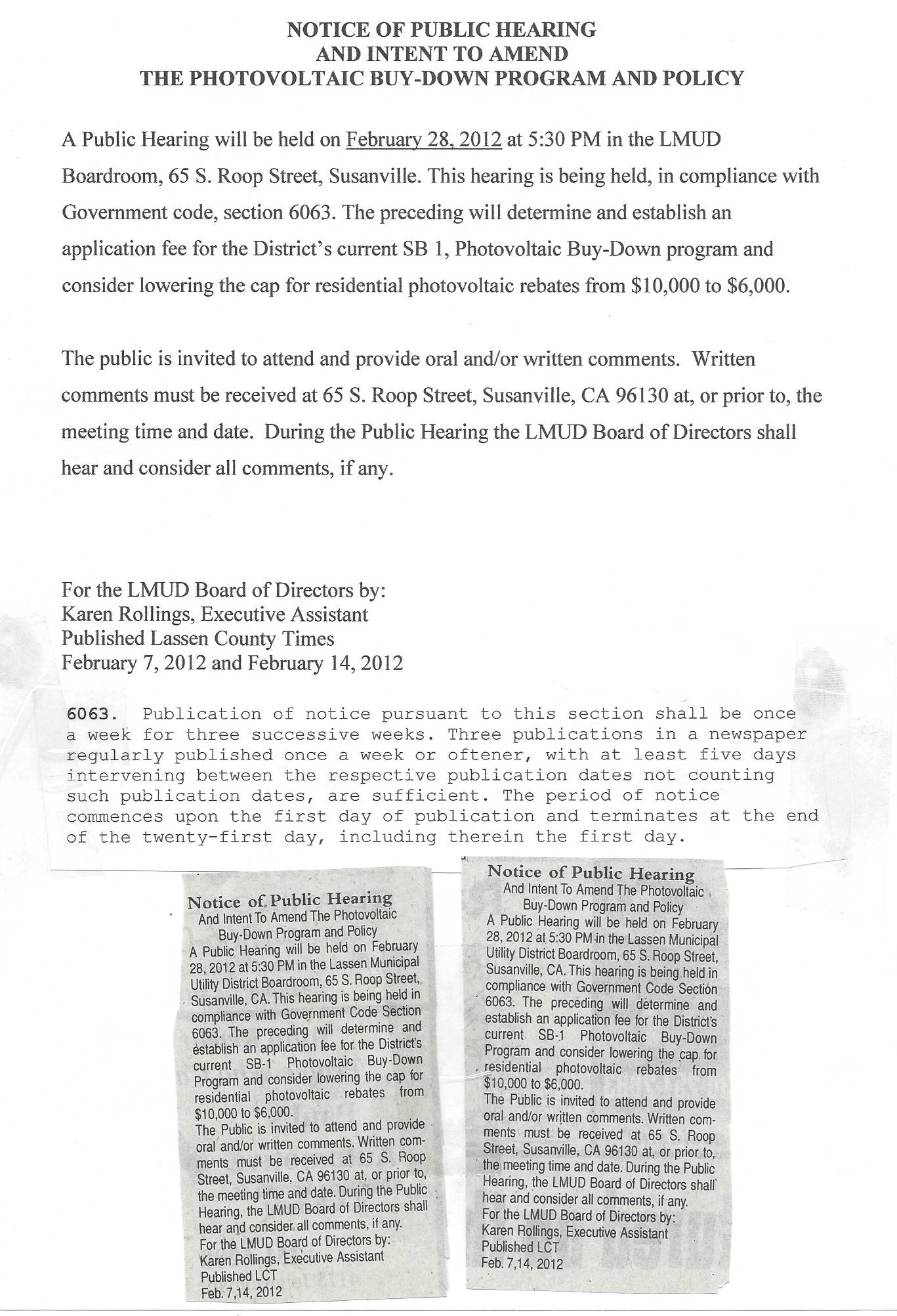 Kan We Help notified that LMUD was not complying with Government Code 6063 on February 17, 2012. LMUD took no action on Kan We Help's letter of Non-compliance.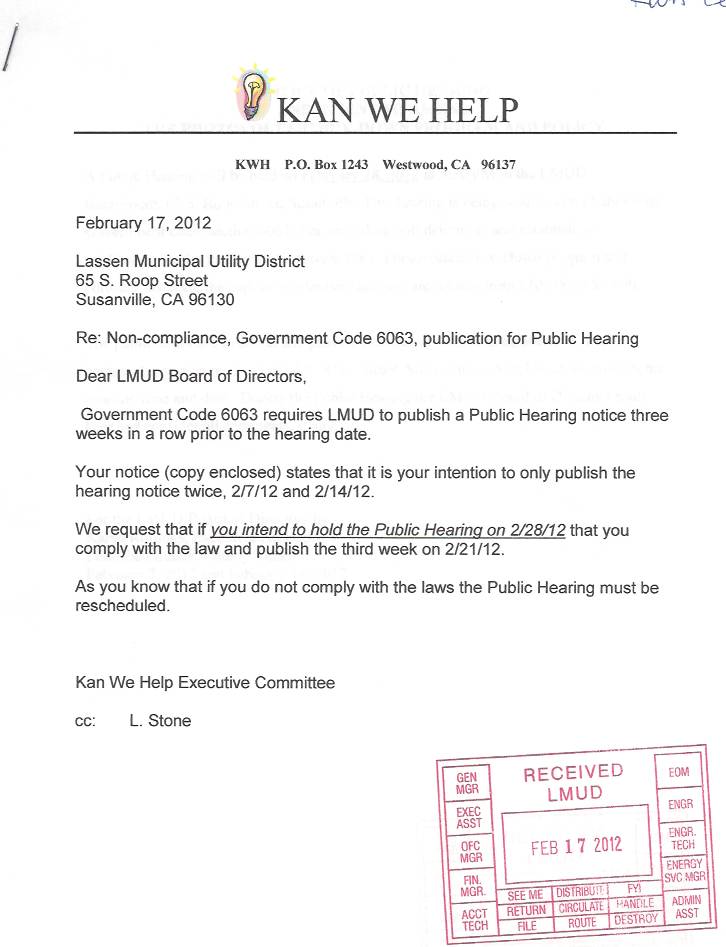 LMUD ignored Kan We Help's first notice of Non-Compliance. Kan We Help sent out a second notice of non-compliance on February 22, 2012.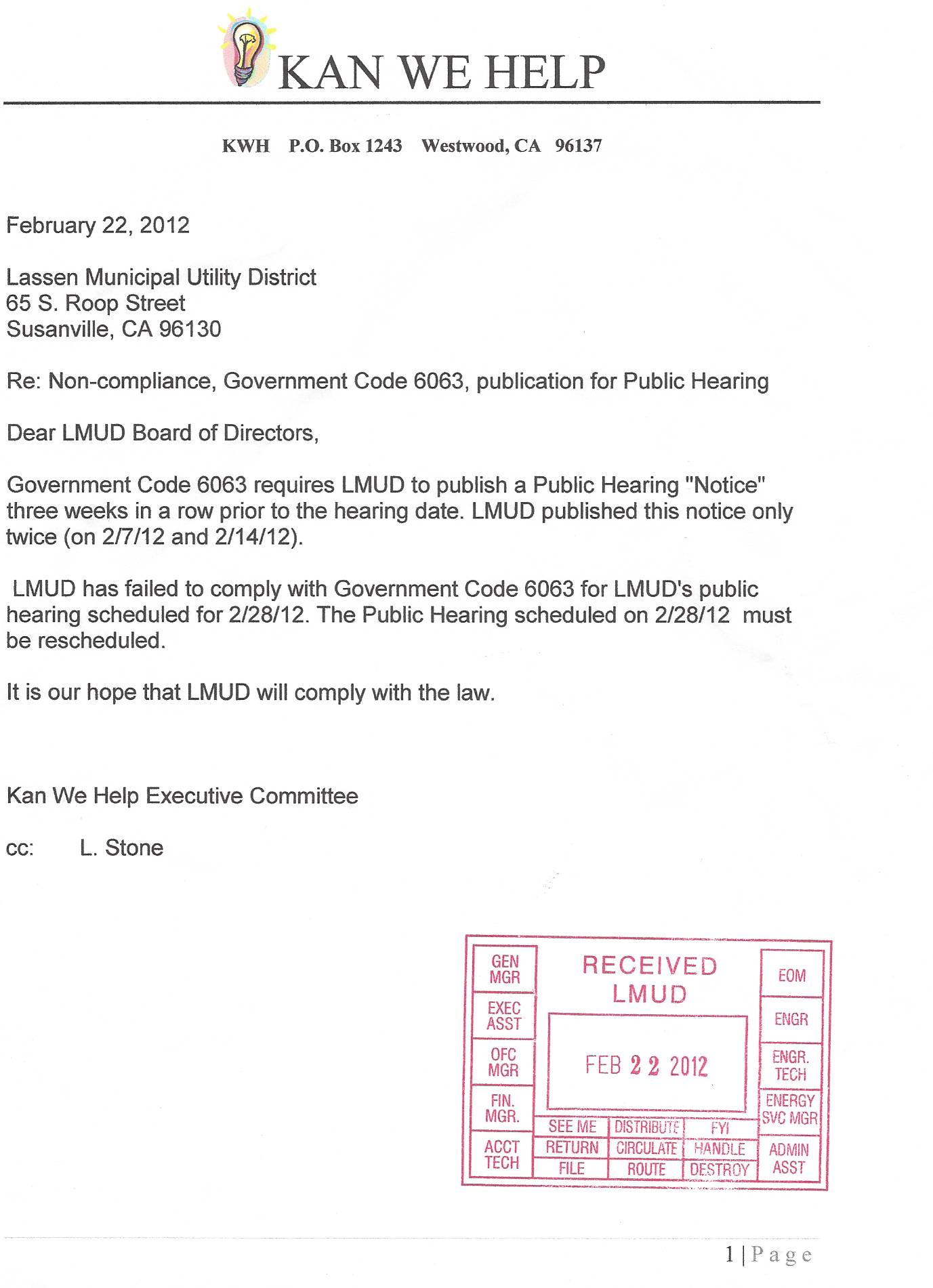 LMUD responded to Kan We Help's second letter of Non-compliance on 2/22/12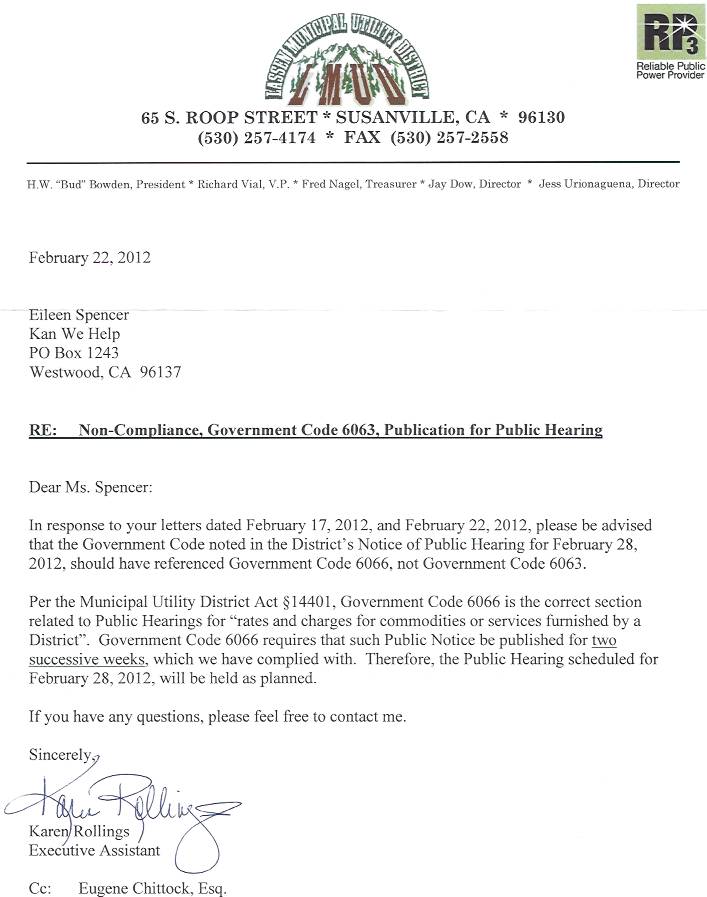 LMUD REFUSES TO COMPLY WITH GOVERNMENT CODE
LASSEN MUNICIPAL UTILITY DISTRICT
CONTINUES TO DISCOURAGE SOLAR ENERGY
Solar panels are still way beyond the average families reach. This is not LMUD's fault.
What is hard to understand is LMUD's policy to continue to discourage families that can afford to install solar energy panels.
The questionably legal ( This hearing had to be held within 40 days of the date of the General Manager's Report) Public Hearing on February 28, 2012 at the Regular LMUD meeting intends to further discourage anyone from considering solar panels.
LMUD filed a LEGAL NOTICE UNDER GOVERNMENT CODE 6063. This government code requires LMUD to post the notice three weeks in a row. LMUD did not comply.
THE PUBLIC HEARING MUST BE RESCHEDULED AND THE PUBLIC MUST BE PROPERLY NOTICED UNDER THE CORRECT LAW.
NOTE: LMUD's GENERAL COUNSEL EUGENE CHITTOCK ADVISES THAT THE LAW DOESN'T MATTER?
BAD POLICY
The LMUD Board should vote NO on changing their present rebates from $10,000 to $6,000.
The LMUD Board should vote NO on charging an excessive fee to apply for solar panel rebates ($300 times Zero will always be Zero)
Since there are less than five solar installation's in the entire County it seems a BAD POLICY to further reduce incentives.
LMUD BOARD:
THIS IS NOT THE TIME TO PASS THIS
BAD POLICY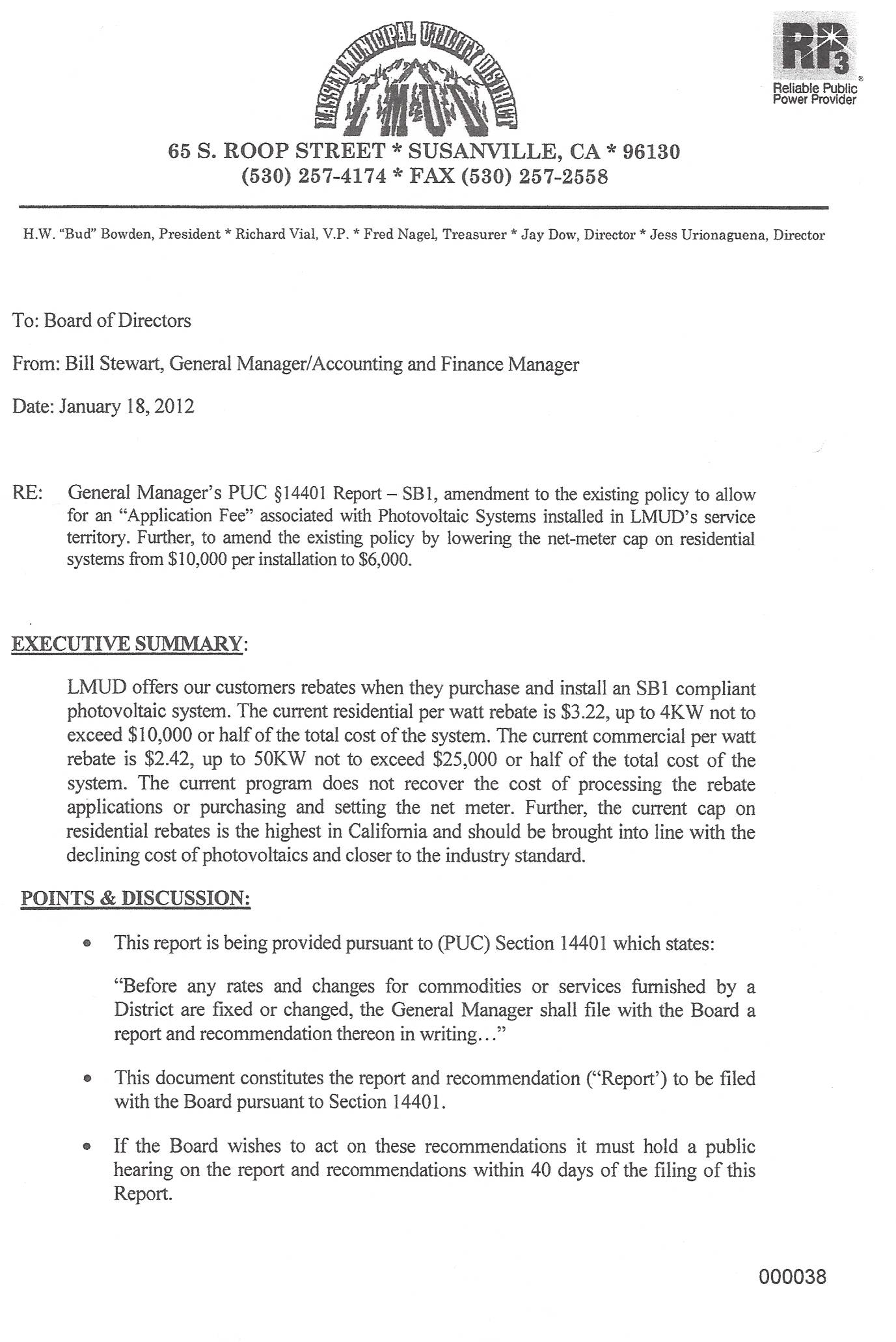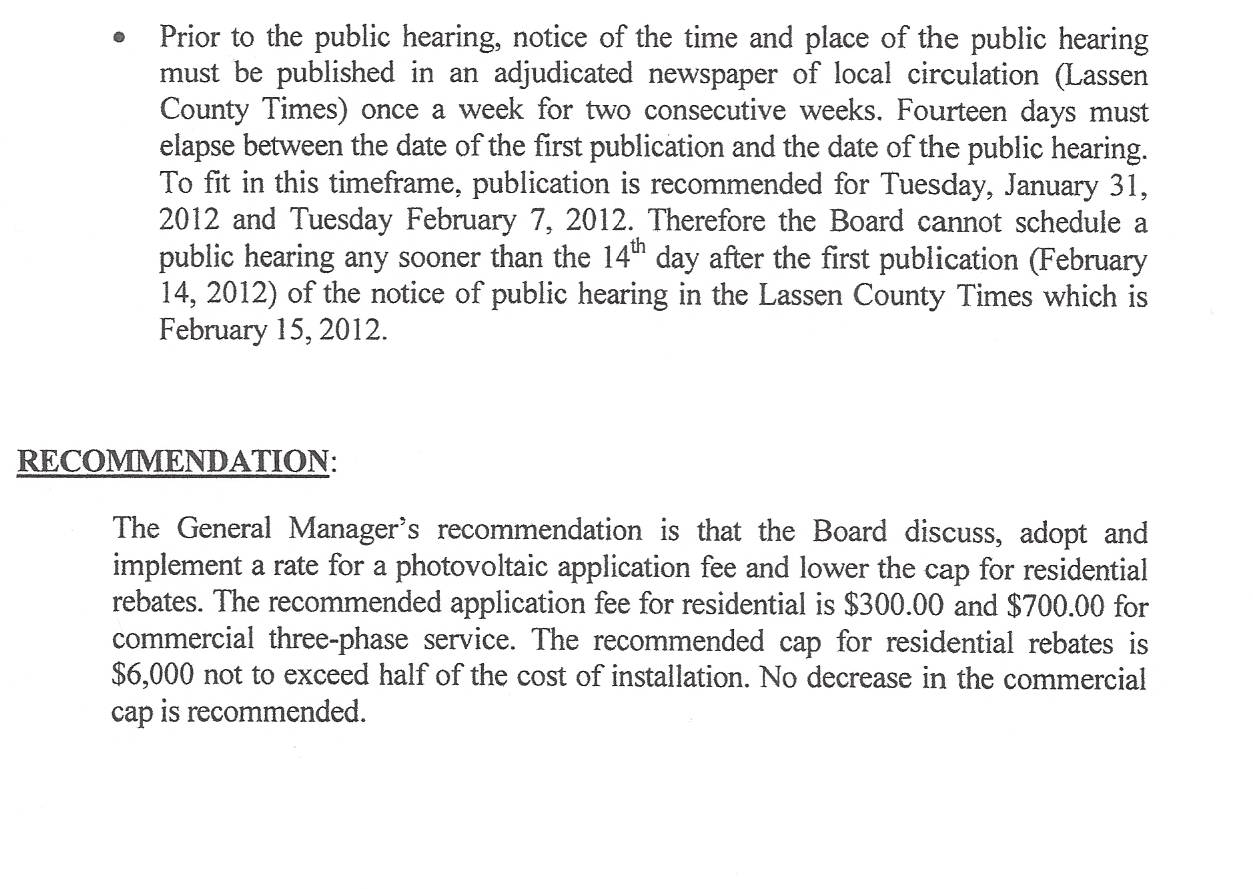 Kan We Help Asks LMUD to Reschedule Public Hearing After LMUD Fails to Properly Notice the Public
Eugene Chittock encourages LMUD to break the law, more $$$$$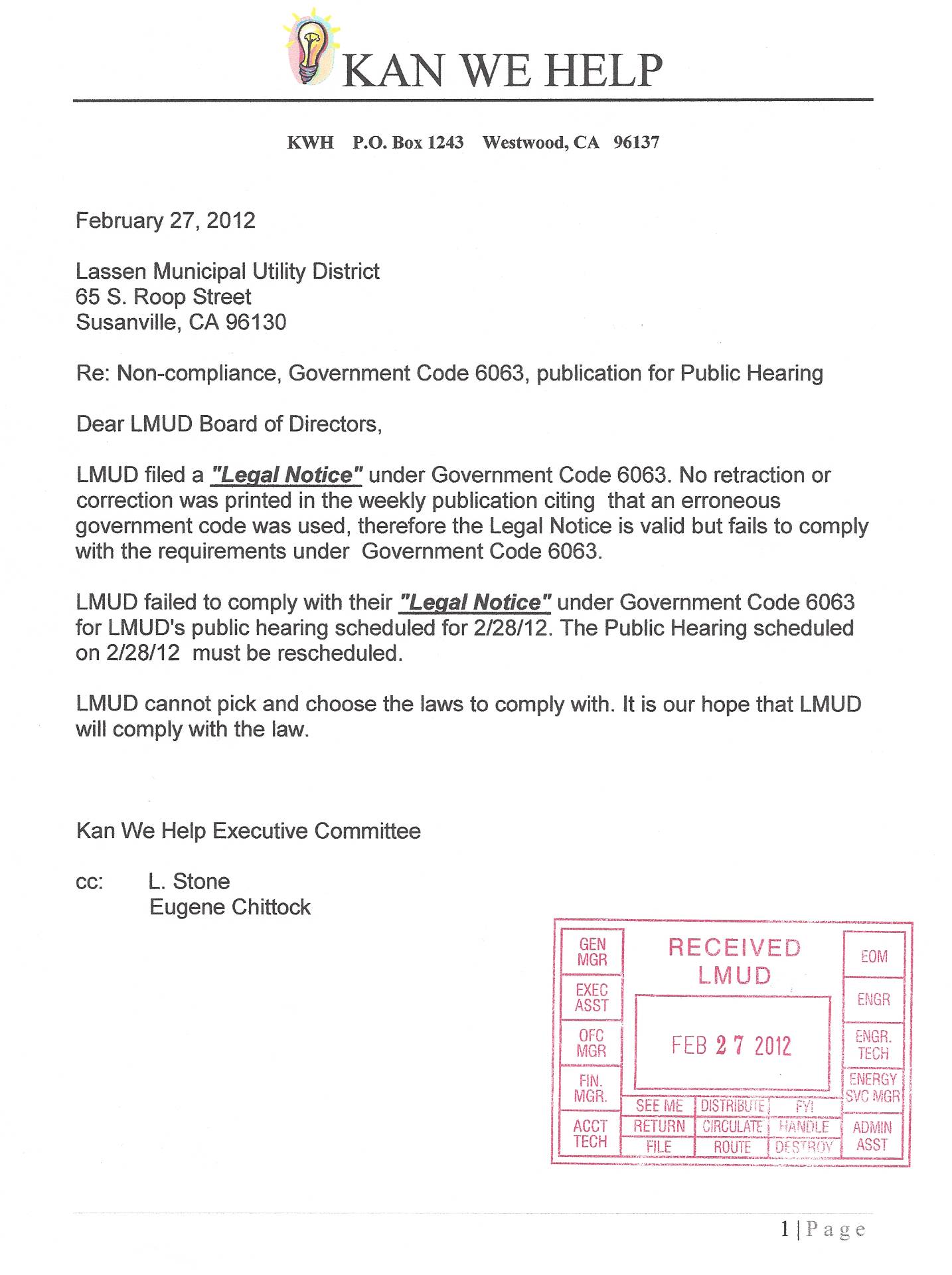 LMUD 'S BOOKKEEPER/GENERAL MANAGER HOLDS ILLEGAL PUBLIC HEARING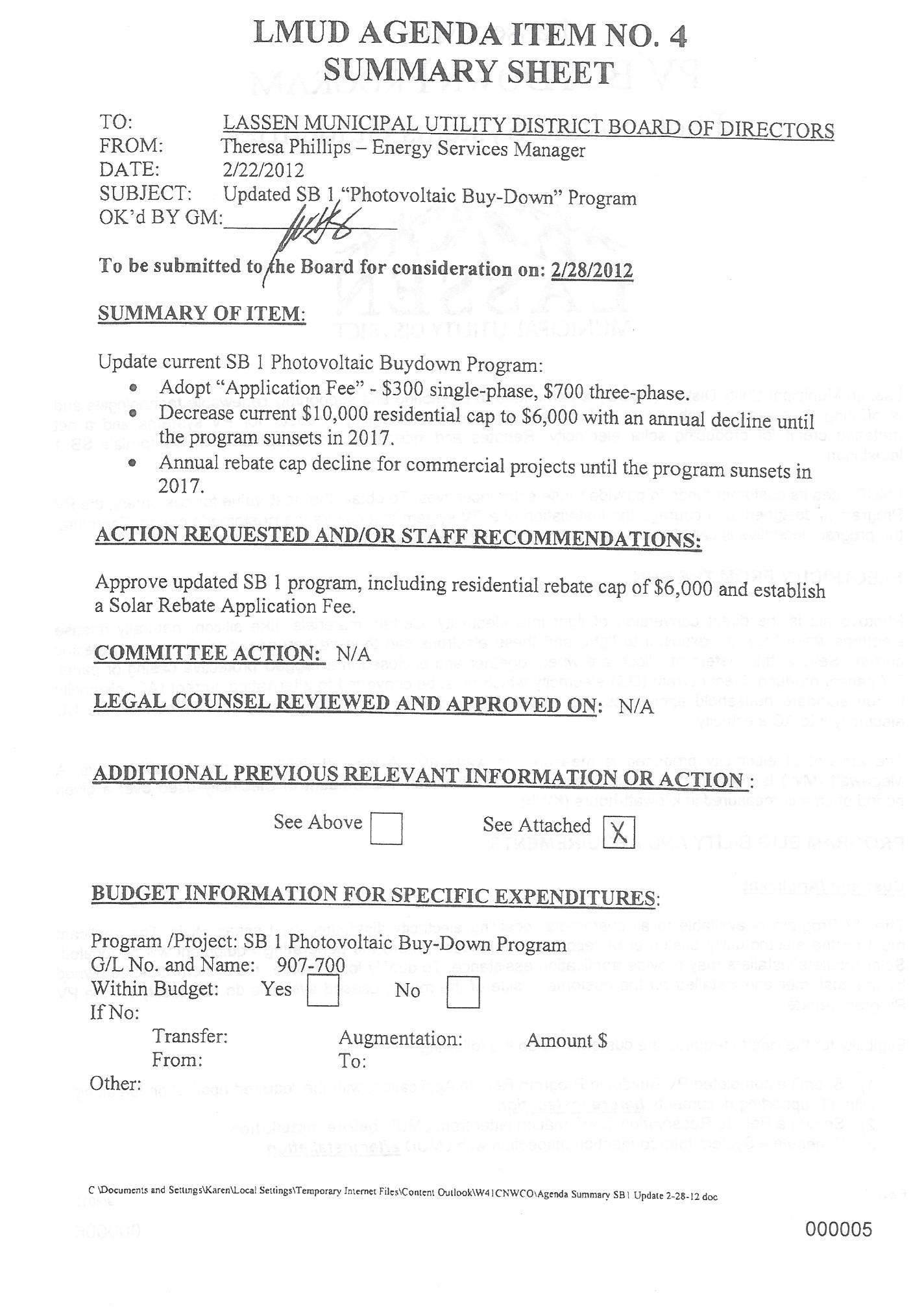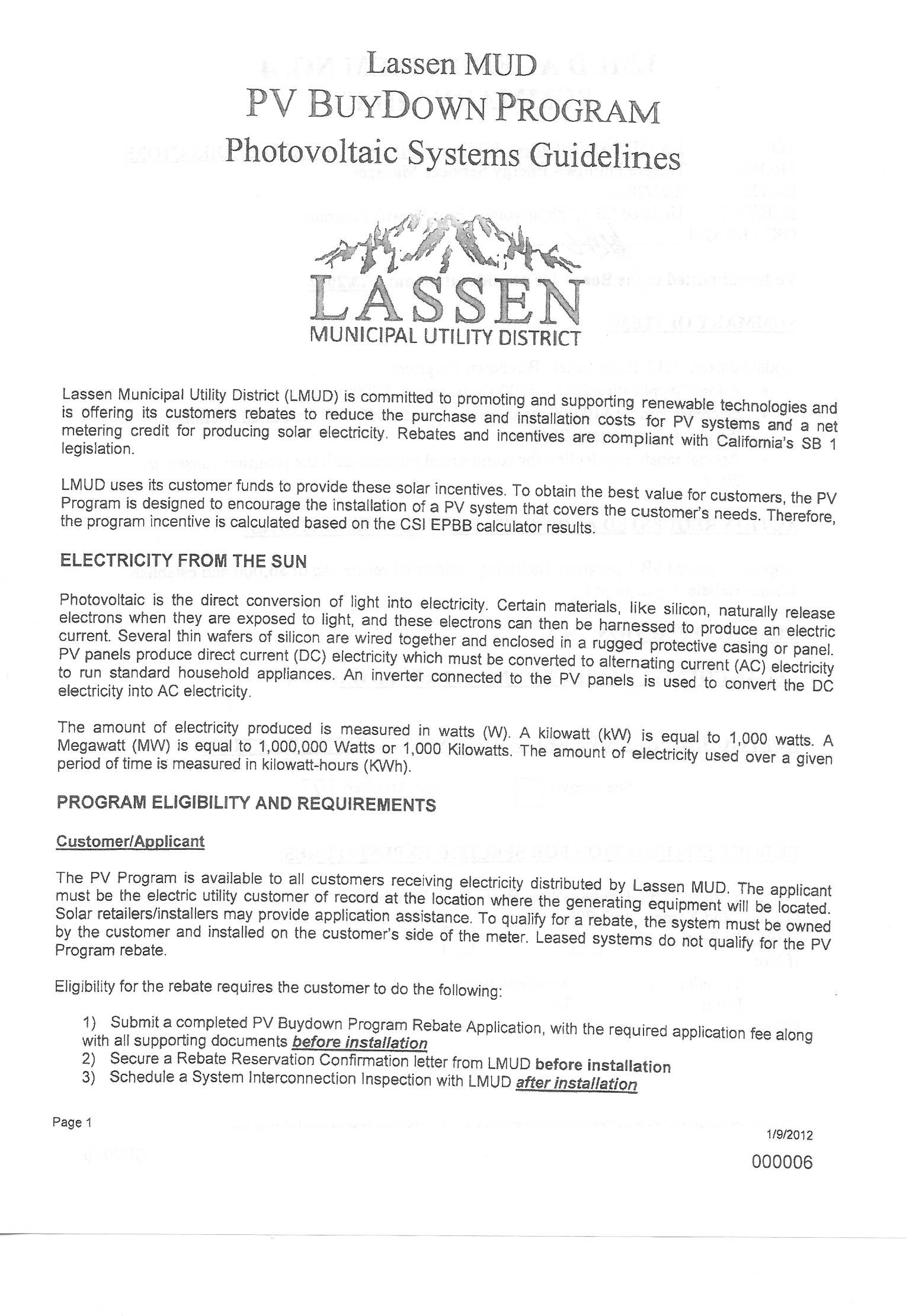 LMUD backs down on holding illegal public hearing
LMUD backs down on reducing the solar rebate amount. Rebate remains at the $10,000 maximum rebate
MARCH 9, 2012 LMUD SPECIAL MEETING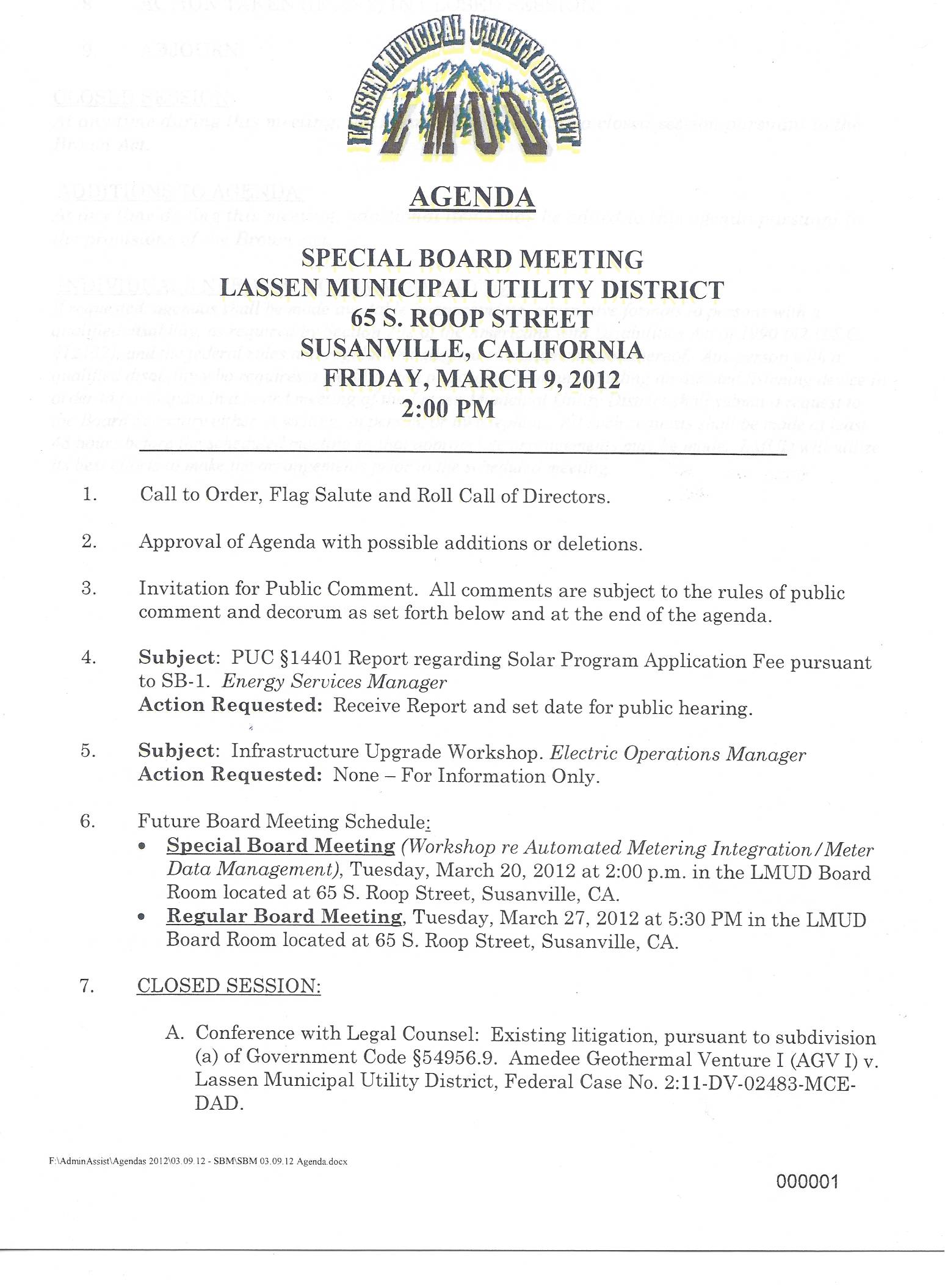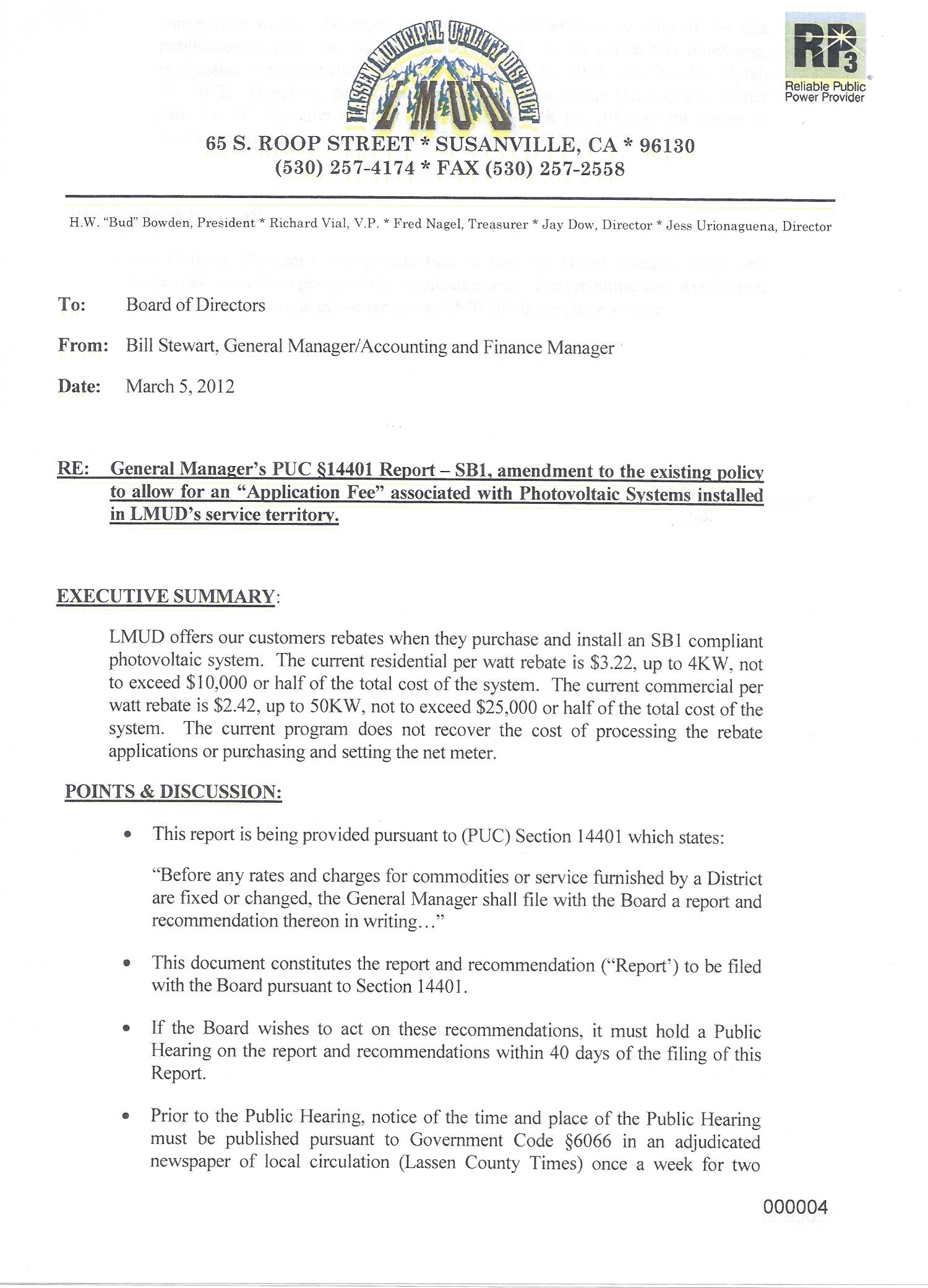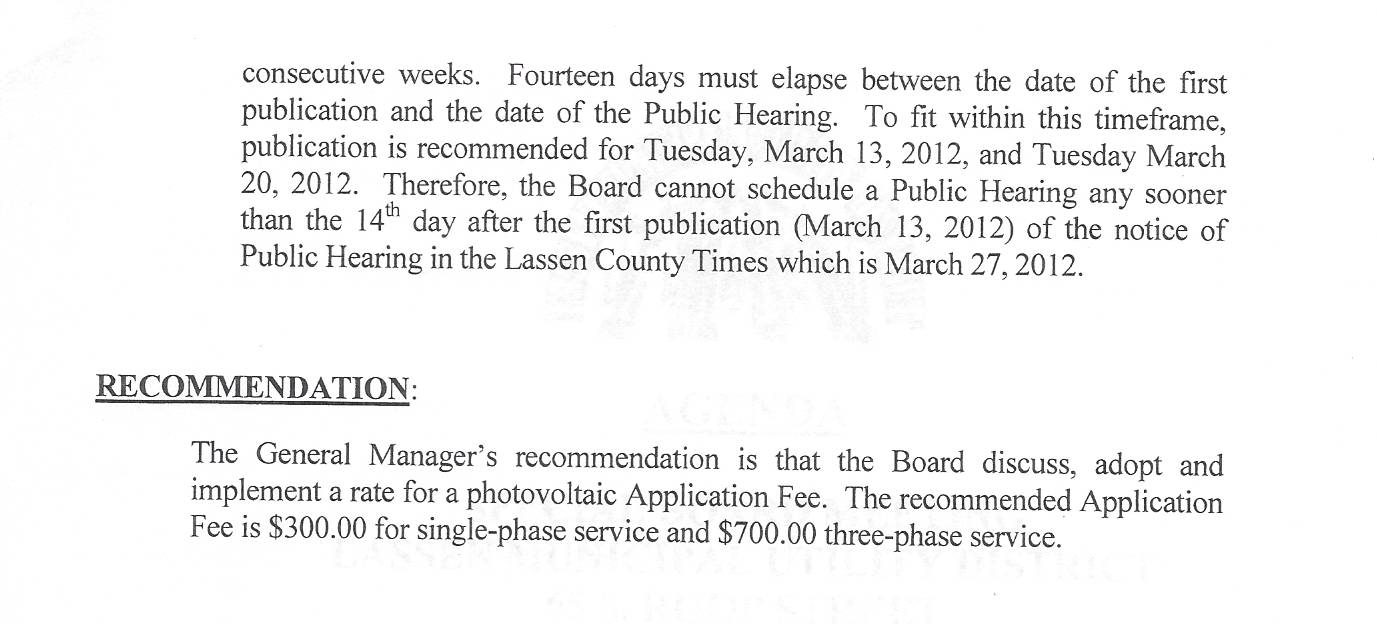 New "Legal Notice"