THE GREAT LASSEN MUNICIPAL UTILITY DISTRICT'S SHILL
Part III
Isn't interesting how LMUD spends your money?
LMUD records indicate that $204,986.23 was spent to install a new transformer at LMUD's Richmond Road Substation. This amount included the "rebuild" costs for this substation. The February 23, 2010 LMUD Minutes indicate that the LMUD Board approved the purchase of "transformers and associated equipment" (LMUD Purchase Orders #2010022 and #2010023) and approved the General Manager to sign the Purchase Orders.
LMUD Minutes; February 23, 2010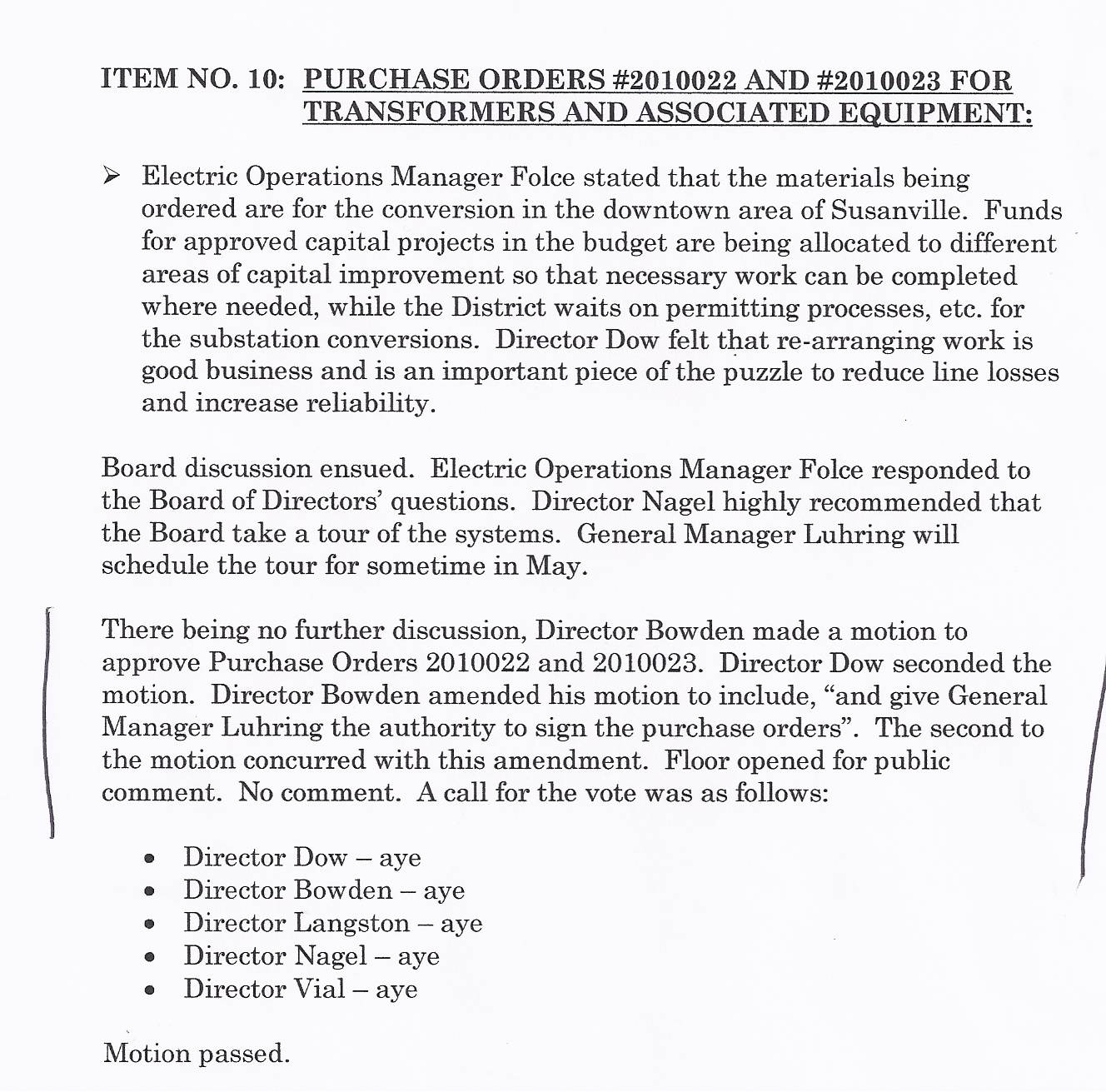 LMUD has illegally redacted (covered up) the dates of these purchases but the earliest start date on the Richmond Road Substation is July 1, 2010. On July 1, 2010 $87,721.78 was posted for the Richmond Road substation transformer
Wayne Langston was the LMUD Board President, Bill Stewart was the LMUD Accountant and Richard Vial was the LMUD Treasurer at this time.
At the September 28, 2010 LMUD Regular meeting, LMUD President Wayne Langston announced that he witnessed the new transformer installed at LMUD's Richmond Road Substation on September 22, 2010.
LMUD Minutes: 9/28/10

Oddly, at this same meeting, David Folce asked the LMUD Board to allow General Manager Luhring to be allowed to approve purchase orders that exceed the $10,000 limit for two projects, Richmond Road and Millwood substations, that had been close to completion.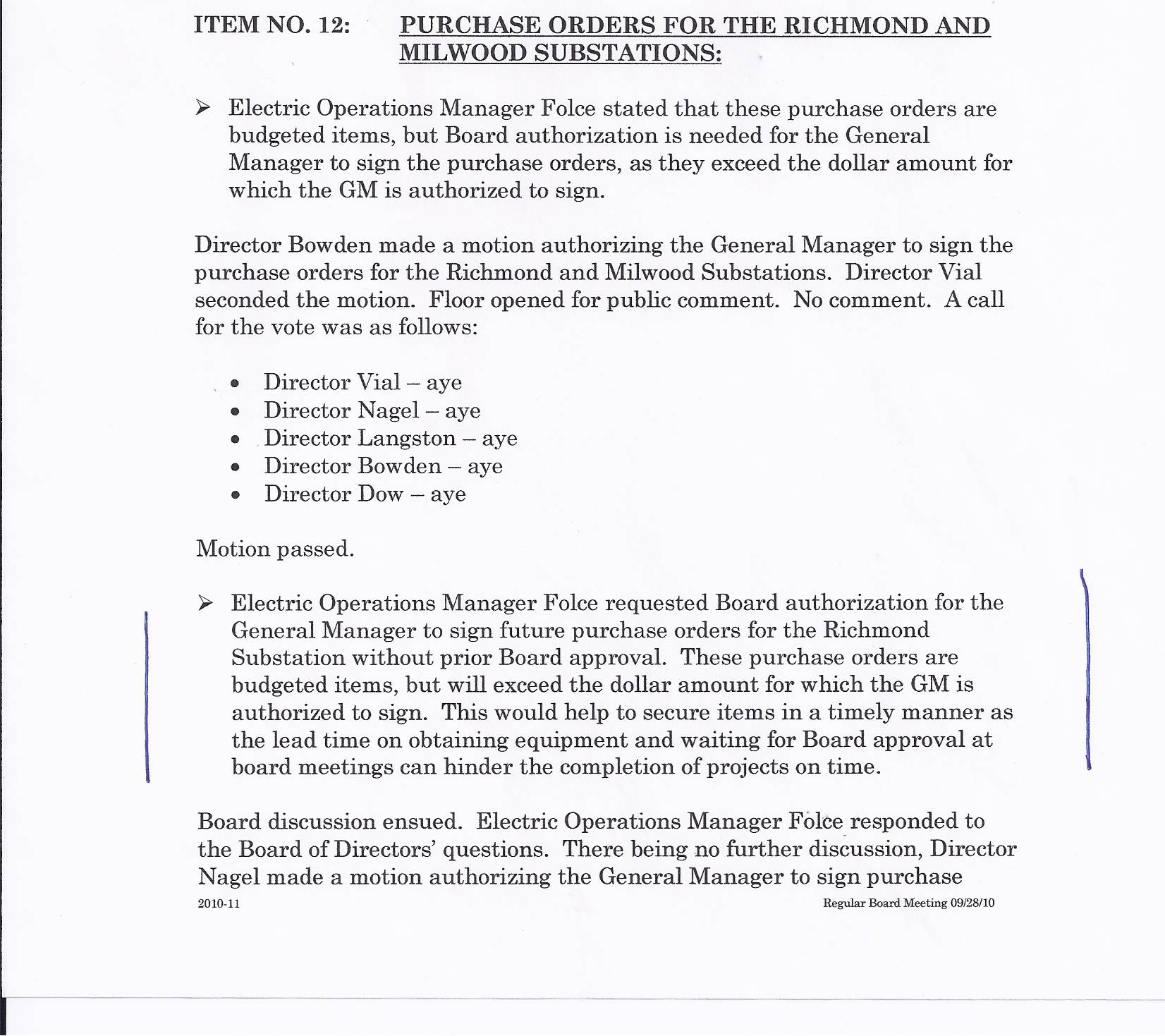 This was an odd request due to the fact that most of the work at both of these substations were relatively completed. According to public records, only $19,153.47 was spent on the Millwood substation but this was over a long period of time (2/1/06 to 10/23/08). Also each of these purchases were all within the $10,000 limit of spending without the LMUD Boards approval.
What the public did not know is the LMUD Treasurer Richard Vial, Accountant Bill Stewart and General Manager Ray Luhring, on September 9, 2010 (three weeks before any LMUD Board meeting) had opened an illegal general ledger account for a project that did not exist.
LAMBERT LANE SUBSTATION: A PROJECT THAT DID NOT EXIST
According to LMUD records, the phantom Lambert Lane Project number was GT-0711. LMUD issued a Purchase Order (#20100099) on November 4, 2010 for $104.13 and an additional purchase of $5,877.98 for a NON EXISTENT LAMBERT LANE PROJECT. Both purchases were under the $10,000 imposed limit by the LMUD Board. LMUD paid for these with a wire transfer so they would not show up on their check register.
However, from November 10, 2010 to June 22, 2011 Bill Stewart posted $321,181.02 for 4 transformers under Project GT-0711, Lambert Lane. This LMUD purchase order (#20100140) now exceeds $358,000.
LMUD issued check #27551 for $96,538.44 on October 1, 2010 for a transformer under LMUD's Purchase Order #20100140, Lambert Lane substation. The latest check issued, check #29400, was issued by LMUD for $155,274.29 on June 30, 2011 for a transformer for Lambert Lane.
LAMBERT LANE SUBSTATION: A PROJECT THAT DID NOT EXIST
LMUD lied to the public about the purchase of the Lambert Lane Property
What else are they hiding?
One Big Question: Where are the 4 Lambert Lane substation $358,000 transformers
The July 27, 2010 LMUD Minutes, Agenda Item 8, reveals that LMUD purchased $78,000 of custom wire and did nothing with it.
What happened to this wire? This is inexcusable by itself, but to order 4 transformers at a cost of $358,000 makes you sit up and take notice
PART IV: CONNECTING THE DOTS