What a tangled web we weave when first
we practice to deceive
Lassen County Deputy CAO Tony Shaw
refused to disclose his interests
in
Granite Construction on his 2017 (for year 2016) FPPC 700 Form
and
Granite Construction gets a
$111,495.38 contract in Herlong
Tony Shaw was hired on January 5, 2015 and Mr. Shaw's January 3, 2015 FPPC 700 ( for yr. 2014) Form indicated that he had an investment in Granite Construction. Mr. Shaw's January 9, 2016 FPPC 700 Form ( for yr. 2015) indicated that he continued to own stock in Granite Construction.
Kan We Help asked Mr. Shaw twice to disclose his "2016" interest in Granite Construction and he refused twice.
On September 9, 2016 Granite Construction was awarded a $ 111,495.38 contract to pave Sage Valley Road in Herlong.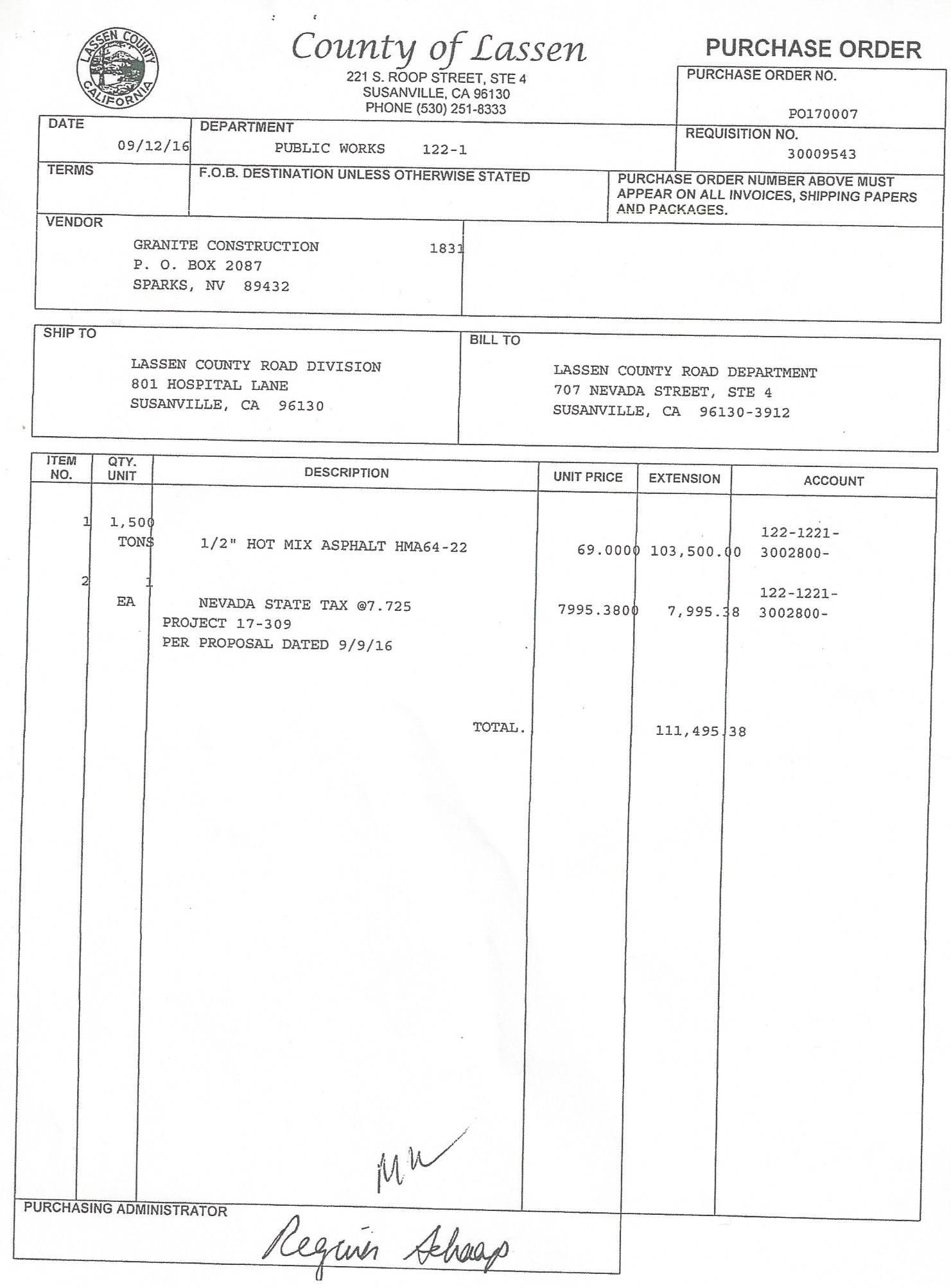 Caught With Your Pants Down I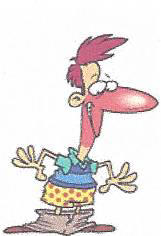 November 28, 2015
Throw Out Honesty, Throw Out the Budget
TIME TO THROW OUT THE CAO again
or just get new supervisors ?
LASSEN COUNTY SUPERVISORS
RELEASE $2,000,000
REQUEST FOR PROPOSAL
FOR
OLD COURTHOUSE AND ANNEX REMODEL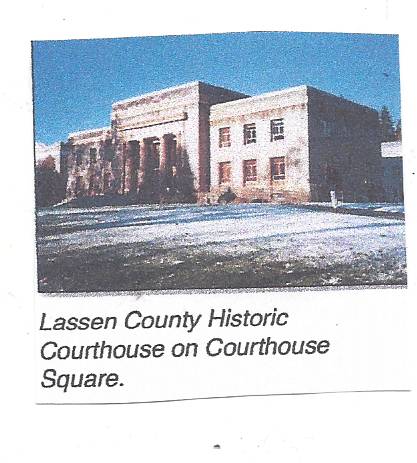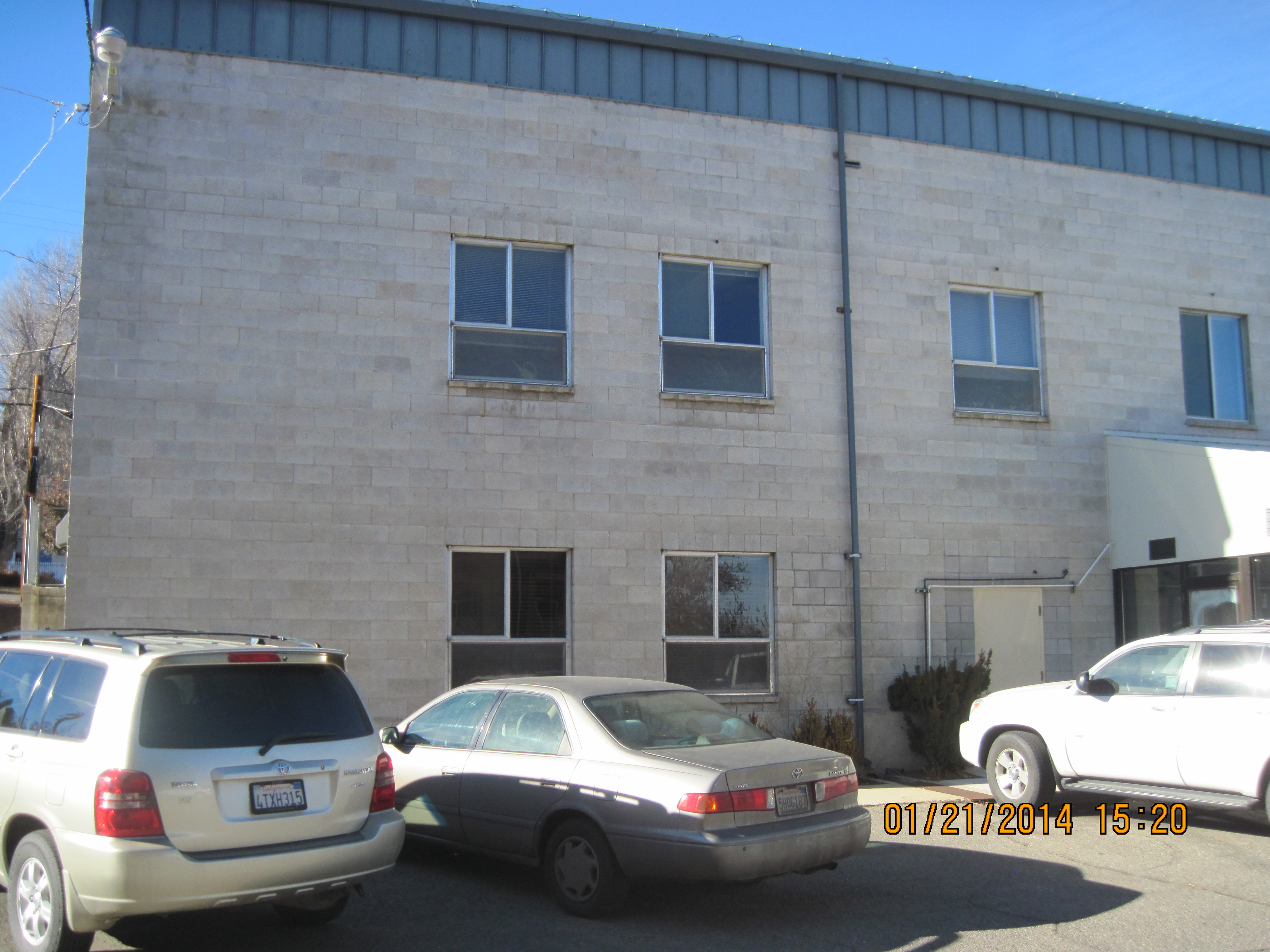 Left: Old Superior Court, soon to be vacant Right: Court Annex, empty
...and you will not see it on any past Agenda for approval
Cheaters and Liars that no longer can be trusted with the publics money
The RFP was discovered when Kan We Help was monitoring the LCPIC expenditures.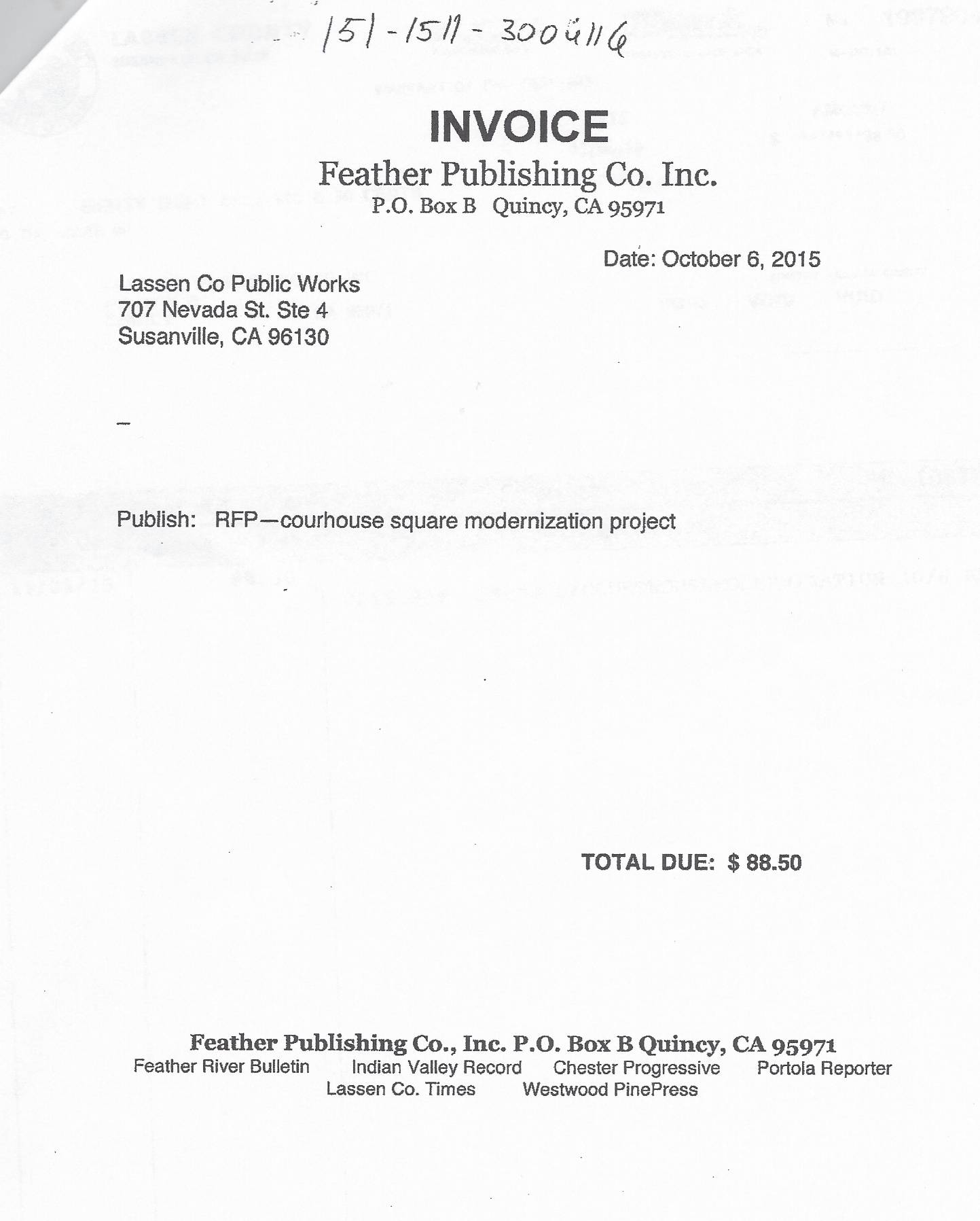 The Lassen County Board of Supervisors
did not budget a dollar on this Project
for
Fiscal year 2015/2016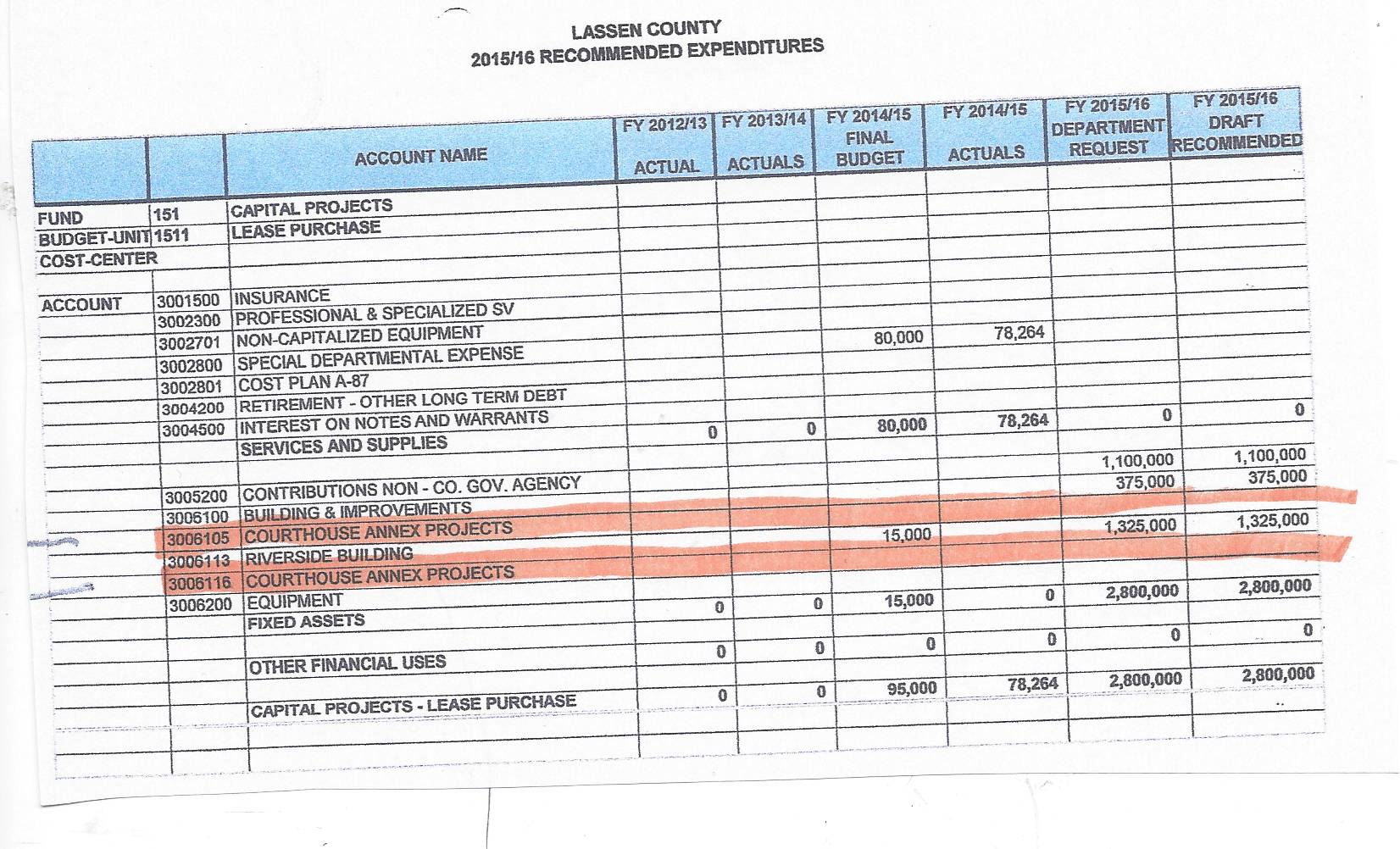 November 24, 2015
Lassen County Auditor Watching LCPIC COP Funds
Richard Egan Attempts to Use
LCPIC dollars
to
Replace a Heater at 107 S. Roop Street
Auditor moved expense to correct account, Probation/Maintenance & Building Improvements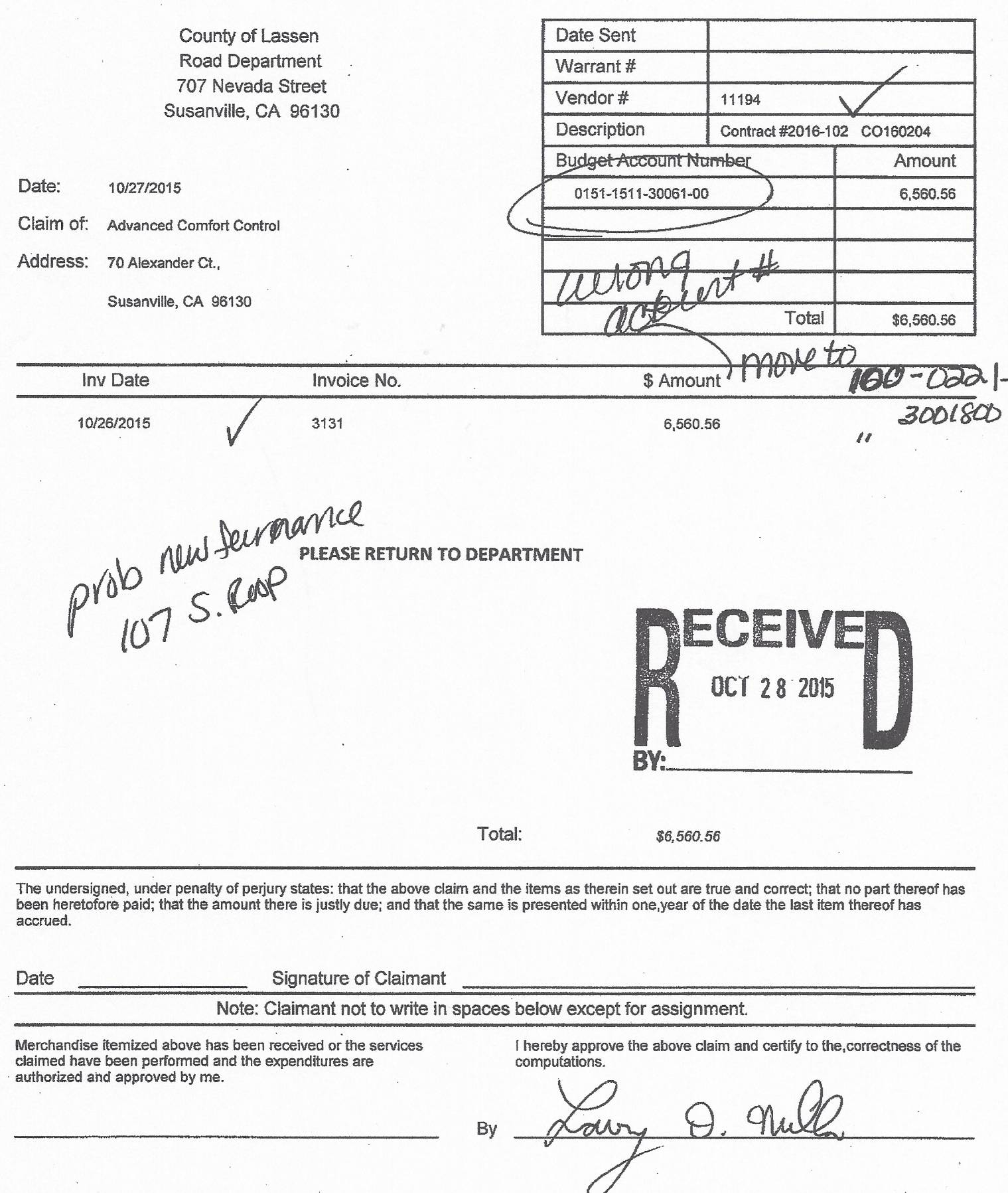 Kan We Help is committed to monitoring every penny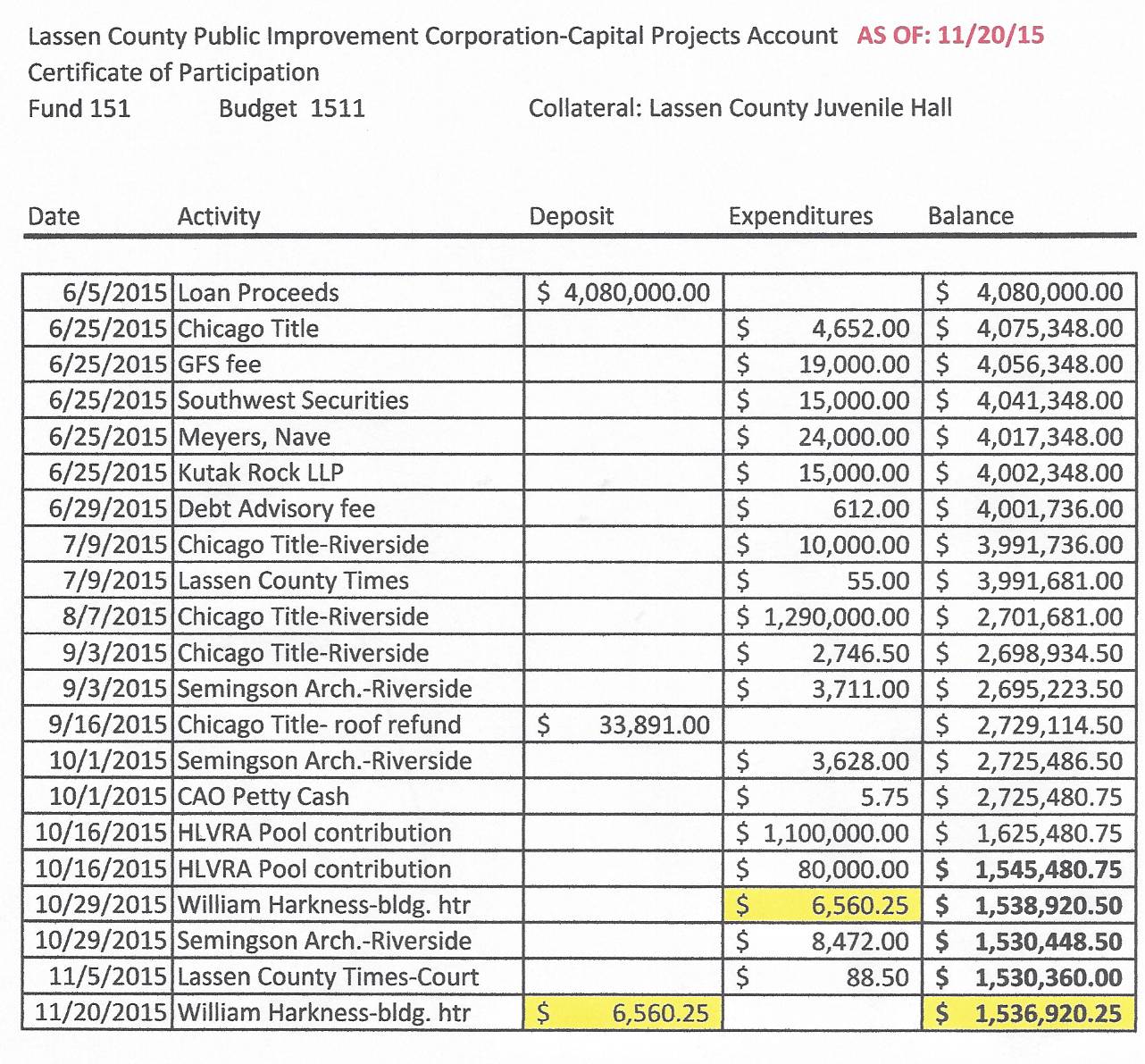 November 12, 2014
Supervisors show contempt for Grand Jury Again....
LASSEN COUNTY SUPERVISORS TOLD TO
"PROPERLY" HIRE
A CHIEF PROBATION OFFICER
On November 12, 2014, after attempting to appear to comply with the Grand Jury recommendations, the Supervisors hired the same person they had appointed as Acting CPO.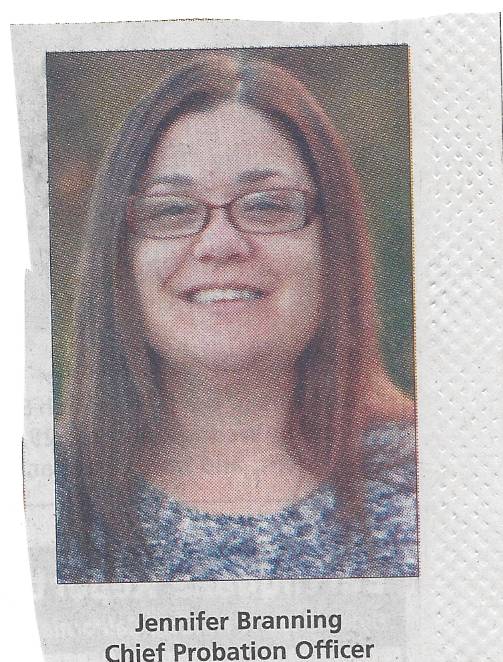 $49,234 a year to $89,000 a year
[Hammond, Pyle and Wosick voted Yes, Albaugh abstained and Chapman voted No]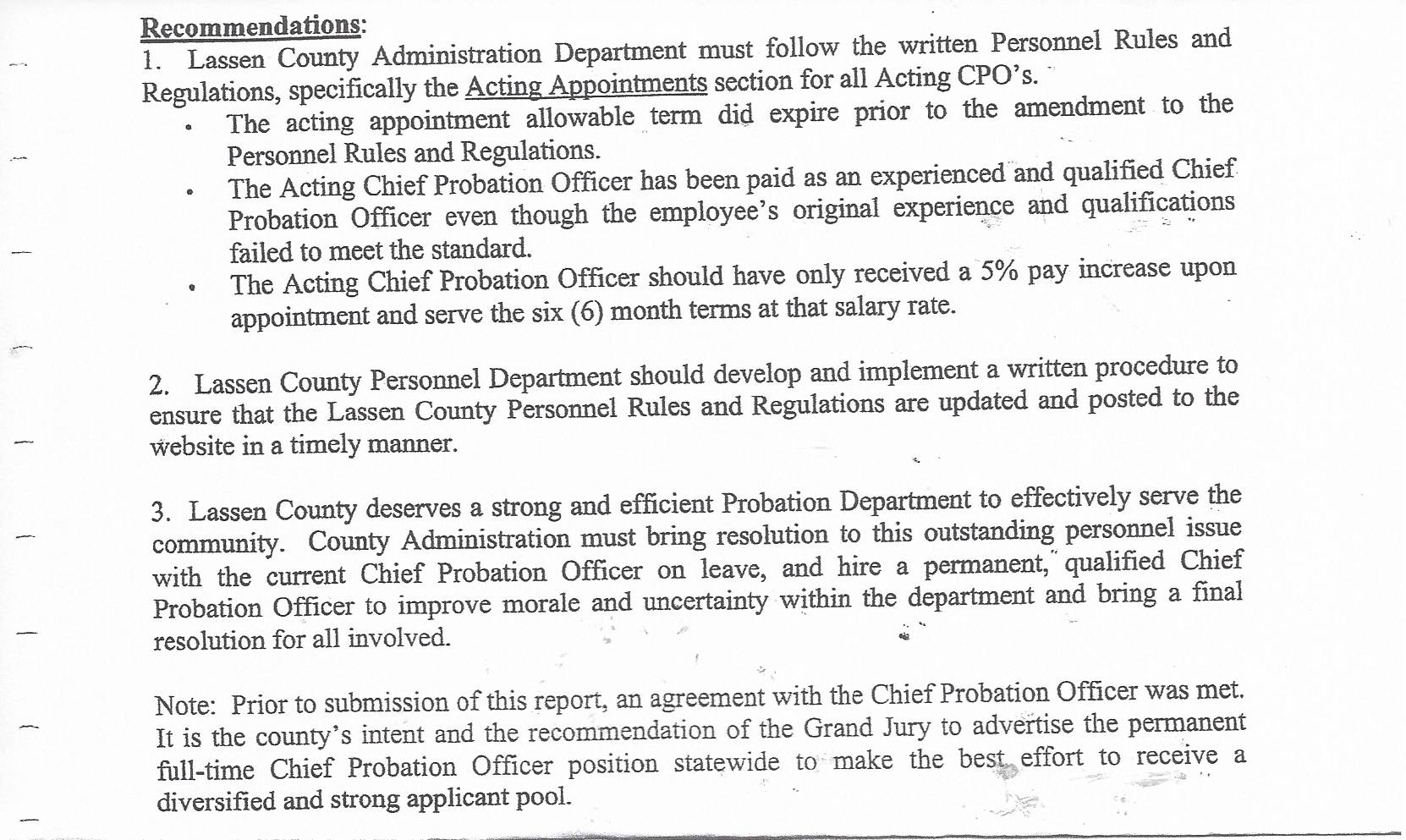 The Grand Jury stated that the "acting" Chief Probation Officer, Jennifer Brannng, had received a 52% pay increase which is in violation of Lassen County's "Personnel Rules and Regulations".

Jennifer Branning was earning $23.67 per hour.
The Supervisors hired her today
at $39.17 per hour.
On April 16, 2014, Lassen County CAO Richard Egan "created" a letter that was meant to appear as though Presiding Judge Michelle Verderosa had penned it. Judge Verderosa reacted by stating that she would no longer appoint the Chief Probation Officer in Lassen County. The County then was forced to create a new "Chief Probation Officer" position.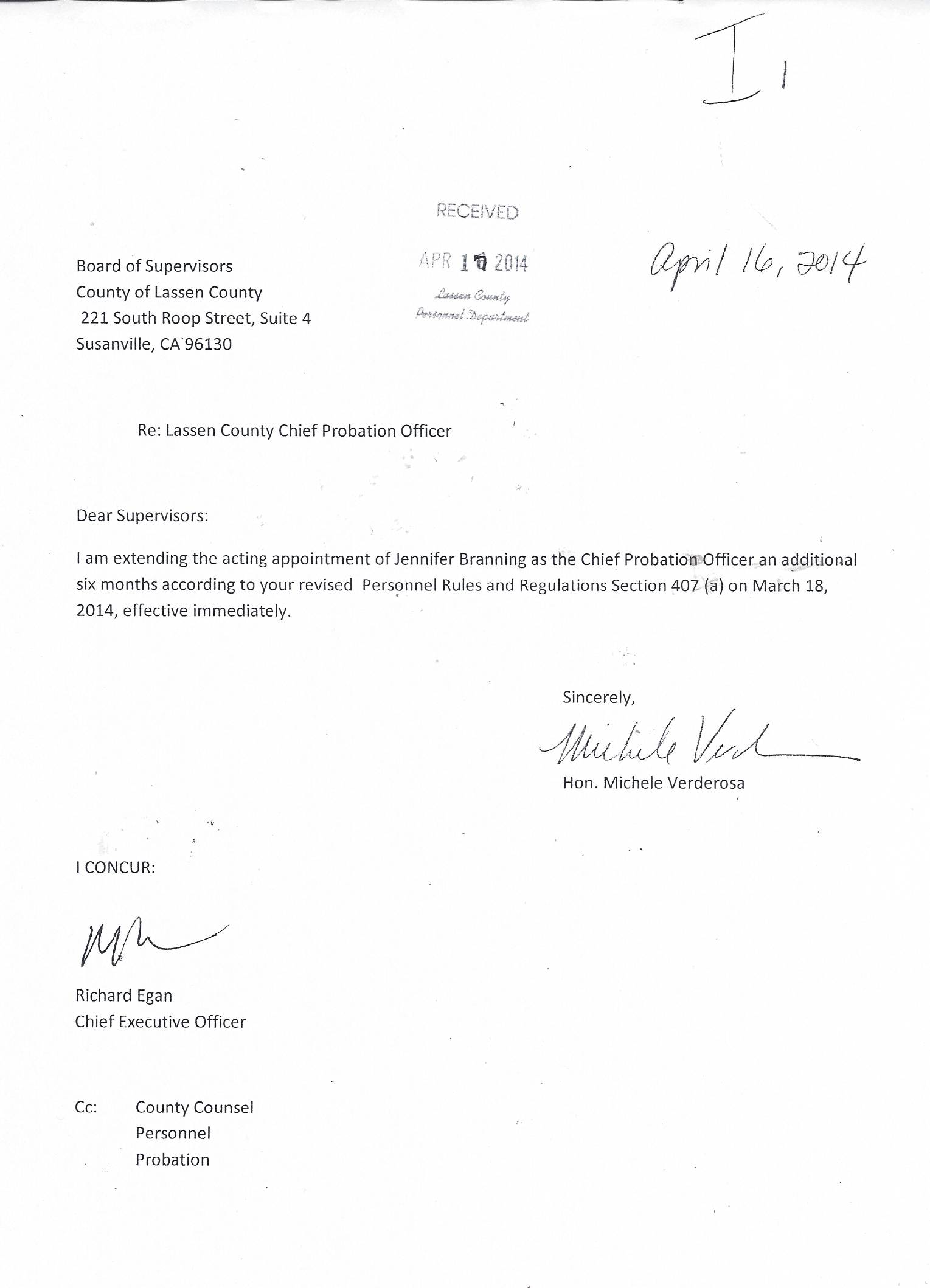 June 24, 2014
CAO Egan admits he wrote judges letter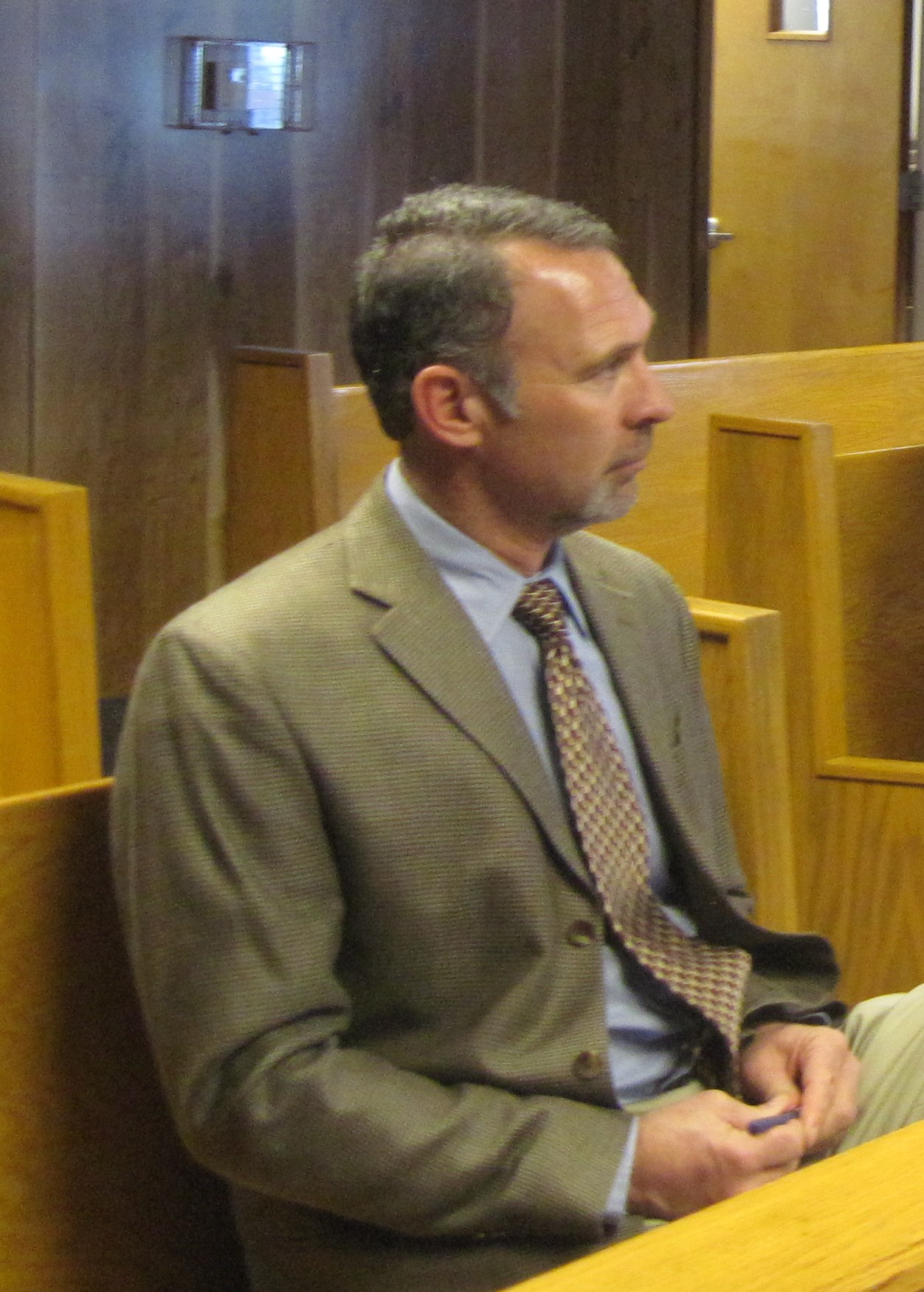 New County Administrator, Richard Egan
Judge Verderosa tells CAO Egan she will no longer appoint the Chief Probation Officer
This Board has an extremely bad habit of placing issues last on the agenda when they don't want public discussion.
NOW, they think they can skip an agenda item and later claim it was discussed.
The public has a right to comment on EVERY AGENDA ITEM.
Supervisor Wosick skipped over Agenda Item I-1 at the May 13, 2014 Board of Supervisors meeting.
Watch video: May 13, 2014 BOS meetng
The Agenda item: An alleged letter originating from Superior Court Judge Verderosa.

Supervisor Wosick is very aware of the procedure to remove or reschedule an agenda item. He does it all of the time. The public can comment on Every Agenda item. Wosick adjourned the May 13,2014 meeting without allowing public comment. HE JUST SKIPPED OVER AGENDA ITEM I-1.
The audio and video recordings of the meeting confirm that Agenda Item I-1 was never discussed. An effort at the end of the meeting, to ask about this Agenda item, was thwarted when Supervisor Wosick abruptly adjourned the meeting.
Supervisor Wosick suggested (at the 5/27/14 meeting), when the May 13, 2014 Board Minutes were challenged on this issue that the public could have commented in "PUBLIC COMMENT".
Really, Mr. Wosick......?
May 27, 2014 Board of Supervisors Minutes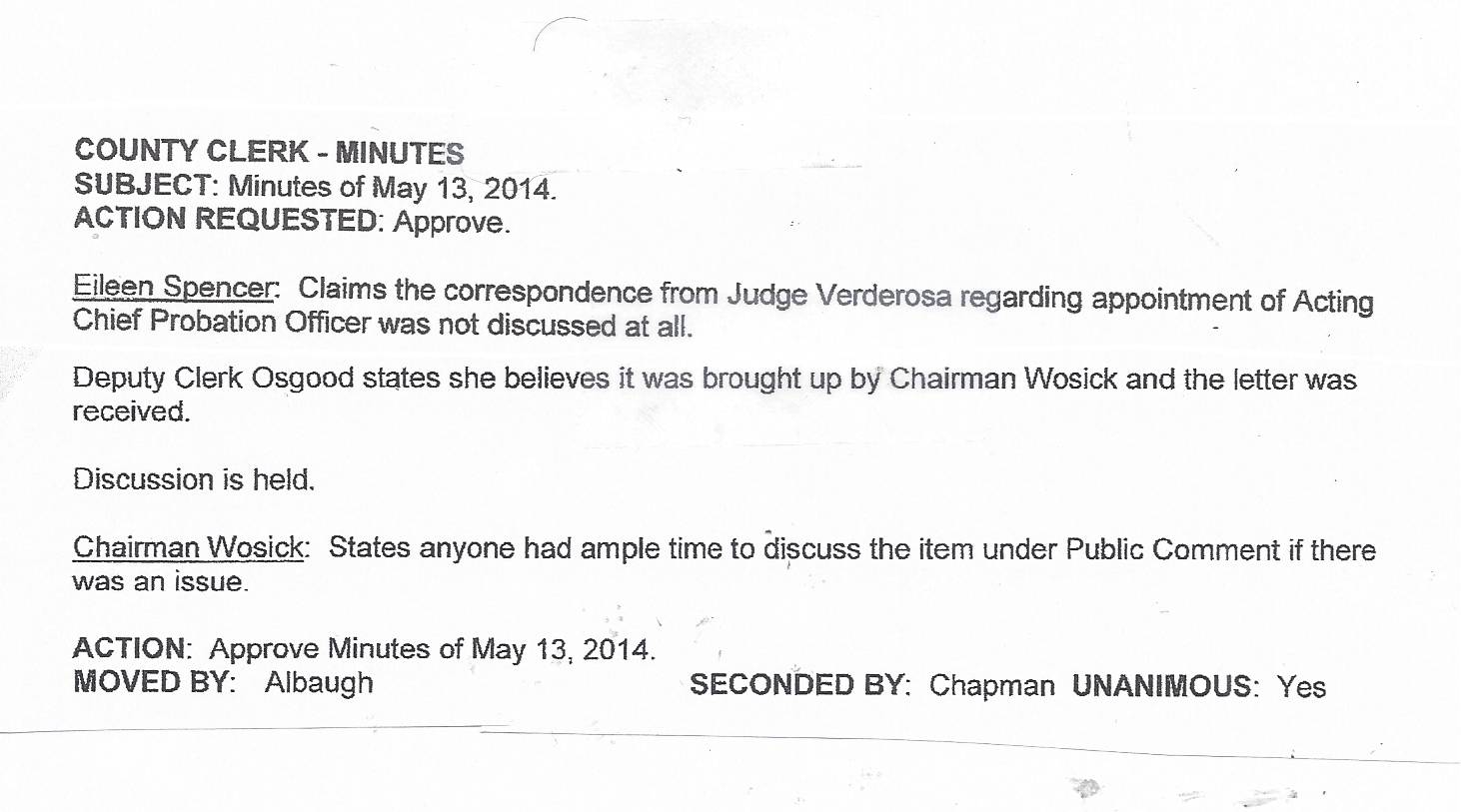 Judge Verderosa's Letter
The question on May 13, 2014 was, "Who wrote the letter?"
It obviously was not on Court letterhead
This is how the letter appeared on the Board's website: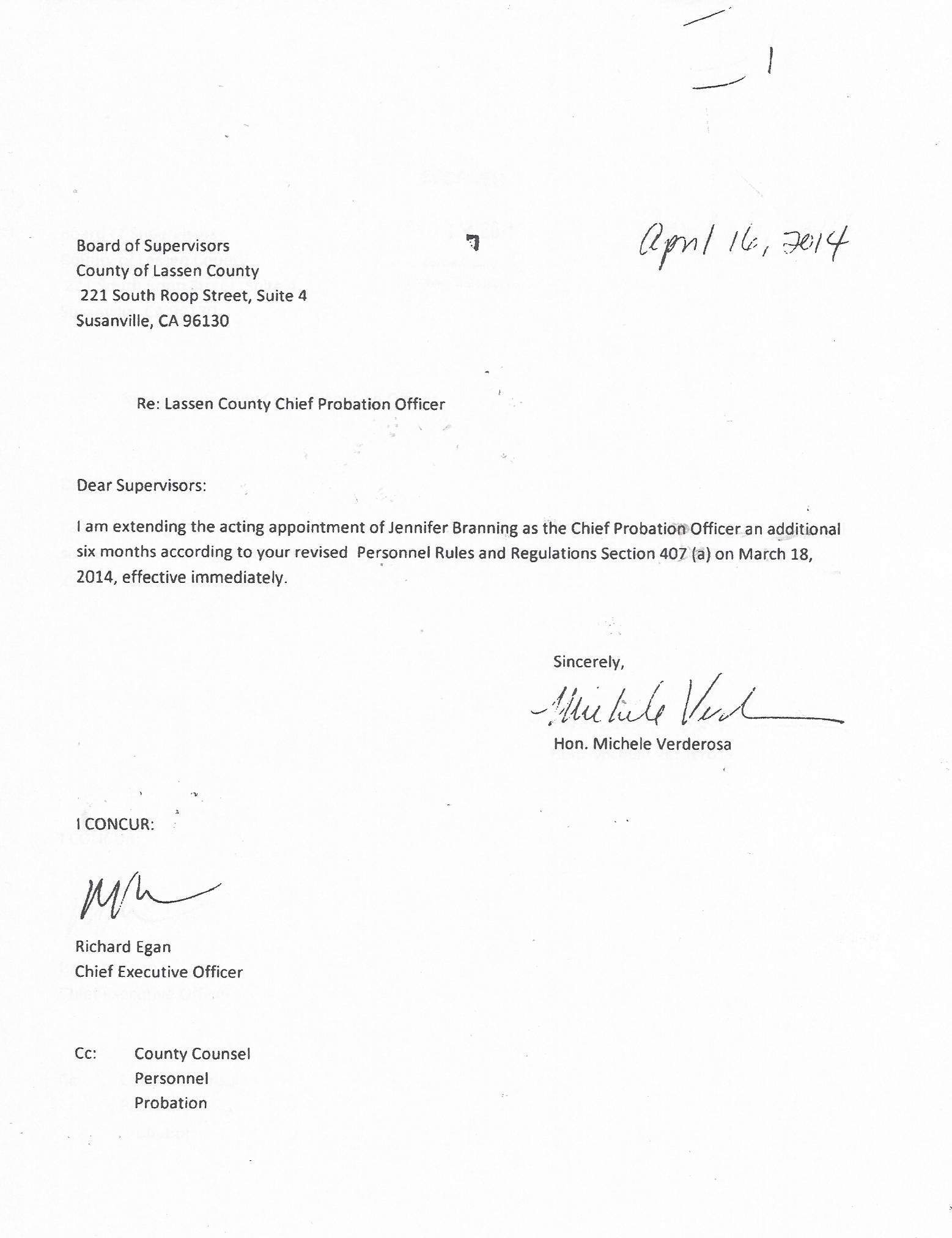 The original letter was on file with the County Clerk. It looked slightly different. The receiving date had been changed to make it appear as though there was a day between writing the letter and receiving the letter.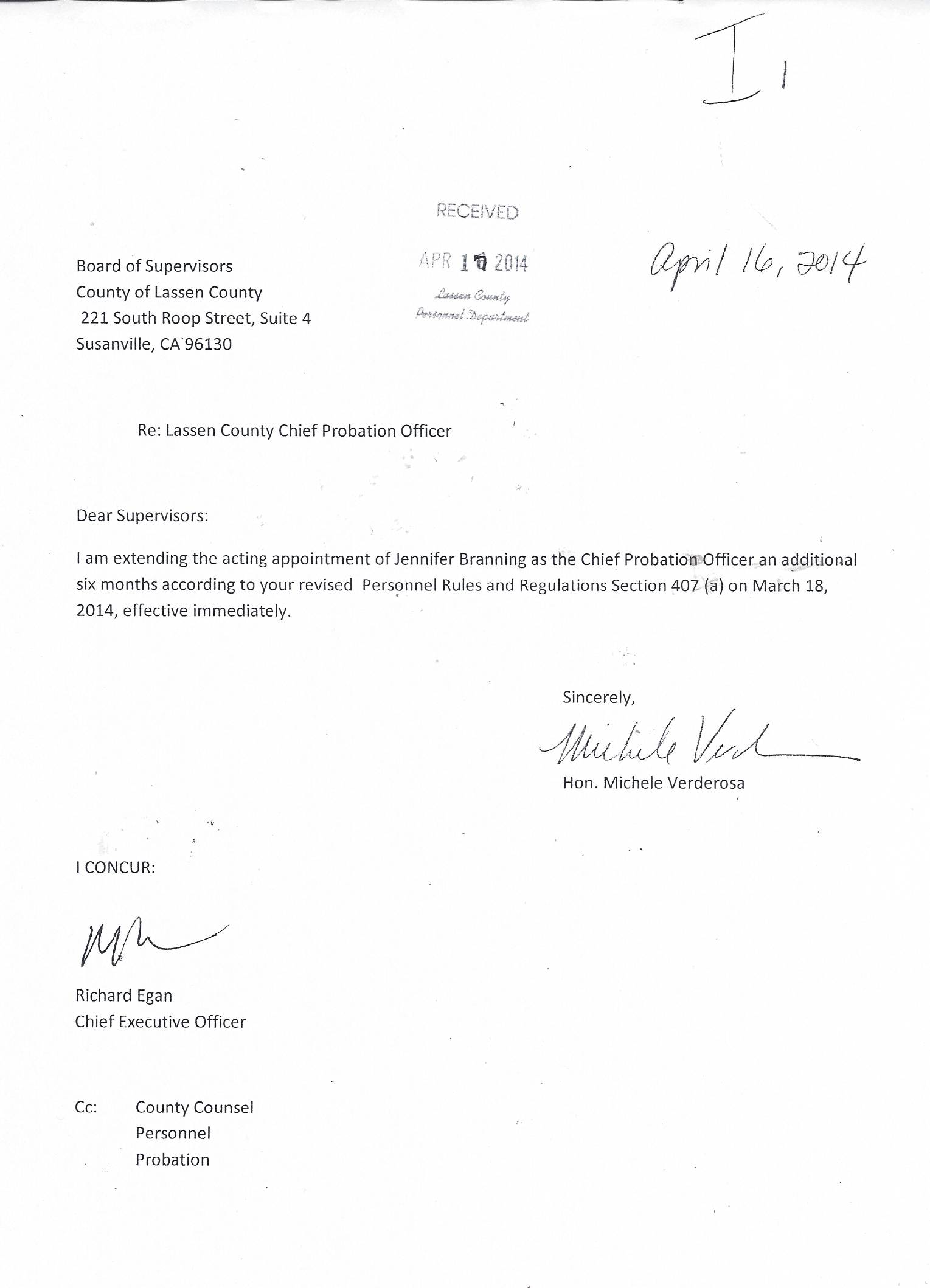 Neither the Court or Judge Verderosa could claim that this was authentic
Kan We Help repeatedly asked for this issue to be placed on the Agenda again.
NO RESPONSE FROM THE BOARD OR CAO.
Kan We Help then filed a Brown Act Complaint. The entire Board ignored the complaint.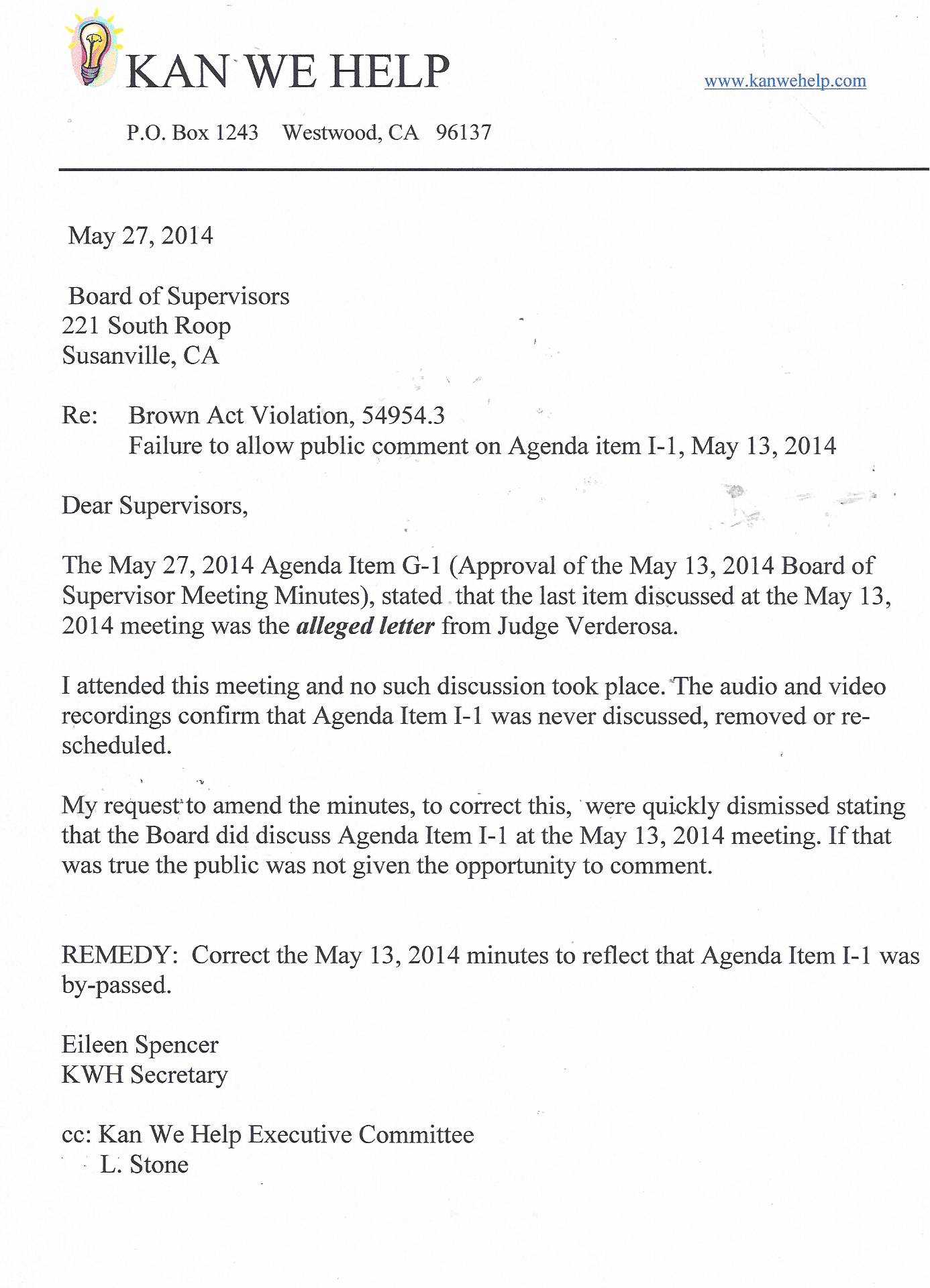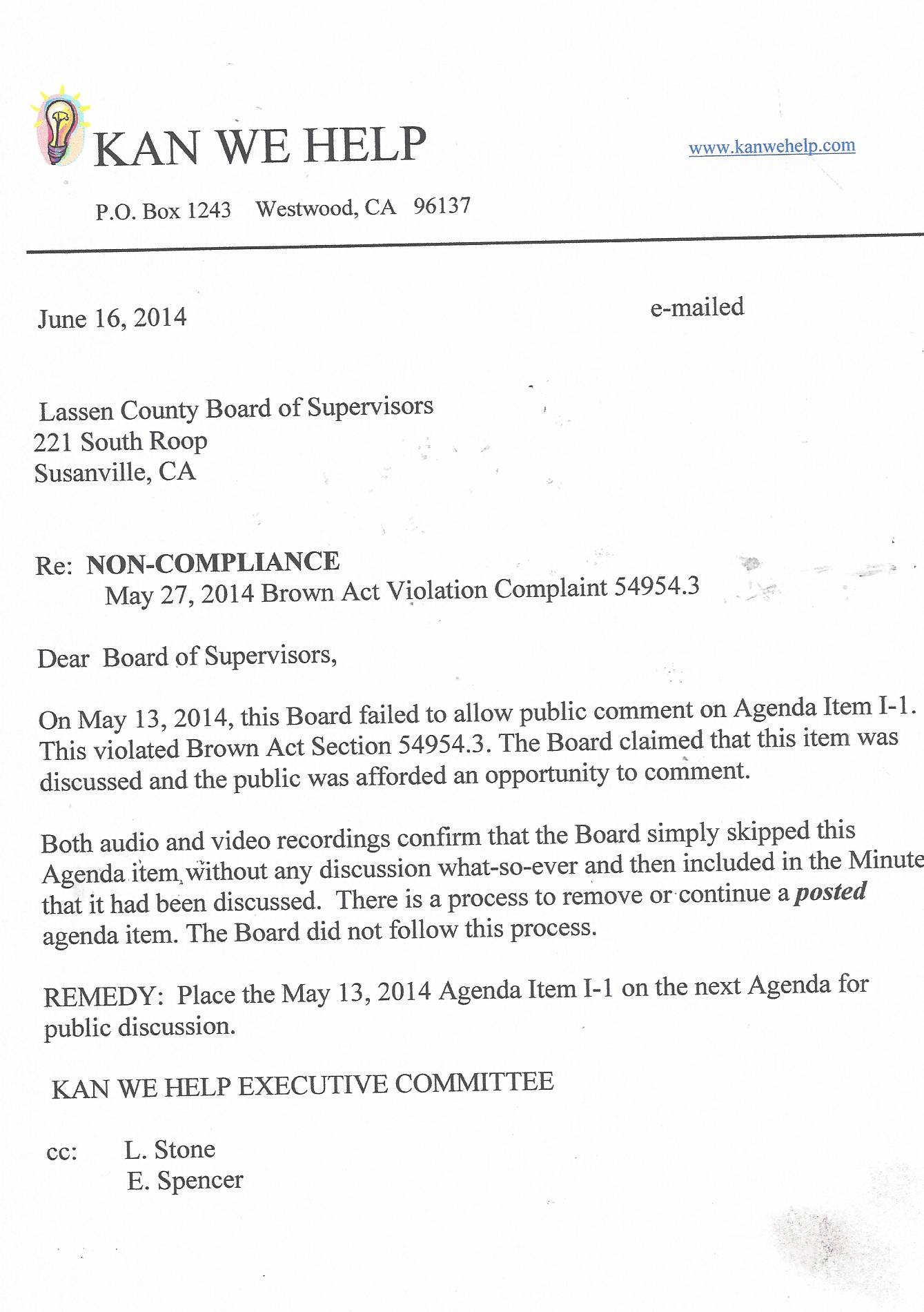 CAO Egan admitted, at the June 27, 2014 Board Meeting, that he wrote the letter.
Kan We Help Attempts to Authenticate Verderosa Letter
[No response from Judge Verderosa]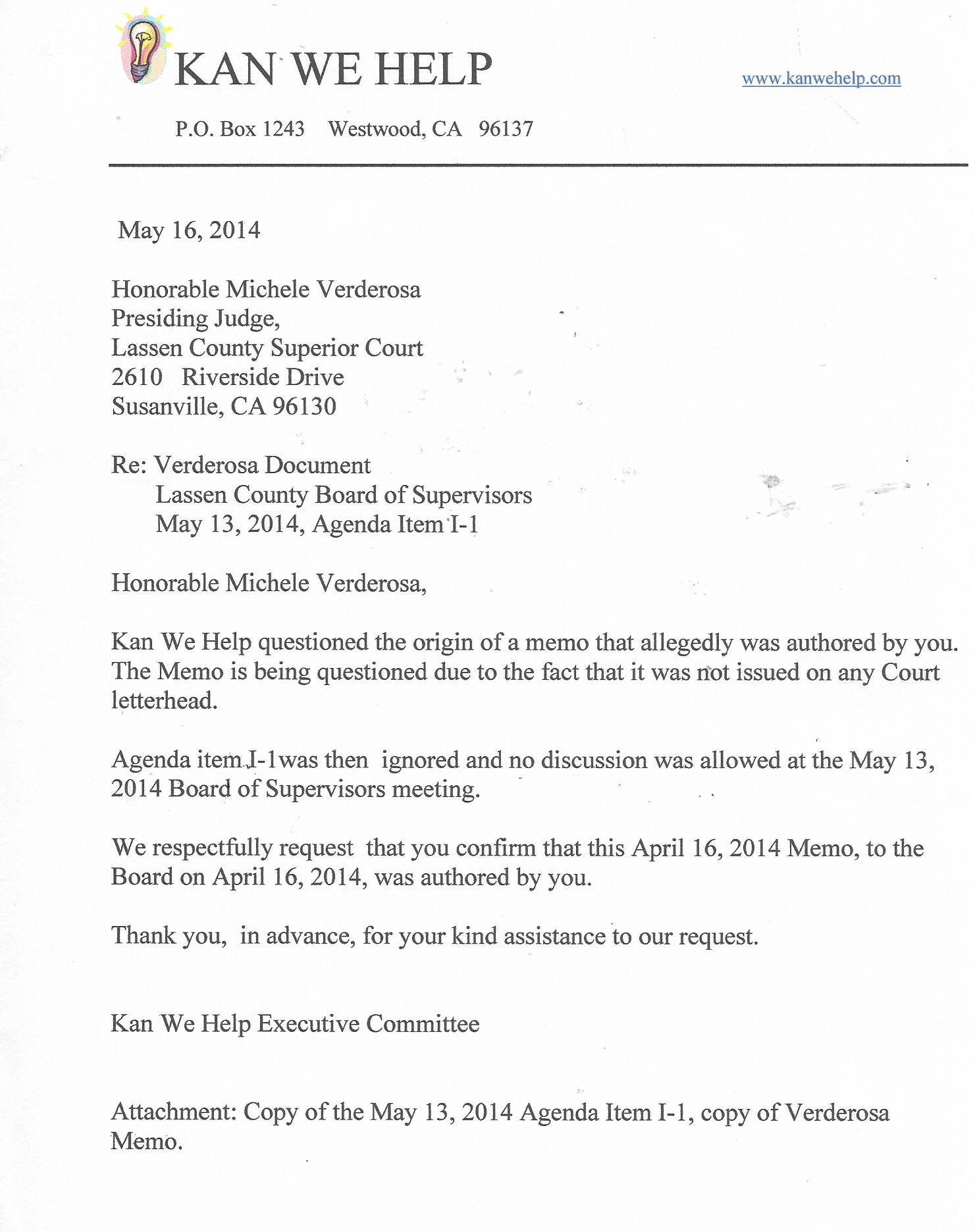 Bustamante Refuses to Certify the Authenticity of Verderosa Letter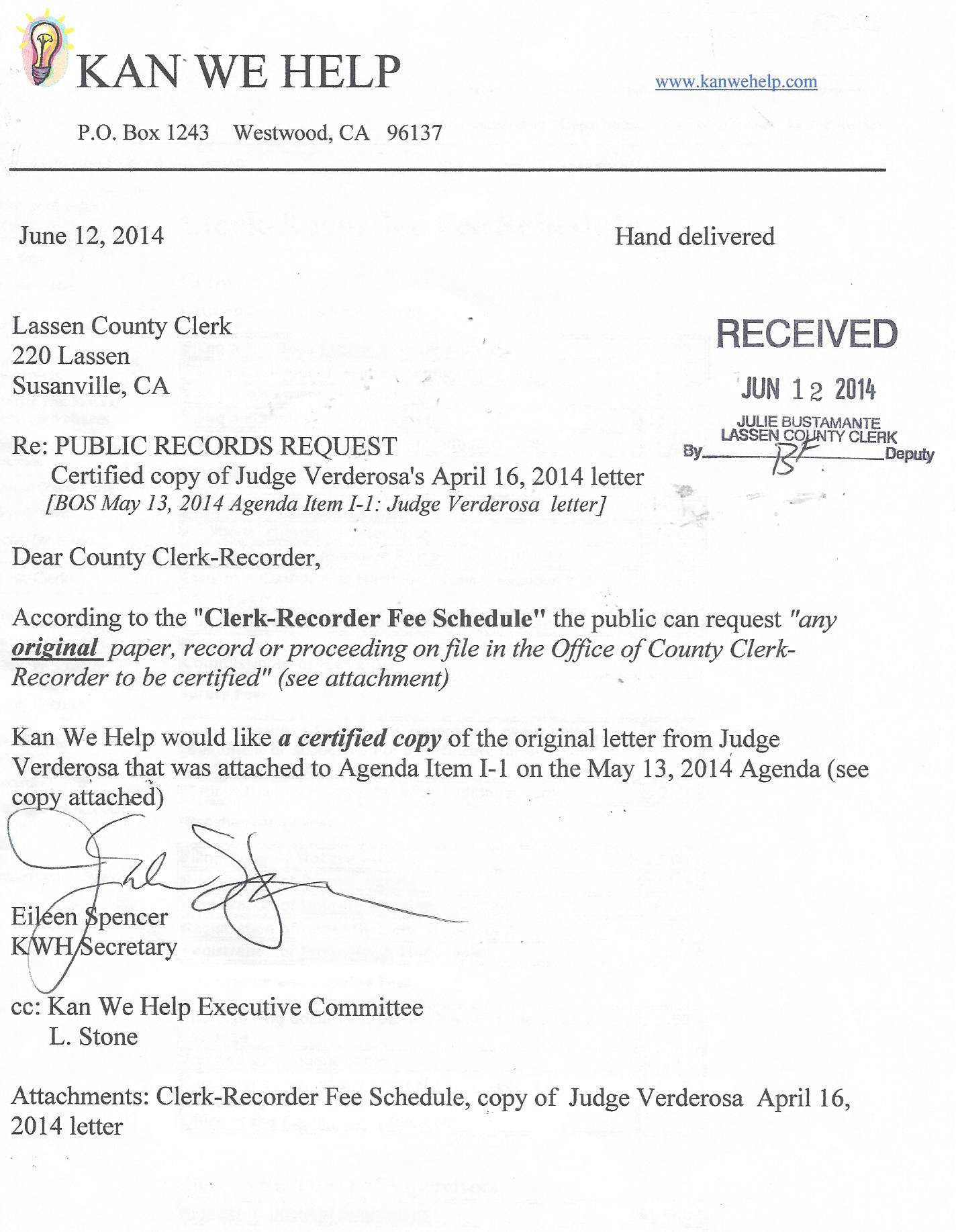 County Clerk Fee Schedule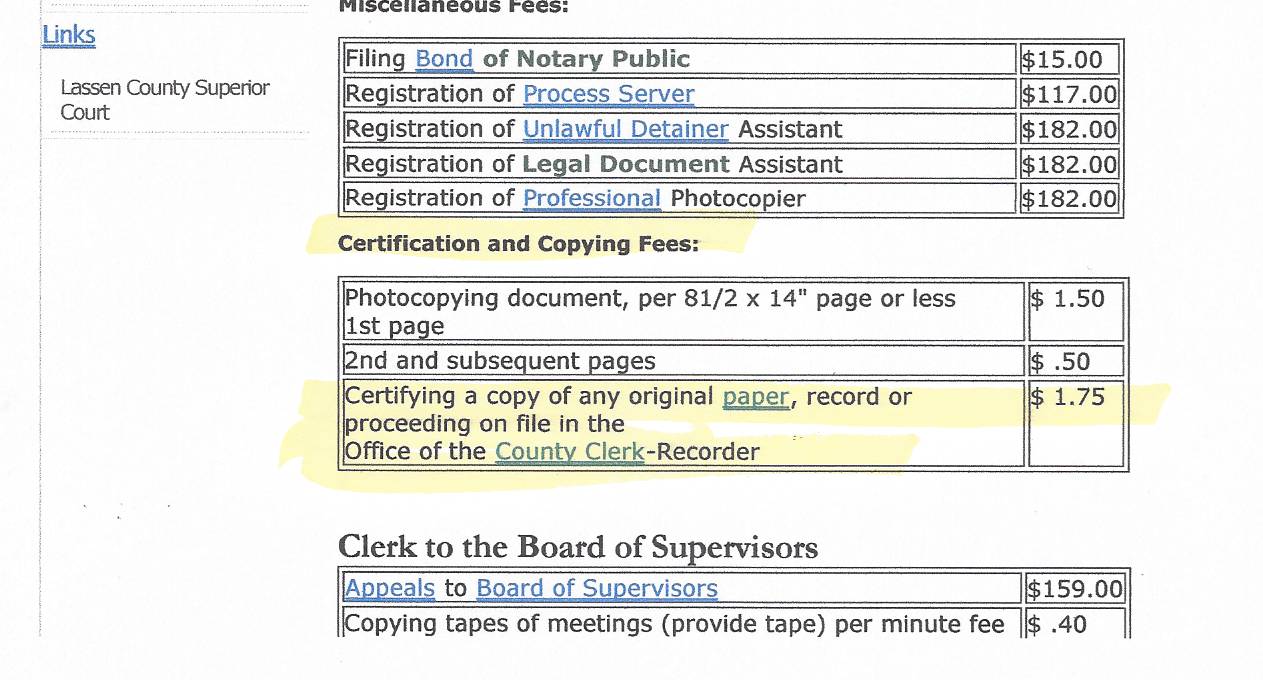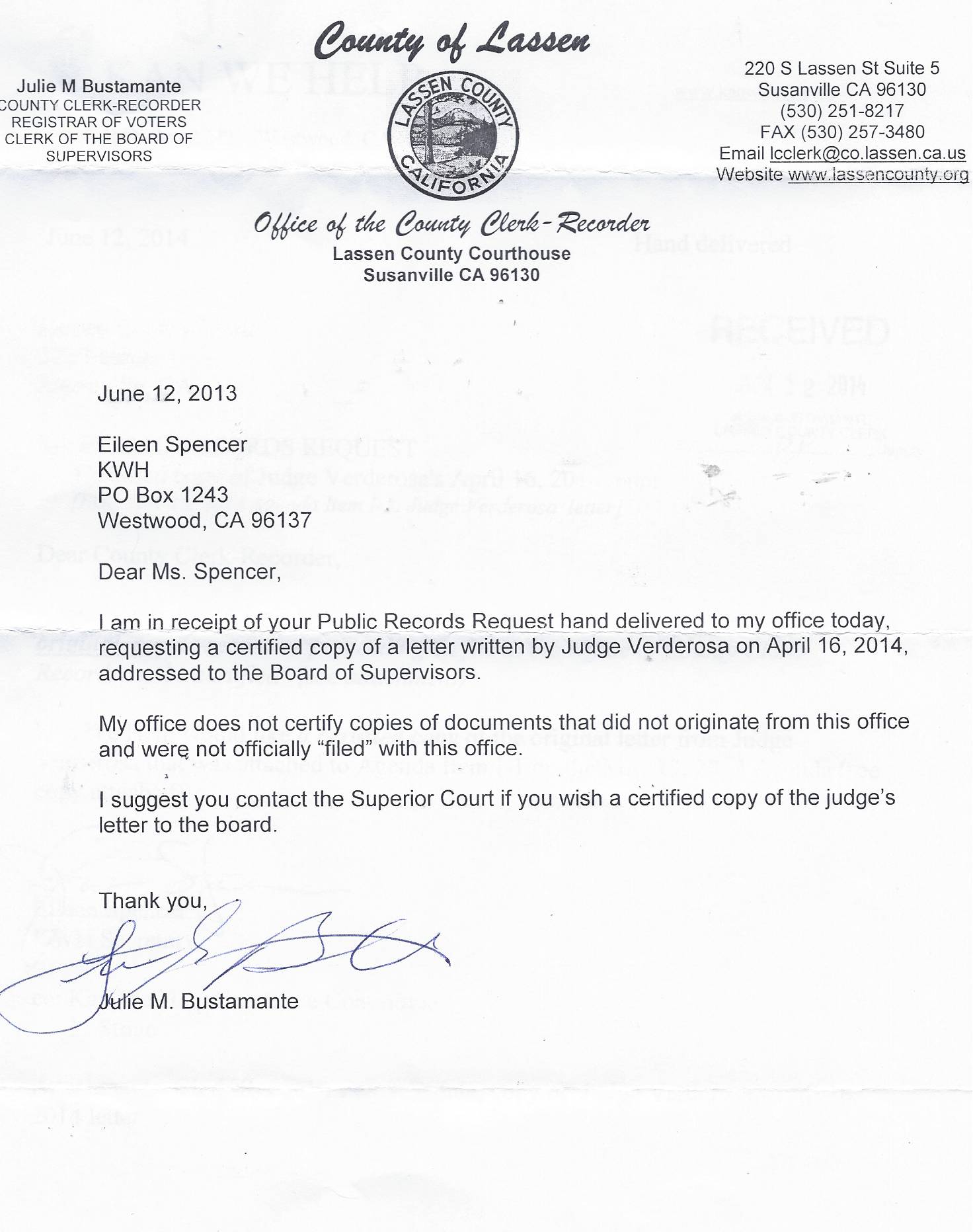 Lassen County Superior Court
Presiding Judge Verderosa
Has Sit-down
with
Bob Burns and Richard Egan
On April 16, 2014, Lassen County CAO Richard Egan made the decision to write a letter that was made to appear as though Judge Verderosa had authored it. She did not author it and Kan We Help caught him in a lie. Judge Verderosa's signature has never been authenticated.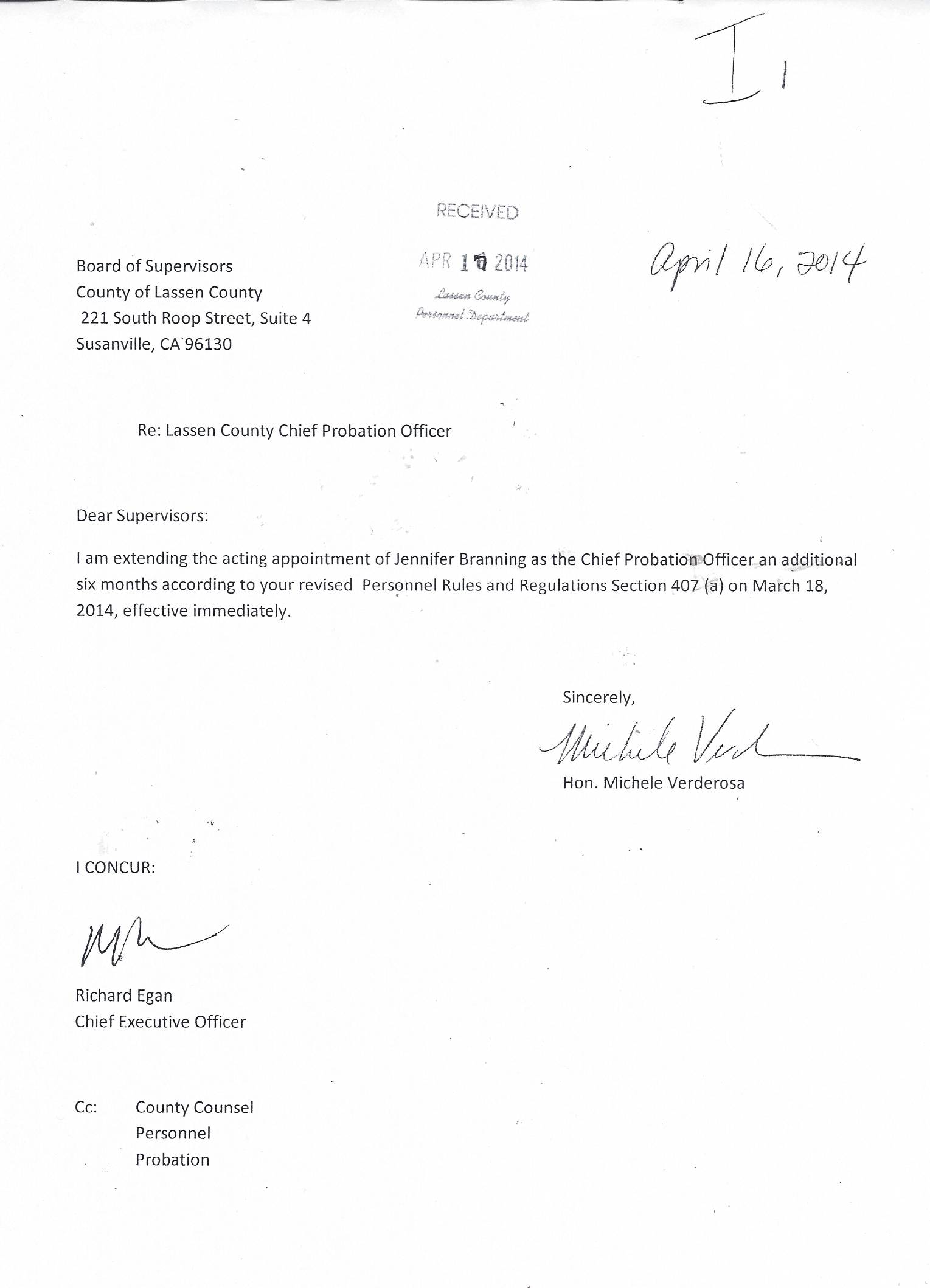 Egan placed this letter on the Board of Supervisors May 13, 2014 Agenda but had no intention of having any discussion on it. (Audio and video recordings confirmed that this Agenda item was never discussed or voted on)
Watch video: May 13, 2014 BOS meetng
Chairperson Wosick just adjourned the meeting intentionally ignoring last item on the Agenda.
As a result of this debacle, Judge Verderosa decides she will no longer appoint the Chief Probation Officer. The County now must create a new position; Chief Probation Officer
Lassen County Counsel was forced to write a "soliloquy" on July 6th to create a new Ordinance for this position to be a County position. Burns response ended up similar to Vander Ploegs response to Kan We Help objecting to the County Administrative Officer being called various other names. [CAO Egan was signing different fake titles to official county documents]