Ye Old Arrowrock
This old Dam has been around a long long time. It has been a good friend to fisherman and the surrounding farms in Idaho since it was built in 1915 and was designed for hydro with 1915 technology. The reason it was never developed for hydro energy has never changed in 93 years. ENVIRONMENTAL AND ECONOMIC.
Lucky Peak Dam was built downstream from Arrowrock, in 1955. The backwater from Lucky Peak Dam reduces the effective net head and eliminates any reason for a power plant to be built at the Arrowrock Dam site. Recreational pressures on Lucky Peak Reservoir dictate that this Dam be kept as full as possible and this forces the Arrowrock Dam to be drawn down first which further reduces any power plant options at Arrowrock. This information has always been available to LMUD.
In 1926 the Bureau of Reclamation turned the "operation" over to the newly formed Irrigation District, the Boise Project Board of Control. On March 27, 1989 the BPBC filed for and was granted a FERC license to build a hydroelectric plant at the Arrowrock Dam.
The BPBC never could find any interest, in this project, and the license was due to be terminated by FERC again. On December 18, 2000 Al Barker, attorney for the BPBC, desperately sent out letters to "small utility districts". The only one that responded was Lassen Municipal Utility District who was considering bankruptcy at this time.
LMUD minutes indicate that LMUD and Frank Cady were silent on this BIG HYDRO PROJECT for 4 months. It was slightly unveiled at the April 25, 2001 LMUD meeting. This meeting was like a dog and pony show. At 9:37 am, the LMUD minutes show that the Chairperson Templeton stepped down and handed the gavel to Darrell Wood.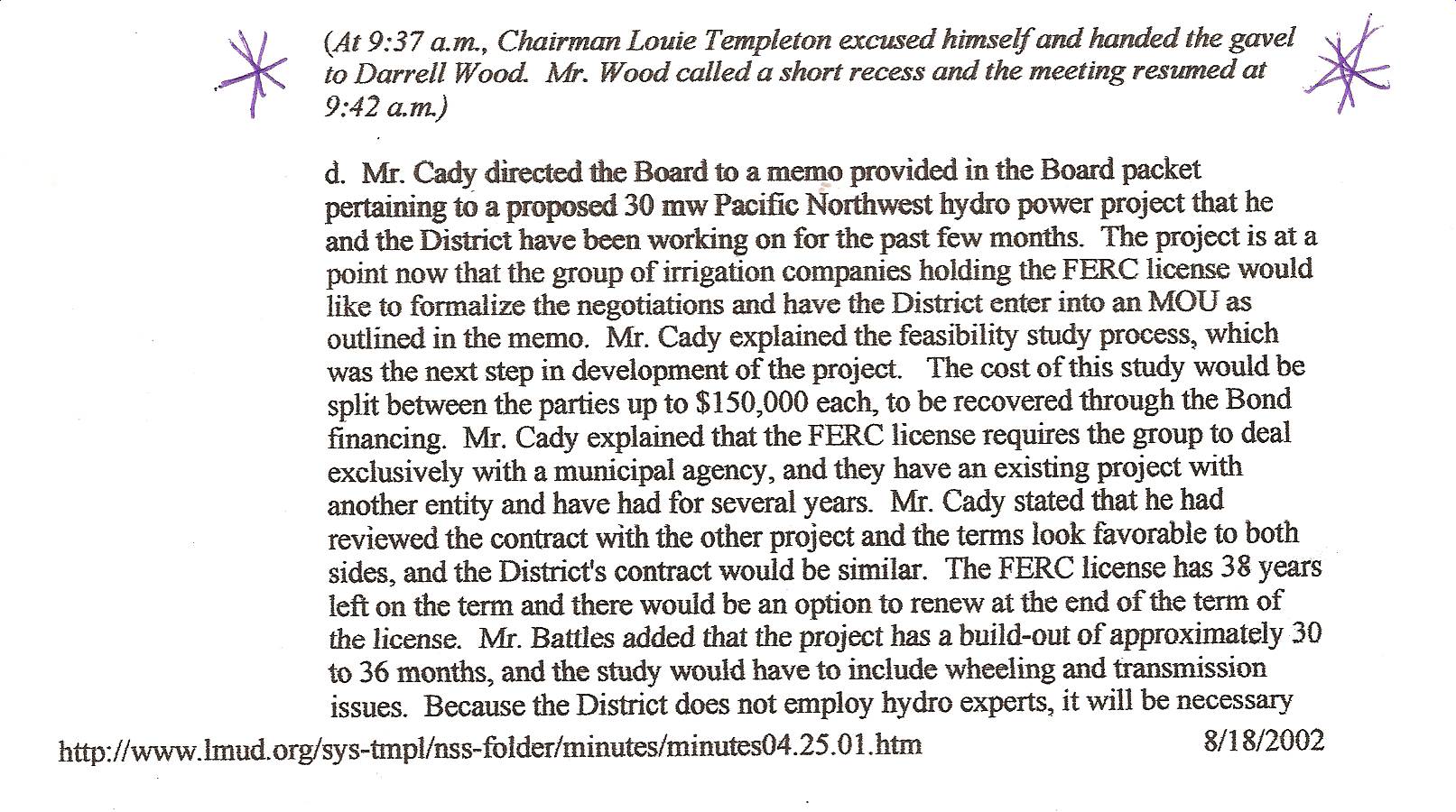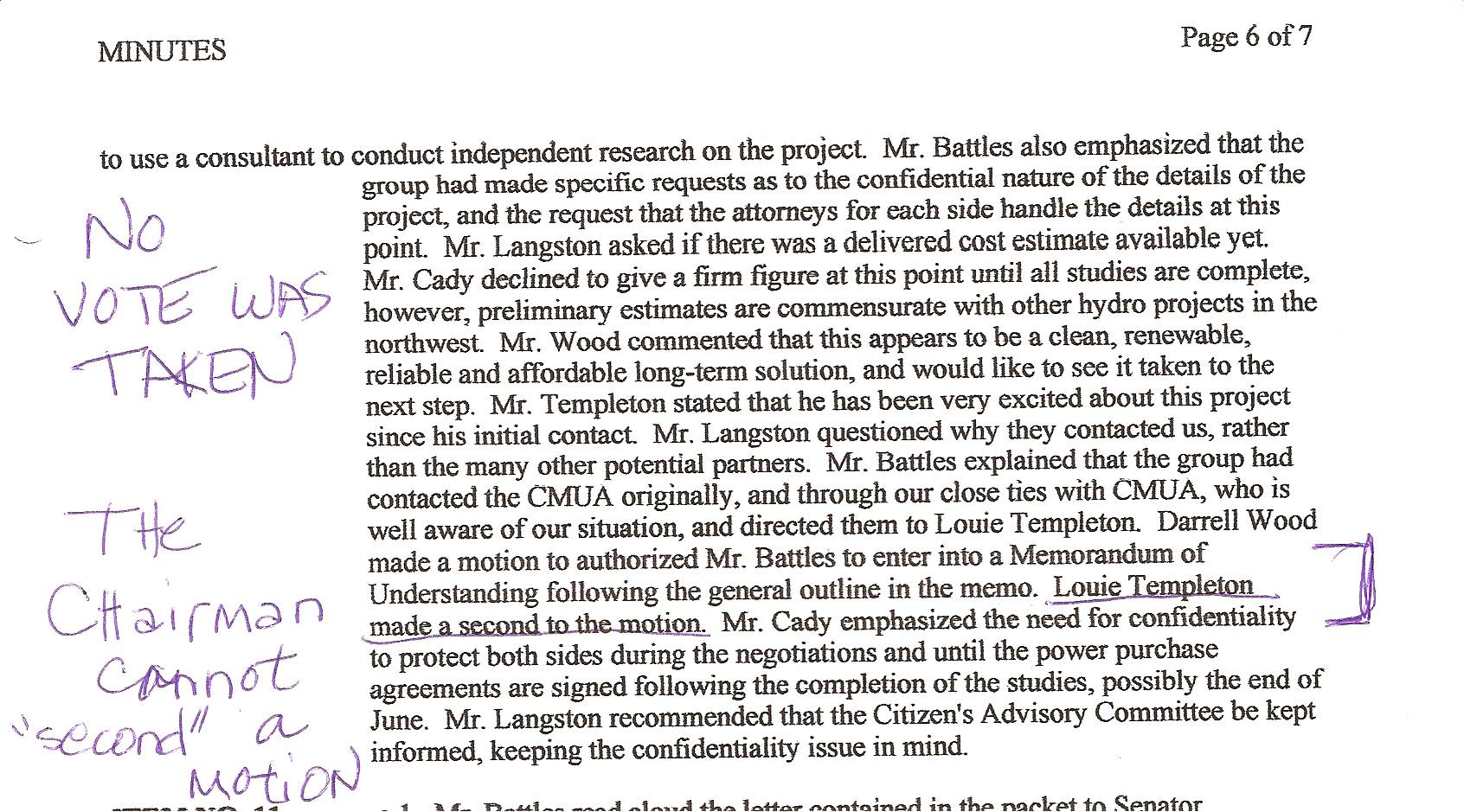 Five problems with this meeting:
1. There was never a vote ,on the motion, to spend money for this Arrowrock Study. As soon as KHW informed LMUD that no vote was taken, Cady had the Board change the minutes to reflect a vote. The ratepayers that attended this meeting were outraged.
2. Who was the Chairperson, Darrell Wood or Louie Templeton? The Chairperson cannot make or second a motion.
2. The referenced "packet" was never produced to the public.
3. The LMUD ratepayers were told that they were PAYING FOR THIS STUDY.
4. The project was deliberately misrepresented to the public.
5. The ratepayers were told that this Arrowrock Feasibility Study would be finished in June-2001...and it most likely was.
LMUD minutes versus FERC's record of this activity revealed that Frank Cady and the LMUD Board simply and deliberately lied about the Arrowrock progress. Kan We Help filed a Motion to Intervene with FERC, on April 5, 2003. which included a chronological accounting matching LMUD's statements to the public and what was actually occurring on this FERC license P-4656. LMUD's real involvement ended by December 2001, but continued to misinform the ratepayers for another four years. LMUD continued to pay Frank Cady and Jaimee Richey (aka Jaimee Jones) huge legal fees for a project that, in all practicality, did not exist.
Frank Cady was brilliant in that he created different names for the Arrowrock Study to simply baffle and confuse the public. It was in fact just a Feasibility Study for a Flim Flam project.
Immediately, after the FERC license was terminated in 2005, the BPBC proceeded to sell this con game to another small Oregon public utility. In 2005, a few Oregon politicians ordered a three year extension for a license that was terminated for 15 years of lack of due diligence. Unlike the scam on LMUD this little utility budgeted this scam at a tune of $500,000 a year. The BPBC was getting smarter.
The CPUD (unlike LMUD) complied with the Oregon Public Records law and released all the documents. There was an amazing similarity to LMUD. Their GM was also fired.......KWH has filed a Motion to Intervene with FERC once again. This SCAM has got to stop. After two years, FERC has yet to approve the BPBC's typical request for extensions. This license will soon expire for lack of due deligence. WHO WILL BE NEXT?
The fact remains that the Arrowrock Study was completed in October 2001 and the cover page was submitted to FERC and represented as a completed study, the completed Arrowrock Study was given to RW Beck, an independent contractor to prepare for the RFP, then the BPBC subsequently released the RFP for the bidding process which was completed also using the completed Arrowrock Feasibility Study.
WHEN KAN WE HELP REQUESTED A COPY OF THIS STUDY, ON SEPTEMBER 11, 2002, IT WAS "FINAL" AND "COMPLETE". THE RATEPAYERS CONTRIBUTED $150,000 TOWARDS THIS STUDY AND HAD PROPRIETARY RIGHTS TO THE STUDY...AND STILL DO.
RATEPAYERS WERE PROMISED THAT A COPY of the Arrowrock Feasibility Study would be released
LMUD meeting minutes, 9/25/01

FACT: RW Beck and Power Resource Managers were given the completed Arrowrock Feasibility Study. The project, after all these shenanigans, could not be built. The fact that this project was not feasible was determined years before LMUD's involvement.
LMUD meeting minutes, 10/10/01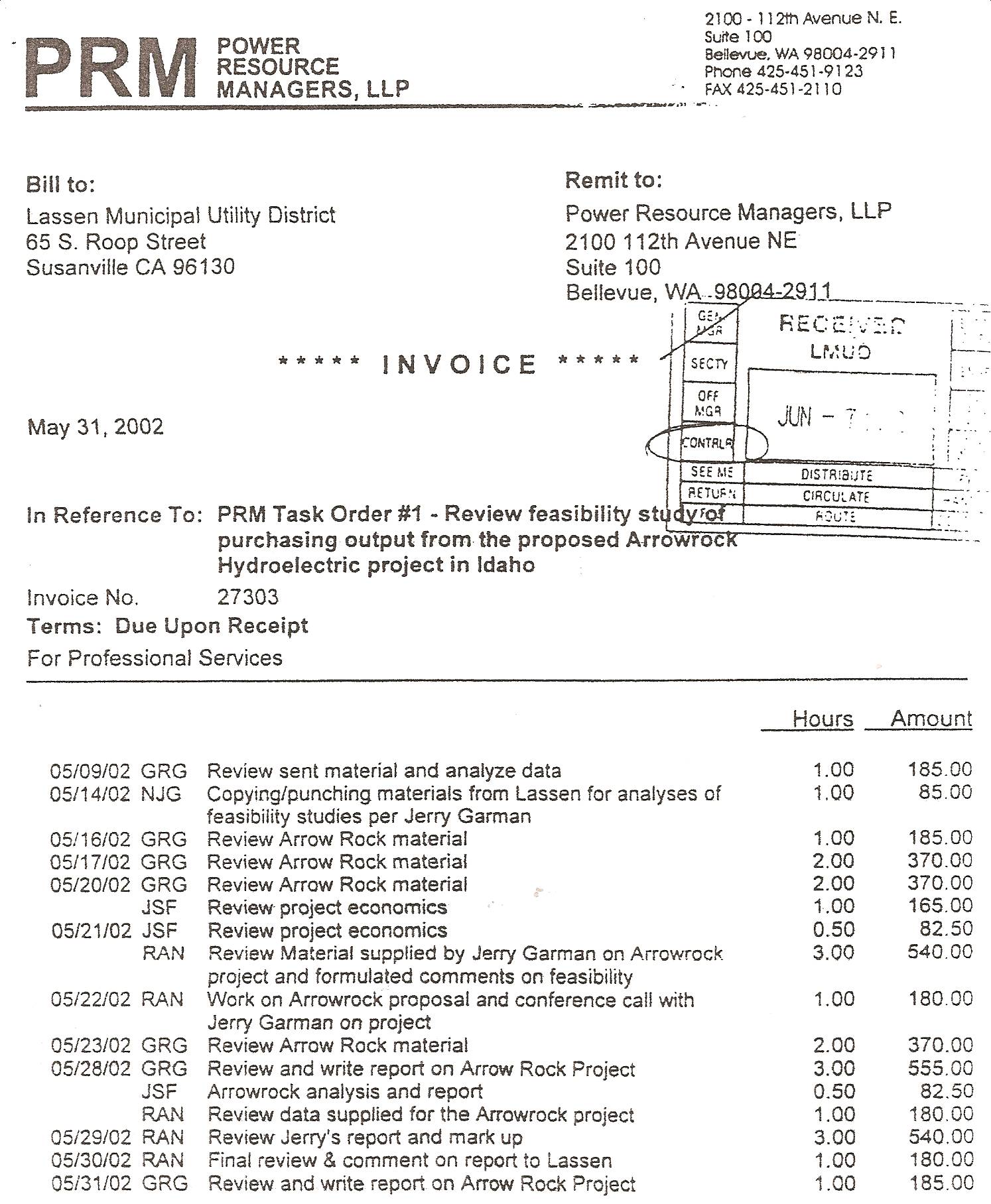 KAN WE HELP HAD A LEGITIMATE REASON TO ASSUME THIS STUDY, THE RATEPAYERS PAID FOR, WAS DISCLOSABLE ON 9/11/02.
The Third District Appellate Court's ruling was a sad distorted CARICATURE of Lazards ruling. KWH's attorney asked for the lower court to review "in camera" the evidence presented by Frank Cady and Jaimee Richey-Jones. This request was denied. Both courts refused to look at the evidence that would have vindicated KWH
In 2008, The Clatskanie Public Utility District picked this project up for the same price, $30 million, but got only an 18 MW facility [Not the 60 MW proposed to LMUD] and were given the rights to maintain the facility costs and no guarantee of any power.