December 29, 2004
KWH cries "criminal negligence"
LMUD calls yet another
SPECIAL MEETING 12/29/04
One Agenda item: * Evaluation of General Manager, Twitchell
Odd.....LMUD reports the action of this Agenda item prior to the meeting ???? *Discussion and possible approval of revisions to General Manager's employment contract.
GIVEN THE MISMANAGEMENT OF LMUD FUNDS, WILL THE BOARD OF DIRECTORS REWARD TWITCHELL WITH YET ANOTHER INCREASE IN HER CONTRACT.
WHY ISN'T BILL STEWART'S TERMINATION ON THIS AGENDA?
December 22, 2004
"This Board has so much to hide..."
Agenda Item 4 B(1)Board & staff items: Frank Cady immediately told the LMUD Directors that they did not have to discuss Agenda Item 5I and 5J. The Board President, Fred Nagel said that he would take that under consideration. Cady pressed the issue further and was told the same thing. Cady told Nagel that he just needed 120 seconds and then the issue was dropped. No action by the Board. Cady also requested that the closed session issue of Spencer/KWH v LMUD be placed in open session. Again, Nagel said that he would take that under consideration.
Agenda Item 5 B
Consideration of Service Agreement with Couso Technology & Design: LMUD hired this firm to produce a 2005 calendar with student art. The calendar was presented at the meeting link . Passed unanimously
LMUD failed to secure a signed contract with this Susanville company and as an"after the fact" Cady (LMUD"S $300,000 a year attorney) produces a 12 page document for the Directors to consider link All this for a $1500 cost that did not need a contract. This is the type of abuse, by Frank Cady, that has to STOP. Frank Cady commented that "It is okay to overlook this" he stated further that "occasionally we make a mistake".
OCCASIONALLY ?? This has become the norm for LMUD.
Agenda Item 5 C
Consideration of and ratification of Service Agreement with Stillwagon Heating & plumbing for Marathan Water Heater Retail Merchandizing Services; and authorization for General Manager to sign. passed unanimously
Agenda Item 5 D
Consideration of the ratification of Service Agreement with G & M for Marathon Water Heater Retail Merchandising Services; and authorization for General Manager to sign. passed unanimously
Agenda Item 5 E
Consideration of Resolution 2004-10; Authorization for President and Secretary to sign U.S. Bank's form resolution setting forth the authorized signatories on LMUD's accounts. passed unanimously
Board Discussion: Nancy Cardenas suggested that the Board wait until the January 6,2005 meeting. Fred Nagel wanted to do it now based on Bill Stewarts insistence. Bill Stewart said that the signature cards had signatures other than the Board members.
Public Discussion: Eileen Spencer suggested that the other bank accounts be checked also. She said that Bill Stewart had made so many mistakes in a two year period that it might be prudent for the Board to instruct Bill Stewart to review all of the bank card signatures.
It appears that the urgency might be to eliminate any record of the persons that were on the signature cards for the past two years.
Agenda Item 5 F
Consideration of (1) Ratification of Agreement from which Demands arose (2)Receipt of Certification from Controller and General Manager regarding Propriety of Payment of Demands; and (3) Approval of Payments of Demands. A motion was made and seconded. no vote was taken
Board Discussion: Nagel read the agenda item and entertained a motion. Bill Stewart asked if there were any questions on the bills submitted. Twitchell asked if the Board needed all of the checks read. There was no Director that indicated that this was necessary. Langston and Vazquez were interested in the check to PAR Electrical Contractors. Twitchell stated that this was the final payment for the outsourced lineman costs.
Public Discussion: Eileen Spencer asked the Board where the required "Certificate of Legitimacy of Payment of Expenditures" was. The Board responded that they are discussing the "Certificate" ? A Certificate was never submitted. Eileen Spencer asked if the cost of the "Cost Containment Concept" (LMUD's health benefit policy) was included in the $10,208.00 check (#11005). The Board responded that over $6,000 was part of this check (The Board approved up to $6,000) and the remainder was the final cost of the Audit.
The Board started this policy (evidently now required by law) at the November 8, 2004 meeting and the November 22, 2004 meeting. But discontinued the practice after the December 8, 2004 meeting. link
The Controller did not offer the Board any such "Certificate" at this meeting.
Agenda Item 5 G
Receipt of 2003/2004 Annual Audit: Discussion and possible action concerning the same. passed unanimously
The Accounting firm of Pezzullo & McKenzie made a presentation of the Audit to the LMUD Board of Directors link
The Board started this policy (evidently now required by law) at the November 8, 2004 meeting and the November 22, 2004 meeting. But discontinued the practice after the December 8, 2004 meeting. link
The Controller did not offer the Board any such "Certificate" at this meeting.
Agenda Item 5 G
Receipt of 2003/2004 Annual Audit: Discussion and possible action concerning the same. passed unanimously
The Accounting firm of Pezzullo & McKenzie made a presentation of the Audit to the LMUD Board of Directors link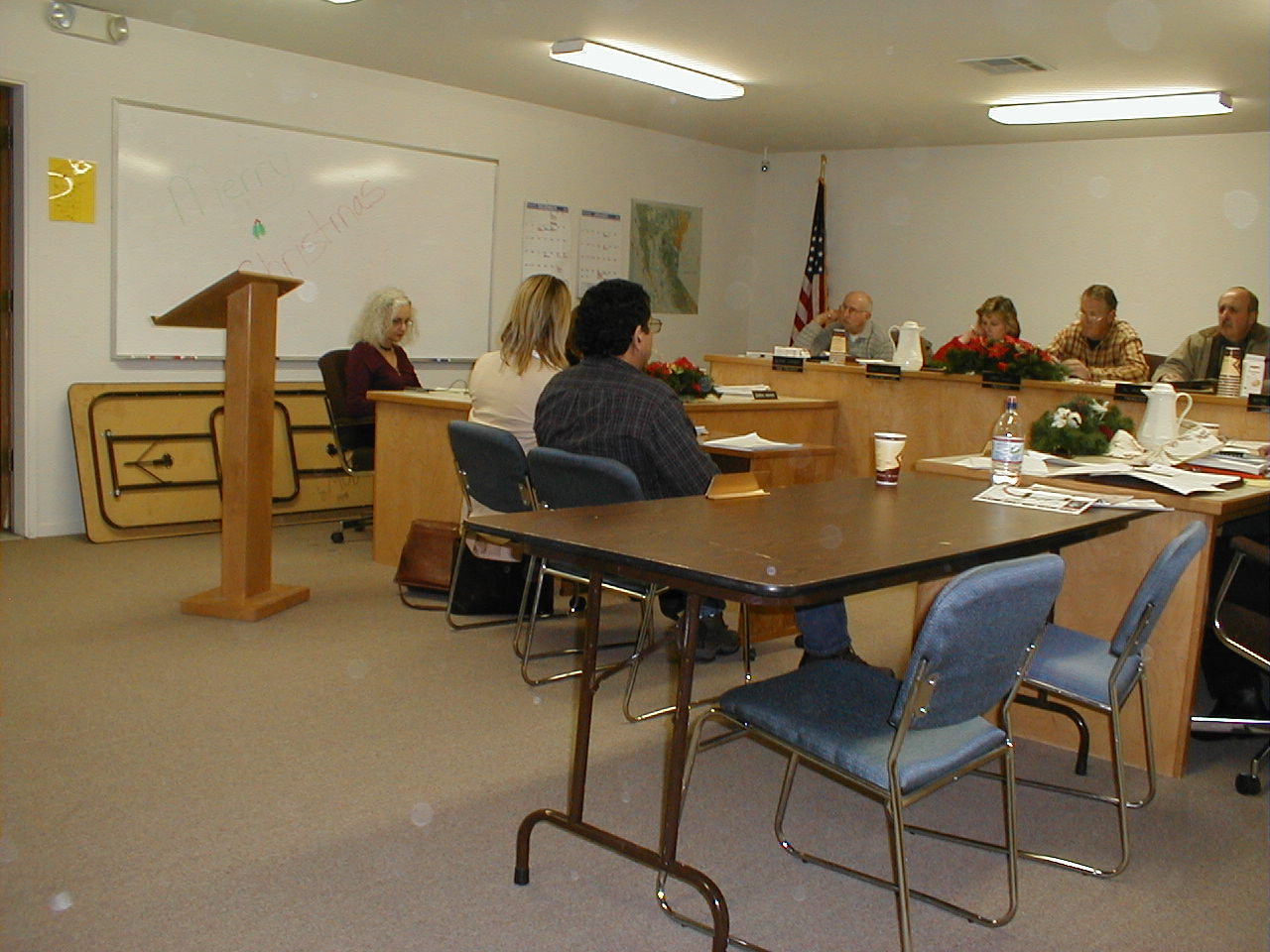 The Lassen County Times is "conspicously" absent from this meeting
LMUD holds another SPECIAL MEETING (three since November 4, 2004)
NO MORE "REGULAR" MEETINGS ? link
Has LMUD and Cady found a way to eliminate the public from using the "Public Comment" portion to address their concerns to this public agency?
Cady and his gang have finally found a way to successfully eliminated the PUBLIC.
The 2003/2004 Audit will be presented at the SPECIAL meeting.
Twitchell gets another employment review. Will the LMUD Board give her another reward for "looking the other way" on their secret deals.............?
It appears that Darrell Wood may become the next Secretary or President of LMUD in 2005. LMUD is presenting Resolution 2004-10 to allow the President and Secretary to sign U.S. Banks signature cards. These cards were signed two years ago....what are they attempting to do prior to Darrell Wood being installed ?????
LMUD continues to cover their tracks
December 8, 2004
LMUD SEEKS "OUTSIDE" AUDITOR TO REVIEW ACCOUNTING SYSTEMS
KWH submitted a complaint with LMUD that Frank Cady was in breach of his contract and had been overpaid by hundreds of thousands of dollars. LINK
LMUD FILES FERC INTERVENTION ON NOVEMBER 22, 2004
December 8, 2004, LMUD Agenda Item 5E: "Consideration of Ratification of FERC Intervention (1)ER-05-155; (2) ER-05-151; and ER-05-229". link
NO RULES OF PROPRIETY FOR LMUD BOARD OF DIRECTORS. THEY DON'T HAVE TO OBEY THE LAW
LMUD knew about this FERC issue on November 1, 2004. LMUD filed the FERC Intervention on 11/22/04 without bringing this "action" before the public.
LMUD's INSURANCE COMPANY SEARCHES FOR NEW COVERAGE
Public Utility insurance coverage scarce link
Regular, December 2, LMUD meeting cancelled
The LMUD Board has found a way to eliminate a "public concerns" forum. They have done away with "regular" meetings that include a public comment period where the public can bring up any concerns within the jurisdiction of LMUD.
The Brown Act allows only agenda items to be discussed at Special meetings.
This isn't clever or unique.........just new and improved SLEAZE
November 22, 2004
LMUD meets on November 22, to sign checks. Cost to Ratepayers, minimum $500.
General Manager fails again to submit a Resolution to require LMUD Board to call a special meeting just to sign checks. Current Resolution allows General Manager and just about any management staff to sign checks. So why does this Board need to meet to sign checks?
Twitchell presented 72 checks to be approved. Now, these checks have already been printed....? This is a great example of management run-a-muck. I guess that they could just tear them up if the Board didn't approve them. Stewart announced, to the Board, that $91,000 in payroll checks were apart of the checks to be approved. Stewart did not submit these payroll checks at the meeting.
Al Vazquez was not present
Parliamentary Procedures have gone by the wayside at LMUD meetings. The Agenda items are discussed randomly, procedures have been thrown out, resolutions are ignored, new issues are simply introduced and discussed at will.
Cady has written new language for the board which they repeated without even understanding what they were saying. Fred Nagel was asked what this new language meant; "Certification of Legitimacy of payment of expenditures".
What would they do without Frank coming up with this brilliance?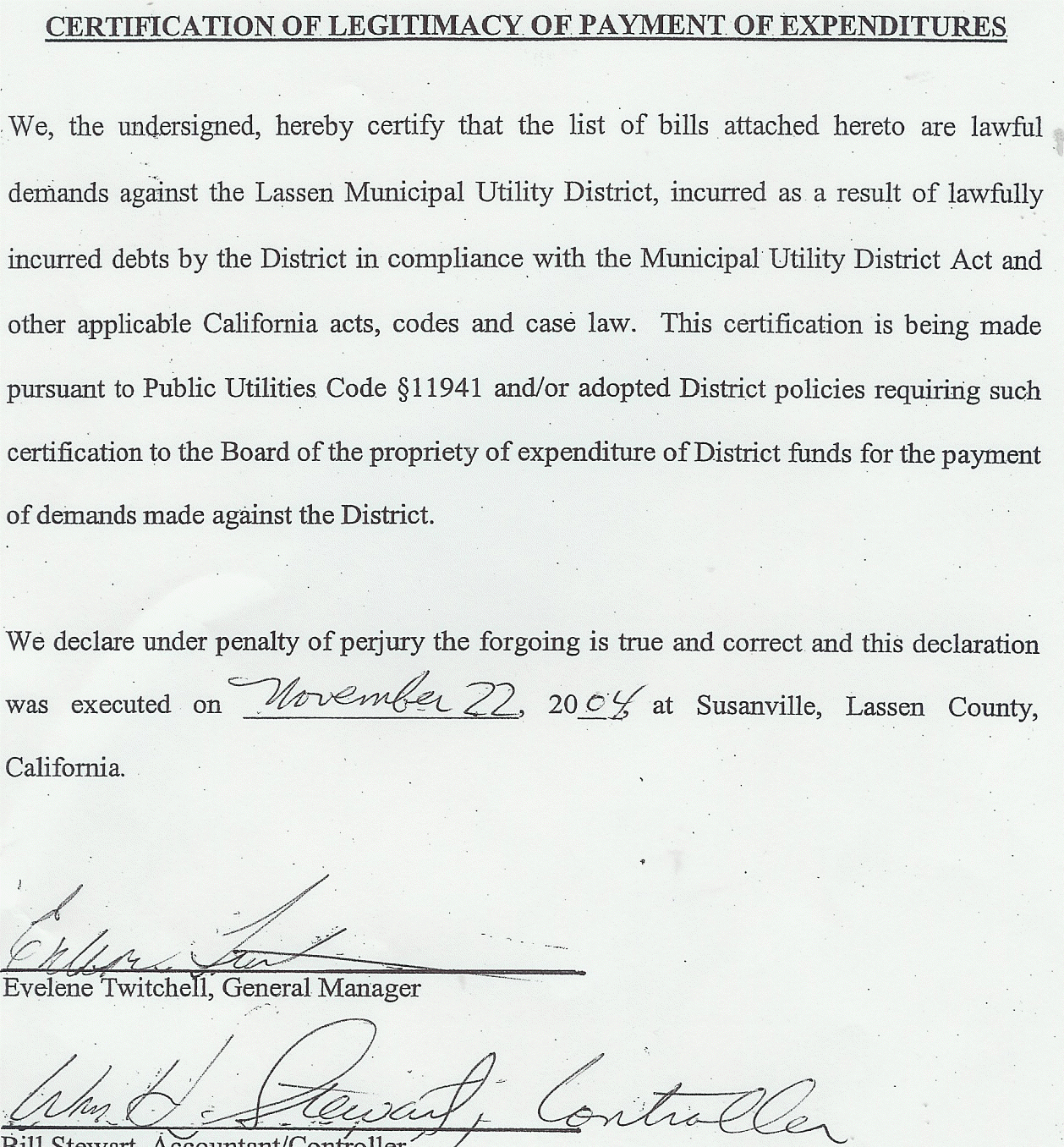 Fred Nagel deferred the question to Cady. This Board sits there like "dumb bunnies" waiting for instructions from Cady. It is a pathetic thing to endure.
Frank Cady took the IBEW lawsuit off the "closed session" agenda. The IBEW sued LMUD for unfair practices. These are the "employees" of LMUD that have filed this claim.
This is just going to get worse.
Wayne Langston continues to charge ratepayers for e-mails link
They have no ethics and lack any moral obligation to be fiscally responsible.
November 8, 2004
LMUD BOARD TO HOLD SPECIAL MEETINGS JUST TO SIGN CHECKS
At the May 29, 2002 meeting, the LMUD Directors passed Resolution 2002-03, "Resolution establishing Policy Regarding the Payment of Routine Salaries, Wages and Demands Against the District". Translation: They would no longer bring the accounts payable checks to the Board meetings to be approved. They authorized all management staff to sign checks.
Evelene Twitchell mentioned Resolution 2002-03 and asked the Board to pass a new resolution. In the meantime just ignore the directive of Resolution 2002-03. Twitchell's idea is to have special board meetings every time they cut checks. She did not bring a new resolution to the board, but said that she is working on it.
POOR MANAGEMENT TWITCHELL. This resolution should have been presented at the November 4 or the November 8 meeting. Cart before the horse......well who the hell cares....the result of this idea, which she admitted had come from Frank Cady (the mental midget of law) is an increase cost to the ratepayers. The LMUD Board will have at least four unnecessary special meetings a month. Twitchell cuts accounts payable and payroll checks twice a month.
Cardenas was absent
Wayne Langston said that "if it takes 24 meetings a month to do this, then we will do this"
Langston, as you remember, is the one that said "Acquiring more debt will look good on our credit." This is a LMUD Director that charges ratepayers $100 for e-mails that he sends link
They have no ethics and lack any moral obligation to be fiscally responsible.
November 4, 2004
NO LMUD BOARD PACKETS FOR PUBLIC PRIOR TO NOVEMBER MEETING link
Public Benefit Money for the Susanville Police Department significantly contributes to the safety of our children
The Susanville Police Department applied for Public Benefit money to purchase solar paneled speed monitors.
LMUD Public Benefit money is mandated by the State of California to be used for energy efficient projects or educational purposes
Susanville Police Chief, Chris Gallagher, presented a slide show that demonstrated the success of the new solar paneled speed monitors placed at Diamond View School. The speed limit is 25 mph in a school zone. The data accumulated, from the radar signs, indicated that over a 6 week period the signs successfully reduced traffic to the 25 mph limit.
The signs blink when you are above the 25 mph limit and give off an audible siren if you exceed 30 mph. The Chief explained that this audible noise is to alert teachers and children that there is an unsafe condition on the street. This feature alone, will save lives.
The cost of these radar signs was $8,000 and the Public Benefit Fund paid for 50%.
Chief Gallagher also unveiled a new program that Susanville will see in the near future. Lights in the pavement at crosswalks.
Unfortunately, only one person besides staff attended the LMUD meeting.
New chairs purchased by LMUD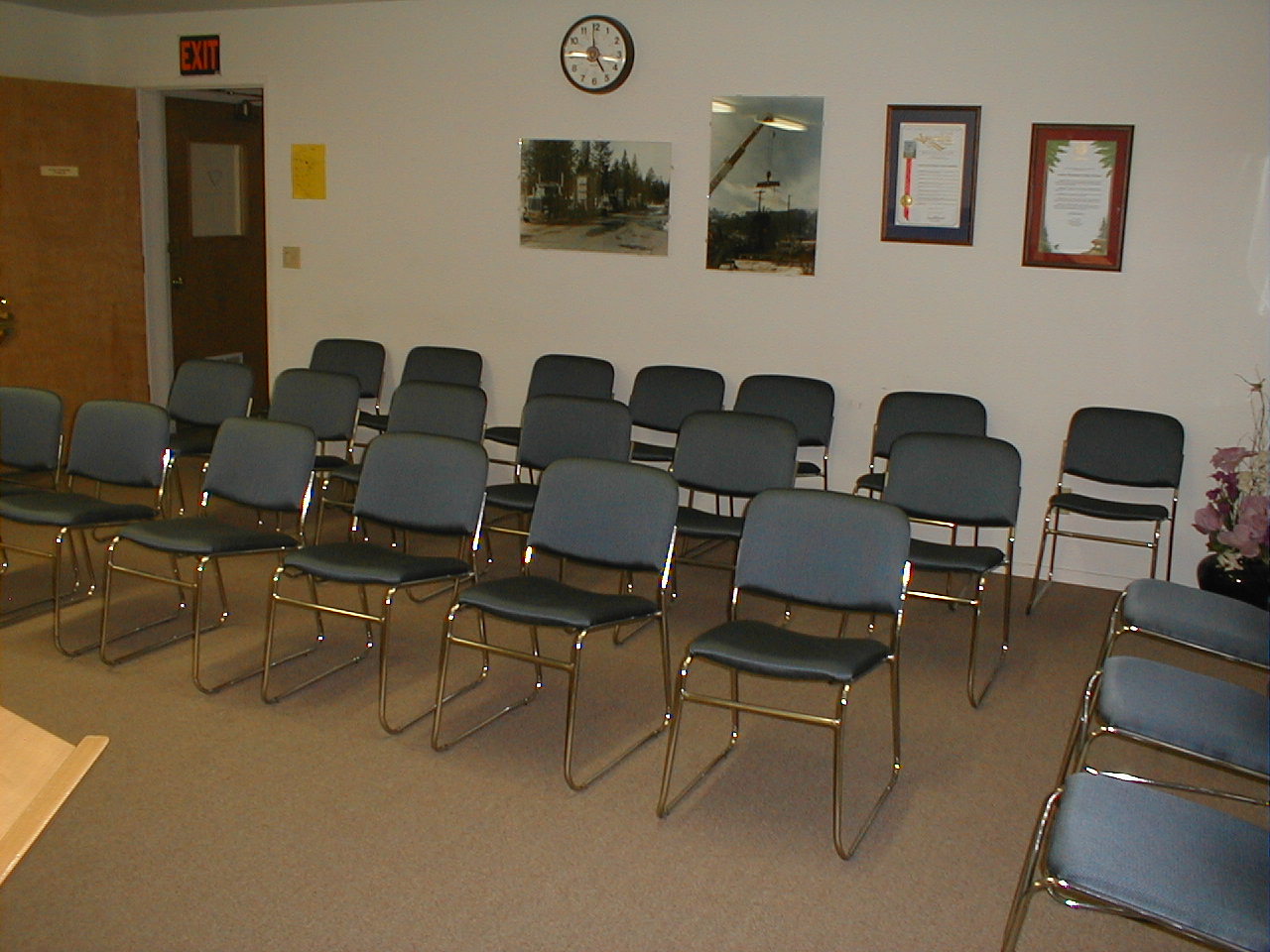 Mr. Lusky presented another excellent presentation, on the condition of the LMUD system. He reported that he has replaced rotten power poles in Westwood and said that they identified over 25 miles of rotting poles that need replacing. He told the LMUD Board that they have successfully mapped and located over 12,000 poles with the new GIS program. Mr. Lusky told the Board that he is only capable of maintenance right now and said that "upgrades", for the future, are being studied.
Chuck Lusky is definitely qualified to be the General Manger. LMUD missed the boat, in not hiring him for this position. Unfortunately, Twitchell's contract was extended.
THE NEW "ARROWROCK" PROJECT
Twitchell reported that PSREC is in negotiations regarding a marketing agreement for the PSREC's co-generation plant, at the Federal Prison. "No agreements have been signed but they are close". This scenario is exactly like Arrowrock. link Promises, promises and then nothing. No progress on feasibility study and it's not expected until 2006 ?
Twitchell reports are filled with double talk. Why would anyone be willing to "negotiate" a contract for a product that is not being produced and may not be produced. The Feasibility Study has not been completed and it looks like it won't be completed, according to Twitchell, until mid 2006 ???
Twitchell indicated that LMUD, having given PSREC the Federal Prison, might be the LEAD agency in this project. This equates to: LMUD WILL BE SPENDING THE MOST MONEY......just like ARROWROCK.
OUTGOING DIRECTOR, AL VAZQUEZ SAID.....
"It sounds like we're just passing a hot potato around".
He is exactly correct. This is just another scam, like Arrowrock, that will be done in back rooms in secrecy. No disclosures to the public. LMUD ratepayers will foot the bill and will get nothing.
Has Twitchell seen the boondoggle at Lassen College. This was a taxpayer tragedy.
LMUD hired an apprentice electrician a week and a half ago (Mr. Cortez) and plans to hire a journeyman electrician soon.
Bill Stewart. LMUD Controller, gave a sketchy, vague report that there is a glitch in the audit. It seems that there is a $300,000 problem with the medical insurance fund. Cost Containment Corp of Nevada handles LMUD's medical benefit insurance. This is an $80,000 a month expense for LMUD. Stewart, for some reason, needed to ask the Board for more money so that Pezzulo & Co. could straighten this out.
The Board voted to add an agenda item and then voted to set a maximum of $6,000 for Pezzulo to do an audit of the medical insurance. It must be noted that this $6,000 audit must be done in Reno.
No jokes now about a $6,000 party.........This is a legitimate crisis, according to Bill Stewart, Frank Cady and Steve Pezzullo. The Recalled Board "antics" are back now that Darrell Wood is back on the Board.
It must be noted that Al Vazquez voted NO....... Too little too late Al.
The Sempra Energy Trading Corporation Agreement was tabled for the second time. Cady presented this subject but has yet to provide the Board with an agreement. He is required to submit a Resolution, which he did (Resolution 2004-08), but no contract has been submitted for review. Typical for Cady when he is trying to slip something through......this will be monitored.
Frank Cady, LMUD counsel, asked the Board to approve Lisa Gast (Duncan Weinberg) as co-counsel for LMUD (besides himself) for FERC case 1639 (?). Amazingly, not one Director asked for any documentation of this FERC case, nor did they appear to have any knowledge of the issues. (A brief search of this case on the FERC website came up with one case)
ER01-1639: 10/8/04, Notice of Rescheduled Depositions and Notice of Additional Deposition by Western Area Power Administration re Pacific Gas and Electric Co pursuant to Rule 403 under ER01-1639
LMUD has a contract with Duncan Weinberg, which conveniently was not supplied to the LMUD Board at the meeting. Cady stated that Lisa Gast wanted specific instructions from the LMUD Board as to her scope of work, "since Harrison died" (research indicates that there is no "Harrison" with Duncan, Weinberg, Genzer, Permbroke. At least not in the last year) Why would she need directions if LMUD has a contract with her firm. And the Board approved this ?
Frank Cady needs Lisa Gast more than LMUD Link. Look for many trips to Washington D.C.
Frank Cady is retained by this utility because of his VAST EXPERIENCE IN MUNICIPAL LAW. Yet, he out-sources all work pertaining to municipal law? This will be monitored
Frank Cady is paid to monitor FERC, but has managed to hire several law firms to monitor FERC also. Waste of money, you bet. These law firms get paid by many utility companies to do redundant representation for the same issues. Speigel Mcdiarmid, Braun Braisley, Cohn Koury Madoff, McCarthy and Berlin, to name a few of the law firms that do exactly the same work for LMUD.
Does the LMUD Board seemed interested in this huge expense? NO. Is there a benefit to LMUD ratepayers?......NO.
The LMUD Board approved the purchase of a $115,000 boom truck. They claim that the old one will be sold or traded. This expense was not in the budget so the Directors voted to amend the budget to add this expense.
Agenda Item 5 E, for some reason was skipped over by the Board......"Consideration and discussion of approval or action on expenditures".
Note: Unfortunately, none of the above will appear anywhere in the LMUD minutes.
October 7, 2004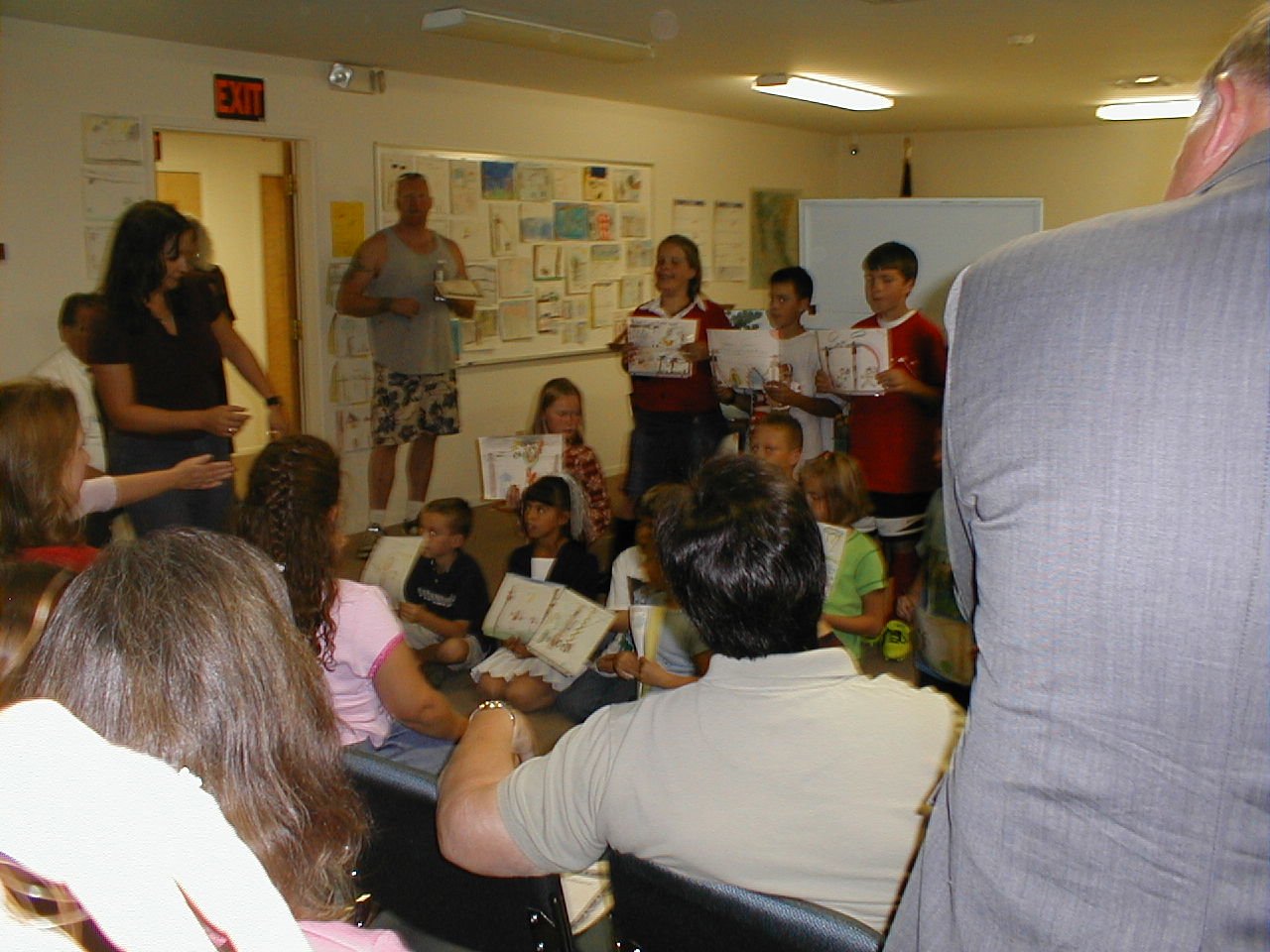 Prior to the LMUD regular meeting, LMUD gave Public Benefit money to the children. LMUD held a coloring contest and gave gift certificates to the winners of the contest. Public Benefit money can be used for educational purposes.
The regular meeting was typical. (Two persons attended) The public cannot make comments during the business portion of the meeting, despite what Theresa Boucher wrote in the latest "Ruralite" magazine.
"Board meetings are open to the public. Customers are always given the opportunity to comment on district business".
Untrue !!!!
You are not allowed to comment on: Board and Staff "unagendized" items, Director of Engineering & Operations Report, Customer Relations Report, General Managers Report or the Financial Reports. LMUD has now added that you cannot talk about "Action" items in the "General Comment Period" (Brown Act Violation) That about covers the "district business".
Bill Stewart intends to move the COP fund to either "unrestricted funds or the LAIF fund". Al Vazquez was concerned that they would lose accountability. No kidding Al. The COP, Certificate of Participation, money was borrowed for capital improvements. Lateral transfers of large amounts of money sends red flags up to legitimate auditors. This fund will take special watching.
"and Lassen Municipal Utility District hereafter referred to as "Creditor", a California corporation as of Monday, September 20, 2004"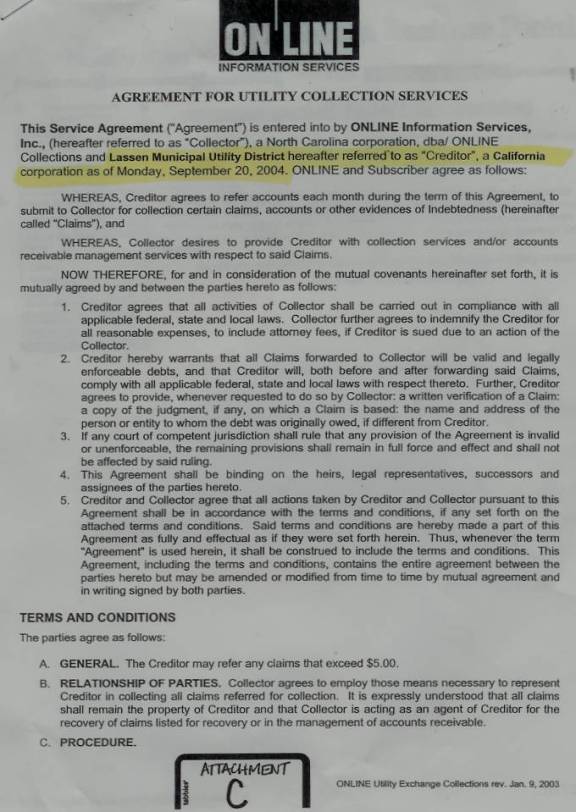 Al Vazquez was asked, by Eileen Spencer, to ask what this means. Al actually did ask Frank Cady if LMUD was a corporation. Cady's response was that this was a generic term and that the utility can and is called a number of names. WRONG
Eileen Spencer challenged this statement and Frank Cady offered to give her English 101 lessons. Cady said that anyone that has command of the English language knows what a "parenthetical phrase" is.
Just a note Frank..... a comma is not a parenthesis. Spencer told Frank Cady that he may have meant to say....that it was a "prepositional phrase"....... Regardless of (((( or ,,,,, the document claims that LMUD is a corporation.
LMUD is a public utility under CPUC, Division 6 and cannot be a corporation.
Cady's thought process is not all that unusual for him. He called himself a "Firm" until he was made to change his sign in 2002. The California Bar rules state that a Firm must be two or more attorneys that share in expenses and profit...Cady was a one man law office.
If you follow Cady's thinking, anyone can call themselves an attorney or a doctor or ....corporation...... WOW what a concept.
This contract, by the way, was signed before Board approval without any prior discussion... Twitchell said that the Board approved this contract at the September meeting but there is no evidence in the LMUD minutes to back that up.
The Board missed an opportunity in hiring Chuck Lusky as General Manager. He knows the power business inside and out. He is responsive to the public, he is articulate (He completes intelligent sentences). Chuck makes great presentations at the Board Meetings and unfortunately the public cannot ask him questions. His report is closed to public input, questions or comments. Chuck's presentation was the damage gunshots do to the power lines. People shoot at the power lines and don't realize the consequences to the public.
The PSREC/LMUD co-generation plant seems to be on the back-burner all of a sudden. Twitchell said that the Board can expect something in 2006. Twitchell reported that there will be environmental issues to contend with and that N.C.P.A (who will carry the loan on this project) is trying to find interested parties to sign agreements to purchase the hot-water that will be generated. Sound a lot like "ARROWROCK"?
What she didn't say is that LMUD will continue to pour money into this study..... As much as $44,000. This project or the "money" will be monitored very closely.
Twitchell stated that LMUD's power is secured through 2005. DOES THIS MEAN NO RATE INCREASES.............?????
The Power Purchase Agreement with Sempra Energy Trading Corporation was pulled from the Agenda. Let's see...no contract was offered at this meeting for the public to review. Sound like Arrowrock?
LMUD has spent another $100,000 for a new software program. This new program is an integrated program...which is good. They are still paying Avenir (Their old $100,000 system) to help make the transition. Who's idea was it to purchase Avenir....Bill Stewarts. He was familiar with this program so it was purchased..and then scrapped.
Twitchell made a mistake in signing a contract that required the Board's approval. Minor detail ? This contract is for "credit scoring". LMUD will access your credit report without your permission or knowledge. Must be a Home Land Security issue.
August 5, 2004
LMUD REVIEWS RATES ??
LMUD has placed "Rates and charges" on the August 5, 2004 meeting agenda.
The public will not be allowed to talk about Agenda D, 3. The LMUD meetings are closed to the public on LMUD business.
KWH ASKS LMUD BOARD AGAIN TO REDUCE RATES TO RATEPAYERS
THERE WAS NO RESPONSE BY THE BOARD
CPUC Code 14401:
"Before any rates and charges for commodities or service furnished by a district are fixed or changed the general manager shall file with the Board a report and recommendation thereon in writing. Within 40 days thereafter the Board shall hold a public hearing on the report and recommendation. Prior to the hearing, notice of the time and place of hearing shall be published within the district pursuant to Section 6066 of the Government Code."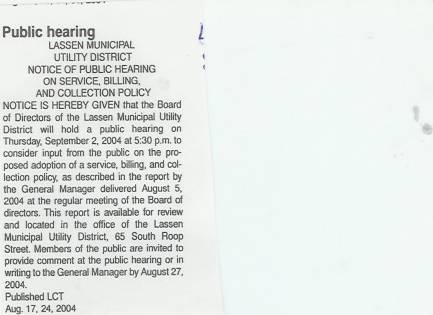 One member of the public attends LMUD July meeting.
The July LMUD meeting was attended by one member of the public. The business portion of the LMUD agenda is closed to the public. The person that attended the LMUD July meeting was physically ill when the meeting was over. The exaggerated, unconfirmed, unsubstantiated management reports by LMUD staff were too much. These reports whether they are financial or progress reports can not be challenged by the public. The LMUD Board closed the meetings to public scrutiny of their business practices.
IBEW Union representative presents three grievances during the Public Comment portion of the Agenda. This is unprecedented to air these issues at a public meeting. LMUD has not dealt with the Unions grievances.
The LMUD Board of Directors have lost touch with reality. They have no intention of addressing the ratepayers concerns of mismanagement and the abusive spending practices.
THE BOARD OF SHAME
VAZQUEZ, CARDENAS, NAGEL ARE UP FOR RE-ELECTION AND THEY HAVE DONE NOTHING TO REMOVE THE SURCHARGE.
VAZQUEZ, CARDENAS, NAGEL PARTICIPATED IN THE ARROWROCK SCAM AND THE HUNDREDS OF THOUSANDS OF DOLLARS FOR ARROWROCK LEGAL COSTS.
WHAT ARE THEY DOING WRONG THAT THEY NEED TO SPEND AND CONTINUE TO SPEND $350,000 + FOR LEGAL COSTS.
July 1, 2004
LMUD GENERAL MANAGER GETS 8% PAY INCREASE and THREE YEAR CONTRACT.
MORE PAY RAISES FOR LMUD
NO RATE RELIEF FOR RATEPAYERS
Cardenas, Nagel and Vazquez up for re-election in November. How can they justify giving more pay raises and not remove the surcharge? The three ran on lower rates to consumers....?
The 3.5 cent surcharge is still being charged. LMUD Board full of empty promises. LMUD last in the state to remove 2001 surcharge.
LMUD BOARD CALLS SPECIAL MEETING
The LMUD Board members held a meeting on June 3, 2004 and now are holding a special meeting to sign a ratification letter of Agreement with Central Valley Project.
It did not occur to LMUD management or the LMUD Board to take care of this business at the June 3, 2004 regular meeting.
As always planned poor management. The LMUD Board members receive $100 for this five minute meeting that most likely could easily have been on the June 3, 2004 agenda.
The LMUD Board increased the authority of Frank Cady and LMUD Management to the point, little goes through the Board anymore. The LMUD Board is simply an inconvenient block for Cady and Twitchell.
This LMUD Board has been the weakest board since the inception of LMUD.
The LMUD Board should call a special meeting to remove the 3.5 cent surcharge still being levied against ratepayers.
April 9, 2004 LMUD special meeting
LMUD BOARD CALLS SPECIAL MEETING FOR A TOPIC THAT WAS DISCUSSED BUT NOT ADDED TO THE MARCH 29 MEETING.
This is typical of the poor planning and poor management of the LMUD Board and Management.
The General Manager told the Board that she was short two linemen. The Board could have added this to the 3/29/04 agenda, but didn't. The Board could have added this to the 4/1/04 agenda, but didn't.
Each Board member collects $100 for their attendance at this ...........meeting on April 9, 2004.
Wayne Langston, the cattle baron, did not attend the 4/9/04 meeting.
The LMUD Board voted to hire a lineman from a temporary service for three months. An employee was out on medical leave and this temporary was to fill in until this employee came back to work.
They have no shame
April fools......they cancelled the meeting
The APRIL FOOLS are meeting
The LMUD Board met on Monday, March 29, 2004.
Now LMUD has decided to hold a meeting on Thursday, April 1, 2004.
There is absolutely NOTHING ON THE AGENDA, NOTHING.
LMUD APRIL 1- AGENDA PAGE 1 PAGE 2
LMUD BOARD Chairperson, PSREC customer Fred Nagel is holding a meeting just so all five directors can collect $100.
POOR MANAGEMENT,POOR MANAGEMENT,POOR MANAGEMENT.....POOR RATEPAYERS.
MARCH 4, 2004
Langston is gone and his father-in-law takes over. It's a real shame that the LMUD Board doesn't have a LMUD ratepayer as President of the Board.
Fred Nagel (PSREC customer) was appointed at the February meeting as the new President of LMUD. Nagel did not interrupt speakers, no gavels....a quiet LMUD meeting.
The only element lacking is that the public is not allowed to comment on the LMUD Boards discussions on the BUSINESS OF THE PEOPLE.
A court action will most likely be needed to make LMUD understand that they are in violation of the intent of the Brown Act (Open Meeting Law).
LMUD does not allow any public comment during the Boards discussions on LMUD's business. This then requires ratepayers to file Public Records Request to acquire the documents to answer their questions. LMUD has created their own problems. There is no need to hide the publics business. What are they so paranoid about ?
Evelene Twitchell explained the new expenses, more computers, more security cameras, help for the Controller (the previous controller did more for less money without a staff ?) more costs for tech contracts, continued membership in very expensive organizations......BUT NO CONSIDERATION OF A RATE DECREASE.....Sacramento Municipal Utility District lowers their rates, PG&E lowers there rates, Plumas Sierra Rural Electric Cooperative gives rebates to their customers.......
LMUD General Manager claims that LMUD benefits from spending thousands of LMUD dollars in these memberships. If LMUD didn't belong to any of these organizations it would NOT MAKE A BIT OF DIFFERENCE IN ACQUIRING THE NECESSARY POWER FOR THEIR NEEDS. NOT ONE IOTA OF A DIFFERENCE. It does however require LMUD additional travel costs (vacations) for Frank Cady..... As Ms. Twitchell kept saying last night "We're just too small"..................
Two of the LMUD Board members are PSREC customers. These two Board members are going to lead the negotiating team to buy the Arrowrock Hydroelectric Facility in Boise, Idaho.
Of course, there is no Arrowrock Hydroelectric Facility in Boise, Idaho, but that won't stop this Board. The dam is owned and maintained by the Bureau of Reclamation, the water rights are owned by five irrigators and the FERC license to build a hydro facility is owned by the irrigators.
THERE IS NO "REAL PROPERTY" TO PURCHASE ?????????
The motivation seems to be the Public Records Act Writ filed against them in December of 2002. LMUD needs to show activity to justify approving more money for this SCAM.
FEBRUARY 5,2004
The Grand Jury visits another LMUD meeting.
Cardenas asks for the financials to be certified on March 27, 2002 but Director Fred Nagel, a PSREC customer, suggested not to do it. It was never done until this meeting. Cardenas certified the financials without any credentials to do it. LMUD has CPA....what is Bill Stewart actually doing? LINK
Frank Cady, the LMUD Board of Directors are going to continue the Arrowrock scam. Frank Cady lied to the public when he said LMUD was a "sixth" partner in Arrowrock. LMUD has no rights at all.
Frank Cady lied to the public when he stated that FERC had dismissed KWH submittals. The FERC extension is available free for the asking. KWH will make this document available.
The Boise Project Board of Controls has ten months left of their Congressional extension. There is zero (0) chance that Arrowrock will be built. The power industry, power purchasers, contractors, financiers have all said no to Arrowrock. There were some big contractors involved and they all said no.
LMUD does not have a FERC license. LMUD will not give the BPBC a power purchase agreement. LMUD can not finance this scam.
LMUD says that they paid for a Feasibility Study with public funds. We are entitled to this report as promised by Frank Cady on December 12, 2001....its time.......
KWH will sit back and watch the show. The shows finale is December 24, 2004.
Frank Cady has only ten months left to suck what ever money he can from the ratepayers.
JANUARY 7, 2004
Two Grand Jury members attend the LMUD meeting. Langston didn't hit his gavel one time.
LMUD told not to lie about giving a rate reduction.
LMUD rejects libel claim, Langston states "absolutely no merit". LMUD accused KWH member, Eileen Spencer of submitting documents to FERC when they had "absolutely no proof" that this was true. LMUD violated the Brown Act when it took action in closed session and reported "no reportable action" to the public. LMUD got caught again and tried to blame it on KWH. This is the fifth known time LMUD has been caught taking action and not reporting it.
LMUD told not to lie about giving a rate reduction.
LMUD rejects libel claim, Langston states "absolutely no merit". LMUD accused KWH member, Eileen Spencer of submitting documents to FERC when they had "absolutely no proof" that this was true. LMUD violated the Brown Act when it took action in closed session and reported "no reportable action" to the public. LMUD got caught again and tried to blame it on KWH. This is the fifth known time LMUD has been caught taking action and not reporting it.