ARCHIVES
2007 page one
New "Ag" LMUD Board Members take oath immediately following Supervisors Special Meeting on 12/27/07
Public utilities Code Section 11881: The oath of office of directors shall be taken, subscribed and filed with the secretary of the district at any time after the director has notice of his election or appointment but not later than 15 days after the commencement of his term of office. No other filing is required.
The LMUD Directors, in the past, have either called a special meeting or taken the oath at the next regular LMUD meeting. The point being, it has always been done in a public forum.
There will not be a LMUD meeting until the January 29, 2008. A new Board President will be chosen.
HAD ENOUGH OF LANGSTON AND NAGEL, THEN ATTEND THE MEETING!!!!!!!
WILL SUPERVISORS HANSON, DAHLE AND PYLE now GET THE AG ELECTRICAL RATES REDUCED? Three of the Supervisors, Dahle, Pyle and Hanson, own ranches in Lassen County.
All three voted to appoint two ranchers to the LMUD Board of Directors.
Lassen County Time, 12/18/07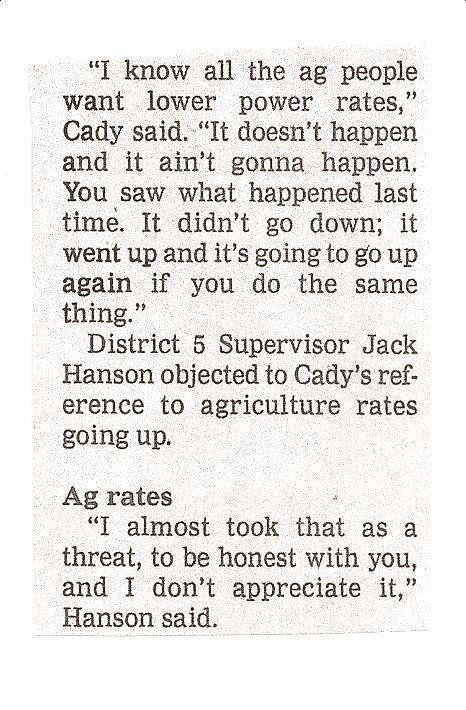 At the December 6, 2006 LMUD meeting, the Board approved, w/o a required Resolution, to adopt a new policy that allowed Frank Cady to adjust LMUD rates at will. This action resulted in three unjustified rate increases in a two year period. Cady enacted the last five cent increase on the LMUD ratepayers in December/2007. This increase will be reflected in the January LMUD bills.
Residential Rates went from $.115 to $ .135 per KWH in two years. LMUD is the eighth highest rate in California.
Agricultural rates: $ .14 per KWH
LMUD's Mission Statement to the public is a joke. Lassen Municipal Utility District, a public utility, has become a private kingdom for the Cady's, Langston's and Nagels (LMUD Board member Fred Nagels PSREC utility bill is lower than what LMUD ratepayers bills are) .
Surprise Valley................$ .069 per KWH
Redding..............$ .099 per KWH
SMUD...............$ .125 per KWH
WERE THE LMUD RESIGNATONS AND APPOINTMENTS DIRECTLY CONNECTED TO WIND GENERATION or SECRET LAND DEALS or SEXUAL HARRASSMENT ?
Public funds used for private concerns
LMUD trucks have been seen going to Darrell Woods property for months. Darrell Wood stands to make a great deal of money on the wind turbines placed on his property. When this conflict of interest was exposed, Wood needed to resign in order for the deals to go through.
LMUD employees are still at risk because they know what is going on
The Board of Supervisors never asked any questions? Why? Because they already knew the answers. The Lavacot and Dow appointments were not a surprise when Pezzullo, Turner and Parker pulled out of the race.
Politics and Profiteering, not strange bedfellows in Lassen County
Zenith and Ron Wood, idiots that they are, would have been serious contenders if they had property for the wind turbines.
Lavacot=Tule Land & Cattle, Mapes Ranch, Hansen Cattle, Wood Cattle Ranch, Five Dot Land & Cattle, wind generation interests in Lassen County and King Cady's continued reign
Make no mistake, ranchers Hanson, Pyle and Dahle knew what they were doing. These were purely self-interest appointments. Welcome to Lassen County.
According to public records, Jay Dow and Matthew Lavacot were not even on the Supervisors "short list" before Parker, Pezzullo and Turner (Turner coincidentally endorsed Jay Dow? What was he telling the Supervisors?)left the race?
four Supervisors decide today to keep cady in lmud's lair
Lavacott
bowden
dow
Supervisor Chapman does not agree
Frank Cady only needed one Director to keep his job. Dahle, Keefer, Hansen and Pyle are solely responsible for Cady's continued reign of terror and public abuse.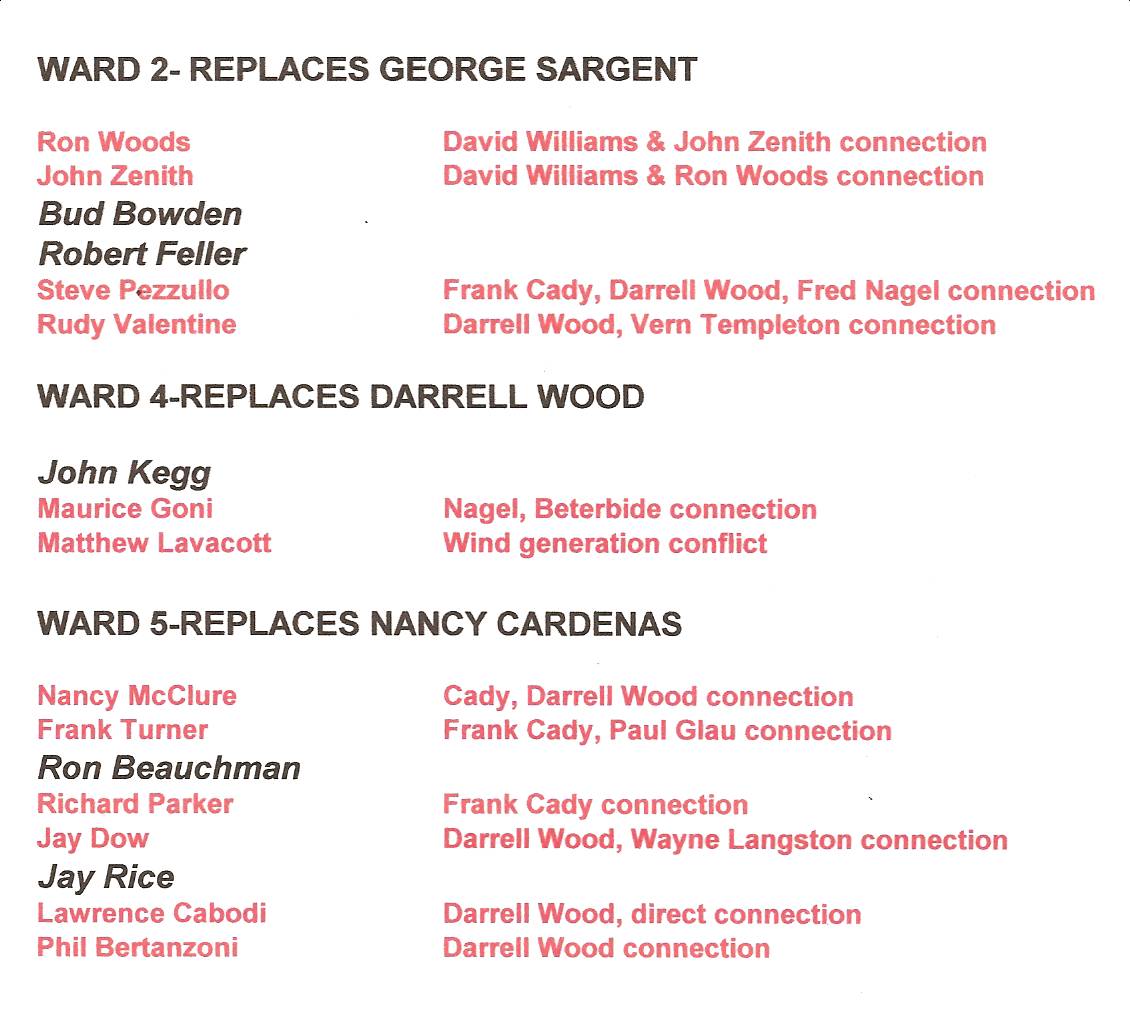 Lassen County Times not happy with Cady's treatment of their public records request
The Lassen County Times is absolutely correct. Anyone can walk into the office of a public agency and ask to see a public document without having to fill out a form.....just not at LMUD. LMUD is Cady's Secret Society. The Lassen County Times should not have to be reminded of this fact.
LMUD had a very simple form for Public Records Requests but it was seldom required. Cady created a new form and made it "mandatory" after KWH began investigating this public utility. The purpose; to delay, discourage and deny the public access. Which, by the way is illegal.
Before Cady created his mandatory PRA form, Kan We Help simply submitted a written Public Record Request for the Arrowrock Feasibility Study that the LMUD ratepayers "helped fund".
Cady denied this request so KWH filed a Writ of Mandate to get this document that was paid for by LMUD ratepayers. At the trial, Cady lied to the court and said that it was an incomplete document that LMUD did not own. FACT: The "cover" of this completed Arrowrock Feasibility study was submitted to FERC to obtain an extension. It was dated October 2001.
Judge Lazard denied KWH's request for the public documents, claiming that the requests were frivolous and the case was appealed
Cady's Judge.......Ridgely Lazard...........is no longer a Judge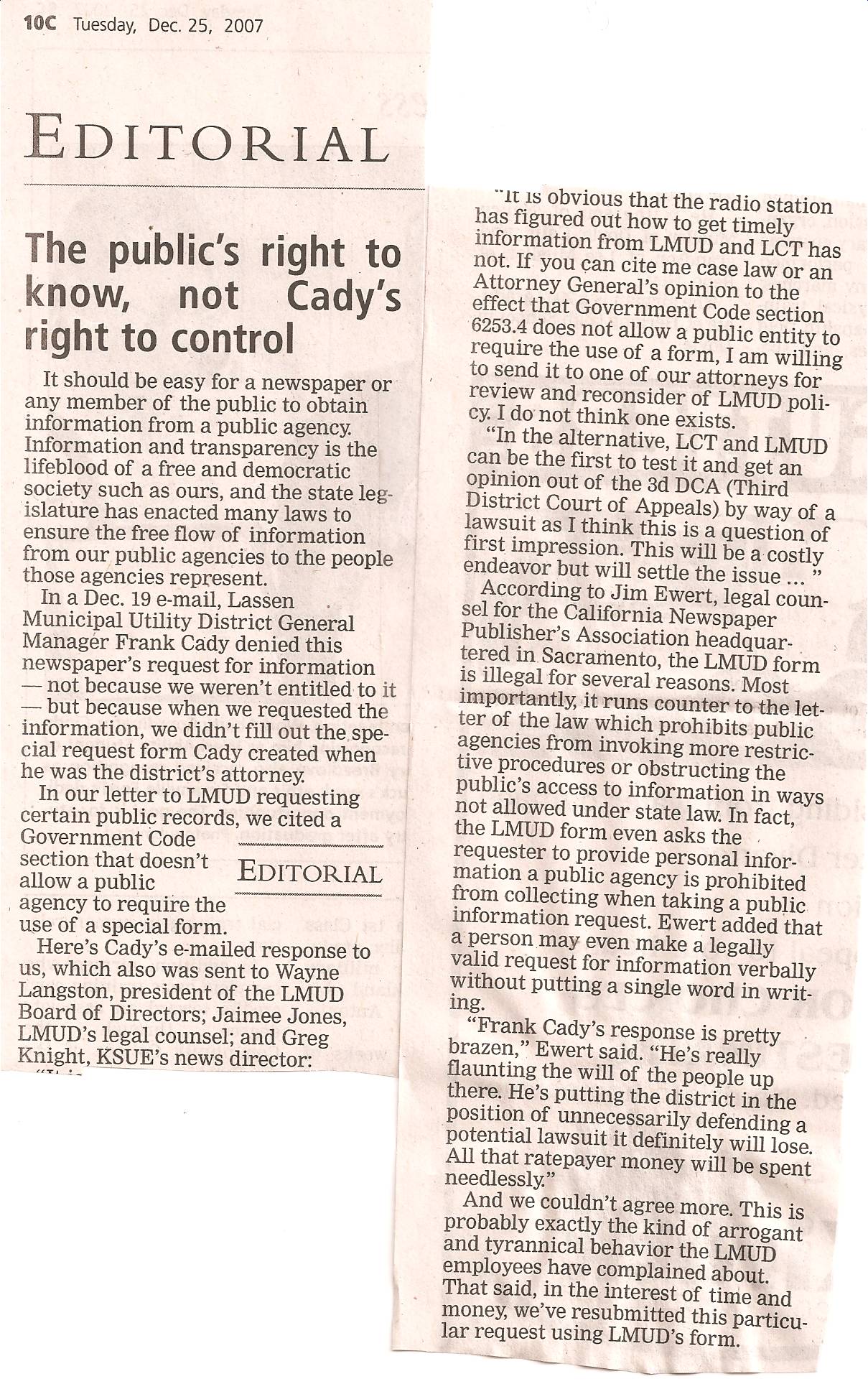 Shayla Ashmore couldn't tell the truth about Arrowrock before and she can't tell the truth NOWWhat is Cady paying her to keep this scam going?
Shame on Shayla
There is no power contract for the Arrowrock power.
Shayla, there never will be a power contract for this flim flam project. There is no Arrowrock power to purchase!
The irrigation districts are using CPUD, as they did LMUD, to renew this bogus project with FERC. This con game has been on the road since 1989.
The CPUD General Manager has either fallen victim to this scam or is being paid to perpetuate it. The poor souls, at this tiny utility, have been suckered into paying for more bogus studies. The CPUD General Manager, of this 4500 meter utility, claims that he has signed a power agreement and now is negotiating the "design" of the facility. Whoa.......the cart before the horse....just maybe?
Frank Cady made hundreds of thousands of dollars, for himself, by perpetuating this scam for five years. And what EXACTLY did the ratepayers get, Shayla? Keep up the responsible reporting, Shayla?
In 2006, Congress passed a law to encourage green power, renewable power. Ms. Ashmore stretched her statements far beyond the truth when she WROTE that this law guaranteed "Arrowrock a three year extension". It does not. Time to do some reliable research, Ms. Ashmore. Kan We Help can provide 9 boxes of evidence including federal and state agency studies that are against this project. and confirm that it has never been feasible.
. In March of 2007, the Irrigation Districts applied for an amendment with FERC that asked FERC to reinstate their license (P-4656). The license has not been renewed so it would be irresponsible and stupid for any power user to sign a "power agreement" with these snake oil people.
Poor Mr. Booth, or poor CPUD ratepayers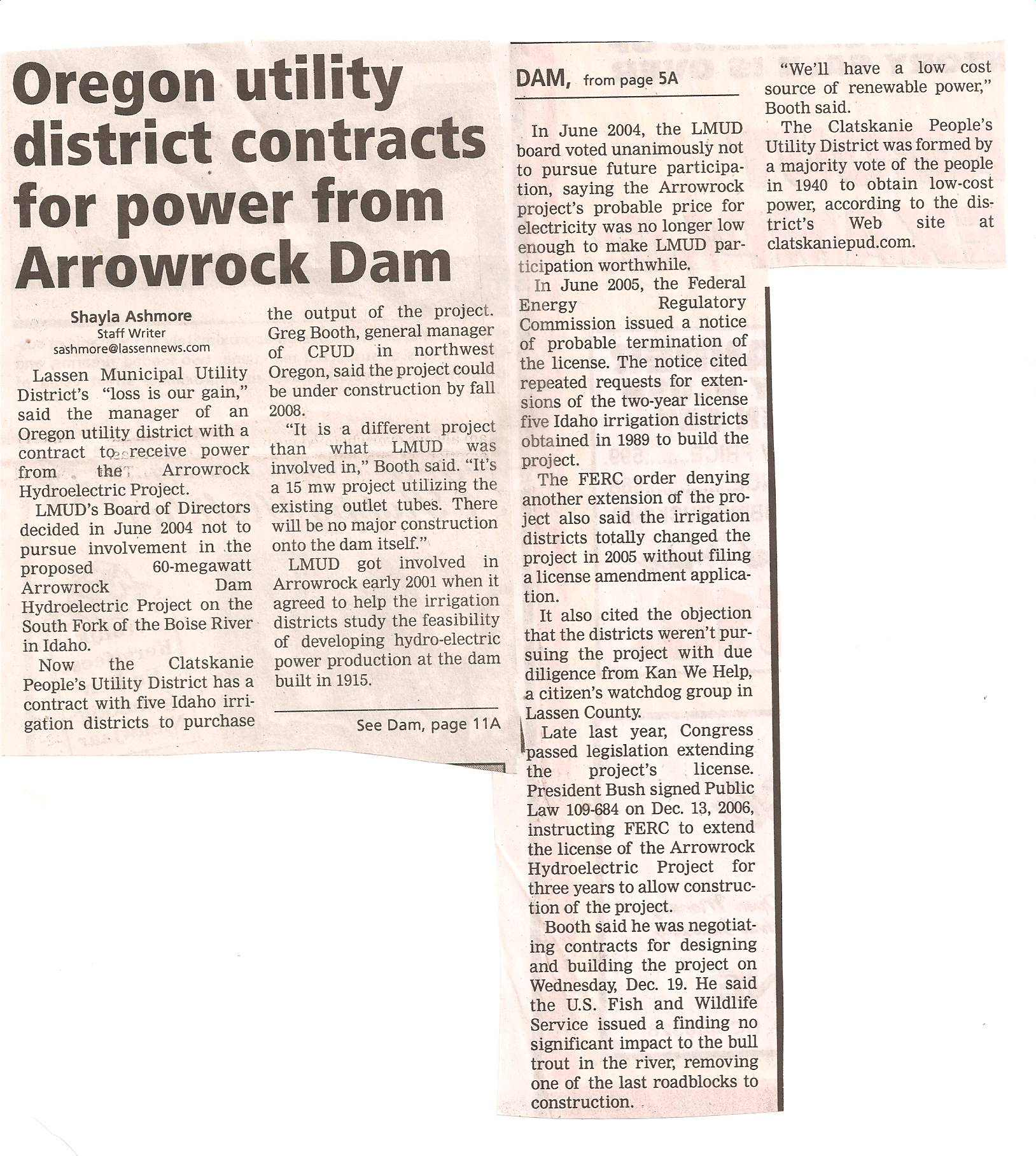 KWH FILES RESPONSE TO IRRIGATION DISTRICTS CLAIMS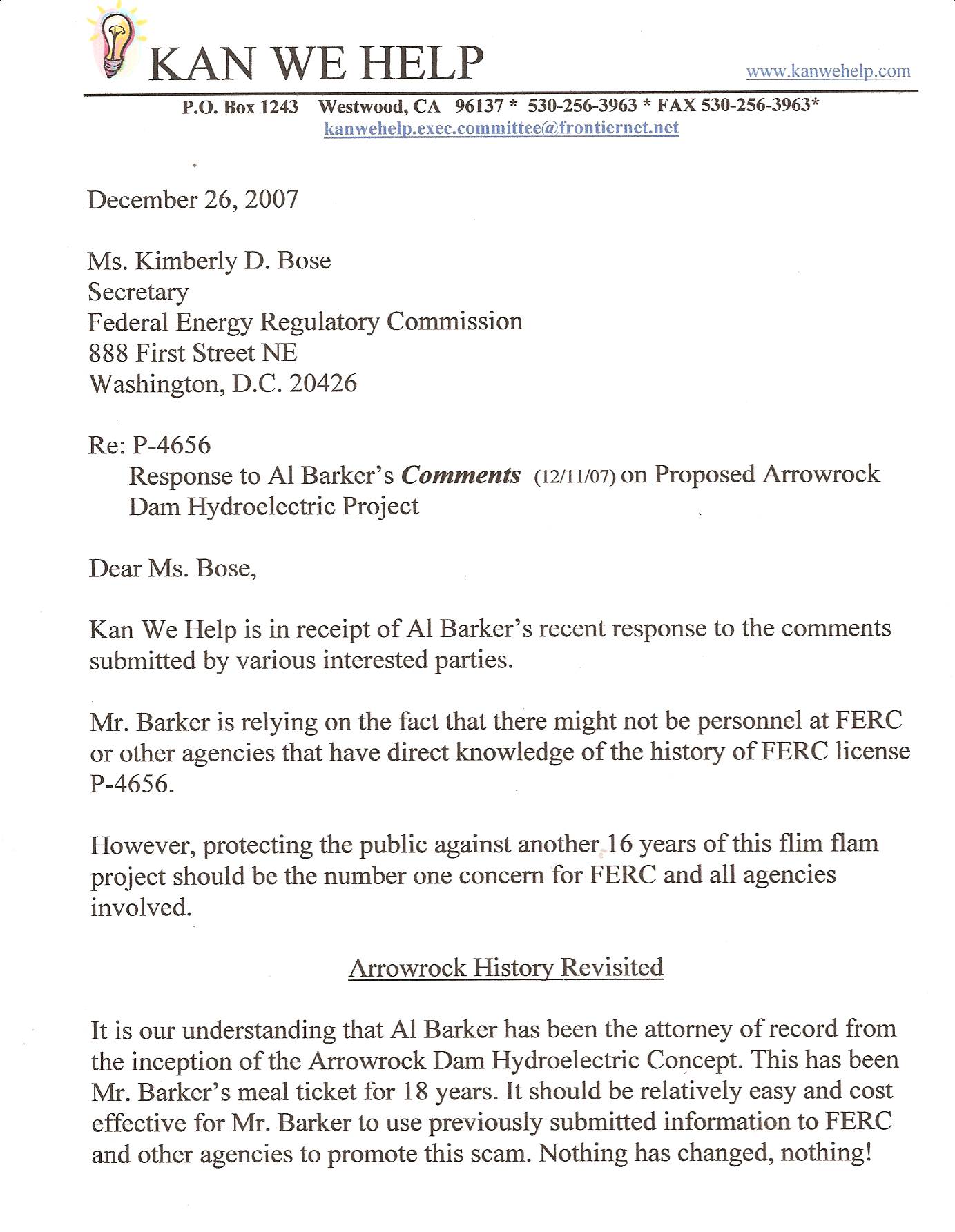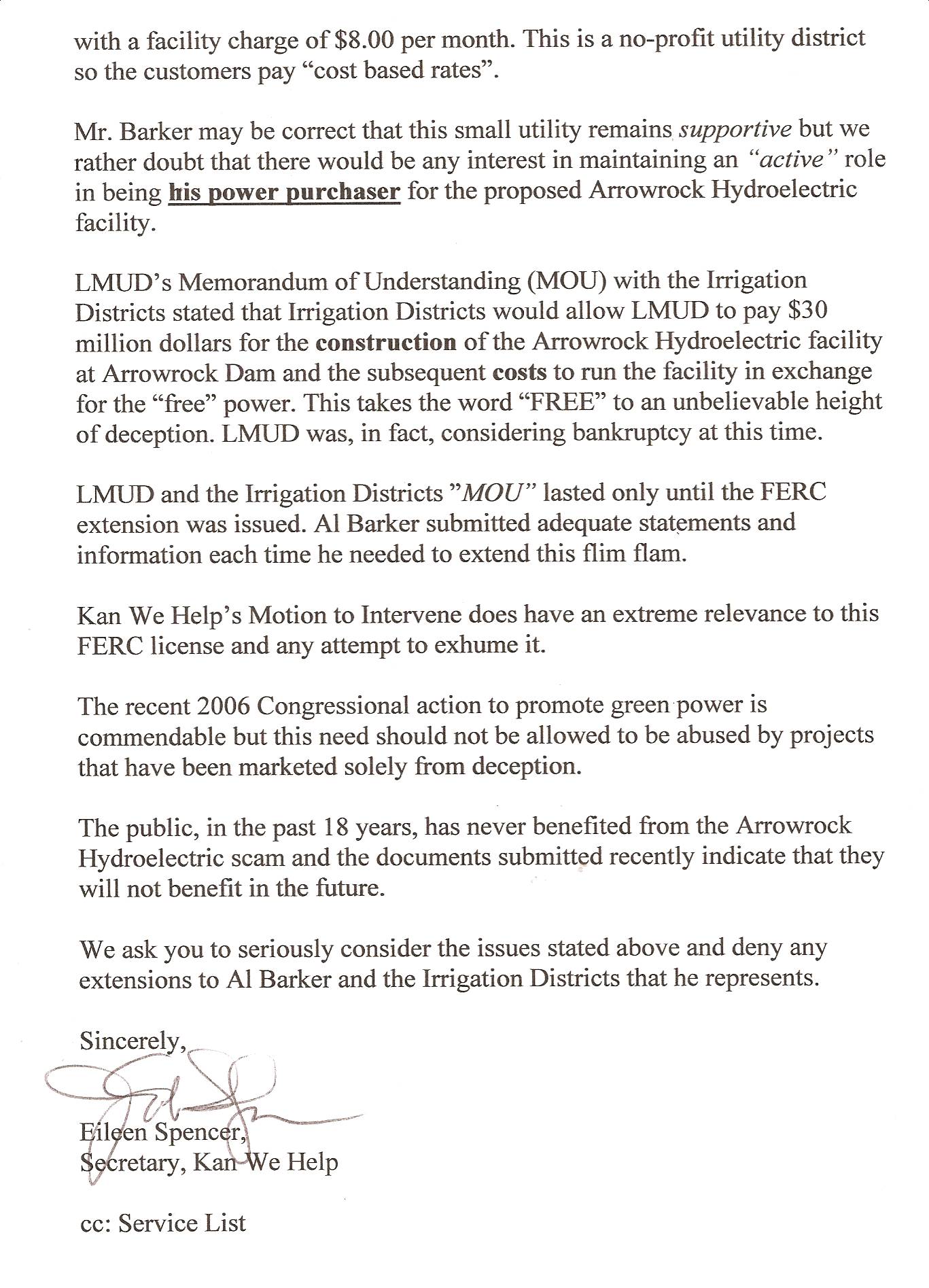 LMUD HAS REAL PROBLEMS WITH "WHERE" THE PUBLIC BENEFITS MONEY HAS GONE!!!
These balances acquired from LMUD records
Balance as of 12/31/03 $788,907
Balance as of 11/30/04 $867,313
Balance as of 11/30/05 $773,817.50
Balance as of 10/31/06 $256,588.74
Balance as of 9/30/07 $ 56,378.49
(as reported by LMUD on 11/27/07?)
The State Legislature passed AB 1890 on August 31, 1996 as an Urgency Statute . The new law required LMUD to take 2.85% of its' gross income and place it in an account for specific disbursements outlined by AB 1890.This generates approximately $427,000 annually since 1996. LMUD allows 11% of this amount to be used for administrative costs or the salary of Theresa Boucher (her starting annual salary was $45,025 + benefits). Theresa Boucher, the Boards Secretary's daughter, is now called Energy Services/Compliance Specialist. Her original title was Public Benefits Coordinator.
Up until Frank Cady was hired as General Manager in July of 2005, the Public Benefits Fund was in excess of half a million dollars. It appears, according to Public Records that there is not enough money to pay the Public Benefits Coordinators salary let alone disburse any legitimate funds to the public. Public disbursements were limited to 25% of the cost of any energy saving project submitted to LMUD
Legal uses for this money are: promoting energy efficient services and conservation, investment in renewable energy resources consistent with existing statutes, research, development of programs of public interest and low income assistance.
Frank Cady intentionally hides $.05 rate increase in 11/27/07 Agenda
This iIlegal agenda approved by Langston and Jaimee Richey-Jones
The new LMUD Board can reverse this recent unwarranted rate hike (effective December 2007)
This action by the Board required a Resolution (which was never done) and has been abused by Frank Cady for two and a half years. He raised rates from $ .11 per KWH to $.135 in the 2 1/2 year period. None of these increases could be justified. Electric rates had been stabilized and are going down and the LMUD expenses are out of control.
The new Board must first fire Cady and then repair the damage that he has done.
Frank Cady gets away with this because he is accountable to no one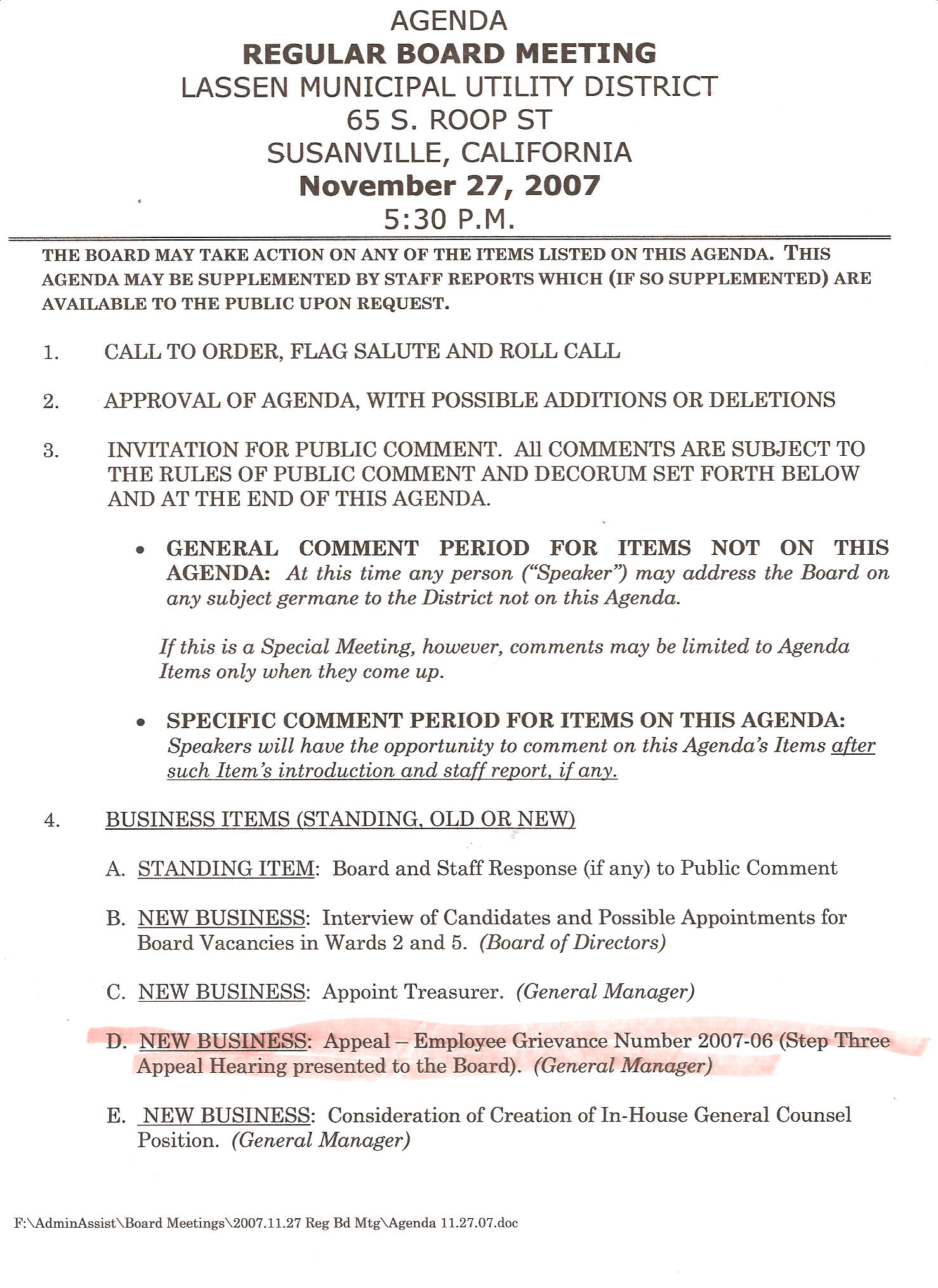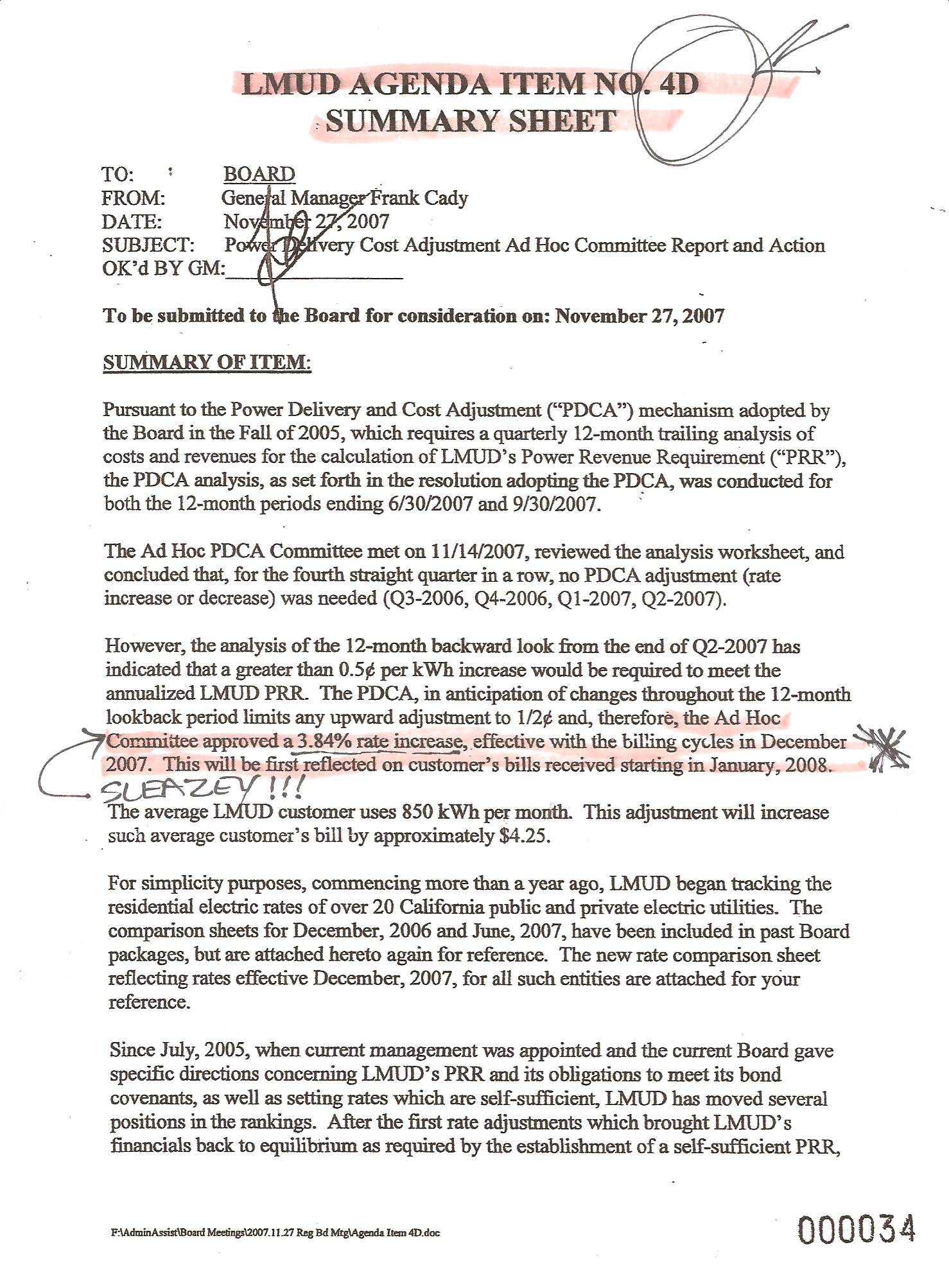 Lassen County Board of Supervisors must choose wisely on December 27, 2007
"One" wrong appointment and Cady stays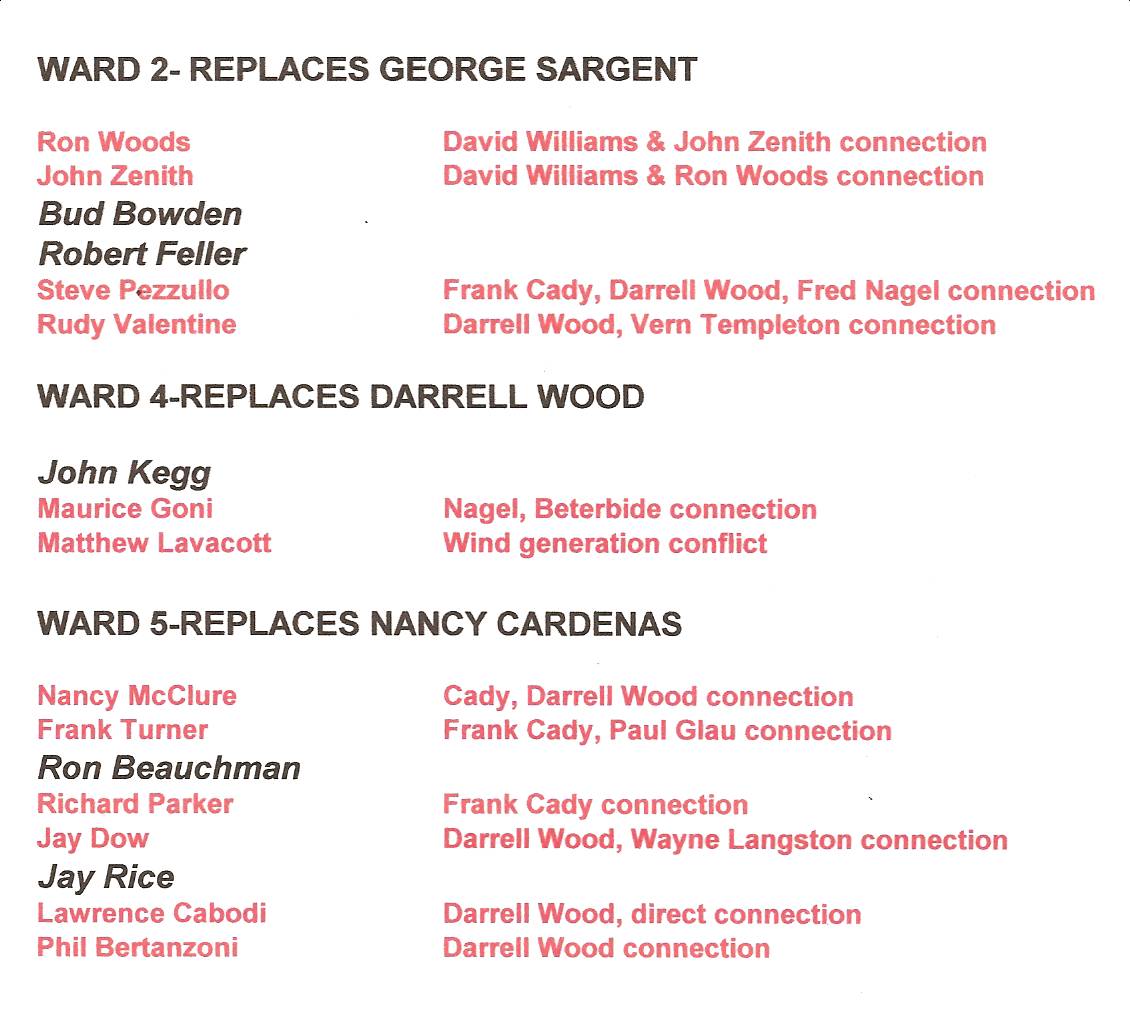 most lmud APPLICATIONS JUST CADY'S DRINKING BUDDIES and sundry other relationships
Ward 5 Frank turner
ward 5 richard parker
ward 2 steve pezzullo
Ward 4- big unknown?
Frank Cady's empire will continue and nothing will change
All Cady, Nagel and Langston need is ON E VOTE to maintain business as usual at this public utility
Will the Board of Supervisors do their homework?
Lassen County CAO Ketelsen scheduled to resign 12/30/07
The Lassen County Board of Supervisors received 7 applications for interest in the CAO position. Three of the seven met the qualifications. The Board is considering expanding its' search for qualified applicants.
A job opportunity for Frank Cady?
Frank Cady just a pathological liar
Frank Cady made two public statements about Arrowrock Dam that he knew to be a lie.
1. The Hydroelectric plant at Arrowrock is almost complete (12/12/07 @ BOS meeting)
To verify that this is not true, you can call Coleman Smith, Arrowrock Dam Manager w/Bureau of Reclamation at 208-383-2248
2. That an Oregon city has contracted to construct the Hydroelectric plant (12/18/07, LCT).
FACT: In public documents, the irrigation districts claim that they are in negotiations with an Idaho power company. No contracts have ever been signed to construct this bogus project. ever. FERC has not even approved the renewal of this license..
KAN WE HELP HAS FILED A MOTION TO INTERVENE WITH FERC AGAIN TO STOP THIS SCAM SO OTHER SMALL UTILITIES WILL NOT FALL VICTIM
the flimflam ARROWROCK PROJECT
On October 19, 2007, Kan We Help filed a "Motion to Intervene"(TO SEE DOCUMENT, CLICK ON PAGES BELOW) on the exhumed Arrowrock Hydroelectric Project in Boise, Idaho.
It is not known, at this time, if Cady and the LMUD Board are secretly making deals with the Boise irrigators attorney (Al Barker) again. They have done it before.
Kan We Help files intervention to stop scam


Questions Supervisors should be asking LMUD candidates:
1. Are you a LMUD customer where you are registered to vote?
2. Do you know or are you related to anyone affiliated with LMUD?
3. Do you or have you done business with LMUD in the last ten years?
4. Do you hold or have you held an elected office in Lassen County?
5. Have you ever attended a LMUD meeting? When?
Candidates should be required to bring their LMUD utility bills to the interviews....something that Fred Nagel cannot do .
LMUD will be in good shape with Cady gone
Frank Cady has built a small empire, at this public utility, that must be dismantled. Cady rules by threats and intimidation.
Frank Cady instantly puts fear in any new board member...it's his way or the highway. He has used "Cady Law" (fake law that Cady invents) to impress and control a new board member.
This small public utility will have a chance, once Frank Cady is gone, to be free of controversy, harassment and turmoil. There is nothing wrong with putting three "virgin" board members, at LMUD, if Cady isn't there.
When LMUD was represented by the law firm of Kellison and Cady (Craig Kellison is now a U.S. Magistrate) and LMUD was paying them a $1000 a month retainer, for handling an occasional legal question or issue,....life was simple and honest at this public utility. LMUD went sour when Kellison left the firm. Cady instantly escalated the legal fees until they exceeded $30,000 a month. Cady created legal problems for this tiny utility for profit.
The new LMUD board members do not need to be seasoned public officials.
Lassen Municipal Utility District is one of the smallest utilities in California and doesn't need to spend money like it was a 250,000 meter utility. Frank Cady has spent money like a drunken sailor to feed his own ego and provide vacations and benefits ($$$$$$) for his friends. That's just simply wrong.
Cady has dozens of law firms on retainer (?), he's put friends on the payola, hidden board expenses in his legal invoices, created bogus projects and used his law firm to continue the scams, moved money around to buy land from a friend of a board member, manipulated the alleged wind generation project for the benefit of a board member, works at other private enterprises while on LMUD's payroll and draws a salary of $168,000 a year (twice that for his law partner).
This is just the tip of the iceberg and it all goes away when Cady leaves.
Under close scrutiny, Ray Luhring can manage while the Board looks for a REAL MANAGER.
Franks laughing at us all the way to the bank.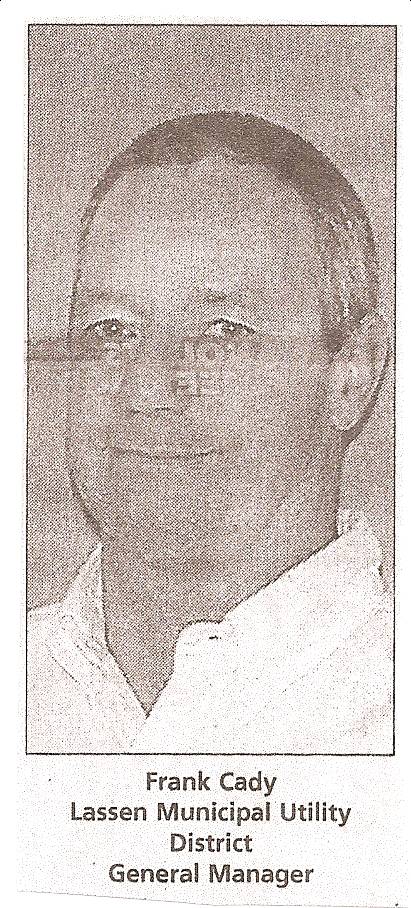 When the public thought the LMUD Board, Nagel, Langston, Cardenas, Sargent and Wood were disciplining Cady for his bad behavior, they were only rewarding him and gave him two huge raises which amounted to $38,624 in a one year period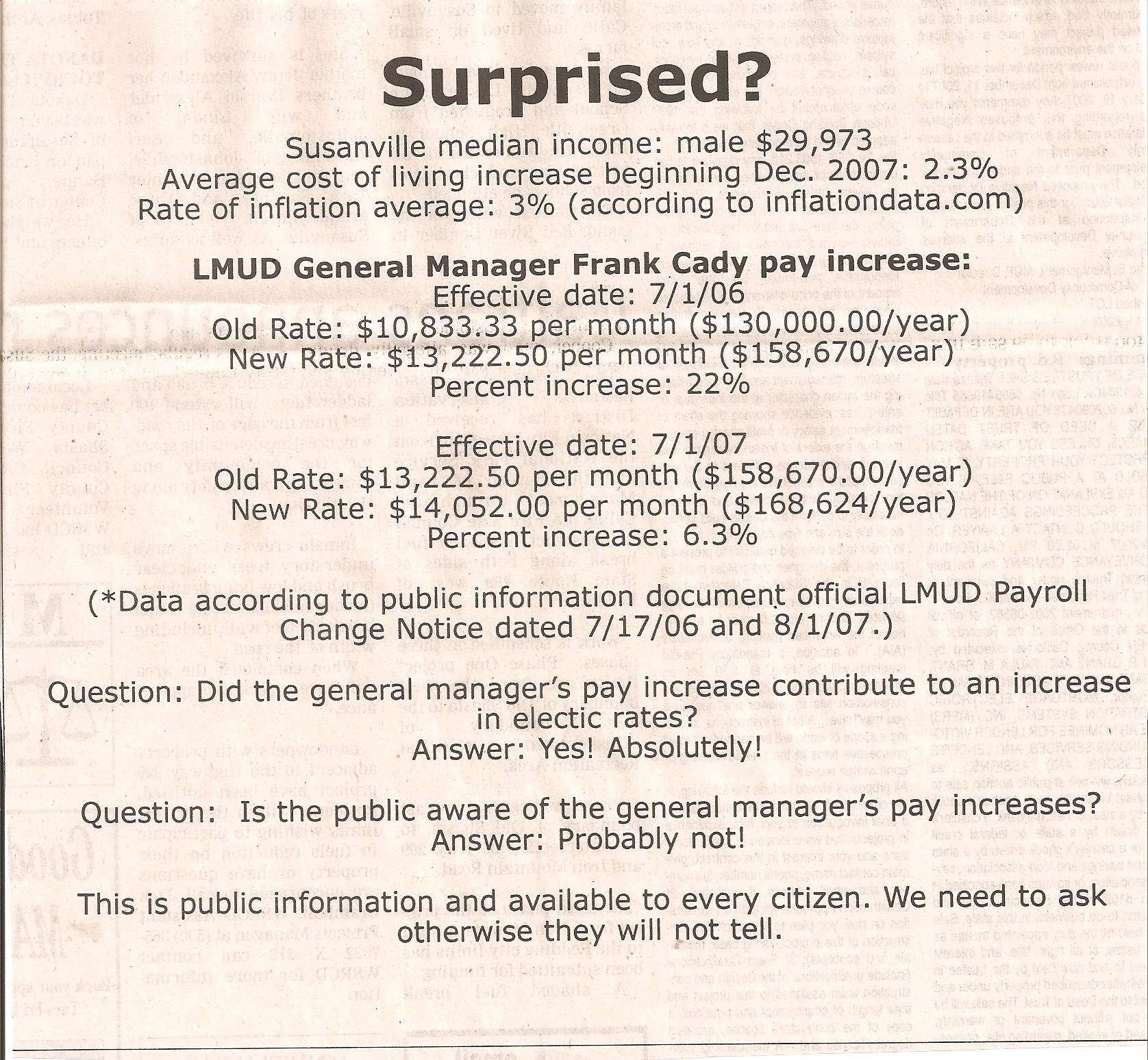 SO MUCH IS WRONG WITH LMUD AND THE RATEPAYERS ARE PAYING THE BILL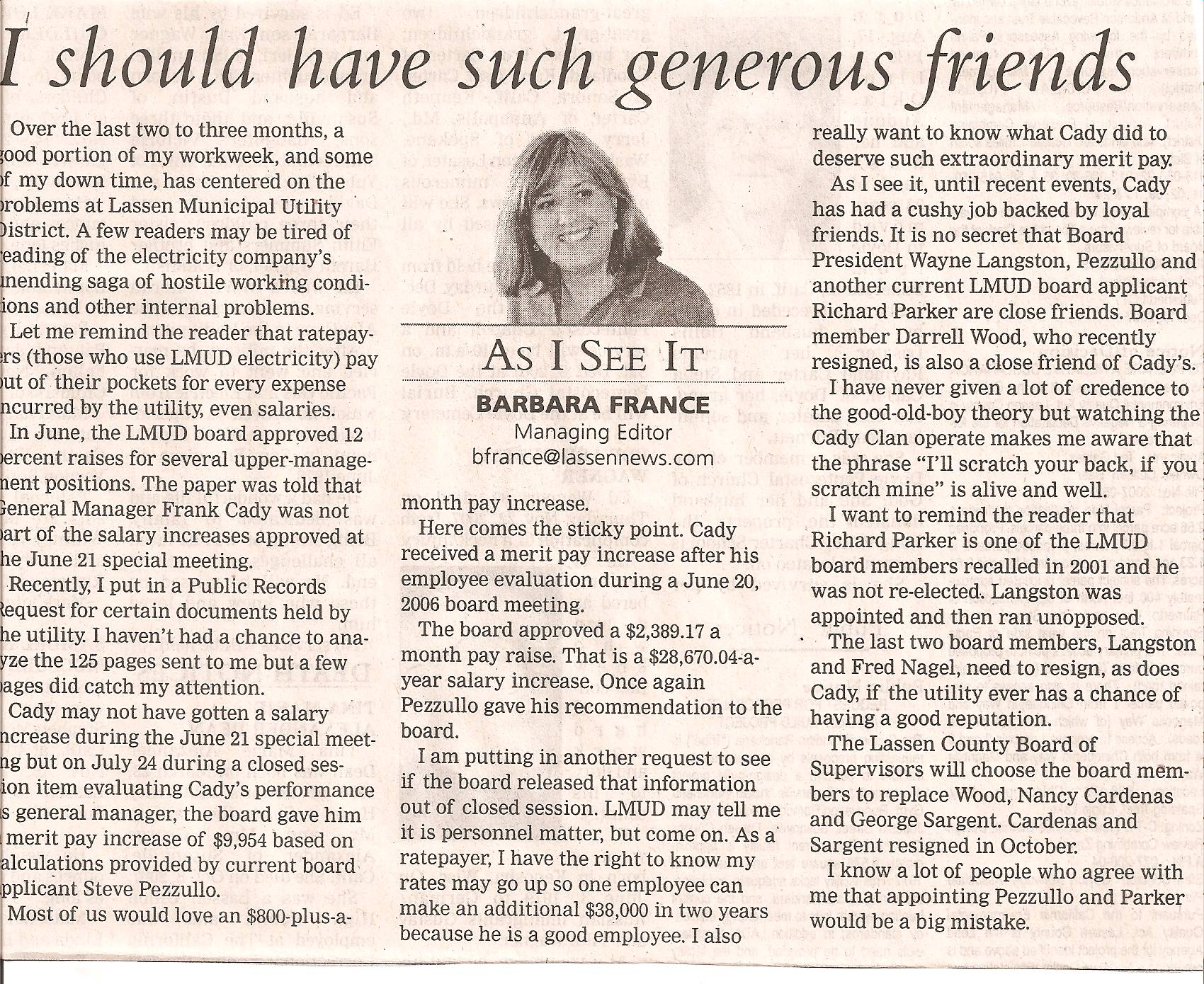 Lassen County Board of Supervisors vote unanimously to appoint three LMUD Directors
The Lassen County Board of Supervisors voted 5-0 to appoint three LMUD Directors to replace Nancy Cardenas, George Sargent and Darrell Wood who recently resigned their positions due to pressure from LMUD employees and the public.
The Supervisors will accept letters from LMUD ratepayers that are registered to vote and live within the three Wards vacated by Cardenas, Sargent and Wood. The Supervisors will accept, in letter form, applications from anyone that wants to be considered to sit on the LMUD board until the 2008 November election is held. All letters of interest must be submitted by 5:00 PM (County Clerk's office ) on or before December 21, 2007. The Supervisors will then interview, in public session, all applicants on December 27, 2007 (6:00 PM) at the County fairgrounds (Jensen Hall is the first building as you enter the fairgrounds).
Public given one day notice on LMUD issue on BOS Agenda today
Fred Nagel or Wayne Langston did not show up for this meeting?
Regardless, the board room was filled to capacity with overflow in the halls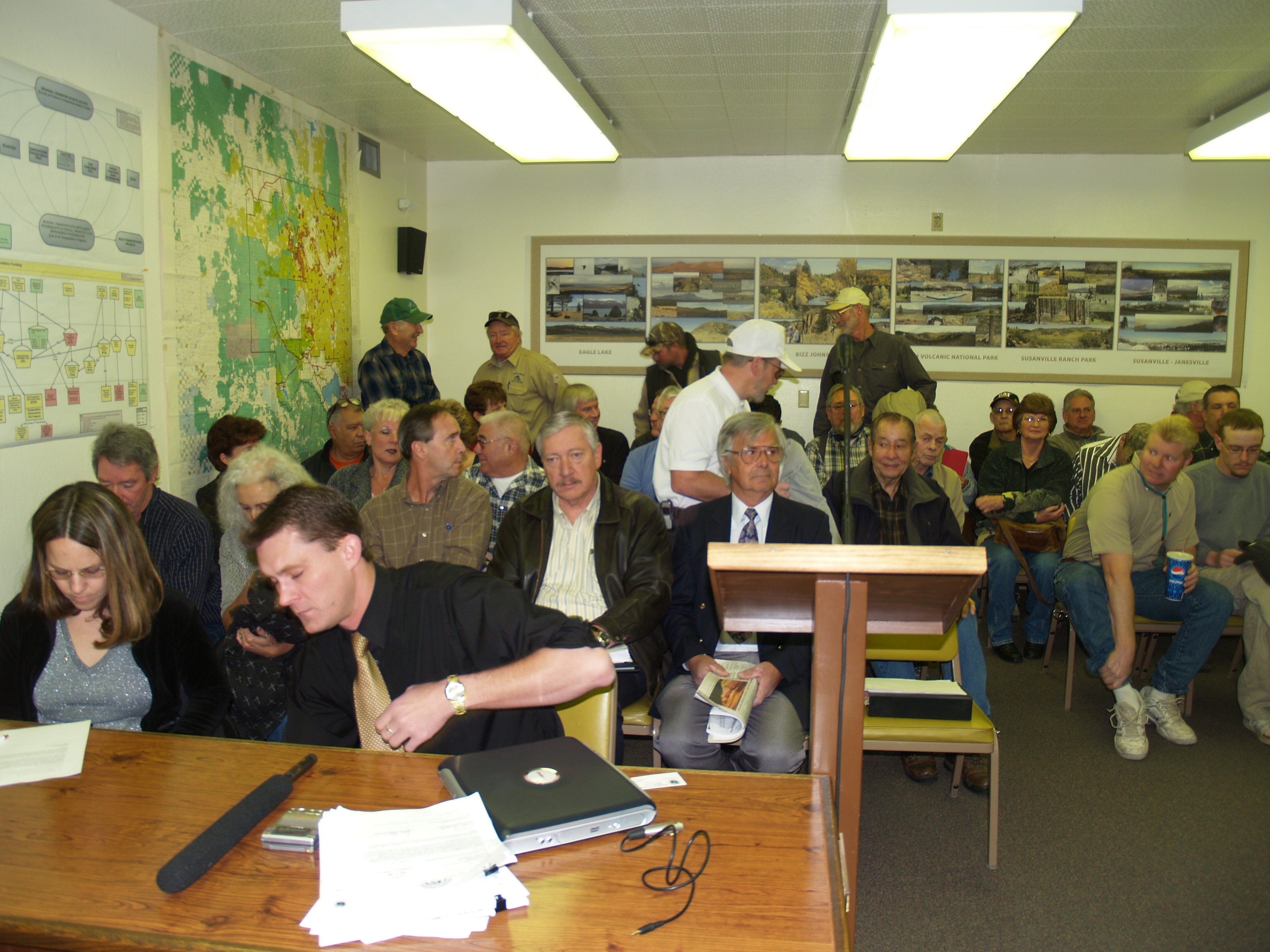 FRANK CADY GIVES BOS THE HISTORY OF MUD'S?
Cady was slightly off point of the agenda item. President Dahle quickly ends Cady's diatribe.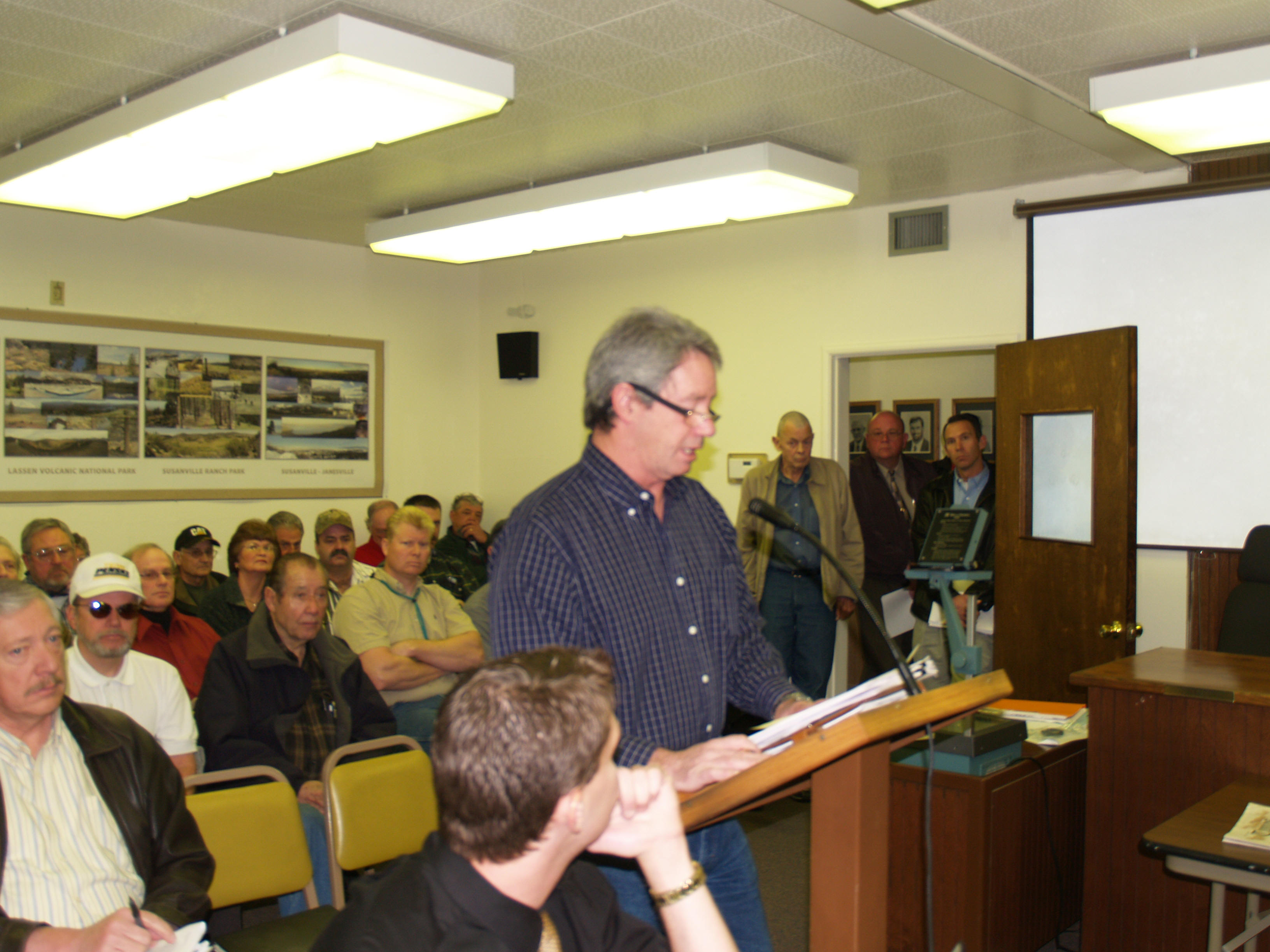 Frank Cady actually told the Board of Supervisors that he was glad to report that Arrowrock is finally being built. THAT WAS IN FACT A BOLD FACE LIE. Why does Cady do this to himself? Is he just out of touch with reality or he just thinks that anything he makes up or comes out of his mouth people believe.
Cady also told the Board of Supervisors that he missed a "deal" to buy transformers for LMUD and he had to let it go because there was no LMUD Board. Oh contrar, Mr. Cady. You wrote Resolution 2005-13 that allows you to purchase and enter into contracts and agreements without Board approval. You also wrote a Resolution that allowed you and you alone to raise electric rates. Cady was busy writing Resolutions in his first year that would put him in the position of King of LMUD. All of this abdication of authority approved by Langston, Nagel, Cardenas, Sargent and Woods.
Frank Cady has reduced himself to just a pathetic jerk that was given to much authority. LMUD GAVE HIM THE PLATFORM TO BE THE BULLY THAT HE ALWAYS WANTED TO BE. Hey.....he's very good at it, give him that. Also add that he continues to profit financially in his unchecked position as LMUD General Manager.
Supervisor Hansen takes issue with Cady threatening to raise Ag electric rates
Cady asks the Supervisors to just appoint one LMUD directorCady states that they will appoint the other two.
9:30 AM, Board of Supervisors meeting at 707 Nevada Street, Susanville, CA
The LMUD ratepayers deserve to choose a whole new board. This LMUD Board has proven to be the worst in history. Nancy Cardenas, George Sargent, Fred Nagel, Wayne Langston and the Bad Boy Wood sat silent for five years and allowed Frank Cady to abuse the employees with constant sexual harassment and verbal abuse, and we won't even go into the misuse of public funds.
LMUD can survive until a Special Election.
Cady submitted resolutions for the past two years, (and the LMUD Board approved them) allowing him to run LMUD without Board interference or approval of his actions.
The District Attorney's investigation and the lawsuits against Cady should (?) keep Cady on the straight and narrow until a new board can take office.
A special election, as soon as possible, IS THE SOLUTION
There is no mention at all about Frank Cady's resignation
Does Frank Cady think the Board of Supervisors are idiots?
Cady thinks that he is in the cat-birds seat. He uses "Cady Law"(law that Cady makes up but doesn't actually exist) to try and bluff his way past County Counsel. Not going to happen
Will the District Attorney's claim to investigate Cady just turn out to be a GESTURE OF INSINCERITY?
Kan We Help has submitted 11 complaints to the Grand Jury and only one complaint reached the Grand Jury. KWH has a binder of letters of concerns and complaints filed with Bob Burns that were completely ignored.
KWH has filed complaints about the misuse of public funds for the Arrowrock scam, the misuse of public funds with the LMUD retirement and health benefit fund, the continuing Brown Act violations, public funds used for private purposes, the Land Scam with the Beterbide property, inappropriate travel and expenses by Board members and Frank Cady, the PSREC transfer of LMUD customers w/o full payment from PSREC, gross conflicts of interest, just to name a few. All ignored and buried by Judge Bradbury (former business partner of Frank Cady) and Bob Burns.
It is of great concern that the District Attorney has given Cady, Langston and Nagel time to shred public records.
This is not a civil inquiry. It is more than an irregular policy, for the Lassen County District Attorney, to submit public records requests for a criminal investigation.
Stephen Bradbury will be on the 2008 ballot
Bob Burns will be on the 2010 ballot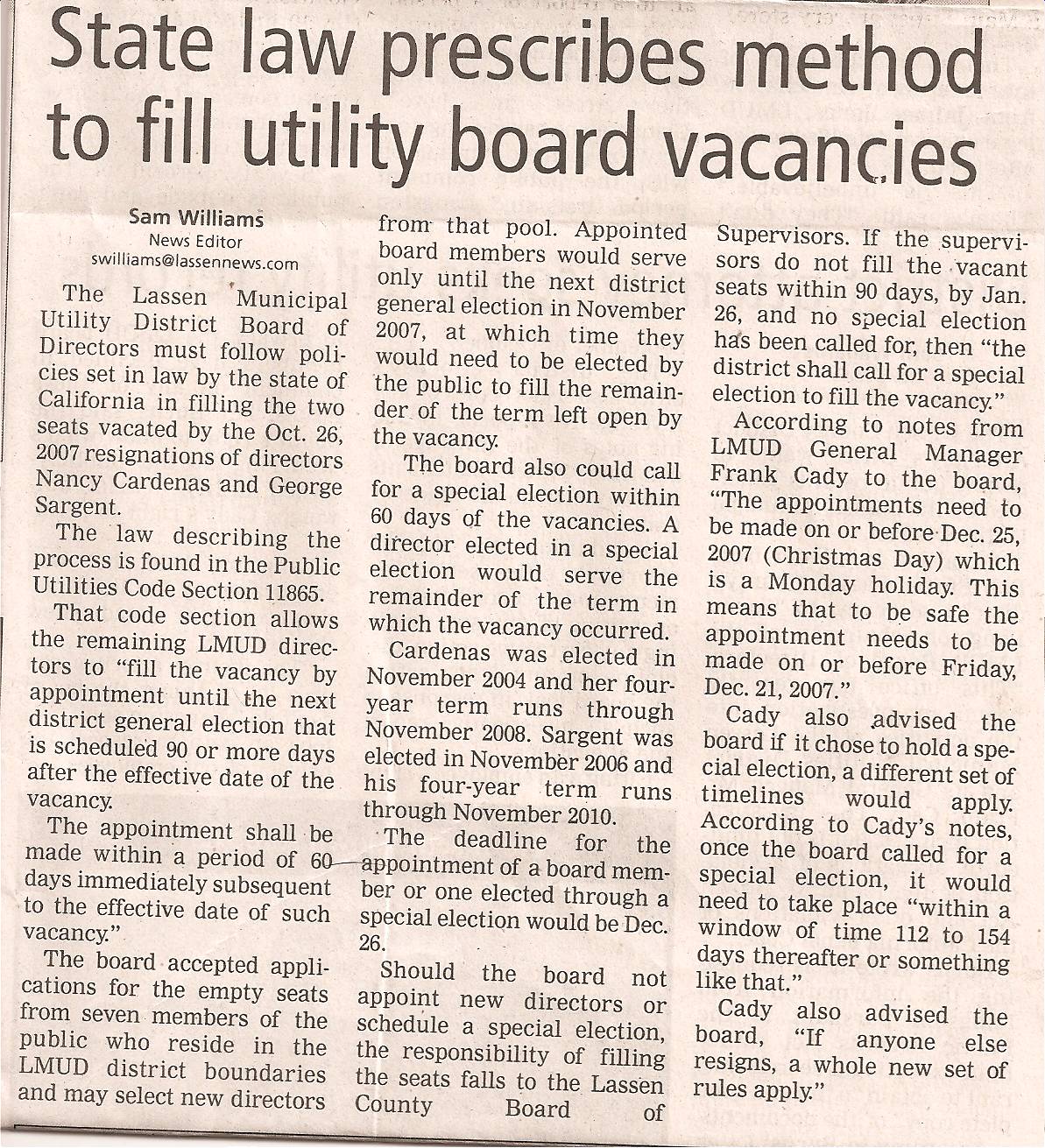 LMUD EMPLOYEES HAVE HAD ENOUGH
Sexual harassment must end at LMUD. It should have ended with Twitchell, but Cady just paid her $100,000 to leave and keep quiet.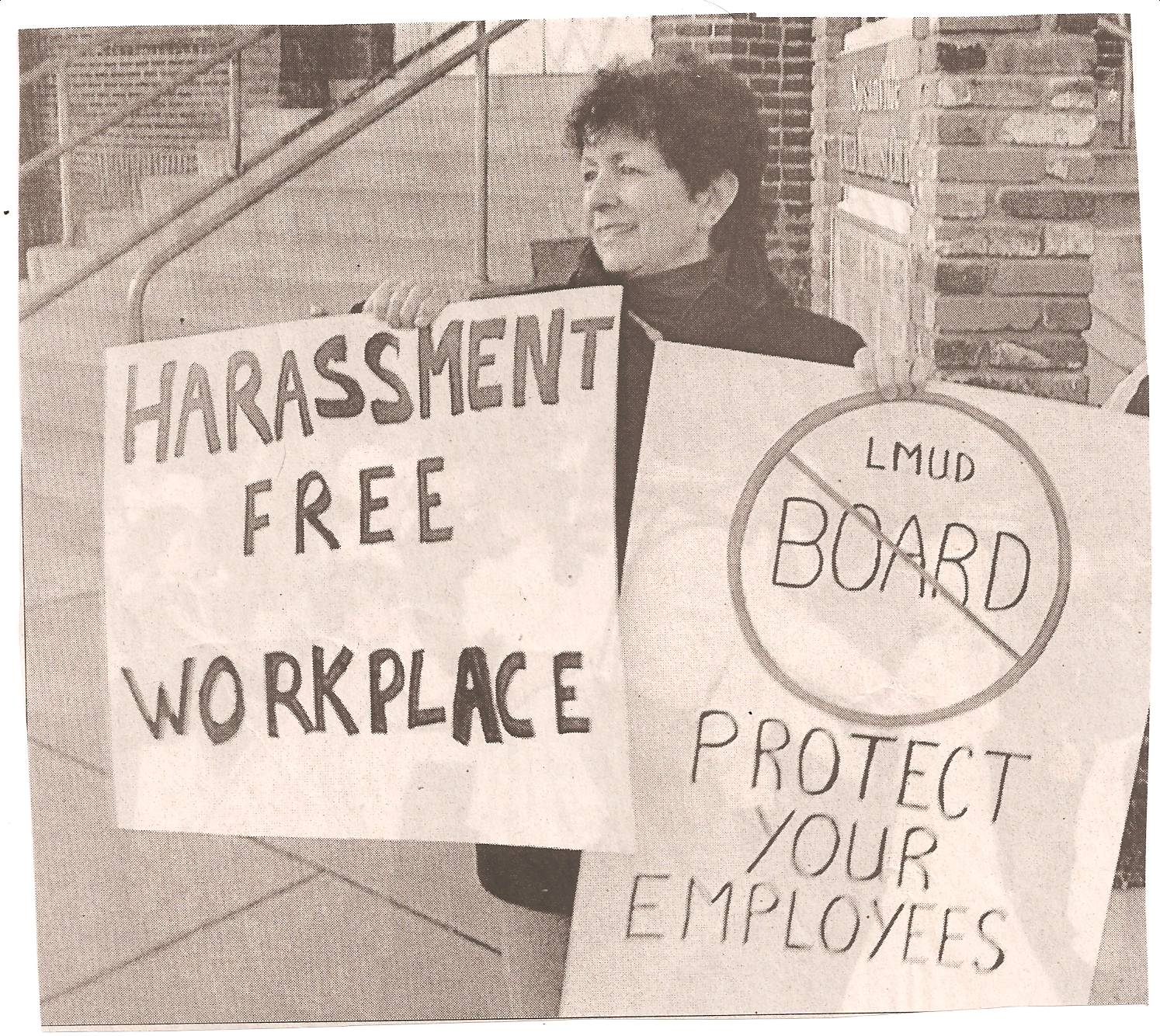 Lassen County District Attorney opens investigation into LMUD business
Kan We Help, a consumer advocacy group, has been filing complaints about Brown Act violations and irregularities in LMUD's spending for years. The District Attorney needs to investigate the phony projects Cady and the Board have engaged in and find out whose pockets the millions of dollars went into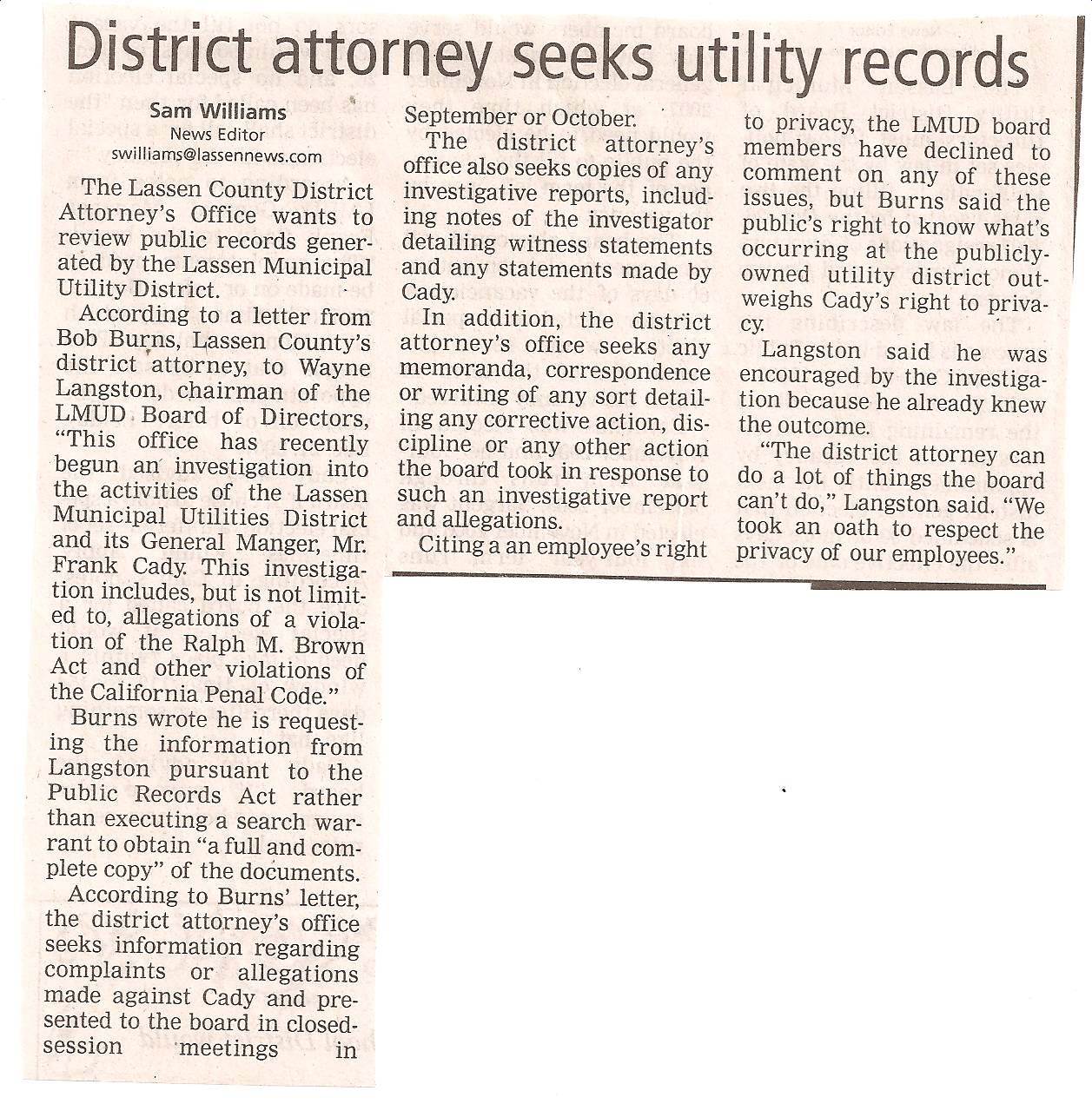 third lmud director,Darrell Wood, resigns
Is this a Cady strategy to have no oversight of his actions?
The LMUD utility district has finally hit rock bottom. With only two board members left the issue now goes to the Lassen County Board of Supervisors
The District Attorney is now looking into LMUD's business. Something he should have done seven years ago. It won't be pretty and there could be indictments for all five LMUD board members and management.
Frank Cady removes LMUD Directors photo's from the LMUD website
LMUD DIRECTOR FRED NAGEL IS REGISTERED TO VOTE AND LIVES IN THE PLUMAS SIERRA RURAL ELECTRIC DISTRICT
not LMUD
Nagel has never "resided within LMUD boundaries"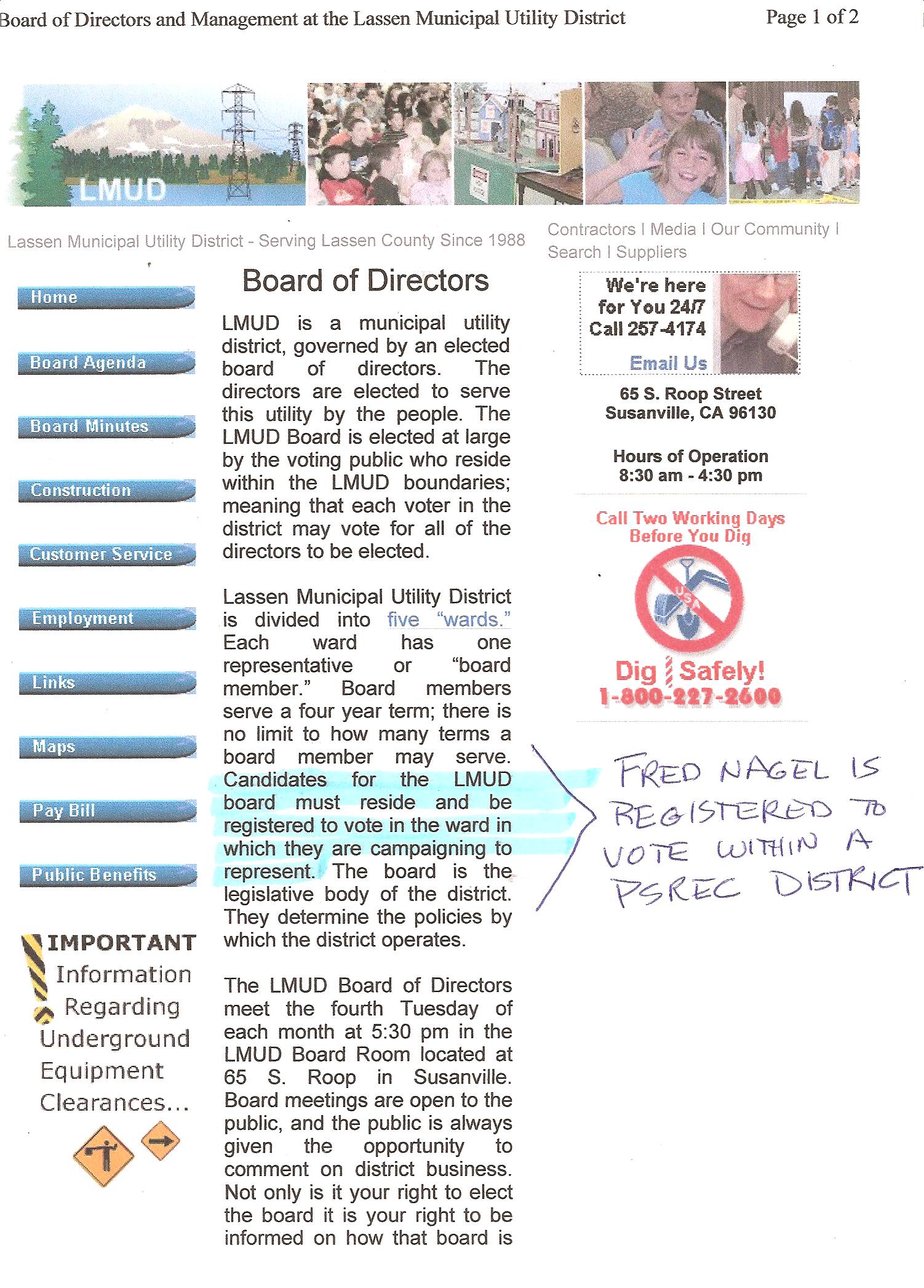 WHICH LMUD DIRECTOR (?) REFUSED TO ATTEND THE RESCHEDULED MEETING
Take your pick, Fred Nagel or Darrell Wood or the illustrious President Wayne Langston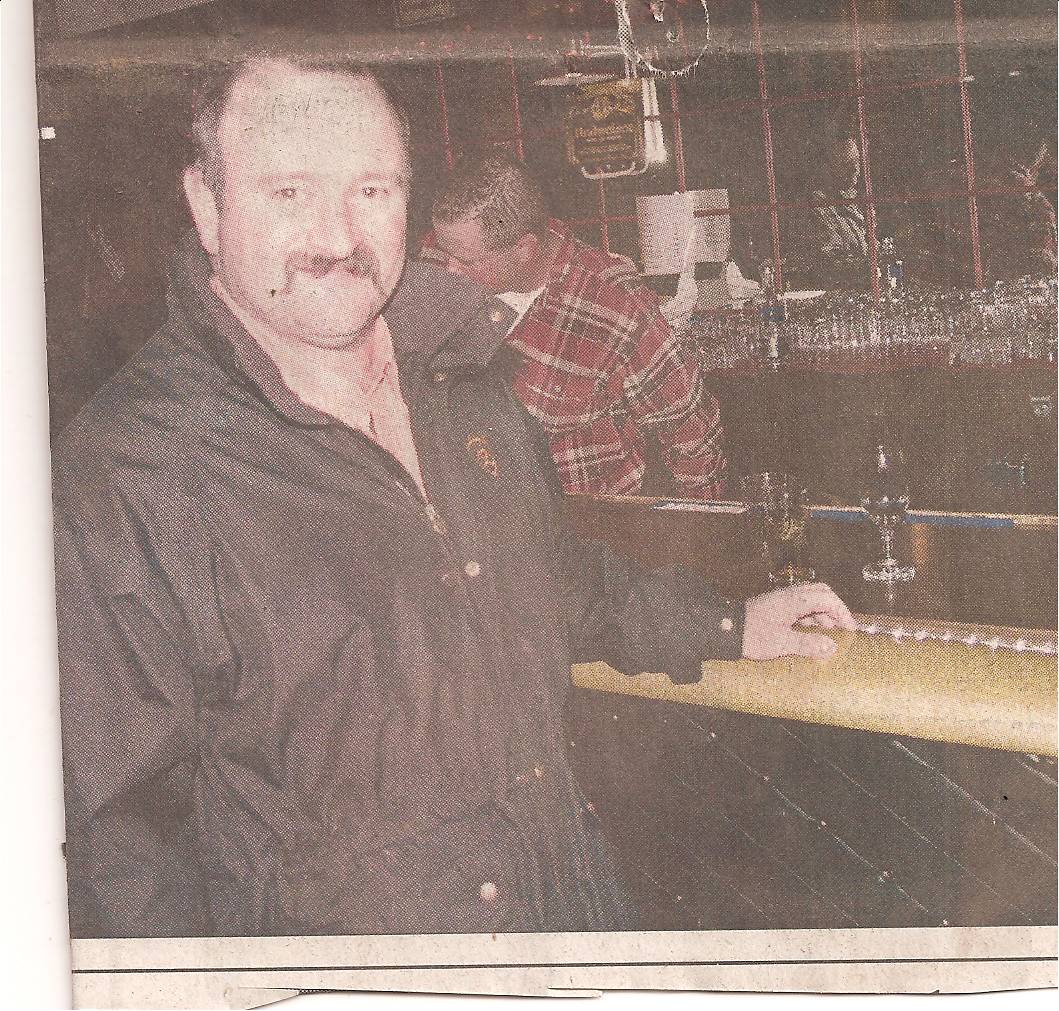 WHO ADVISED THEM THAT ONE SHOULD NOT SHOW UP SO THEY CAN'T HAVE A MEETING ?
cLEVER.......BUT NOT VERY SMART
Hey fellas, if you are so scared to face the public---------one of you can be there by phone.
These heroes have called, in the past, a meeting on Sunday and not informed Sargent and Cardenas
These LMUD heroes have tried, in the past, to hold a meeting with only Woods and Langston present.
These same LMUD heroes have refused to allow the public to speak and have violated the Brown Act repeatedly for years.
These same LMUD heroes send e-mails to each other and refuse to disclose the copies.
And oh so much more..............................
ALL OF THE ABOVE ON ADVICE FROM COUNSEL.
NEAR RIOT AT LMUD MEETING
Los Tres Diablos (LMUD Board members)were overwhelmed with public outrage at their meeting Tuesday night.
The public demanded another meeting
LMUD must post a 24 hour notice to hold the next meeting
Cady wants to bring his incompetent law partner

into LMUD as
"IN-HOUSE" counsel

The previous LMUD Boards could never even justify Cady being "In House Counsel", but Cady has personally eliminated this public board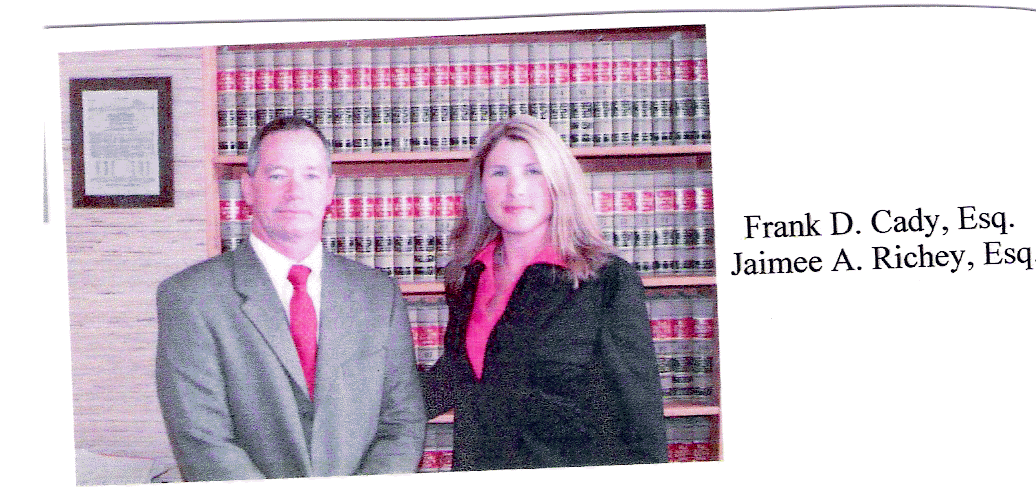 Pigs at the Trough
The last thing that this tiny public utility needs is an "In-house" counsel. Jaimee Richey Jones has no talent for practicing law and has shown time after time her inadequate skills. She has no private practice so why not bring another incompetent lawyer on board at $120,000 a year plus $40,000 in benefits.
Cady recently had LMUD pay for his private law books to be rebound.
This utility had better find a way to get the sexual predator out and away from its employees and lower rates before they add to the already bloated redundant management staff.
Of course, what is stopping Cady? Nothing.
Bullies, drunks and sexual predators run LMUD so let the parties begin..........LMUD has unlimited resources to fund their activities.
You will see LMUD at it's historical worst now that there is nothing in Cady's way.
You thought LMUD was corrupt before, you ain't seen nothin like you're going to see with a totally "unaccountable" Cady.
The man should have been in jail years ago..............
FEEDBACK TO KWH: The public, outside of Lassen County, think that the citizens here are just as corrupt as Cady
Lassen County throws dog and cat bodies into the dumps.
Witnesses observed the LCAC dumping dog and cat bodies at the dump.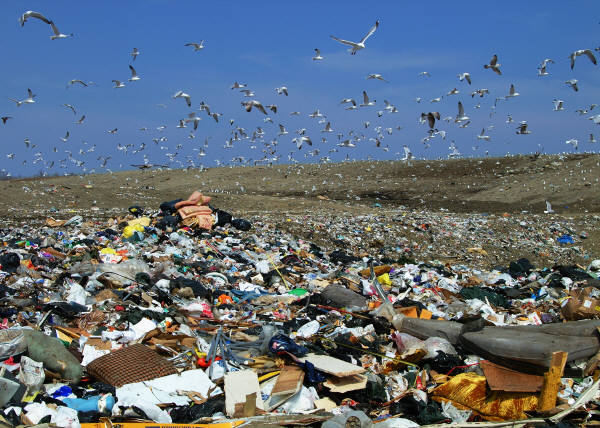 Lassen County citizens should know that when they take their pets to Lassen County Animal Control they will most likely end up as trash at the Dump.
The pubic can take their pet to the County Pound and pay a small fee to have their dog killed. The County then takes your pet to the dumps and disposes of it as garbage.
Lassen County literally kills hundreds of adoptable animals each year. Their end is not very dignified. They end up as garbage.
next lmud meeting
Tuesday, November 27, 2007
5:30 @ 65 S. Roop Street
Susanville
Anyone wishing to be a part of this corruption should submit their applications for an appointment to a LMUD Board position. Application deadline: 11/26/07
Bully's, drunks and sexual predators encouraged to apply
Benefits:
Your Sexual Harrassment overlooked and ignored
Free electricity for your business, family and friends
Excessive Board expenses hidden from the public
Free golfing, booze and ____________________.
Free travel and condo arrangements by Cady Airlines
Unlimited business trips/vacations
Profitable business opportunities for you, family and friends
is frank cady just morally bankrupt?
IBEW asks for protection from Cady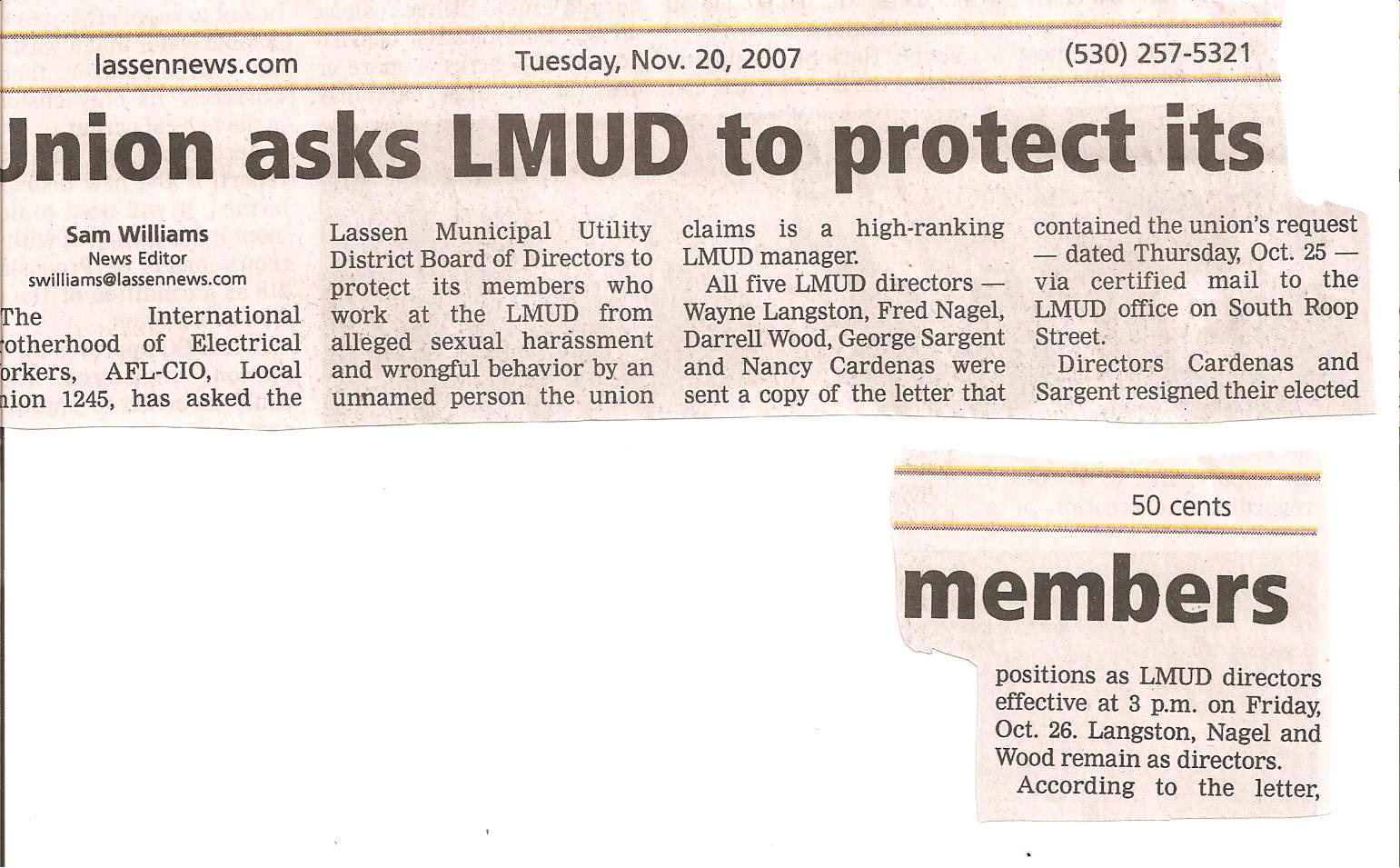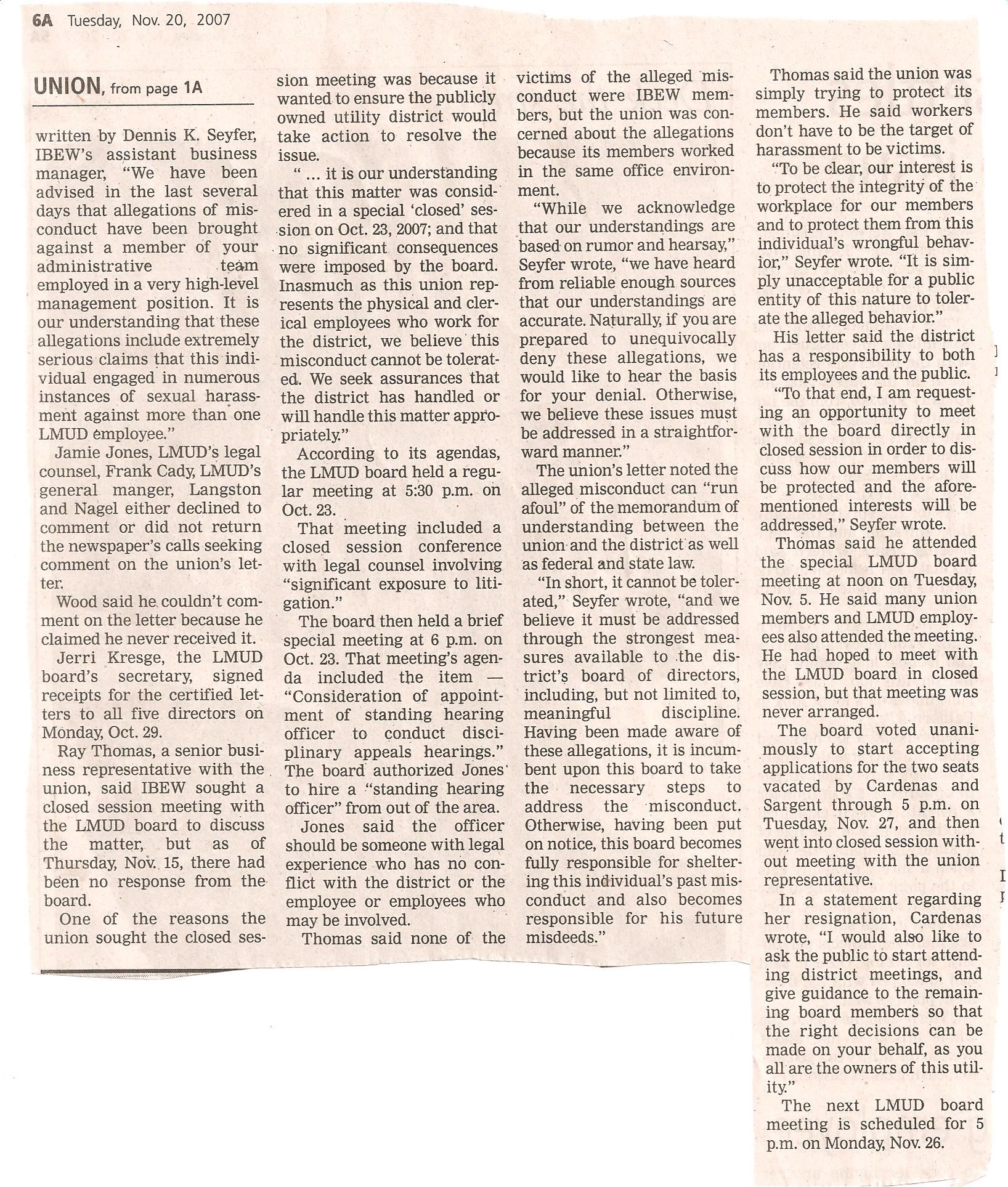 What do their wives say.............Theresa Nagel, Tess Nagel- Langston, Sue Cady and Mrs. Wood???????
What do the husbands, boyfriends, of the women employees of LMUD say?
Fred Nagel, Wayne Langston and Darrell Wood have encouraged and supported this LMUD cesspool Cady has created.
These are all married men?
Fred Nagel, Wayne Langston and Darrell Wood ignore the disgusting and humiliating working conditions created by Frank Cady @ LMUD
How responsible are the LMUD Directors for the sexual harassment complaints?
Are they somehow involved?
Is this why the three can't fire Frank Cady?
dyer mountain associates
face forEclosure

There are many legally formed districts in Lassen County. All of these special districts are defined by "Users". If you are within a Fire District, the voters are defined by the customers for an election. If you are within a school district, voters are defined by the Districts boundaries for elections. Special ballots are prepared for these districts. All, except LMUD.
LMUD, a LAFCO formed utility district, boundaries are defined by it's CUSTOMERS for elections.
Election laws require each Special District to provide the Registrar of Voters a current list of their customers or users, prior to an election.
LMUD did not do this under Theresa Nagel? This is how her husband was allowed to run for a LMUD Ward Director.
This is how she put her son-in-law, Wayne Langston on the LMUD Board. Langston was a PSREC customer when he was allowed to be on the LMUD Board. Langston has never appeared on a LMUD ballot and was not a LMUD customer until after the next election after his appointment.
LAFCO HAS NO RECORD OF LMUD, A SPECIAL DISTRICT , CHANGING IT'S BOUNDARIES TO COINCIDE WITH THE COUNTY ELECTION DISTRICTS BOUNDARIES
But NST prepared a map of the Lassen County election boundaries for County Clerk Theresa Nagel. The "N" in NST stands for Fred Nagel
Nagel did not include the PSREC District which would have excluded him from being on the LMUD Board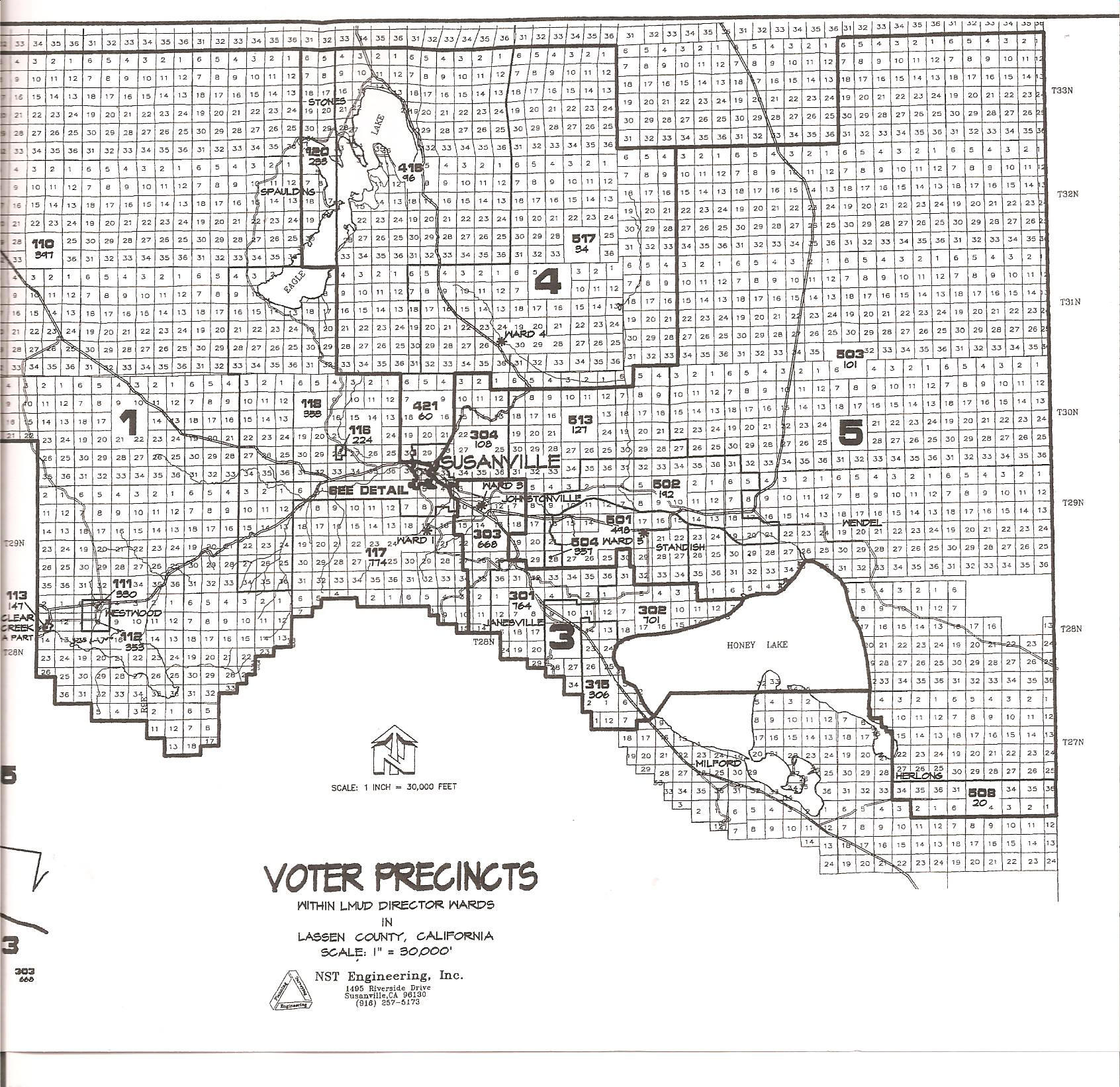 LMUD confirms THAT LMUD BOARD MEMBERS MUST BE REGISTERED TO VOTE "WITHIN" THE LMUD WARD
Fred Nagel is registered to vote "within" the utility district of PSREC, not LMUD
Fred Nagel does not reside "within" a LMUD Ward
FACT: Nagel sits on the Board illegally

LMUD Directors must reside and vote within the service boundaries of LMUD.
Lassen County Times, 2006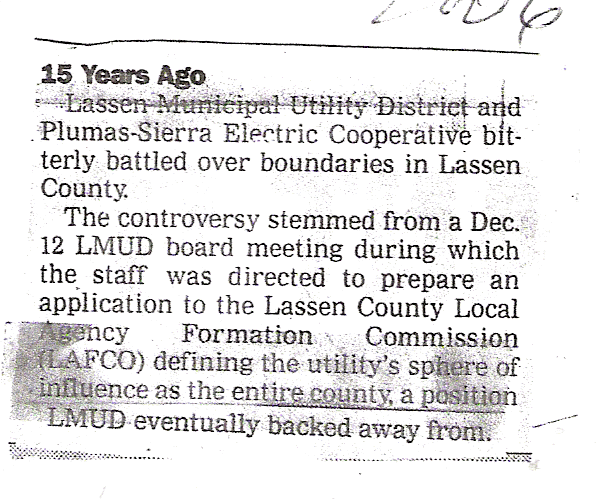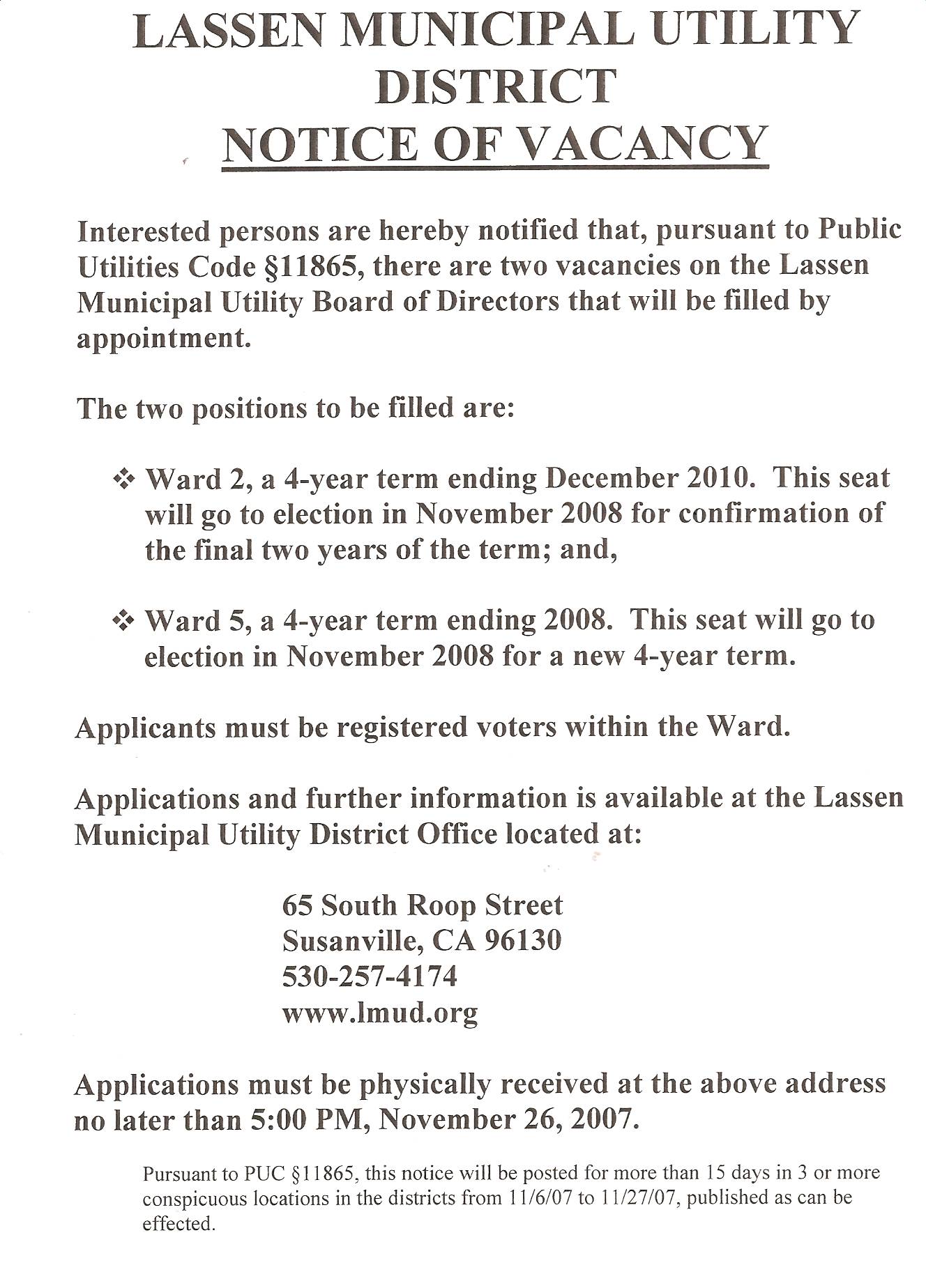 LMUD APPLICATION IS <MISLEADING>and intentionally incorrect
You must live and vote within a LMUD Ward...period!!!!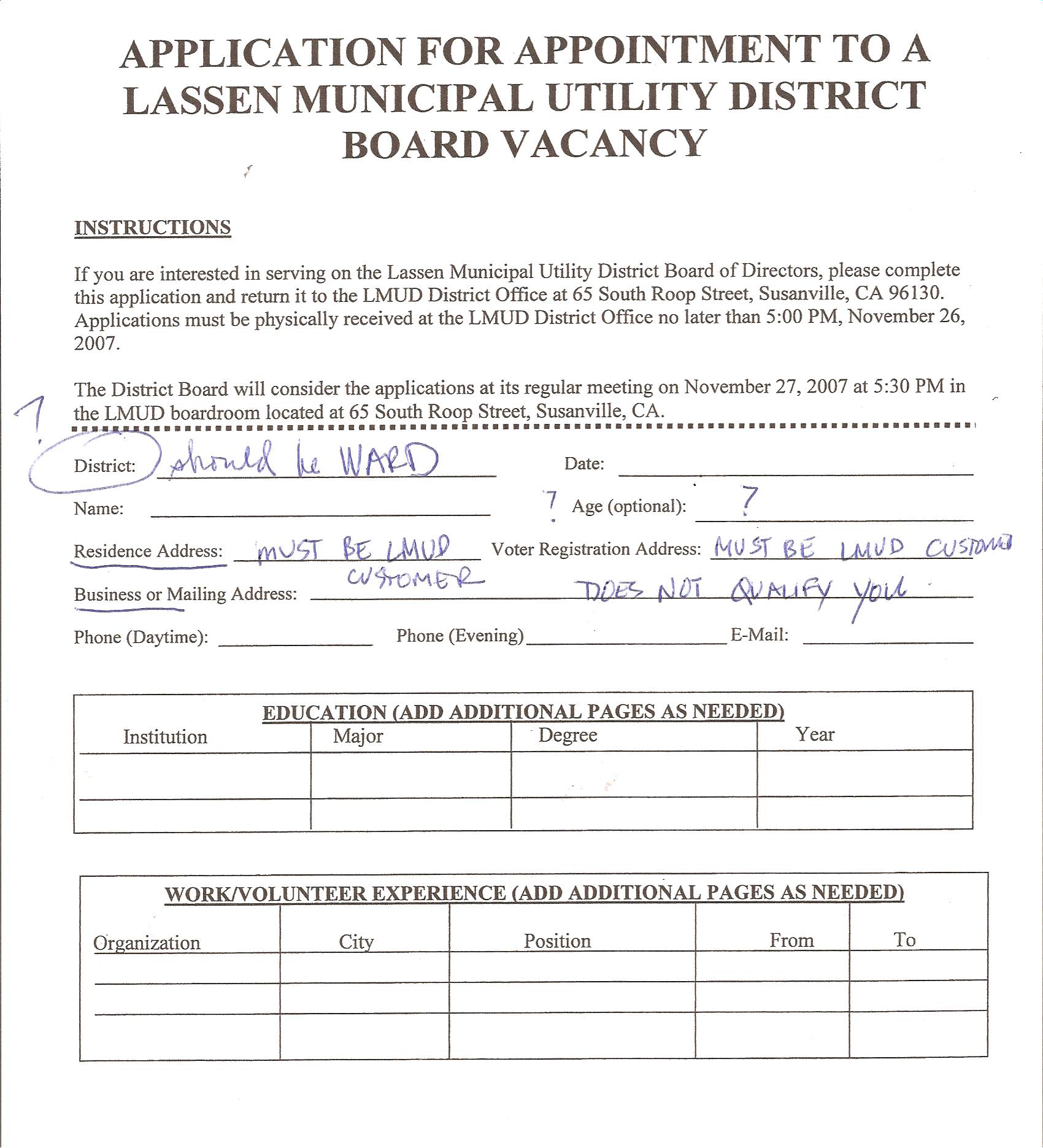 public warning:
Don't expect Los Tres Diablos to stay within the law
Bradbury and Burns, the dynamic duo, will back anything Cady wants
LMUD Attorney, Jaimee Richey-Jones in Court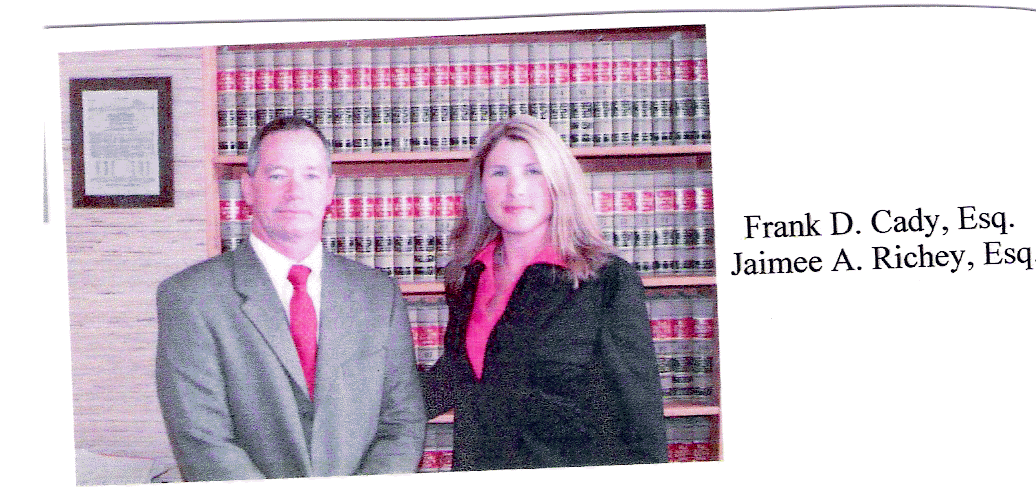 LMUD's attorney was in court this morning. LMUD is being sued because of a mistake she made.
KWH filed an appeal in the Third District Court of Appeals for the Lazard judgment against KWH's attempt to get the Arrowrock Feasibility Study that LMUD claimed to be "incomplete".
Jaimee Richey-Jones not only failed to record the Abstract of Judgment but didn't bother to research the "legal" name of the Debtor.
More than a year after the judgment, Richey-Jones attached a lien to an individual's property that had nothing to do with Lazard's judgment against KWH. (Judge Lazard was not re-elected) This individual then sued LMUD for her mistake.
Originally, Richey-Jones, attacked Cal-Sierra Title company because they did not do a thorough title search on property that the judgment debtor had previously owned. She was told, by Cal-Sierra Title Company's attorney, that they did a proper title search and that she had the responsibility to put the correct name on the Abstract of Judgment.
Judge Darlington ruled against Richey's arguments (which were flimsy and weak). Judge Darlington told Richey that he believed the plaintiff's case is "triable" and then ordered a settlement hearing for February 5, 2008 at 4:00 PM.
This young attorney (???) was way out of her league and the LMUD ratepayers continue to lose.
Richey-Jones invoices LMUD thousands of dollars every month
CADY SIGHTING?
Frank Cady was sighted AT THE LMUD OFFICE. He doesn't park his truck there anymore (LMUD gives him $400 a month car allowance) because then the public would know where he is. Cady's "calendar" has become TOP SECRET.
He looked like he was 80 years old. He was slinking and slithering, bent over and unshaven.
It has to be an awful life when you have been reduced to a life of paranoia. Cady is dealing with his "under life" and it's taking its toll.
Cady actually thinks that he is in danger of being ASSASSINATED. NOW WHY IN THE WORLD SHOULD HE THINK THAT?
Fred Nagel does not "live" or "vote" within the LMUD service boundaries. He has always been a PSREC customer.
He does not belong on LMUD's Board.
His wife, Theresa Nagel, abused her position as Election Officer when she allowed her husband to run for a LMUD Board position.

County Clerk Theresa Nagel claimed that LMUD had changed their boundaries to match the Supervisorial election boundaries, but in fact, LMUD never did this. LMUD Ward boundaries are its' service boundaries. Fred Nagel is registered to vote and lives in a PSREC district, not LMUD
Theresa Nagel illegally placed her son-in-law, Wayne Langston, on LMUD's Board
Cady, LMUD's General Manager, claims that he would reject a request for a copy of his "calendar".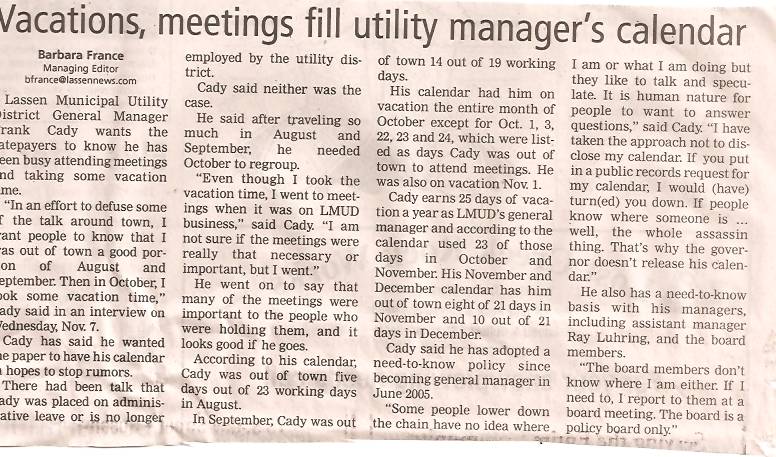 Cady's "Expense Report" is a public record. Will Cady falsify this public record?

Fred Nagel does not "live" or "vote" within the LMUD service boundaries. He has always been a PSREC customer.

He does not belong on LMUD's Board
Fred Nagel needs to resign.
Does Nagel have any honor at all?
Will he resign?
"The board members don't know where I am either. If I need to , I report to them at a board meeting. THE BOARD IS A POLICY BOARD ONLY." Frank Cady
THIS "BOARD" CAN FIRE HIS ASS, Section 11.1
frank cady does not have to honor his LMUD contract
frank cady does not have to answer to any one
frank cady says SCREW THE PUBLIC
fred nagel, wayne langston, darrell wood say SCREW THE PUBLIC
THERE IS NO PLACE IN LASSEN COUNTY FOR YOU TO HIDE...SIR
"LOS TRES DIABLOS"
aka The remaining LMUD BOARD
WILL HOLD A SPECIAL SPECIAL SPECIAL MEETING
AT 12:00 PM, MONDAY, 11/5/07
65 S. Roop Street
Susanville, CA
257-4174
lmud board decides to appoint two new members

Nancy Cardenas strongly suggests that the public attend to keep these ______ accountable.
You, Nancy Cardenas did nothing to stop Cady's immoral conduct nor did you make it public after you resigned. YOU WERE PART OF THE PROBLEM.
Lassen Transportation Service Agency reaches an emergency agreement with the College for student bus passes
Student bus passes are GOOD !!!!
Special Election for LMUD
JUST ONCE, CAN THE REMAINING LMUD BOARD DO THE RIGHT THING???????
or has it become "FUBAR"
LMUD Directors Nancy Cardenas and George Sargent voted to fire Frank Cady. LMUD Director Fred Nagel, Wayne Langston and Darrell Wood voted to keep this __________________. Cardenas and Sargent THEN resigned.
The remaining "Gang of Three" have demonstrated lack of good judgment AGAIN AND AGAIN over the years.
They have a moral obligation, to the ratepayers, to call for a SPECIAL ELECTION.
This facsimile of a public board has wasted millions of dollars during the time they have sat on this utility board for extravagant parties and vacations (their hundreds of business trips and bogus projects and profit making????).
They can refuse to call for a Special Election....if they plan to keep the Predator and allow his conduct to continue and... then place, on the Board, people that will support and continue this immoral conduct.
ENOUGH ! You are all married men?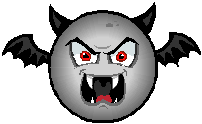 TRICK OR TREAT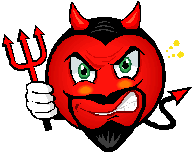 Frank Cady on "indefinite" LEAVE?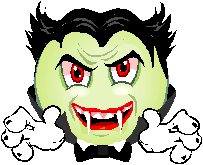 Lassen Transportation Service Agency cancels contract with the College for student bus passes
The Lassen Community College students monthly passes will not be valid after October 31.
The LTSA cancelled the colleges contract. The college hasn't paid their bill in two years.
What will be the LMUD Board's next move?
Two of the five Board members have quit. This leaves the worst of the worst running LMUD.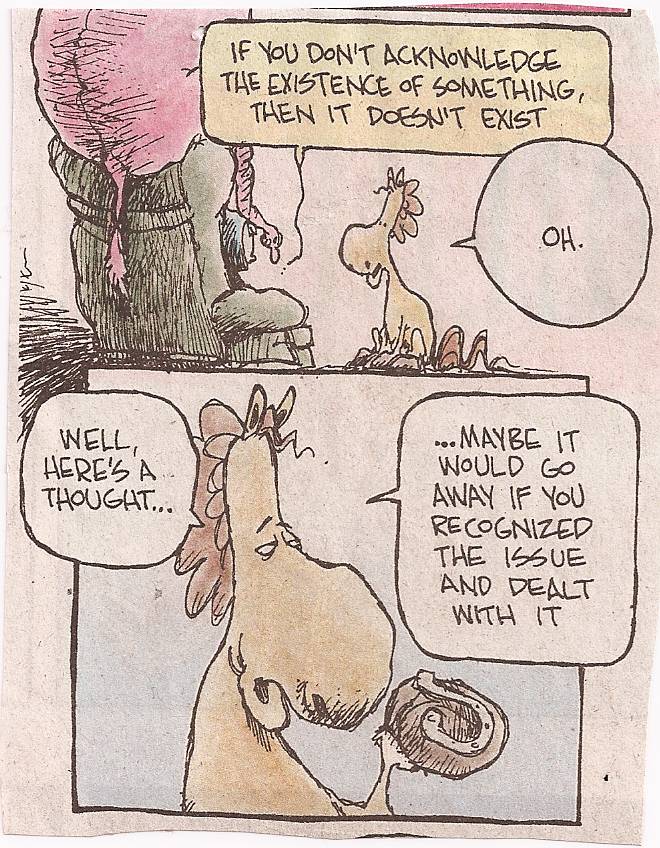 The remaining LMUD Board members: Fred Nagel, who doesn't live within any LMUD Ward District, Wayne Langston who has never been on a LMUD ballot and didn't live in the LMUD District when he was "placed" on the LMUD Board and Darrell Wood who doesn't even live in Lassen County......................
These are all MARRIED MEN
It is worth watching to see if they support Cady's unacceptable conduct.
No employee anywhere, man or women, should have to work under these conditions.
Evelene Twitchell was paid off for what happened to her. Cady bought her silence. That doesn't make it okay because the Board members were cowards and still are. The Board has covered up Cady's conduct for years. They are more than cowards, they are morally corrupt.
ACTION REQUIRED: Section 11.1 of Cady's contract should be invoked and Cady should be removed and have absolutely no connection to LMUD or its' employees.....FOREVER. Cady's LMUD contract
Yippy-ky-yay........LMUD President Wayne Langston voted not to fire LMUD General Manager Frank Cady
A time to celebrate ?
"Tweety Bird" could run against Wayne Langston, Fred Nagel and Darrell Wood and WIN in the next LMUD election.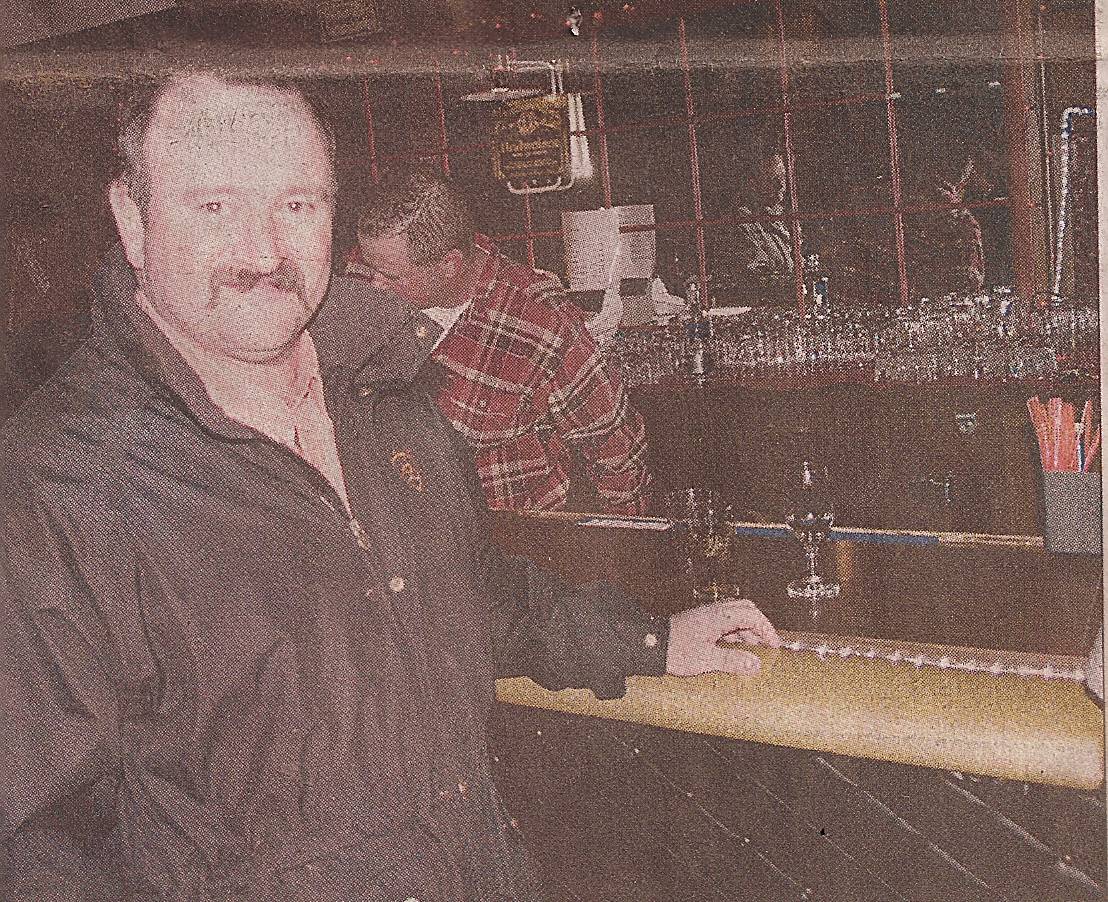 LMUD President Wayne Langston, a married man, voted not to fire Frank Cady. Langston is the only LMUD Board member that has never appeared on any LMUD ballot. He has never received a single vote to sit on this public board.
His mother-in-law, Theresa Nagel was the Lassen County Election Officer and claimed her son-in-law didn't need to live within the boundaries of LMUD and he didn't need to be on the LMUD ballot.
The other two remaining LMUD Directors Fred Nagel and Darrell Wood also voted not to fire LMUD's General Manager, Frank Cady. Both are married men.
Send or bring this to the LMUD Board Members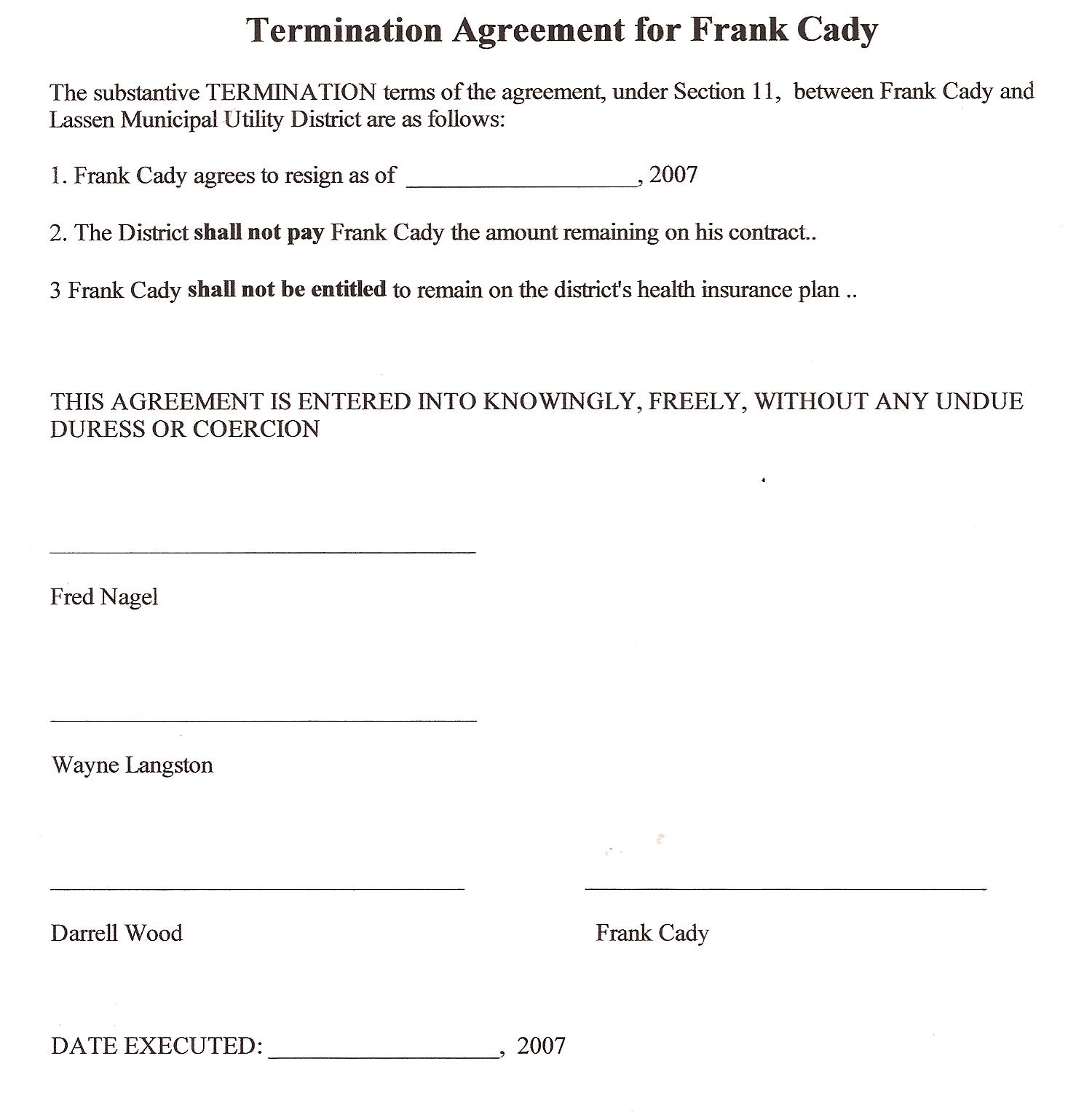 Two LMUD Board Members, Cardenas and Sargent, Resign
Was the stench too much.......?
The remaining LMUD "cesspool" members will hold a special meeting on what to do with Cady
LMUD HAS A PREDATOR
AND WHAT ACTION DOES THE LMUD BOARD TAKE........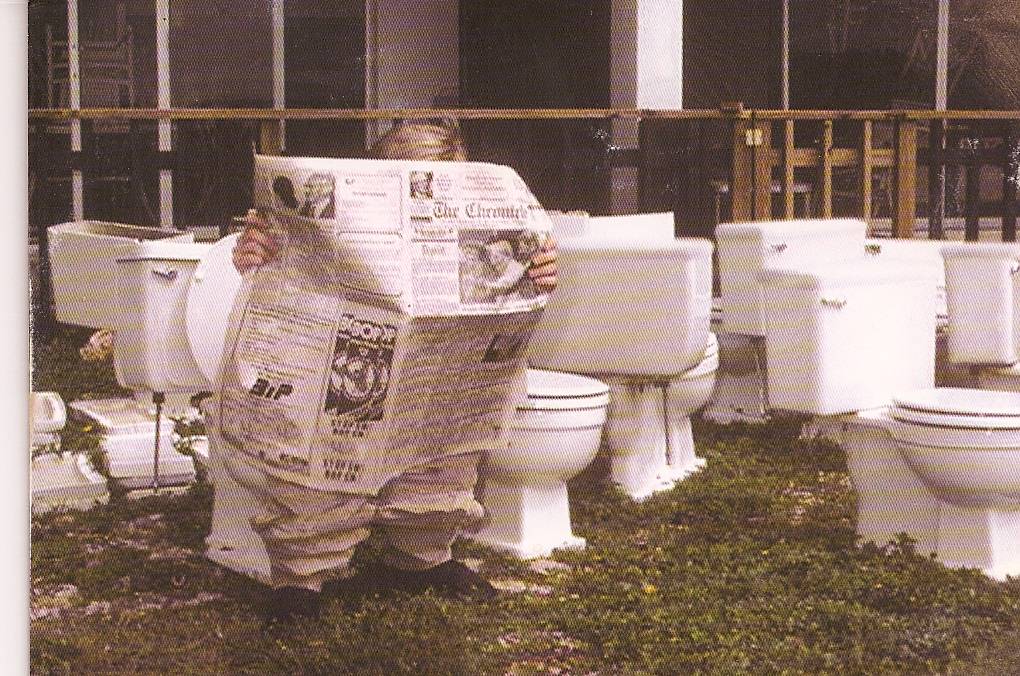 No action and they gave themselves $300 each for the 3 meetings this week
Call the Board Members at 257-4174 or fax your concerns to 257-2558
or PRINT AND SEND TO LMUD BOARD

LMUD, 65 S. Roop Street, Susanville, CA 96130
IT'S BACK.............
the flimflam ARROWROCK??
On October 19, 2007, Kan We Help filed a "Motion to Intervene" on the exhumed Arrowrock Hydroelectric Project in Boise, Idaho.
It is not known, at this time, if Cady and the LMUD Board are secretly making deals with the Boise irrigators attorney (Al Barker) again. They have done it before.
LMUD BOARD HOLDS THREE MEETINGS IN ONE DAY
UNPRECEDENTED
The LMUD Board, Nancy Cardenas, Fred Nagel, George Sargent, Wayne Langston, Darrell Wood, met at 9:00 AM on 10/23/07 to discuss their problems with Frank Cady. They met again at 5:30 PM and again at 6:00 PM.
The LMUD Board is now facing a crisis. There have been over 50 incidents of sexual misconduct reported to the Board.
The LMUD General Managers contract (Section 11) does not afford him a hearing, but immediate termination without benefits or compensation. Cady's 2005 LMUD contract
The "immoral" LMUD Board condones Cady's behavior. Cady was only put on administrative leave but the corrupt Board buried the complaints and is bringing him back to work on October 29.
Shame on you Nancy Cardenas, shame on you!
LADIES, GET YOURSELVES AN ATTORNEY outside of Lassen County, NOW!
Check Cady's history, this is not the first time he's done this.
This Board can get rid of Cady or let Cady take them down
Frank Cady's Legacy






PRINT AND SEND TO LMUD BOARD

He hides under the protective umbrella of Fred Nagel, Nancy Cardenas, Wayne Langston, George Sargent, Darrell Wood
FRANK CADY BEING SUED FOR CIVIL RIGHTS VIOLATION
How many times will the LMUD Board of Directors allow Cady to violate his LMUD contract?
Frank Cady, General Manager of LMUD and also the former Manager of the Susanville Diamond Mountain Golf Course, is being sued by Steve and Amy Trevino for Federal Civil Rights violations.

On March 10, 2007, Cady, acting as the General Manager of Diamond Mountain Golf Course in Susanville, fired Steve Trevino, an LMUD employee, for insubordination while Trevino was playing golf at the Susanville golf course. The termination had nothing to do with Trevino, the LMUD employee?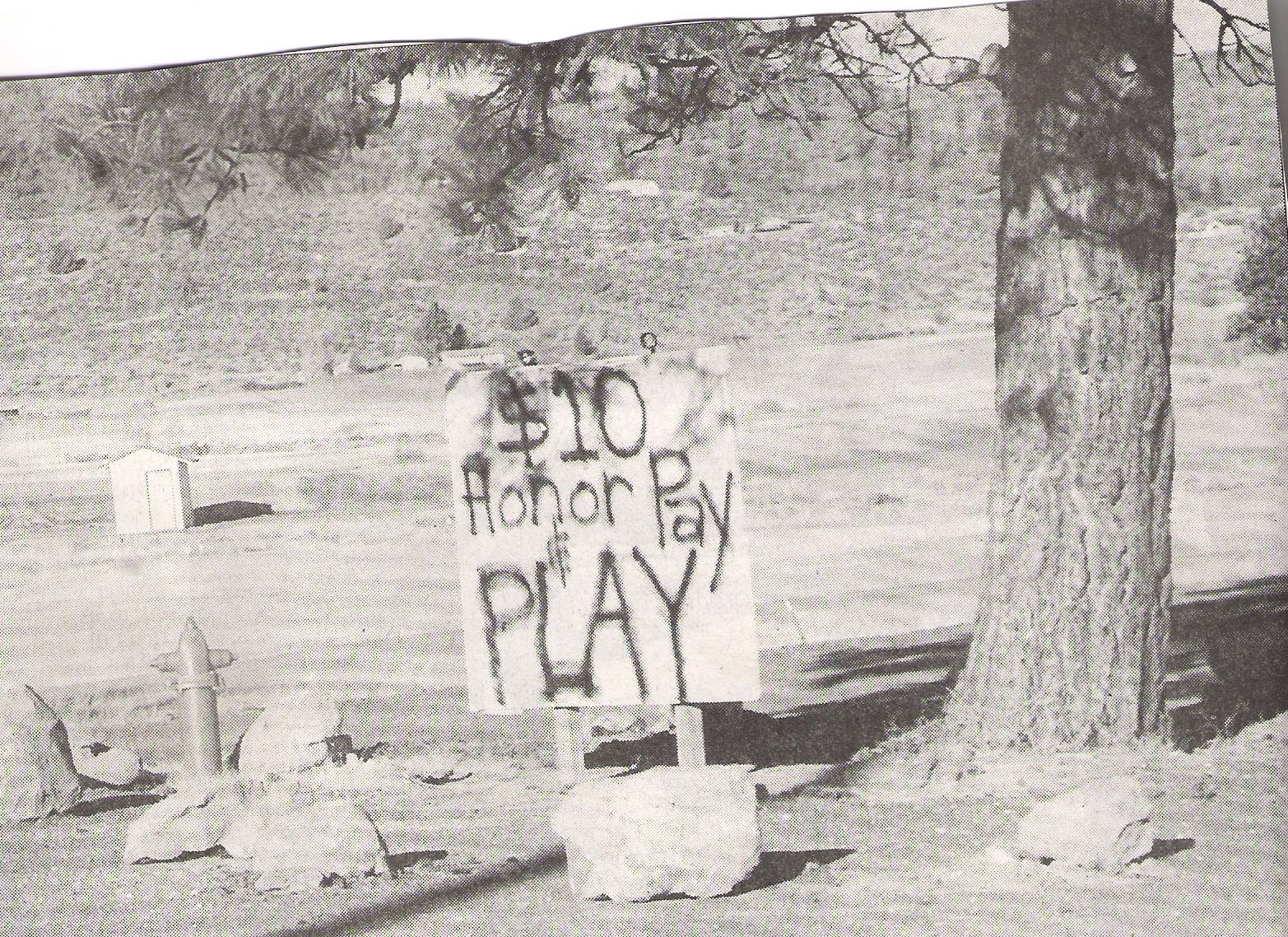 This is only one of many lawsuits against Frank Cady to come.
Just WHEN is the LMUD Board, Fred Nagel, Wayne Langston, Nancy Cardenas, George Sargent and Darrell Wood going to cut this bad apple loose?
Frank Cady's greed and bad judgment has cost the LMUD ratepayers thousands of dollars.
FRANK CADY IN TROUBLE AGAIN
LMUD BOARD ACTS QUICKLY TO COVER UP?
MORE LAWSUITS COMING AGAINST LMUD AND FRANK CADY
There are not enough words in the dictionary to describe this Public Utility Boards level of corruption.
fred nagel, wayne langston, nancy cardenas, george sargent and the worst...darrell wood.
LESSON IN POLITICAL SCIENCE
REPUBLICANS
You have two cows
Your neighbor has none
So?
DEMOCRATIC
You have two cows
Your neighbor has none
You feel guilty for being successful
CAPITALISM
You have two cows
You sell one, buy a bull, and build a herd of cows
CALIFORNIA CORPORATION
You have millions of cows
They make real California cheese
Only five speak English
Most are illegal's
BUREAUCRATS
You have two cows
Under the new farm program the government pays you to shoot one, milk the other and then pours the milk down the drain
Susanville Social Security Office makes the disabled "RE -APPLY" for their benefits.
Bill Zuroff, SSA Supervisor in Susanville, stopped all benefits to the disabled in Lassen County and is now making them re-apply for their benefits.
BILL ZUROFF, WORST PERSON IN THE WORLD
Susanville's Social Security Office Stops payments to the Disabled Poor
Bill Zuroff, Susanville SSA supervisor, stops payments to the disabled poor earning "minimum wage". No October payments went out.
Zuroff determined that their minimum wage was "significant earnings". These American citizens have been targeted because they cannot fight back.
MR. ZUROFF IS THE WORST PERSON IN THE WORLD !
Rocky Joy is now among the fleeing politicians from Lassen County
Rocky Joy, of Joy Realty, resigned his position on the Susanville City Council when it was discovered that he supported signing a contract that allowed Frank Cady to use public property as collateral for his management contract with Susanville to manage their golf course.
Cady borrowed $1.4 million dollars, from the Plumas Bank, against Susanville's public golf course and Joy was one of the supporters of this deal. When this fact was made public, Joy resigned his seat on the City Council.
Taborski/Joy Deal
Cady turns off power in Westwood
Westwood loses power from 7:30 PM to 10 PM. LMUD actually has a switch at the Roop Street office, to turn off Westwood's power.......
Frank Cady
Early Raise or Early Termination
The inept Lassen Municipal Utility District Board (Fred Nagel, Wayne Langston, Darrell Woods, George Sargent, Nancy Cardenas) called a "Monday" special meeting to evaluate the General Manager/General Counsel, Frank Cady's performance. His contract states that he will receive an evaluation, of his private contract, in December of each year.
Cady is so overpaid for never being there. This LMUD Board allowed him to run a Golf Course while he was a LMUD full time employee, he's running his law practice from his public utility office. Frank recently had LMUD rebind his law books..........at public expense.
Frank Cady brought phony projects to this Board of Idiots

. His law firm (with law partner, Jaimee Richey Jones) billed hundreds of thousands of dollars for these bogus projects, raping this public utility and it's ratepayers.
All of this mis-management resulted in utility rates being increased. Rates were $ .115 per KWH when Cady was hired as General Manager and quickly escalated to $ .13 per KWH.
Does Cady deserve a raise? NO
Does Cady deserve to be terminated? YES
WHEN PEOPLE BOTHER TO CARE, GOOD THINGS HAPPEN
This bridge is on the old Donner Pass Highway. It has spectacular Sierra views and views of Donner Lake and Donner Pass on Route 80. A bear was walking across Rainbow Bridge (Old Hwy 40 at Donner Summit) on Saturday when two cars also crossing the bridge scared the bear into jumping over the edge of the bridge. Somehow the bear caught the ledge and was able to pull itself to safety. Authorities decided that nothing could be done to help Saturday night so they returned Sunday morning to find the bear sound asleep on the ledge. After securing a net under the bridge the bear was tranquilized, fell into the net, lowered, then woke up and walked out of the net. Submitted by Gene Barrow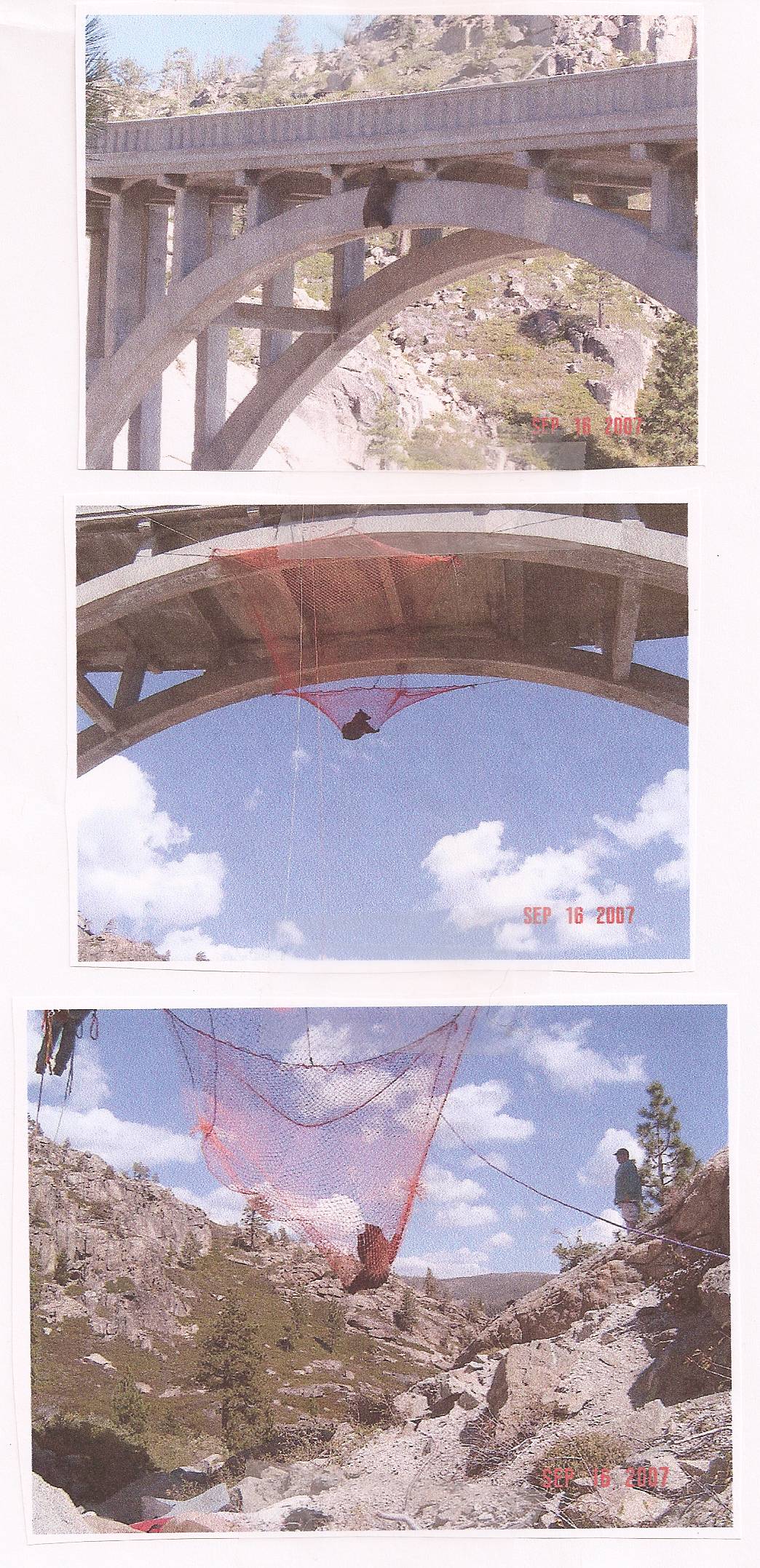 Lassen Animal Rescue Files Formal Complaint Against Lassen County Animal Control for cruelty
Founder, Eileen Spencer, of the newly organized Lassen Animal Rescue pleaded with Lassen County Supervisors on September 11, 2007 to keep the part-time employee she lobbied for, at last years Budget hearings.
Spencer also pleaded for the life two puppies that were to be killed because they were "too shy" and "did not present well". The two puppies were transferred to LAR and were immediately adopted.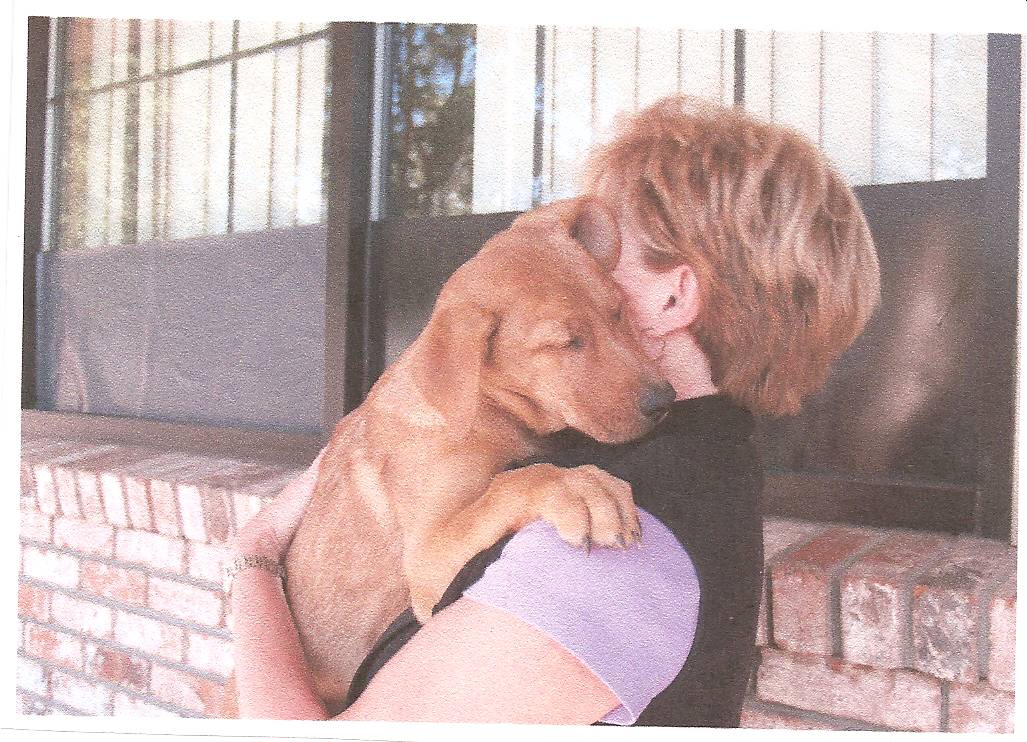 "Ruby Tuesday " was adopted by a couple in the Bay Area. Her brother was also adopted
Lassen Animal Rescue has an informal agreement with the Lassen County Animal Control to allow for the transfer of animals that are put on the euthanasia list each week.
On September 20, Spencer received the list for a kill on 9/24/07. The list included a 14 week old puppy (below) and Dog 2903.
Does Lassen County have a home grown "Michael Vick" running the shelter?
Dog #2903, mother of seven
Dog 2903 was never put on the County's website so she was never given a chance to be adopted. This website affords the public an opportunity to see what animals are available for adoption at the County Pound. Dog 2903 was the mother of seven 5-6 week old "unweaned" puppies. This mother was taken away from her babies and put in a kennel next to her babies. She could smell them, hear their cries and could do nothing. She was scheduled to be killed on 9/24/07.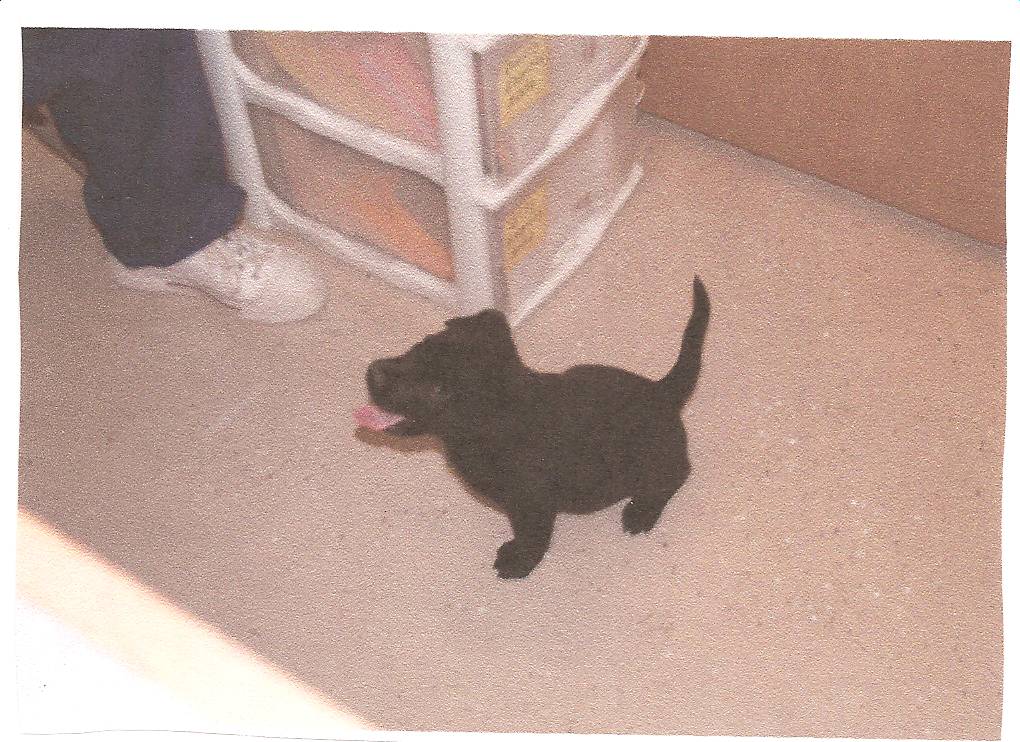 The seven puppies were only 5-6 weeks old when they arrived with their mom, at the County Pound on 9/12/07 according to the Vet.
A LAR volunteer attempted to see the puppies and Dog 2903 on Saturday,9/22/07. The Animal Control Staff called the Sheriff's Department so that LAR could not see the puppies. The reason: LCAC staff had lied about the age of the puppies in order to kill the mother. This is a common practice, at this facility. If you kill the mother, it is almost certain that the unweaned babies will become ill and then they can justify killing the babies. The County will not spend any money on medical treatment because it is cheaper to kill these animals. Nursing mother cats and dogs and their babies are killed routinely at this "shelter".
LAR received assistance from Supervisor Chapman and County Treasurer Richard Egan, then acting CAO, and LAR was able to see two of the puppies, but not the mother on September 22. Dog #2903 was given a stay of execution.
Lassen Animal Rescue is a non-profit (501(c)3) tax exempt corporation. Since being formed in December 2006, they have placed over 100 "unwanted, "shy", homeless dogs and cats".
Lassen County Animal Control- 257-9200 Supervisor of LCAC- 251-8299 Lassen Animal Rescue - 256-3963
More Dyer Mountain Associates lawsuits
Duryea v Waters

Lassen County CAO, Ketelsen, announces his retirement (12/30/07) as the Board of Supervisors considers Reorganization
Dyer Mountain Associates being sued by prior owner, Briar Tazuk
A very revealing and tell all complaint

Lassen County Times just realized what "www" stands for
WORLD WIDE WEB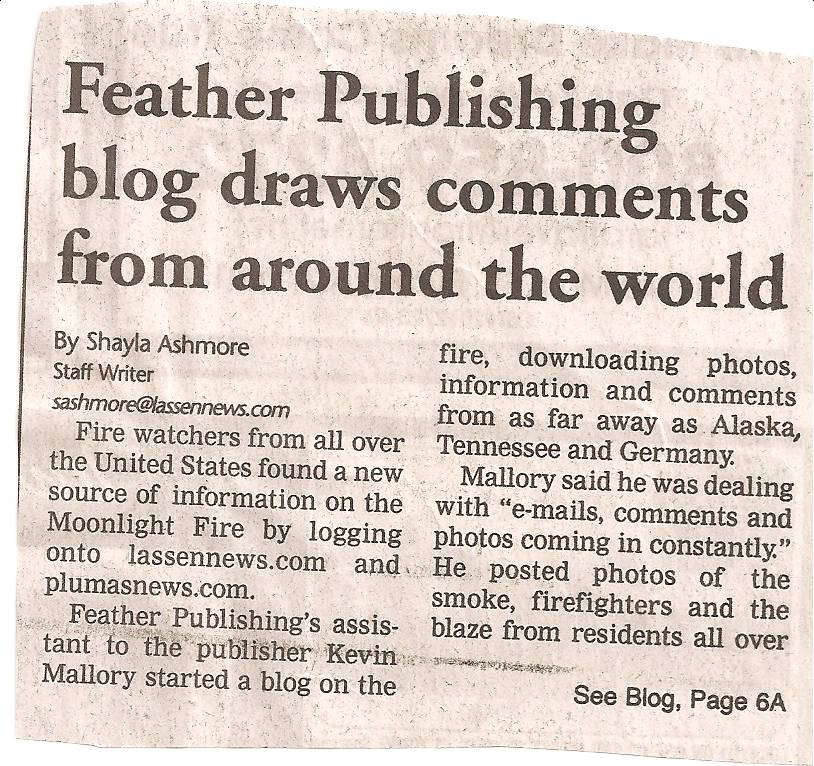 CADY DONATES HIS LAW LIBRARY TO LMUD
WHY?
Frank Cady, former (?) legal counsel for LMUD and now General Manager, donated 2000 law books to LMUD last week. The LMUD Board used public funds to move the books to the LMUD office. Now this corrupt LMUD Board, Fred Nagel, Wayne Langston, Darrell Wood, Nancy Cardenas and George Sargent, is having them "rebound" and "refurbished". ALL WITH PUBLIC FUNDS.
WITH THE TWENTY OR THIRTY LAW FIRMS THAT THIS PUBLIC UTILITY HAS HIRED.....A PUBLIC UTILITY DOES NOT NEED A LAW LIBRARY
.............SO FRANK CAN TAKE IT WITH HIM WHEN HE LEAVES?
AN ABUSE OF AUTHORITY? YES
A WASTE OF RATEPAYER MONEY?
ABSOLUTELY
******
Jaimee Richey-Jones has moved out of 60 S. Lassen Street...........is she planning on moving into the LMUD offices?
No action has been taken by this CORRUPT BOARD to create an "in-house" counsel.
LMUD IS THE RESULT OF GOVERNMENT UNCHECKED....
CORRUPTION UNCHECKED....
AND CITIZENS THAT ARE TOO LAZY TO DO ANYTHING ABOUT IT
The Horse Lake Wind Energy Project
By Helene Williams, a former Lassen County Board of Supervisor
It appears that the LMUD is interested in "The Horse Lake Wind Energy Project", you may want to see who owns the land on the project. Mr. Wood's [LMUD Director] wife's family owns property north of Susanville. Actually they own a lot of land north of the Susan River property where in the early 1968 to 1970' a dam was projected for upper Susan River and Mr. Wood's property would have been subject to flooding for the dam to be successful. He is always looking for money projects.
We don't know if Lassen County would be dropping any development funds into any of these projects. Mr. Wood was involved with the Auto Dealership project some years ago, that used a lot of money and never paid it back.
It appears that the wind generation project has proceeded already. The developer has already contacted the land owners, whose property will be affected by the power lines. I can tell you that all of the property owners oppose such lines. The project has proceeded anyway.
LMUD power trucks have been going up to the project of Mr. Wood's Pete's Valley Ranch a lot. Mr. Wood's will gain greatly financially with this project. No one has been informed about the windmills themselves as to who the manufacturers are?
There has been no comments about anything and it appears that the applications to Lassen County has not been correct being that it is on some BLM property (which everyone is being led to believe). We think it may be on the edge of BLM but truly on the property of Pete's Valley (Woods property), which would be of a more financial asset to Frank and Darrell.
California Supreme Court rules that "GROSS SALARIES" of public officials are DISCLOSABLE public records.
The California Supreme Court ruled (Case S134253) that public officials gross salaries must be disclosed to the public.
Kan We Help filed a Writ of Mandate in Lassen Superior Court after Lassen Municipal Utility District refused to disclose Board Members gross salaries. KWH submitted Public Records Requests for many different documents that would have the gross salaries of the LMUD Board members.
Then General Counsel, Frank Cady, redacted all gross salaries from the forms released to KWH.
Judge Ridgely Lazard heard the case and ruled against KWH, stating that the public was not entitled to know what their public officials gross salaries were.
KWH filed an appeal in the Third District Court of Appeals and this case is still pending. The decision from the California Supreme Court will effect KWH's appeal.
LMUD DIRECTORS TURN THEIR BACKS ON THE "ROCK BOTTOM MORALE" AT THE UTILITY'S OFFICES.
The LMUD Board of Directors, Fred Nagel, son-in-law Wayne Langston, Darrell Wood, George Sargent and Nancy Cardenas ignore the worsening working conditions at the utility's offices.
Frank Cady is trying to break the IBEW union by harassing the linemen and makes the office workers lives miserable by keeping staff in a constant state of chaos.
The LMUD Directors evidently do not care anymore. They get their free vacation/trips at luxury hotels, free electricity and much much more from their General Manager.
LMUD WOULD NOT PASS AN AUDIT BY THE STATE
This Board is as corrupt as they come. They hide their expenses in their attorney's invoices and could care less about the employees or the ratepayers.
A BAD SITUATION GETTING WORSE
Lassen County times tries to compete with the "Blogs"
Will their Advertisers think this is a good idea?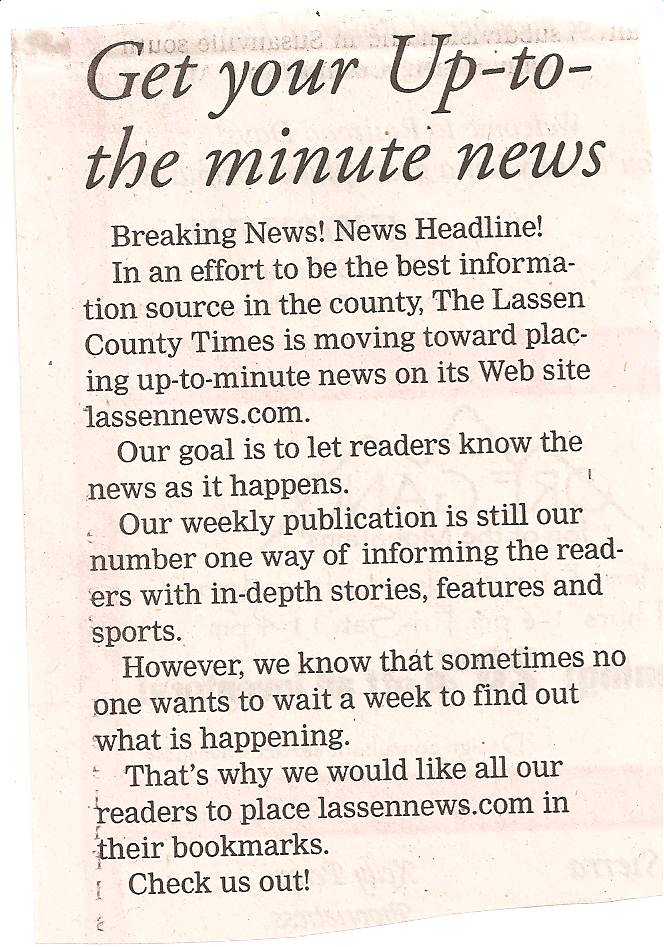 LMUD's Steve Trevino now works at the Truckee Donner PUC
Trevino has a "claim" against LMUD
Frank Cady retains Truckee Donner PUC attorney Steven Gross

Which person can claim the worst conflict of interest case?
This isn't the first time Cady has done this. Frank Cady hired John S. Kenny, LAFCO's attorney, to stop an LMUD issue from being placed on a LAFCO agenda.

Kenny was paid by LAFCO and LMUD.
Cady's standard business practice; unethical
The corrupt LMUD Board needs a corrupt General Manager/General Counsel
California Secretary of State
Bans Lassen County from Using Wireless Connections to Transfer Election Day Results.
August 4, 2007, Steve Lawrence, AP
"Bowen said she had decertified the machines, then recertified them on the condition they meet her new security standards. She also limited the Diebold and Sequoia machines to one per polling place. That will force some counties to find replacement equipment on a tight schedule."
"Bowen ordered the review, which was released last week, to ensure California would not face the same doubts about the accuracy of its voting systems that hit Florida after the 2000 election and Ohio in 2004."
"The additional requirements she imposed included banning all modem or wireless connections to the machines to prevent them from being linked to an outside computer or the internet. She also required a full manual count of all votes cast on Diebold and Sequoia machines to ensure accuracy."
"Bowen said the study revealed some vulnerabilities that would allow hackers to manipulate the systems with little chance of detection with dire consequences."
U.S. Elections a Sham
August 6, 2007, Eileen Spencer, KWH
I was asked to be a poll worker in 2002 at the Westwood precinct. Lassen County was using the Diebold OCR voting machines. I attended a poll worker seminar that was required by then County Clerk, Theresa Nagel.
I was shocked and stunned that the County Clerk included "white out" with the precinct supplies and instructed the poll workers to use this white out on the ballots.
I raised my hand and told them "I strongly object to any material that would alter the ballots". I received frightening looks from not only Theresa Nagel but Julie Bustamante also.
I was subsequently fired as a poll worker and was sent a check for my "non-services"

Shortly after the seminar, I received a telephone call from Theresa Nagel that was shocking. The phone call was on speaker phone and other people witnessed her tirade. Ultimately, I was accused of being part of this huge conspiracy that hated her and then she fired me????? I moved here in 2000 and literally knew NO ONE.
I filed a complaint with the Secretary of State's Election Fraud Unit and Nagel agreed not to use the white out on ballots in the future. The Secretary of State was not interested in the previous elections where white out was used in abundance.
Even though I was fired I now was very interested in how Lassen County conducted their elections. Again, I was shocked:
After voting in March of 2002, I stayed to observe the proceedings at the Westwood precinct. I had researched the Poll Monitor laws which allowed the public to watch the proceedings at a precinct.
Precinct Supervisor, Nicole Bustamante (not 18 years old), (Julies Bustamante's daughter) called Theresa Nagel about my staying after the election was closed to observe the procedures. Nagel sent two Deputy Sheriffs to remove me but upon showing these Deputies the law they allowed me to stay.
Whoa...............After Nicole Bustamante printed the election audit tape she attempted to put it in her purse. I told her she couldn't do this. Then she attempted to put the audit tape (NOTE: the audit tape shows "exactly the votes cast") in a large zippered bag. I again told her she couldn't do that. She carried this audit tape around until the precinct workers asked her to put it in the bag with the ballots. A reluctant Nicole finally placed the audit tape in the bag and it was sealed.
More disturbing was that no telephone number was programmed into the Diebold modem. Allegedly, the modem transfer of election data was to go into the County Clerks computer. Evidently, these Westwood votes were not meant to be counted.
Subsequently, after Public Records Requests were made, the serial number on the Westwood machine did not match the serial number that was originally assigned to this machine. Since this exposure, Nagel then prohibited anyone to view the serial numbers on the voting machines or see the program card serial numbers.
Research concluded that Theresa Nagel is one of a few Counties, in California, that programs their own election cards that are placed into the Diebold machines on election day. Allowing an Election Officer/Registrar of Voters to program their own cards leaves the system open to abuse.
Program cards can be made for Election Day that will record the actual votes cast and also Program cards can be made with pre-determined votes that can then be sent to the Secretary of States office as the official election results. If you hide or destroy the original audit tapes, there can be no verification of the election results other than counting all of the votes cast. If a candidate wants to challenge the count, the candidate has to pay for it.
Theresa Nagel would NEVER ALLOW poll monitors to observe her procedures even though the law specifically allows for observation.
Nagel went "unchecked" for too long.
I filed another complaint about these irregularities. Do I suspect election fraud , absolutely. There were too many irregularities that made her election procedures suspect.
Why is Frank Cady sending LMUD trucks up to LMUD Director Darrell Wood's property in Pete's Valley?
This is a PSREC service area?
The wind generation equipment would be placed on BLM property and the power lines could go through Wood's property....or this activity could be a Cady smokescreen to give the LMUD Director "free, pro bono" services at the LMUD ratepayers expense. Either one poses a conflict for the LMUD Director.
LMUD Ward 4 Director, Darrell Wood, doesn't even "live" in Lassen County so why is he allowed to register to vote here? Why is he allowed to sit on the LMUD Board which requires a Director to live within the LMUD boundaries. Fred Nagel does not live within the LMUD boundaries of Ward 1 so why was he allowed to run for this LMUD seat (His wife, then County Clerk Theresa Nagel, allowed it.....maybe? )
LMUD NOW ADVERTISES FOR ELECTRIC OPERATIONS MANAGER
Who, in their right mind , would come to work for this corrupt utility? Why doesn't Cady look for management recruits at the District Attorney's office (Candidates should have at least one DUI dismissed and/or has recently been released for Grand Larceny from a prison.)
Steve Trevino, previous Electric Operations Manager was fired by Frank Cady. Cady got into an altercation with Trevino at the golf course Cady ran until the City of Susanville kicked CADY out.
CADY HAS NO TIME FOR LMUD-IS CADY MOVING?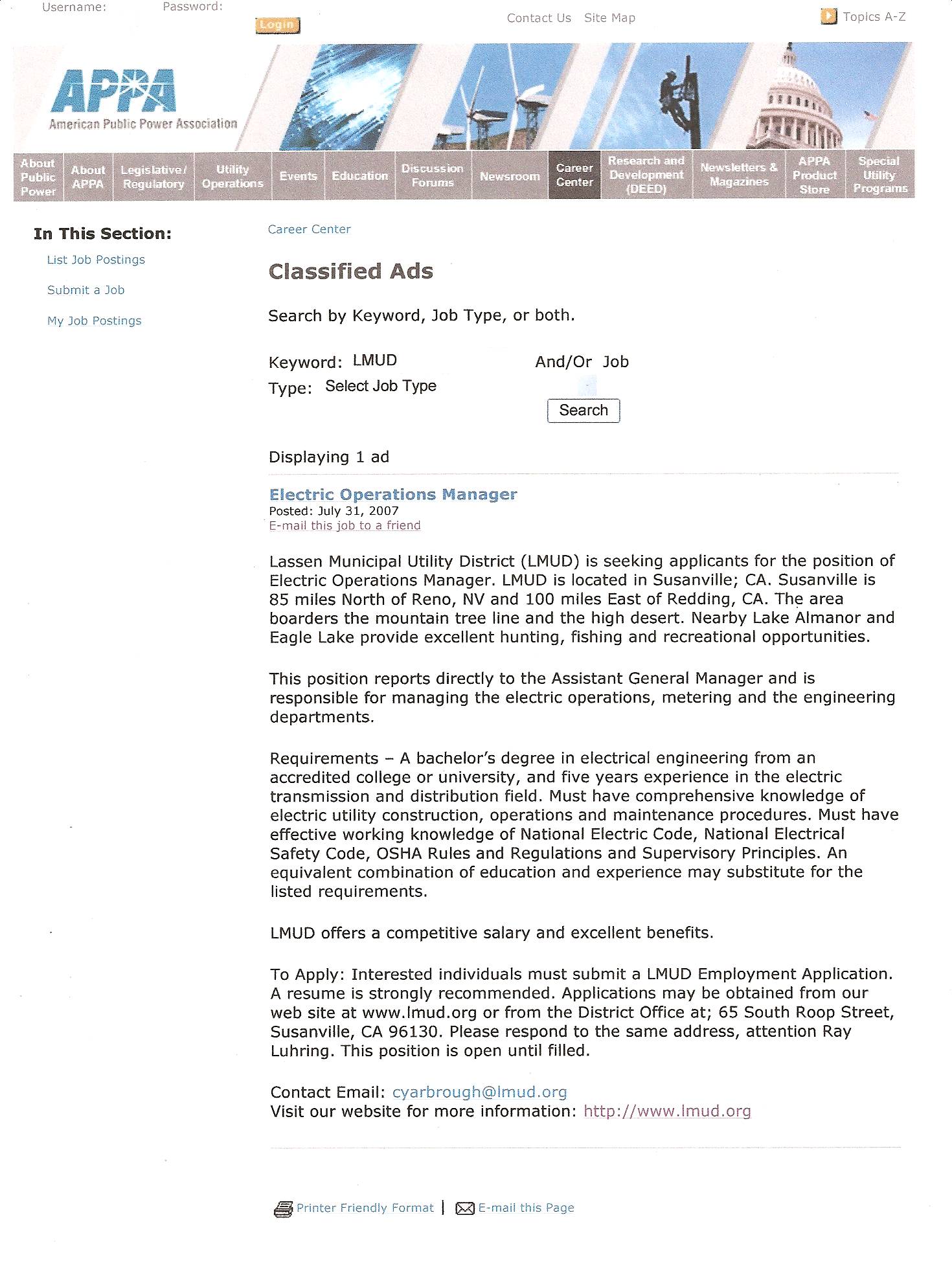 July 22, 2007
Agenda item 4 D: Does Cady arbitrarily appoint Assistant General Manager Luhring the Director of Electrical Operations...when did that happen?
Possibly after Frank Cady and Director of Electric Operations Manager Steve Trevino had their altercation at Cady's golf course?

Steve Trevino knows the truth about Arrowrock, Twitchells sudden departure, the land scam and all of LMUD's secrets.
60 South Lassen, Susanville, CA ????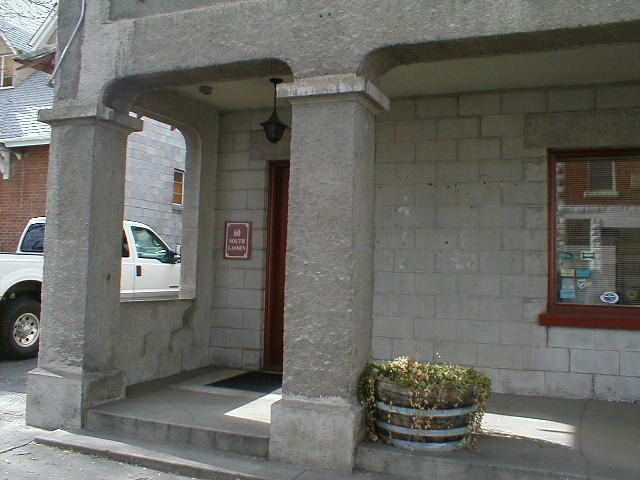 Current Status: ???????
9/17/86- Judge Bradbury purchases 60 S. Lassen
1/15/88- Judge Bradbury sells 60 S. Lassen to BKC

10/6/97- BKC transfers 60 S. Lassen to U.S. Magistrate Craig Kellison and Frank Cady
10/6/97-Kellison & Cady transfer 60 S. Lassen to their trusts
6/30/05-Cady sells his half of 60 S. Lassen to his law partner Jaimee Richey
7/05/05-Kellison sells his half of 60 S. Lassen to his former partner Frank Cady
NOTE: Both could have sold the property to Jaimee Richey, but didn't. Cady needed to maintain ownership in the property. This created a conflict of interest when LMUD Directors hired Frank Cady as General Manager.
1/31/06- Craig Kellison & Frank Cady file substitution of Trustee to Judge Bradbury for 60 S. Lassen
1/31/06-Craig Kellison & Frank Cady file a reconveyance on 60 S. Lassen
1/31/06-Now Jaimee Richey can sell 60 S. Lassen to the Methodist Church
1. On 1/31/06, Cady has no interest in 60 S. Lassen
2. On, 1/31/06, U.S. Magistrate Craig Kellison has no interest in 60 S. Lassen
3. On 1/31/06, Judge Stephen Bradbury has no interest in 60 S. Lassen
.......................But evidently they did......Lies abound ?
Miscarriage of Justices in Lassen County: Long Valley, Mapes Ranch, Sierra Pacific Power, Pete's Valley Cattle, Pete's Creek Partnership, Pete's Valley Ranch, Bantley Aviation, BKC, ........etc.etc.etc.
Secret Partners, Secret Deals
LMUD BOARD PUTS RATE INCREASE ON 7/24/07 AGENDA
after giving their managers a 12% pay raise and a promise not to raise electric rates
In 2005, this LMUD Board announced, to the public, that they intended to raise the bogus Facility Charge from $3.00 to $25.00. This created PUBLIC OUTRAGE BUT, this was just a smoke screen when they later voted to allow themselves to raise rates at will, no public input, no public control. Genius on Cady's part, sleazy, but brilliant.
When LMUD hired their attorney, Frank Cady as their General Manager, rates were already high at $ .115 KWH. Cady quickly raised the electric rates to $ .135 to pay for his and this Board's wasteful and extravagant lifestyle. Cady even brought back his friends and put them on the gravy train.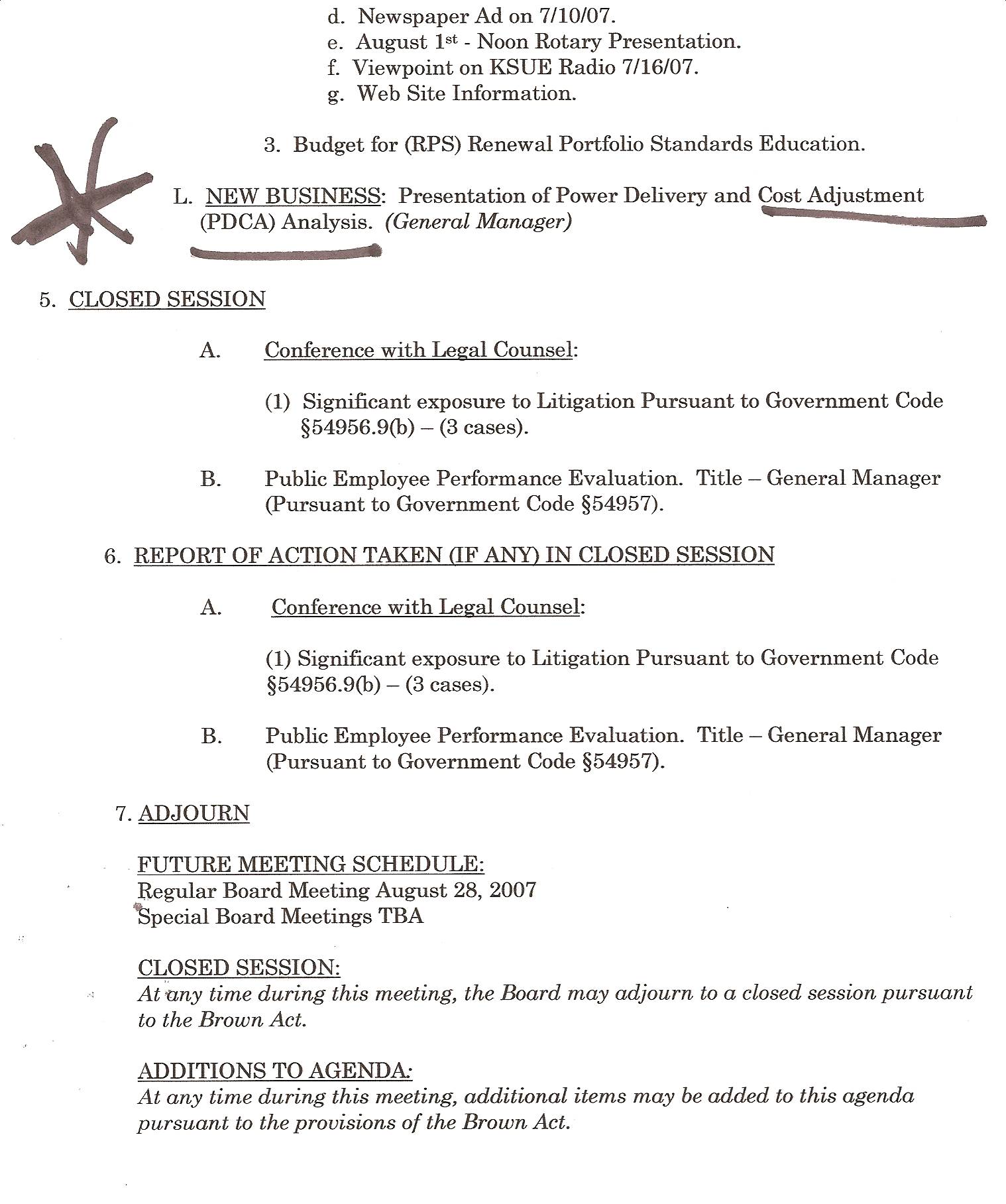 ILLEGAL AGENDA ?
The LMUD Board got its tail in a ringer when it voted on a posted "non-action" agenda item at their June 21, 2007 meeting. Now....the LMUD agenda has been changed to try and confuse the public as to where the action items are.
The purpose of the Brown Act was to keep the publics business before the public. This totally corrupt Board and its sleazy General Manager have changed the LMUD Agenda so many times, in the past seven years, as to keep the publics business as secret as it could.
The "Information items" have now been changed to "Standing Items". Cady adds "Old and New" but doesn't distinguish on the agenda which "Standing Items" are actually OLD OR NEW??????? Confused?....that's their goal.
Cady added "Information Items" to the LMUD agenda a few years ago but added a rule that there could be no public comment. The LMUD Board went along with this change because they didn't want to hear from the public. It was ILLEGAL then and it is illegal now. The Brown Act allows the public to comment on ANY ITEM ON A PUBLIC AGENDA.

lmud hires labor attorney

Is Frank Cady attempting to break the IBEW?

The impotent LMUD Board (Fred Nagel, Wayne Langston, Darrell Wood, George Sargent, Nancy Cardenas) has allowed the General Manager to harass and bully the union employees.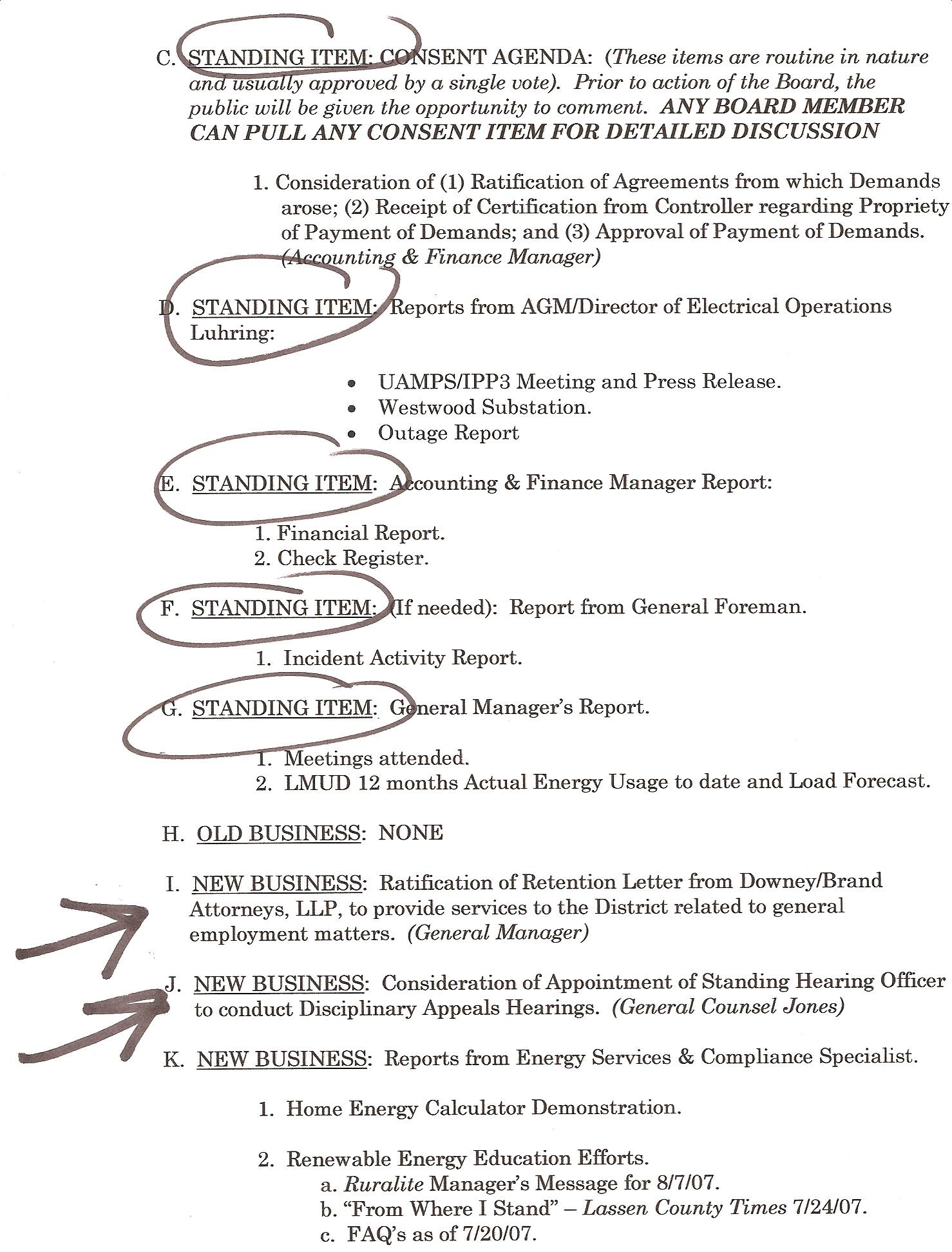 Agenda item 4 D: Does Cady arbitrarily appoint Assistant General Manager Luhring the Director of Electrical Operations...when did that happen?
Possibly after Frank Cady and Director of Electric Operations Manager Steve Trevino had their altercation at Cady's golf course?

Steve Trevino knows the truth about Arrowrock, Twitchells sudden departure, the land scam and all of LMUD's secrets.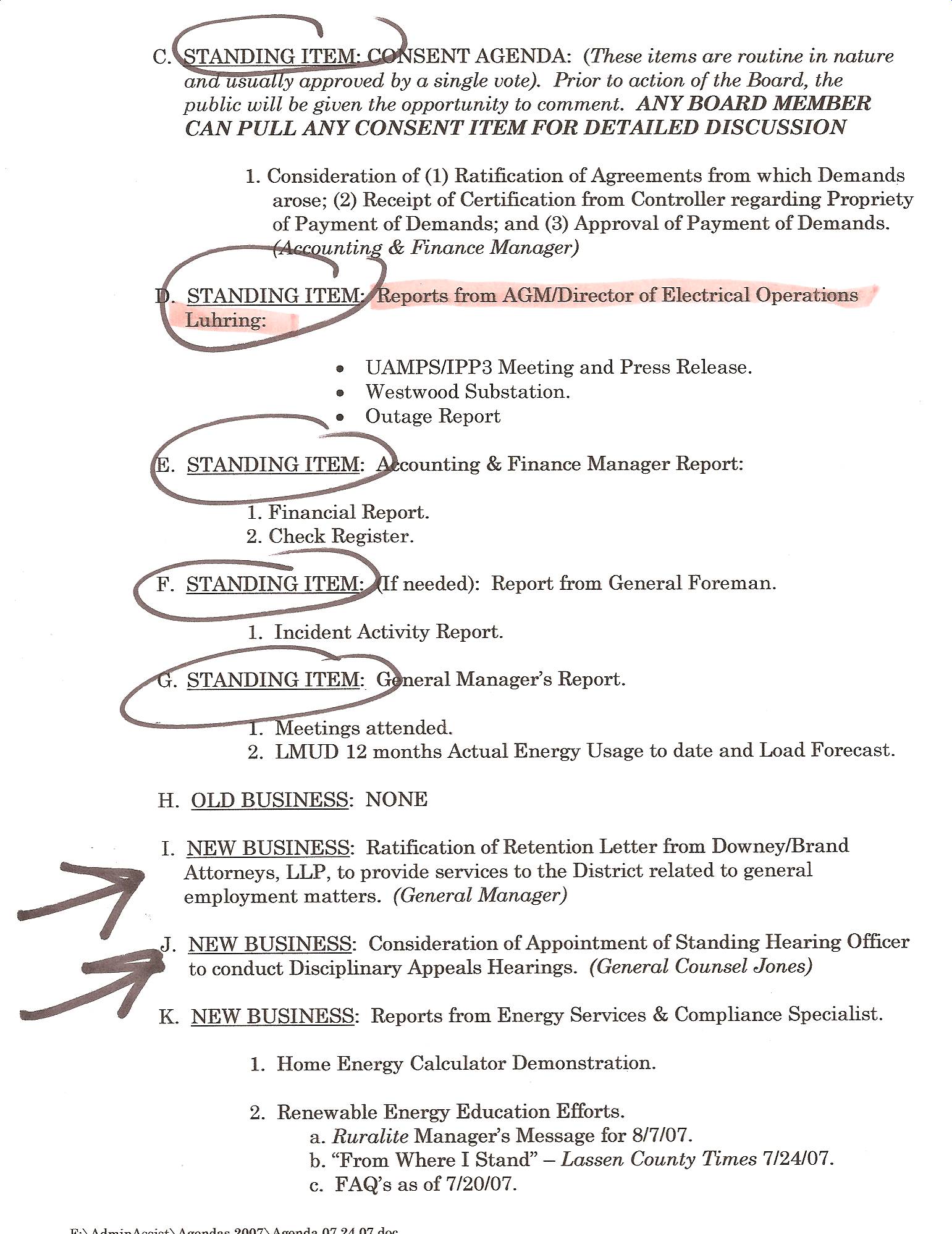 LMUD "WIND GENERATION" PROJECT MAY BE JUST ANOTHER SCAM BY CADY AND THE LMUD BOARD
Lassen County Counsel advised the Board of Supervisors that he has been receiving memo's from Frank Cady, LMUD General Manager/General Counsel about the question of who will be the Lead Agency for CEQA should this project move forward.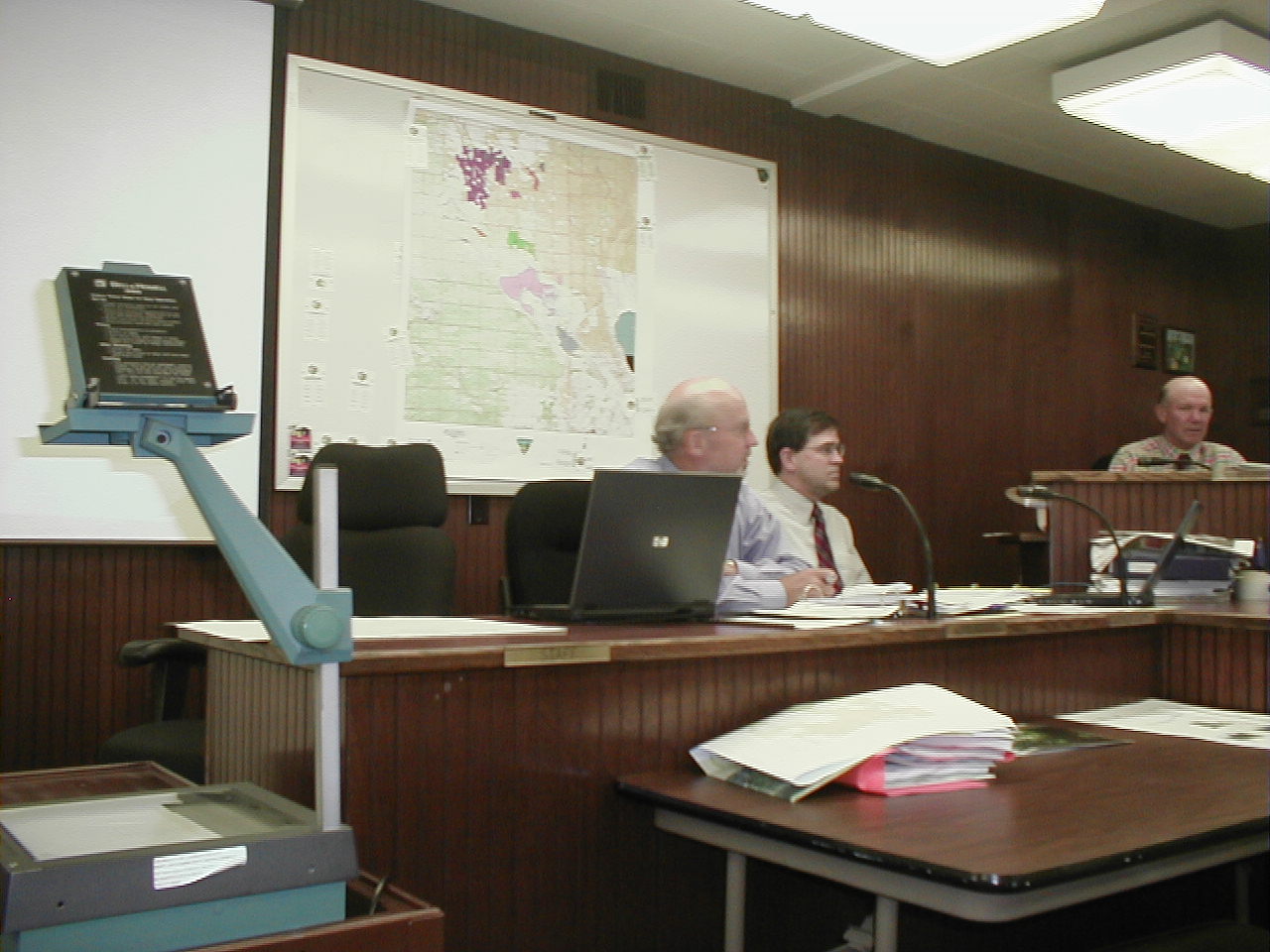 Private land owners must file an application with the County's Community Development Department if they want the generators.
Cady forced the LMUD Board to break the law on June 21, 2007 when he insisted the Board vote on an Informational Agenda item. Cady wanted the Board to vote to be the Lead Agency on the alleged Wind Generation Project. He got his 4-0 vote but it is legally null and void.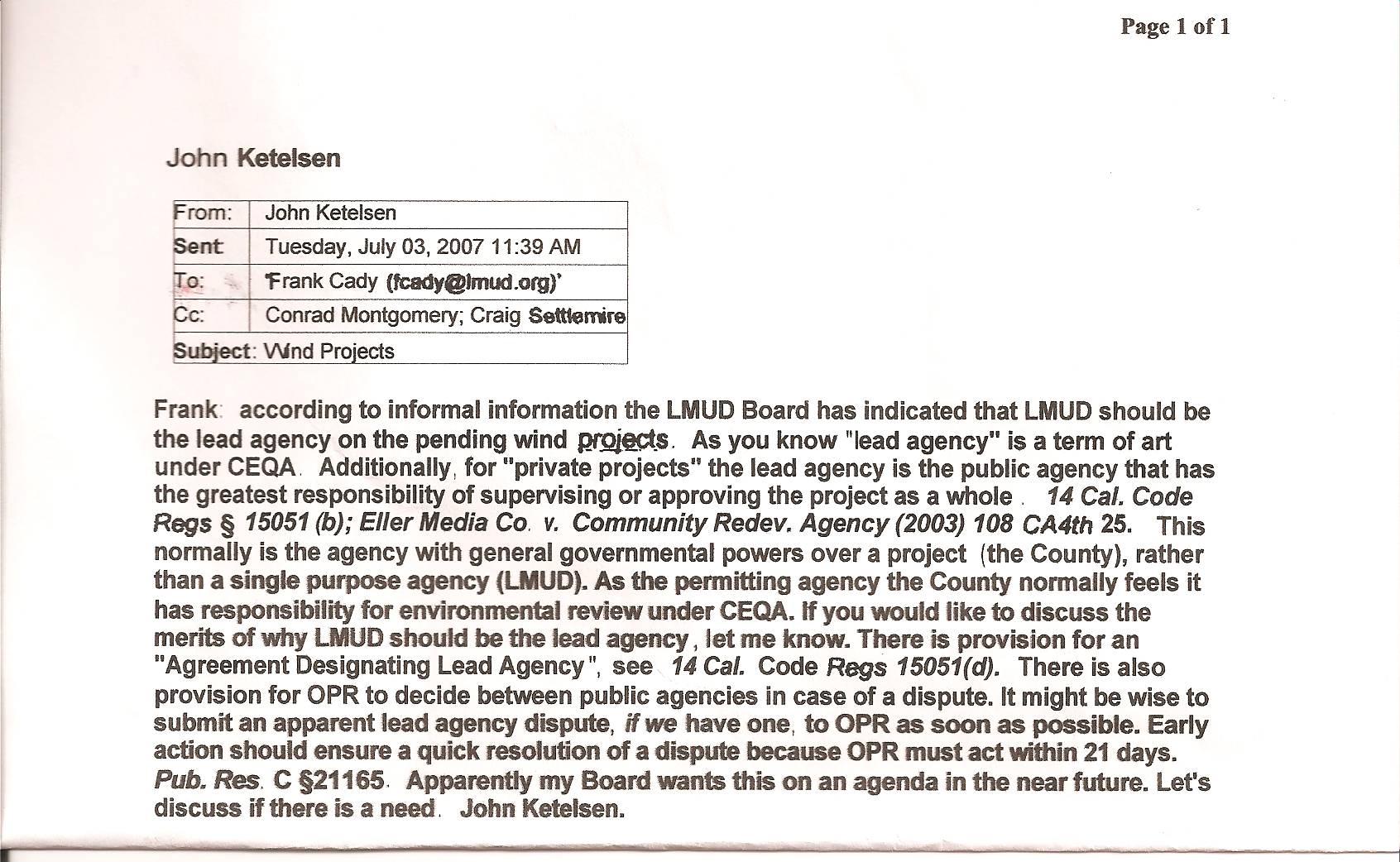 County Counsel also explained that the only manufacturers of wind generation equipment is in Europe. These companies have commitments to their clients in Europe and it would be extremely hard to acquire this equipment for projects in the US.
Cady has brought nothing but bogus projects to the LMUD Board. Why.....?
FIRST REASON: Legal fees. His partner, Jaimee "Richey" Jones is given hundreds of hours of useless bogus legal work on a project that does not exist. Nothing new here. Cady has been doing this for over 18 years.
SECOND REASON: Personal profit for Cady & Friends
PRINT AND SEND TO LMUD BOARD FOR SIGNATURES

LMUD Director, Darrell Wood, uses Suspended Corporation in Land Transaction?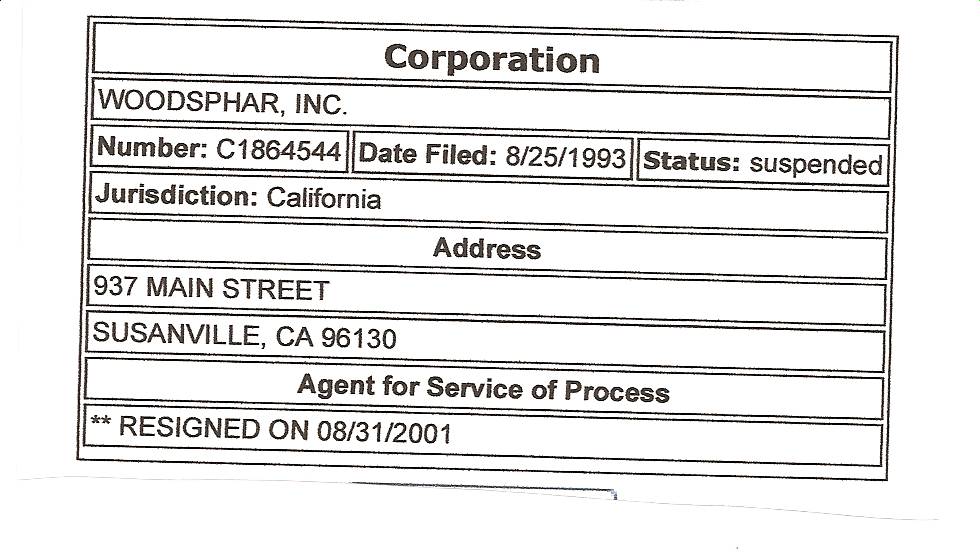 FACT: 937 Main Street was Willits Motors................?
There was no "Woodsphar, Inc" on January 6, 2006
........Walter Sphar?

Darrell Wood has used LMUD Director Fred Nagel for his surveying and Theresa Nagel was County Clerk on January 6, 2006, the day this was recorded, and Frank Cady is Wood's attorney. ONE BIG HAPPY FAMILY
LMUD ratepayers have a right to ask if LMUD Director Wood and Frank Cady have a conflict of interest in the wind generation deal.
Frank Cady is Darrell Wood's attorney & Business Partner

Bantley Aviation=Darrell Wood
BKC=Frank Cady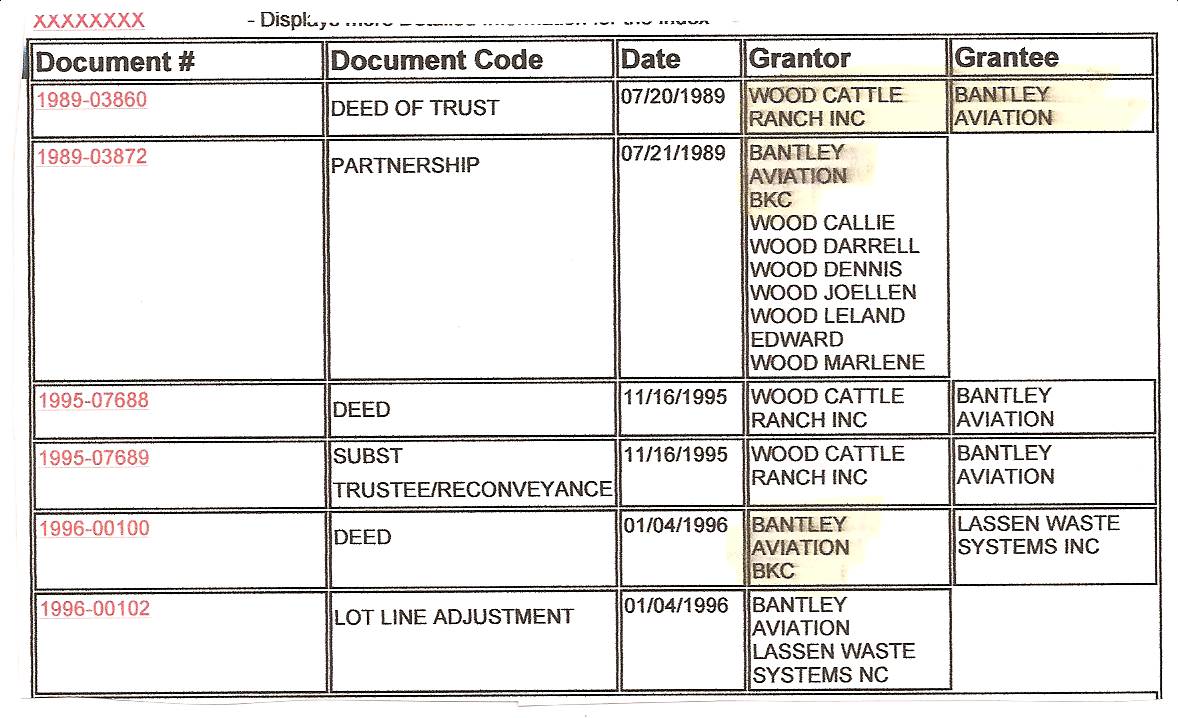 Why was it necessary to create dummy companies for these land transactions?
.......to hide the identities of the people involved....maybe
Woods and Cady have done it before, so this wind generation deal needs to be watched VERY CLOSELY.....KWH WILL DO EXACTLY THAT!!!!!!
LMUD VIOLATES THE BROWN ACT
This Board has no shame?
Again and again and again......................
The LMUD Board placed an Informational item on their June 21, 2007 meeting Agenda. The Board cannot act on an information item...only an action item. General Manager, Frank Cady threw a fit when LMUD's Council objected to the LMUD Board "voting" on an INFORMATION item. Cady got his illegal vote from a very corrupt LMUD Board.
This Board, Fred Nagel (does not live within the boundaries of LMUD), his son-in-law Wayne Langston (who sits on the Board and has never appeared on a ballot), Darrell Wood ( LMUD Director thrown out in 2000), George Sargent (former LMUD employee) KNOW THAT A VOTE COULD NOT BE TAKEN ON AN INFORMATION ITEM ???
CURIOUS: This Board, as demanded by Frank Cady, eliminated any public comment on Information Agenda items three years ago....so why did Cady break his "illegal" rule?
The Brown Act allows the public to comment on every single agenda item
PROBABLE ANSWER: Cady and Wood most likely are somehow going to make a buck on this project. Cady has never brought any legitimate project to the Board.
Cady made over $300,000 in legal fees for the bogus Arrowrock project he brought to the LMUD Board.

His law partner, Jaimee "Richey" Jones is now draining the coffers of LMUD with her padded invoices. (Cady was listed as a retired member of Cady Pardee & Richey and now uses LMUD for his private law practice

)

TODAYS PULSE: Cissell Goes or the Board Goes
....probably both
if you think you are too small to make a difference you haven't been in bed with a mosquito
Will Cissell be entitled to thousands of dollars a month after he leaves? The College Board tried to keep him on long enough for Cissell to receive his "stipen retirement"
Cissel states that he is "well positioned to move forward"...
WHY DOES THE PUBLIC HAVE TO PAYOFF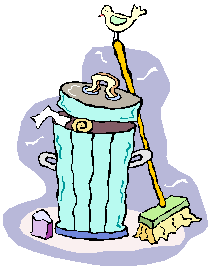 ROTTEN PUBLIC OFFICIALS?
Todays pulse: Cady goes or the Board goes
LMUD GM, Cady, gives management a 12% pay increase
.......when LMUD is broke again?????????
Look for Franky to slip another rate increase in.........
The incompetent LMUD Board, Fred Nagel, Darrell Wood, Wayne Langston, George Sargent and yes......Nancy Cardenas passed a resolution giving Franky the authority to raise the electric rates.............anytime he felt like it.
simply stupid susanville
The City of Susanville allowed Frank Cady to take out a $1.4 million dollar loan for his company and put up the city owned golf course as collateral.
This deal didn't take a "Shady" Cady to "seal the deal" but a really corrupt and STUPID City of Susanville.
Take a look at Cady's assets

The public can now understand why there was a recent mass exodus from the City of Susanville
City Manager- resigned
City Attorney-resigned
Councilman Rocky Joy-resigned
and
PLUMAS BANK Mark Soloman......Gone
Any intelligent life form would be asking Cady WHERE THE HELL IS THE $1.4 MILLION ????
IDIOTS.....CHECK THEIR BANK ACCOUNTS....DUHH
Remember, this is Lassen County...Booty is shared
Frank Cady charged LMUD $25,000 to $30,000 A MONTH FOR HIS PADDED legal INVOICES. How was this shared?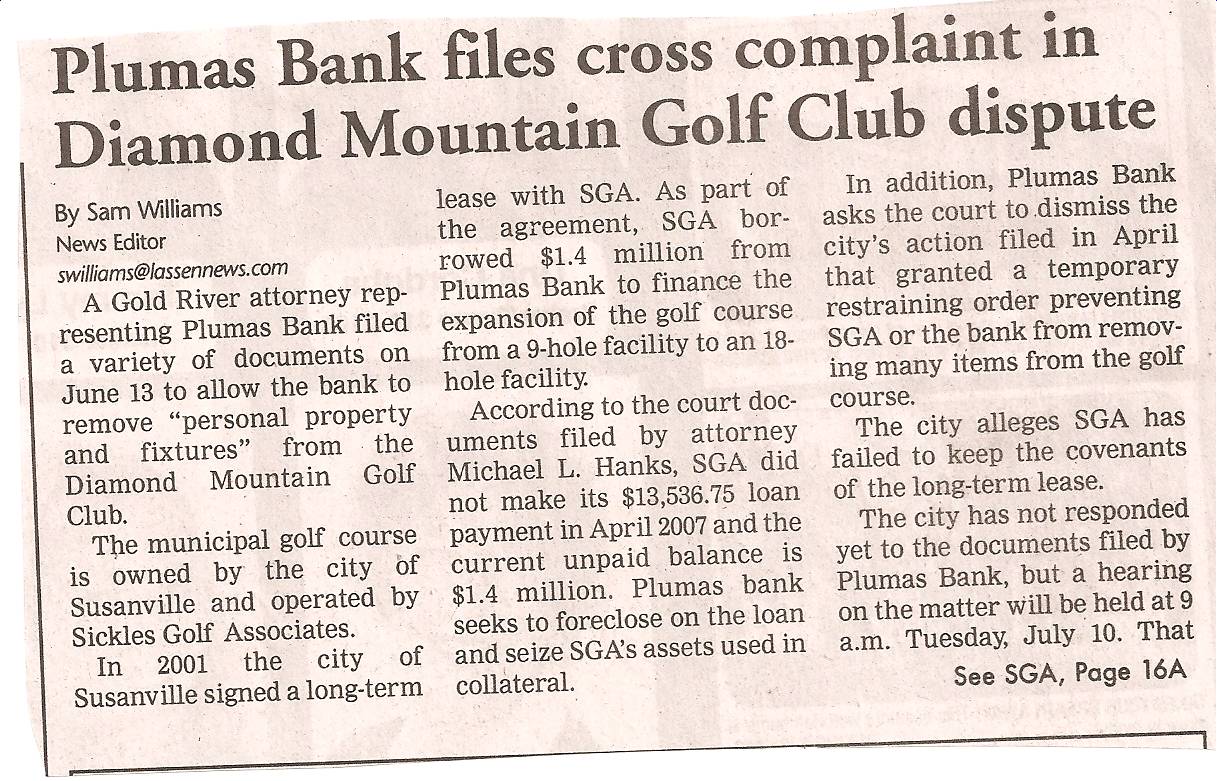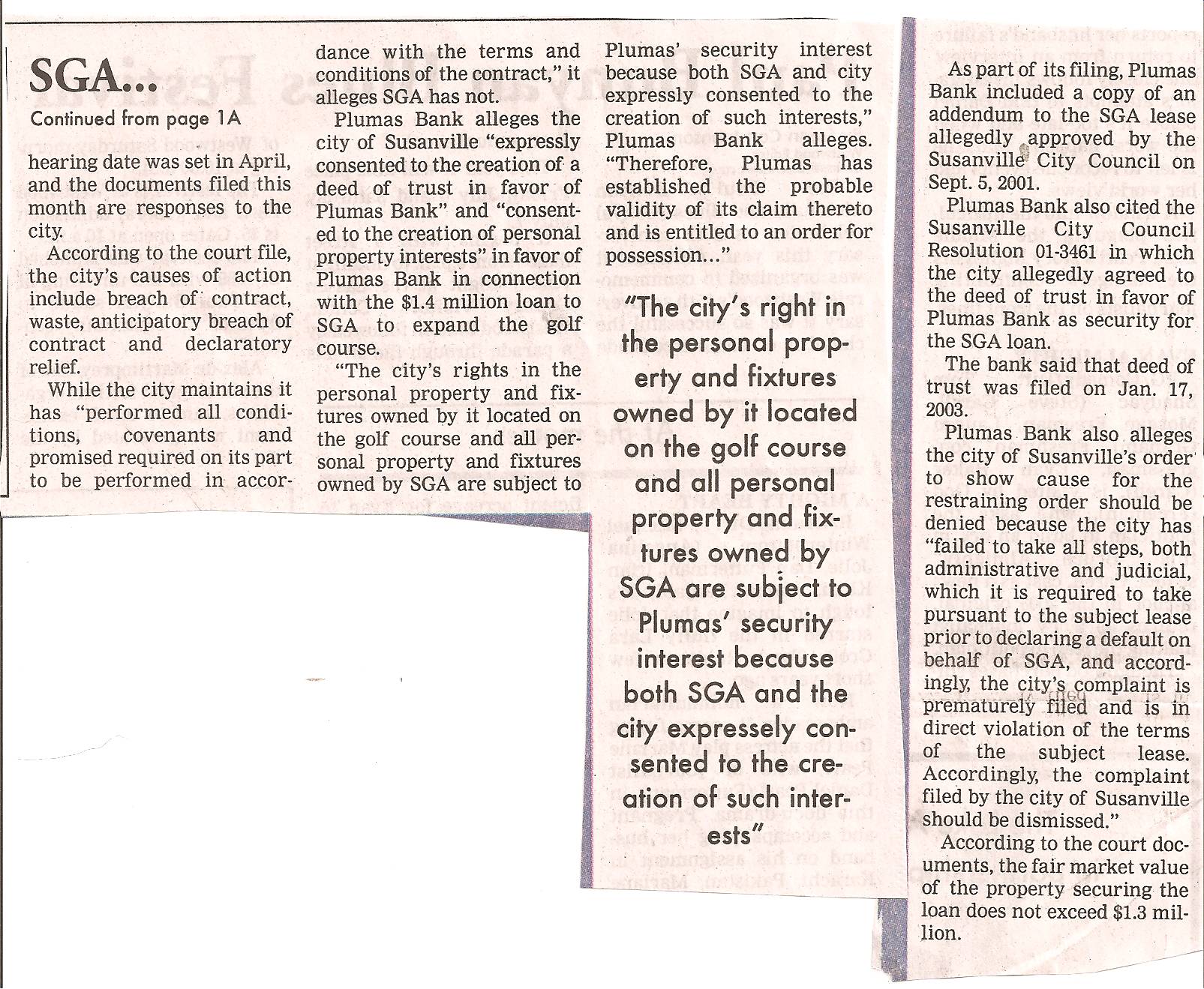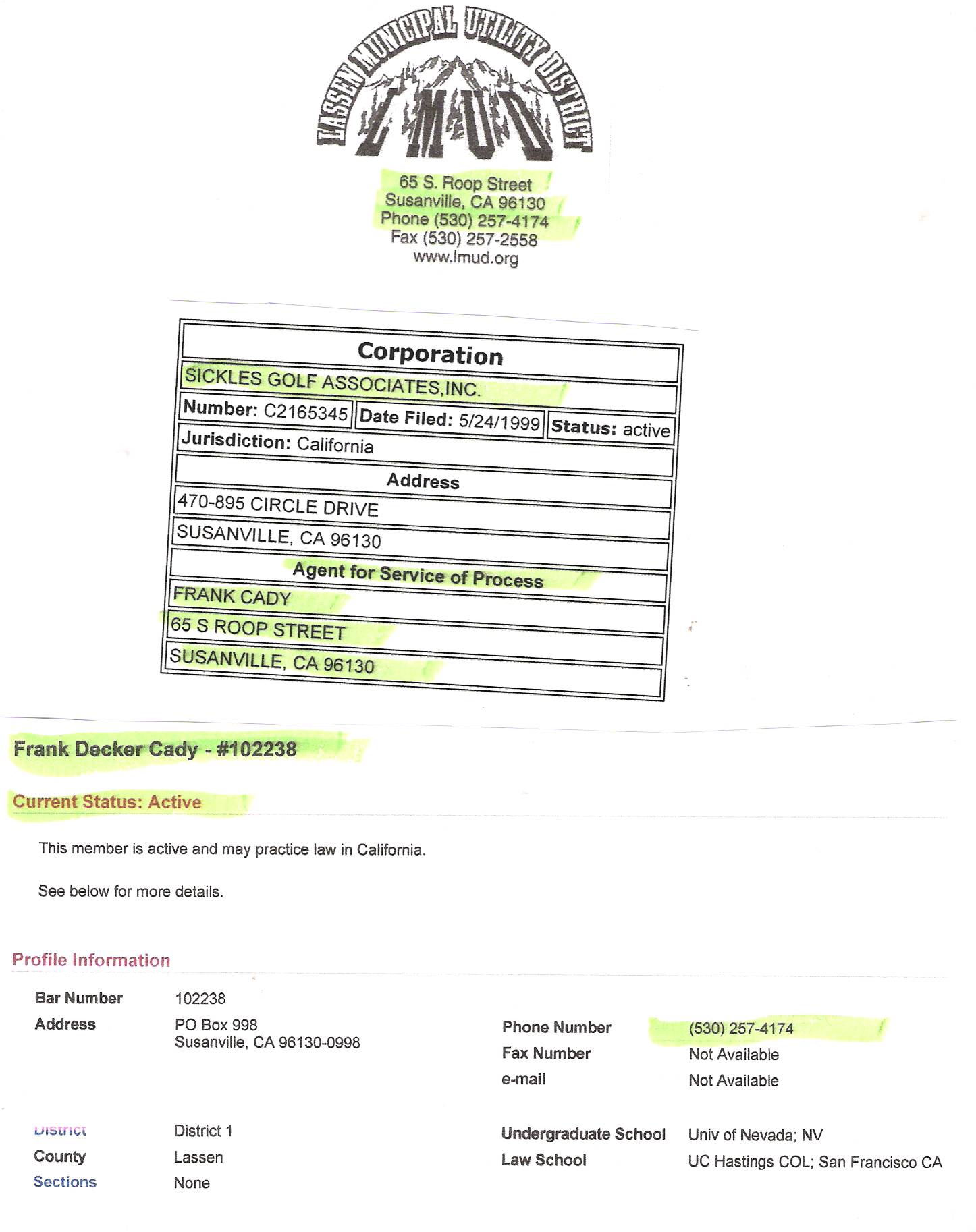 REDUCTION OF BULGING LMUD STAFF
COULD LEAD TO A REDUCTION IN RATES
The impotent LMUD Board hired their attorney to be the General Manager when they realized that their "secrets" would not be safe if they hired from the outside......
Frank Cady, LMUD's attorney and General Manager created useless jobs that resulted in one of the reasons for the rates to go from $.115 to $ .130 since Cady took over as General Manager.
There is no need for a Board Secretary....the Office Manager did this function
There is no need for an Assistant General Manager, unless you have a GM that isn't qualified
There is no need for an Executive Assistant to the General Manager
There is no need for an Administrative Assistant to Assistant General Manager
There is no need for a Facilities Manager
Make no mistake, if the ratepayers could curb Cady's and this boards spending (on their expensive travel vacations the rates would go down.
NOTE: Frank Cady flies Darrell Wood to and from the LMUD meetings....why?......he doesn't live here.
Ratepayers pay for this.................
LMUD Director Fred Nagel does not live within the LMUD boundaries

. Nagel is registered to vote but is a PSREC customer. You must be a LMUD customer. This is a requirement that his wife, Theresa, ignored to get her husband Fred, on the LMUD Board. LMUD never pursued setting their service boundaries the same as the Supervisory boundaries....this makes Fred Nagel not eligible to be on the LMUD Board.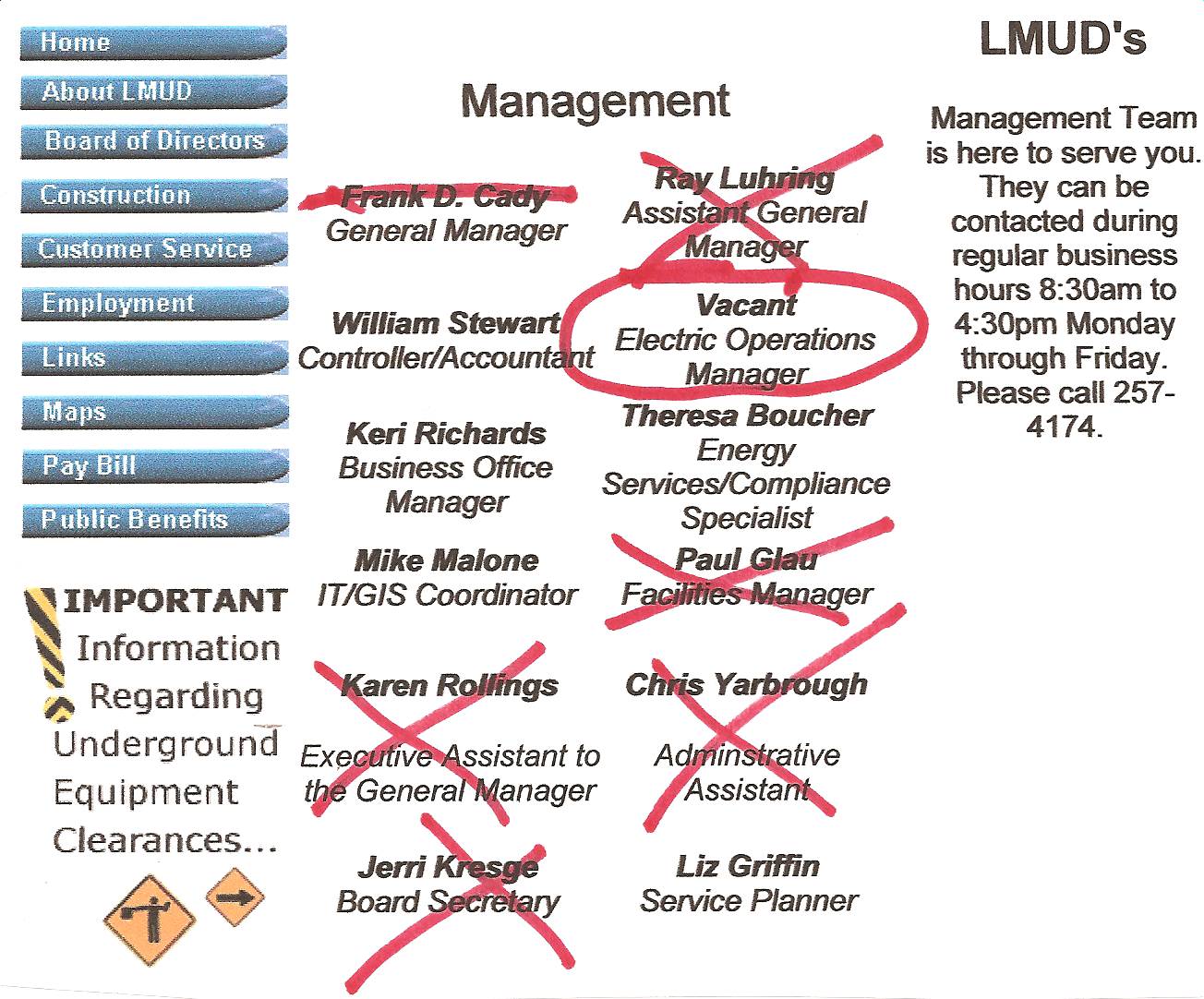 Frank Cady fires LMUD Electric Operations Manager, Trevino
Did Steve Trevino threaten to expose Cady ?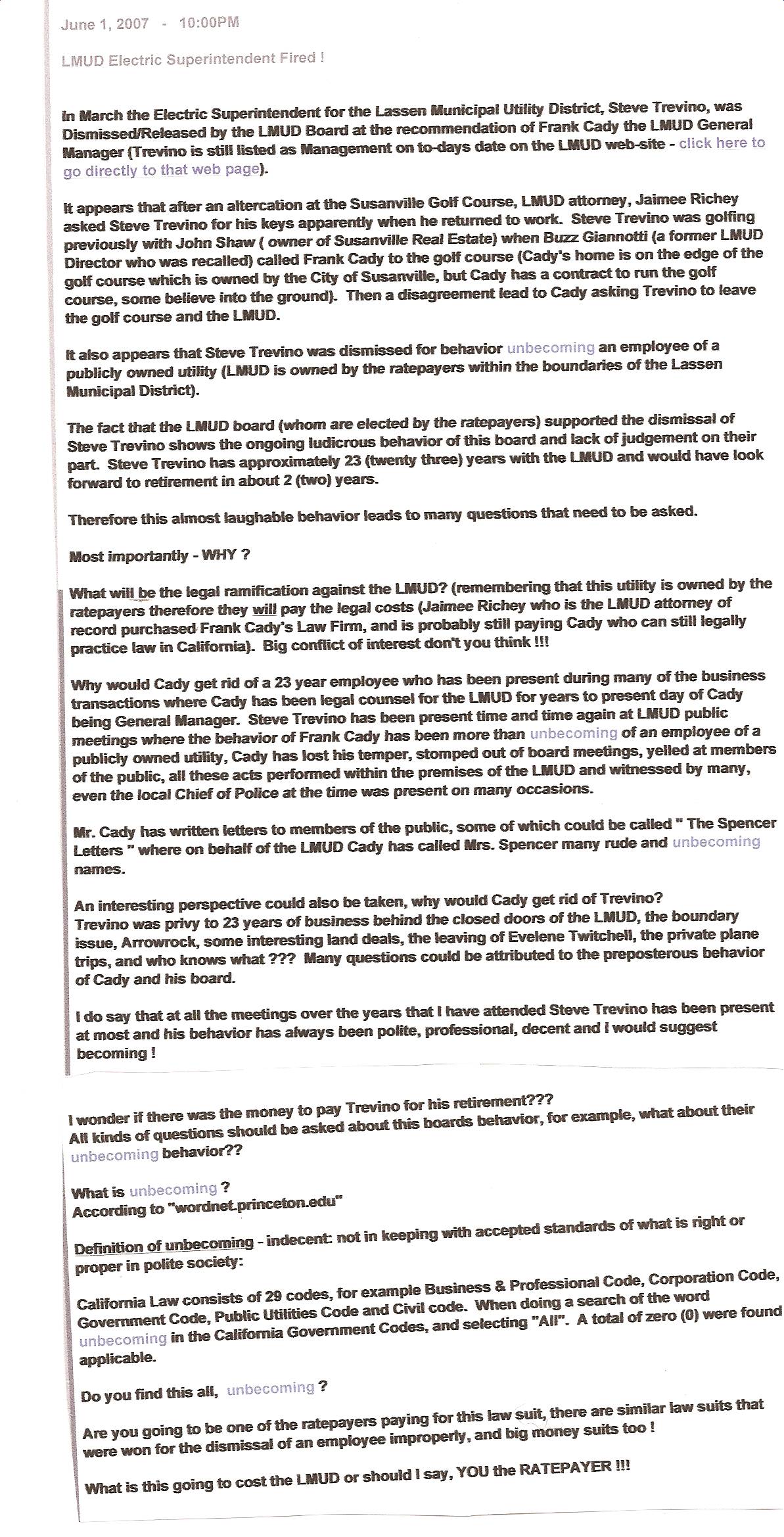 City of Susanville Sues Frank Cady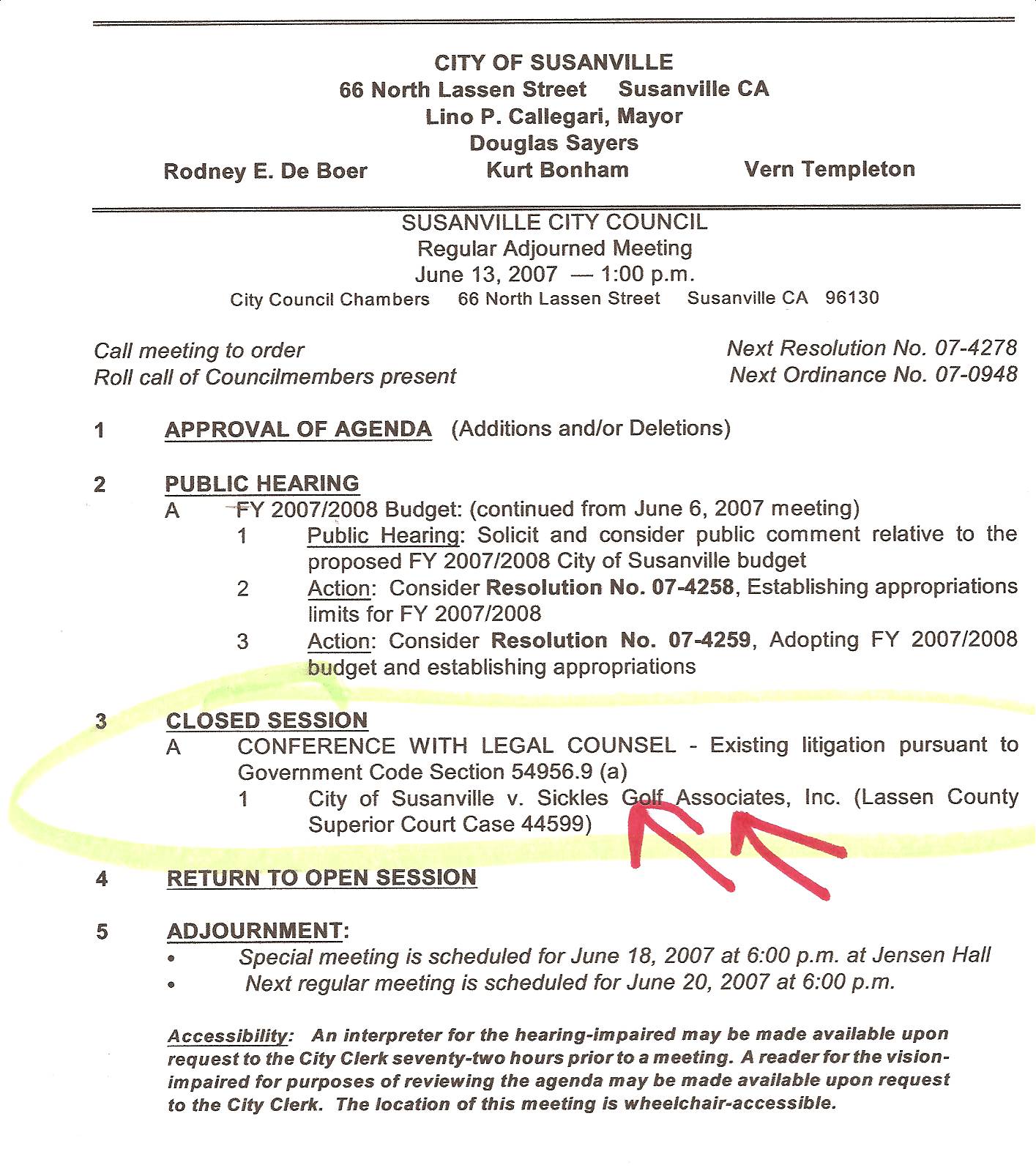 Frank Cady is being paid by a Public Utility as a FULL TIME EMPLOYEE.
Frank Cady advertises as an "active" attorney and gives a Public Utility phone number as a contact.
Frank Cady's law partner is the Public Utility's attorney.
Frank Cady runs a Public Golf Course while being paid by a Public Utility.
What part of this looks WRONG?
There should be two more legal actions: LMUD ratepayers sue Frank Cady & LMUD ratepayers recall the corrupt Board that has allowed Cady to get away with his rape of this public utility.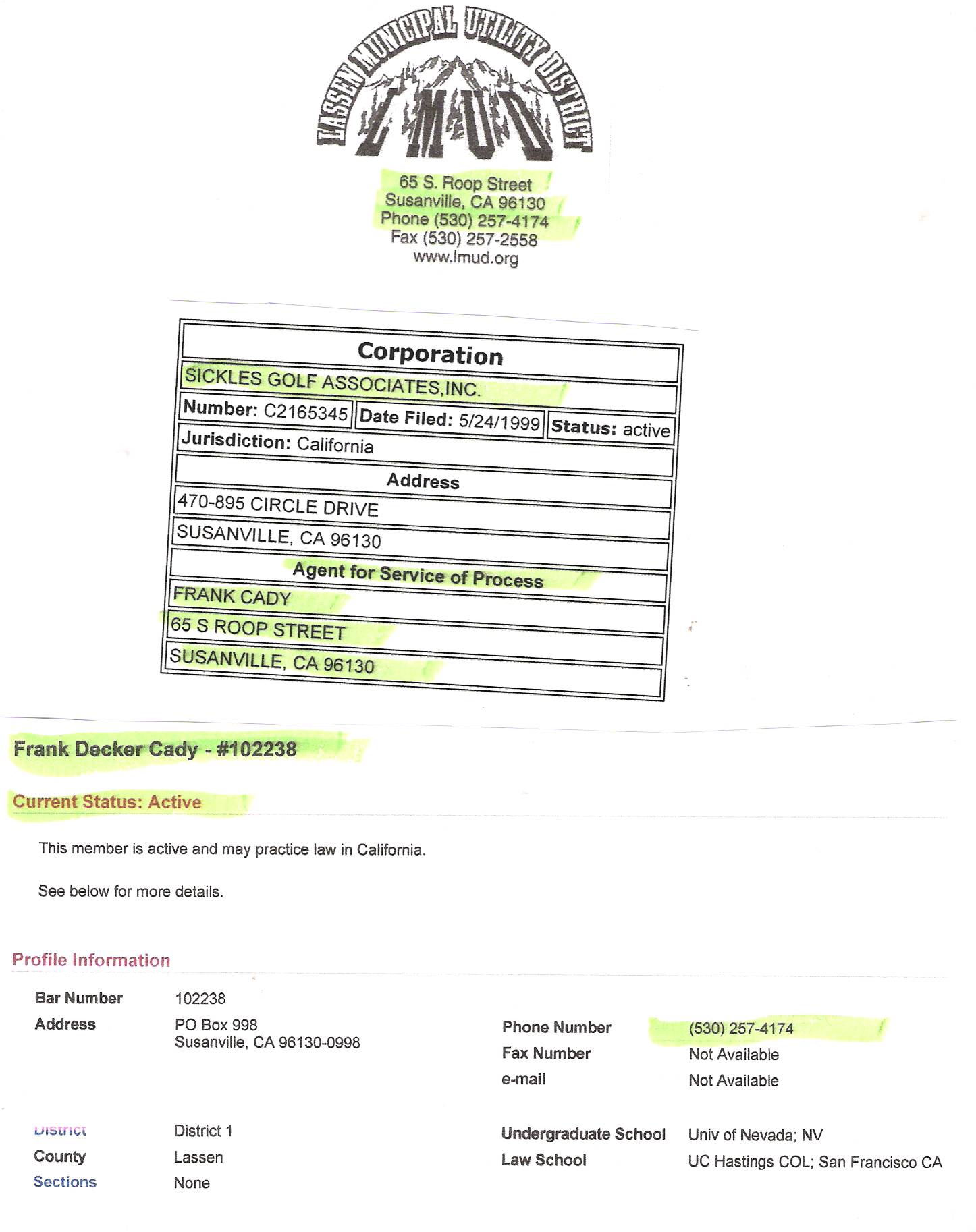 Move to "DISSOLVE" LMUD
Lassen County electric ratepayers deserve better
The outrageous LMUD rates are caused by the mismanagement and overspending by a corrupt Board.
Frank Cady and the Corrupt LMUD Board could not get away with their underhanded, venal, profiteering, unscrupulous acts if they were a PUD.
Herlong to form a Public Utility District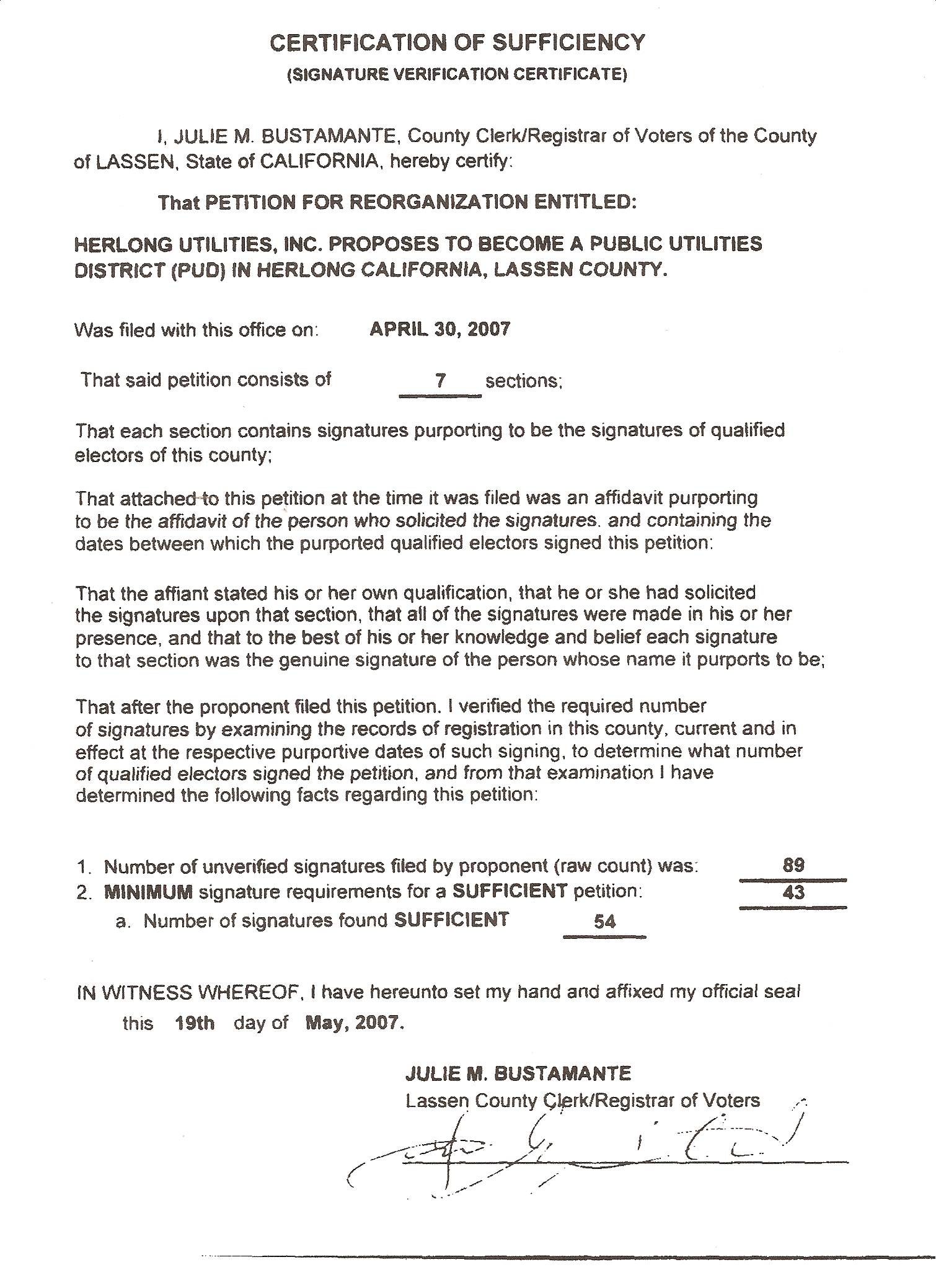 Ousted Judge Lazard moves to Sonoma District Attorney's Office
Ridgely Lazard, Superior Court Judge
Judge Ridgely Lazard has moved to Fairfield, California and is now working for the Sonoma County District Attorney's office. His wife, Kathleen Lazard, recently left her position in Susanville. She was the City Attorney.
A few more remain.....................
KEEPING THE GOLF COURSE OPEN IS FINE, BUT WHERE ARE OUR PRIORITIES?????
AS A COMMUNITY BOTH AS LASSEN COUNTY AND THE CITY OF SUSANVILLE THE MORE CIVIC FACILITIES WE HAVE THE BETTER LEVEL OF OUR STANDARD OF LIVING AND OUR SOCIETY FALLS RIGHT INTO PLACE. BUT PRIORITIES MUST BE SET IN RELATION TO WHAT WE DO.
FIRST, WE APPLAUD FORMER SHERIFF RON JARRELL AND OTHERS EFFORTS TO KEEP THE GOLF COURSE OPEN AND OPERATING.
THE GOLF COURSE WAS IN THE HANDS OF A CORPORATION (SGA, CADY FAMILY) THAT RAN THE COURSE INTO THE GROUND THROUGH IT'S TOTAL INCOMPETENCE.
OUR COMMUNITY IS IN DIRE NEED OF BOTH A YOUTH AND SENIOR CENTERS OFFERING RECREATIONAL AND ACTIVITY BASED FUNCTIONS.
PRIORITIES??!! A YOUTH CENTER IS AN INVESTMENT FOR OUR FUTURE GENERATIONS. KEEPING OUR YOUTH BUSY, ACTIVE AND CENTERED ON LIFE RATHER THAN GETTING INTO TROUBLE OR JUST HANGING-OUT IN FRONT OF THE LOCAL TATTOO PARLORS. WE'VE LOST OUR COMMUNITY SWIMMING POOL WITH NOTHING TO REPLACE IT IN SIGHT. NOW OUR YOUTH GOES OVER TO "THE ROCKS" AT THE BRIDGE AT RICHMOND ROAD AND RIVERSIDE DRIVE , DIVING INTO VERY HAZARDOUS CONDITIONS. IS THIS THE BEST WE AS A COMMUNITY CAN DO??
WE NEED A YOUTH CENTER THAT CAN OFFER SOFTBALL, BASKETBALL, VOLLEYBALL LEAGUES; ARTS AND CRAFTS; DANCING AND A SCORE OF OTHER ACTIVITIES. AND WHAT IS HAPPENING IN OUR COMMUNITY, MAJOR ACTIVITY OF VOLUNTEERS TO HELP KEEP A GOLF COURSE OPEN FOR THE 200 GOLFERS IN THE AREA!! PRIORITIES??!!!
IN CONSIDERATION OF OR SENIORS, OTHER THAN A LUNCH PROGRAM AT THE SENIOR NUTRITIONAL CENTER THERE IS ABSOLUTELY NOTHING. A SENIOR CENTER OFFERING NUMEROUS ACTIVITIES SUCH AS MOVIES, SHUFFLE BOARD, LAWN BOWLING, DANCING, CARD AND BOARD GAMES, LECTURES AND HEALTH ACTIVITIES IS JUST AN EXAMPLE OF WHAT CAN BE OFFERED. WHAT DO WE HAVE NOW.......ABSOLUTELY NOTHING!!! AND WHAT ARE OUR COMMUNITY LEADERS DOING TO CREATE THESE CENTERS.....ABSOLUTELY NOTHING!!!!
SUSANVILLE CITY COUNCIL MEMBER ROCKY JOY RESIGNS
Taborski/Joy Deal
SUSANVILLE CITY MANAGER LUANNE RAINEY RESIGNS
KATHLEEN LAZARD, WIFE OF OUSTED SUPERIOR COURT JUDGE RIDGELY LAZARD, RESIGNS AS SUSANVILLE CITY ATTORNEY
The Lazards are leaving the area....................
IS THE LMUD PUBLIC BENEFIT ACCOUNT SUDDENLY EMPTY?
The LMUD Board created a new position and then hired Theresa Boucher (the LMUD Board Secretary's daughter) to manage the "Public Benefit" money mandated by the State of California. A portion of LMUD's income must be set aside and dedicated to specific public benefit projects. The account had close to a million dollars in it.......now.....it is suddenly close to empty???? WHAT HAPPENED TO THE MONEY??????
TRUE: Then there is no need for a Public Benefits Specialist ($55,000 salary) if the account is defunct.
Susanville attorney claims that his office is closed.
or is he just hiding from the creditors........?
Employee, John Zenith, claims that Susanville "attorney" David Williams office is closed. Zenith stated that all employees have been let go, except for him.
HAS HIS REPUTATION CAUGHT UP TO HIM?
Williams was removed from a criminal case, by the Court, when it was discovered that Williams had submitted false evidence to the Court. Williams recent (civil) loss to KWH also involved false evidence.
DOES THIS COMMUNITY REALLY NEED ATTORNEYS LIKE THIS?
THE CADY FAMILY LOSES THE GOLF COURSE
Judge Darlington grants the City of Susanville an injunction to stop the Cady's from removing any fixtures and allows the City to manage the golf course.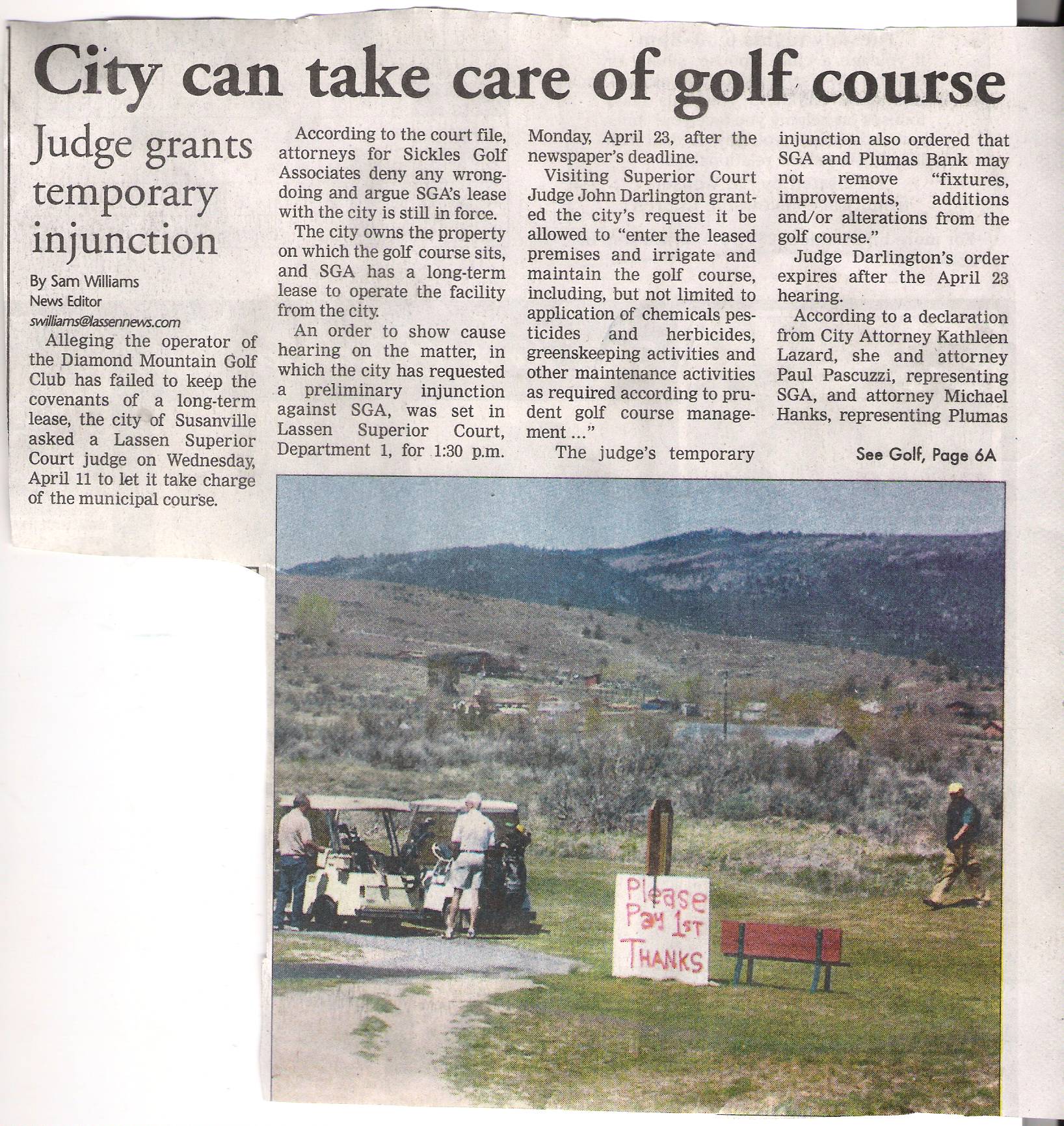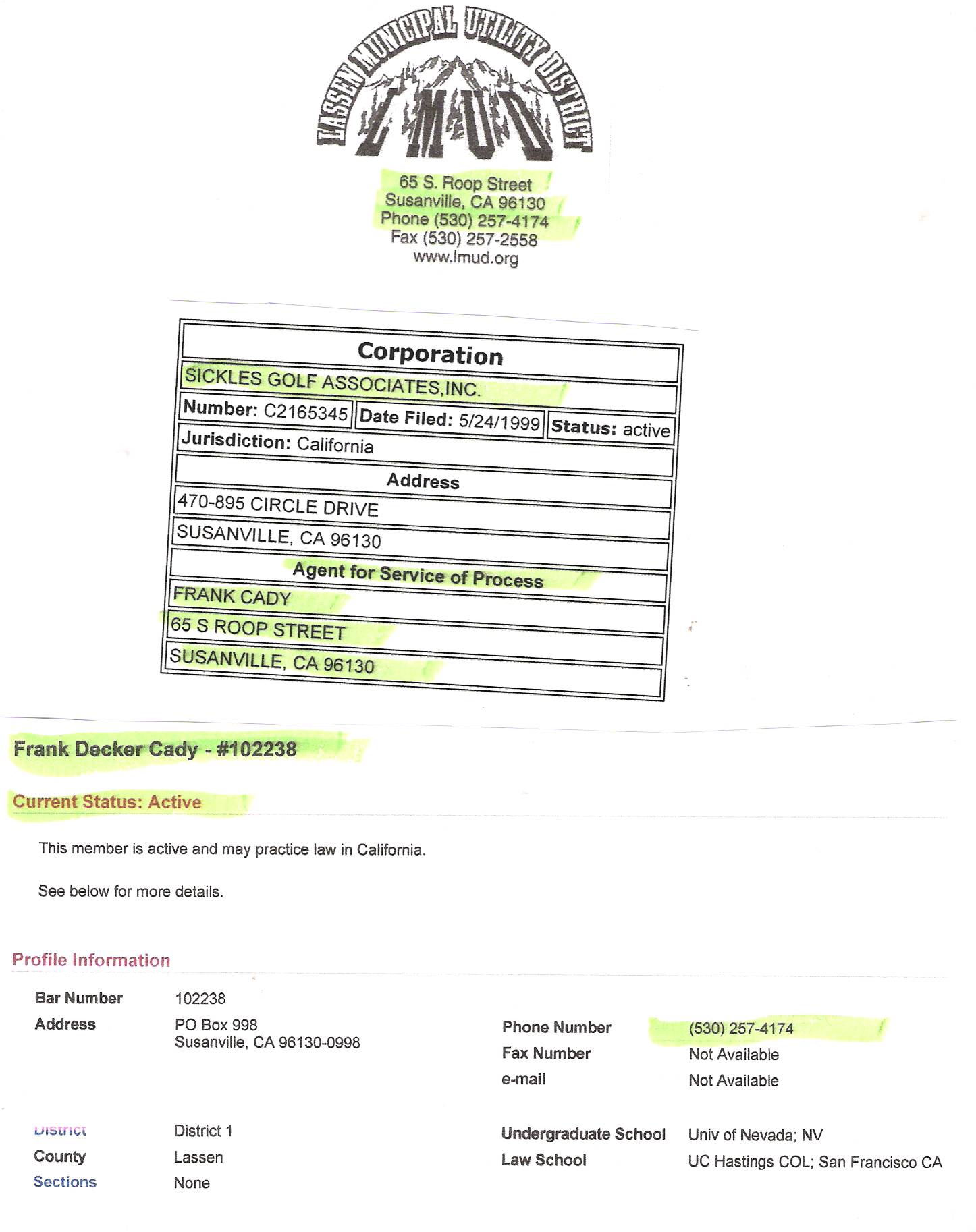 "Susanville" Social Security Office demands that the poor give back two years of benefits
Bill Zuroff, Manager of the Susanville Social Security Office, has given orders to send letters to the poor in his district. The reason that HE is giving is that HE......HE........has determined that disabilities ended two years ago and wants all of their "entitlement" money back.
The American citizens that are effected cannot fight back. Some have been disabled since birth. The blind, the developmentally disabled, old, young. Zuroff has not spared anyone.

Is this an arbitrary action by Zuroff?
A curious fact, the Social Security Department approved all payments to these disabled citizens for the past two years(?????), but Zunoff, on his own, has declared that their DISABILITIES HAVE ENDED.
The results of HIS action will put these American citizens out on the streets...... homeless in Lassen County.
Zuroff is the worst kind of coward...picking on people that can't fight back
HAS POVERTY RISEN TO THE LEVEL OF "SIGNIFICANT GAIN", Mr. Zuroff?
No Sightings of the Ghost of Cady?
Public Relies on "Blogs" for the Truth
FACT: More readers rely on their local Blogs for the truth because their local paper suppresses the facts.
The Lassen County Times Editor got into trouble when she invented fake "Letters-to-the-Editor" authors. Now, where's the trust ?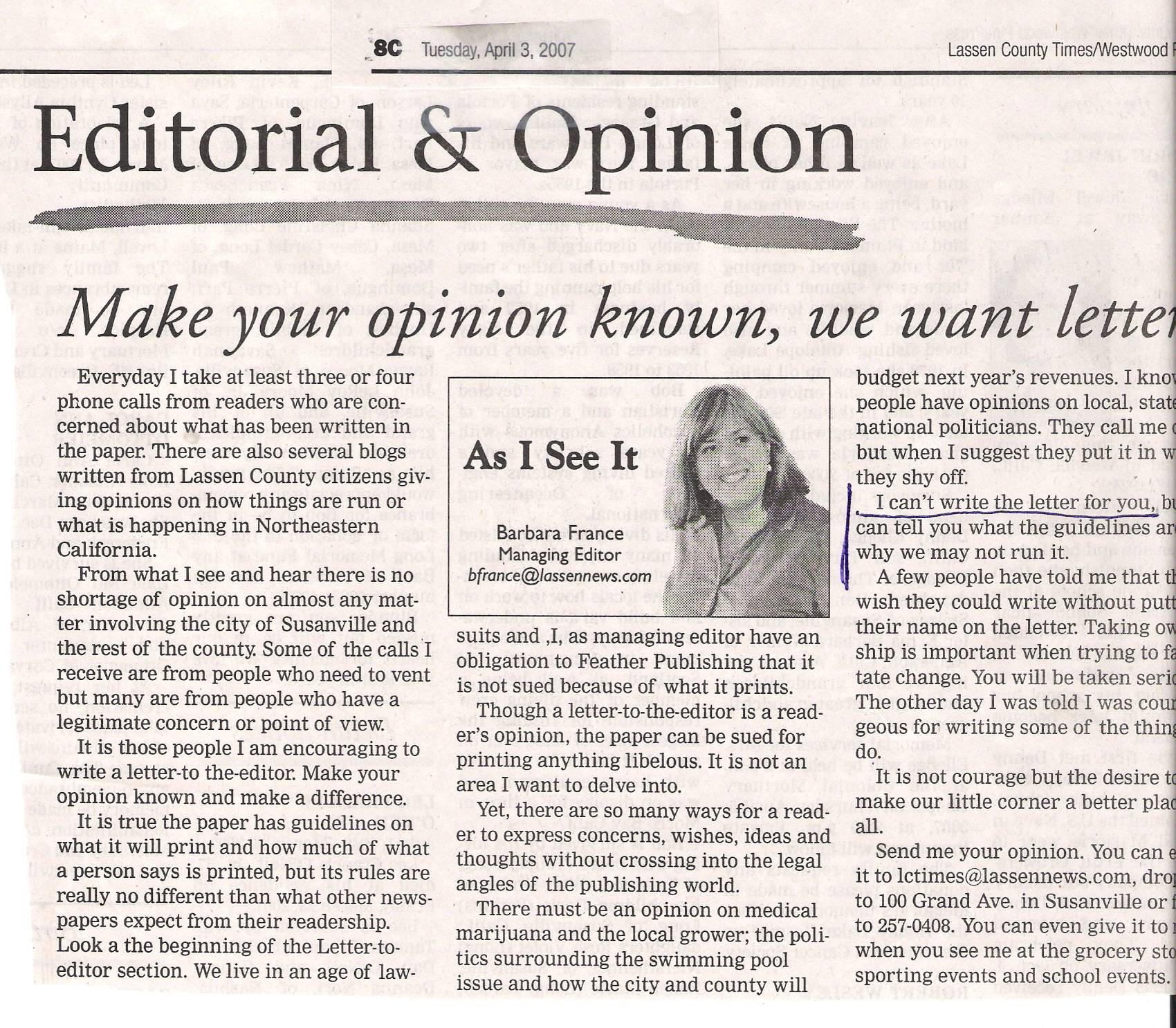 WESTWOOD POWER
ON,OFF,ON,OFF,ON, OFF,ON,OFF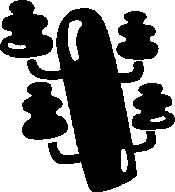 Former LMUD General Manager, Les Leiber, said that LMUD has a switch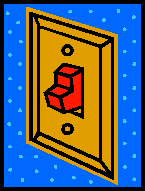 (at their 65 Roop Street office) that can turn Westwood power off.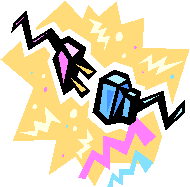 Westwood ratepayers can file a claim for damages for this erratic power in Westwood. Ratepayers have been enduring the power going off and on for five to ten minutes at a time.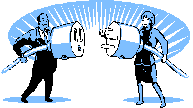 Frank Cady the LMUD GENERAL MANAGER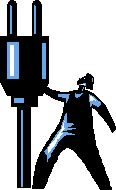 257-4174or Diamond Mtn. Golf or his law office
Third District Court of Appeals affirms Judgment for KWH/Spencer, 3-0
David Williams & Jim Forbes Lose
Jim Forbes, expelled KWH member, filed SIX frivolous lawsuits against Eileen Spencer & KWH and lost all of them. David Williams, Forbes attorney, submitted the last loss to the 3rd District Appellate Court and the three judge panel affirmed the lower courts decision to sanction both David Williams and Jim Forbes thousands of dollars for their frivolous lawsuit.
Williams allowed his client, Jim Forbes, to commit perjury
Williams and Forbes submitted false evidence to the court for damages that did not exist.

3rd Appellate Court Judge Morrison submits:
"Further, Forbes makes no effort to demonstrate that the trial court was wrong to conclude that no triable issue of fact existed. nor does he argue that his ability to oppose the motion was impaired, which we review de novo, the appellant must demonstrate prejudice."
"Although Forbes cursorily asserts he "was not afforded the notice that due process demands, he does not articulate that he had any other evidence to offer on the issue of the check's validity, nor does he articulate that he did not actually consent to or acquiesce in the procedures employed by the trial court. His bald claim of lack of notice of what he was supposed to respond to is belied by the record, which shows that he knew the case would turn of the check and the circumstances surrounding its delivery and presentation. "
Spencer has filed a malicious prosecution action against John Zenith and Jim Forbes for the previous lawsuits filed.
HOW AND WHEN WILL LMUD RECOVER FROM ITS' REPUTATION OF GRAFT AND CORRUPTION?
GENERAL MANAGER/GENERAL COUNSEL FRANK CADY
NEXT LMUD MEETING 3/27/07 ? No Agenda posted on website???????
* 257-4174*
LMUD BOARD
FRED NAGEL
WAYNE LANGSTON
DARRELL WOOD
NANCY CARDENAS
GEORGE SARGENT
Arrowrock power plant-scam I- terminated
psrec/ncpa power plant - scam ii-terminated
CVP/NCPA "RESOURCE 500" PLANT SCAM TERMINATED
NCPA/LMUD Green Power Agreement
LMUD SECRETLY PURCHASES LAND for office
LMUD Linemen sent home without pay for wearing IBEW union shirts
Frank Cady couldn't manage to find his way out of a paper bag let alone pretending to manage this small utility. He has never had any value at LMUD except to line his own pockets. This LMUD Board has a history of self-serving actions since 2000. BAND OF THIEVES.....ALL OF THEM
The ratepayers are not happy with the rates and power outages and the employees are not happy with the lack of competent management
Lassen Municipal Utility District Holds Special Meeting 3/14/07
Argument leads to Electric Superintendent leaving LMUD
LMUD attorney, Jaimee "Richey" Jones (Cady's law partner and family member) asked Steve Trevino for his keys after an altercation, at the Susanville Golf Course, with LMUD General Manager Frank Cady.
THICK AS THIEVES
Apparently Steve Trevino was golfing with Susanville Real Estate Broker, John Shaw when Buzz Giannotti (re-called LMUD Director) called Frank Cady to come to the golf course. The disagreement lead to Cady asking Trevino to leave the golf course and LMUD.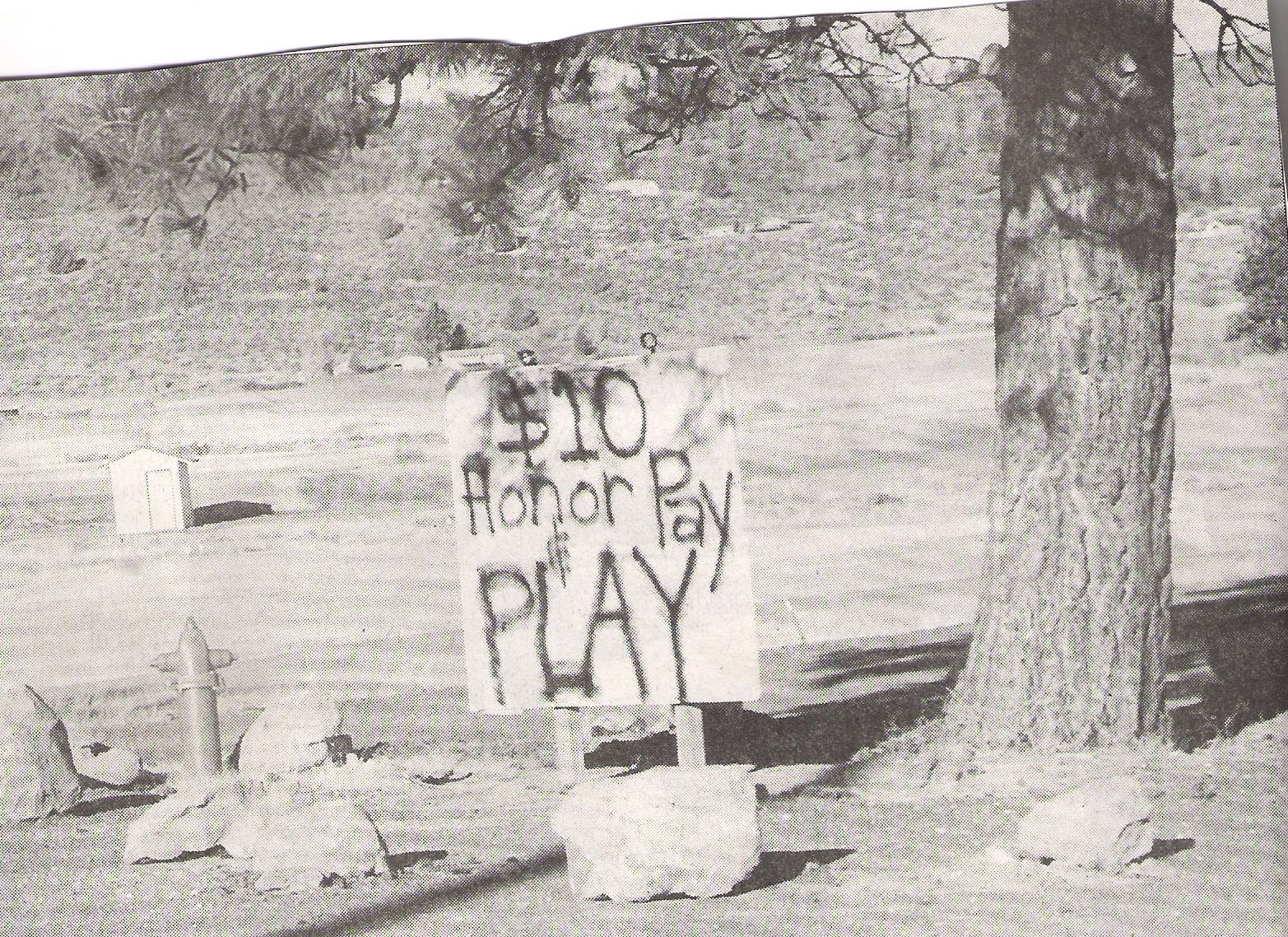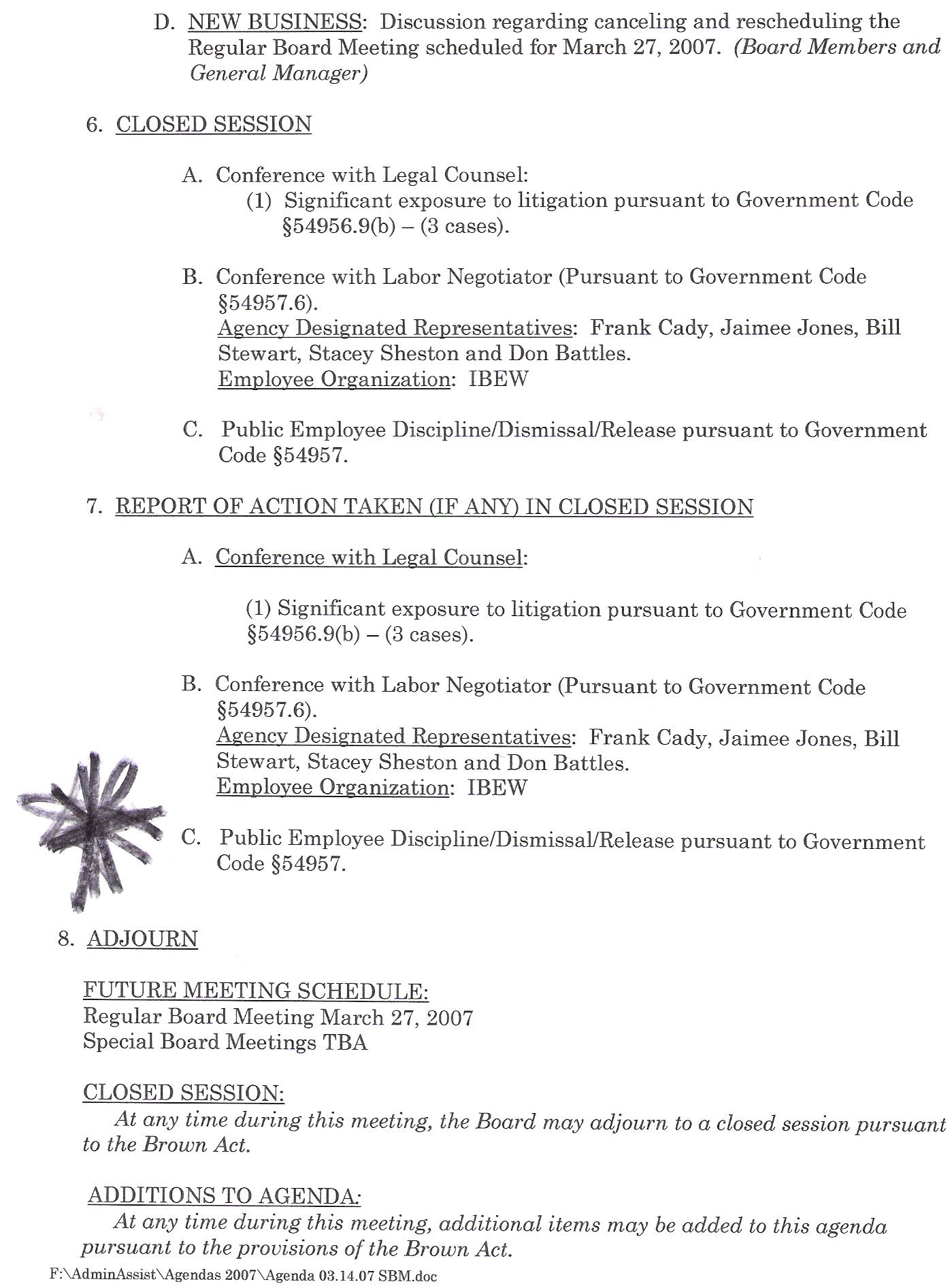 Steve Trevino was privy to the Arrowrock Scam, the Beterbide land scam, and the real reason why Evelene Twitchell had to be paid off.
Lassen County Supervisors to consider "Rig" Valley Pool House on 3/20/07
Amount Not-to-exceed: $5,332,670 ?
BULLY PHENOMENON
Submitted by KP, Susanville, CA
Everyone has known or knows a bully. One word can describe a bully, "coward". the common variety bullies are always cowards. You will find them in the place where you work, clubs, churches, government, everywhere.
These bullies didn't become bullies overnight. They can be identified early in life. The child that shows joy and satisfaction from pulling the wings off butterflies. The child that kicks or bites a smaller child. A young person that kicks and hurts animals. This dysfunctional behavior normally is not corrected at all because the caretaker becomes fearful of this burgeoning misfit or it is "over" corrected by abuse.
Bullies do grow up to function quite well in society. They feed off of the natural fears of others. There are just too many people that will tolerate despots because of fear. If this bully is your boss and your boss is abusive, you have options. 1. You can quit and find another job and hope that the next bully is not your BOSS. 2. You can do nothing 3. You can stand up for yourself and risk getting fired. Most people do nothing.
You will find bullies gravitate towards service clubs and churches because generally the members are "nice" people and can easily be controlled through fear. Unfortunately, most people can be controlled through fear. Bullies feed off and find strength from others fear.
When bullies manage to get into government and gain control over the publics lifestyles it needs to be stopped and corrected. Who has this courage? Bullies typically are not honest. Bullies typically hurt people. Bullies typically are "cheaters".
There will always be bullies around feeding off of the weak. Who has the courage to stand up for the weak, our disabled, our elderly? Who has the courage to right a wrong?
ANSWER: Only a few. Is a "few" enough to make a difference in our world....sometimes it is.
Presidential Cut-outs New Fad
The $50 one or the $2,000 one?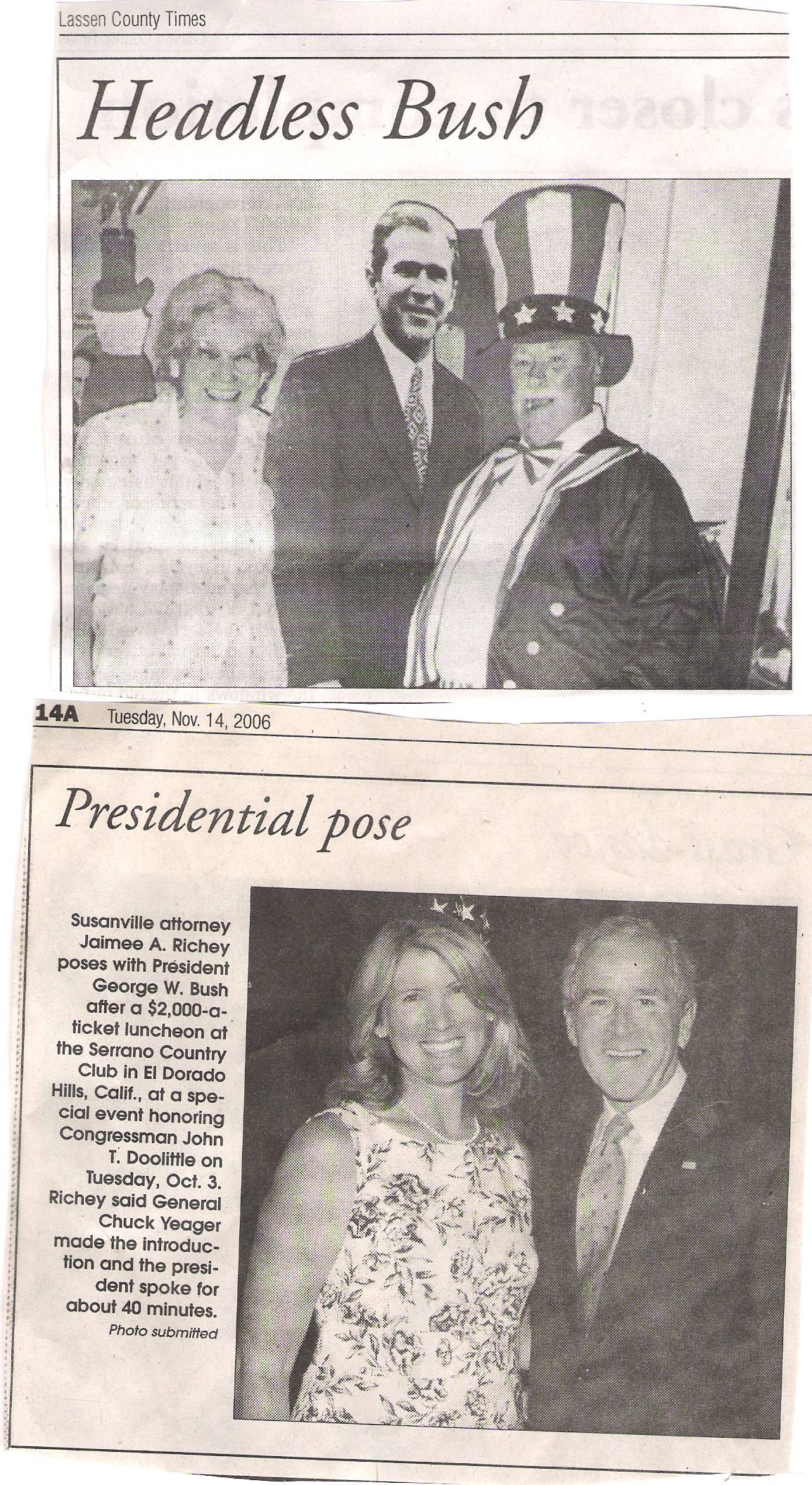 LMUD HELPS RESTORE "TRAILS" IN SUSANVILLE
This is what the LMUD continued rate increases are spent on..............
"LMUD is currently removing their substation and has offered to provide equipment and labor to upgrade the trail if the county could come-up with the material".
Last July the Lassen County Transportation Commission voted to to apportion LTF money to the City of Susanville and the County for the exclusive use of pedestrian and bicycle facilities.
The Lassen County Supervisors, at their March 13, 2007 meeting will consider approving $15,321 LTF funds (Local Transportation Funds). See Memo below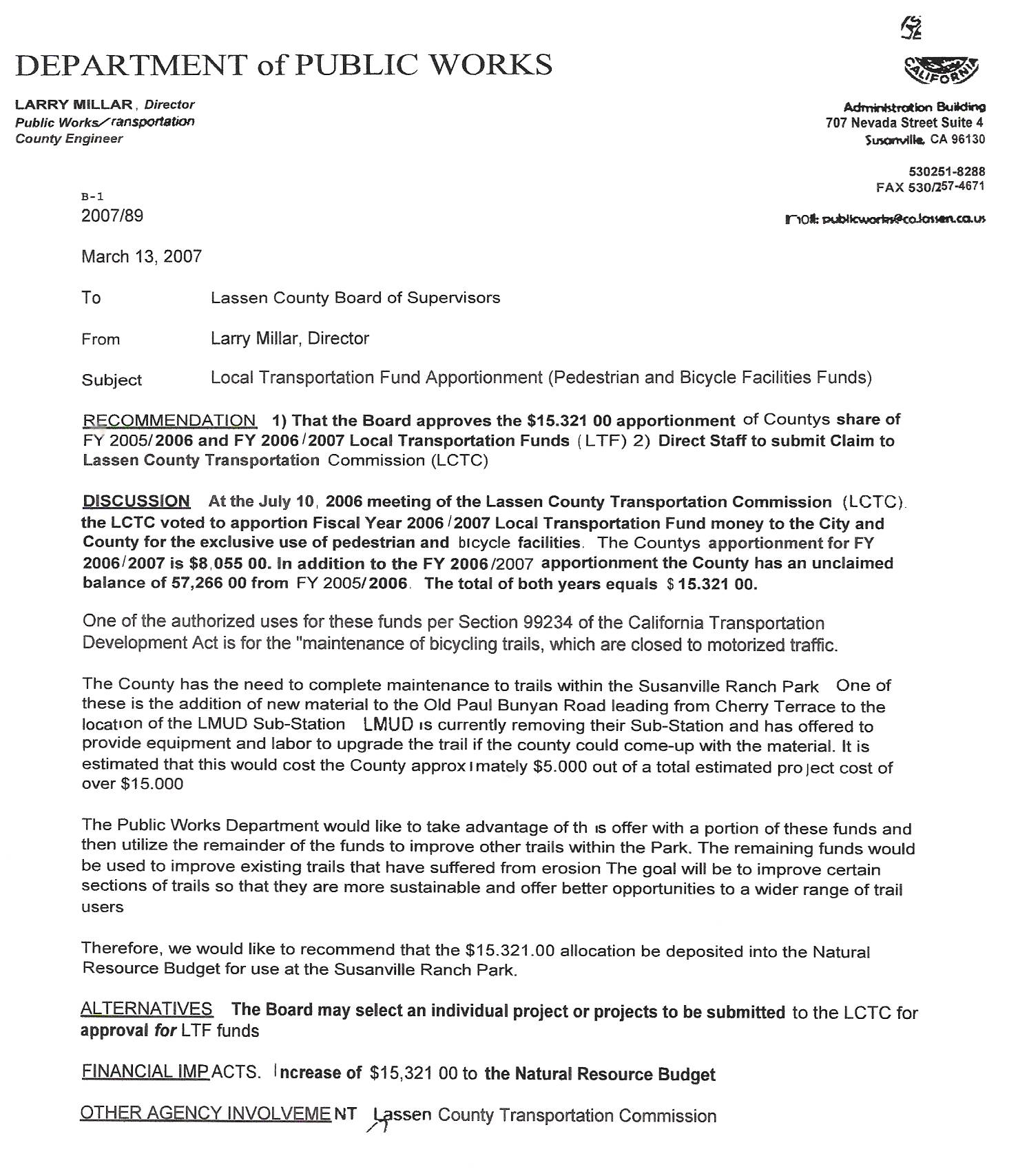 Lassen County Times reports a Grand Opening "held" on March 15 ?

Lassen County Times, 3/6/07
The St. Francis has a history............
SUSANVILLE HAS A DIRTY SECRET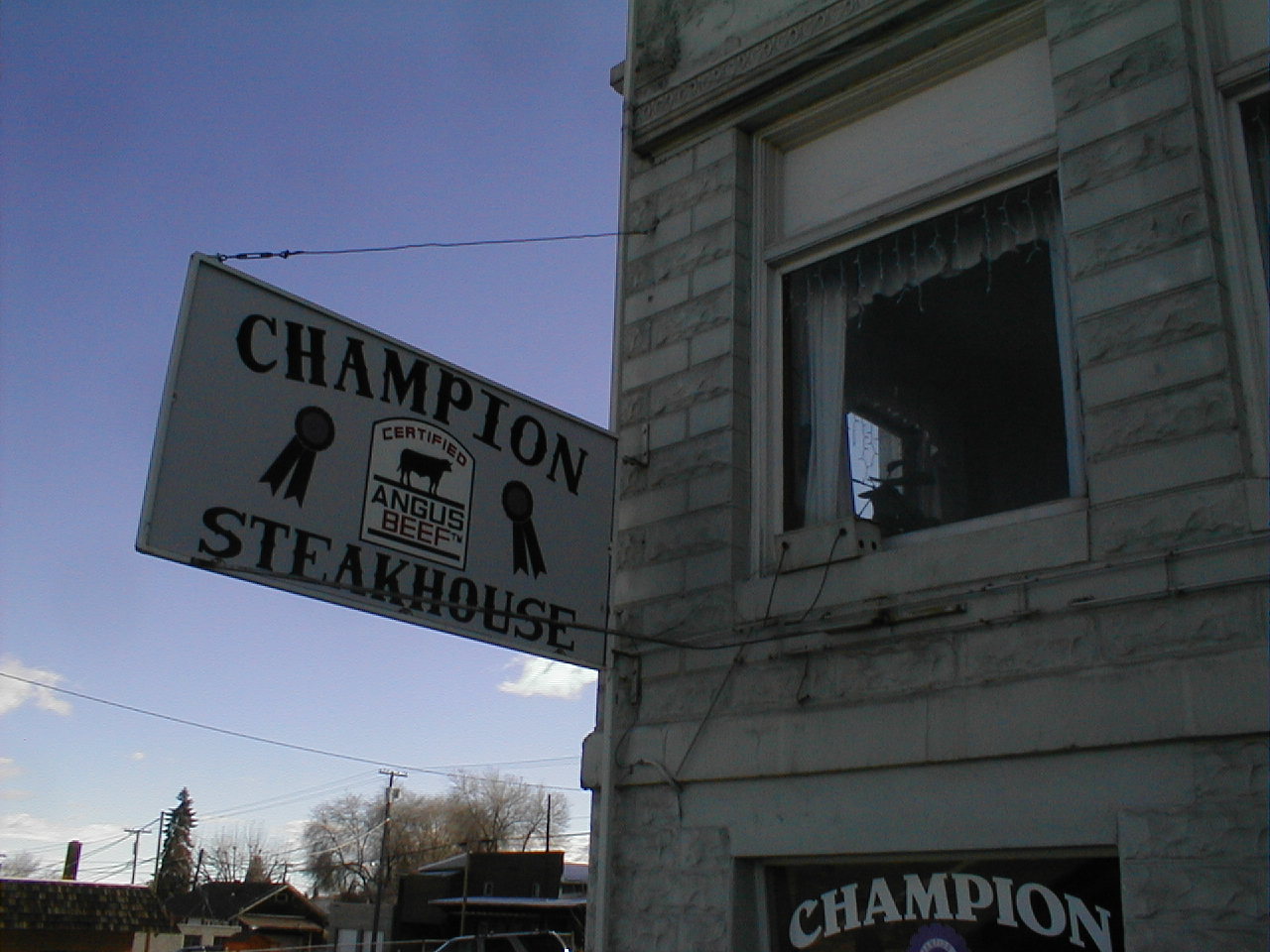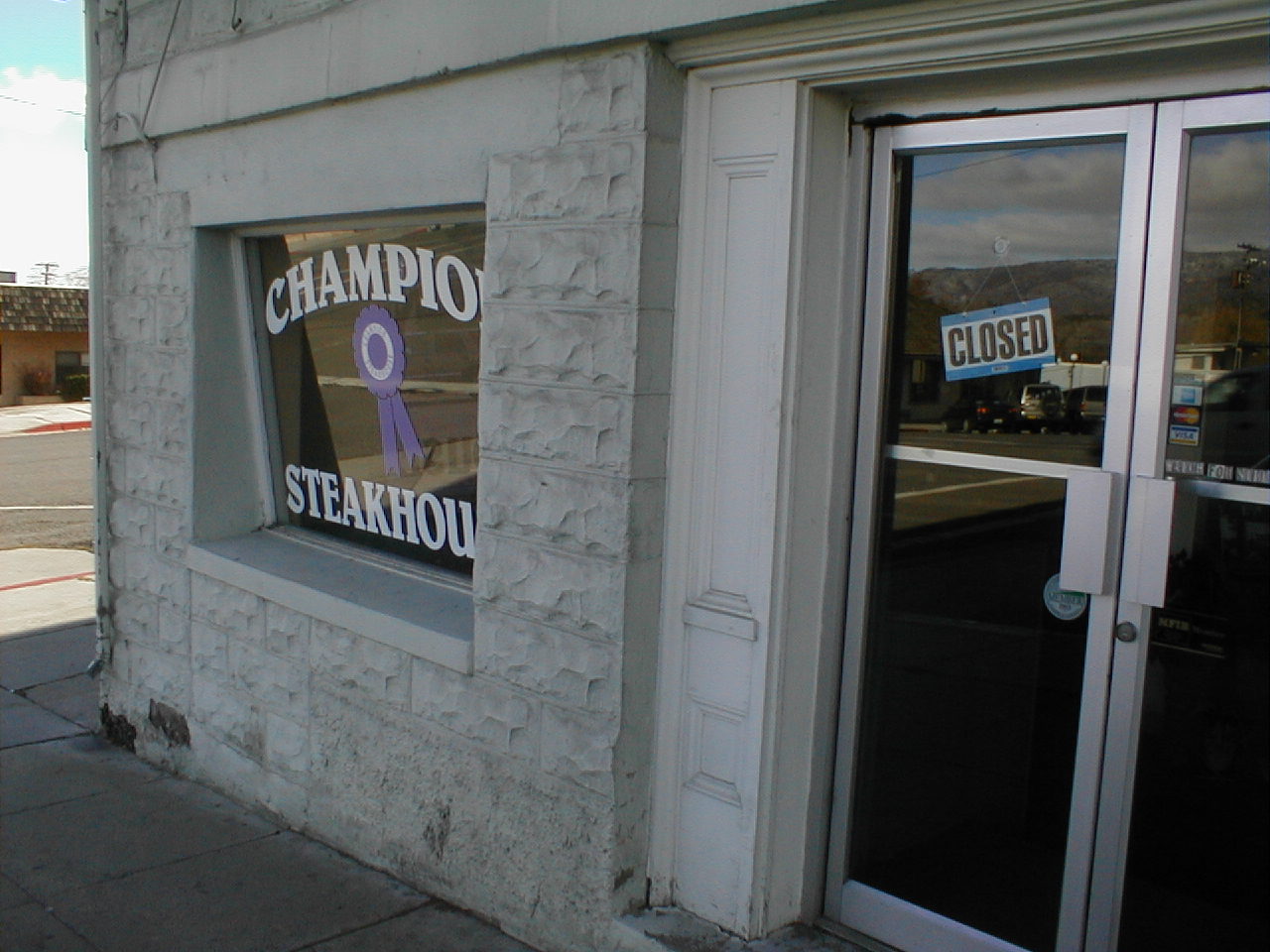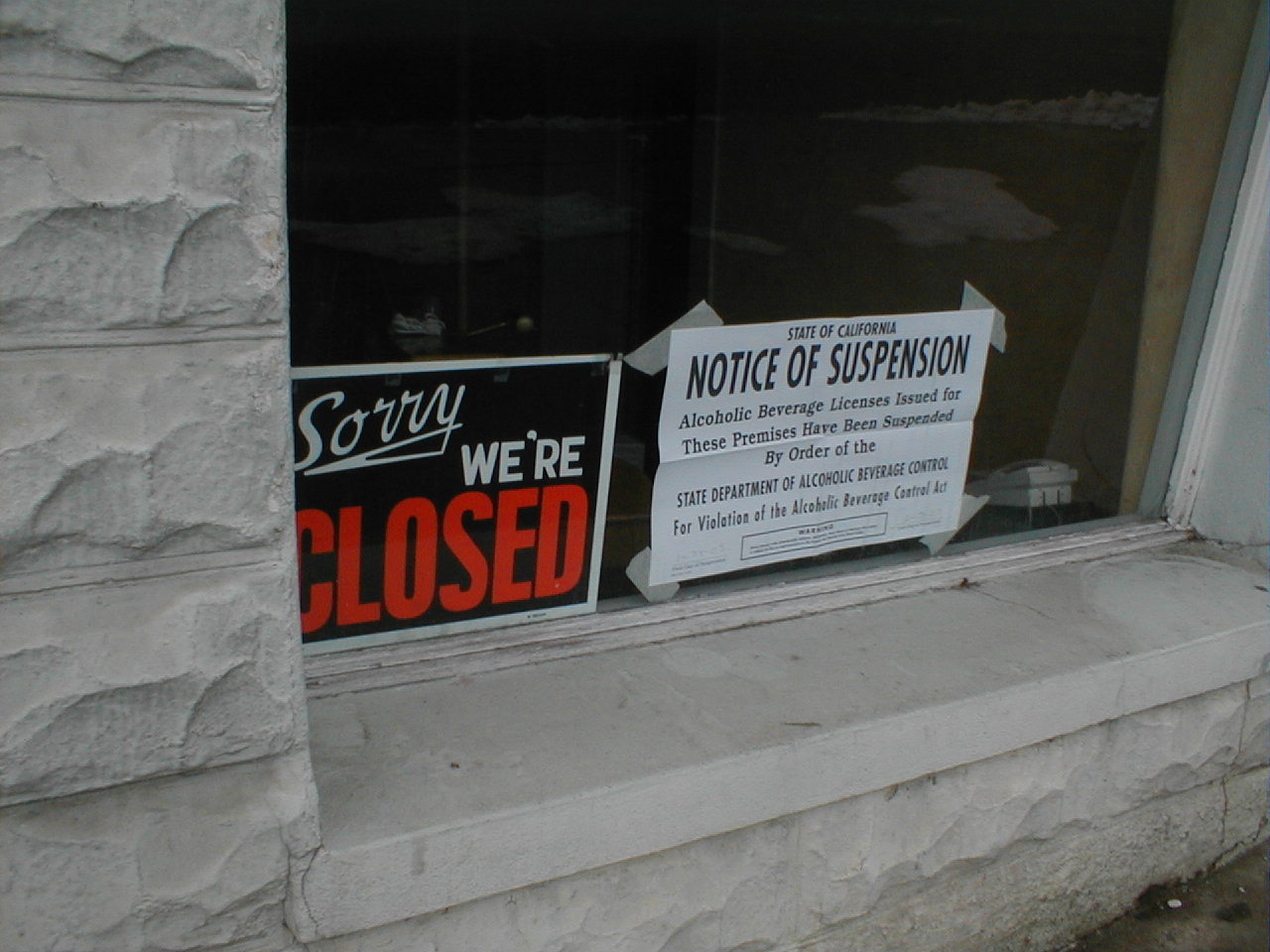 that everyone knows...
POWER OUTAGES WILL INCREASE IN LASSEN COUNTY
LMUD General Manager,Frank Cady, laughs at the Governors energy plan and opts out of the ISO upgraded system
Lassen County loses
Sacramento Bee, February 26, 2007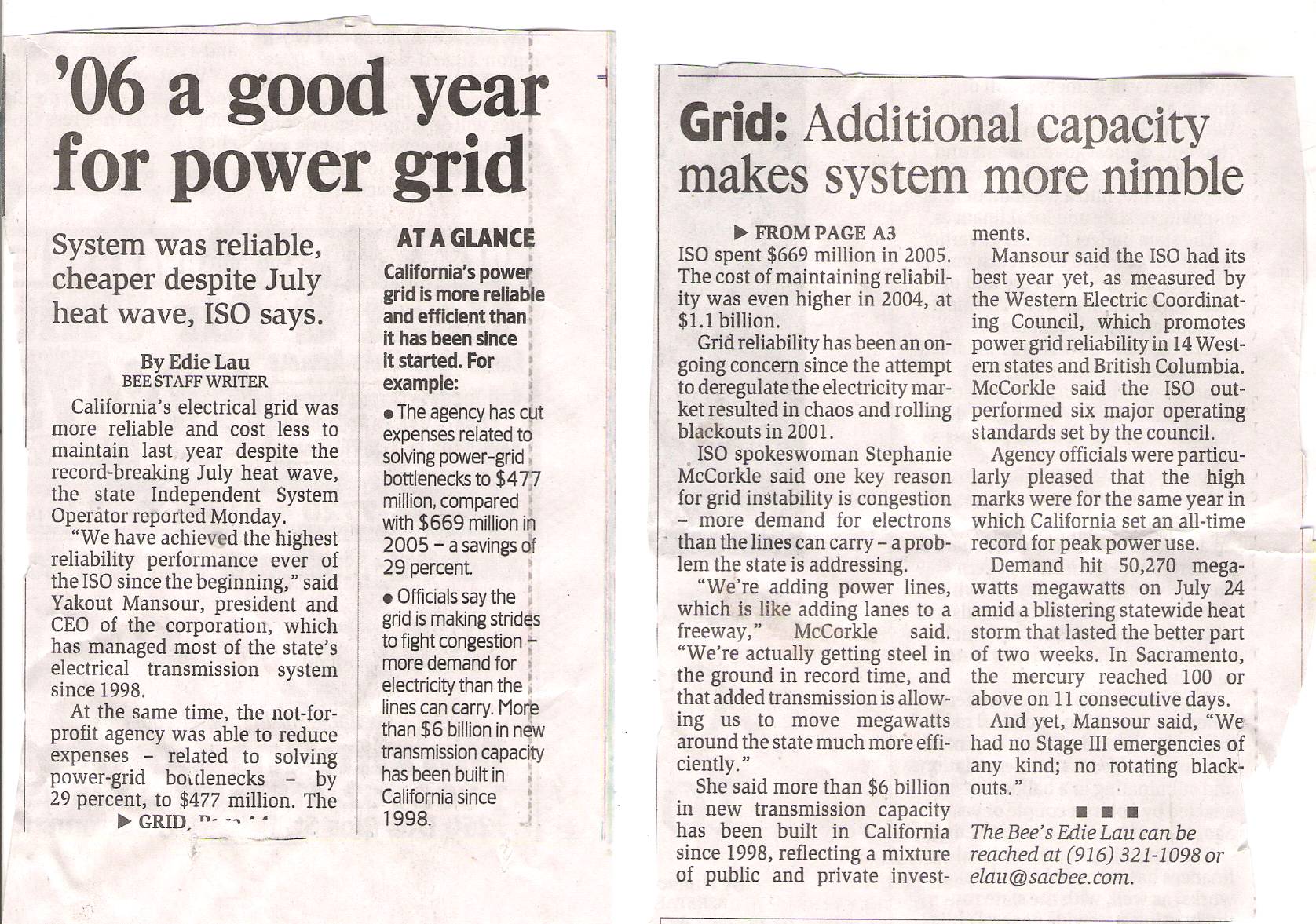 Lassen County Times, April 25, 2006,
Frank Cady, "He also told the Board the California Independent System Operating System is "nickel and diming publicly owned utilities to death" and is just another form of taxation to fill the state's empty coffers."
LMUD April 18, 2006 meeting
Frank Cady convinced the "impotent" LMUD Board of Directors to drop Cal-iso
Does Frank Cady have ANY VALUE at LMUD, in Lassen County ?
Frank Cady, "Further, LMUD spent over $600,000 on improving our distribution system, the outcome, less line loss and greater energy efficiency"
.......just more cady crap
Call the LMUD Board- 257-4174
In 2005, KWH FILED a COMPLAINT WITH the LMUD BOARD AGAINST FRANK CADY and JAIMEE RICHEY for CONFLICT OF INTEREST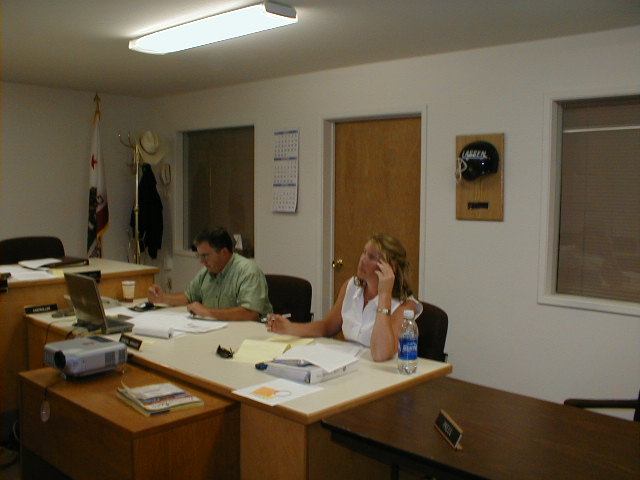 Jaimee "Richey" Jones (Shown in photo) and Frank Cady were not truthful about their partnership and ownership of real property

and much more.............gross misconduct.
Frank Cady "retired", (according to the Bar he is an "active" attorney)

from Cady, Pardee & Richey, in July of 2005, but the Limited Liability Partnership with Richey was never dissolved. As a partner he was entitled to profit from the law firm. There always existed a conflict of interest, when his partner Richey, was hired as LMUD's counsel and Cady was hired as LMUD General Manager.
KWH filed a complaint with LMUD and the Grand Jury, both were ignored.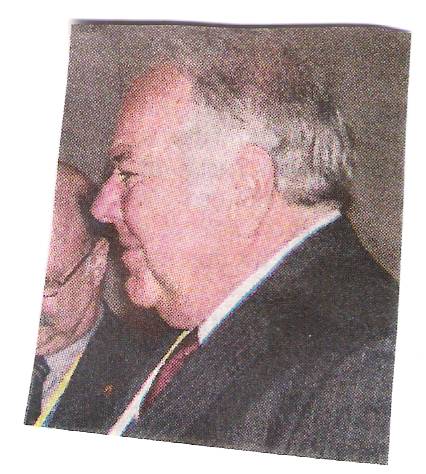 Judge Stephen Bradbury insured that any LMUD issues brought before the Lassen County Grand Jury would be quashed. He put Jaimee Richey on the Grand Jury...this is not the first time Bradbury has done this for LMUD and his once (?) business BKC partner, Frank Cady.
July/2005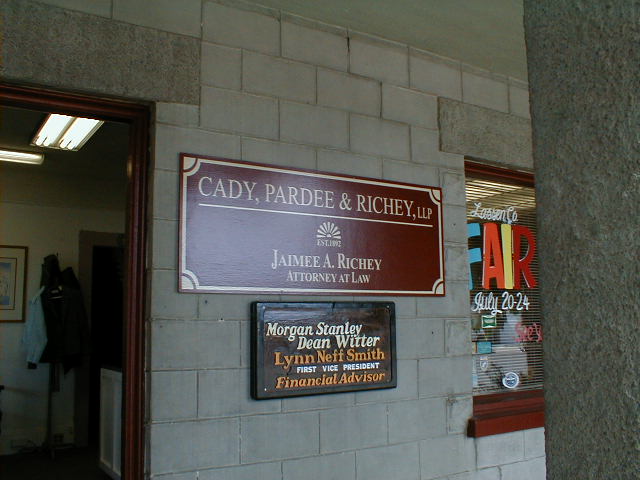 New sign installed in February/2007 (the LLP has been dropped)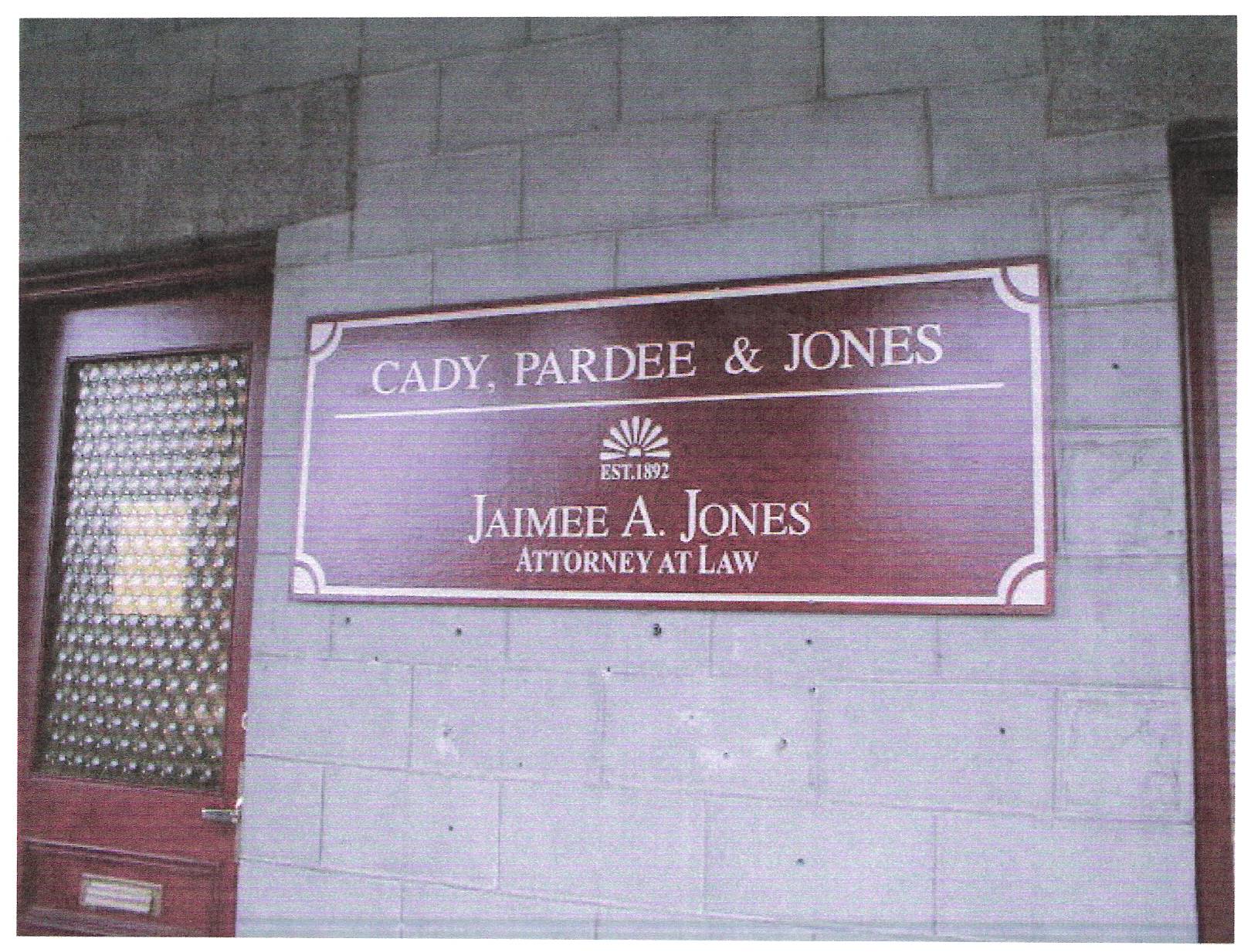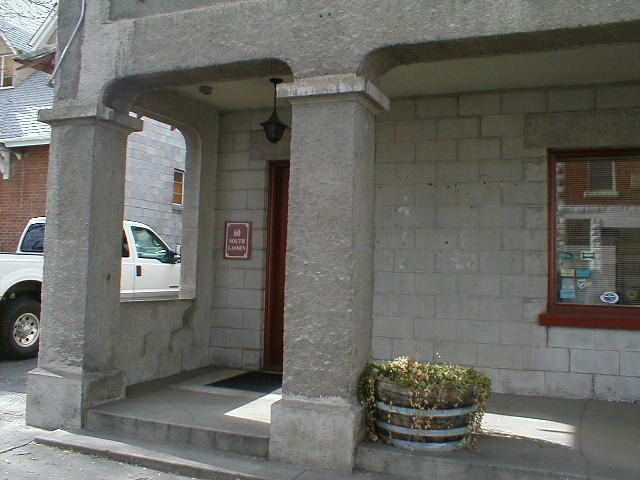 LMUD BOARD
Fred Nagel, Wayne Langston, Darrell Wood, Nancy Cardenas, George Sargent
ALLOW CADY TO RUN HIS PRIVATE BUSINESSES FROM THE PUBLIC UTILITY OFFICE...............WHY?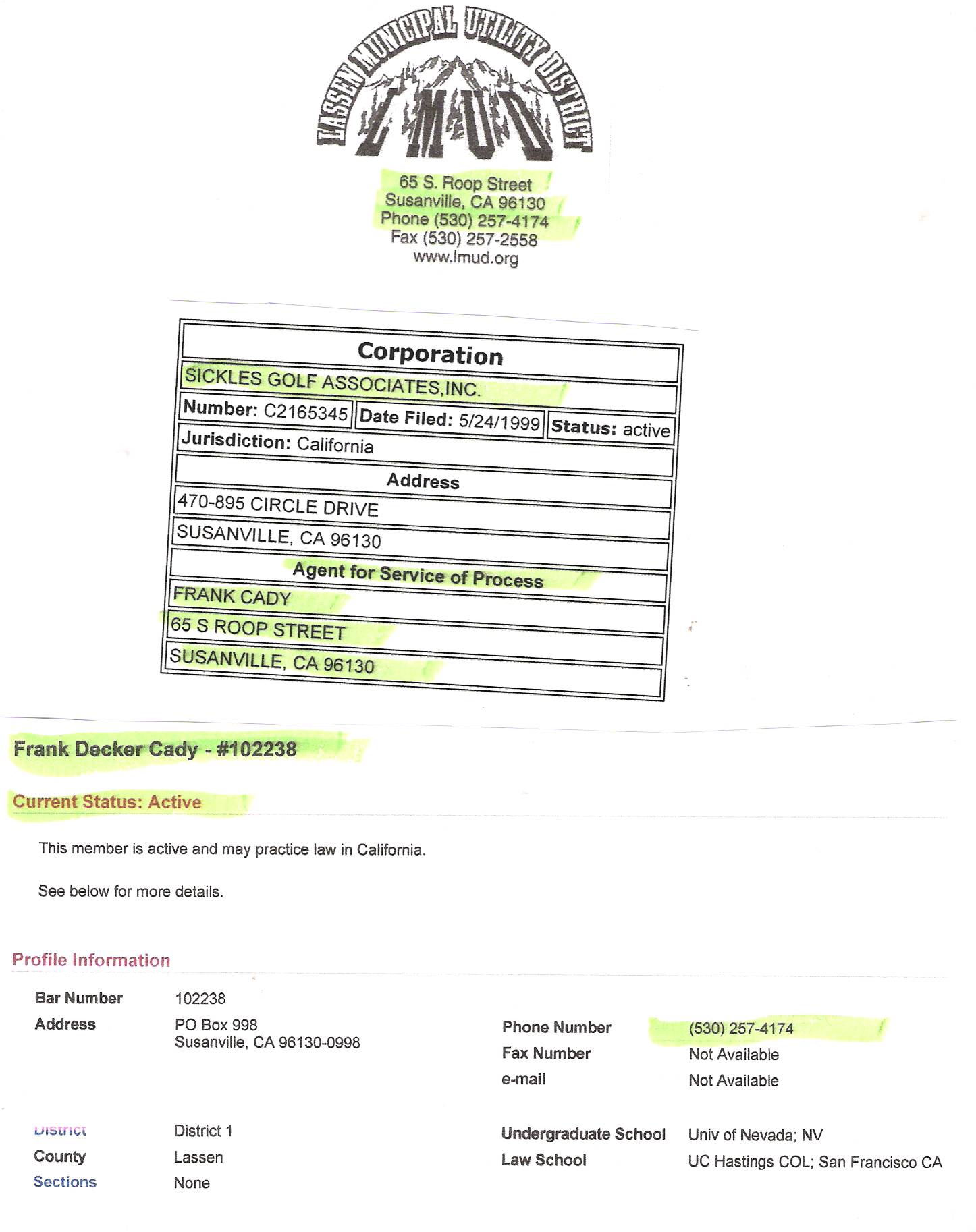 IS THE CITY OF SUSANVILLE BOOTING THE CADY FAMILY AND THEIR "SGA GOLF" ?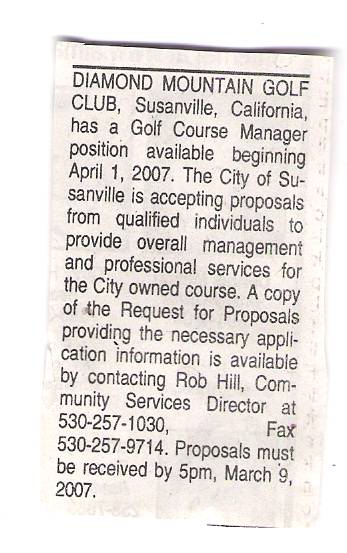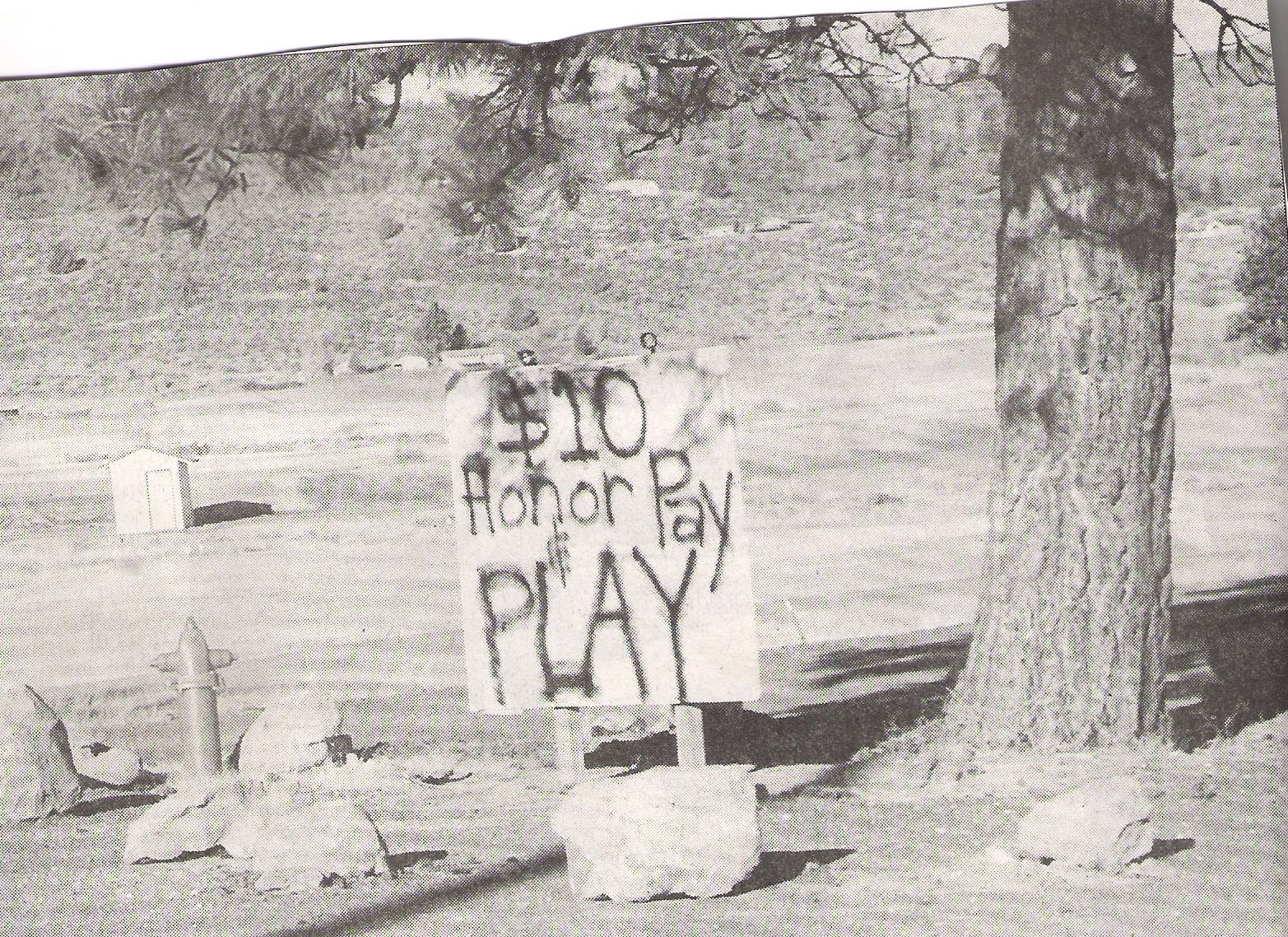 Lassen Board of Supervisors plan to repeal the "Clerk of the Board" rules
The Board of Supervisors plans on repealing the County Ordinance governing the appointment of the Clerk of the Board.
SPECIAL NOTE: The BOS does not include a "copy" of this new 531-A Ordinance on the Agenda on their website.....Why is County Counsel hiding 531-A....Why do they not want to allow public access to the "NEW" 531 Ordinance prior to the 2/20/07 meeting......What are they hiding?

BOS meeting 2/20/07

Ordinance 531-A (no copy available to the public, omitted by accident?)
"Agenda item H5- Ordinance repealing Chapter 2.07 of the County of Lassen Ordinance 531 relating to the Clerk of the Board of Supervisors"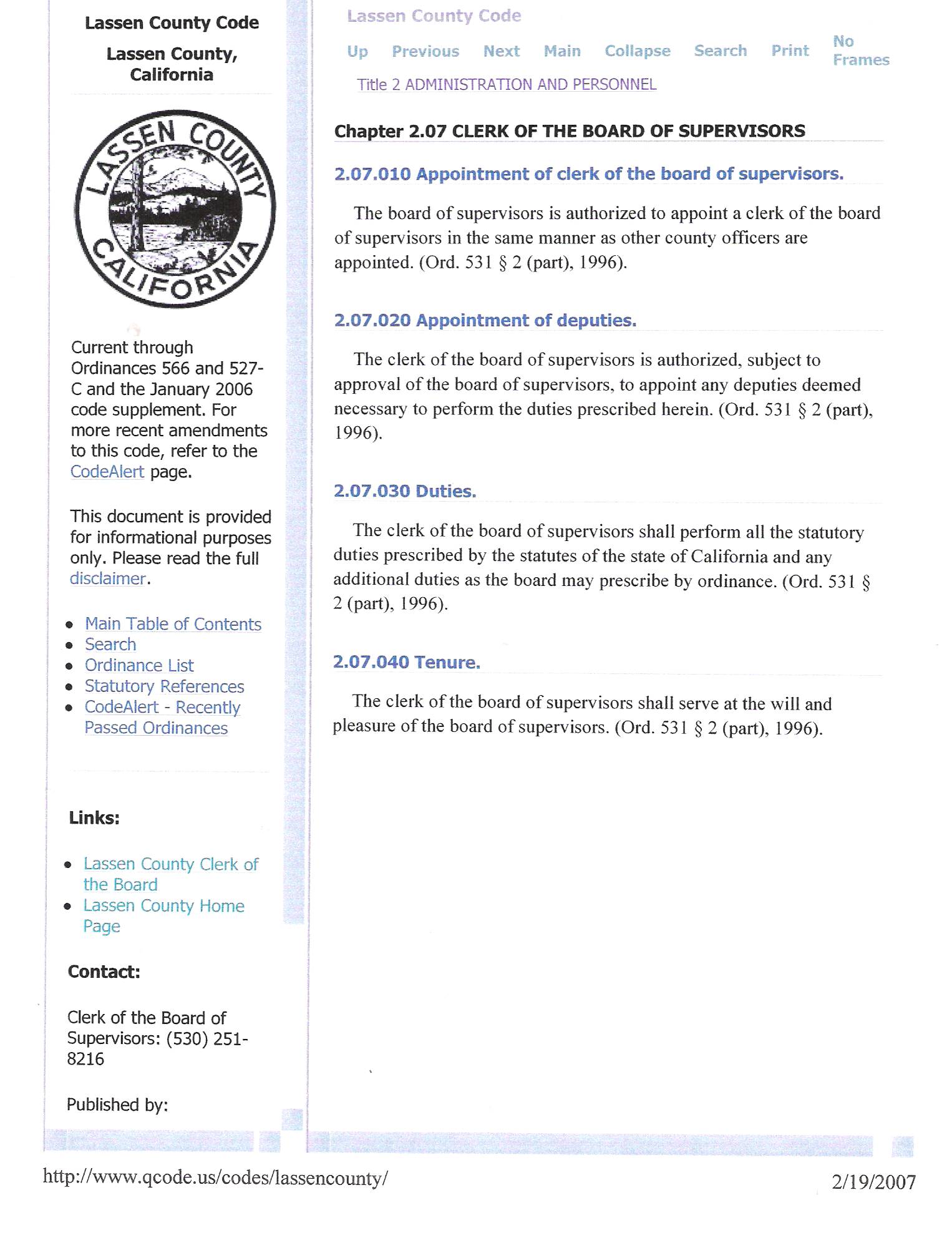 ANOTHER NEW SIGN FOR CADY, PARDEE & RICHEY?
FRANK CADY or John M. O'Brien ?????
John O'Brien has never had a Susanville business license to practice law here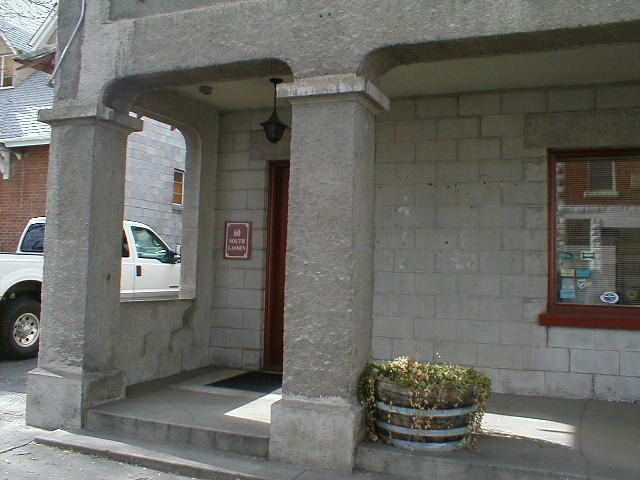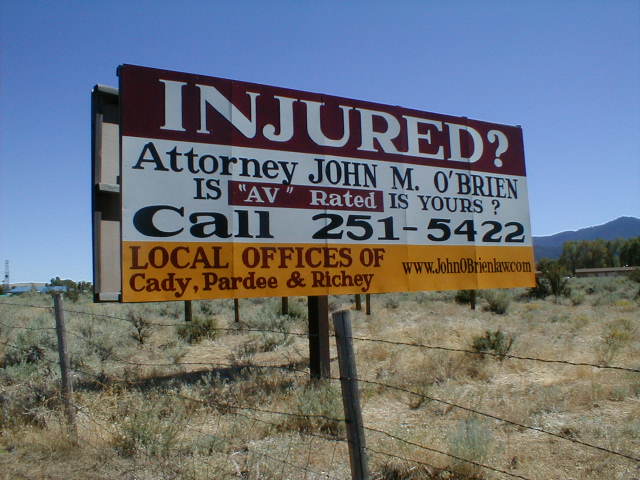 LASSEN COUNTY USES $31,000 TO "LOOK AT" IMPROVING WESTWOOD'S ALLIES
Lassen County Board of Supervisors 2/13/07 Agenda................last agenda item?
The Lassen County Board of Supervisors received funding from the California Department of Housing and Community Development (HCD) for improving Westwood's alley's. (This grant was funded and on August 10, 2006 the county received the executed standard agreement from HCD, which allowed the County to proceed with this project). Six months later the County begins this "study".
The Board is seeking qualified firms to explore a "feasibility study". The cost of this "feasibility study" is $31,000. This issue has been on many agendas before and gone nowhere.
Would the Board be more responsible if they had used prior information and studies on this issue and used the $31,000 to maybe just.....remove some debris?
The study will include the exploration of improving alley access by 1)removing debris, waste and abandoned vehicles; 2) placing the existing utilities underground, 3) grading and paving and 4)constructing sidewalks and storm drains.
THE BOARD OF SUPERVISORS HAS ALWAYS REJECTED SPENDING ANY MONEY FOR ALLEY IMPROVEMENTS IN WESTWOOD
THEY HAVE THE MONEY NOW TO DO IT...........
Supervisor Pyle, is Westwood Lassen County's Stepchild?
CADY'S GREAT MANAGEMENT SKILLS STRIKE AGAIN.
Diamond Mountain Golf Course, Susanville, CA
1/31/07 Lassen County Times says....OPEN FOR BUSINESS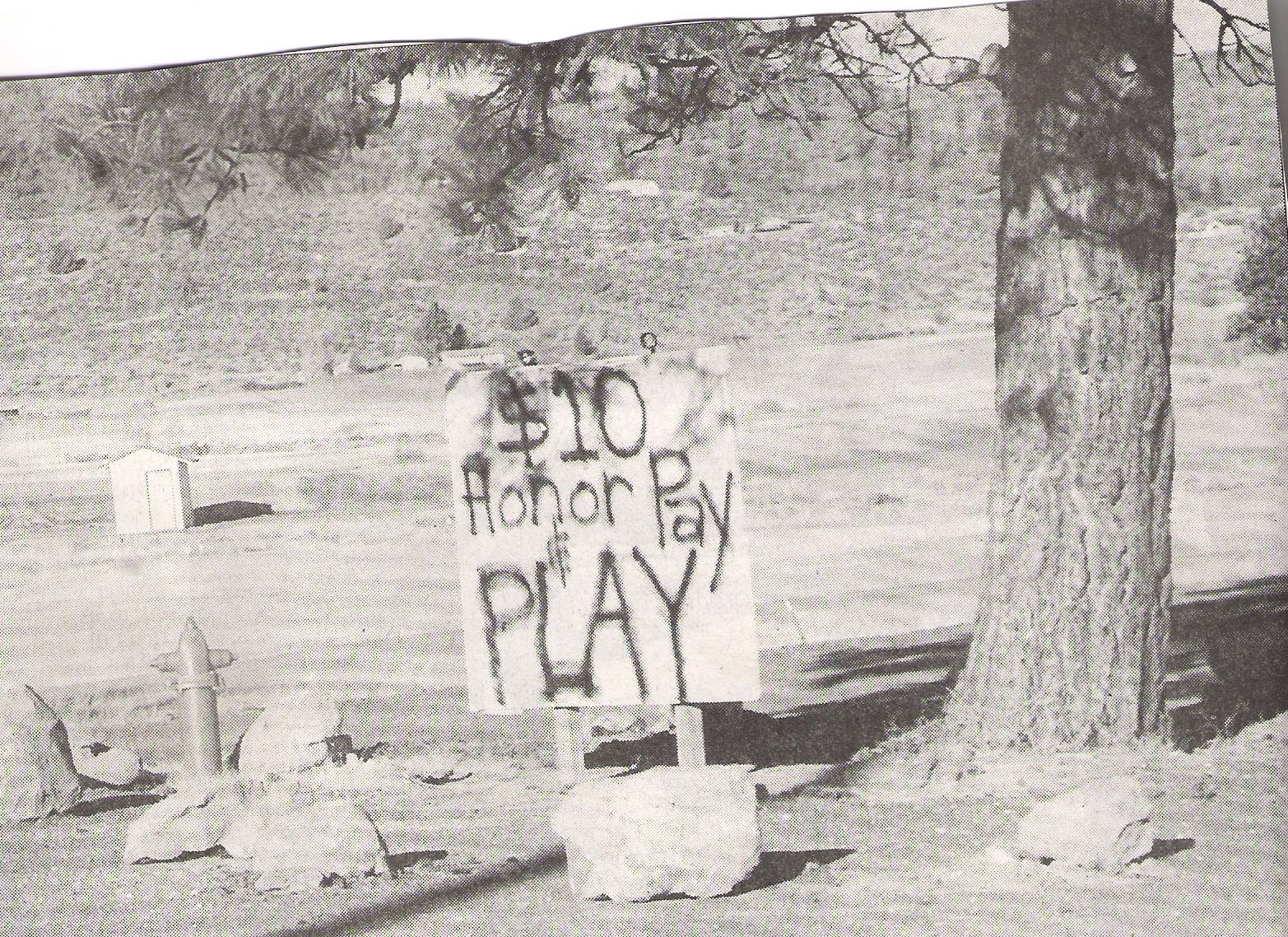 IS THIS CADY'S BUSINESS STRATEGY TO RECOVER HIS $1.4 MILLION DOLLAR DEBT OR IS THIS A PRACTICE THAT GETS YOU INTO A $1.4 MILLION DOLLAR DEBT

Frank Cady, the putz,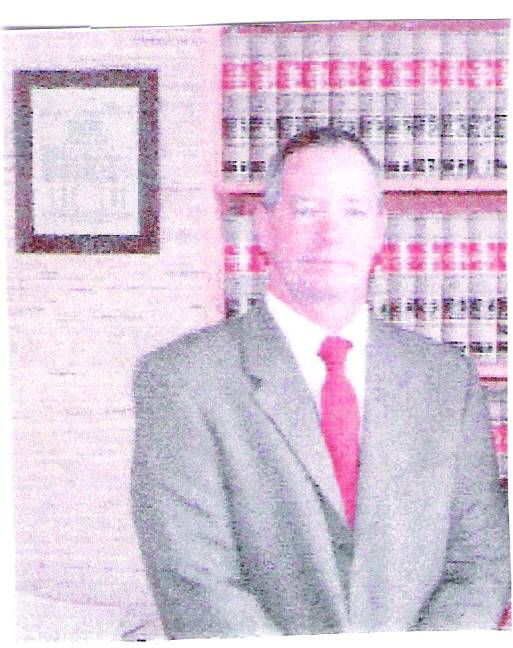 the LMUD attorney & manager, the golf manager
Cady runs all of his "putzing" out of the small local public utility office on Roop Street in Susanville

Lassen Community College President Cissel looking for a new job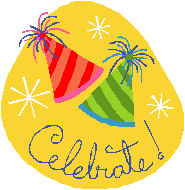 or is he winning an award?
The Lassen County Times mis-leads the public with the headline, "Cissel named semi-finalist" (1/30/07), as if the LCT was announcing an award for the troubled Lassen Community College President.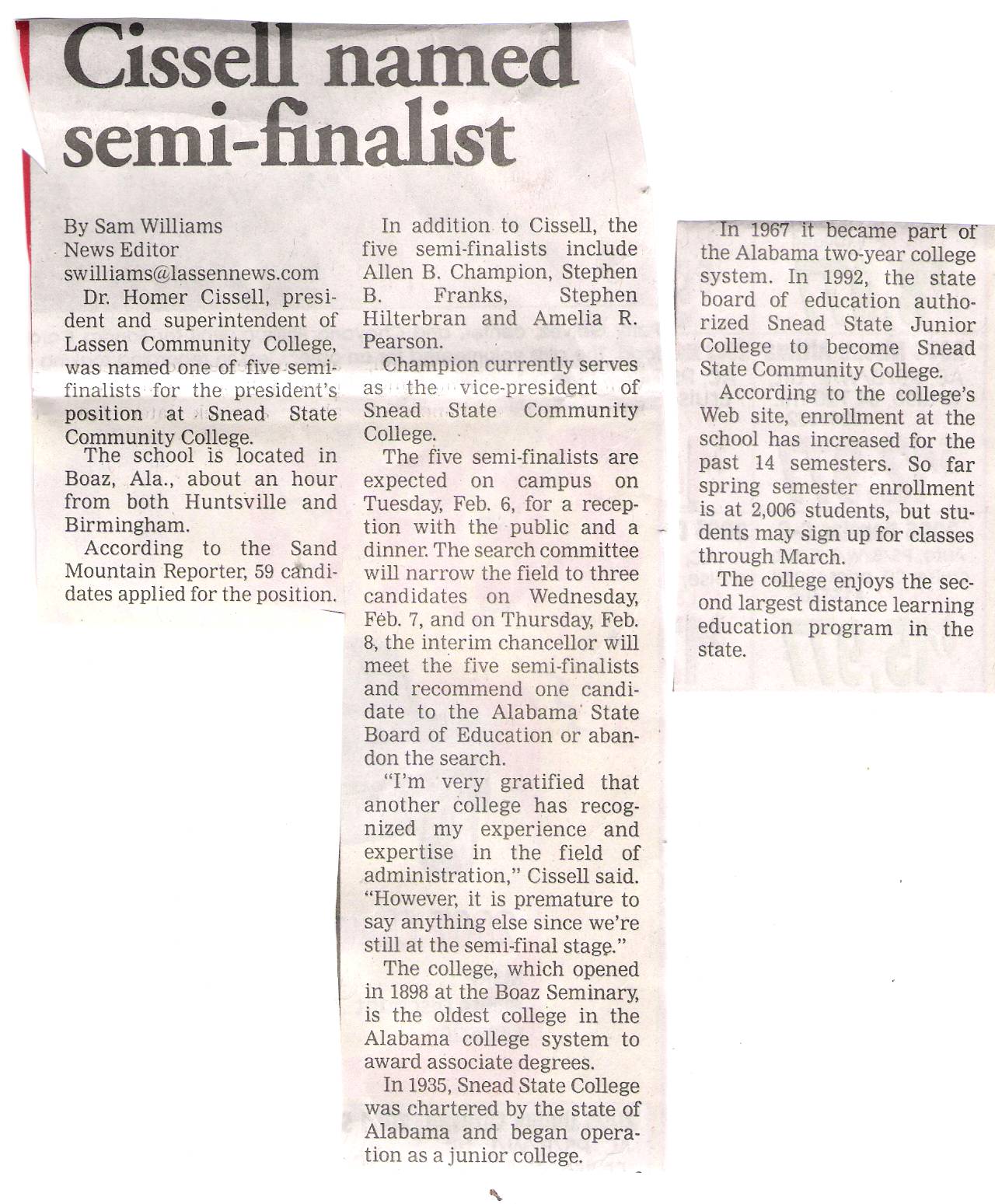 The Community would like President Cissel to continue his search, for new employment, if he doesn't make it to the "finals".
It would help the community if others would decide to find employment outside of Lassen County. But, could you see Frank Cady at Sacramento MUD....what would he do? Could you see Joe Bertotti finding a job outside Lassen County? Could you see Wayne Langston being hired or even elected to anything outside of the Nagel jurisdiction?

Lassen County CAO "Predicts" Garbage Issue in December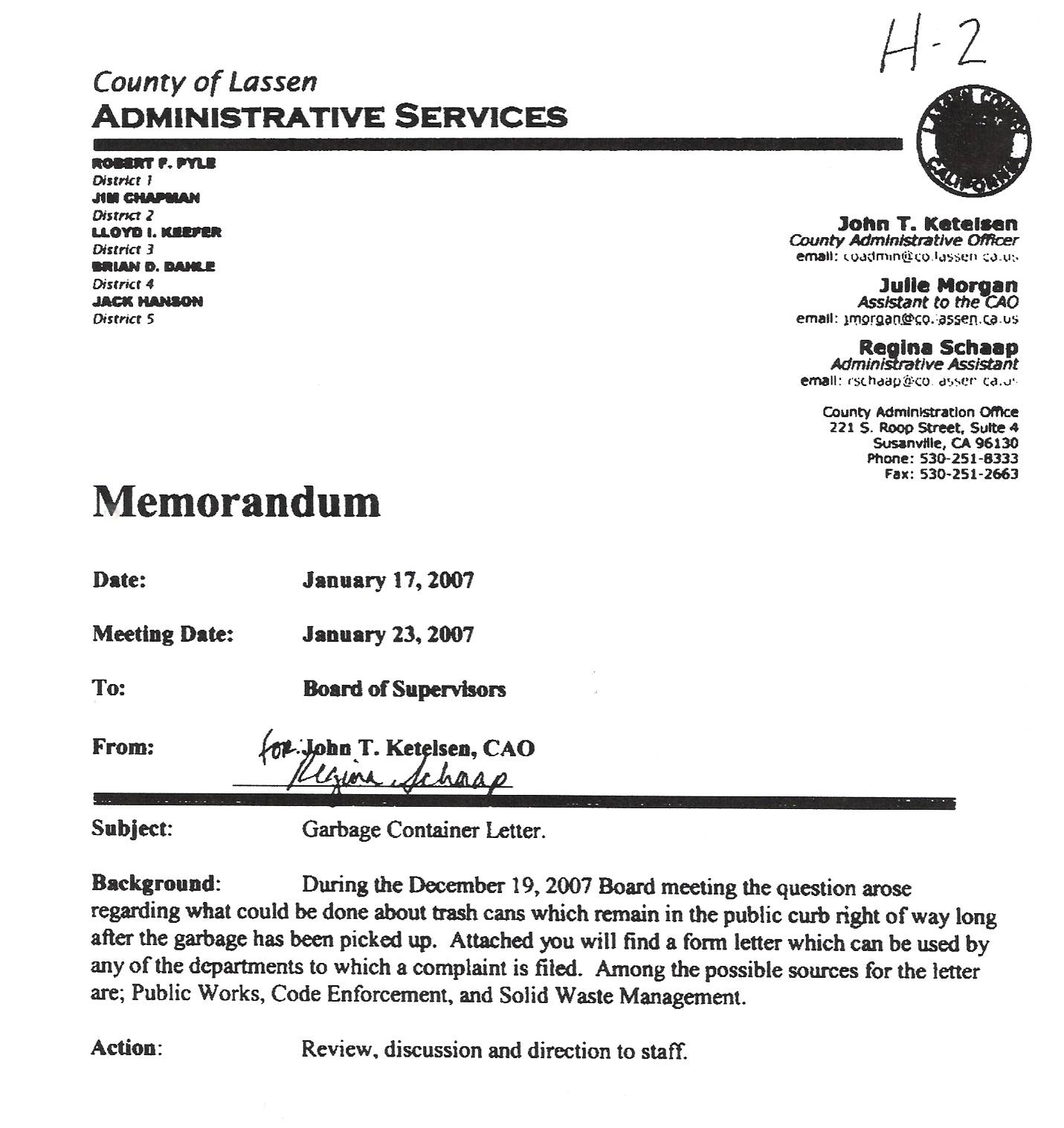 "Clerk of the Board" will stay within the Lassen County Clerk's duties
Lassen County Board of Supervisors salary tied to Superior Court Judges?
1/16/07 Agenda Item tabled for Supervisors to get a 29% raise
Lassen County actually has an ordinance that ties the Board of Supervisors salaries to the salary of a Superior Court Judge.
Is $42,000 a lot of money for a "part-time" position?
Lassen County Ordinance Section 2.36.030 reads:
When salaries for other elected officials are reviewed, the auditor shall report the salary of the superior court judge. If necessary, county counsel shall prepare a new county ordinance adjusting the salary of each member of the board of supervisors to an amount equal to twenty-five percent of that of a superior court judge.
Where's the logic in this ordinance?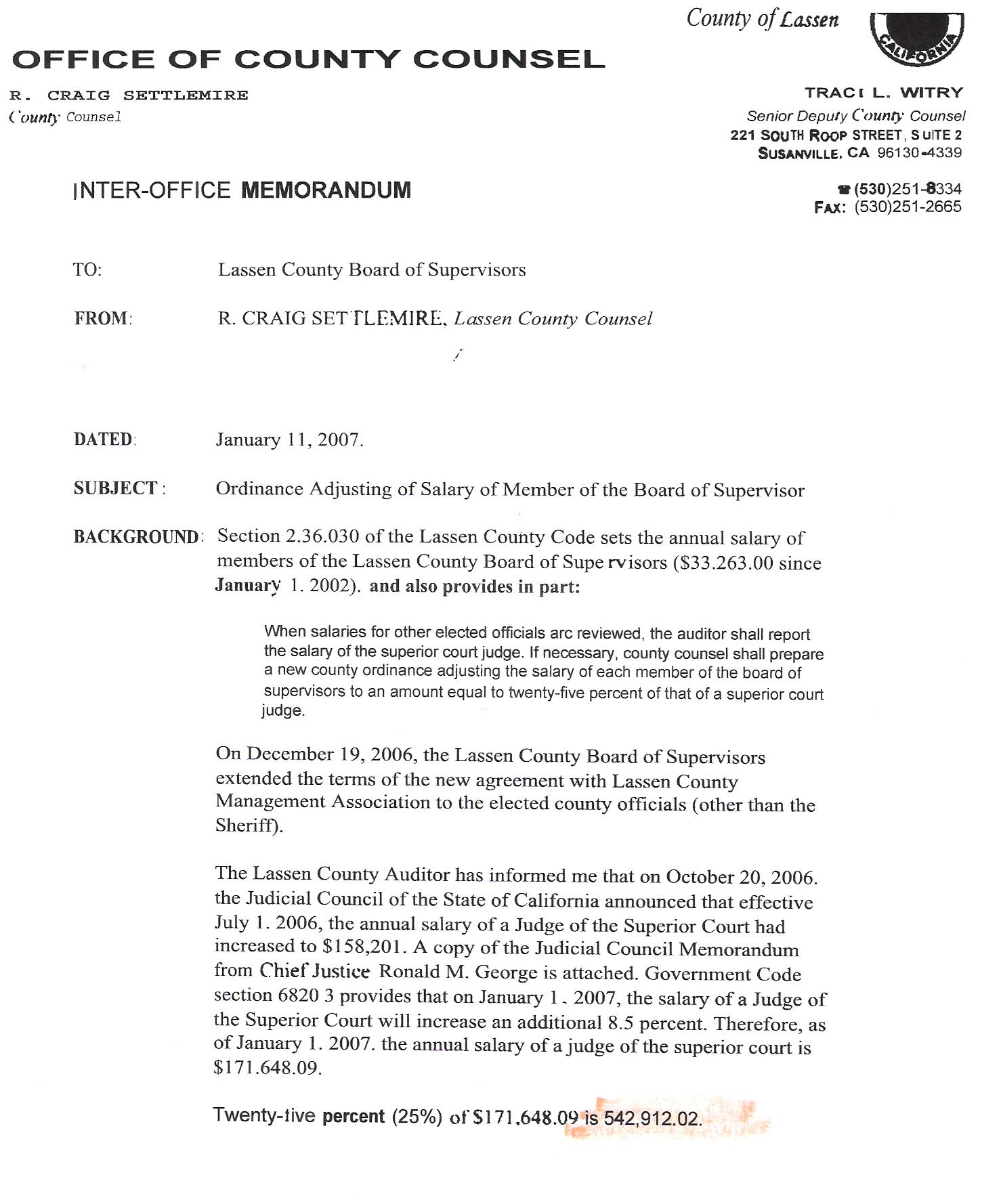 $542,912.02 we believe was supposed to be $42,912.02
Lassen County Supervisors take no action on "Clerk of the Board" position
This issue has been placed on the 1/16/07 Agenda

In the past, the Board of Supervisors has included the "Clerk of the Board" position as part of the duties of the County Clerk even though the County Ordinance states that the Board of Supervisors "appoints" this position. The Lassen Board of Supervisors included a new budget item for the fiscal year 2006/2007 that includes $118,320 for the "Clerk of the Board" position.
Theresa Nagel who has been the "Clerk of the Board" allegedly (?) has never received any additional compensation for these duties. The Lassen County Counsel has confirmed that the "Clerk of the Board" duties are included with her salary.
Now, why would the Board of Supervisors want to spend more than $118,320 for a separate position?
Nagel has retired from County Service!
Let her go.....................
Julie Bustamante, County Clerk, states that "Hopefully, Susan will only be there one day"
"Deals" were made before Theresa Nagel left office on 1/7/07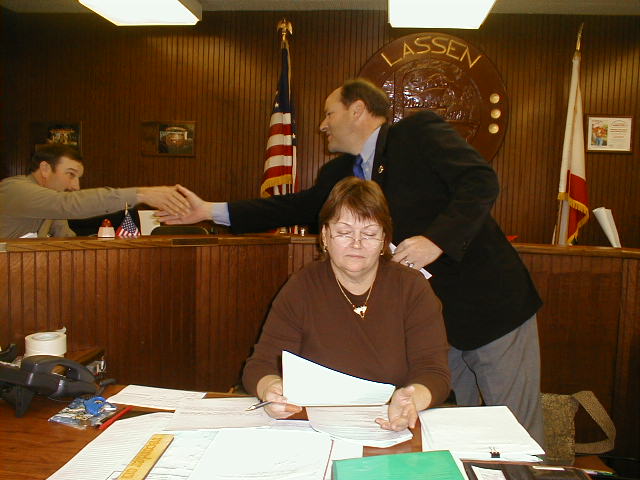 Who appointed Susan Osgood (Deputy County Clerk-Recorder) "Clerk of the Board FOR A DAY?
The Lassen County Board of Supervisors has the authority to appoint their "Clerk of the Board". Theresa Nagel held this position while she was County Clerk and now wants the BOS to take this position away from the County Clerk's duties and give her this position after she leaves office. $118,320 position.
WHERE'S THE GUILT? WHERE'S THE SHAME?
The Lassen County Counsel claims that the "Clerk of the Board" is part of the County Clerk's duties.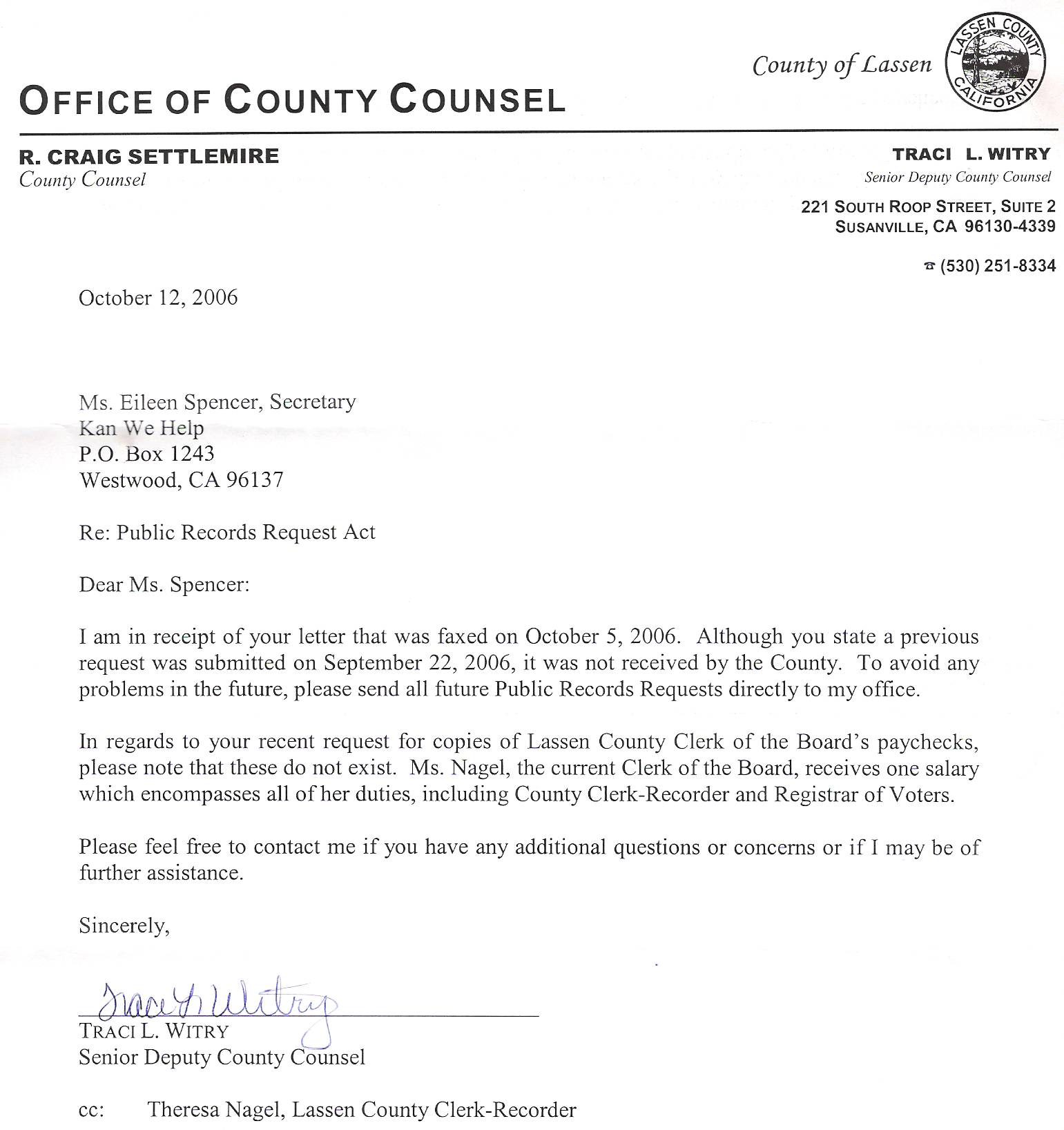 Fred and Theresa Nagel DEMAND more seats at the PUBLIC TROUGH
ARE THE NAGELS THE Privileged Class OF LASSEN COUNTY?
The Nagels have made a living off of threats and abuses. They have a reputation of mean temperedness and vindictiveness
The County receives "UNSOLICITED" requests for jobs from Fred and Theresa Nagel
Nagel resigns as Clerk of the Board only to weasel the job back

She allegedly retired (actually she did not run for re-election, big difference

) from her Lassen County Clerk/Recorder/Clerk of the Board job. She got the parties to say "goodbye".....all the while negotiating a "back room deal"f for more than a year (for a cushy $118,320 a year County job). The sad thing....the County is actually considering this "deal".
The Board of Supervisors do not have to coddle to her for their assured re-elections anymore (Nagel counted the votes), so what do they still owe her or........the new County Clerk?
Deja Vu............
Nagel also asked the Lassen County Board of Supervisors to separate the "Registrar of Voters" position so she could head that part of the COUNTY CLERK'S JOB. This County Clerk duty had the largest Budget of $283,417. The BOS said no!
THIS NEW NAGEL REQUEST IS NO DIFFERENT
A conflict of interest forced Fred Nagel to resign his seat on the County Planning Commission to take the Engineering position at the City of Susanville. The financially strapped city signed a contract to pay Fred Nagel $70,000 for 19 hours a week work. The City of Susanville recently stopped their meeting to find one or more of the Council Members (no quorum present) to come quickly to the meeting so that they could pass Fred Nagel's new contract.

DID THE LASSEN CAO SEND LETTERS OUT OFFERING THIS POSITION TO OTHER ENGINEERS IN THE COUNTY?
Everd McCain was approached by Larry Millar for this contract and Mr. McCain declined
Now , the County proposes a contract with Fred Nagel for engineering services. WHAT THE HELL HAPPENED TO THE CONFLICT OF INTEREST, YOU ASK??????
Fred Nagel has held the City Engineer and County Planning Commissioner at the same time. This was eventually corrected. Nagel was forced to give up his position on the County Planning Commission.
Now Nagel has asked to be City Engineer and County Engineer. One individual holding these positions invites biased and non-objective decision making. It removes fairness and allows for corruption.
Fred Nagel owns a great deal of property and HIS "FRIENDS" OWN A GREAT DEAL OF PROPERTY ?
THE BEAT GOES ON AND ON: Theresa Nagel allowed her husband, Fred Nagel, who does not reside within the LMUD boundaries to run for the LMUD Board. Theresa Nagel allowed her son-in-law, Wayne Langston, to sit on the LMUD Board when she knew he did not live within the LMUD boundaries. Langston has never appeared on any ballot. ABUSE OF POWER, ABUSE OF POWER, ABUSE OF POWER.
Lassen County is trying very hard to eliminate the shrouds of doubt on its government decisions.
Lassen County has an opportunity to give balance and honesty back to government
..........let the Nagels retire from Lassen County government
City of Susanville
Chief or No Chief
City of Susanville To Name New Police Chief At January 3, 2007 Meeting
Meeting @ 6:00 PM, City Hall
Susanville attorney, Chittock, represents troubled Sacramento Fire Board President
Susanville attorney Eugene "Chip" Chittock does not return phone calls from his client, Peter Engellenner or the press? The Sacramento Fire District obtained a Temporary Restraining order against Engellenner.
Sacramento Bee, December 31,2006, front page


It looks like Chittock is qualified also to be General Counsel for LMUD